Words like unique and masterpiece get bandied around a lot when discussing luxury watches. But Jaquet Droz watches really are both these things—and more.
As far from mainstream and mass-produced as you can get, Jaquet Droz watches redefine the meaning of finesse. From exquisitely decorated dials to animated figures, the magic of these timepieces recalls the accusations of witchcraft narrowly dodged by the brand's founder, Pierre Jaquet-Droz himself, with his spookily lifelike automata.
Whimsical, charming, fascinating—the artistry of a Jaquet Droz watch is like nothing else.
At a glance
| | |
| --- | --- |
| | |
| Industry: Watches | Founded: 1721 |
| Headquarters: Switzerland | Founder: Pierre Jaquet-Droz |
| Watch Collections: dress watches and sports watches | Parent organization: The Swatch Group |
| Annual Revenue: $19.1 million USD | Website: jaquet-droz.com |
Jaquet Droz watch price
How much does a Jaquet Droz watch cost?
Jaquet Droz watches are known for being expensive, with prices that reflect the level of craftsmanship, the intricacy of the complications, and the exclusivity of these timepieces. The starting price for a Jaquet Droz watch is $7,495. However, some of the most expensive Jaquet Droz watches reach over $600,000 as these really are objets d'art for the wrist.
To find out the price of particular models, send an inquiry via the company website.
What is the most expensive Jaquet Droz watch?
The most expensive Jaquet Droz watch is the Jaquet Droz Tropical Bird Repeater, currently valued at $661,500. Inspired by tropical landscapes, it features an automaton animation with a peacock, toucan, dragonflies, and a waterfall.
See how this compares to the world's most expensive luxury watches.
What is the cheapest Jaquet Droz watch?
Jaquet Droz watches are not known for being particularly affordable. The cheapest Jaquet Droz watch is a Jaquet Droz Grande Heure Minute, currently retailing for around $7,495. Jaquet Droz watch prices for a Jaquet Droz Automata start at around $78,000.
About Jaquet Droz
History of Jaquet Droz
Pierre Jaquet-Droz was born in 1721 in La Chaux-de-Fonds, Switzerland. He studied clockmaking under the tutelage of master watchmaker Josué Robert and soon earned a reputation for his extraordinary clock movements that were combined with music and automata (mechanically-driven figures).
In 1758, on the urging of the governor of Neuchâtel, Droz undertook the 49-day journey to Spain to present his clocks to King Ferdinand VI of Spain. They were an instant success.
Using the money he received from this trip, Jaquet-Droz was able to invest more time and money into clockmaking. Among his most notable works were three life-sized human figures known as the Writer, the Draftsman, and the Musician. Droz traveled around the world displaying these creations to the awe and delight of crowds.
In 1775, the company opened a workshop in London which allowed for trading with China.
During this time, Jaquet-Droz also created a miniature mechanically-controlled bird and recreated its song using a single bellow with a variable pitch. This was used in the production of singing-bird snuff boxes which were particularly popular in the Far East.
After Pierre Jaquet-Droz died in 1790, company activity started to slow and then ceased altogether. It wasn't until 1989 that Investcorp, a Saudi-English company that also owns watch brand Breguet, bought the rights to the Jaquet Droz name and launched a new line of men's watches.
The company was then acquired by the Swatch Group in 2000 and released a come-back collection at the 2002 Baselworld Fair, inspired by Pierre Jaquet-Droz's original creations. Today, Jaquet Droz continues to operate like an independent watchmaker with its unique and exceptionally creative timepieces.
Interesting facts about Jaquet Droz
The largest collection of Jaquet Droz vintage creations are found at the Neuchâtel Museum of Arts and History. The second largest collection of Pierre Jaquet-Droz's masterpieces is on display at the Patek Philippe Museum in Geneva.
During the first part of its history, Jaquet Droz exported over 600 pieces to China and several Jaquet-Droz automata and pocket watches can still be found at the Imperial Palace museum today.
The extraordinarily complex Writer automaton featured six hundred different components and could be set to write text of up to forty letters on a piece of paper.
The Draftsman automaton was originally programmed to draw a picture of Cupid driving a chariot pulled by a butterfly.
One of Jaquet-Droz's other inventions was a wall clock with a dial that formed the base of a birdcage. Inside the cage were mechanical singing birds that sometimes flew from one perch to another.
Jaquet Droz product range
There are four different Jaquet Droz collections.
The first is the brand's Grande Seconde watch series, which includes its entry-level and most affordable timepieces as well as complex haute horology offerings.
The Jaquet Droz Automata collection includes the brand's famous moving figures, such as birds and butterflies, paying homage to Pierre Jaquet-Droz's original automata creations.
Next is the brand's Ateliers d'art collection, showcasing its creative skill and technical know-how with traditional decorative watchmaking techniques.
Finally, there's the Tourbillon SW, the brand's sports watch line—although these are still undeniably dress watches by anyone else's standards.
Signature materials and craftsmanship
Jaquet Droz is best known for its highly decorative luxury watches with offset dials often made from precious and rare gemstones. These include lapis lazuli, rhodonite, onyx, jet-black obsidian, and spectrolite, as well as meteorite, fossils, and opals.
The brand is also famous for its enameling. Some Jaquet Droz watch cases feature an enameling technique known as paillonné, for example, which involves flecks of gold. You'll also find enamel cloisonné (using fine wires to mark out different patterns) and enamel flinqué, which involves stamping geometric patterns.
Jaquet Droz also champions other traditional decorative techniques including miniature precision painting and sculpture, as well as incorporating tiny automata, inspired by its founder's masterful 18th-century creations.
Other Jaquet Droz innovations include the sliding-piston whistle that imitated birdsong by modulating the sound. This allowed for the creation of tiny birds that could be housed in tobacco boxes and bottles.
You'll also find a number of recurrent motifs and symbols on Jaquet Droz watches. These include the number 8, chosen because it is a lucky number in the Far East where the company did a lot of business early on. Jaquet Droz limited editions are also typically offered in sets of 8, 28, or 88.
There's also the clover leaf, originally the signature of Pierre Jaquet-Droz. You'll find this emblem on the lower left-hand corner of all of the brand's movements.
Where is Jaquet Droz made?
After being purchased by the Swatch Company in 2000, Jaquet Droz watch production returned to La Chaux-de-Fonds where the company's first creations were made in 1738. In 2011, manufacturing began in the company's new Atelier de Haute Horlogerie.
Brand values
| | |
| --- | --- |
| Vegan options: | No |
| Carbon-neutral: | No |
| Gives back: | Yes |
Jaquet Droz watches
Jaquet Droz Grande Seconde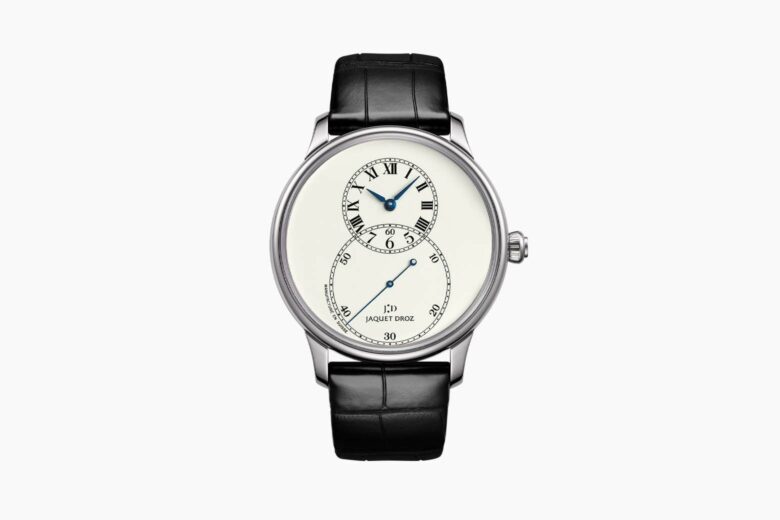 The Jaquet Droz Grande Seconde collection takes as inspiration the original pocket watch created by Pierre Jaquet-Droz back in 1784. Indeed, this watch series is just as imaginative and eye-catching as the designs to come from the mind of the brand's genius founder. You'll also find the recurrent Jaquet Droz number 8 motif in the form of the two overlapping subdials.
| | |
| --- | --- |
| Price: | $7,495 – $220,000 |
| First release year: | 2002 |
| Current case size: | 41 mm – 43 mm |
| Movement: | Automatic |
| Water resistance: | 30 m |
| Crystal: | Sapphire |
Jaquet Droz Automata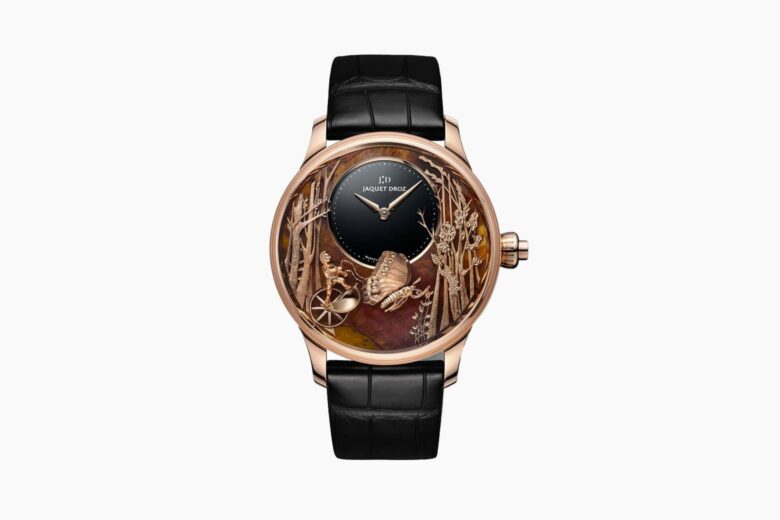 Pierre Jaquet-Droz was famous around the world for his exquisitely intricate automata, from the famous Writer android to singing bird snuff boxes. The brand's unique heritage crafting these marvels of mechanical engineering provides inspiration for the Automata collection. This series includes the Bird Repeater, featuring birds moving against a waterfall background, as well as the Loving Butterfly with its butterfly automata that flaps its wings 300 times over two minutes. This collection is as close to magic as you'll find in the 21st century.
| | |
| --- | --- |
| Price: | $78,200 – $600,000 |
| First release year: | 2002 |
| Current case size: | 35 mm – 47 mm |
| Movement: | Manual and automatic |
| Water resistance: | 30 m |
| Crystal: | Sapphire |
Jaquet Droz Ateliers d'art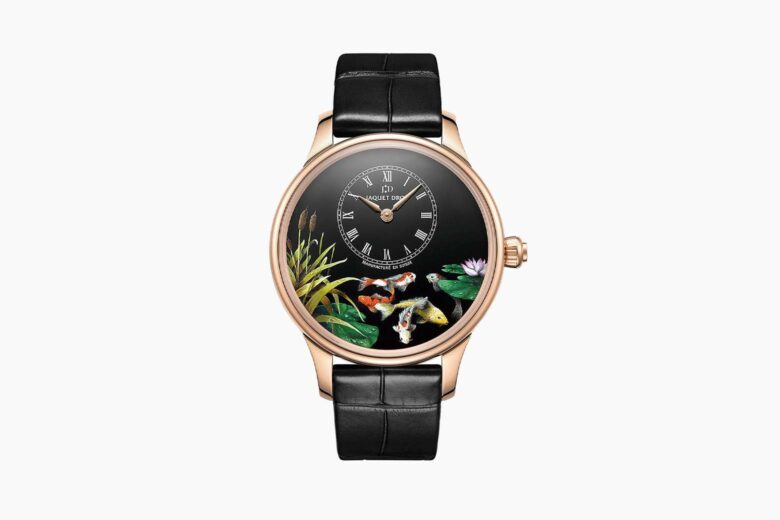 The Ateliers d'art collection showcases Jaquet Droz's inimitable knack for replicating centuries-old artisan techniques, namely paillonnée enamel. The Tourbillon paillonnée features an extraordinarily intricate enamel dial using paillons, or tiny pieces of gold foil, which are painstakingly wrought into miniature birds and laid on top of translucent champlevé enamel dials.
As if that wasn't enough, the luxury watch also features a flying tourbillon (read: a tourbillon with no upper bridge for the cage in order to give an unobstructed view of the tourbillon in operation) and an 18k red gold case as well as a 7-day power reserve. Your ticket to a seriously elevated black-tie get-up.
| | |
| --- | --- |
| Price: | $50,000 – $120,000 |
| First release year: | 2020 |
| Current case size: | 43 mm |
| Movement: | Automatic |
| Water resistance: | 30 m |
Jaquet Droz Tourbillon SW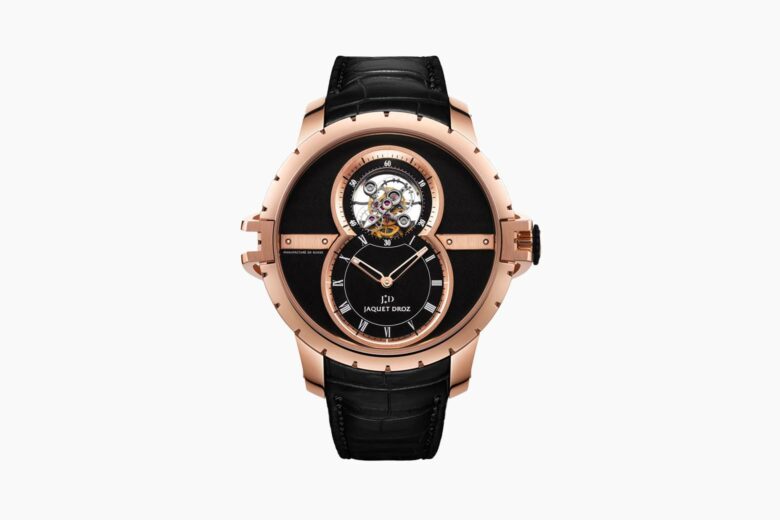 Sporty probably wouldn't be the word of choice when it comes to describing Jaquet Droz watches. But the Tourbillon SW does indeed feel a little more robust and rugged than the brand's usual offerings, featuring a black dial with rubber treatment and a chunky 45 mm case. With Super-Luminova tipped hands and 50 m of water resistance (exceptionally high for a Jaquet Droz watch), you might go so far as to say this watch was practical.
| | |
| --- | --- |
| Price: | $105,000 |
| First release year: | 2013 |
| Current case size: | 45 mm |
| Movement: | Automatic |
| Water resistance: | 50 m |
Where to buy Jaquet Droz watches
You can buy Jaquet Droz watches at one of the official points of sale listed here. While you cannot currently buy Jaquet Droz watches from the company website, you can send inquiries about particular models. You can also buy authentic second-hand Jaquet Droz watches from trusted retailers such as Jomashop
Before buying a Jaquet Droz watch, also read our watch guide.
Jaquet Droz customer service
To contact the Jaquet Droz customer service department, simply send them a message via the contact form found here.
Jaquet Droz social media profiles
Frequently asked questions about Jaquet Droz watches