It's no overstatement to say that Jameson is the Irish king of whiskey. The brand has been creating casks of everyone's favorite amber spirit for over 200 years
Jameson's distinct Irish blend is a world bestseller and this beloved whiskey giant is the drink of choice for everyone from jolly St Patrick's day revellers to Lady Gaga. And, despite its size and overwhelming popularity, it remains a lighthearted and unpretentious brand that puts the whiskey craft first and foremost.
Dating from 1780, the motto of the company and family is Sine Metu—meaning Without Fear. You'll find it on the front of every bottle, and we think that's the best way to sum up Jameson whiskey. For better or worse, a few drams of this and you'll be totally fearless.
Getting down to business though, what does Jameson taste like? Well, it's mellow and smooth with spicy, woody, nutty, and vanilla undertones—plus hints of sweet sherry. It's perfect for sipping beside a roaring fire—or, equally, doing a shot alongside your beer when out on the town. And it tastes pretty darned spectacular in a cocktail too.
You probably don't need much more convincing to order a bottle of Jameson but it's worth knowing a bit about the brand's history and production process before you crack open the bottle.
Here's everything you need to understand about Jameson, from the prices of bottles to the brand's long past, plus the best Jameson cocktail recipes, whether you're gearing up for an extravagant party or some solo fire-side sipping.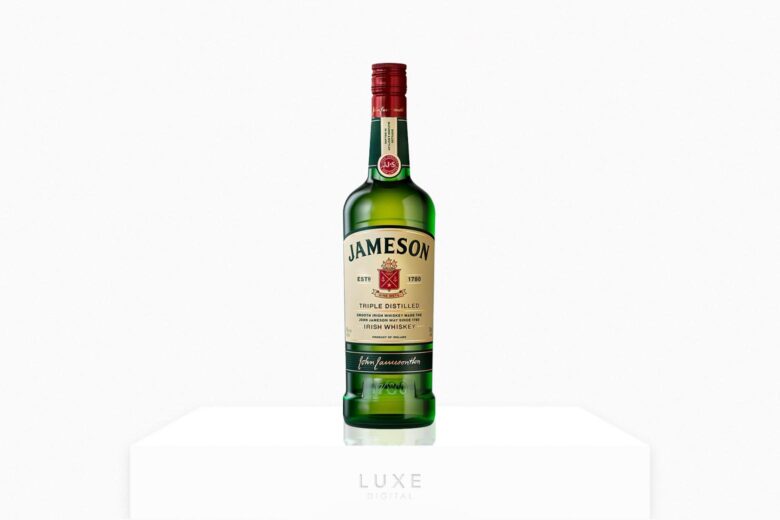 Jameson bottle sizes and prices
| Bottle | Size (ml) | Price (USD) |
| --- | --- | --- |
| Jameson Irish Whiskey | 375 ml | $18 |
| Jameson Irish Whiskey | 750 ml | $35 |
| Jameson Caskmates Stout Edition | 750 ml | $39 |
| Jameson Irish Whiskey | 1000 ml | $35 |
| Jameson Caskmates IPA Edition | 750 ml | $39 |
| Jameson Black Barrel | 750 ml | $47 |
| Jameson Irish Whiskey | 1750ml | $53 |
| Jameson Irish Whiskey 12 year 1780 | 750 ml | $75 |
| Jameson Cooper's Croze | 750 ml | $72 |
| Jameson Blender's Dog | 750 ml | $83 |
| Jameson 18 Year Old Limited Reserve | 750 ml | $169 |
| Jameson Gold Reserve | 750 ml | $185 |
| Jameson Rarest Vintage Reserve | 750 ml | $325 |
Jameson: the story behind the brand
Huddle in, we're going to tell you a secret: John Jameson, the man behind the iconic Irish whiskey of the same name, wasn't actually Irish. While this whiskey might seem as quintessentially Irish as they come, Jameson himself actually hailed from Scotland.
But given that Scotland is also a nation of stalwart whiskey drinkers (see Johnnie Walker, for example), Jameson's heritage probably only worked in his favor when he formed the business back in 1780 with his son. The two established a unique way of making whiskey that the brand has been devotedly following ever since.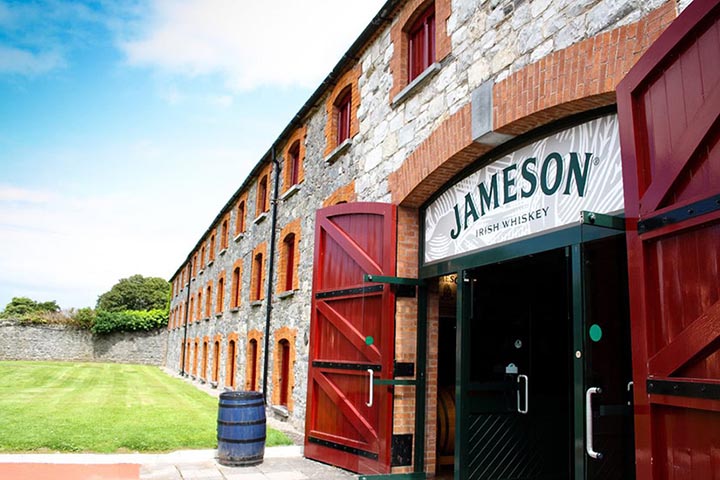 That's 200 years of expertise and know-how going into each bottle of Jameson. A whiskey that has survived the disruption of two world wars, the turmoil of the Irish civil war, followed by the American prohibition, where Irish whiskey suffered from the growth of an illegal market where poor-quality moonshine was passed off as the real thing.
Jameson emerged unscathed and as popular as ever. A masterful concoction with a distinct smoothness, today Jameson can proudly boast of being the world's favorite Irish whiskey and the winner of a long list of awards and accolades.
In fact, Jameson is so smooth that it was part of the original Baileys recipe, mixed with chocolate and cream.
Laws state that a spirit must mature for at least three years in Ireland to call itself Irish whiskey. This means it's not a term that you can throw about casually—but Jameson, distilled in Cork and made using locally grown barley, has its roots firmly in Irish soil.
Jameson is made from blending two different whiskeys. The best pot still whiskey, made from both malted and unmalted barley is combined with a fine-grain whiskey. Both have been distilled three times to remove any impurities and ensure optimum smoothness. This triple-distillation process distinguishes Jameson from American and Scottish whiskies which are only distilled twice. 
The water is taken from the Dungourney, a local river and one that's the perfect half-way house between hard and soft with calcium levels that are ideal for brewing.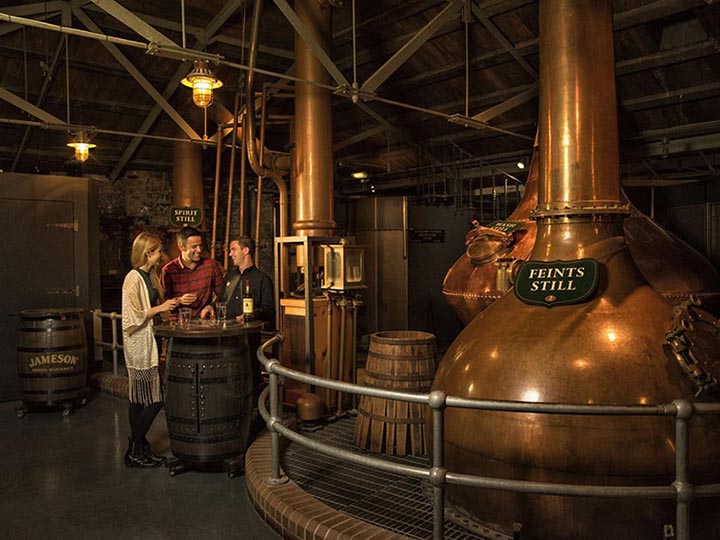 The whiskey is then aged for a minimum of 4 years in casks that come from both the US and Spain. These casks were previously used to age bourbon and sherry, lending the whiskey its highly distinct toasted wood and sweet sherry flavor.
Breaking it down, the nose is light and floral with spicy and sweet notes. To taste, it's nutty with vanilla and sweet sherry undertones. The sign-off? A toasted oak finish, less peaty than Scotch and not as heavily charred as American bourbon.
Incredibly, Jameson was sold by the cask right up until 1968. Can you imagine wheeling out a whole wooden whiskey cask to tempt guests with a digestif?
Today, however, Jameson is available by the bottle—and there are quite a range of bottles on offer. Indeed, today, beyond the original and basic Jameson whiskey, you have a variety of other expressions, each unique and expertly crafted.
Take Jameson Black Barrel, for example. It's been aged in a double-charred bourbon cask to add complexity and create a richer, smoother, and more intense taste. The nose has notes of plummy fruits like nectarines, while, to taste, you've got tones of dates and walnuts. To finish, cinnamon and nutmeg.
Jameson Blender's Dog highlights the art of blending, balancing different whiskies to create a drink that is light and citrusy to the nose with notes of figs, dates, vanilla, and toasted oak. To taste, it's rich and creamy with sweet butterscotch tones.
Finally, Jameson Caskmates Stout Edition, aged in stout-seasoned whiskey casks, creates an incredibly distinct drink with notes of coca, coffee, marzipan, and butterscotch. Ideal for stout lovers looking for something with a bit more welly.
Today, you'll find Jameson in watering holes as diverse as upscale cocktail joints to rundown old dive bars. We think the best way to enjoy it is within the comfort of your own four walls, as part of your at-home happy hour, served straight from your home bar.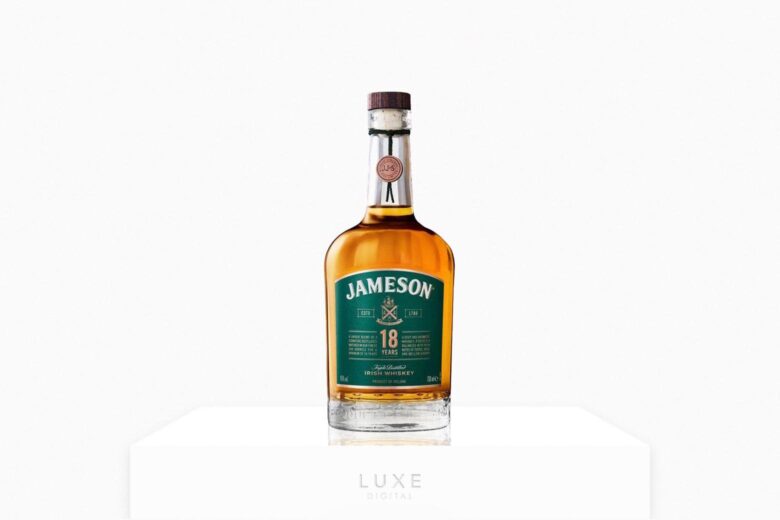 How to drink Jameson Whiskey?
Like all the best whiskeys, Jameson is best consumed when you can really concentrate. After all, a lot of thought and care went into the creation of this drink. Gulping it back and following up with a beer, you're going to miss a lot of the subtle flavors going on.
Save the shots for vodka or tequila. Instead, pour yourself a tumbler of whiskey—or snifter. 50 milliliters is a good place to start. We recommend sampling it neat at room temperature, to begin with—so you can really get to grips with its bold flavor profile.
Inhale before you sip to really explore the scent. Half the joy of whiskey is in the nose. And when you do drink, take just a small sip, letting it linger on your tongue before swallowing, seeing what flavors you can notice.
If it's a little overpowering, you can add a few drops of water with a straw. This will lower the alcohol content, allowing you to detect a greater spectrum of aromatics and flavors.
You can also add ice if you prefer your whiskey chilled. Opt for a large ice cube or ball that will melt slower. Whiskey stones are another good option to avoid dilution.
If you want to mix Jameson with something, you could try a simple ginger and lime or more extravagant cocktails.
Jameson cocktail recipes
Jameson is known for pairing exceptionally well with ginger ale. Beyond that classic mixed drink, the famous whiskey makes an incredible base for a whole host of cocktails thanks to its delectable smoothness. Mix yourself one of these cheeky libations, sit back, get the craic, and enjoy.
Jameson, Ginger and Lime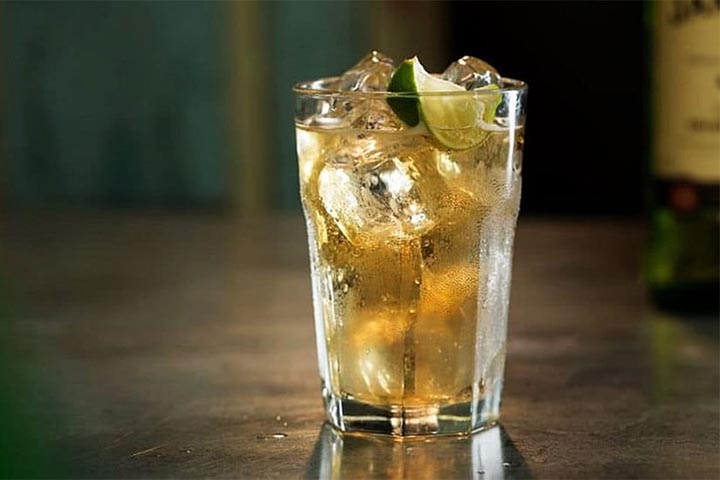 A Jameson and Ginger, also known as an Irish Buck, is one of the world's most popular drinks, especially among whiskey fans. The lime adds a lovely tangy note and the ginger ale complements the whiskey perfectly. It's like a Dark 'n' Stormy, but without the rum. Taking less than 5 minutes to prepare, it's the ideal refreshing drink for hot afternoons and evenings and is also a great budget-friendly whiskey cocktail.
Ingredients:
50 ml Jameson Irish Whiskey
Ginger ale
Wedge of lime
Cocktail recipes: Add ice to a glass with the whiskey. Top up with ginger ale. Stir to mix. Squeeze over the lime.
Jameson Irish Coffee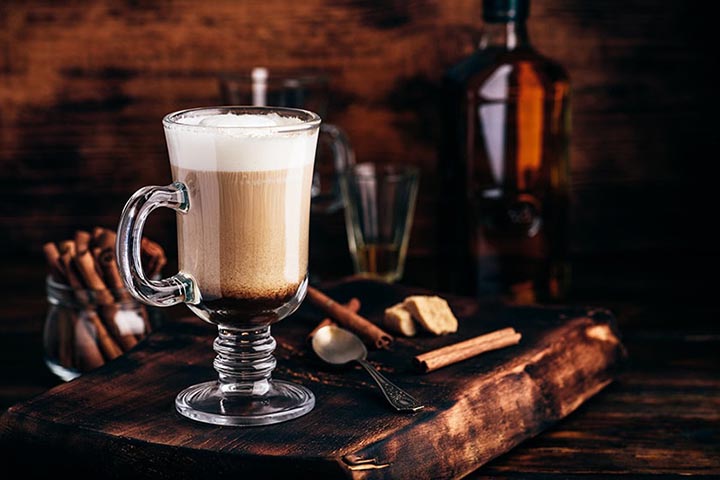 This is an absolute classic. It's not a question of simply adding a good swig of Jameson to your morning coffee, however. It also requires sugar and cream, combined together to create something that will help you both wake up and chill out simultaneously. While gin 'n' tonic might be your go-to summer drink, there's no better winter beverage than an Irish Coffee.
Ingredients:
50 ml Jameson Irish Whiskey
1 teaspoon of sugar
2 tablespoons of whipped double cream
150 ml roasted black coffee
Vanilla pod or cinnamon stick
Grated nutmeg
Cocktail recipes: Heat a mug with hot water. Add the sugar followed by the coffee and stir to dissolve. Next, add the Jameson and stir again. Then pour in the whipped cream over the back of the spoon. This will allow it to float. Add the vanilla pod or cinnamon stick to garnish, along with a grating of nutmeg.
You can also spice it up further with the addition of cardamom pods and orange zest.
Jameson Not a Shamrock Shake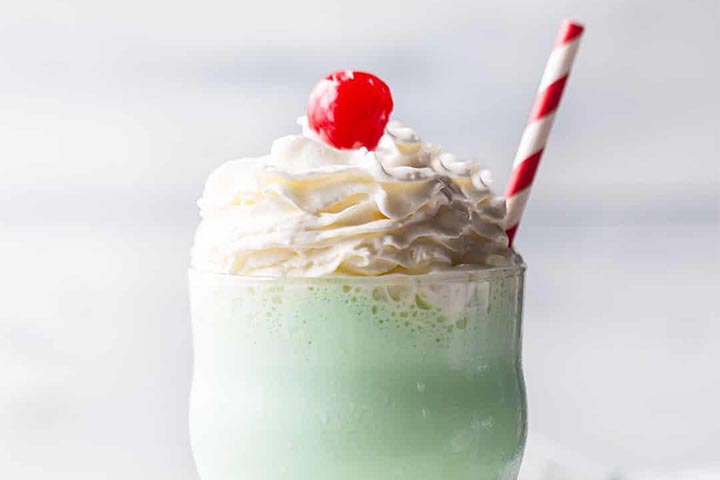 The perfect drink to mix up on St. Patrick's day thanks to its bright green coloring. The brainchild of the mixologists over at Jameson themselves, you can be sure this makes for easy sipping.
Ingredients:
45 ml Jameson Irish Whiskey
250 ml boiling water
250 g white sugar
30 ml lemon juice
8 basil leaves
40 ml sparkling wine or Champagne
Cocktail recipes: Add the water to the sugar and stir to dissolve. This is your simple homemade syrup. Refrigerate until cold. Then muddle your basil leaves in a shaker. Add all the ingredients except the sparkling wine, plus ice, then shake. Double strain into a glass with ice and top with the sparkling wine. Add a basil leaf for garnish.
Frequently asked questions about Jameson whiskey
How much does Jameson whiskey cost?
Jameson Whiskey costs from $20 to over $300. Prices vary according to bottle size and types. The price of a Jameson 375 ml bottle is $18. The price of a Jameson 1 liter bottle is $28. The price of a Jameson 1.75 ml bottle is $42. And the price of Jameson Black Barrel is $30.
How much is a 750 ml bottle of Jameson?
A 750 ml bottle of Jameson Original costs between $20 and $25 dollars. However, other bottles such as Jameson Caskmates Stout Edition and Jameson Black Barrel cost up to $30, while Jameson 18 Year Old Limited Reserve costs around $120.
What is the most expensive Jameson?
The most expensive Jameson is Jameson Rarest Vintage Reserve, crafted from the brand's oldest and rarest whiskeys, both grain whiskey and pot still whiskey. It's mellow and delicate and won double gold at the 2011 San Francisco World Spirits Competition.