First introduced in 1974 as a deliciously mouthwatering fusion of cocoa, praline, cream and Irish whiskey, Baileys is a sophisticated Irish cream liqueur adored by all.
Considering its relatively recent conception, Baileys has caused quite the international stir. At a pleasant 17% ABV, and with a promise of a two-year shelf life (despite having dairy as one of its main ingredients), the Irish cream liqueur is a much-loved spirit.
Whether you enjoy it in a coffee as a grown-up pick-me-up, in a Baileys cocktail, or as a slightly naughty winter hot chocolate, Baileys simply makes good things that much better.
The creamy liqueur has since transcended its original form, and there are now countless Baileys flavors to choose from.
So, if you fancy a change from Baileys Original, you can easily spice things up with Baileys Chocolate Luxe, made with Belgian chocolate, Baileys Strawberries & Cream, or the autumnal Baileys Pumpkin Spice, to name just a few of the delectable variations.
Simply put: Baileys takes the best things in life and unites them, resulting in a celebration of sweet, scrumptious, heaven-in-a-bottle.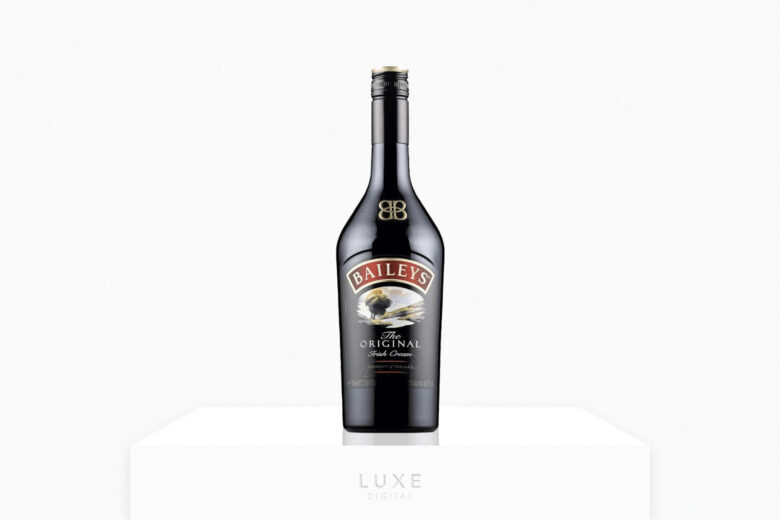 Baileys' bottle sizes and prices
| Bottle | Size | Price (USD) |
| --- | --- | --- |
| Baileys Original Irish Cream | 750ml | $30 |
| Baileys Original Irish Cream | 1 liter | $39 |
| Baileys Original Irish Cream | 1.75 liter | $51 |
| Baileys Irish Cream Strawberries & Cream | 750ml | $29 |
| Baileys Almande | 750ml | $29 |
| Baileys Irish Cream Vanilla | 750ml | $29 |
| Baileys Red Velvet | 750ml | $29 |
| Baileys Salted Caramel | 750ml | $29 |
| Baileys Espresso Crème | 750ml | $29 |
| Baileys Vanilla Cinnamon | 750ml | $29 |
| Baileys Apple Pie | 750ml | $29 |
| Baileys Chocolate Cherry | 750ml | $29 |
| Baileys Minis | 3 x 100ml | $11 |
Baileys Irish Cream: The first and only Irish cream liqueur
Rather than being the product of a slew of experiments in a makeshift factory, Baileys Irish Cream was the calculated invention of a team selected especially for the job of making a cream liqueur.
That team was headed by head of innovation at International Distiller & Vintners, Tom Jago. Jago was English, as were the rest of his team, bar one South African national.
So, to promptly dispel a very common misconception, Baileys Irish Cream isn't particularly Irish at all.
Even its name was carefully crafted not to sound too Irish. Presumably, to cater to a global market. In fact, 'Baileys' was simply the name of the restaurant below the head offices, based in SoHo, London.
Find your perfect Baileys type
If Irish Cream isn't your style, don't worry: Baileys have ensured that there's a Baileys flavor out there for everyone. Vegan? No problem. You can still enjoy a fine serving of Baileys Almande, which is 100% dairy-free.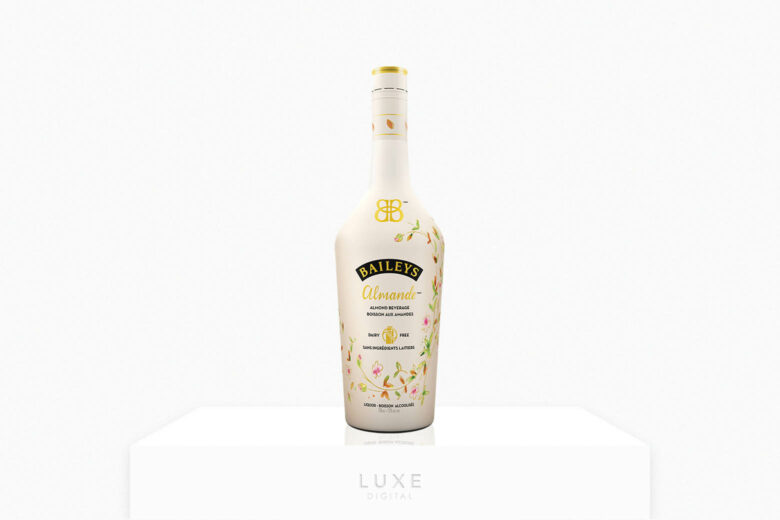 Baileys is a must-have for those with a sweet tooth, and a penchant for the novel. Innovative Baileys types include Baileys Red Velvet; a drinkable version of the famous forest fruit cake, Orange Truffle; which is like a Terry's Chocolate Orange, but with booze; or Baileys Biscotti; for a taste of Italy.
Plus, if you find yourself in Mexico, be sure to try Baileys Dulce de Leche (that's if you've had enough margaritas, of course).
Even teetotallers can enjoy the rich swirl of Irish cream: In early 2019, Baileys released a cornucopia of non-alcoholic varieties. Fans can now start on the Baileys earlier in the day (without being quietly judged), with Baileys Irish Creamers.
Simply add a little Original Irish Cream, Mocha Mudslide, or Vanilla Cream to your morning coffee for an angelic, yet decadent treat.
So, Baileys has certainly made sure nobody gets left out when it comes to Irish cream liqueur. Inclusivity at its very best.
The Baileys prototype
The decision to create an Irish cream liqueur may have been one of a conglomerate, but still, the inventors had to start somewhere.
Upon receiving instructions for their new project, two of the Baileys team headed to the corner shop and stocked up on Jameson's whiskey, Cadbury's Drinking Chocolate, and cream. After a presumably excellent day at work, they had their prototype: a mixture of these ingredients served in a re-used Schweppes bottle.
The moral of the story being: if you ever run out of real Baileys, you know what to do!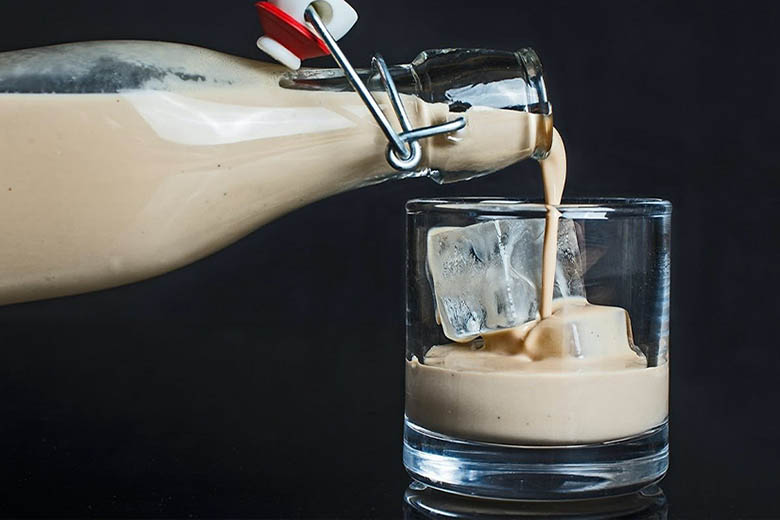 Propping up the Irish dairy industry
Okay, while the idea was arguably less Irish than we're led to believe (who cares, it's delicious), the ingredients are very much Irish.
Aside from Irish whiskey, a key ingredient in the Baileys recipe, is simple, unassuming cream. But it's the amount of cream used that's a little mind-blowing.
Every year, Baileys' factories use 200 million liters of Irish whole milk, mostly supplied from small, family-owned farms. For perspective, that amount of milk would fill 100 Olympic-sized swimming pools.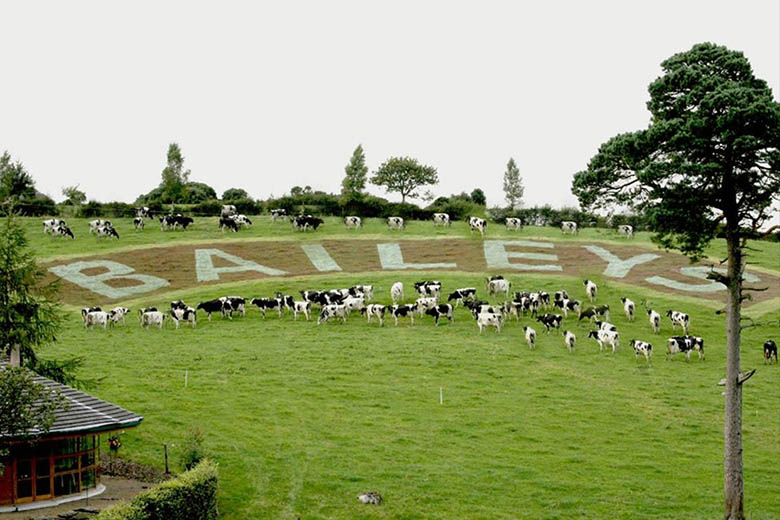 Baileys = calories
Baileys is by no means guilt-free with its liberal use of milk, sugar, cocoa and alcohol.
There's no sugar-coating the fact that Baileys is an indulgent tipple. When it comes to Baileys' calories, the number-crunching gets more than a little uncomfortable…
One 50ml shot of Baileys Irish Cream contains a startling 175 calories. As spirits go, Baileys is definitely on the Epicurean side of indulgent. But its deliciousness is unrivaled (literally– it's the only Irish cream liqueur on the market), so sometimes, you've just got to go for it.
But, while it may be heavy on the calories, Baileys is surprisingly affordable. Baileys price ranges from $30-35 for 1 liter, to $40 for 1.75 liters. Tempting, indeed.
How to drink Baileys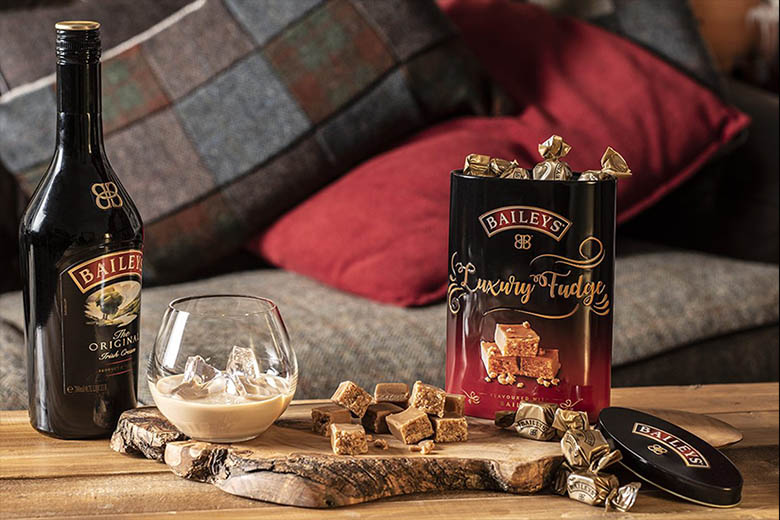 Although it's a delicious addition to dessert cocktails, poured over ice cream, or to ramp up a coffee, the finest way to appreciate Baileys' unique creaminess is to drink it straight, over ice.
Simply pour a generous serving of Baileys into a chilled rocks glass, over a handful of ice. Sip slowly and let the coffee, praline and whiskey notes enliven your taste buds.
The best cocktails to make with Baileys
Baileys Irish Coffee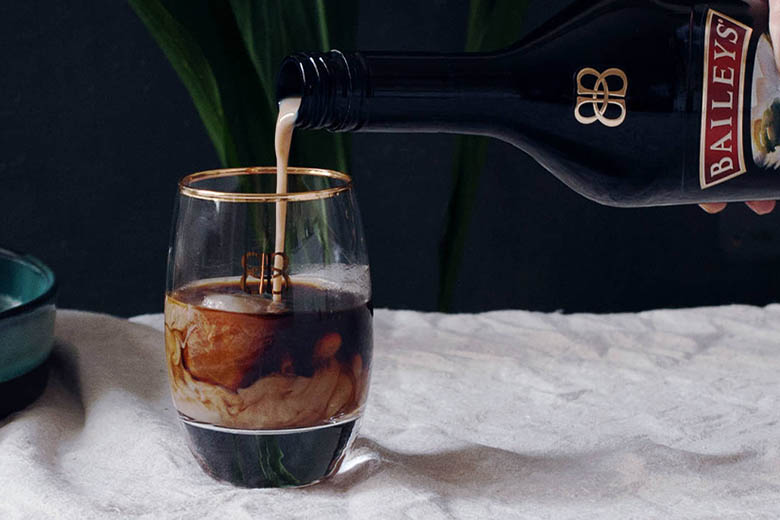 Ingredients:
60ml Baileys Original Irish Cream
180ml freshly brewed coffee
30ml Irish whiskey
A spoonful of whipped cream
Cocktail recipes: Combine Baileys, coffee and whiskey in an Irish Coffee glass (or your favorite tall glass). Top with whipped cream.
Espresso Martini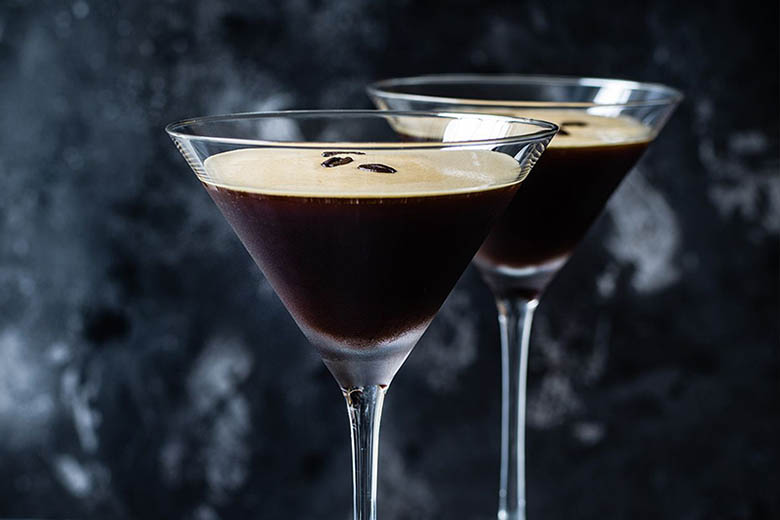 Ingredients:
60ml Baileys Espresso Cream Liqueur
7ml Smirnoff No. 21 vodka
7ml espresso
Cocktail recipes: Add all ingredients into a cocktail shaker with ice. Strain over ice into a chilled martini glass.
Baileys White Russian
Ingredients:
45ml Baileys Coffee Cream Liqueur
15ml Smirnoff No. 21 vodka
7.5ml coffee liqueur
60ml milk
Maraschino cherry
Cocktail recipes: Build all ingredients into a chilled rocks glass over ice. Add Maraschino cherry to garnish.
Frequently asked questions about Baileys
How do you drink Baileys?
Baileys is famously enjoyed in coffees, hot chocolates, cocktails, and on its own. To fully appreciate the complexities of Baileys Irish Cream, serve it neat, with ice. Sip slowly, and let the cocoa, coffee, whiskey, and cream work their magic.
Can you get drunk on Baileys?
At only 17% ABV and typically served in smaller amounts, you'd have to drink quite a lot of Baileys to get really drunk. It's best enjoyed for its flavors and warming sensation, rather than a one-way ticket to oblivion.
Does Baileys have coffee in it?
Contrary to popular belief, Baileys Irish Cream does not contain coffee. However, it does contain a very small amount of caffeine, which comes from the cocoa beans present in the recipe. There's roughly 10mg of caffeine per liter of Baileys Irish Cream, which is very little.
What can you add to Baileys Irish Cream?
Baileys Irish Cream is fantastically versatile. It is excellent served on ice cream, in an Irish coffee, in hot chocolates, or as a cocktail ingredient. You can also find countless dessert recipes featuring the rich Irish liqueur.