In the often-cited words of Mark Twain, 'Too much of anything is bad, but too much good whisky is barely enough.' And it seems to hold true for Johnnie Walker, at least—the brand behind the most popular, widely distributed, and best-selling Scotch whisky in the world.
There are few alcoholic beverages with the same cult status and air of distinction as whisky. The name itself comes from the Gaelic phrase 'Uisge Beatha' which means 'water of life.' No wonder whisky drinkers take their tipple of choice seriously.
Johnnie Walker is one of the best modern whisky brands out there. Smooth and complex while still being incredibly accessible and palatable, Johnnie Walker blended Scotch whisky dates from the 19th century. There are different Johnnie Walker types available, with different labels—red, black, green, gold, blue, and black—representing different flavors.
So whether you opt for the classic Johnnie Walker Red Label, paired with ginger ale, an Old Fashioned made with Johnnie Walker Black, or splash out on Johnnie Walker Blue, sit back, take a sip, and let this 'liquid sunshine'—as playwright George Bernard Shaw called it—warm your heart.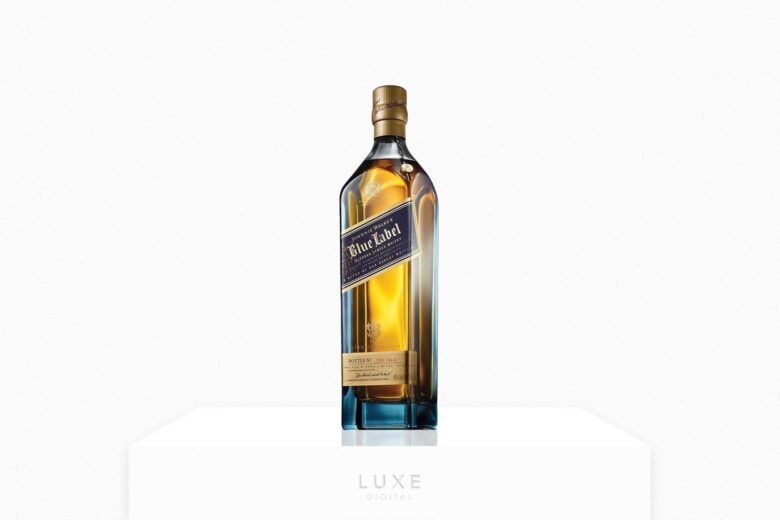 The best Johnnie Walker bottles
| Bottle name | Size | Est. Price (USD) |
| --- | --- | --- |
| Johnnie Walker Red Label | 750 ml | $35 |
| Johnnie Walker Black Label | 750 ml | $47 |
| Johnnie Walker Double Black | 750 ml | $59 |
| Johnnie Walker Gold Label Reserve | 750 ml | $83 |
| Johnnie Walker Green Label | 750 ml | $75 |
| Johnnie Walker Swing | 750 ml | $69 |
| Johnnie Walker Platinum | 750 ml | $119 |
| Johnnie Walker Blue | 750 ml | $243 |
Johnnie Walker: the story behind the brand
Johnnie Walker was the creation of a man named John Walker. A grocer in the Scottish town of Kilmarnock, John had a good head for business. At the time, most stores sold whisky in the form of single malts whose quality varied from bottle to bottle. He decided to start selling blended whiskies to offer customers a consistent product.
This proved to be a big success. And so when John's son Alexander took over the business in 1857—at the tail-end of the Industrial Revolution—he was able to take advantage of the boom in trade and transport to engage ship captains as agents. They would take his whisky around the world and introduce the globe to Johnnie Walker.
The company's first commercial blend was called Old Highland Whisky and was launched in 1867, complete with the slanted label that is so recognizable today. In 1909, Alexander's grandsons launched two new Johnnie Walker labels: Johnnie Walker Red Label and Johnnie Walker Black Label.
Also joining company ranks was a new Johnnie Walker logo. The 'Striding Man', a flamboyant dandy-like figure—complete with a top hat, monocle, and cane—has since become the iconic symbol of Johnnie Walker whisky. 
By the mid 20th century, Johnnie Walker was available in 120 countries around the world, and the company was even granted a Royal Warrant to supply whisky to the British royal family. 
Today, the Johnnie Walker hefty square-shaped bottle—originally designed to withstand sea crossings—is recognizable to anyone who knows their alcoholic libations, and an absolute staple on bartender shelves.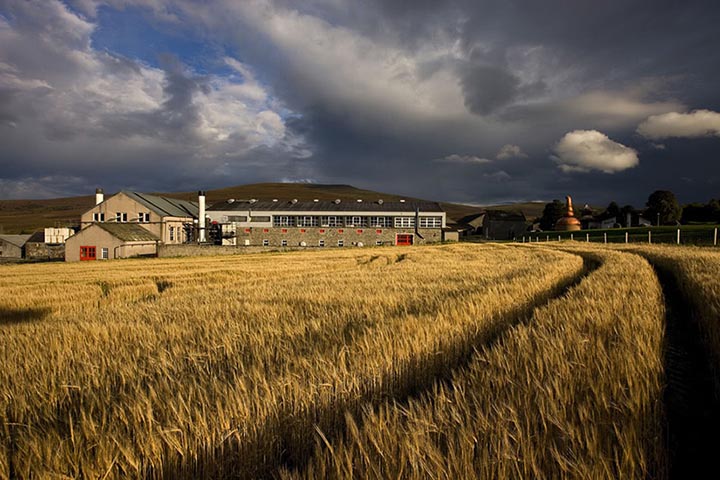 What exactly is Johnnie Walker?
Johnnie Walker is a blended Scotch whisky. Unlike bourbon, which is made in the USA from distilled corn, Johnnie Walker is made in Scotland from a blend of grain whiskies and malt whiskies, all from different distilleries—unlike single malts which come from just one distillery.
By blending different single malts and grain whiskies from different regions of Scotland, the brand is able to create different flavor profiles, from sweet and smooth to smoky and peaty.
Johnnie Walker has an expansive portfolio of scotches, offering several different blends to suit different budgets and tastes. They are identified by different colors and form a sort of Johnnie Walker hierarchy.
Johnnie Walker Red is the most affordable label and is a blend of both dark peat whiskies and lighter ones from the Scottish East coast. Flavor-wise, it's simple, easygoing, and a little bit spicy. It was originally created for mixing and you'll find it in almost any bar across the world.
Johnnie Walker Black is a little more complex than the Red, containing 30 to 40 different malt whiskies—the most of any Johnnie Walker label. Each of these is aged for around 12 years and a large proportion come from Islay, adding more peatiness. Johnnie Walker Black also includes notes of caramel, vanilla, and soft spices.
Johnnie Walker Double Black is even more peat-heavy, and includes some charred-cask whiskies, lending it a deeper and more intense flavor.
Johnnie Walker Green contains no grain whisky, only blended malts from four single-malt distilleries. Those chosen are considered some of the best single malts in the country, including Linkwood and Cragganmore. In terms of flavor, the Green label tastes sweet and honeyed with hints of dried fruits.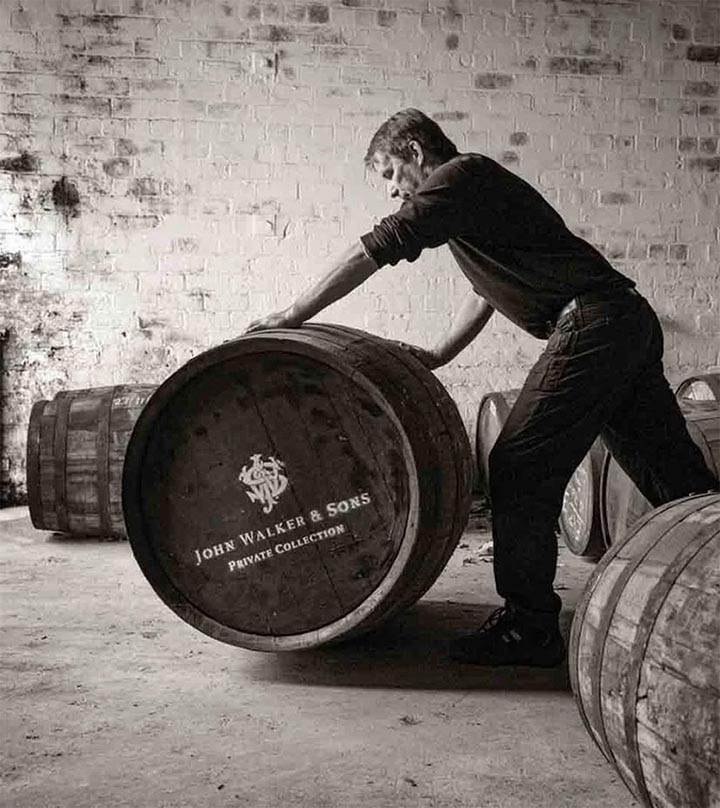 Johnnie Walker Gold, a blend of 15 whiskies, is the ideal smooth whisky to sip slowly in the evening, preferably in a tuxedo. It errs on the side of sweet with vanilla and caramel flavors as well as honey notes.
The Johnnie Walker Platinum Label is more of a luxury Scotch. Each of the whiskies used in the blend is at least 18 years old, and it's perfect for drinking straight with just a little water or ice. 
The illustrious Johnnie Walker Blue is the brand's premium blend. This one contains some very old and rare whiskies and tastes a little bit smoky, a little bit sweet, with notes of soft sherry, honey, toffee, and barley. It's almost dangerously easy to drink—and one of the most coveted whiskies around.
Aside from these 7 Johnnie Walker labels, the brand has often released other unique expressions, even as far back as in 1932 with the Johnnie Walker Swing. Named for the rocking motion of the bottle when pushed, Johnnie Walker Swing was designed with international travelers in mind and is light and fresh with hints of smoke and oak. 
More recently, Johnnie Walker launched three special Johnnie Walker Game of Thrones editions in collaboration with the HBO series: Johnnie Walker White Walker, Johnnie Walker A Song of Ice, and Johnnie Walker A Song of Fire.
How to drink Johnnie Walker
In the Scotch-drinking world, there are all sorts of myths and sayings about how the whisky-drinking elite consume their beverage of choice. But when it comes down to it, you should drink your whisky in the way that works for you. 
Different kinds of glasses and different temperatures will affect the flavor—as will the addition of water or ice. In terms of receptacles, you really want a solid heavy-bottomed tumbler, or a snifter—a tulip-shaped glass.
If you're drinking Johnnie Walker as part of a cocktail, or with soda or juice, you'll want a highball glass. Top tip: flavored soda waters such as lemon or lime taste great with Johnnie Walker Red.
You can drink Johnnie Walker neat—as the most ardent whisky fans would advise. Or you can add a drop or two of water to open up the flavors and decrease the intensity of the alcohol. 
Adding ice can make it more refreshing, but will also dilute it slightly. This will subdue some flavors but enhance others. Opt for a big chunky ice-cube that will melt slowly.
Before drinking, be sure to take a good sniff of the whisky. The aroma is part of the experience. Then take a small sip and allow it to roll around your mouth before swallowing. Savor it and pay attention to the different flavors.
The best whisky glasses
Cocktail recipes
Adding Johnnie Walker to a cocktail is a great choice if you like your alcoholic drinks long and easy on the palette. Every home bar needs a good bottle of whisky so pick up a bottle of your chosen Johnnie Walker online and get mixing.
Johnnie Walker Highball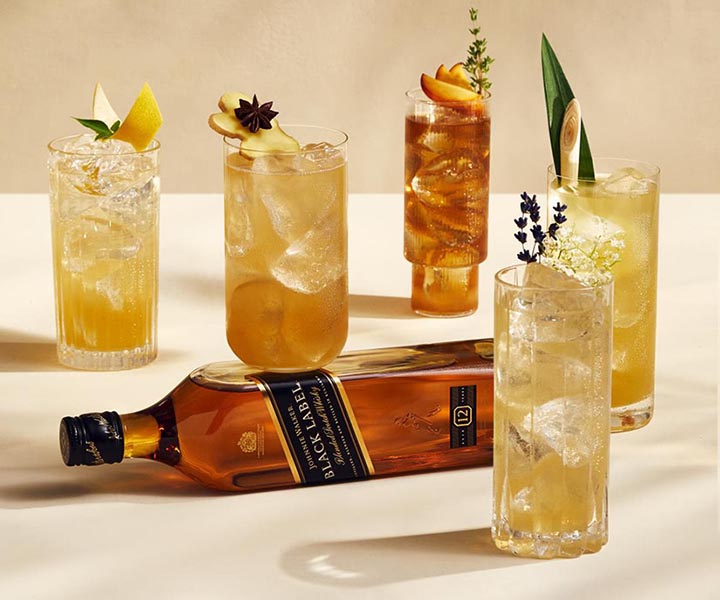 Highball is one of the easiest whisky-based cocktails, combining just two ingredients. The soda adds some refreshing sweetness to the whisky and makes highballs a great happy hour drink—the perfect winter alternative to a gin 'n' tonic. A Highball is also a good option for those who aren't quite ready to sip Scotch neat.
Ingredients:
50 ml Johnnie Walker Red
150 ml soda
Lemon to garnish
Cocktail recipes: Simply fill a highball glass with ice cubes. Then add the whisky and top up with soda.
For something different, opt for ginger ale instead of soda, or add a little lime to make a Mamie Taylor cocktail. Tonic water is good if you want something dry to drink with dinner, while adding elderflower, green tea, or lemon are creative ways to mix up this classic.
Johnnie Walker Whisky Sour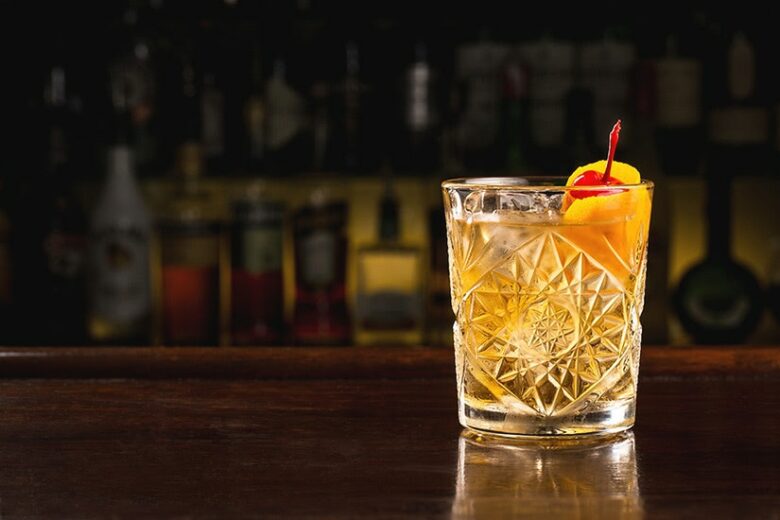 One of the most popular whisky cocktails, the Whisky Sour is thought to have begun life on ships where it was originally made using rum mixed with lemon or lime, which sailors drank to avoid scurvy.
Johnnie Walker is perfect for making Whisky Sours because it is milder than single malts and pairs perfectly with lemon.
Ingredients:
60 ml Johnnie Walker Black
22 ml fresh lemon juice
22 ml simple sugar syrup
2 dashes of bitters (grapefruit, orange, and rhubarb are all good choices)
Lemon, orange, or cherries to garnish
Cocktail recipes: Add everything to a cocktail shaker with ice and shake hard. Strain into a glass, remove the ice, then shake again. Serve with or without ice.
Opt for Johnnie Walker Red instead of Black if you want something spicy rather than smoky—or Gold for something fruity. Adding egg white is a traditional choice too.
Johnnie Walker Old Fashioned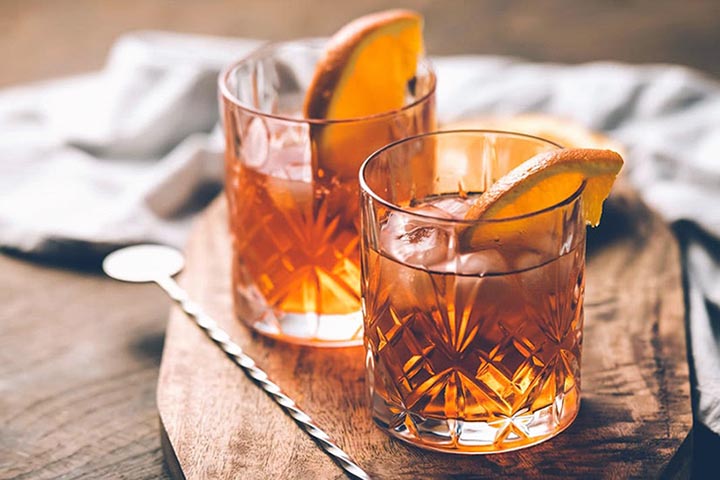 The Old Fashioned, despite its name, seems destined never to go out of fashion. It's a timeless cocktail, one that saw a boom in popularity after Mad Men thanks to Don Draper's penchant for the drink.
Ingredients:
60 ml Johnnie Walker Black
10 ml simple syrup
2 dashes of aromatic bitters
Cocktail recipes: Add everything to a mixing glass and muddle together. Serve in a tumbler with ice cubes. Use orange peel and rosemary or cherry to garnish.
Some people prefer to use sugar cubes instead of syrup. And, if you're feeling luxurious, substitute Johnnie Walker Black for Blue, which will lend the cocktail added layers of fruit, spice, and smoke.
Johnnie Walker: Frequently asked questions
Which Johnnie Walker is the most expensive?
Johnnie Walker Blue Label is the most expensive of the Johnnie Walker blended whisky portfolio, costing, on average, $180. It is the brand's most premium whisky.
What are the levels of Johnnie Walker?
Johnnie Walker has different levels of whiskies, each identified by a different color and each with a different price tag. In order of least to most expensive, these are Johnnie Walker Red, Black, Double Black, Gold, Green, Platinum, and Blue.
Which Johnnie Walker label is the best?
In terms of quality, the best Johnnie Walker label is Blue. Johnnie Walker Blue is the most coveted of the brand's line of blended whiskies. However, Johnnie Walker Red is a best-seller and has won many awards.
How much is Johnnie Walker Blue?
A bottle of Johnnie Walker Blue costs on average $180 for 700 milliliters. But some editions cost even more. For example, the Johnnie Walker Blue Label 1805, released to celebrate the brand's 200th anniversary, costs $28,475.
Why is the Johnnie Walker Blue label so expensive?
Johnnie Walker Blue label is expensive because of the rarity of the scotches that make up the blend. The quality is incredibly high. Only 1 in 10,000 casks are considered good enough by the brand to merit the Blue label.
Is it spelled Johnny Walker or Johnnie Walker
While many people spell it Johnny Walker, the correct spelling is Johnnie Walker.