Breitling, the company that started out making highly accurate chronographs for plane cockpits, has evolved to become one of the world's top luxury watch brands. Renowned for its ultra-functional timekeepers, it also happens to have ambassadors that include the likes of Brad Pitt and Kelly Slater.
Whether it's soaring through the skies at record-high altitudes, orbiting the Earth in a spacecraft, embarking on a subaquatic expedition, or sending out a distress signal when things take a turn for the worse, Breitling watches are the ultimate ally to adventurers everywhere.
At a glance
| | |
| --- | --- |
| | |
| Industry: Watches | Founded: 1884 |
| Headquarters: Switzerland | Founder: Léon Breitling |
| Watch Collections: pilot watches, sports watches, dive watches, field watches, and dress watches | Parent organization: CVC Capital Partners |
| Annual Revenue: $730 million USD | Website: breitling.com |
Breitling watch price
How much does a Breitling watch cost?
The starting price for a Breitling watch is $3,830 for a Breitling Endurance Pro. Breitling watch prices for a Breitling Chronomat start at $4,580. At the other end of the price spectrum, you'll find some Breitling watches retailing for over $40,000.
What is the most expensive Breitling watch?
The most expensive Breitling wristwatch is the Breitling Bentley Flying B J28362. There were only 50 of this particular timepiece produced. It's also covered in diamonds and made from 18-karat white gold. At $255,000, it costs more than an actual Bentley car.
See how this compares to the most expensive watches.
What is the cheapest Breitling watch?
The cheapest Breitling watch is a Breitling Endurance Pro, currently retailing for $3,830. Breitling watch prices for a Breitling Avenger start at $4,580. You can also pick up a Breitling Chronomat for $4,580 or a Breitling Navitimer for $5,390.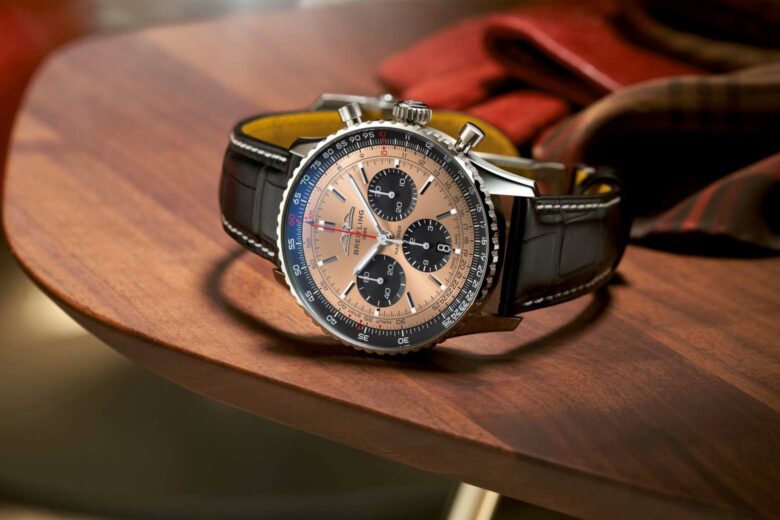 About Breitling
History of the brand
Breitling was founded by watchmaker Léon Breitling in St Imier, Switzerland, in 1884. His focus was precision chronographs of superior accuracy that could be used for timekeeping in both industry and sport.
In 1915, Breitling unveiled its first wrist-worn chronograph. And, in 1934, under the helm of Willy, Léon Breitling's great-grandson, the company patented the first wrist chronograph with two pushers. One was used to start the watch or pause it. The other was used to reset the watch. This design has since been copied by many luxury watch brands.
The Royal Air Force commissioned large numbers of the design for its WWII pilots. Then, in 1943, in a departure from the brand's combat-focused timepieces, came the Breitling Premier, a civilian watch with an elegant aesthetic.
In 1940, Breitling patented the Breitling Chronomat, a watch with a circular slide rule integrated as a bezel, helping pilots with quick on-the-spot calculations. This evolved to become the Navitimer in 1952, the official watch of the Aircraft Owners and Pilots Association whose logo appears on the dial.
In 1953, Breitling launched the Breitling Co-Pilot AVI Ref. 765, another impressive pilot watch with oversized luminescent Arabic numerals against a black dial and super thin syringe hands.
Then, with the relatively peaceful 1960s in full swing, Breitling broadened its range to include sports watches, including the Breitling Zorro with its eye-catching two-color dial.
In 1964 came the Breitling SuperOcean with 200 meters of water resistance (quite a feat at the time) and a large crown and notched bezel for ease of use.
Emergency beacons provided inspiration for the Breitling Emergency, launched in 1995 and featuring an antenna that could broadcast on the 121.5 MHz distress frequency with a signal that could be picked up 90 nautical miles away.
In 2003, Breitling released its Breitling for Bentley collection in partnership with the iconic manufacturer that had just won the 24 hours Le Mans car race. Then, in April 2013, came the Breitling Emergency II, adding the 406.04 MHz signal, which can be monitored by satellites.
In 2017, Breitling was sold to CVC Capital Partners, a European private equity firm.
Interesting facts about the brand
During WWII, with the Nazis surrounding Switzerland and blocking exports, Willy Breitling set up a makeshift runway near the factory using car headlights in order to fly watches out of the country without Nazi intelligence officers catching wind of the operation.
In 1962 Lt. Commander Scott Carpenter orbited the earth three times with a Breitling Navitimer Cosmonaute on his wrist. This slightly modified Breitling was dubbed the Navitimer Cosmonaute.
In 1967, Breitling participated in a covert endeavor called Project 99, along with TAG Heuer, developing the world's first self-winding chronograph movement, later called Calibre 11.
The Breitling Emergency was initially only available to pilots. Once civilians were also allowed to purchase it, they had to sign a contract agreeing to pay for wasteful rescue attempts.
Records state that 20 lives have already been saved thanks to the Breitling Emergency.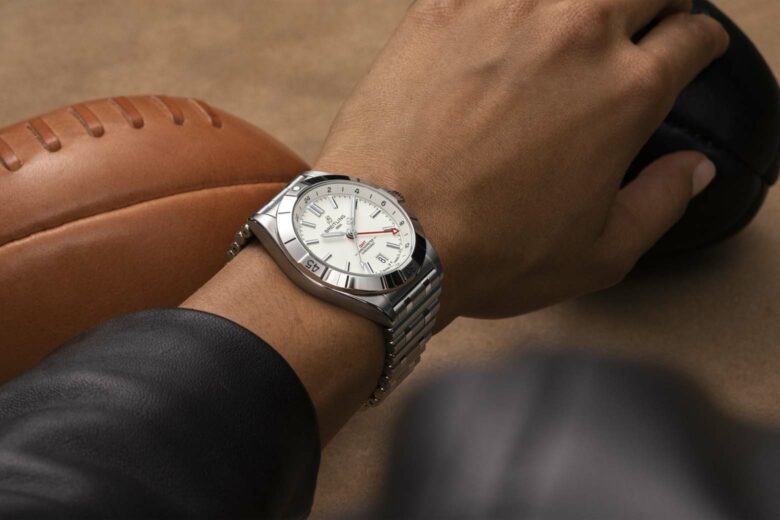 Breitling product range
Although Breitling's specialty is aviation-inspired men's watches, the brand has expanded its range hugely since its early days and today offers a variety of watch collections that can be roughly grouped into four categories.
First, you have Breitling's classic pilot watches. There's the Chronomat, with its innovative slide-rule on the bezel, a Breitling hallmark. Next, there's the iconic Navitimer, an evolution of the Breitling Chronomat, and one of the brand's most popular watches. And then there's the Classic AVI collection, offering vintage-style pilot watches inspired by the original Breitling reference 765 Co-Pilot.
Then you have sports watches in the form of the SuperOcean and SuperOcean Heritage, both of which also constitute dive watches, with water resistance ranging from 300 m to 1000 m. You also have the Breitling Top Time, a robust and retro timepiece with a distinctive Zorro dial.
Breitling also has two lines of hard-wearing and ultra-functional field watches. First, the Professional collection, which includes the Breitling Emergency and Breitling Aerospace EVO, and, more recently, the Breitling Endurance Pro. Plus there's the Breitling Avenger collection, with its superbly durable timepieces offering optimum resistance in the most extreme conditions.
Finally, you have the Breitling Premier, the brand's line of dress watches, with aesthetic allure as well as high-end complications.
Signature materials and craftsmanship
There are a number of trademark features and materials that define Breitling watches. One is the logarithmic slide rule first seen on the 1940s Chronomat, integrated into a rotating bezel and surrounded by small beads to make it easier to handle.
There's also the innovative Slow Motion chronograph caliber, used in the brand's SuperOcean models, which enables the chronograph hand to make one revolution per hour instead of one per minute, allowing the wearer to read the diving duration without having to look for the minute recorder.
The Breitling Super Ocean Deep Sea has a water resistance of 1000 meters, thanks to its patented helium escapement case-back. This acts like a valve, allowing accumulated helium to be released. This stops the watch from exploding on return to the surface.
A distinguishing feature of the Breitling Chronomat is the four 'rider tabs' that protect the recessed crystal inside the bezel. These tabs also mark every quarter of an hour. They can be unscrewed and inverted so that the bezel can be used for both countdowns or count-ups.
Breitling is also dedicated to improving the sustainability of all its operations. It sources artisanal and small-scale gold, lab-grown diamonds, as well as upcycled packaging and sustainable straps made from ECOYNL® yarn, a material made from nylon waste extracted from oceans around the world. They are also launching blockchain-backed provenance records for watches to improve traceability. Since 2021, it has used 100% renewable energy for electricity across its HQ operations.
Where is Breitling made?
Breitling watches are made in a state-of-the-art manufacture on the outskirts of La Chaux-de-Fonds in Switzerland. Other Swiss watch brands that have factories here include Patek Philippe, Girard-Perregaux, and Ulysse Nardin.
Brand values
| | |
| --- | --- |
| Vegan options: | No |
| Carbon-neutral: | No |
| Gives back: | Yes |
Breitling watches
Breitling SuperOcean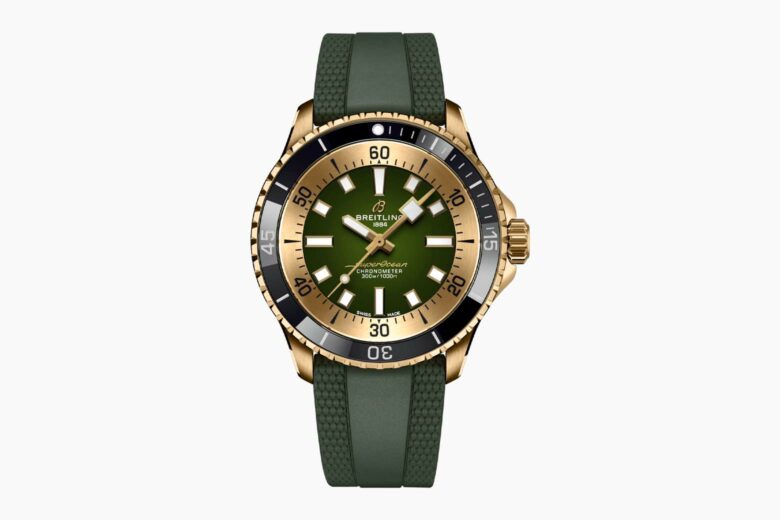 An all-purpose ocean-friendly timepiece, the Breitling SuperOcean's water-resistance ranges from 300 m to 1000 m. Expect classic Breitling durability, automatic movements, chunky luminescent indexes and hands, and a choice of fun colors, including orange and turquoise. They're also fairly affordable as far as luxury timepieces go.
| | |
| --- | --- |
| Price: | $5,340 – $7,770 |
| First release year: | 1957 |
| Current case size: | 36 mm – 46 mm |
| Movement: | Automatic |
| Water resistance: | 300 m – 1000 m |
| Crystal: | Sapphire |
Breitling Navitimer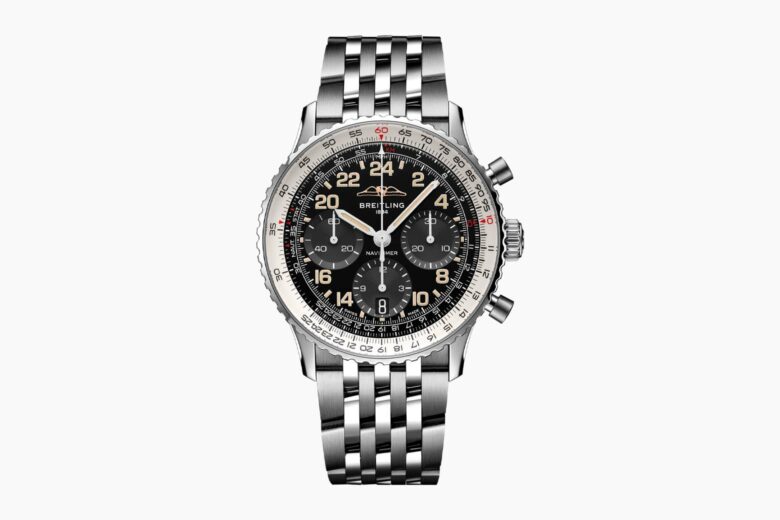 Breitling's flagship watch, the Navitimer can be immediately identified thanks to its trademark slide rule and bi-directional bezel, allowing for quick calculations while under pressure and making it an indispensable tool for professional pilots. This collection includes retro-inspired models like the Navitimer 1959 Platinum, which even features Plexiglass rather than sapphire crystal for added authenticity.
| | |
| --- | --- |
| Price: | $5,390 – $46,280 |
| First release year: | 1952 |
| Current case size: | 35 mm – 46 mm |
| Movement: | Manual and automatic |
| Water resistance: | 30 m |
| Crystal: | Sapphire and Plexiglass |
Breitling Top Time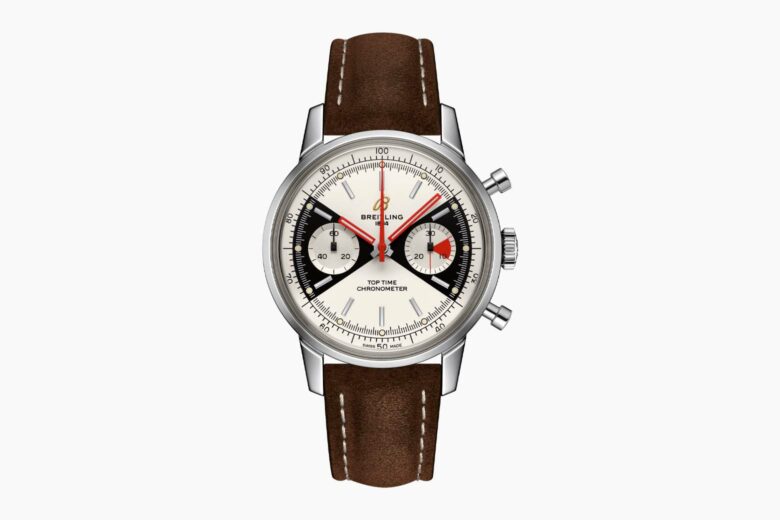 First appearing on the scene in the swinging '60s, the Breitling Top Time feels appropriately young, fresh, and fun-loving with its unconventional dial design, also known as the Zorro dial. The Top Time also typically features three alternate outer scales: a tachymeter, pulsometer, and decimal. A winning timepiece for both men and women, it's available in a range of colors and with a smart leather strap to complete the vintage mood. Fun fact: Sean Connery as James Bond sports a Top time in Thunderball.
| | |
| --- | --- |
| Price: | $5,790 – $6,380 |
| First release year: | 1962 |
| Current case size: | 40 mm – 42 mm |
| Movement: | Automatic |
| Water resistance: | 30 m – 100 m |
| Crystal: | Sapphire |
Breitling Chronomat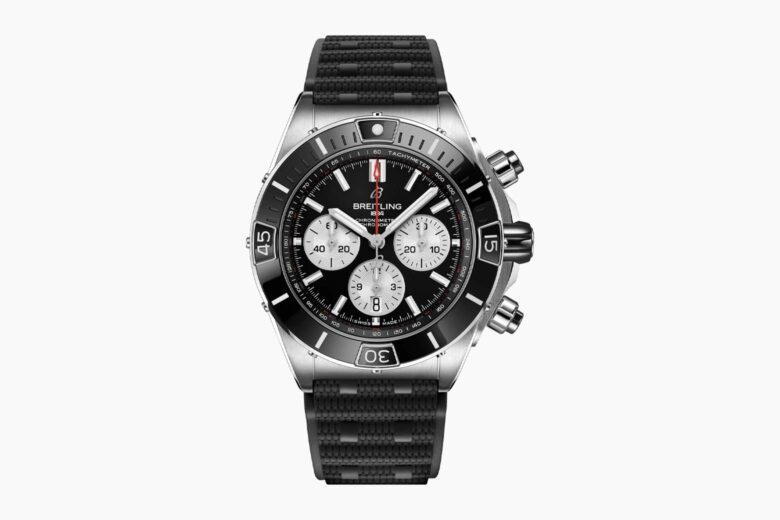 The predecessor to the Breitling Navitimer, the Breitling Chronomat was the first to feature the brand's signature slide-rule on the rotating bezel, designed for computations and calculations by pilots. Reintroduced in 2020, the new and improved Chronomat has the same '80s aesthetic as well as Breitling's trademark rider tabs on the bezel for added grip. This is a sporty yet undeniably chic watch that could be worn for a range of occasions, both casual and formal.
| | |
| --- | --- |
| Price: | $4,580 – $29,750 |
| First release year: | 1941 |
| Current case size: | 32 mm – 44 mm |
| Movement: | Automatic and quartz |
| Water resistance: | 100 m – 200 m |
| Crystal: | Sapphire |
Breitling Professional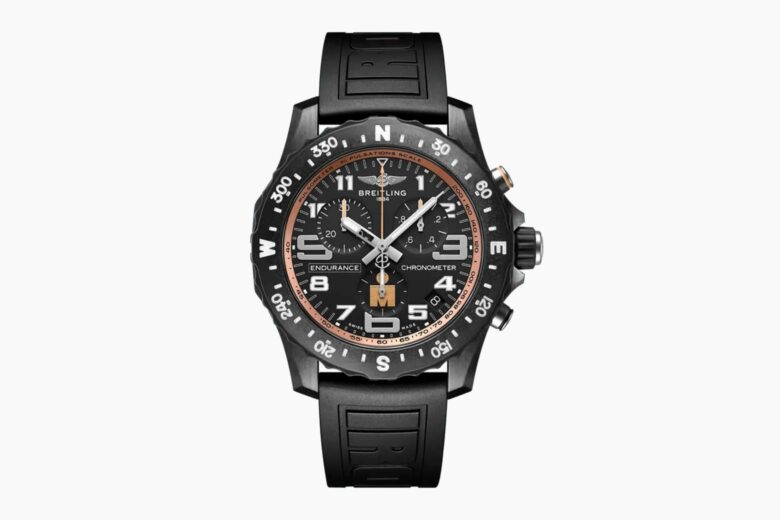 One of Breitling's original company mottos was 'Instruments for Professionals.' This watch series is a homage to the brand's history of crafting high-performance instruments for adventurers. It includes the famous and life-saving Breitling Emergency, with its micro-transmitter, and the Aerospace EVO, featuring dual LCDs, a titanium case, and futuristic numerals. There's also the Breitling Endurance Pro, with its ultra-light Breitlight® case, 3.3 times lighter than titanium.
| | |
| --- | --- |
| Price: | $3,830 – $21,760 |
| First release year: | 1985 |
| Current case size: | 43 mm – 51 mm |
| Movement: | Quartz and |
| Water resistance: | 50 m – 100 m |
| Crystal: | Sapphire |
Breitling Superocean Heritage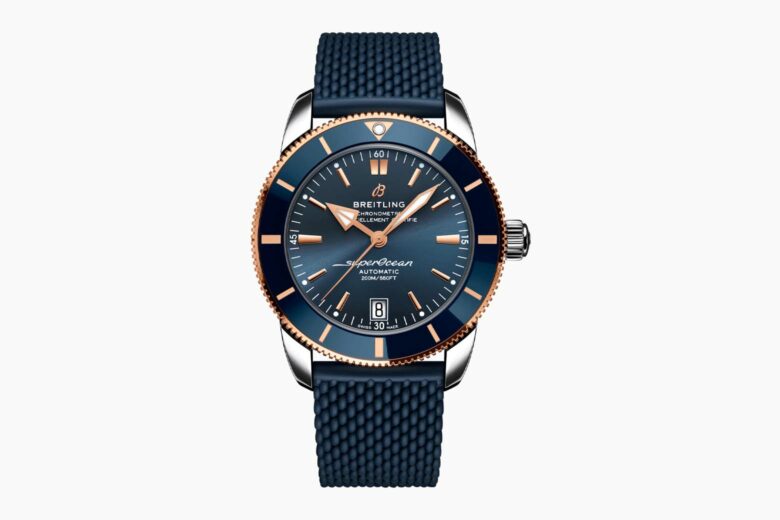 The SuperOcean Heritage collection is a celebration of Breitling's dive watch heritage and the brand's design finesse when it comes to engineering professional watches. Particularly exciting is the SuperOcean Heritage '57 capsule collection, imbued with carefree 60s surfing spirit and available in a range of cheerful colors. Materials include stainless steel and 18k red gold and you can choose between mesh bracelets, rubber straps, or an ECONYL® strap, repurposed from nylon ocean waste and co-designed with surfer Kelly Slater's brand
| | |
| --- | --- |
| Price: | $5,220 – $22,740 |
| First release year: | 2007 |
| Current case size: | 38 mm – 46 mm |
| Movement: | Automatic |
| Water resistance: | 100 m – 200 m |
| Crystal: | Sapphire |
Breitling Avenger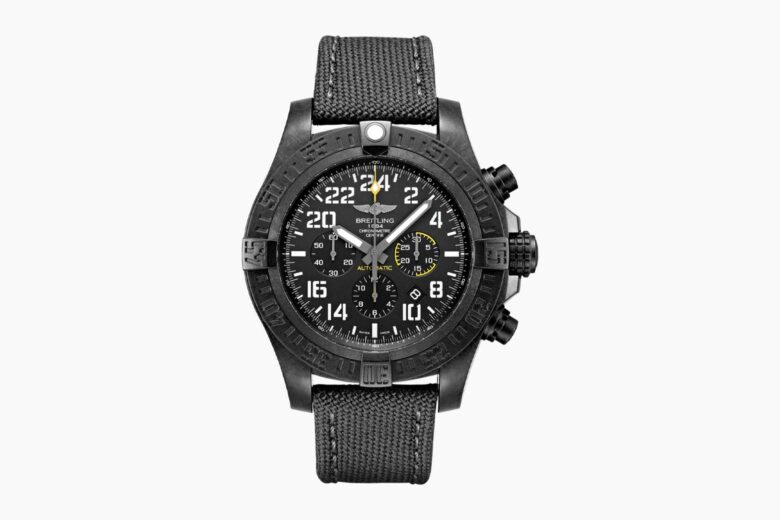 The Breitling Avenger collection is all about extremes. Here you'll find the brand's most robust and reliable watches, with maximum resistance to just about everything life could through at them. Think DLC-coated titanium cases, rugged bezels, and easy-grip crowns. These are military field watches but with that inimitable Breitling touch. In other words, you could probably still get away with wearing these watches with black-tie for serious commando cool.
| | |
| --- | --- |
| Price: | $4,580 – $8,700 |
| First release year: | 2001 |
| Current case size: | 48 mm – 43 mm |
| Movement: | Automatic |
| Water resistance: | 300 m – 3,000 m |
| Crystal: | Sapphire |
Breitling Classic AVI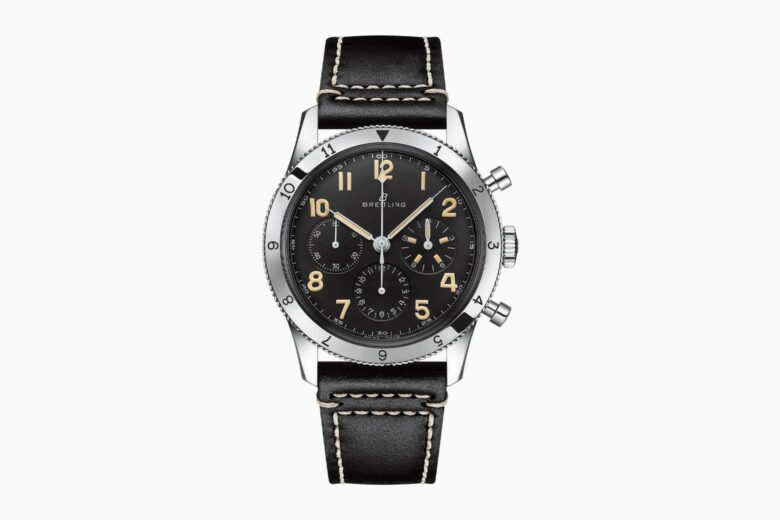 This Breitling watch collection takes its design cues from the iconic Breitling AVI Ref. 765 Co-Pilot. These old-school pilot watches evoke the cockpit clocks from the 1930s, with highly legible dials, engraved rotating bezels, domed crystals, and ruggedly robust cases. Look out for the models that pay tribute to legendary wartime planes like the Curtiss P40 Warhawk, the De Havilland Mosquito, the Vought F4U Corsair, and the North American P-51 Mustang.
| | |
| --- | --- |
| Price: | $4,520 – $46,280 |
| First release year: | 1953 |
| Current case size: | 41 mm – 46 mm |
| Movement: | Automatic and manual |
| Water resistance: | 30 m – 100 m |
| Crystal: | Sapphire and Plexiglass |
Breitling Premier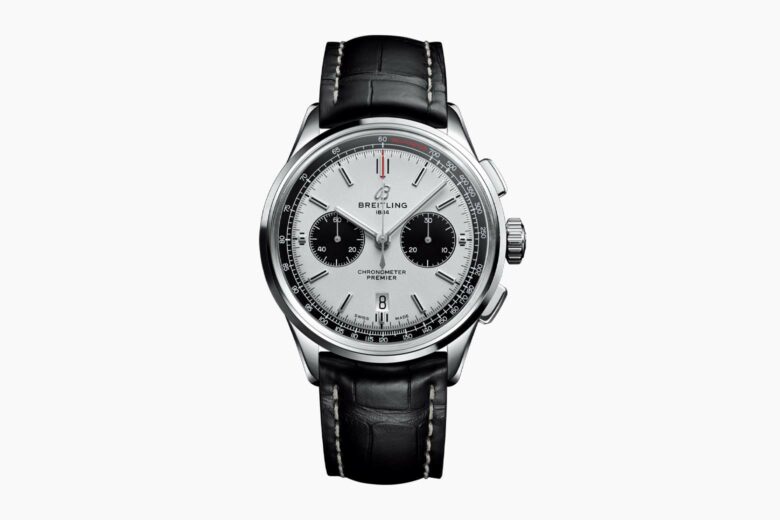 The Breitling Premier collection is the brand's series of more high-end and luxurious timepieces—the kind of watches that you might spot strolling down the red carpet. You'll find a range of high-level complications including moon phases and tourbillons as well as superior materials such as 18K gold and brown burl elm dials. Look out for the Breitling Bentley Centenary Limited Edition with its calfskin strap inspired by Bentley car seats and Bentley engraved plate.
| | |
| --- | --- |
| Price: | $5,340 – $77,720 |
| First release year: | 1943 |
| Current case size: | 40 – 42 mm |
| Movement: | Automatic and manual |
| Water resistance: | 100 m |
| Crystal: | Sapphire |
Where to buy Breitling watches
You can buy Breitling watches online from the company website or in-person from one of the brand's authorized retailers, as listed here. Each watch is eligible for a 2-year international warranty. You can also purchase Breitling watches from trusted second-hand watch marketplace, Jomashop, or from reputable online retailers FARFETCH and Mr Porter, where the authenticity of your timepiece can be guaranteed.
For more about buying a luxury watch, see our watch guide.
Breitling shipping
Breitling offers complimentary shipping to anywhere in the US if you order via the company website or through the customer relations team. Shipping is also complimentary for Europe. Standard delivery is 2-3 business days. All orders require a signature on receipt.
Jomashop offers international shipping for a set fee of $150, while FARFETCH and Mr Porter charge different fees depending on the country. 
Breitling return policy
You can return your Breitling watch for a full refund within 30 days of delivery. To request a free return, contact the company's customer relations team on (203) 456-2458 or email info.us@breitling.com. The security tag must still be attached to the watch, which should be unworn and in mint condition with all original protective plastic.
Jomashop accepts returns within 3 days. FARFETCH accepts returns within 14 days for a full refund and Mr Porter allows returns within 28 days.
Breitling customer service number
For help with ordering your Breitling watch, or for answers to any other queries, contact the company's customer service department on +1 203-456-2458.
Breitling social media profiles
Frequently asked questions about Breitling watches
Is Breitling a luxury watch brand?
Breitling is a luxury watch brand known for making quality pilot watches. Notable models include the Breitling Navitimer and Breitling Chronomat, both featuring slide rules on the bezel for accurate timekeeping up in the skies.
Do Breitling watches hold value?
Breitling watches tend to hold their value which makes their large price tag worth it. In fact, some Breitling models increase in value over time. For more about Breitling, including history, prices, and watch models, see our Breitling guide.
Is Breitling worth buying?
Breitling watches are worth buying if you're looking for a luxury timepiece from a brand with an impressive heritage making some of the most durable and functional watches on the market. For more about the brand, see our Breitling watch guide.
Is Breitling older than Rolex? 
Breitling is older than Rolex as it was founded in 1884 while Rolex was founded in 1905. Breitling was founded in Switzerland while Rolex was founded in London. Today, both are among the top Swiss watch manufacturers.