There's nothing quite like dining al fresco – and nothing says summer like a barbecue. Plates stacked high with burgers, aromatic smoke gusting around the yard, friends and family laughing together under a golden-hour sky—there is, perhaps, no more anticipated event upon summer's return than the quintessential cookout.
Being able to turn your patio into a Michelin-worthy kitchen may sound like an otherworldly feat, but with the latest grills on the market, preparing gourmet food anywhere is more than possible—it's easy and fun. With even heat distribution systems searing perfect caramelised crusts into your barbecued meats and veggies, these grills can enable anyone to cook perfect food anywhere.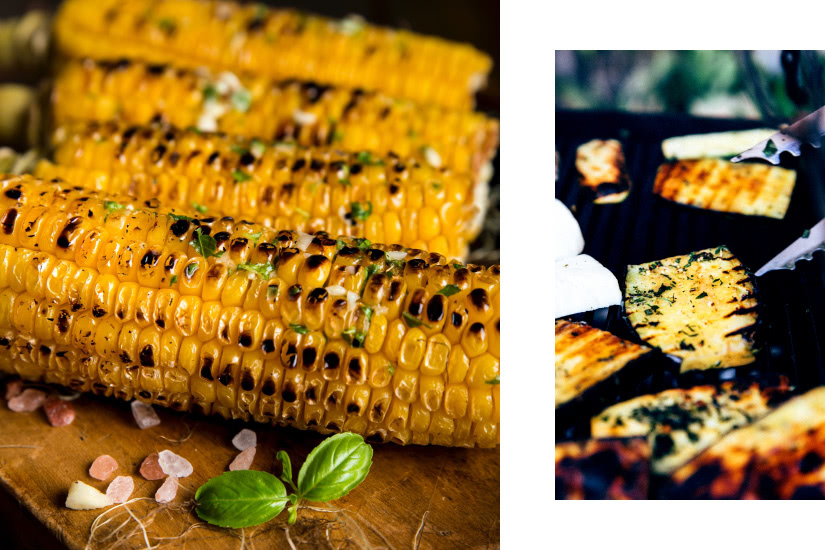 Our pick for the best grill of 2020 is the Weber Spirit II. However, we want to help you figure out what suits you best, so below our ranking, you'll find helpful tips and tricks for getting the most out of your grilling experience—as well as ways to find the best grill for your lifestyle.
Our ranking of the best grills worthy of Michelin star chefs
1. Weber Spirit II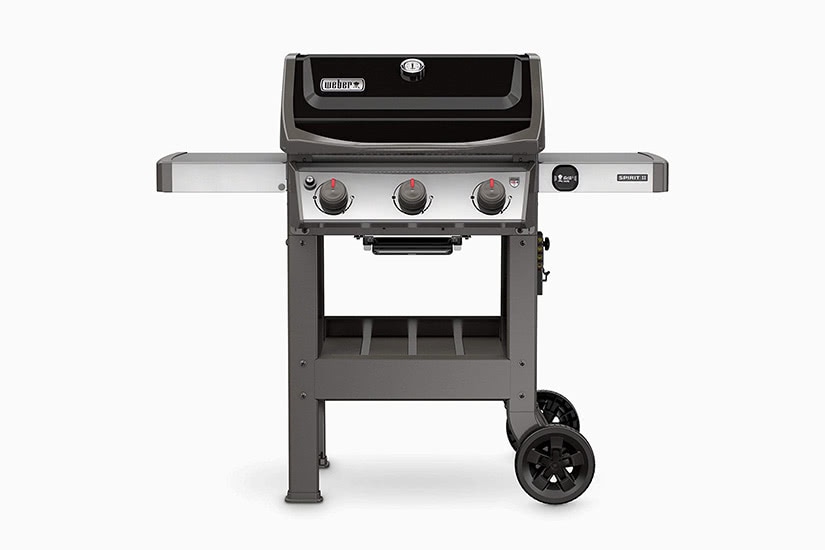 The Weber Spirit II features an accessible open cart design with lots of room for cooking, plating, tools, a cocktail and more! With three burners and 0.32 square meters (500 square inches) of cooking space, this is a good option for people looking for a high-quality grill with enough room to grill for a crowd.
The cast-iron cooking grates are porcelain-enameled, the grill bars are angled for optimum drip routing and easy cleanup, and the integrated hooks and foldaway side tables are a nice touch for leaving your porch or patio free for activities. Featuring a warming rack for already-prepared food, smooth surfaces geared for grease management, and room for a disposable drip tray, the Weber Spirit II was designed to produce great-tasting food with minimal stress on the part of the chef.
Choose from four colours to match the aesthetics of your backyard! Assembly is easy with two adults, and the natural gas or propane tank (depending on model chosen) is mounted to the side for easy access. With all of its handy features building a great cooking experience, we're pleased to rank the Weber Spirit II as the overall best grill of the year.
2. Weber Genesis II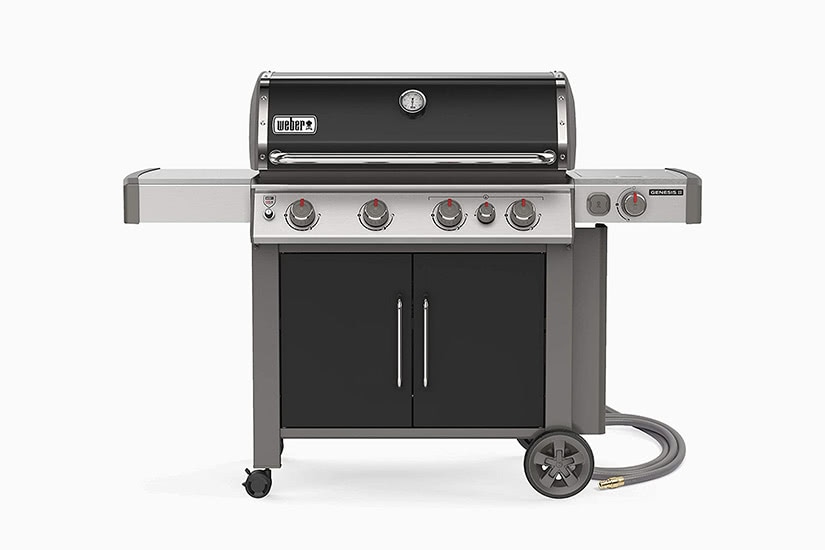 The Weber Genesis II features upgrades which are all geared towards producing the perfect crisp sear on your barbecued meat and veggies as well as infusing each piece of food with the smoky taste of summer. The porcelain-enameled lid and cast-iron cooking grates work together to heat your food evenly and quickly. Incorporated is a Searing Station which can help you add precise sear marks to your food so it looks just as good as it tastes.
An innovative feature the Weber team included in this grill is compatibility with the iGrill3, an app-connected thermometer which can monitor the status of your food in real time for perfect grilling, every time.
With a side burner to help with the preparation of an entire meal outdoors, a food warmer, enclosed storage, room for place settings and your grilling tools, and a grease management system to help prevent flare-ups, the Weber Genesis II is perfect for at-home outdoor chefs to enjoy. It's best for those who appreciate extra accessories which support a detail-oriented cooking experience.
The Weber Genesis II is the best high-end grill.
3. Weber Original Kettle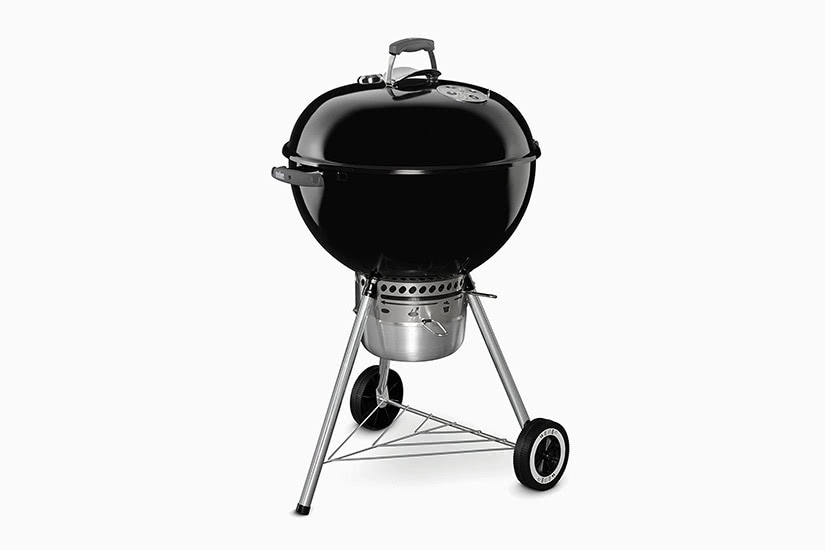 For a classic-looking grill with traditional charcoal-based heating, the Weber Original Kettle delivers with sleek lines, enough room for 13 burgers to feed a crowd, and a small enough footprint that it can fit in any part of your property.
Featuring a one-touch cleaning system with an ash-catcher to make maintenance simple and a porcelain-enameled lid which will not peel or rust, this grill may not have the features of more high-end propane grills—but it does have simple efficacy and durability which will make it a barbecue staple for years to come.
With mechanical options such as adjustable dampers for easy manipulation of heat as well as the ability to add fuel while you grill, this Original Kettle grill may be low-tech, but it stood the test of time and will likely do for years to come. It's a great choice for those looking for a quality cooking tool that is low-maintenance and long-lasting. Because of its classic design and efficient use of space, we're pleased to name the Weber Original Kettle Premium Charcoal as the best value grill.
4. George Foreman Indoor/Outdoor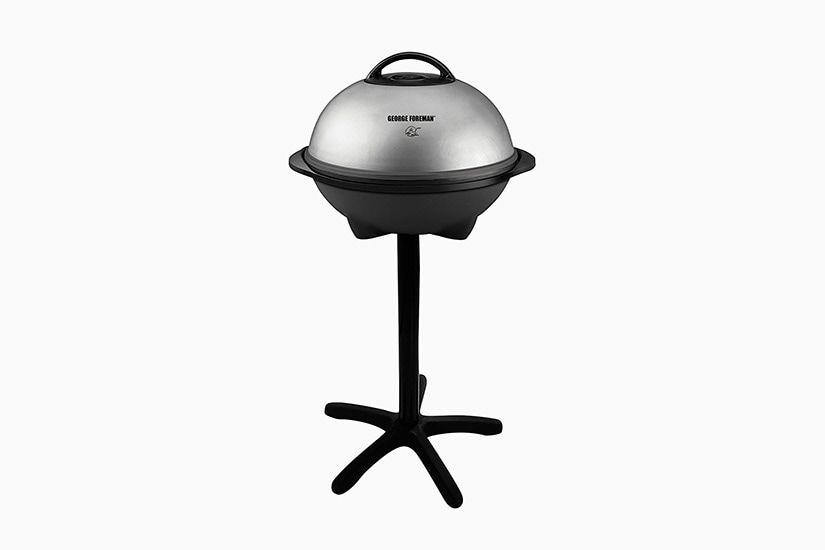 Looking for a classic yet versatile grilling solution which can feed a large number of people? With a circular grill large enough to make food for fifteen people at once, this grill can be used indoors and outdoors—and features a removable stand, so it can be used on a countertop or free-standing as your space demands.
This all-electric grill features adjustable temperature control and a tough non-stick coating on the grill itself, which translates to even, precise cooking and remarkably easy cleanup. Requiring no charcoal, matches, or gas for fuel, this grill can be used anywhere at a moment's notice. It's a great choice for small apartments, outdoor parties, or for barbecues happening indoors due to inclement weather.
We're happy to name the George Foreman Indoor/Outdoor Electric grill the best electric grill on our list.
5. Weber Performer Deluxe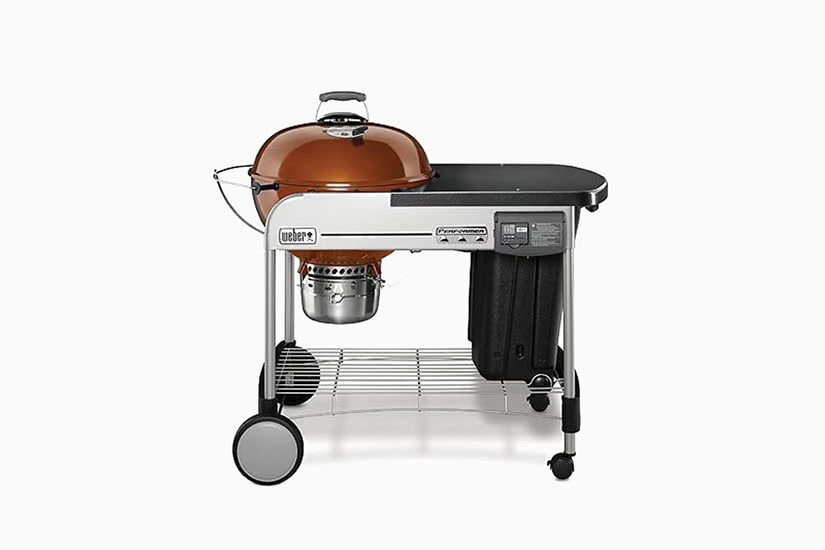 If you're looking for a charcoal grill with a little more workspace and accessories than usual for that type of grill, the Weber Performer Deluxe delivers in full. With an electronic ignition system, attached griddle space, one-touch cleaning system and built-in timer and thermometer, this grill manages to take the functionality of a charcoal grill and bump it up a notch for a seamless cooking experience.
Featuring heat shields on every handle, easy hooks for accessing your cooking tools, and a roomy extra counter for work space, plating, or a drink, this grill has everything you need to enjoy making dinner in a still-compact shape. The team behind this grill decided to give you additional options for aesthetics: You can choose between black, forest-green, and rosy copper for the rounded bowl of your grill.
The Weber Performance Deluxe Charcoal Grill is a good choice for those who prefer the simplicity of a charcoal grill but appreciate the accessories that often come with higher-end propane versions. Because of this, we've decided that this is the best all-around charcoal grill.
6. Traeger Grills Pro Series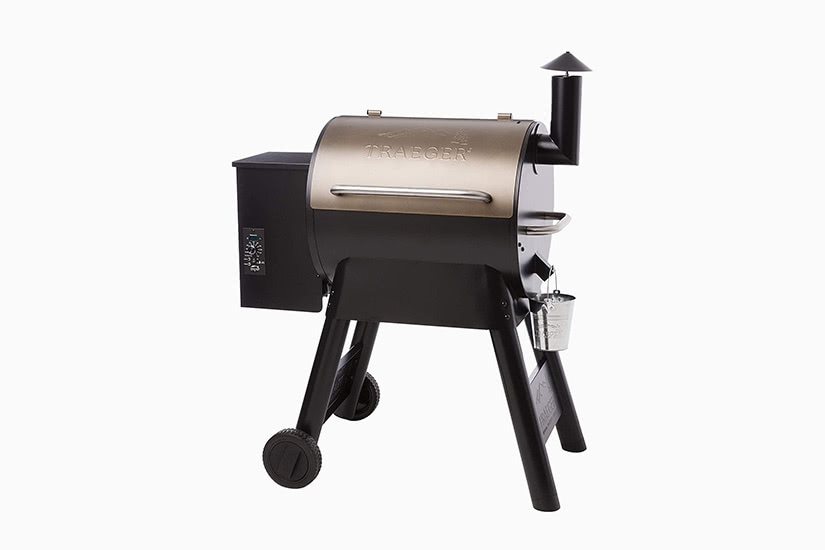 Interested in acquiring an authentic pellet grill for your property? You can achieve the flavour of a wood-based pellet grill in your backyard with the Traeger Grills Pro Series Pellet Grill and Smoker.
With a large cooking capacity of 0.37 square meters (572 square inches), powerful steel construction and a powder coat finish that ensures its durability, this grill is easy to clean, allows precise temperature control, and can be used for myriad cooking methods including grilling, baking, smoking, roasting, braising, and barbecuing.
The Traeger Pro Series Grill has all-terrain wheels, meaning you can easily take your grilling station from the back porch to your yard. This grill is well-suited for those who appreciate versatile cooking functionality and the smoky taste of wood-fired food.
The Traeger Grills Pro Series Pellet Grill and Smoker is the best pellet grill.
7. Blackstone 1554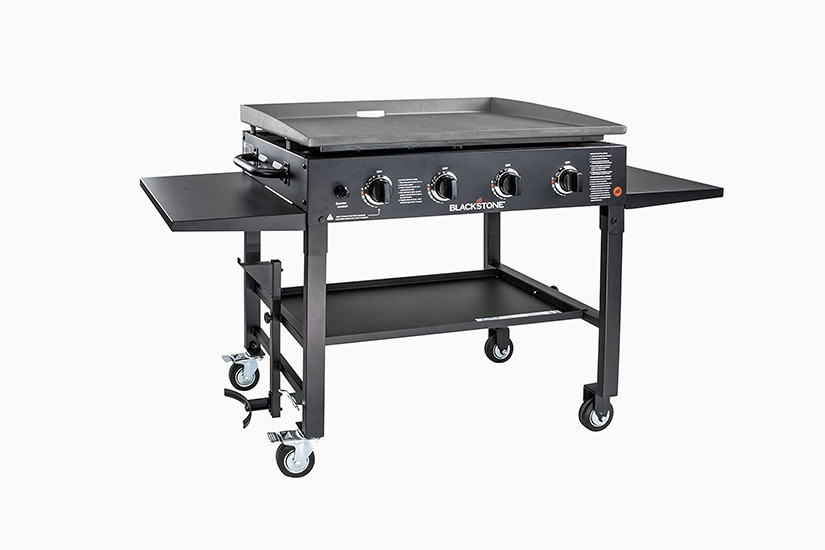 If you've ever wished for a restaurant-style flat-top in your home, you can now enjoy that versatility and functionality in your own backyard with this restaurant-grade gas grill and flat top! With an easily removable griddle top, a quick ignition button, four burners which can be controlled independently, and a thick rolled-steel surface for maximum heat retention and distribution, the Blackstone 1554 is built for making large quantities of delicious food as fast as possible.
The industrial wheels on the base of this grill allow you to cook on your porch or in your yard, and the expansive cooking surface means that you can cook just for your family or for the entire neighborhood! You won't need matches or charcoal to heat up this grill; just push a button and you'll be set to go—giving you more time to enjoy cooking with your friends and family, and less time worrying about the mechanics of your grill.
This grill is best suited for those who appreciate high-performance tools and are ready to cook for a crowd. It's our choice for the best gas grill because of its sheer capacity and ease of use.
8. Kamado Joe Classic II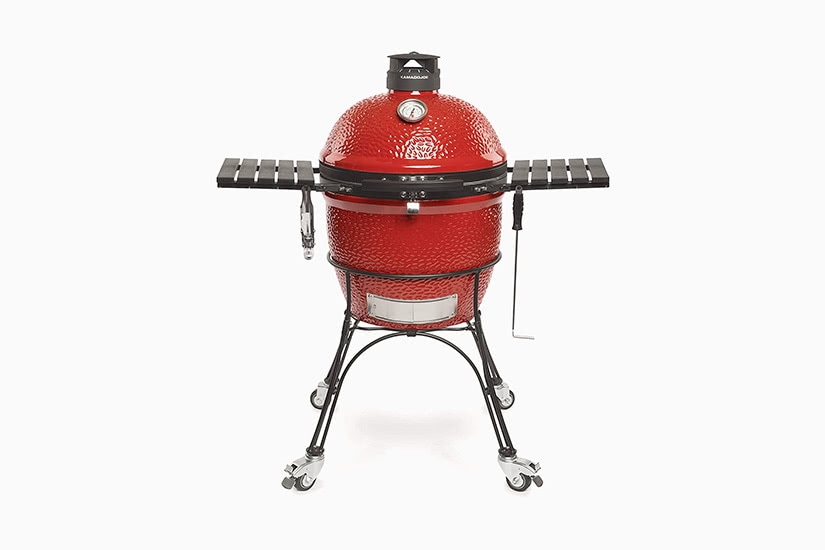 For a novel spin on the classic, simple outdoor charcoal grill, Kamado Joe built the Classic II in red, textured ceramic for a gorgeous aesthetic pop of colour. Seated on a cart with lockable caster wheels, this charcoal grill can be moved from place to place easily, and it has fold-out side tables for simple, accessible plating and tool storage.
With two tiers of cooking racks inside, a vented top, and a grease collection and management system for easy clean-up, the Kamado Joe Classic II Grill allows you to cook several different foods at the same time. The levels of rocks offer differing temperatures for specific, precise control of varying doneness and crispness for your entrées.
Although it's made of solid ceramic, the Patented Air Lift Hinge technology allows the weight to be distributed so flawlessly that you can lift the lid with a single finger. This grill is a good choice for those who don't require fancy features to cook outside, opting for simple efficacy instead! Because of its thoughtful details and design, we're naming this grill the best for beginners.
9. Coleman RoadTrip 285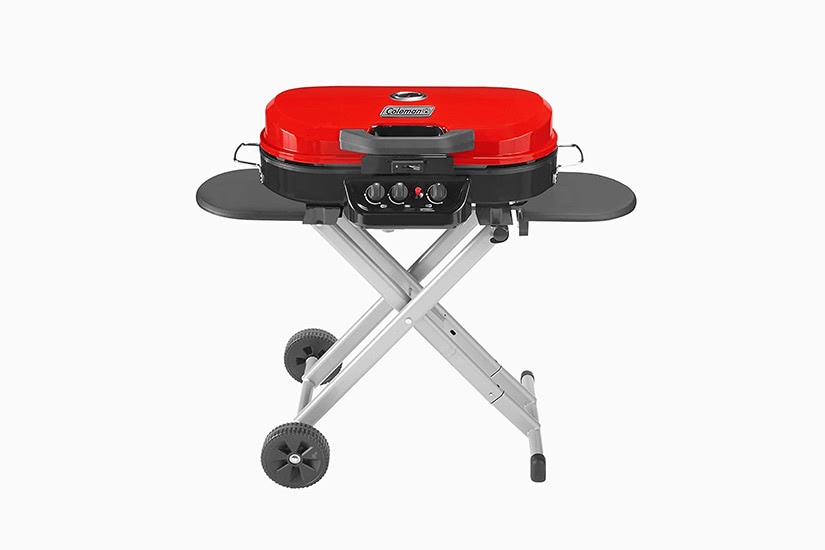 If you've ever wished you could bring a gourmet grill with you on the road, the team behind the Coleman RoadTrip propane grill has risen to the occasion with this high-performance, versatile product. With a grill featuring three individually controlled temperature zones, you can wield precise control over how your foods are cooked—allowing you to create restaurant-worthy culinary masterpieces no matter where you are.
This grill features fold-up legs and a frame that slides down into a compact carrying case for ultimate space-saving efficiency, making this grill a perfect choice for tiny balconies. It includes two swappable cooktops so you have the option to do more than grill: sautéing, searing are within reach with easy-clean griddles and grates. With two sliding side tables for extra utensil and plating room, this grill truly includes everything you need in a small package.
If you're searching for a fantastic grill with a tiny, flexible footprint, you can't go wrong with the Coleman stand-up propane grill. We're pleased to announce that it is our pick for the best portable grill!
10. Cuisinart CGG-306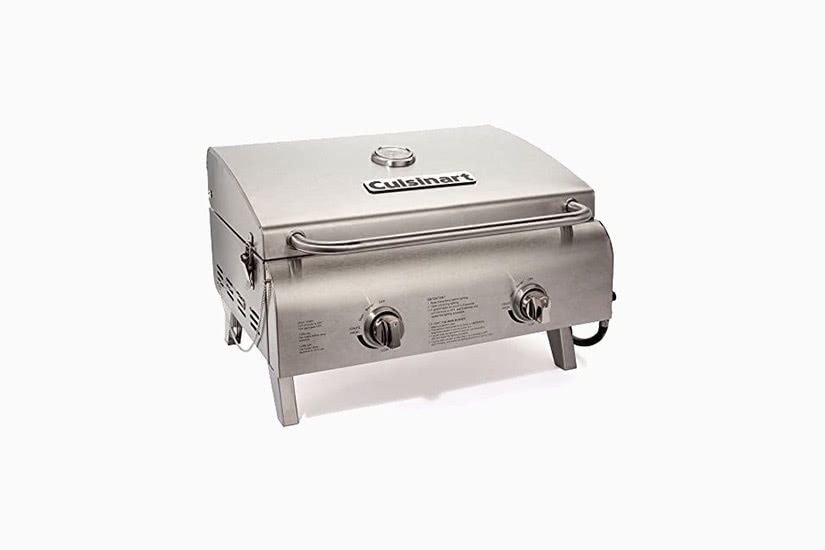 Seeking an easy and fast grilling experience? This tabletop grill can be set up and ready to go in less than 10 minutes—and you don't need any tools or matches at all. With an electronic ignition and two powerful burners, each with its own dedicated control knob, the Cuisinart CGG-306 stainless steel grill offers many of the amenities of a larger grill in a portable package of less than 11.3kg (25 pounds).
Whether you're cooking large cuts of meat or smoking a basket of vegetables, the Cuisinart Chef's Style Tabletop Grill has a stainless steel grill which can get the job done. The cooking environment can reach 371 degrees Celsius (700 degrees Fahrenheit) for both searing and even cooking. Included also is a built-in thermometer, making monitoring your cooking temperatures at a glance fast and easy.
With no assembly other than attaching your gas source, this grill is perfect for gourmet dinners on the go and chefs who want many of the features of a larger grill in a lightweight carrying case. Because of its versatility, the Cuisinart Chef's style stainless tabletop grill is the best small-size for balcony grill — as well as one of the best gas grills under $200.
11. Blackstone Portable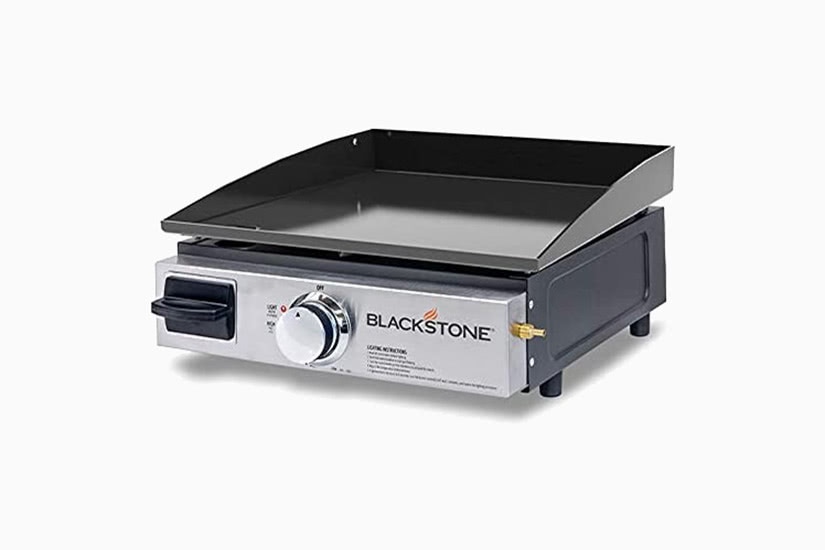 If you're looking to bring the features of a more deluxe grill to a tabletop, the Blackstone Table Top Grill packs convenient features into a highly portable design. With an electric igniter and built-in grease catcher, this product is easy to use and keep clean no matter where you set it up!
The "H"-shaped burner beneath the griddle ensures that your food will heat up evenly and quickly. Storage of this tabletop grill is very simple; merely invert the griddle and walk away. Cleanup is easy as well; the perfectly-seasoned grill-top will only need to be wiped clean before storage, meaning that you'll be able to spend less time on maintenance and more time enjoying the outdoors.
Whether you use this for camping, tailgates, everyday outdoor cooking or more, the Blackstone Table Top Grill features a dependable grilling surface with an easy-to-carry tabletop setup. It's best for those who may not have the dedicated floor-space for a grill but do appreciate precise and even cooking.
Due to its portability and convenience, the Blackstone Table Top Grill is the best tabletop grill.
12. Napoleon Grills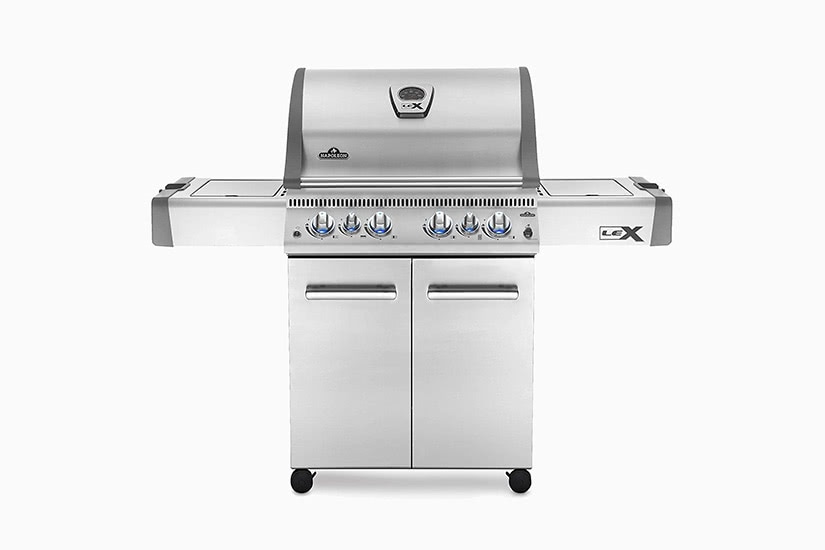 For a deluxe natural gas grilling experience, the Napoleon barbecue offers both power and versatility with high-end accessories and a luxurious aesthetic. Although you must have natural gas plumbed out to your porch or patio to use it, for those who do require a natural gas option, the Napoleon grill delivers in beauty, efficacy, and thoughtful touches.
This grill can heat to 982 degrees Celsius (1800 degrees Fahrenheit) in 30 seconds for effortless and quick infrared barbecuing. Featuring an interior that is rotisserie-capable and wave grids for even cooking and minimal food fall-through, the Napoleon can cook a wide variety of foods safely and deliciously.
The Napoleon Natural Gas Grill is best for those who have a natural gas hookup on their property who also wish to produce restaurant-quality foods in their backyard. Because of its attention to detail and beautiful stainless steel exterior as well as its ability to work with natural gas, we're pleased to name Napoleon's barbecue as the best natural gas grill of the year.
13. Char-Broil Performance 300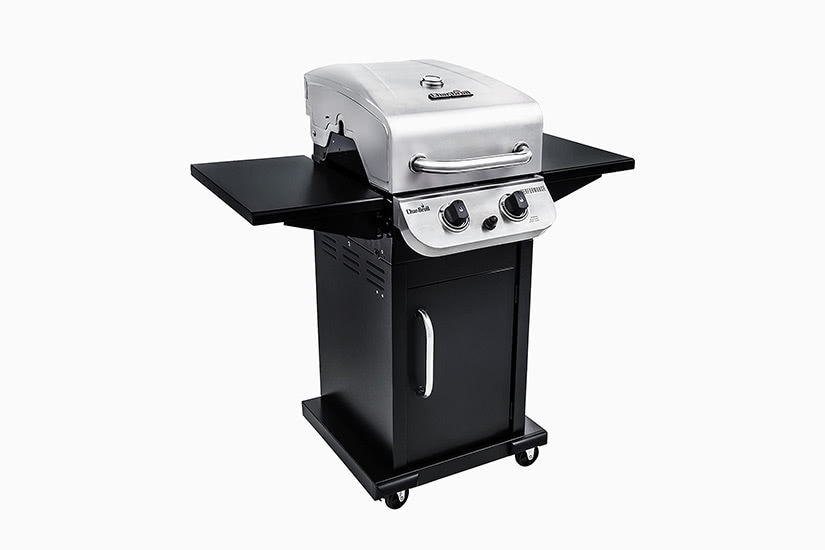 The Char-Broil 2-Burner Performance Grill has 0.19 square meters (300 square inches) of cooking space with rust-resistant iron grates which heat evenly, sear meat and vegetables well, and remain easy to clean even after years of use. In addition to its primary burners, the Char-Broil also boasts two top-ported stainless-steel burners to heat your food from above, ensuring that your food will cook quickly and evenly—and have caramelisation on all sides in a timely fashion.
With a removable grease pan, electric ignition, roomy cabinets for storage and built-in casters for easy transportation, this grill packs a lot of features into a small footprint (and can be wheeled around for storage as well). The collapsible side shelves offer you room for plating and utensils, while the interior warming rack keeps your food ready to eat while you finish preparing the meal. This grill is best for those who seek a deluxe grilling experience in a smaller package.
We're pleased to name the Char-Broil Performance Grill as the best propane grill on the market today.
How to find the perfect grill for you
While every grill on our list is a good option, the best grill for you is another matter entirely. Which one that will be will depend upon what resources you have and what functionality you will require from your grill.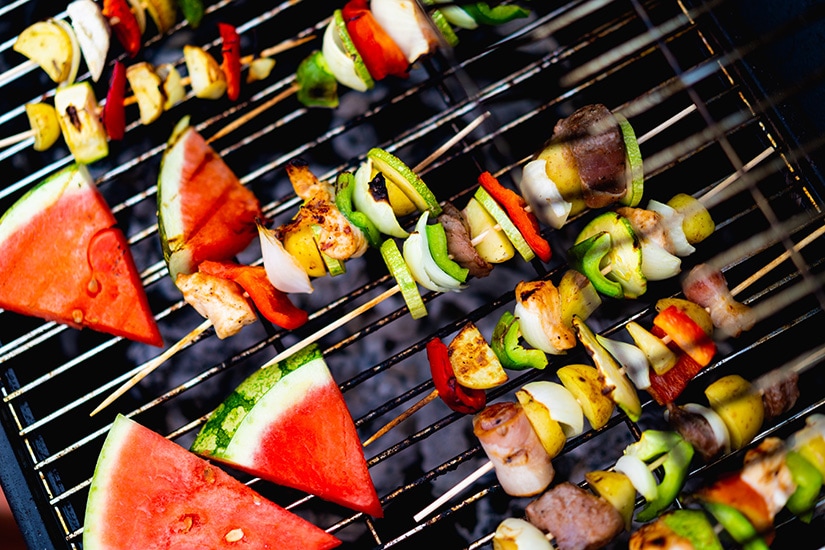 There are four general types of fuel distinguishing modern grills:
Gas: Whether it's propane or natural, butane or liquefied petroleum, grills that run on gas are powered by a combustible reaction initiated by setting the fuel on fire. These grills are very common, and they have been popular for long enough that many of them have quite sophisticated features; but you must either have or purchase tanks of gas to keep the grill in action.
Charcoal: Charcoal grills have been around for decades. When charcoal lumps or briquettes are heated, they transform into embers which heat food nearby. They have largely been replaced in popularity by gas grills, but charcoal offers an alternative method for cooking food – and especially infusing your barbecue with a smoky, tender taste – with minimal preparation or required materials.
Electric: An electric grill uses an electric heating element—coils, an even surface, or a griddle—to supply constant, even heat. Because electric grills do not supply a flame, no fuel is needed, making electric grills an excellent eco-friendly option (and, over the long run, an efficient one as well!).
Pellet: Wood-based grills are very versatile, as they can often be used as grills or smokers; and they can be very interesting to experiment with different types of wood, as the differing smokes can impart varying flavours to your meals. If you have a steady supply of firewood handy, a pellet grill is a great investment.
What features are available in modern grills?
When you're looking for a grill, you can find some that are little more than a heating element and a grate all the way to others that resemble high-end kitchen stoves. Helpful features may include built-in workspace or storage, thermometers and humidity gauges, hooks for utensils, warming racks, variable temperature controls, easy-open lids and more.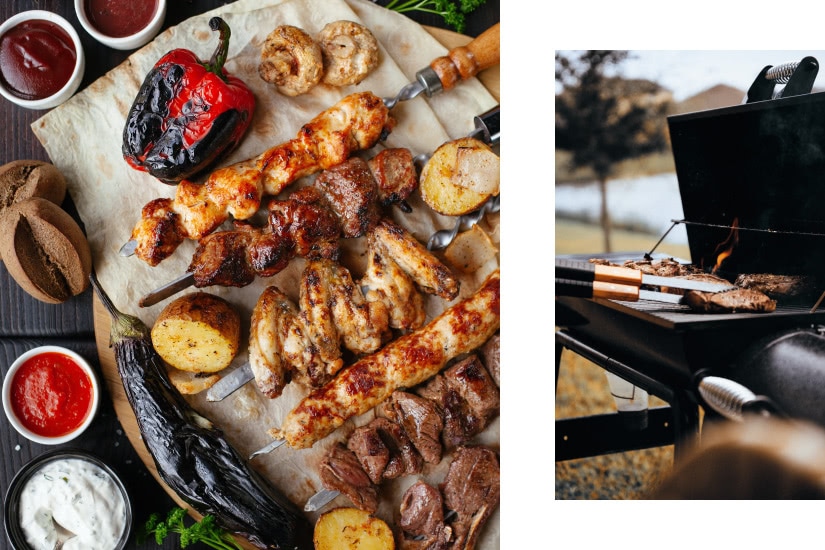 The best accessories to perfect your grill cooking
To host the perfect grill-out, you'll need a few additional items beyond merely a grill (and great food). For safety, easy maintenance, and ultimate outdoor culinary satisfaction, we recommend:
Cooking Gloves: Because it's fun to grill out, it can be easy to forget that you're dealing with a very hot, extremely open work surface. Protect your arms with long, fire-and-heat-resistant grilling gloves which cover your forearms in the case of any splattering from your grill.
Cleaning Kit: Many of the grills we recommend are easy-clean models with built-in grease management systems—but that doesn't mean they clean themselves! Having a cleaning kit nearby which includes a heavy duty brush and a grill scraper is a simple way to make maintenance quick and easy.
Weber iGrill Mini: With a high-quality meat thermometer you can take the guesswork out of food preparation! The Weber iGrill Mini features smartphone connectivity for monitoring your food's doneness in real time and has a smart LED base so you can see at a glance just how long your food has left to cook.
Grilling Utensils: While you could just use a normal spatula for your outdoor cooking station, investing in extra-long heat-resistant tools will make your experience safer and easier. Pick up an extra-long spatula as well as a pair of tongs and you'll be good to go.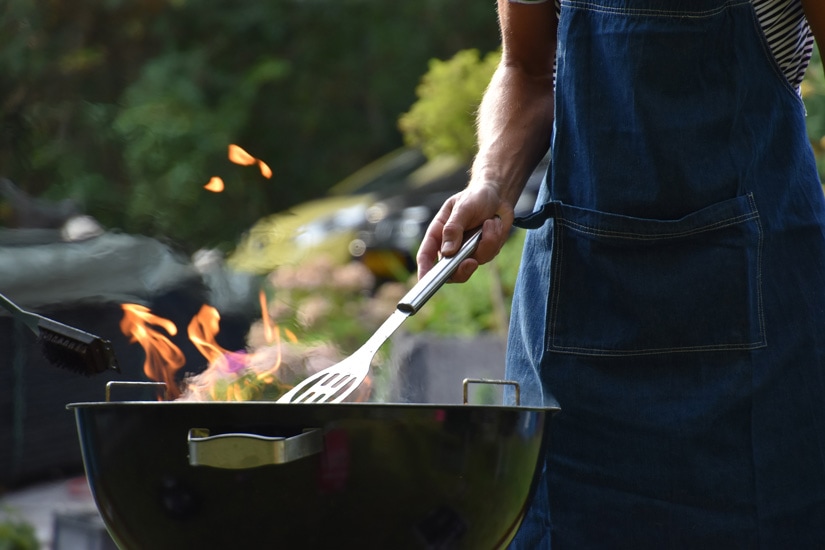 Methodology: How we select, test, and rank the best options on the market
Our search for fine grills began by selecting the latest and greatest from known brands with very popular lines of successful grills. We read reviews from verified customers about each of these grills and discarded any for consideration which seemed to have flaws or other attributes which would detract from the overall cooking experience.
We then dove into research about the best materials for achieving the perfect sear, the latest technology for ensuring even heat distribution, and carefully weighed the advantages of gas stoves against charcoal- and pellet-based systems. After expanding our search with heightened criteria to see if any new grills from less-established names made the cut, we narrowed down our list to the grills we'd be happiest to bring home—the thirteen listed above.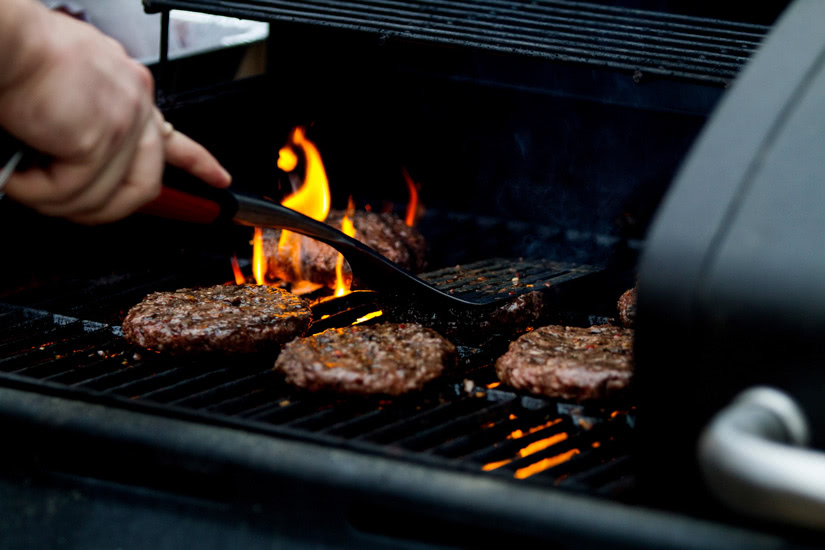 Frequently Asked Questions about grills
Who makes the best gas grills?
Weber makes the best gas grills, we found, after our careful analysis and ranking.
What are the best cooking grates for gas grills?
The best cooking grates for gas grills are made of cast-iron coated with high-performance, non-stick porcelain enamel.