In review: the pinnacle of luxury outdoor apparel. Nature enthusiasts in pursuit of warmer adventure apparel are almost certainly on a wild goose chase. New York city slickers in search of Winter coats that are more stylish are silly (gooses) for even trying. And summit climbers that think that their cheaper knockoffs will perform as well over time have certainly cooked their own goose from basecamp. Ok, you get it, Canada Goose coats and jackets are so fashionably warm and durable that they give us metaphorical goosebumps—whilst preventing the physical kind.
At a glance
| | |
| --- | --- |
| Brand: Canada Goose | |
| Founded: 1957 | Founder: Sam Tick |
| Origin: Canada | Industry: Fashion |
| Collections: Womenswear, Menswear, Kidswear | Website: canadagoose.com |
| Shipping: International | Headquarters: Toronto, Canada |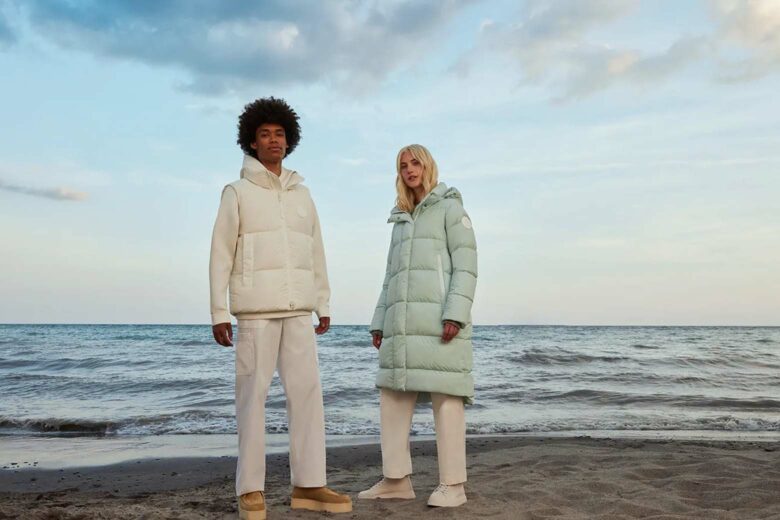 Behind the brand
History of Canada Goose
What we know as Canada Goose was actually founded under the name Metro Sportswear Limited in 1957 by polish-immigrant Sam Tick. Sam's sole focus was simple, high-performing Winter outerwear. And so he began his small utilitarian enterprise in a tiny warehouse in Toronto, Canada. Naturally, the burgeoning brand appealed to adventure enthusiasts and just about everyone else who was forced to endure Canada's icy Winter climates. But it wasn't until the 1970s and '80s that they began to pivot into the luxury label we see today.
In 1972, Sam's son-in-law David Reiss joined Metro Sportswear Limited. And bringing with him the invention of a down-filling machine, the innovative brand pioneered puffer jackets. Changing the brand's name to Snow Goose, Sam and David prioritized perfecting down-filled coats, jackets and parkas. And unsurprisingly, they became the official uniform for municipal police departments, Canadian Rangers, and government employees.
Fast forward to the 1990's when the luxury label began expanding internationally. And because the name Snow Goose was already trademarked in Europe, they changed it to Canada Goose. Canada Goose was taken over by third-generation family member Dani Reiss (son to David and grandson to Sam) in 2001. And as president and CEO, Dani boldly guaranteed that Canada Goose would always only be manufactured in Canada. He may have received criticism at the time. But the brand's "Made in Canada" label was a key contributor to their superior quality apparel and ethical work standards.
Under Dani's leadership, Canada Goose catapulted into a multimillion designer brand. And in 2022, it is renowned for dressing everyone—from A-list celebs to aspirational students. In fact, the luxury brand has become so popular that they've been banned from at least one school in England to prevent less affluent students from being bullied for not owning a Canada Goose. And whilst we don't endorse bullying in any form, we've got to applaud the brand for consistently producing Winter garments that are quite simply a cut above the rest.
Interesting facts about Canada Goose
Besides pioneering down-filled parkas and coats in the 1970s, Canada Goose hasn't sat still for a second when it comes to trailblazing new trends. Since then, they've explored nature's highest peaks through historical expeditions. They've continued to engineer cutting-edge designs. They've discovered new ways to personalize our individual journeys. And they've made it onto the big screen on several occasions.
When we think of icy adventures, we think of Canada Goose. Perhaps that's because they became known for dressing the first Canadian to climb Mount Everest in custom-designed snow-proof apparel during their early days as Metro Sportswear in the '90s. Or perhaps it's because they've more recently accompanied scientists to Antarctica with their signature Expedition Parka. Either way, it's clear that Canada Goose not only pushes the boundaries in with new discoveries but they allow inquisitive explorers to do the same with trailblazing designs.
Dynamite comes in small packages—the mantra that our fellow small-framed wanderlusters live by. But when you're constantly hindered by drowning fits, styles and sizes, it's a mantra that can be difficult to always manifest. Cue Canada Goose's Fusion Fit. Evidently, the brand understands the frustration of finding flawless fits for smaller body frames. And working with a team of apparel experts, they've scanned over 16,000 individuals to analyze 26 key body measurements that ought to be adjusted for smaller frames. Specified tailoring such as shorter sleeves and smaller hoods may seem like insignificant details. But when you're halfway up the mountain, the last thing you want is a hood slipping over your eyes.
Alongside tailored fits, Canada Goose's customized details give us the opportunity to reflect on our meaningful moments along the way. Because as long as you purchase your garment from an authorized Canada Goose retailer, it comes with a lifetime warranty (so this one is with you through thick and thin). To mark the lifelong partnership, we recommend adding your initials or sentimental coordinates (such as a summit or proposal) to cuffs or pockets with the brand's personalized reflective detailing. On a less nostalgic note, you can also choose how to frame your face with fashionable detachable hood trims. From bright colors to army camo to sleek black, we like to change ours up to complement our ensembles and match our moods.
Individuality is great, but we've got to get our style cues from somewhere, and perhaps Hollywood is a good place to start. As the unofficial uniform of film crews and actors alike, Canada Goose has been prominently displayed on the big screen in films such as Manchester by the Sea, Spectre, The Day After Tomorrow, and National Treasure. It's also making moves off the screen, dressing everyone from Emma Stone to Bradley Cooper. And in the music world, well, it's got its own song title, "Canadian Goose"—rapper Lil Uzi Vert's ode to the affluent label.
You know what they say: what's good for the goose is good for the gander. And if CG coats and jackets are approved (more like adored) by our favorite famous faces, well, who are we to ignore them, right?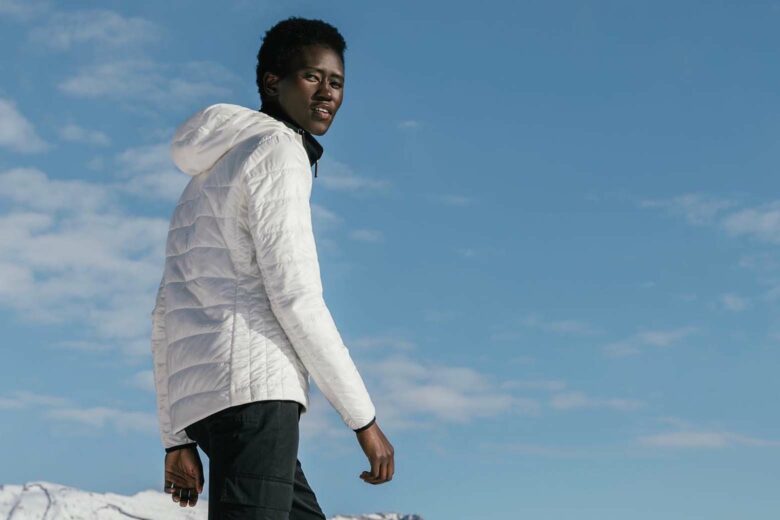 Canada Goose product range
With over sixty years to perfect their arsenal of extreme weather-bearers, Canada Goose's collection ranges from the best winter coats for men to raincoats for women to cute kids' essentials.
As the brand's hallmark, Canada Goose coats and jackets for men, women and kids come in all shapes and sizes. Their signature styles include bombers, parkas, lightweight down jackets, vests and raincoats. Canada Goose sweatpants, sweatshirts, knitwear and fleeces epitomize luxury loungewear that can also be worn outdoors. Canada Goose boots range from street-style renditions to comfy puffers to snow-proof iterations. And the brand's quintessential Winter accessories are all you need to kit out the family for your next white adventure.
Signature materials and craftsmanship
Canada Goose quality is defined by its uncompromised Canadian craftsmanship. Every piece passes through thirteen production stages and twice as many hands. Yes, Canada Goose apparel is still stitched by hand sixty years later. When it comes to engineering a Canada Goose garment, no detail is too small. And every aspect is carefully considered and meticulously appointed—from which zippers and stitches to use to where to place the buttons. Once assembled, the garment is scrupulously inspected by a quality assurance team, which ensures that absolutely nothing has been overlooked.
Chances are, you'll recognize the Canada Goose Snow Mantra (especially in an iconic red) even if you weren't born in icy climates. As one of the oldest pieces in the brand's archives, the high-performing jacket was informed by the needs of workers in the Canadian Arctic. And subsequently it was revered as the uniform for most rugged jobs. The Snow Mantra's iconic functionality is distinguished by its lightweight silhouette and superior temperature-regulating fabrics amongst 245 key characteristics. Today, every new design includes a feature informed by the Snow Mantra's original design.
With "humanature" at the core of Canada Goose, the affluent label defines its purpose as keeping humans warm whilst keeping the planet cold through various sustainable initiatives. They use fibers and materials with lower environmental impacts such as recycled, organic and responsibly sourced fabrics. As an example, their responsibly sourced down respects the Five Freedoms of animal welfare, prohibits live-plucking or force-feeding in the supply chain and stipulates that all down is a by-product of the poultry industry.
Where is Canada Goose made?
Designed in Toronto and made in Canada since 1957, all Canada Goose apparel is meticulously crafted to impeccable standards. The brand's commitment to perfection and precision is informed by decades of experience in high-performance garments. And as they've stayed loyal to their home country for over sixty years, they've maintained the integrity and quality of their products as well as their sustainability efforts and ethical working conditions.
Canada Goose brand values
| | |
| --- | --- |
| Vegan options | Yes |
| Carbon-neutral | No |
| Gives back | Yes |
Our favorite finds from Canada Goose
Cypress Puffer Canada Goose Jacket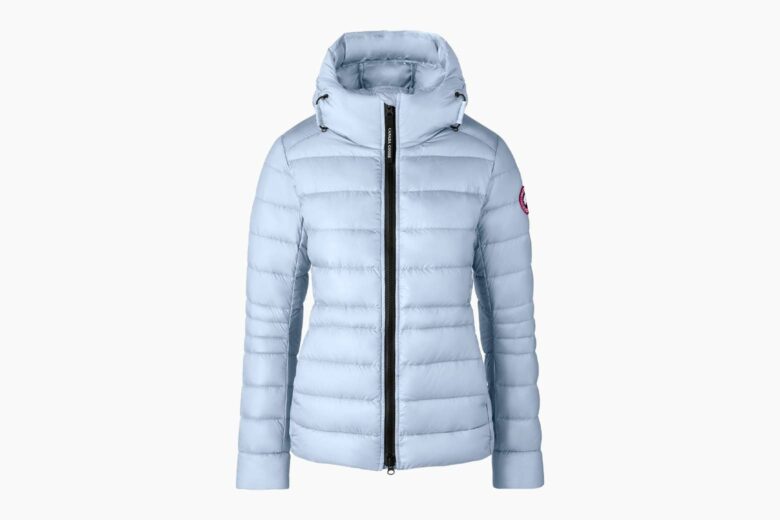 No one does puffer jackets quite like Canada Goose. So if you're after the best of the best, this is most definitely it. The Cypress has so many distinguishing features that you just won't find anywhere else. But perhaps most important to mention first is its ability to endure temperatures between -15ºC and -25ºC comfortably. The ribbed cuffs are designed to lock in heat. And if you start to burn up, side zips are fantastic for ventilation. It's super lightweight and has built-in back straps so that if you overheat on the slopes or in the mall you can simply strap it onto your back for hands-free navigation. The deep interior pockets are perfect for storing bulkier essentials. And the packable interior pocket makes it effortless to pop into your travel bag. Basically, if you have a problem, chances are that this Canada Goose jacket has already thought of it and solved it.
Men's Crofton Down Canada Goose Vest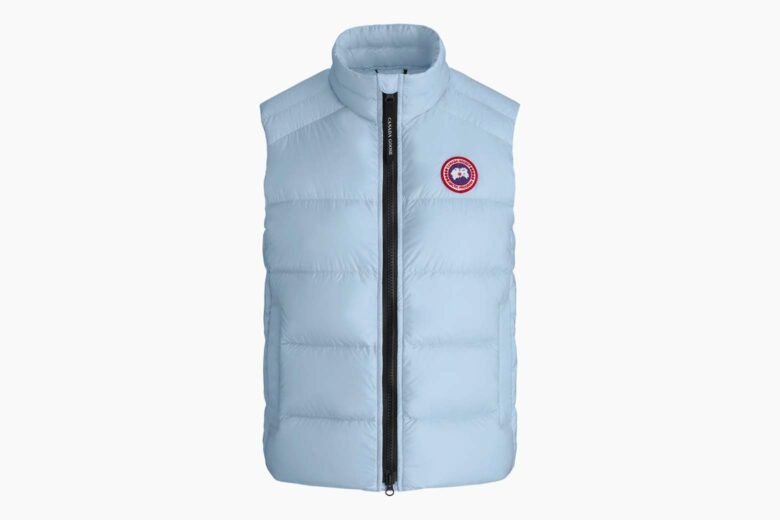 Dressing for transitional temperatures is all about layering. You need outerwear that you can shake off when midday temperatures rise or when the shopping mall heating knocks you by surprise. However, you also don't want to have to carry around bulky coats and jackets. This Canada Goose vest is perfect for that. It's astonishingly light and folds up into a portable pocket that is probably small enough to pop into your backpack. It also has exterior pockets, which may seem obvious, but many puffer vests don't, which can be incredibly frustrating. And made from recycled nylon, it's wind-resistant, water-repellant, and vegan-friendly. We love layering our Canada Goose puffer vests with light cottons at the beginning of Fall and thicker turtlenecks when temperatures start to drop. 
Alliston Canada Goose Coat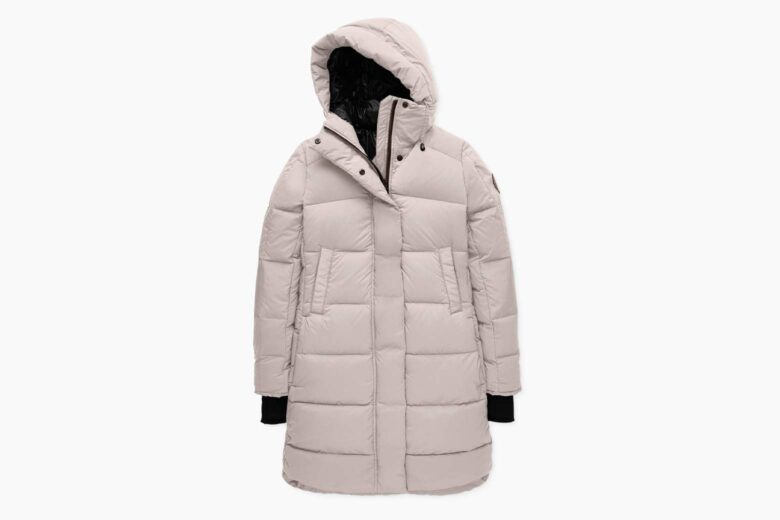 If you've been camping (no, not glamping) in icy climates, you'll know just how tough it is to unwrap yourself from your sleeping bag cocoon. And if you've wished to remain immersed in that cloud-like comfort whilst fulfilling your daily demands, well, consider the Aliston coat an answer to prayer. As one of our best Winter coats for women, the super-insulated long down silhouette doesn't give Winter freeze a fighting chance as it's engineered to endure climates between 0ºC to -15ºC. The internal drawstring pulls double duty—tailoring the fit and hourglassing your physique. And like our other favorites from the brand, this Canada Goose coat is lightweight and packs into its own front pocket. So whilst it may look bulkier, extra luggage for your ski trip isn't required.
Expedition Canada Goose Parka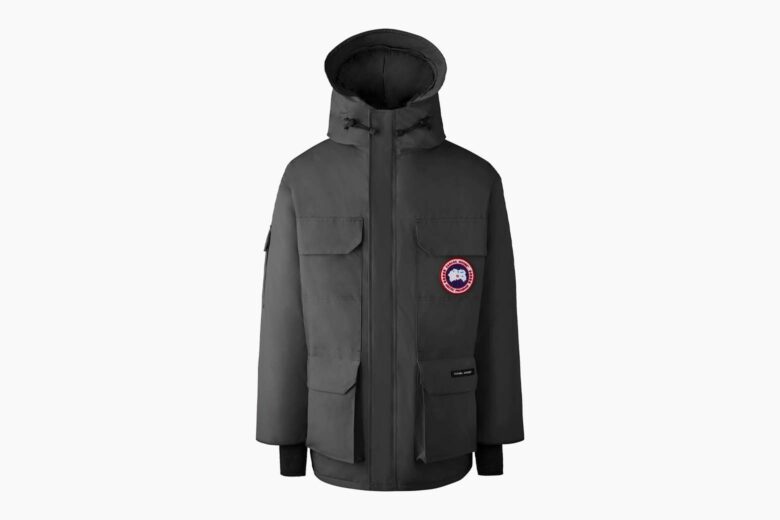 Ah, the iconic Canada Goose Expedition Parka: the jacket designed for scientists working in Antarctica. Each year, the jacket has been worn by the National Science Division of Polar Research. And as the brand's warmest jacket, it is engineered to endure climates below 30ºC. The down-filled hoods prevent any chance of brain freeze (we mentioned that they're designed for scientists, right?) as they provide unparalleled warmth and protection from the elements. And even the smallest details, such as a fleece-lined chin guard, point to the brand's impeccable attention to detail. Features such as drawstrings and ribbed cuffs tailor the fit and trap in heat. Whilst six exterior pockets are the ultimate utilitarian finish—made to carry anything from a magnifying glass to hip flask. You may not be headed to the South Pole to save polar bears, but if you're in pursuit of the warmest, most comfortable outerwear, this Canada Goose parka is it.
Where to buy Canada Goose
Canada Goose has many physical retail stores with most of them located in the U.S. They're also listed on many reputable e-retail sites such as Nordstrom and Saks Fifth Avenue. However, our best way to shop the total collection of Canada Goose apparel remains their official site. The Canada Goose online store stocks all the latest styles, sizes and colorways. And every purchase comes with a lifetime warranty.
Canada Goose price
As a high-end luxury label, Canada Goose isn't cheap but you certainly get what you pay for. Canada Goose jackets typically range from $500 to $1500. Their knitwear ranges from $300 to $1,000. Whilst smaller accessories such as hats and beanies are priced around $200.
Canada Goose shipping
Canada Goose offers free international shipping on all orders. Orders typically take 3-8 business days. But you can also upgrade to express shipping (1-2 business days) at an extra cost of $15.
Canada Goose return policy
Canada Goose has a full refund policy for all international orders returned within 30 days of the date that your order was shipped. Merchandise must be returned unworn and unwashed with all the original tags. Although standard shipping is free, if you paid for express shipping, this will not be refunded on return.
Canada Goose social media
Frequently asked questions about Canada Goose
Is Canada Goose a luxury brand?
Canada Goose is a luxury brand with superior quality apparel. The affluent label's trademark is highly functional coats and jackets that are made to endure icy climates in comfort and style. Since its launch in 1957, they have dressed multiple celebrities both on and off the screen. Whilst they're simultaneously revered as the official uniform for most rugged jobs in cold countries.
Why is Canada Goose so popular?
Made in Canada, Canada Goose apparel is carefully designed and manufactured with warmth, comfort and style in mind. All of their garments are stitched by hand and every detail is scrupulously inspected, ensuring only the highest quality pieces. Besides their hyper functionality, Canada Goose jackets are also fashionable and have been endorsed by many A-list celebs over the years.
Does Canada Goose use real fur?
Some of Canada Goose's jackets do use real coyote fur on the hoods. Although they guarantee that it is sustainably sourced and that the coyotes are responsibly trapped, we fully understand people's apprehension to the practice. However, you can shop many Canada Goose coats dand jackets that are vegan-friendly and don't include real fur.
Which Canada Goose is the warmest?
The Canada Goose Expedition Parka is the brand's warmest jacket. Designed for scientists working in Antarctica, it is engineered to endure temperatures below 30ºC. Features such as drawstrings and ribbed cuffs trap in heat. Whilst details such as padded hoods and fleece chin guards protect against the elements with extra comfort.