Leather jackets are unarguably the coolest outerwear items ever to grace the wardrobes of humankind. But a badly fitting leather jacket is the opposite. At best, it looks awkward. At worst, embarrassing.
Step forward, The Jacket Maker. A company that combines high-quality and affordable leather outerwear with a made-to-measure and bespoke service. Now you can guarantee your leather jacket will fit and look just as it should.
The Jacket Maker is a direct-to-consumer store that designs and produces its own leather jackets, offering customers expertly executed yet wallet-friendly leather outerwear in a massive variety of styles—plus a customization service that allows you to create your own unique design.
In our The Jacket Maker review, we dive deep into what makes the brand a game-changer in the leather industry and discover if there are any drawbacks to their apparently flawless service.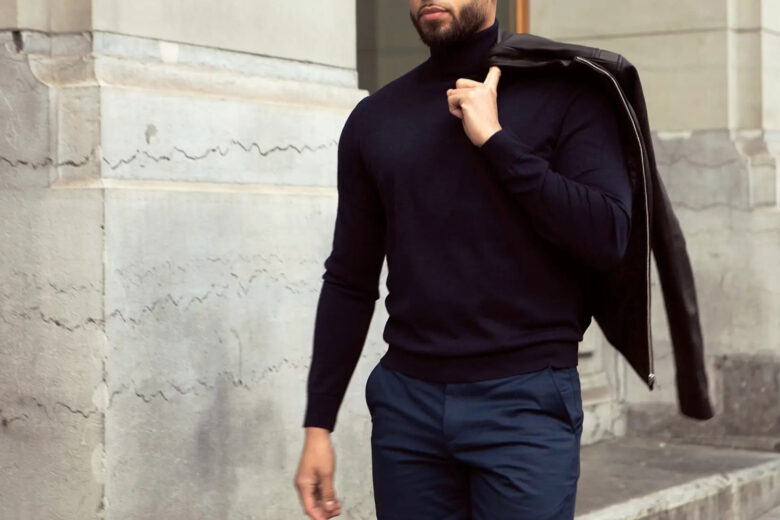 The Jacket Maker: Pros and cons
The pros:
Excellent leather quality at an accessible price.
Customization option for those who want a totally personalized jacket.
Superb customer service that always keeps you in the loop.
The cons:
Sizes run a little small. We recommend ordering a size larger than normal.
Packaging is a little basic, but the jacket does come with a dust bag.
Our verdict
Bespoke services are usually painfully expensive, but The Jacket Maker offers the opportunity to commission a quality leather jacket at a seductively affordable price, personalized to your unique preferences. The ready-to-wear styles are impressive too.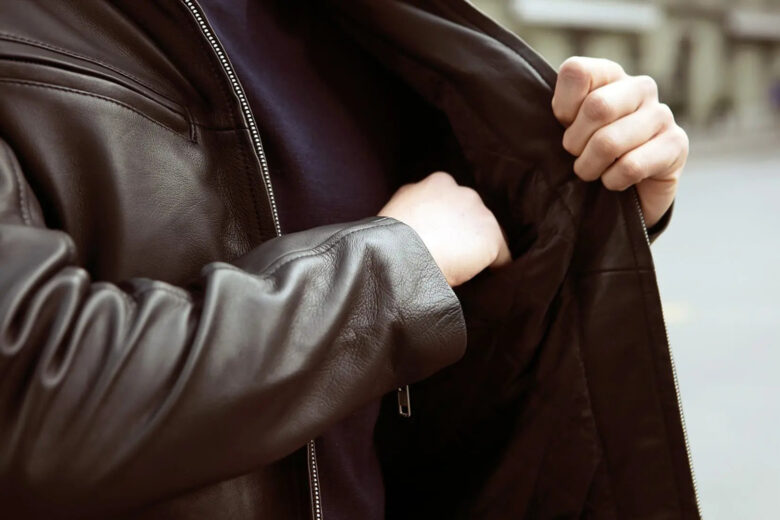 Testing The Jacket Maker's three main services
The Jacket Maker offers a large collection of ready-to-wear styles, a made-to-measure service, and the option of an entirely bespoke leather jacket. We explored all three services.
Ready to Wear
To say The Jacket Maker has an extensive selection of leather jackets is an understatement.
The brand's ready-to-wear collection is enormous, with over 300 articles for you to choose from, including classic biker jackets (check out the Allaric Alley jacket, in particular), leather bomber jackets, and shearling jackets. There are even leather blazers and trench coats.
You'll also have your pick of a variety of colors (ranging from mocha brown to hot red) as well as the option of distressed or burnished finishes. Leather types include aniline, semi-aniline, nubuck, and napa, as well as suede.
Check out the brand's Ionic Black Leather Jacket (also available in colors such as green, blue, and red) for something versatile and timeless. Or, for something a little more unusual, we love the faux-fur-lined Furcliff Black Leather Coat. It's the dream winter coat.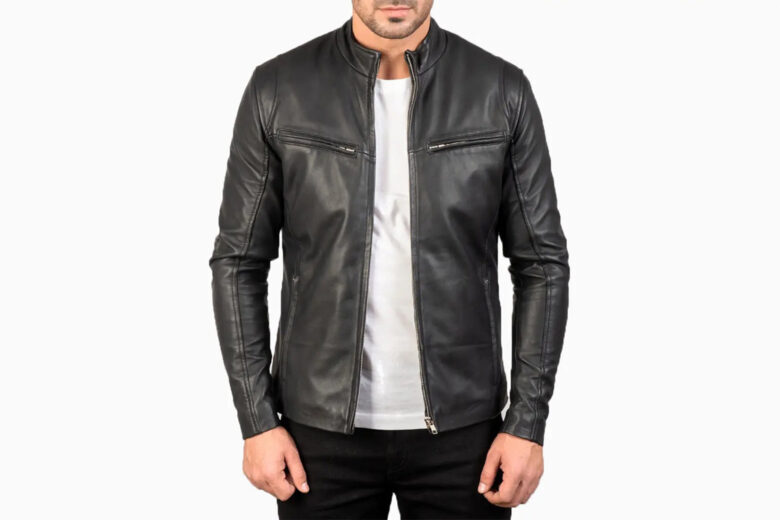 Sizes run from XS up to 4XL. This commitment to inclusivity means no one misses out on the exceptional service. That said, the sizing is rather small, so if you're not sure, opt for one size up, especially if it's intended as a winter jacket to be worn with multiple layers.
Each jacket is hand-made, one at a time, and we noticed the precision and meticulous attention to detail immediately. We're talking full-grain natural leather, ultra-durable stitching, solid YKK Zippers, and a sturdy polyester lining. We found the leather to be supple and soft from the outset—not stiff like cheaper leather jackets. And the color is just as it is in the pictures.
But it's The Jacket Maker's pricing that really stands out. Their jackets go for an average of $250, thanks to the brand's direct-to-consumer approach. With none of the extra costs of middlemen, storefronts, and expensive marketing campaigns, they can prioritize affordability. Indeed, The Jacket Maker's prices are about three times less than traditional retailers.
Made to Measure
Every jacket design by The Jacket Maker qualifies for their made-to-measure service. The price for this personalization? Only $30. We couldn't believe it either.
This means you don't have to sacrifice style by opting for a jacket that doesn't quite fit. As everyone is a slightly different shape, our jackets should be too. For plus-size people, in particular, this is a major bonus.
For example, the brand's popular Dean Brown leather biker jacket has an ultra-cool boxy shape, but it needs to sit perfectly on your shoulders. Similarly, the Inferno jacket wouldn't look right if it was too bulky.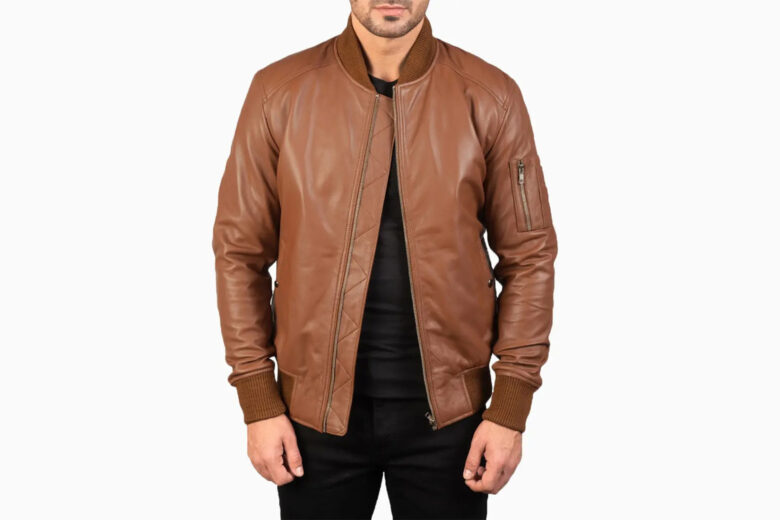 All you have to do is select Made To Measure. Next, fill in your measurements. If you need help, each measurement is accompanied by a video explaining how to take it accurately—yet another example of how seriously this company takes customer-centricity.
Want to customize your own jacket? Simply fill in the request for a custom jacket design with the details, whether that's extra pockets on the Bomia Ma-1 bomber jacket or a different kind of closure on the Francis B-3 shearling jacket.
Custom jacket design
If made-to-measure just doesn't quite cut it for customization, then why not commission your very own dream leather jacket? You can design your own jacket online with the brand's bespoke service.
Your custom jacket design can be any shape, size, or color. Seen a designer leather jacket that you love? Why not get a copy made—perhaps with extra pockets for your everyday essentials?
Or maybe you want to get a number of custom jackets made for your sports team?In which case, a team Jacket Maker order is the way to go.
Let your inner creative take over, exploring options such as unique embroidery or printed logos. You can also take your pick from lambskin, sheepskin, goatskin, buffalo-hide, and cow-hide leathers.
Once you've decided what you want, fill in the custom order request form. You can even upload artworks, designs, or logos to help explain your design. An in-house consultant will then get in contact to discuss details, pricing, the delivery date, and to show you a digital illustration, after which you can suggest modifications. This collaborative process is all free of charge, and you'll be kept in the loop throughout with photo sharing.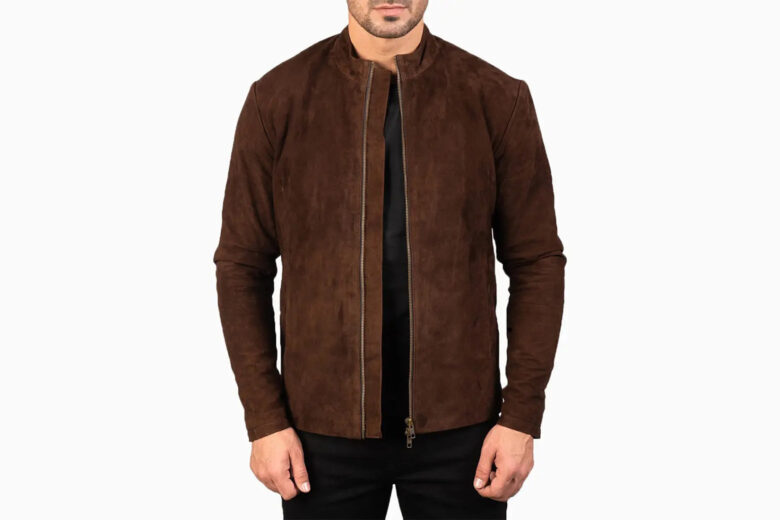 Indeed, despite The Jacket Maker being an e-commerce business, there's still a sense of that old-fashioned customer-first approach that you get with the best bespoke services. Each custom order involves a careful consultation as The Jacket Maker translates your vision into something tangible.
The store even includes a dedicated space for business clients looking to order corporate gifts in bulk. If you want to gift branded jackets to your customers or team members, head over to The Jacket Maker's corporate gifts page to review the options available to you.
Once you approve the jacket design, your custom Jacket Maker order will be dispatched. Free shipping to anywhere in the world is the cherry on the cake.
And while we found the packaging to be slightly run-of-the-mill (the jacket comes tightly packed in a plastic bag so you might have to let it hang for a day to let it breathe), we definitely appreciate that it comes with a dust bag for storage.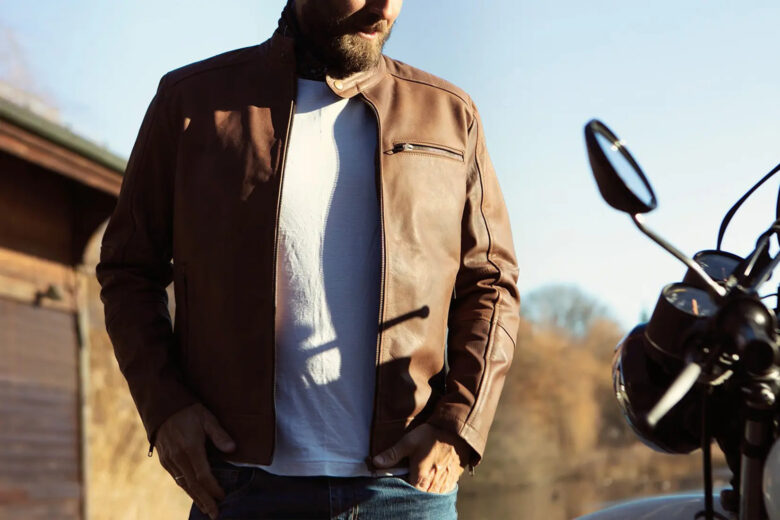 Frequently asked questions about The Jacket Maker
Is The Jacket Maker legit?
Yes, The Jacket Maker is a legitimate and well-established leather company, that makes high-quality and customizable leather jackets at affordable prices. The top-rated retailer's great reputation is thanks to its bespoke service and commitment to quality. Check our hands-on Jacket Maker review to learn more about the brand.
Who makes the best leather jackets?
The Jacket Maker makes some of the best customizable leather jackets. The company has revolutionized the leather industry with its direct-to-consumer business model, offering high-quality and customizable leather jackets at accessible prices.
Are leather jackets worth it?
Although leather jackets can be expensive, they are worth the price. Other fabrics typically deteriorate with age, but a leather jacket actually looks better, developing a unique patina and becoming more comfortable.
How much does a custom leather jacket cost?
A totally custom leather jacket by The Jacket Maker will cost around $450. Or you can opt for the brand's made-to-measure service for just $30, choosing from a wide range of styles and getting it fitted to your unique shape.