There are few bags out there as versatile, durable, and so perfectly suited to life on the road as the duffel bag.
The best duffel bags are a modern traveller's essential. Even if you're not an avid adventurer but just someone who enjoys the occasional city break, investing in a good duffel bag is a smart move.
Perhaps you're a style-conscious urbanite looking for something fashionable to take to an international art fair. Or an outdoors survivalist looking for something rugged and robust. Or maybe you're an athlete wanting a bag to transport your sports gear either to the gym or next year's Olympic games (we can dream).
Whatever your needs, we've picked out the best duffel bags for men and women to suit a range of preferences and tastes.
But first, something to iron out. Is it a duffel or duffle bag? Well, duffel is the preferred spelling and the one we've chosen for this article. But both are commonly used so don't worry. Instead focus on browsing our selection of the 15 best duffel bags.
The 15 best duffel bags and weekenders
Check our buyers' guide to the best duffle bags after the list to see exactly what you should pay attention to before purchasing a duffle bag, whether you are looking for a bag for a weekend outdoors or a luxe staycation.
Adidas Defender III: Best overall duffel bag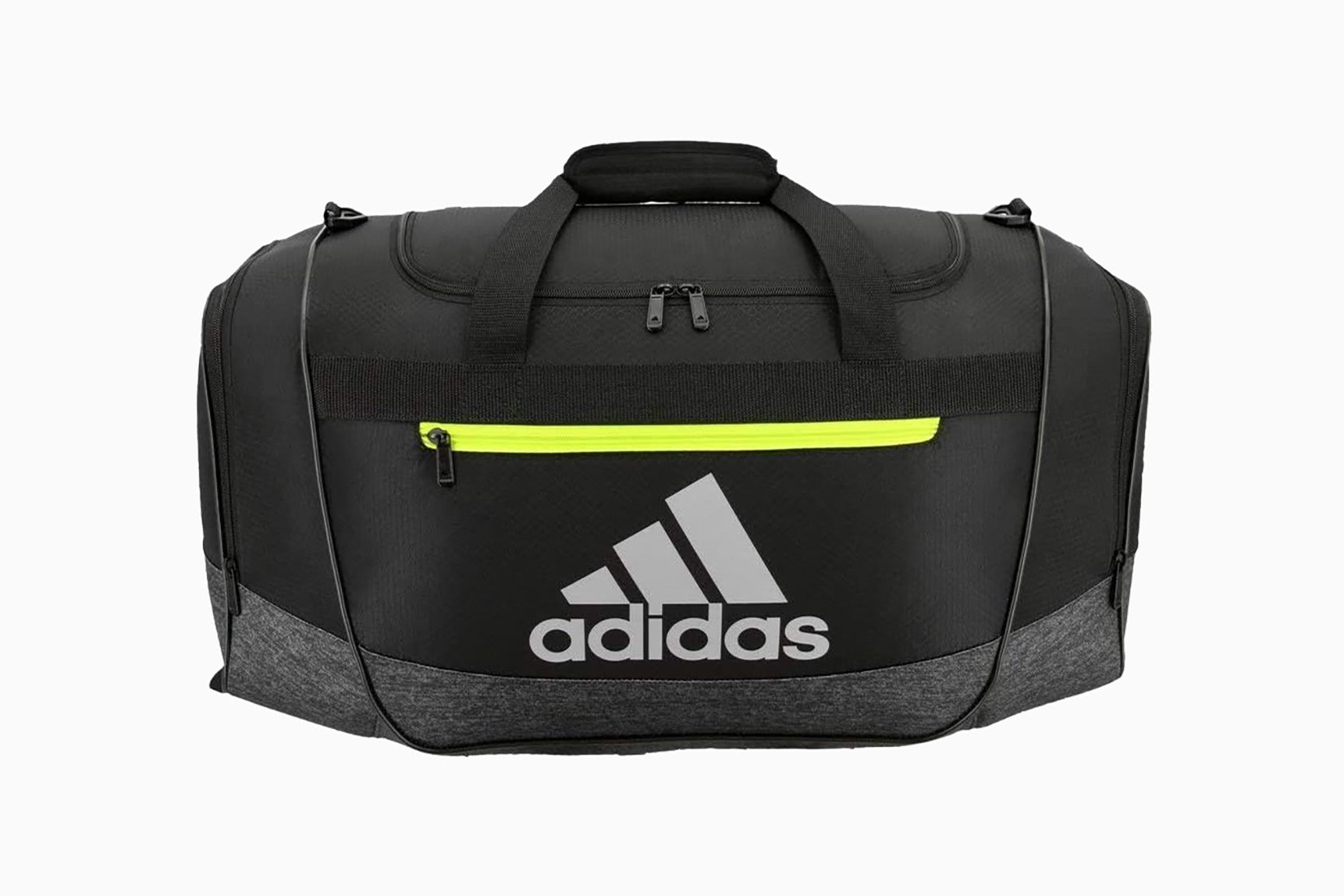 Hands down our favourite duffel bag has to be the Adidas Defender III. The Defender III reigns supreme in the three most important categories of a good duffel bag: size, durability, and organisational features.
This bag was originally designed as a classic gym bag but is spacious enough to serve as a weekend hold-all. Its soft structure means you can squeeze in any awkward-shaped travel kit.
Will this bag survive a bit of wear and tear? The answer is a resounding yes. It's made from reinforced ripstop polyester and, what's more, you get a lifetime warranty with purchase.
For organisation, you've got an outside zippered pocket for deodorant and shower gel for the gym—or travel accessories when on the road. Then there are two more pockets at either end of the bag for storing anything else, such as sunglasses, headphones, toiletries, and so on.
The inside compartment is minimal with no dividers. Just throw everything in and you're good to go.
Best for: an all-purpose duffel bag that does the job and does it well.
Size: 44 litres
Material: polyester
Colours: a wide range including black and gold, black and silver, and black and cyan
Waterfield Atlas Executive Athletic Holdall: Best premium duffel bag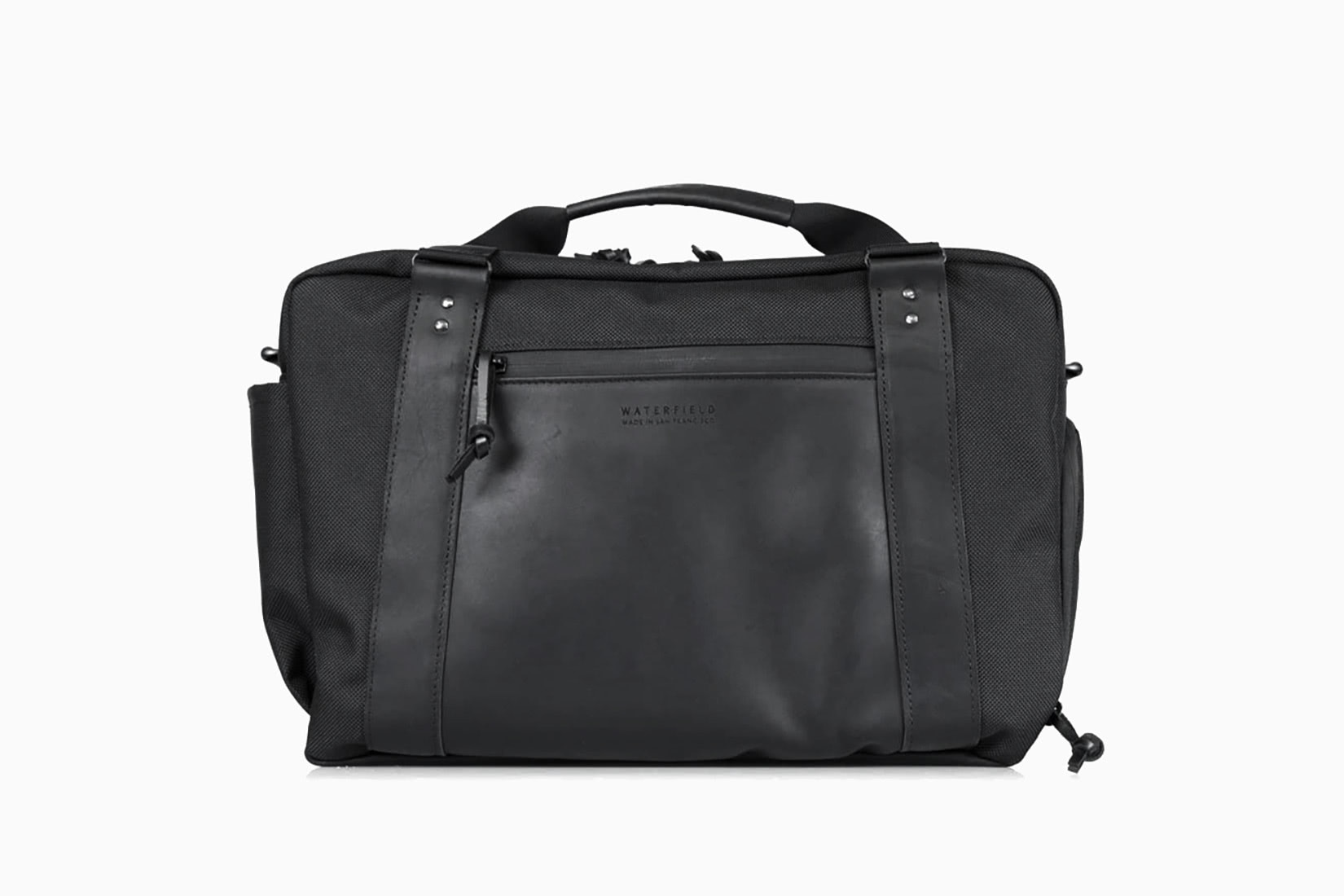 Looking for a duffel bag to take you straight from the office to the gym and maybe even serve as a hold-all for business trips? Then you need something smart, sleek, and ultra-functional. A briefcase-exercise-bag hybrid. In other words, the Waterfield Atlas Executive Athletic Holdall.
The first thing to catch your eye with this Waterfield's duffel bag is the material. You've got a choice of tough 1050 denier black Ballistic nylon or brown waxed canvas. We'd choose black for something discreet and low-profile and waxed canvas for a more traditionally elegant look.
The bag is supremely practical with waterproof zippers and, inside, three separate compartments for the three different parts of your day. One section for office essentials. One section for gym gear. And a collapsible pouch for shoes, whether that's trainers or high-end sneakers for the cocktail bar after work.
You've also got two padded pockets for both a laptop and tablet plus pockets for cables, pens, your wallet, and keys. And there's a slot on the back so you can slip it on top of your suitcase handles.
Also note that this bag meets the restrictions for the 'personal item' with most airlines.
Best for: a sophisticated duffel that wouldn't look out of place in the boardroom.
Size: 24.5 litres
Material: Ballistic nylon or waxed canvas
Colours: black nylon or brown waxed canvas
DALIX Sports Duffel bag: Best value duffel bag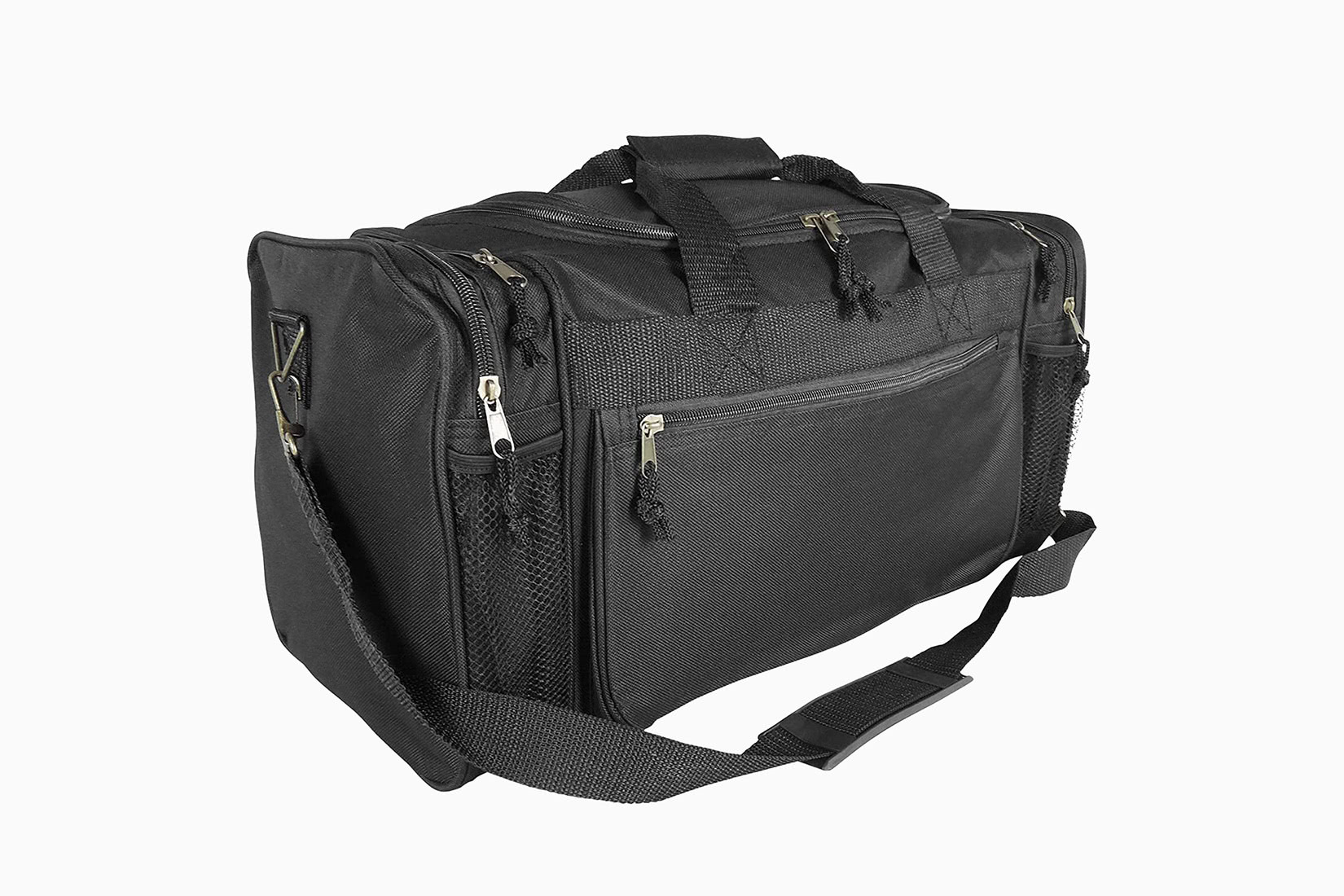 Whether you're throwing it in the back of a taxi or baggage handlers are tossing it onto a trolley, your duffel bag will likely end up taking a fair bit of abuse. The DALIX Sports Duffel bag is a great budget-friendly all-purpose duffel bag.
Whether you take it to the gym on your lunch break or to the sports club at weekends, it's ideal for carrying athletic gear. For one thing, the outside mesh pockets can hold two water bottles. One for hydration, one for protein shakes, perhaps?
This is also a great lightweight travel bag, perfect for last-minute trips when you need something bigger than a travel backpack. We're already imagining using it for weekends in the country or for storing beach gear.
Throw your clothes in the spacious central compartment. Stash accessories such as sunglasses, keys, headphones in the zippered compartments on either end. And then choose whether to use the grab-and-go handles or the adjustable shoulder strap, which can be extended up to 50 inches (127 cm).
Best for: no-nonsense practicality with a pleasing price-tag.
Size: 29.5 litres
Material: polyester
Colours: a range including black, dark green, and grey
Amabilis Dave Jr: Best waterproof duffel bag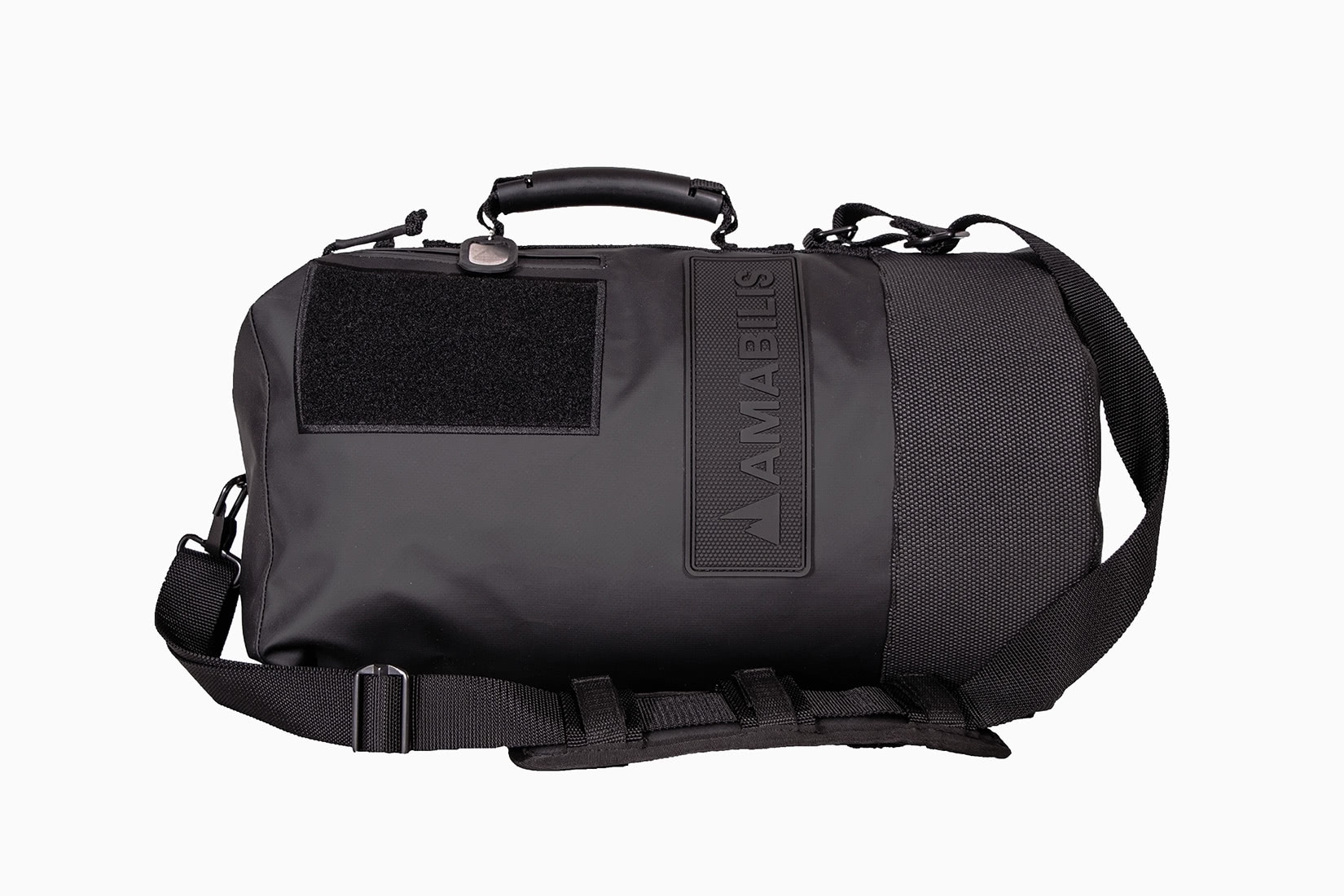 If you enjoy spending any available weekend out in the wilderness, or at least in a luxury glamping pod, then you need a hard-wearing and waterproof duffel bag to transport essentials. Ready to accompany you into the great outdoors is the Ambilis Dave Jr Duffel.
The bag is the offspring of Ambilis' original and iconic Dave duffel bag, named after US Marine Dave Ruiz. It's a bag designed to servicemen standards and wouldn't look out of place aboard a military jet.
Even if you're not planning on going into combat any time soon, this bag delivers military-grade strength and durability with a waterproof tarpaulin body that will withstand even the most merciless of downpours. The armour-panelled SuperFabric will still be going strong decades from now and the zippers are tough and battle-ready.
For carrying, you've got a heavy-duty handle or the padded and adjustable shoulder straps. As for organisation, an outside accessory pocket is ideal for easy-to-access essentials such as sunscreen or mosquito repellent.
Whether you're seeking a proper bug-out bag or something for a night's camping, the Dave Junior is a great waterproof option. Just add a tactical watch and you're action-ready.
Best for: adventurous individuals seeking a duffel bag worthy of the great outdoors.
Size: 25 litres
Material: waterproof tarpaulin
Colours: stealth black or military green
Under Armour Undeniable: Best duffel bag for the gym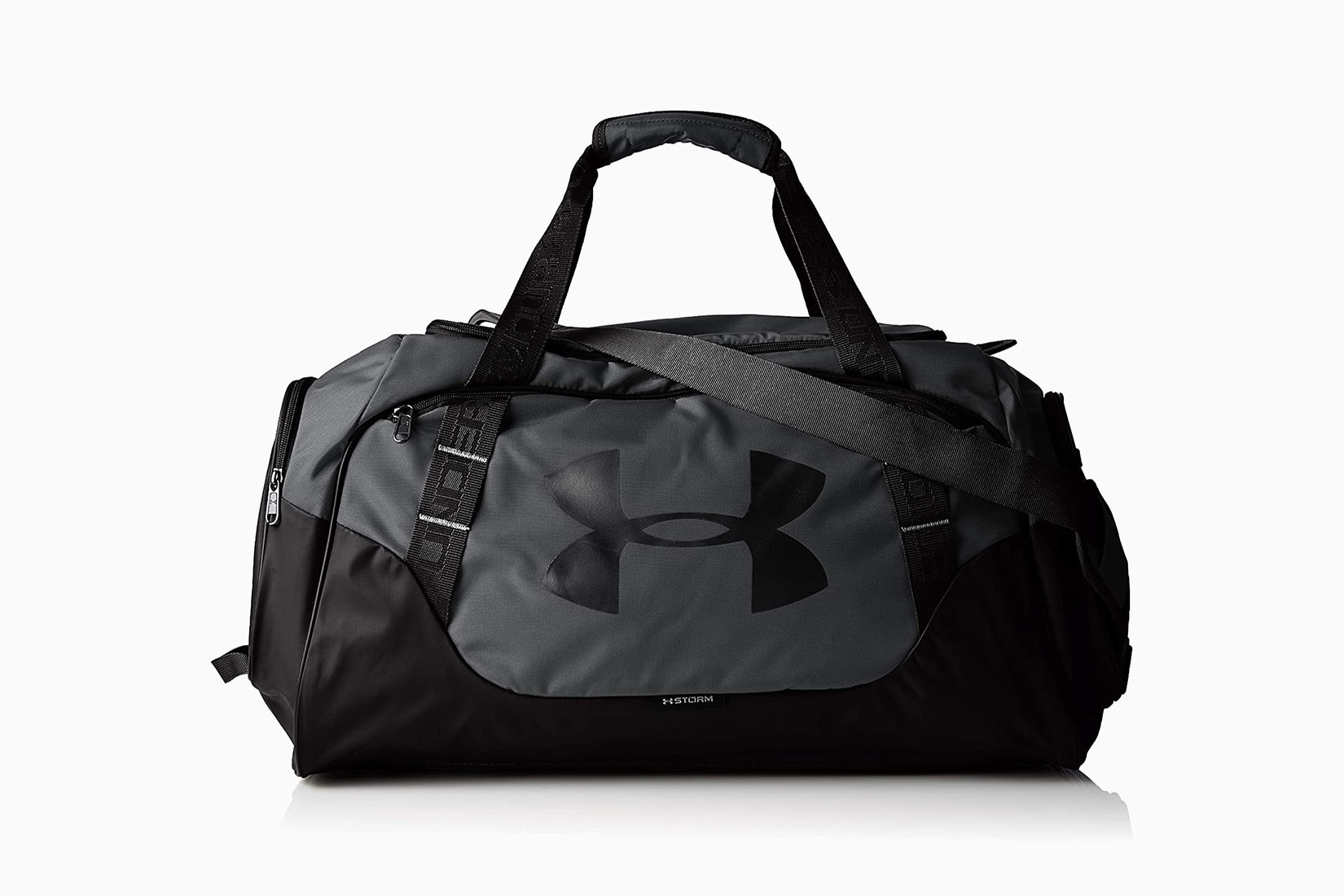 Fitness enthusiasts looking to bring their A-game need a solid gym bag to help them beat those PBs. Under Armour's Undeniable Duffel is undeniably one of the best duffel bags for the gym. You focus on bench-pressing your own weight and this bag will do the rest.
It's super spacious with enough room for all your gym gear, from football cones and balls to supplement tubs, washbags, and towels. There's a vented compartment for shoes and sweaty gym kit. Plus the bag is machine washable.
It's superbly high-quality and hard-wearing with heavy-duty stitching. The bag also features UA storm technology: a weather-resistant finish that shields from the wind and stops water seepage.
Finally, abrasion-resistant bottoms and side panels mean the bag can survive being dragged along the ground a fair bit—although there is a padded shoulder strap if you need it.
Even if your gym schedule features more rest days than reps, this is a great high-functioning hold-all that could also transport gear on trips away camping or a city break somewhere exotic.
Best for: gym-goers who want a dependable workout companion to carry their kit.
Size: 56 litres
Material: water-resistant polyester
Colours: a wide range including black, grey, and red and silver
Thule Subterra Convertible: Best convertible duffel backpack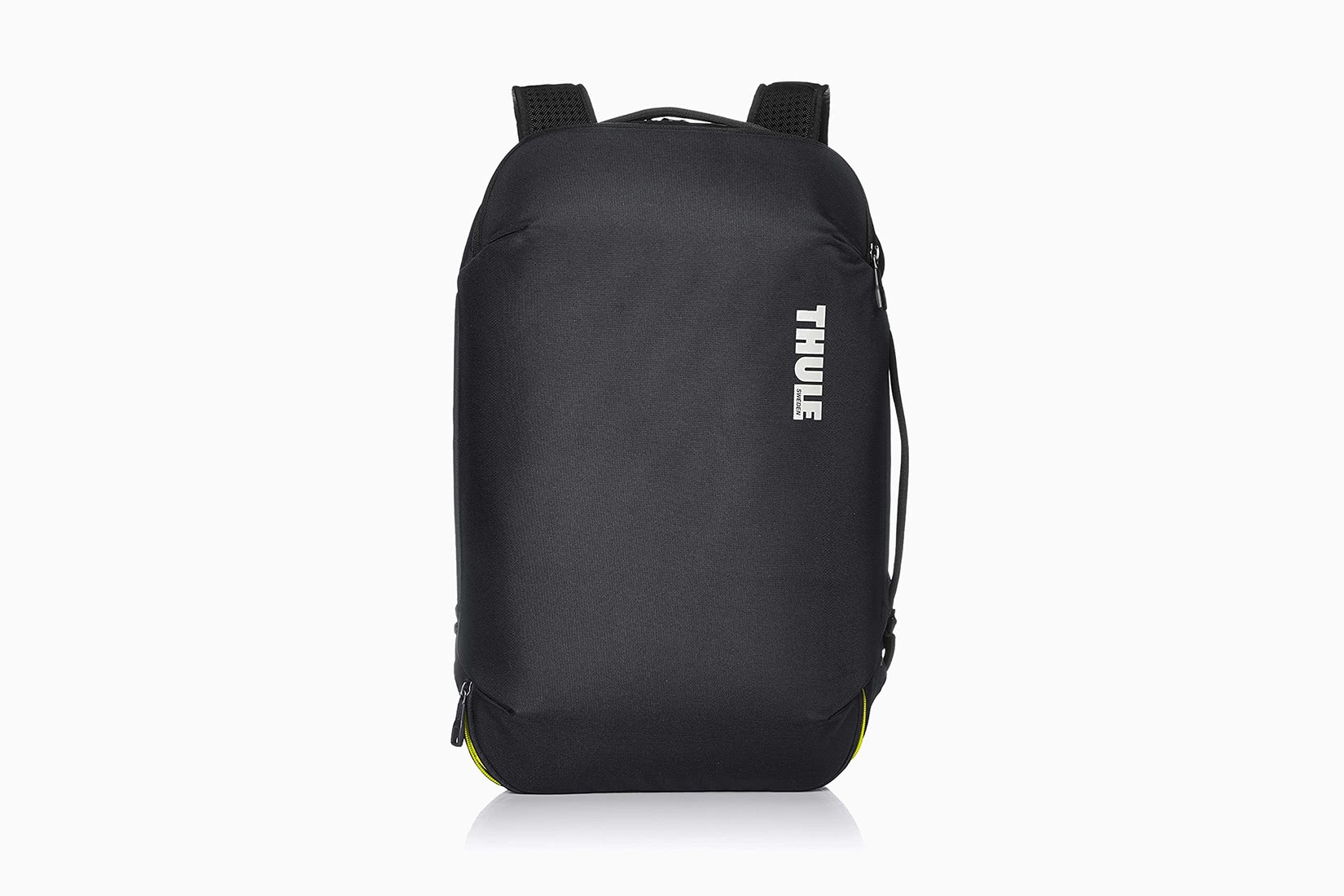 Travellers on expeditions through remote regions know that rolling or dragging a duffel bag is a recipe for disaster. What happens if you're on a dirt track into the jungle? You need something that can convert into a backpack.
Even if the closest you plan to get to a jungle is sitting among your new house plants, it's still work checking out the Thule Subterra Convertible—a bag fated to become your new travel sidekick.
The Thule Subterra can be carried in three different ways: across your body, sling bag-style, as a shoulder bag, or as a backpack. So when you encounter tricky terrain, you can simply sling it on your back and keep moving.
It's lightweight but durable, constructed from 800D nylon, and soft-sided so you can really bulk it out. Inside, there are zippered mesh dividers for organising, including a compartment for shoes and dirty laundry. The Hidden CashStash pocket is ideal for storing passports and other important documents.
No modern traveller goes anywhere without their laptop. After all, you might want to watch Netflix. This bag has a removable laptop case that fits a 15 inch MacBook as well as a tablet.
Best for: the perfect escort for adventures off the beaten path.
Size: 40 litres
Material: 800D nylon
Colours: a range including black, dark green, and red
Canway Travel Duffel: Best travel duffel bag carry-on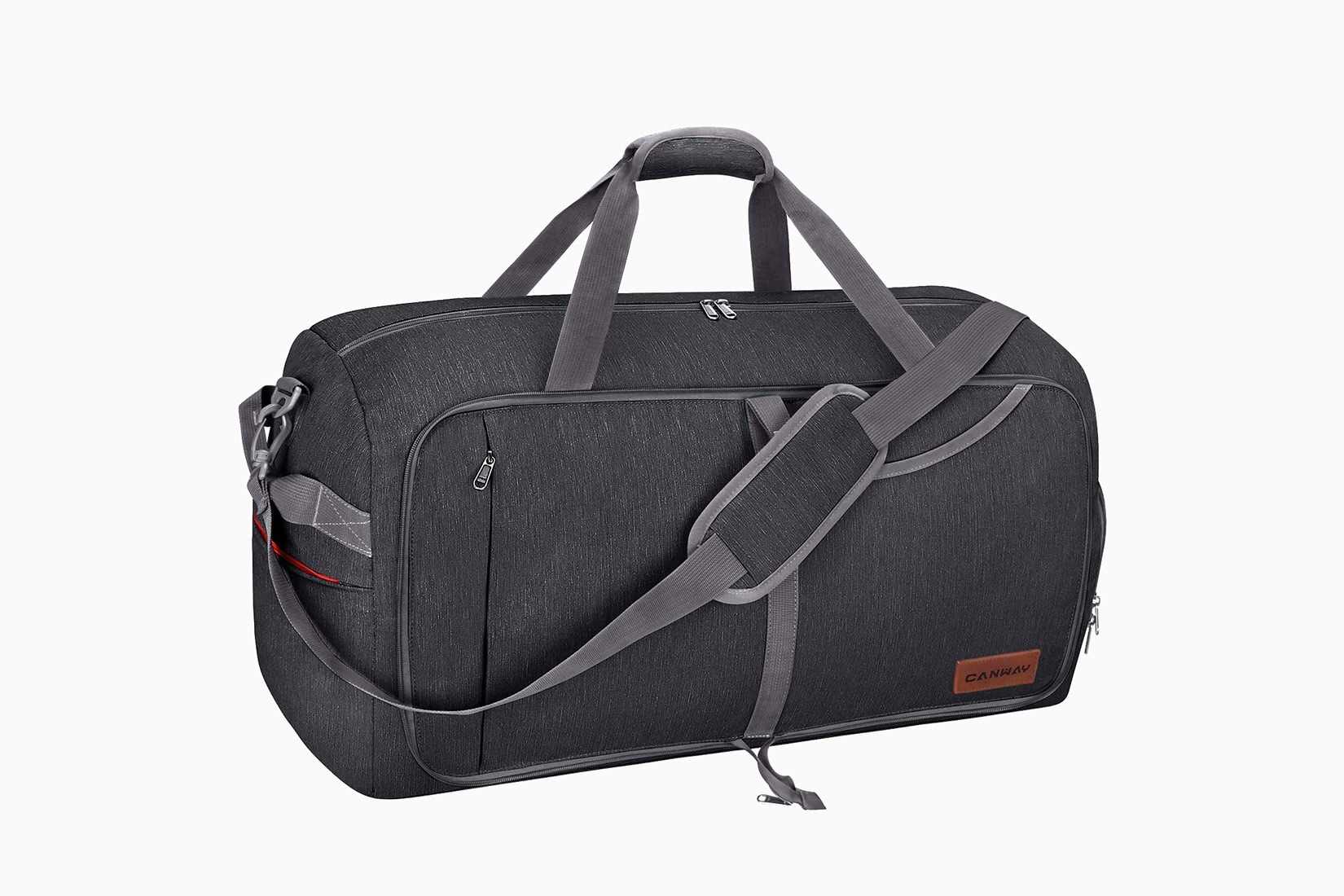 If you want to cut down on travel costs and time spent checking in, you need a quality travel duffel bag that fits airline requirements for carry-on baggage—like the Canway Travel Duffel.
This bag weighs around 80% less than a standard empty suitcase. That essentially means it's already made your trip 80% easier. It can also fold down to a compact size to be stuffed in the back of the cupboard for storage.
From there, things only get better. The bag features high-quality metal SBS zippers and all major stress points have been reinforced. This is a bag in there for the long haul.
The Canway is also not short on pockets. In addition to the main compartment, we've counted six others. And the side compartment is not only water-resistant but odour-resistant so you can store your trainers inside without worrying about them stinking up your suit.
This bag is big enough to store clothes for two adults and a baby for a weekend away. But if you're travelling solo, take advantage of the extra space to pack a few luxuries, like your favourite bomber or summer shirt. Oh, and a luxury pilot watch.
Best for: a feature-heavy but lightweight travel bag.
Size: 65 litres
Material: waterproof 600D polyester
Colours: a range including black, blue, and red
Osprey Rolling Transporter: Best travel duffel bag with wheels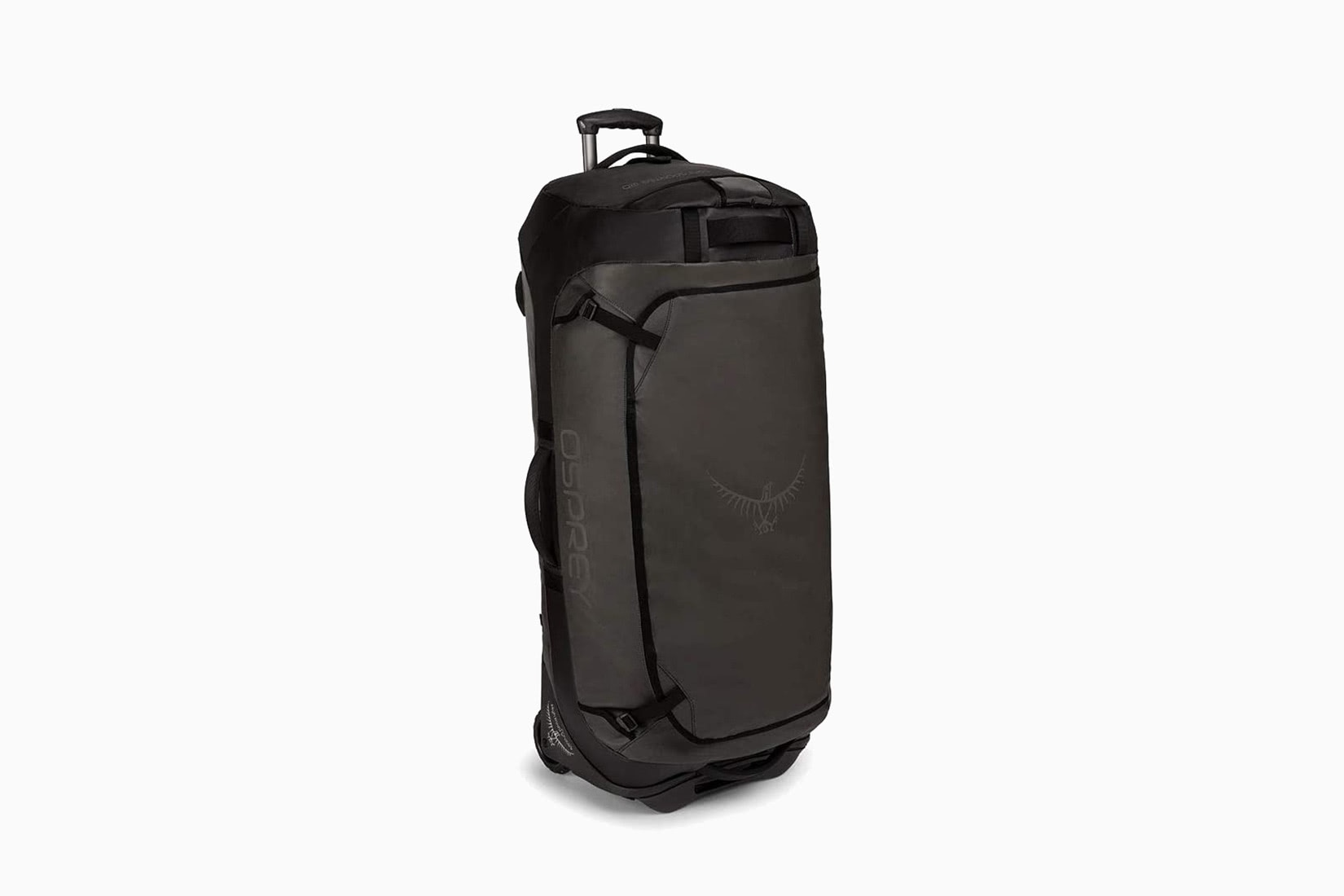 Like a wheely suitcase, the Osprey Rolling Transporter Duffel can be rolled along behind you—a bonus if you have to walk through the airport to the gate or across the city to your hotel.
Or you've got a choice of five different padded grab handles so you can easily lift it from whatever angle. Plus there are six lash points in case your bag needs to be secured to the top of a bus, the back of a motorbike, or to a donkey—because who knows what might happen.
Made from durable nylon that will withstand abrasion, it's also got a double flap opening for additional weather-resistance plus #10 YKK zippers and lockable sliders for security. There's also an ID window on the end panel where you can leave your details in case of loss or theft.
Inside are compression straps to secure your stuff—all 120 litres of it.
Best for: an ultra-reliable replacement to a standard rolling suitcase.
Size: 120 litres
Material: water-resistant nylon
Colours: black, blue, and grey
5.11 Rush LBD Tactical: Best military duffel bag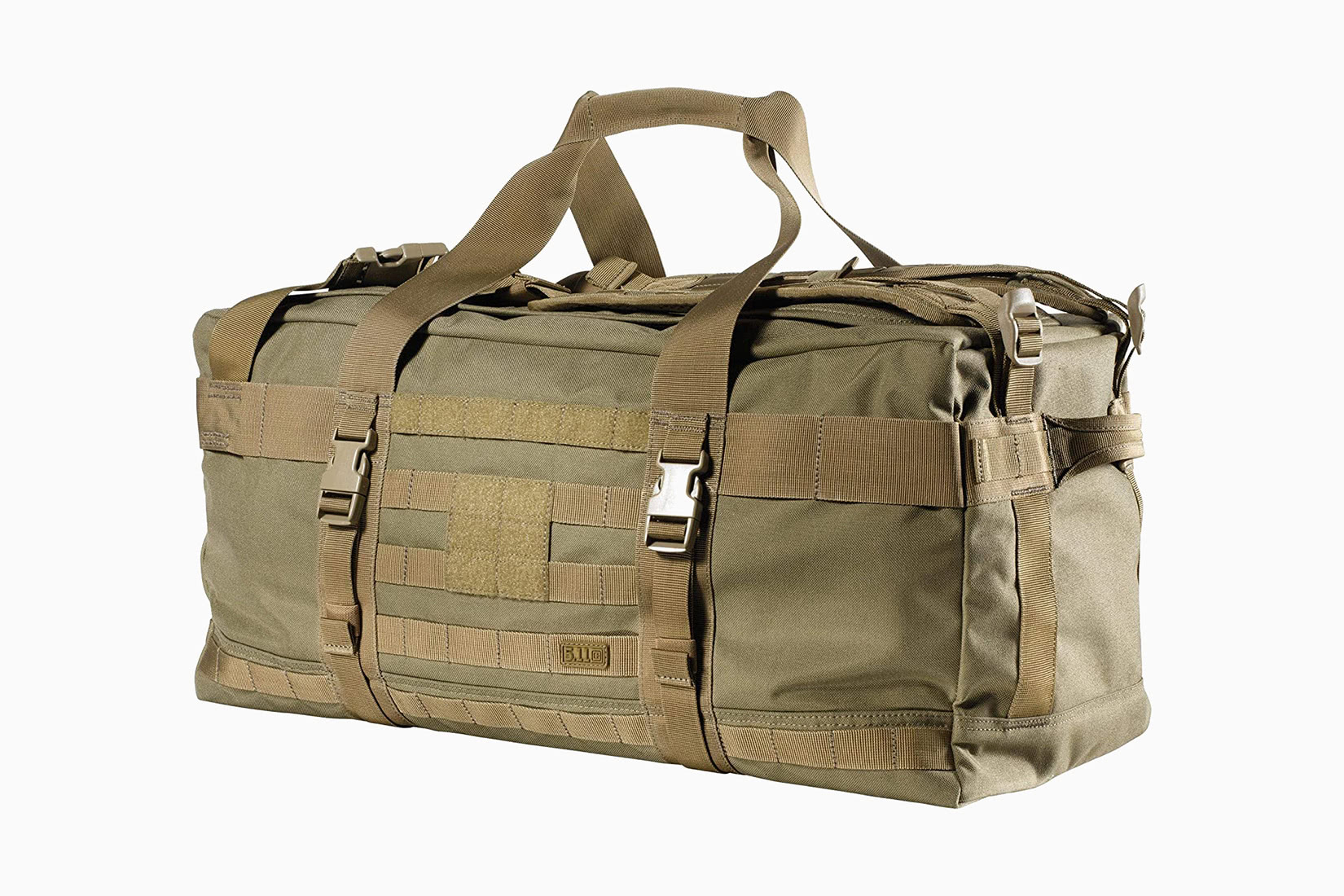 From servicemen to first responders, anyone who needs to be operational and ready to go requires a military-grade bag to accompany them on their missions.
5.11's Rush LBD is a serious and strategically-minded duffel that gets down to business. It's a quality bag with enhanced durability, and has been field-tested so you can carry it into combat—or at least to the bus station—knowing that you've got a hardcore and hard-wearing package on your back.
It's made from high-strength and water-repellent 1050D nylon. The YKK zippers are self-healing, which means they can be restored easily if they become distorted.
You've also got straps for lashing the bag to the top of an SUV. And, inside, there's heaps of room for all your kit with multiple pockets for organisation. Plus there's MOLLE loops so you can attach additional pockets for customisable storage.
Best for: those who need something secure, functional, and operation-ready.
Size: 56 litres
Material: nylon
Colours: a range including black, camo, and green
Filson: Best leather duffel bag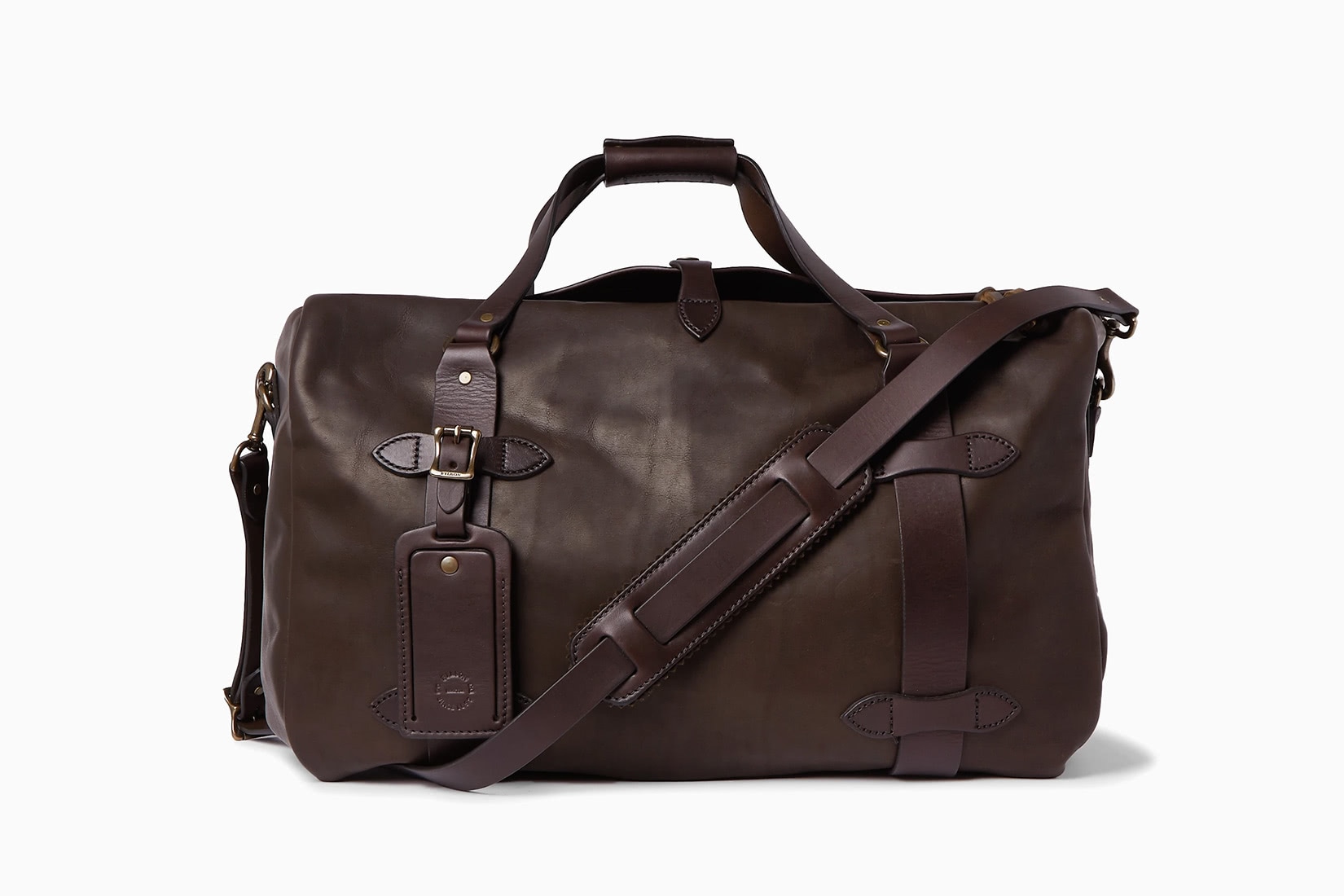 For a traditional and sophisticated look, a nylon and polyester bag doesn't quite cut the mustard. The rules of refined elegance call for leather. Just like this Leather Duffel by Filson. If a more tasteful and classic carry-item exists, we've yet to find it.
This bag will easily fit into the overhead compartments on an aeroplane. Although we're imagining using it for a trip on an overnight train, such as the Caledonian Sleeper or the Tran Siberian Express across Russia.
The leather is vegetable-tanned by Wickett & Craig, a world-renowned tannery famous for producing luxurious and durable leathers. It's totally waterproof so even if you arrive at your destination and it's bucketing down, your bag won't be ruined.
A felt-lined shoulder strap makes for a comfortable carry. Inside is a slip pocket for storing any essentials that you need easy access to. This bag has been designed to last a lifetime and, with its laidback luxury aesthetic, will look as good in twenty years time as it does now.
Because everything looks better in leather—and that includes duffel bags.
Best for: the fashion diehard who travels in retro style.
Size: 50 litres
Material: leather
Colours: dark brown
Herschel Sutton Herringbone Duffel: Best weekender bag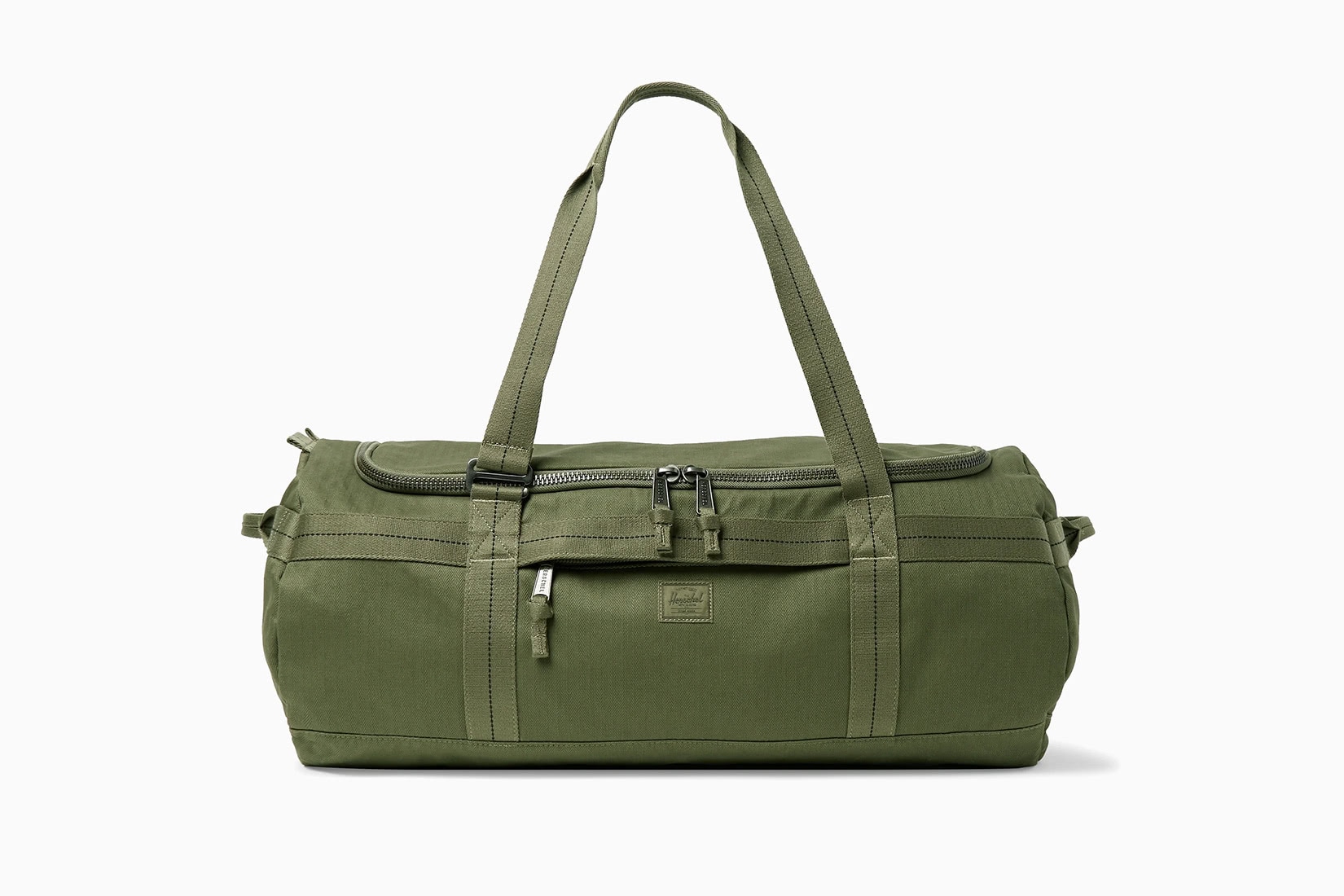 Booked a last-minute weekend away to a European city? Or about to jump in the car for a few days in the country? Then you need an easygoing but elegant duffel bag to accompany you on your weekend escapades. Herschel's Sutton Herringbone Duffel is just the ticket.
Herschel are experts at nailing a vintage aesthetic and this bag is no different. Army green canvas immediately creates a mood of old-school military romance. For a good-quality weekend travel bag, this one will practically pack itself.
The side handles are reinforced and make it comfortable to carry although there's also a removable webbing shoulder strap if you prefer. The U-shaped closure with two-way zipper is ideal for rummaging around in.
Inside, you've got the brand's signature striped liner and a mesh storage sleeve beneath the lid for holding underwear or toiletries.
If you're dashing off for a weekend away, you need a bag that's up for spontaneity. This Hershel bag effortlessly captures the romance and easy-going elegance of an unplanned trip to The Hamptons or a weekend in a lakeside cabin.
Best for: unfussy but fashionable practicality that's perfect for weekend trips.
Size: 46.5 litres
Material: canvas
Colours: army green
Plambag Canvas: Best duffel bag for laptop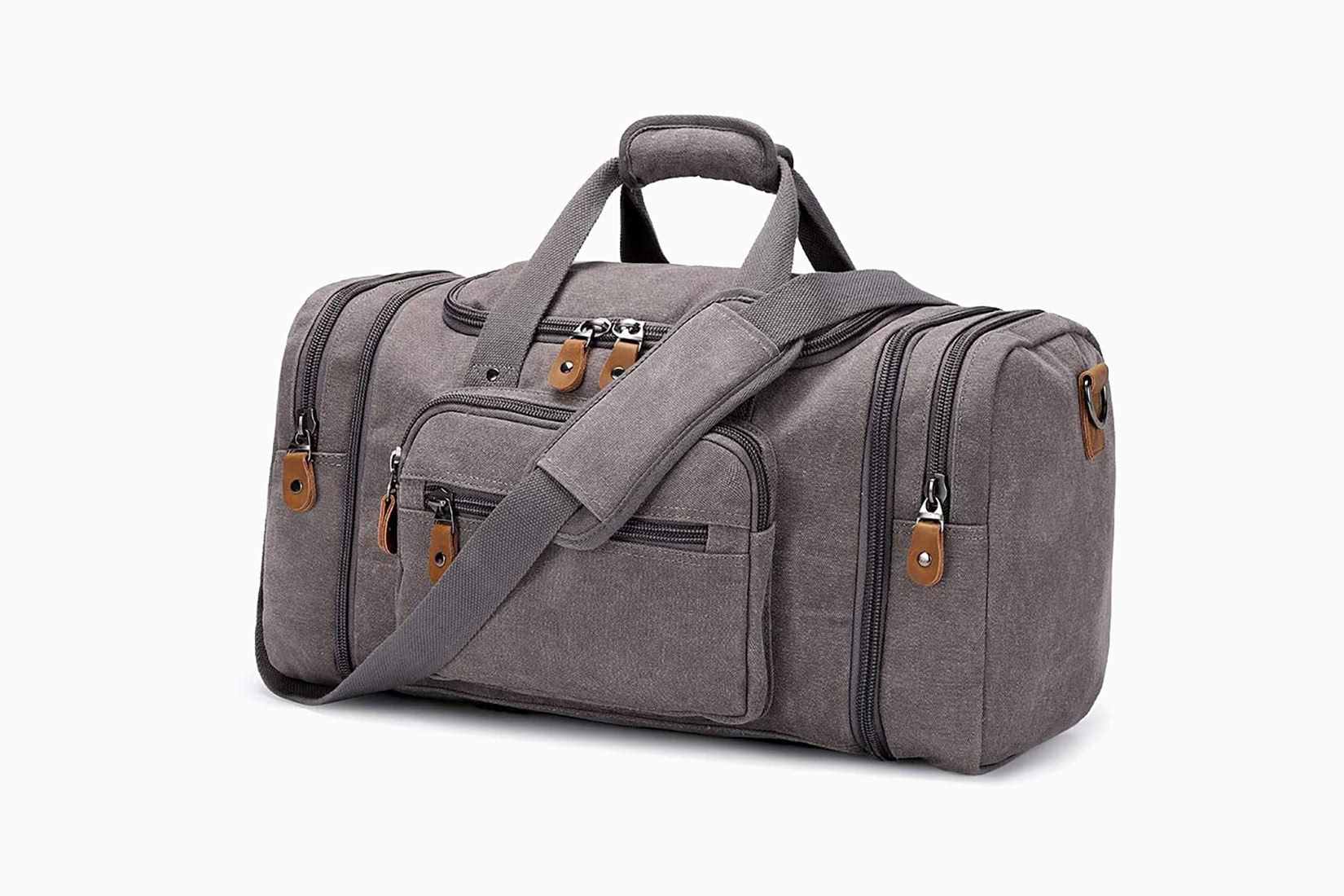 The days of hunting for internet cafes in foreign cities are long passed. Today, most travellers bring their laptop. But if you're going to take your most valuable possession with you, you need a safe means of transporting it. Hence the appeal of Plambag's Canvas Duffel.
This bag has a main compartment that can hold not only a 15-inch laptop but also an iPad Air, as well as other less fragile essentials like toiletries, shoes, and clothes. If you need more space, there are two zippers on either side that can expand the bag's capacity.
The bag is relaxed to look at but doesn't pull its punches in terms of functionality. There are plenty of pockets so you can stay organised. Meanwhile, high-density canvas not only looks cool but is lightweight and durable.
Best for: gadget-addicts who aren't going anywhere without their laptop.
Size: 50 litres
Material: cotton canvas
Colours: green, brown, and grey
North Face Base Camp: Best duffel bag for long-term travel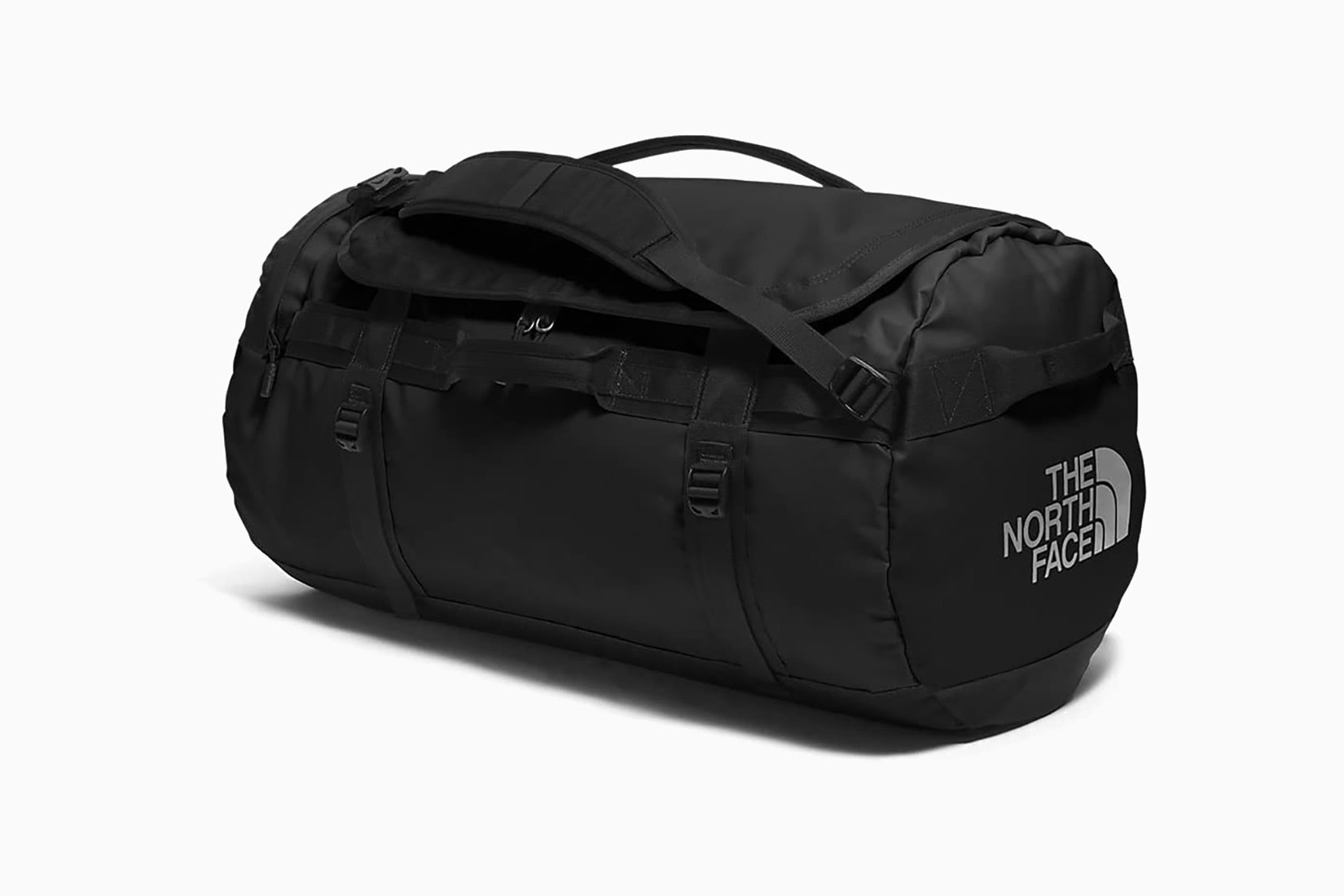 For long-term travellers exploring the globe, whether for business, leisure, or a bit of both, you need a bag that's just as adventurous as you. North Face's Base Camp Duffel is a top contender for many reasons.
Firstly, it's made from water-resistant ballistic nylon so it's as tough as nails. It can also be wiped clean if you're venturing through dusty terrain. Meanwhile, the black colour scheme is stealthy and stylish.
You can wear it as a backpack using the detachable ergonomic shoulder straps while daisy chain loops allow you to lash it to the roof of a jeep with rope and carabiners—if such an occasion arises.
The D-zip opening allows you to see inside clearly—ideal with a bag with a 95-litre capacity. But if overpacking is still a risk, four compression straps mean you can cinch all your stuff together so it's snug and secure. There's also a zipped pocket at one end for shoes or wet clothes.
Best for: an enduring travel companion for risk-takers and pathfinders.
Size: 95 litres
Material: nylon
Colours: black
Nike Golf Ripstop: Best golf duffel bag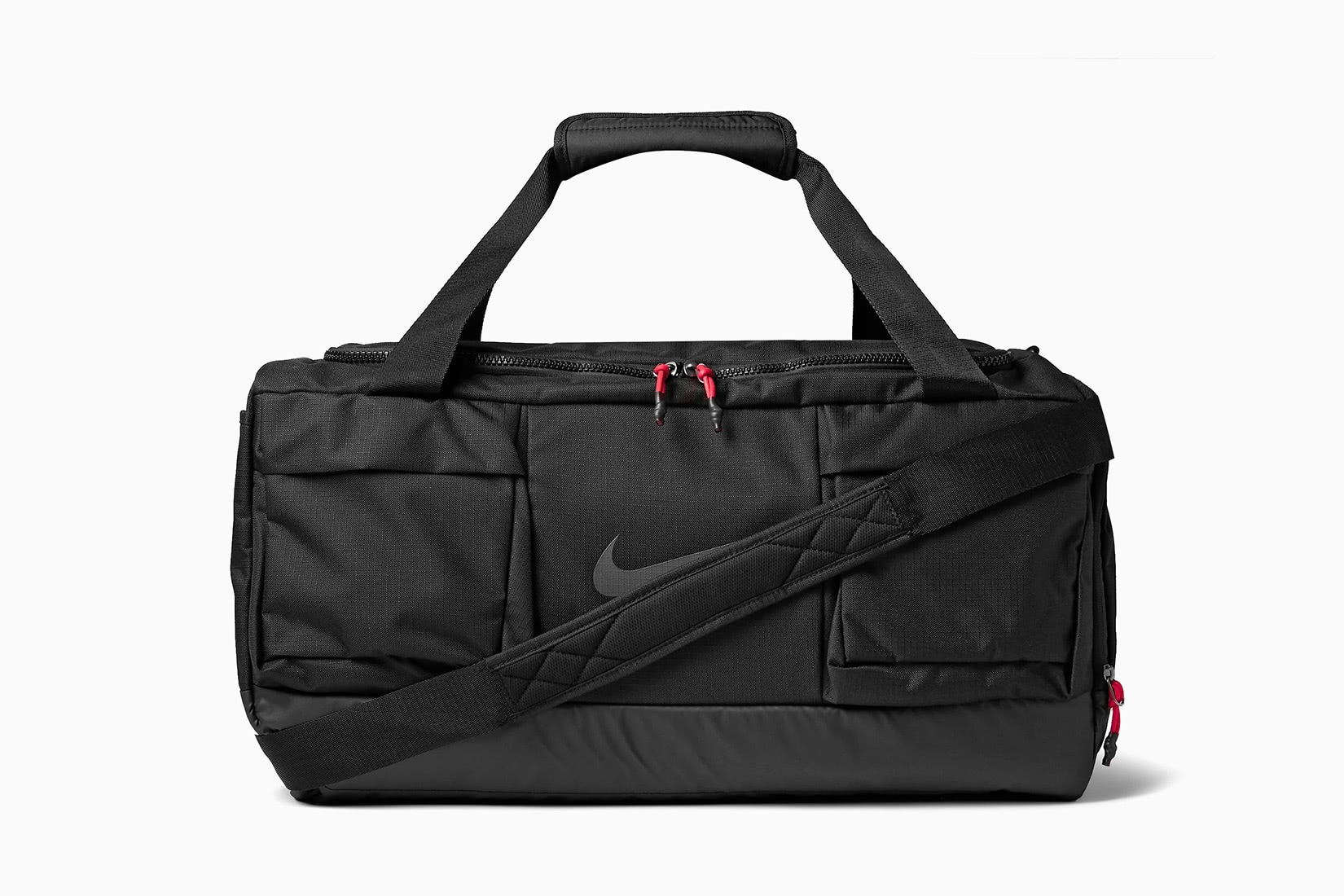 We're not saying a good golfing duffel bag will guarantee you a hole-in-one—but it may well help. And so if you require any more motivation to get out there on the course, Nike's Golf Ripstop Duffel will provide all the encouragement necessary.
That Nike Golf is a favourite brand of the likes of Tiger Woods and Rory McIlroy is just another bonus.
The Ripstop has a few key features that will make getting ready for golfing a doddle. There's a mesh shoe compartment, so you don't need to store them in with your freshly pressed golfing clothes. A detachable shoulder strap makes for easy carrying. And ripstop is a hard-wearing fabric that will survive a fair amount of rough and tumble.
If you're not a golfer, you may still find this bag the ideal duffel for hauling gear on casual trips away. And for business travel, it's neat and smart with great organisational features.
Best for: keen golfers or anyone wanting a functional, robust, and sleek-looking duffel.
Size: 35 litres
Material: ripstop
Colours: black
Valextra Boston: Most expensive duffel bag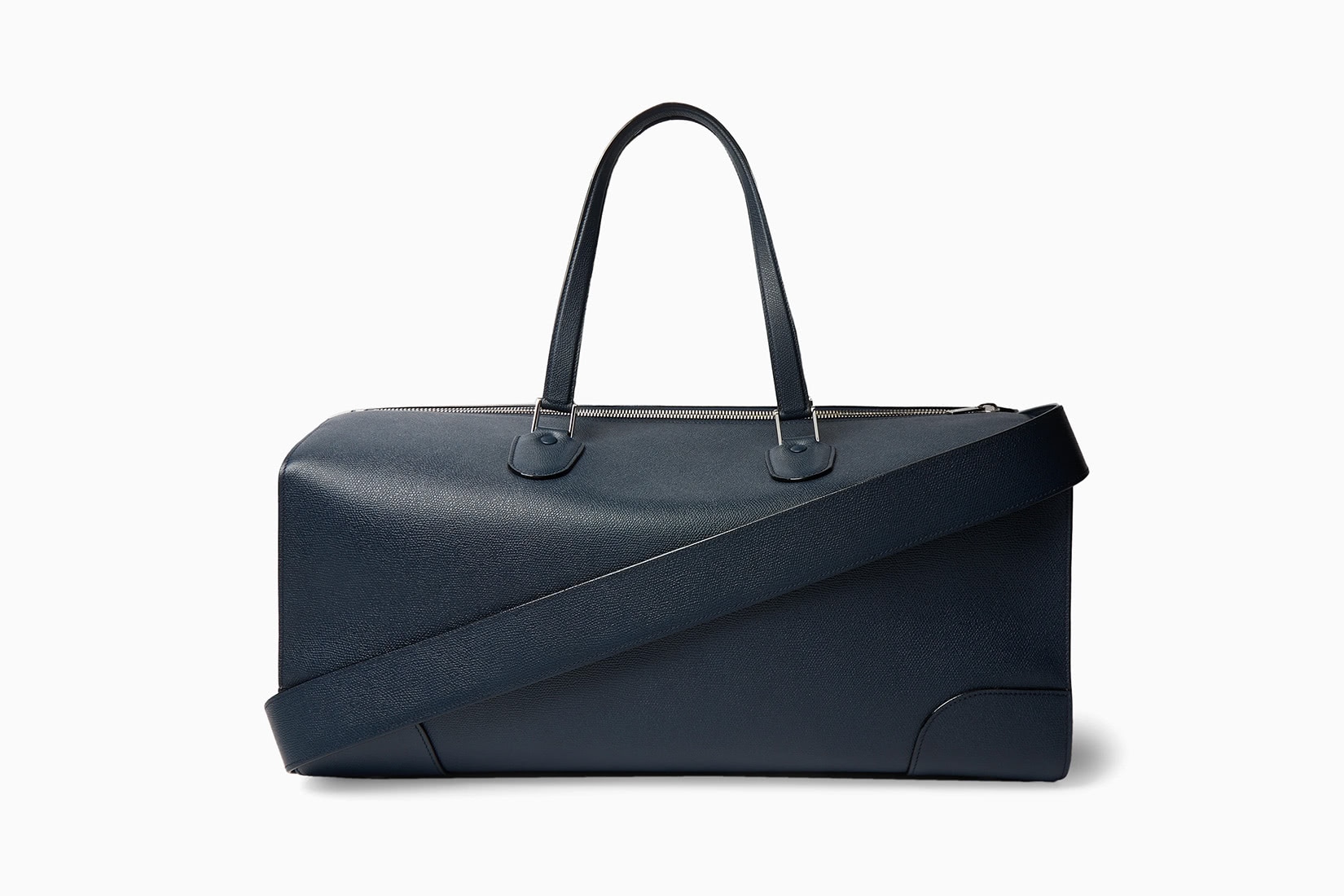 No better way to get your holiday off to a flying start than by packing a bag that's the crème de la crème of luxury duffels. Valextra's Boston Leather Duffel is the most expensive duffel bag on our list but with that higher price-tag, you get superlative quality and an exceptional design.
This bag looks so good you'll have half the airport's eyes on you as you swan through departures. Valextra is known for designs that are the epitome of timeless and this bag is as classically elegant as they come.
The Italian-crafted pebble-grain leather isn't just luxurious-looking. It's sturdy with a hand-painted lacquer. Meanwhile, the bag's silver feet mean you can stand it on the ground without worrying about abrasion.
For storage, you've got 30 litres—easily enough for most short-term trips. And side pockets are ideal for travel documents or keys for speedy access.
This bag is suitable for everything from romantic weekends away to business trips. The boxy shape adds a utilitarian dimension to the otherwise opulent feel.
Best for: a sophisticated companion for high-end sojourns.
Size: 30 litres
Material: calf leather
Colours: navy
Buyers guide: what to look for when buying a duffel bag
When it comes to buying a duffel bag, there are a few important questions to consider.
Ease of carry and size
Many duffel bags are designed to be carried short distances by means of standard grab-and-carry handles.
If you want something designed for hauling a greater distance, look for those with long straps that can be worn crossbody. Or find a model with wheels for rolling or with backpack straps. The latter are useful for anyone who plans to use their duffel bag travelling.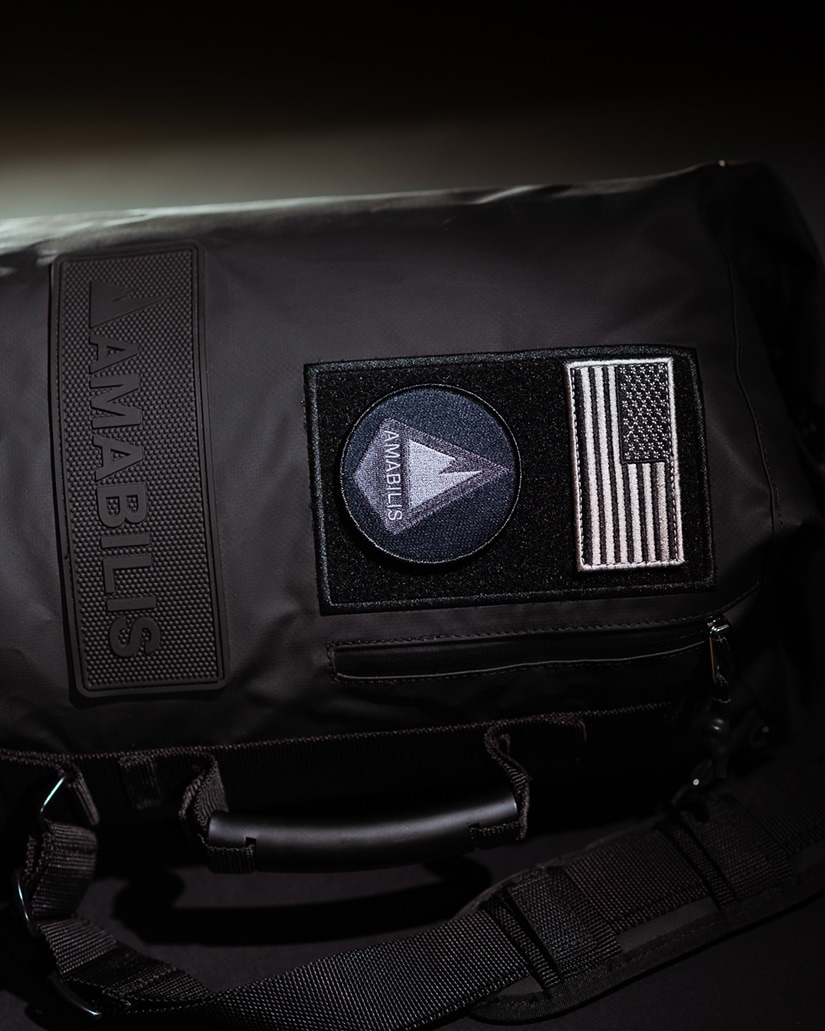 For optimum comfort, you want straps that are contoured, padded, and include a sternum strap to ease the load. If you plan to check your duffel bag when flying, the straps should be removable as many airlines demand this at check-in.
Duffel bags vary between 25 and 150 litres. The size you choose ultimately depends on how much you need to transport.
Materials and durability
A duffel bag should be hard-wearing and long-lasting. Look for high denier laminates or a high denier ballistic nylon. The latter is a thick and ultra-tough fabric designed for durability and abrasion resistance. The higher the denier count, the more durable it is.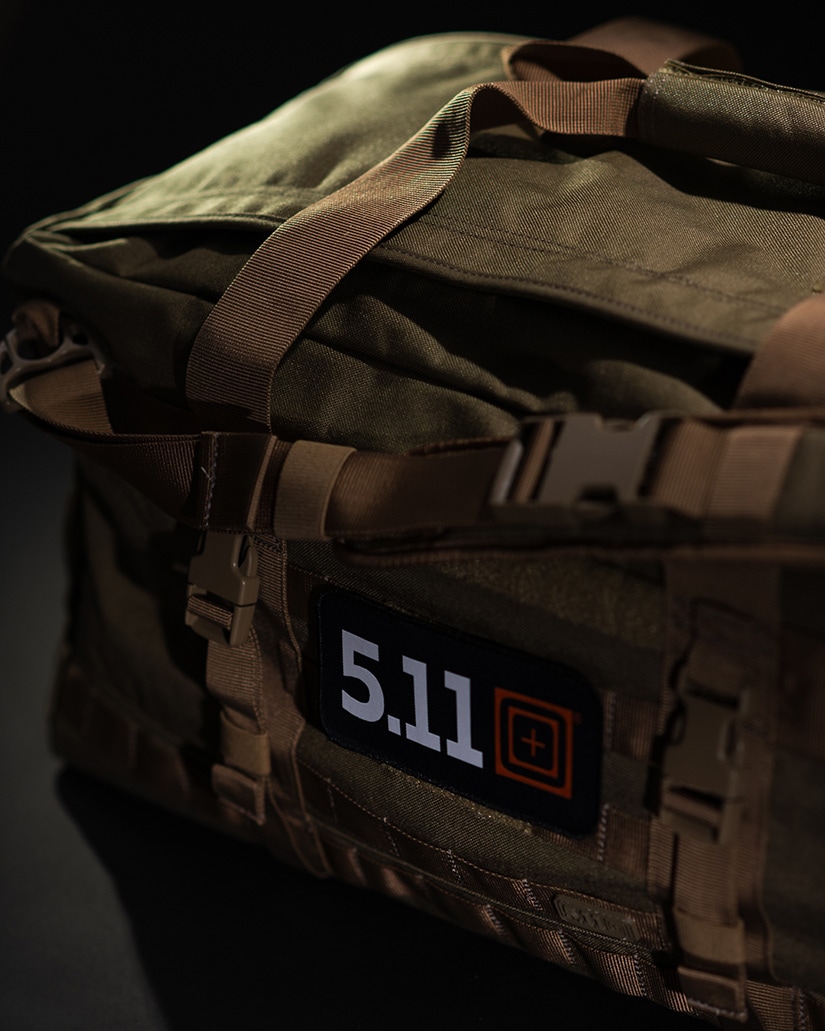 Check for reinforcing in the bottom of the bag and other major stress points as there are going to be occasions when you'll need to drag your duffel bag.
You also want weather-resistant materials. Even if you don't plan on using your bag anywhere remote and rugged, you're going to encounter rain at some point. Some bags are designed to be completely submersible—in case you want to take it on a river raft. Others will survive just light rain and splashes.
Stronger materials tend to be heavier. Look for something that strikes a balance between durability and weight.
Straps for lashing
This is a major one for avid travellers exploring off-the-beaten-path destinations. If you plan to travel a long distance by bus, your duffel bag may well need to be strapped to the roof.
The best feature for attaching your duffel bag are daisy chains or lash points. Grab handles can also be used to loop straps through when attaching.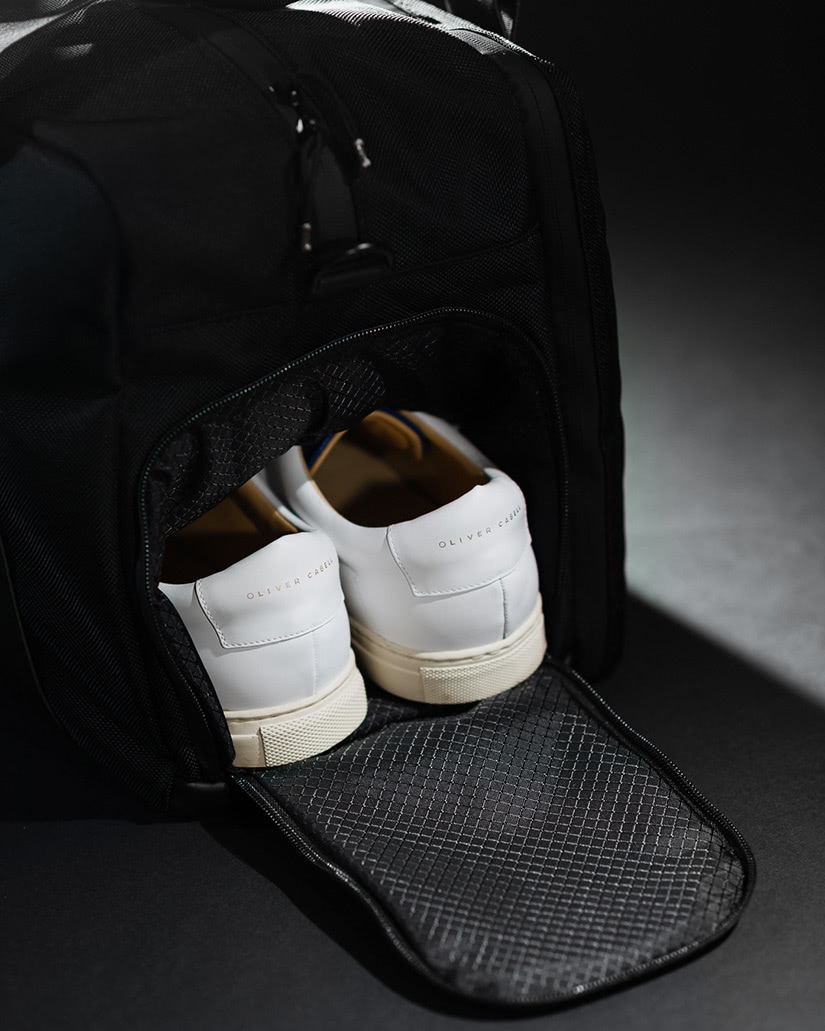 A couple of other important features to pay attention to:
Wheels – for traditional travel, being able to roll your duffel bag through airports or along the road is very useful, especially if it's heavy.
Pockets and compartments – pockets, compartments, and mesh dividers are great for organising. Mesh dividers are particularly useful as you can see inside without opening them. If your bag doesn't have any internal pockets, try packing cubes.
Opening – you've got a couple of options when it comes to how your duffel bag opens. I, D, or U-shaped openings are the most common and D and U-shaped openings are best when it comes to easy access and rummaging around.
Sealed seams and waterproof zippers – these further enhance weather-resistance and allow your bag to withstand greater levels of precipitation.
Frequently asked questions about duffel bags
What is the best duffel bag?
The best duffel bag is the Adidas Defender III. This bag is a decent size, hard-wearing and robust, and has lots of organisation features for you to keep your possessions tidy and secure while in transit. It's also a reasonable price.
What is a good size duffel bag?
A good-sized duffel bag will depend on your particular trip. The average duffel bag size is 22 x 14 x 9 inches (55 x 36 x 23 cm) which means it counts as carry-on luggage. Duffel bags for the gym tend to be a bit smaller while rolling duffel bags tend to be bigger.
Are duffel bags better than suitcases?
Duffel bags can be better than suitcases depending on your particular needs. For people who travel with lots of equipment, clothing, and gear, a duffel bag is a good option as some hold up to 100 litres. And because they don't have a rigid shape, duffel bags can also accommodate odd-shaped equipment. They are also incredibly durable.
Why do they call it a duffel bag?
Duffel bags are named after the town of Duffel in Belgium where the thick and coarse cloth traditionally used to make duffel bags was first produced. Today, duffel refers to any large hold-all bag made of robust material.
Is a duffel bag a carry on?
A duffel bag can count as carry-on baggage if it complies with airline restrictions. Generally, most airline size restrictions for carry-on bags are 22 x 14 x 9 inches (55 x 36 x 23 cm), although you will need to check before you fly. But duffel bags aren't rigid so they can be squeezed into overhead compartments if necessary.