Our skin deserves the best natural and organic skincare. We're now acutely aware of the havoc that parabens, sulfates, and other chemical nasties can play on our health.  Every day, we expose ourselves to these undesirables by the food we eat, the clothes we wear, and the lotions and potions with which we beautify ourselves.
The demand for natural and organic skincare is high. The people asked for kinder skincare, and fortunately, the industry listened. Skincare which is gentle to our skin and better for the environment? Yes, please.
There are now countless fantastic clean beauty products out there whose sole aim is to provide virtuous, wholesome skincare solutions.
The shift from having very little choice to having an abundance of it presents a new quest: the quest for the best. We've researched the best natural and organic skincare brands on the market, to bring you the purest, most effective clean beauty brands that bring us just that much closer to Mother Earth and that perfect complexion.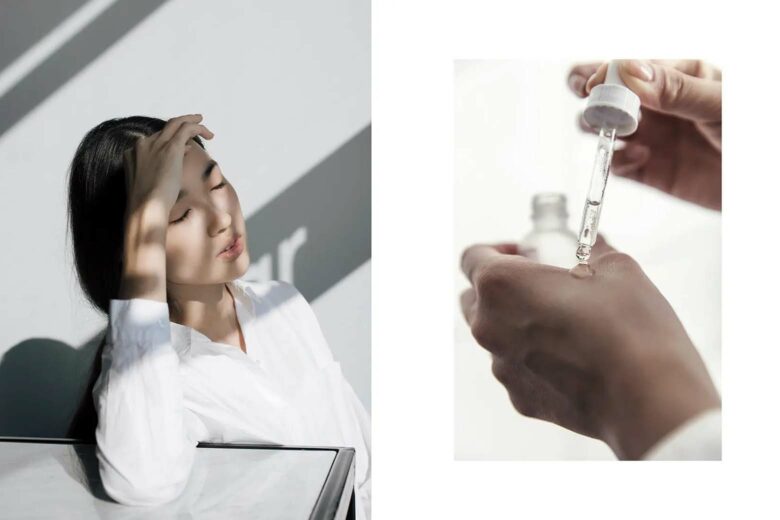 Aesop
Australian brand Aesop embodies all things pure, balanced, and botanical. They're super big on aromatic, skin-friendly ingredients, the formulations of which are placed in simple, super photogenic packaging.
Aesop's minimalism in their packaging is offset by the wild, sensual aromas that infuse their preparations.
Best for: unisex vegan skincare with subtle earthy scents and #shelfie-ready packaging
Star Product: Parsley Seed Facial Cleanser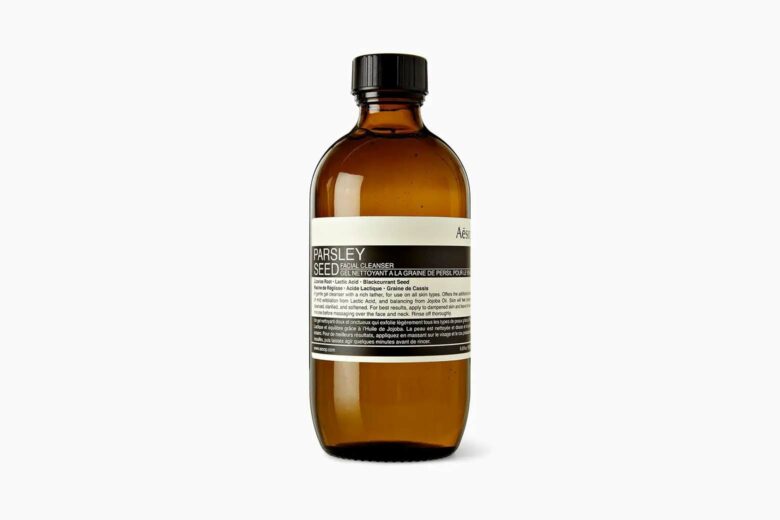 Jam-packed with skin-friendly ingredients you'd struggle to gather from even the most well-equipped witch doctor, Aesop's Parsley Seed Facial Cleanser lathers into a deliciously creamy gel.
NUORI
Take it from the best skincare experts: The fresher, the better.
Discovering that unrealistically long shelf-life lessens the potency of many of the active ingredients, founder of NUORI, Ex-L'Oréal Jasmi Bonnèn, made it her mission to create the purest, fresh-batch skincare products whose beneficial properties are at their peak efficacy when you meet them—and a cult clean beauty brand was born.
Crafted in small batches in Denmark, all of NUORI's mindful concoctions are blended every 10-12 weeks to ensure the highest level of efficacy and ultimate freshness. Plus, their premium protective packaging minimizes exposure to air, light, and bacteria before and during use. The brand's "Fight for Fresh" philosophy makes it in a class of its own. 
And don't get us started on the scents. We can't say for certain what heaven smells like—but we're pretty confident it's something like NUORI: delicately divine (thanks to essential oils and plant extracts).
Pure. Potent. Precious. Quintessentially scandi if you ask us— minimalist in packaging, maximalist in quality.
Ethical stance: NUORI is 100 percent natural, non-toxic, and cruelty-free. It is also Vegan-friendly—All the formulations are plant-based with the exception of beeswax. 
Best for: conscious minimalists seeking utmost freshness in their skincare products.
Star Product: Vital Foaming Cleanser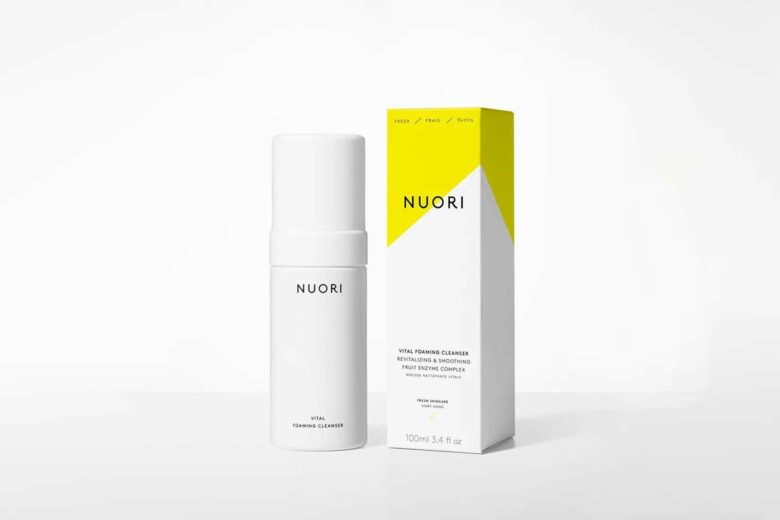 Put your freshest face forward with NUORI's Vital Foaming Cleanser. This luxuriously milky cleanser will turn washing your face into a purification ritual. Oat kernel extract and natural betaine work harmoniously to calm and comfort the skin while being anti-inflammatory.
KULCBD
It is everywhere from cocktails to candles and cosmetics—Meet one of Mother Nature's best-kept secrets and the buzzy wellness wonder ingredient of the moment: CBD (short for cannabidiol, a nonpsychoactive* derivative of the cannabis plant). To weed — pun intended — out the bad options from the good, enter KULCBD. This luxury, organic skincare brand is leading the way of the hemp revolution in beauty.
Blending premium quality Full Spectrum CBD with probiotics, micro-algae, and other power-packed ingredients in its patent-pending formulations, this progressive brand offers ultra-potent, high-quality, cruelty-free skincare and wellness products (including health tinctures). KULCBD promises products that have been 'created by nature, harvested by hand, and extracted with care'. What else could we ask for?
*Read: These CBD-infused beauty products will not get you high (in case you were wondering).
Best for: exploring the world of CBD-infused beauty and wellness.
Star product: Night Repair Moisturiser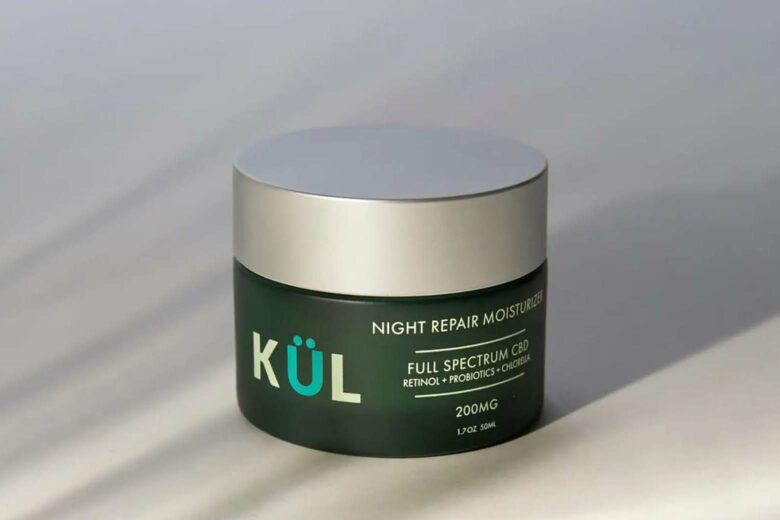 Optimize your beauty sleep to the absolute max with KULCBD's Night Repair Moisturiser. This cruelty-free night cream is deeply nourishing and restorative. 
Infused with 200mg of Full Spectrum CBD and a wealth of carefully chosen botanicals, the concoction promises to have you waking up to that healthy natural glow.
Timeless Skin Care
With their philosophy being to 'undersell and over-deliver, this Sunshine State brand definitely has our attention! Timeless Skin Care operates from Southern California and crafts their wares in small batches.
Best for: non-toxic, powerful skincare serums with high concentrations of active ingredients.
Star Product: Vitamin C + E Ferulic Acid Serum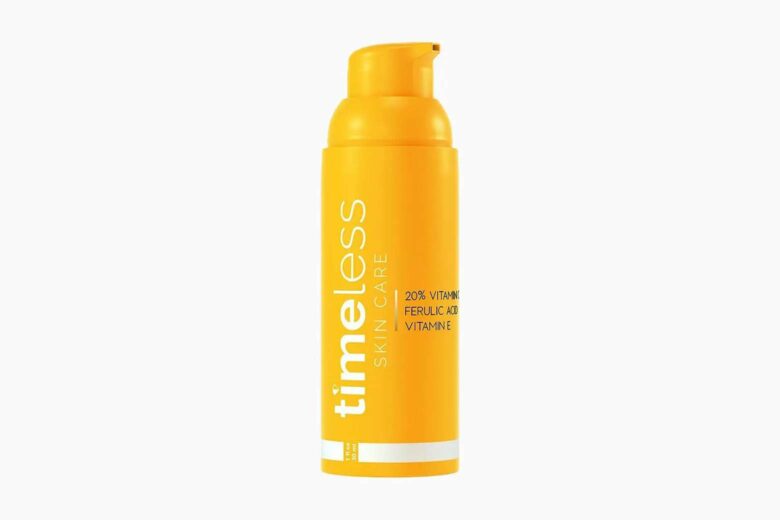 Inject some much-needed brightness into your skin with Timeless Skin Care's Vitamin C + E Ferulic Acid Serum. Perhaps a one-stop-shop for that enviably glowy SoCal skin, wherever you are in the world!
Purlisse
The story of natural skincare brand Purlisse is an empowering one. The company is rooted in the combined values of 'Asian wisdom and modern philosophy'– the former handed down by founder Jennifer Yen's Chinese grandmother.
Yen formed the company with a commitment to appreciate the diversity of beauty and to celebrate 'being different'. A woman after our own hearts, that's for sure!
Best for: multi-tasking, skin-loving skincare that caters for, and celebrates diversity.
Star Product: Matcha Green Tea + Lemon Detoxifying Charcoal mask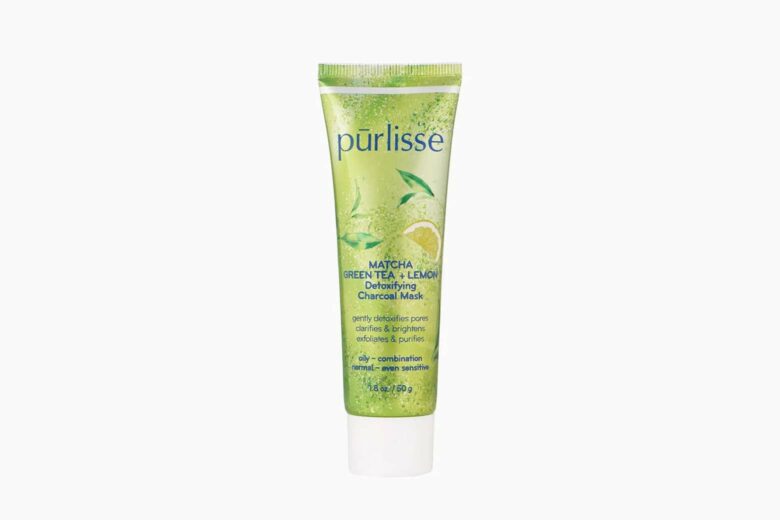 Matcha green tea is not only great for your internal health– it's rather magical when applied to the skin, too.
The Matcha Green Tea + Lemon Detoxifying Charcoal Mask is a cornucopia of skin-loving nourishing goodness. With lemon to brighten, green tea to moisturize and anti-age, and white clay to tighten skin, it seems like there's not much this mask doesn't do…
Natura Bissé
We love Natura Bissé, and we're not the only ones. The Barcelona-based skincare company centers their products on free-form amino acids, which founder Ricardo Fisas discovered the remarkable benefits of by a pure stroke of luck.
Their expertly-crafted products can be found in leading spas and luxury resorts across the world.
Best for: indulging in luxury spa quality natural skincare at home.
Star Product: Diamond Extreme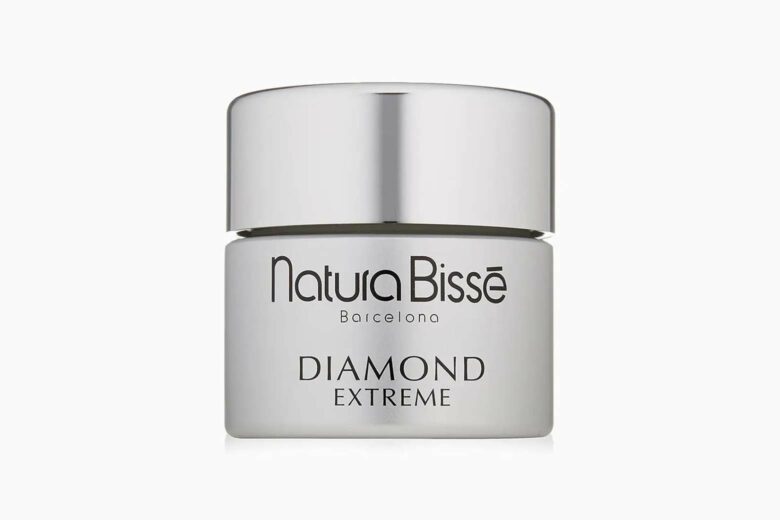 Diamond by name, diamond by reputation. Diamond Extreme cream by Natura Bissé is famously adored by none other than Beyonce herself. It promises a powerful lifting effect while helping restore and regenerate epidermal tissue.
Phykology
Phykology is a Korean skincare brand who strives to utilize some of the more unique and special materials our Earth has to offer. Proud to be vegan, and paraben and chemical 100% free, they might just deserve pride of place on your vanity table.
Best for: discovering the unique character of Korean skincare and the benefits of some of our planet's best ingredients.
Star product: Seaweed Bubble Clay Mask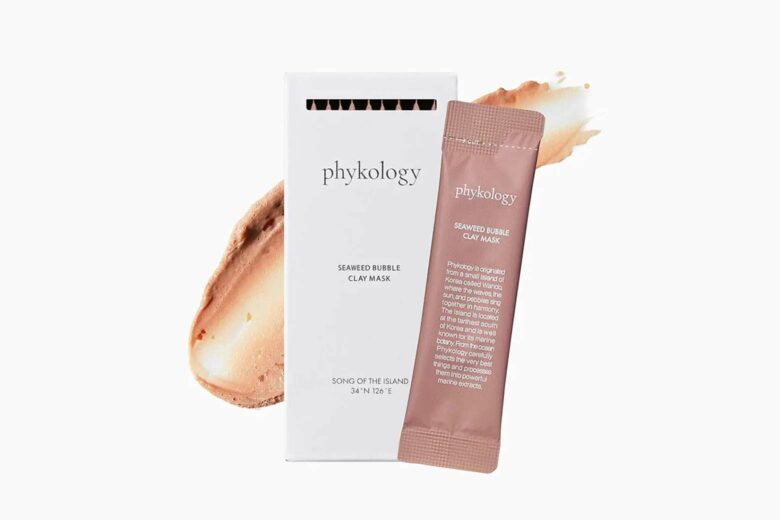 This pretty-in-pink Clay Mask combines premium clay and seaweed for an ultimate impurity-targeting delight for your face.
The clever self-foaming micro-bubbles add an extra layer of cuteness, making it a real joy to experience!
100% Pure
100% Pure works extremely hard to ensure their products remain exactly that: 100% pure. They impose strict purity standards, making sure every one of their products is free of harmful chemicals, naturally-pigmented, and completely cruelty-free.
What's more; 100% Pure are absolutely focused on 'giving back'. With every order made, they donate the cost of one tree to Trees for the Future, which helps impoverished farmers and families.
Best for: the nature-lovers among us seeking a natural skincare brand that truly makes a difference.
Star product: Coffee Bean Caffeine Eye Cream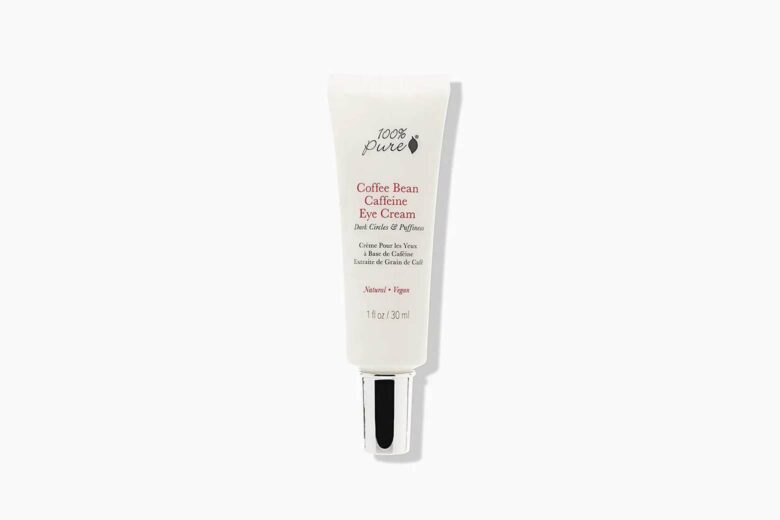 Cut out the middleman and apply 100% Pure's Coffee Bean Caffeine Eye Cream straight to where it's needed most. The caffeine works to increase circulation, while rosehip and vitamin C combine to brighten, tighten and awaken.
Mario Badescu
The brand has stayed favored and relevant for over 50 years with their evergreen skincare solutions and timelessly appealing packaging. 
Mario Badescu was inspired to bring European-style facials to the smog of New York City way back in 1967.  His committed following initially gained Mario Badescu a cult status. Then, the brand skyrocketed, gaining absolute ubiquity in the beauty bags of innumerous loyal fans—including Oprah Winfrey, Jennifer Aniston, and Heidi Klum.
Best for: world-renowned luxury organic skincare which has withstood the test of time.
Star product: Facial Spray with Aloe, Herbs and Rosewater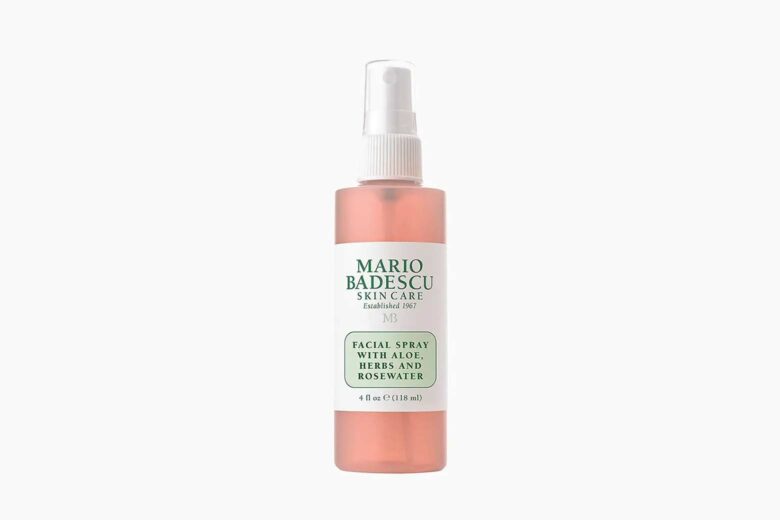 This Facial Spray, infused with aloe, herbs and rosewater can be used to treat pretty much any skin or hair malady throughout your day.
Our advice: keep one in your handbag to instantly refresh 4 pm office skin, or even spray onto dry hair for a moisture injection.
AHAVA
Israeli skincare brand AHAVA loves to intertwine their love of nature with their passion for innovation.
Being located on a (figurative) goldmine of rich mineral resources, AHAVA's natural skincare products are bursting with the fruits of their closest resource, Dead Sea minerals. Which, serendipitously, just happens to be a super-effective ingredient in many high-quality skincare products.
Best for: those who desire to invigorate their daily skincare routine with the natural gifts bequeathed by the Dead Sea.
Star product: Dead Sea Mineral Hand Cream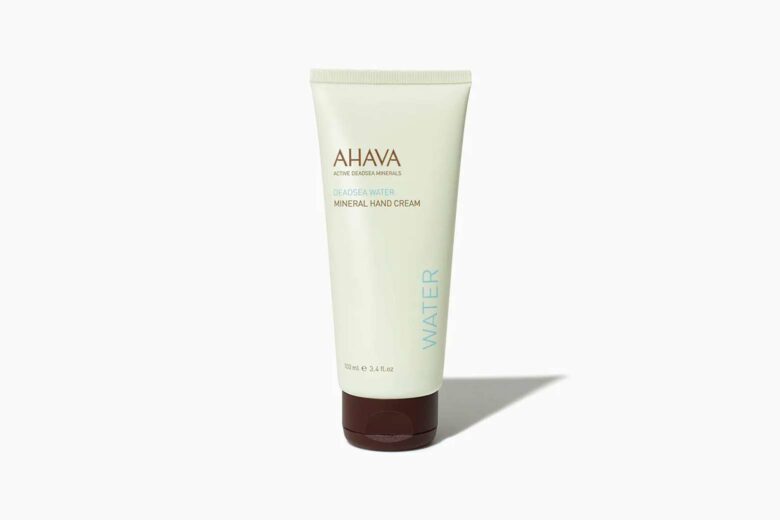 Non-greasy hand cream used to be as rare as White Peacocks. Until, Dead Sea Minerals clearly had one really great day in the lab.
Lightweight and packed with minerals, this vegan, paraben-free cream could be a saving grace for tired hands.
NUXE
NUXE are pioneers in natural cosmetology. Founder Aliza Jabes is the daughter of a pharmacologist and possesses an affinity for natural medicine. If anybody is qualified to create exceptional skincare products, it's Aliza.
Formulated and manufactured in France, the products are centered on wellness, infused with that irresistible French sophistication.
Best for: skincare with sensory textures and enveloping, unique scents.
Star product: Huile Prodigieuse Multi-Purpose Dry Oil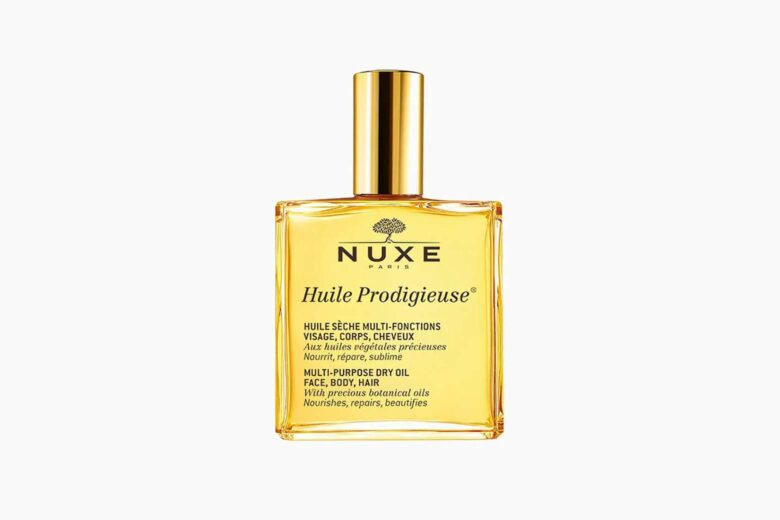 Every woman (and man) should own a high-quality, multi-purpose oil like Huile Prodigieuse by NUXE.
Crafted from precious plant oils and vitamin E, this all-around miracle oil promises to nourish and enrich anything it touches. 
Elemis
Elemis scours the Earth from land to sea to gather the most precious ingredients for their world-renowned skincare products. They strike a delicate relationship between science and nature, extracting the best elements of both.
Elemis uses natural ingredients and biotechnology where possible to minimize its footprint and protect what needs protecting: our Earth.
Best for: natural skincare that blends the beauty of nature with the most up-to-date innovations in science.
Star product: Pro-Collagen Cleansing Balm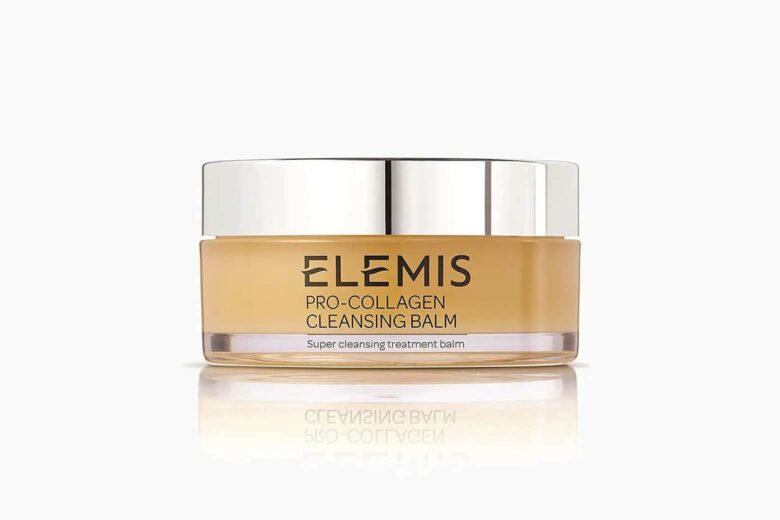 Sumptuous rose and mimosa waxes are blended with elderberry and starflower, with a sprinkling of anti-aging algae for good measure in their Pro-Collagen Cleansing Balm.
Odacité
Valerie Garundy founded Odacité, it was a manifestation of her recent banishing of all things toxic from her life after a serious health scare. Ocadité embodies a coupling of French skincare and environmentally friendly California living– a happy conjunction indeed!
Cruelty-free and organic ingredients make up 100% of Odacité's all-natural skincare range.
Best for: California-made organic skincare peppered with European finesse.
Star product: Bl+C Pimples Face Serum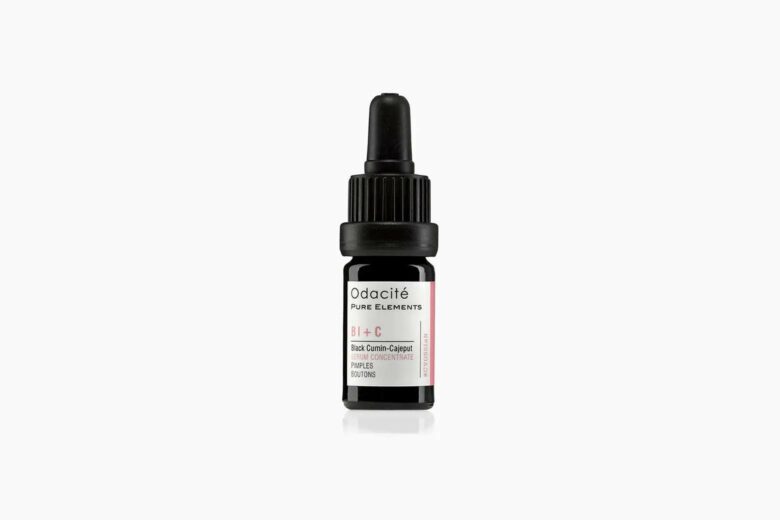 Something of an elixir, Bl+C Pimples Face Serum by Odacité is a highly concentrated, highly potent tincture made up of Black Cumin oil and Cajeput. Formulated with acne-prone skin in mind, this could be the all-natural therapy you've been looking for.
Pai Skincare
London-based Pai Skincare expertly crafts all of their plant-based skincare in the city itself. The company states that "what we put into our products is as just as important as what we leave out".
Founder Sarah Brown knows first-hand what it's like to deal with sensitive, irritable skin, and the pitfalls of choosing products which are ineffective at best, and damaging at worst.
So, everything that passes through the Pai Skincare doors is organic, paraben-free, non-GMO, and certified vegan.
Best for: a gentle range of skincare products created with sensitive skin in mind.
Star product: Organic Rosehip BioRegenerate Oil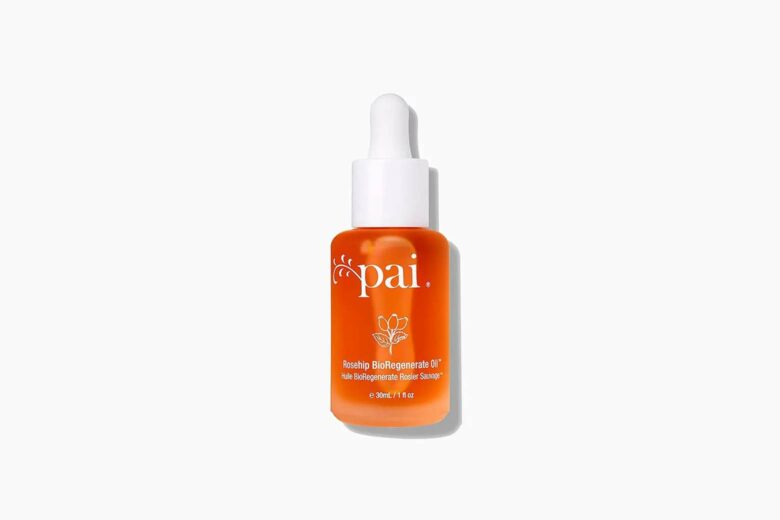 They say good things come in small packages. That's certainly the case with Pai Skincare's Organic Rosehip BioRegenerate Oil. It's proudly one of the most concentrated oil on the market.
Packed with Omegas 3, 6, 7, and 9, plus high levels of carotenoids which account for its orange hue.
Tata Harper
Efficacy, quality, and purity are the order of the day at Tata Harper. They use over 300 different raw ingredients coming from 68 countries, and 43 high-performance ingredients in their skincare products.
With absolutely no mass-produced ingredients used in manufacturing, Tata Harper would rather be out voyaging to the Galapagos to forage for Prickly Pear Cactus. And, if they can't get any, they'll halt production until they do! Tata Harper would rather not deliver at all, than acquiesce to inferiority.
Best for: organic skincare expertly crafted from premier ingredients found in the most exotic of lands.
Star product: Resurfacing Mask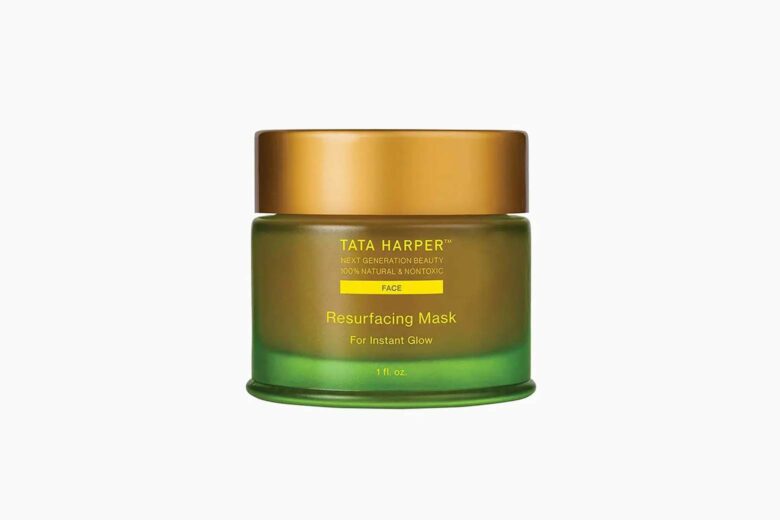 Crafted in Vermont, the Resurfacing Mask promises to restore radiance to your skin with its white willow bark and pomegranate enzymes.
We have a feeling it might just keep 'resurfacing' on our shopping list…
Herbivore Botanicals
Promising ethically-sourced materials from all corners of the globe, Herbivore Botanicals have a keen focus on delivering noticeable results. Well, that's what we all want, right?
They love a little indulgence, so each product is laced with intoxicating scents and a dab of luxury. And of course, everything is organic, GMO-free, sustainably sourced, and cased in recyclable packaging.
Best for: those who love all-natural and organic skincare, but are searching for that little bit of extra luxury.
Star product: All Natural Coconut Milk Bath Soak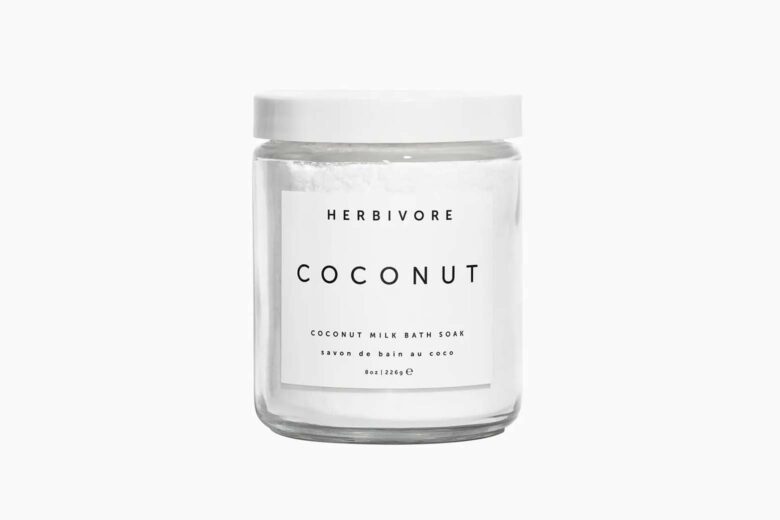 For those times you just need to lean back and exhale the stress of the day in a nice, hot bath. Usually, you'd want nobody around, but we strongly suggest inviting Herbivore Botanicals All Natural Coconut Milk Bath Soak to the occasion.
French Girl Organics
Au naturel but exuding a touch of luxury, French Girl Organics are skillful at crafting effortlessly chic organic beauty products. 
Inspired by the wild blossoms of nature, you'll find a posy of lavender, rose, and jasmine oils infused in their beauty products, so you always feel in bloom.
100% vegan and cruelty-free. Oh, and they're totally Instagrammable too…
French Girl's mission is to celebrate beauty, love, graceful aging, and support the Earth through planet-and-skin-friendly skincare products.
Best for: those seeking a natural skincare brand centered on floral essential oils, and a savoir-faire which looks elegant, yet carries understated power.
Star product: Rose Lip Polish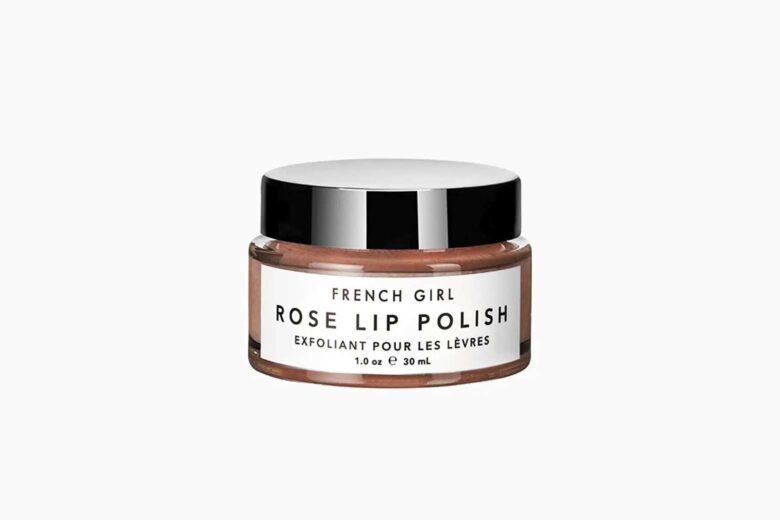 Our lips are so good at expressing love, but sometimes they need TLC too! Rose Lip Polish by French Girl Organics could be the ultimate treat.
Eminence Organics
Jennifer Lawrence, Meghan Markle and Freida Pinto are all fans of Eminence Organics. And, well, we trust their judgment.
Hugely passionate about organic and biodynamic ingredients, the seeds that grow into the plants that eventually become Eminence Organics are harvested in harmony with the lunar cycle. That's attention to detail if we ever saw it.
Permaculture techniques are used for growing the ingredients, and avoidance of harmful chemicals is predictably paramount in the end products, too.
Best for: those wishing to align their skincare routine with nature's cycles to max out on the benefits.
Star product: Coconut Age Corrective Moisturiser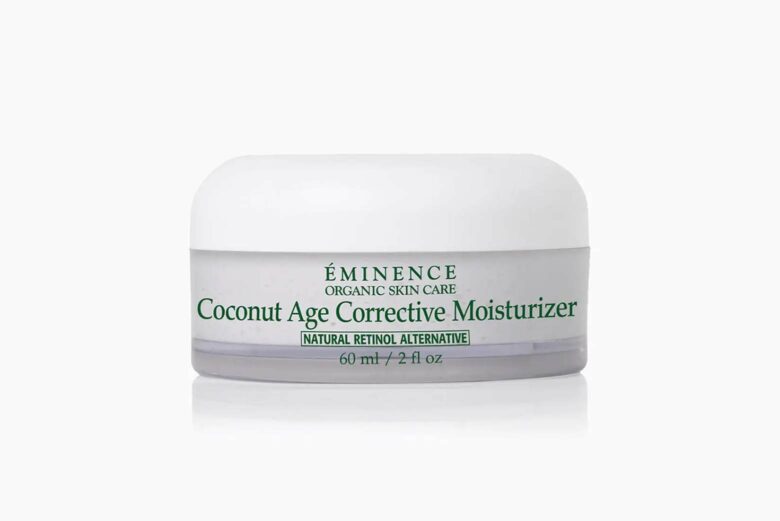 Shea butter and coconut water team up in the Coconut Age Corrective Moisturiser. Promising to tighten skin and soothe environmental damage, while the effects purport to be immediate. Naturally pH balanced and rich in vitamins, this moisturizer could be your new go-to.
Juice Beauty
Juice Beauty is a glittering alumni of the organic makeup and skincare world. Located in California, which is evidently becoming the natural habitat of organic skincare brands, Karen Behnke works tirelessly to create the finest natural skincare products.
Proudly organic and plant-based, Juice Beauty has benefitted from the input of Ph.D. chemists, microbiologists, and physicians to ensure absolute excellence is delivered, every time.
Best for: those who wish to discover how organic skincare can truly outperform conventional brands, attested by the gushing support of cosmetology experts.
Star product: Stem Cellular Anti-Wrinkle Moisturizer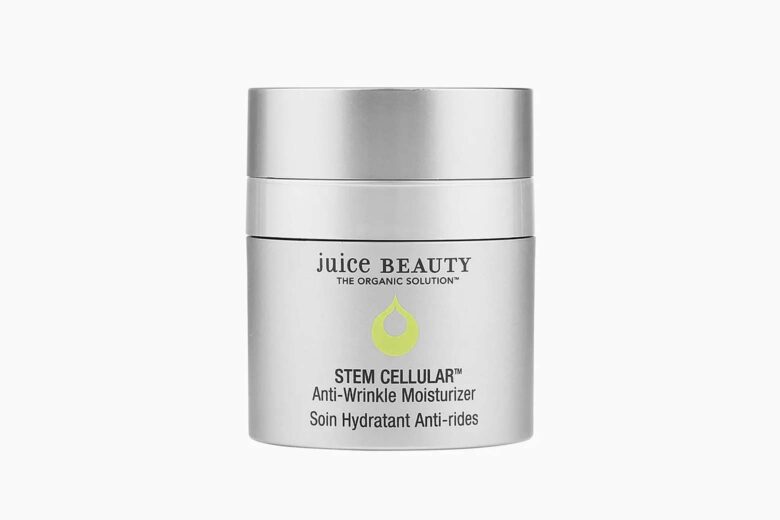 Fruit stem cells are infused into a vitamin C and resveratrol-rich formula in the crafting of the Stem Cellular Anti-Wrinkle Moisturiser.
Considering the amount of impressively-qualified scientists and precision involved in its creation, we think we'll take… a lifetime supply, please.
Skyn Iceland
Skyn Iceland reflects the pure, glacial landscape of the volcanic island itself. They take inspiration from the unspoiled natural resources of the land, while mindfully gathering some of the finest ingredients hidden in the environment.
With easily recyclable packaging, a commitment to using only paraben-, mineral oil-, petroleum- and cruelty-free ingredients, Skyn Iceland aims to bring Iceland-endemic purity to your skincare regime.
Best for: those who would love to experience the freshness and rejuvenating power of wild, glacial Iceland (albeit, in their bathrooms).
Star product: Glacial Face Wash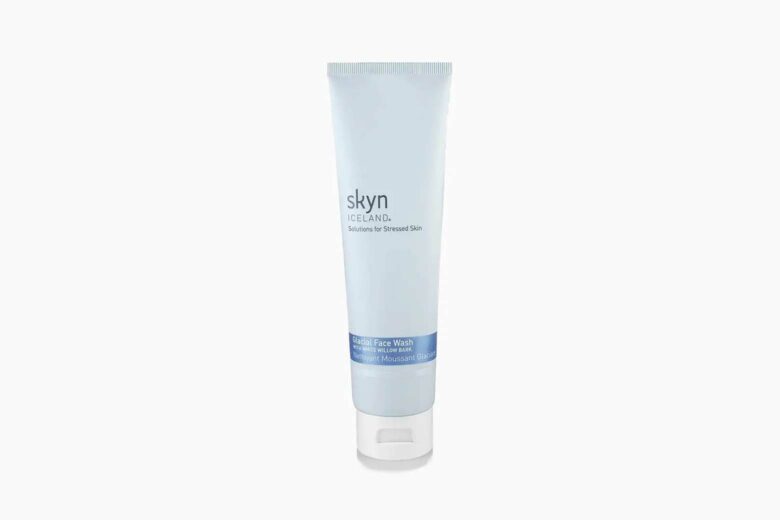 Imagine capturing the essence of a crystalline glacial waterfall and splashing your face in all its rejuvenating nutrients. Well, with Skyn Iceland's Glacial Face Wash you can come very close.
Made with real Icelandic glacial water, it's the epitome of fresh.
LUXE Botanics
LUXE Botanics skincare products are crafted with Global Botanical oils which mimic the molecular structure of your skin. Her South African roots inspired founder Jene Roestorf to search her home continent, to unearth the potent botanical secrets hidden within.
The highest-performing ingredients, such as Kenyan Marula nut oil and Kigelia africana, are expertly blended into powerful skincare products which truly capture the spirit of the African wilderness.
The products are all organic, vegan, and cruelty-free.
Best for: those wanting to sample the benefits of African botanical oils, and discover skincare products that are beautiful inside and out.
Star product: Kigelia Corrective Serum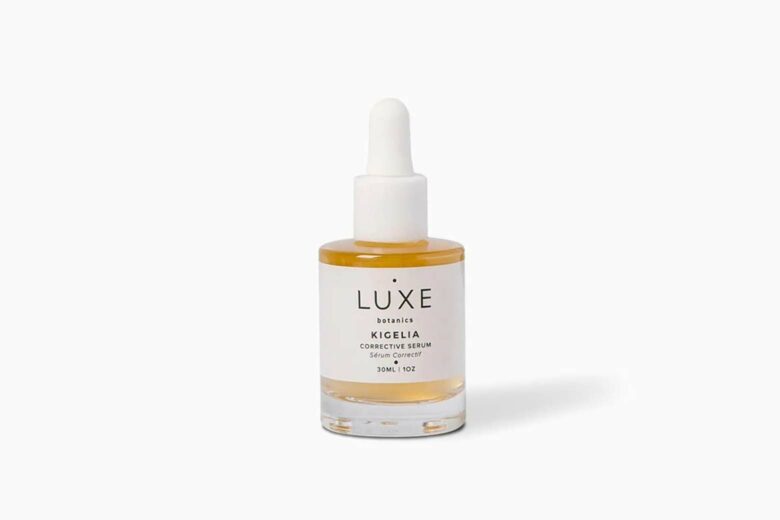 Everyone should have one quality serum in their beauty cabinet. Kigelia Corrective Serum by LUXE Botanics might just be key to maintaining glowing, youthful skin. That's not to say you should bypass your 3 liters of water, nutritious diet, and exercise regime, but it can certainly complement a healthy lifestyle.
Frequently asked questions about natural skincare