The smooth line of the bass. The swift, electric crackle of applause. Seamless, noise-silencing quiet. When you're using over-ear headphones, you want your audio experience to be completely enveloping.
You want the best over-ear headphones to follow you through your life — and to truly amplify it.
Studio-quality headphones can bring you that level of sound quality. The latest and greatest in headphone technology can reduce external noise, give you jaw-dropping audio quality, provide playback for hours on end—and look good doing it.
We've combed the marketplace and tested the market leaders to find you the best headphones that can bring you crystal-clear sound quality.
In our ranking of the best over-the-ear headphones, we recommended a specific product for working out, for gaming, for phone calls, and more. We also searched for the best cheap true wireless headphones (these days they are edging ever upward in quality), making fantastic sound truly a luxury for everyone.
The 11 best over-ear headphones
Check our special over-ear headphones buyers' guide after the list to see exactly what you should pay attention to before purchasing your headphones. You can also read our methodology to see how we select, test, and rank the best over-ear headphones on the market.
If you're interested in earphones instead, check our ranking of the best true wireless earbuds on the market.
Master & Dynamic MW65: Overall best headphones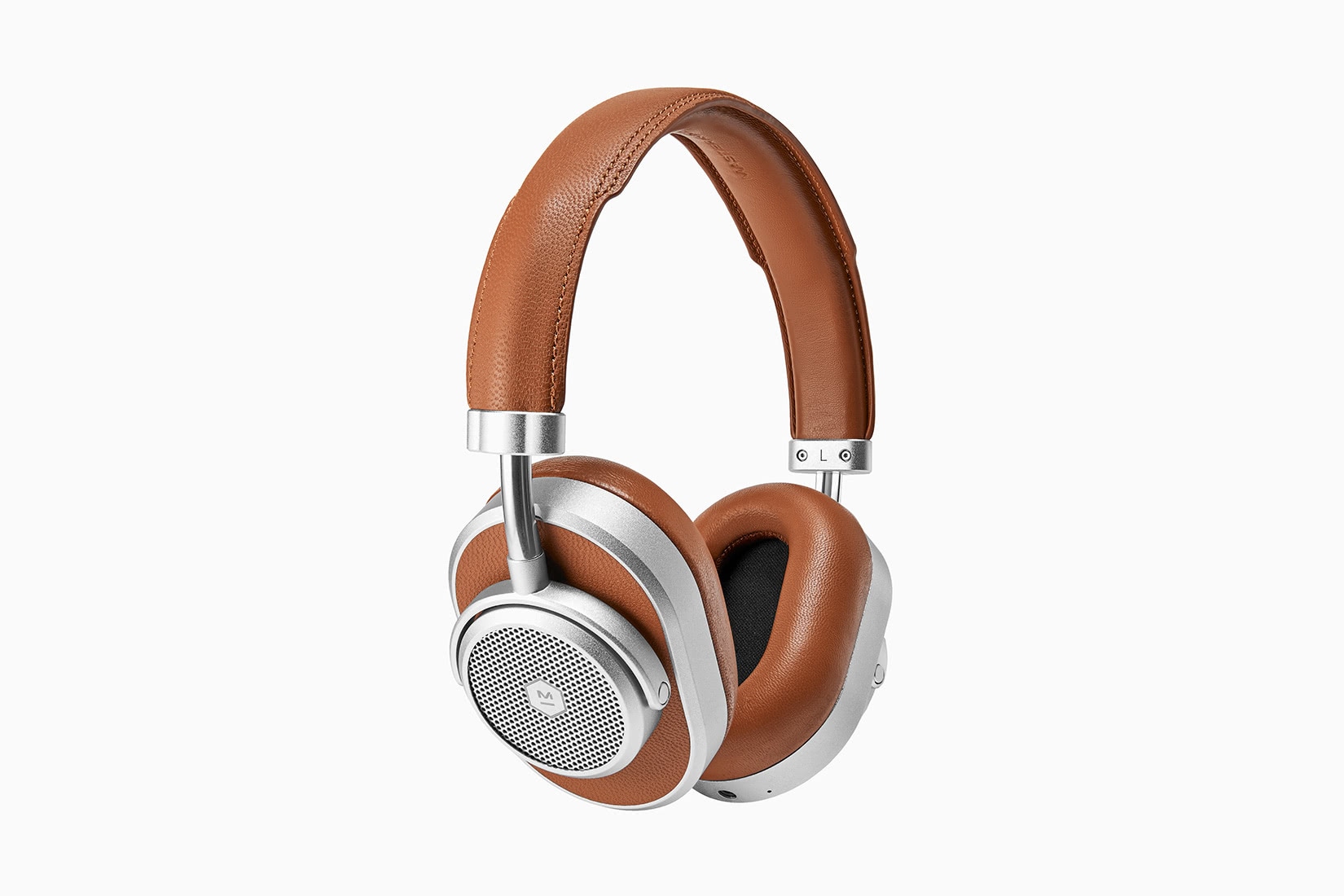 If you're looking for the perfect blend of premium, luxury materials and the very latest in audio technology, Master & Dynamic's recent foray into over-ear headphones is sure to delight. The MW65 is built from anodized aluminum and fine-grain leather so it feels light and natural.
Whether you're looking for superior sound quality or active noise canceling, the MW65 will fit into your life as a seamless, luxe-feeling accessory. It charges quickly—12 hours' battery in 15 minutes—so you can be ready for life on the go. The embedded microphones filter out exterior noise so you can enjoy crystal-clear phone calls.
With custom-made 40 mm beryllium adapters, the MW65 is known for rich, beautiful sounds. You can enjoy the depths of the most sonorous bass tracks as well as the most delicate treble riffs in exquisite detail!
The MW65 pairs well with Google Assistant to help you manage your fast-paced life. It comes with a styled canvas carrying case, audio and charging cables, and a flight adapter.
With its gorgeous old-world detailing and of-the-moment design specs, the MW65 is a tour de force in the world of audio equipment! We're pleased to recommend the Master & Dynamic MW65 as the best overall pair of over-ear headphones.
Dimensions: 16.5 x 19 x 6.6 cm (6.3 x 7.5 x 2.3 in) 
Weight: 245 g (8.6 oz) 
Battery Life: 24 Hours
Bluetooth Range: 25+ m (65+ ft) 
Digital Assistant Support: Google Assistant
Water Resistant: No
Bowers & Wilkins PX7: Best high-end headphones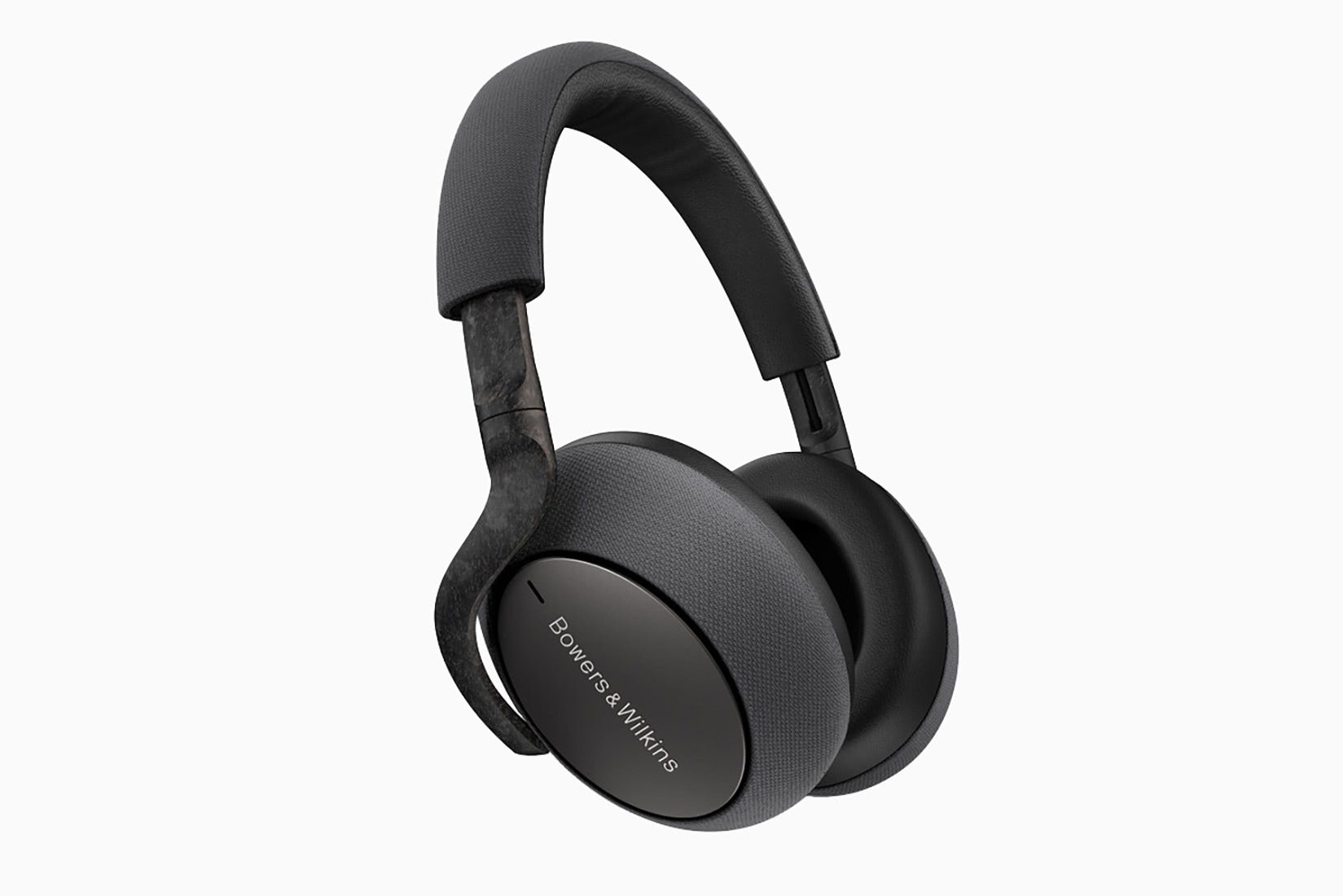 For a comfortable, ear-cradling option, turn to the largest over-ear headphones from Bowers & Wilkins. Their PX7 headphones are built with 43.6mm drivers, the largest in their headphone collection, for studio-quality performances. If you're used to getting headaches and earaches from other brands, check these out. Your ears will thank you!
The PX7 headphones also come with an adaptive noise cancellation feature that automatically adjusts on the fly to deliver the optimal sound, wherever you might be. The dual-cavity memory foam in the earpieces can block out surrounding sound entirely. This will leave you with the peace – or the music – that you need, and nothing more.
And when you do need to hear the world around you, just lift one of the ear cup and the headphones will automatically pause your music. Put it back and the song resumes where you left off. Magic!
The woven carbon fibre composite arms of the PX7 are inspired by the world's fastest cars to offer strength and agility while being also lightweight and durable. The overall package folds up in a dedicated pouch when you're travelling.
Speaking of traveling, the Bowers & Wilkins PX7 offers 30 hours of battery life. And you can quick charge them in 15 minutes for a fresh 6 hours of additional listening pleasure.
With their excellent ear cup drivers, automatic noise-cancellation capabilities, and the comfort of the overall package, the Bowers & Wilkins PX7 are the best high-end headphones in our ranking.
Dimensions: 8 x 17.5 x 22 cm (3.15 x 6.89 x 8.66 in)
Weight: 303,3399 g (10.7 oz) 
Battery Life: 30 Hours 
Bluetooth Range: 25+ m (65+ ft)
Digital Assistant Support: N/A
Water Resistant: No
Bose Noise Cancelling 700: Best value headphones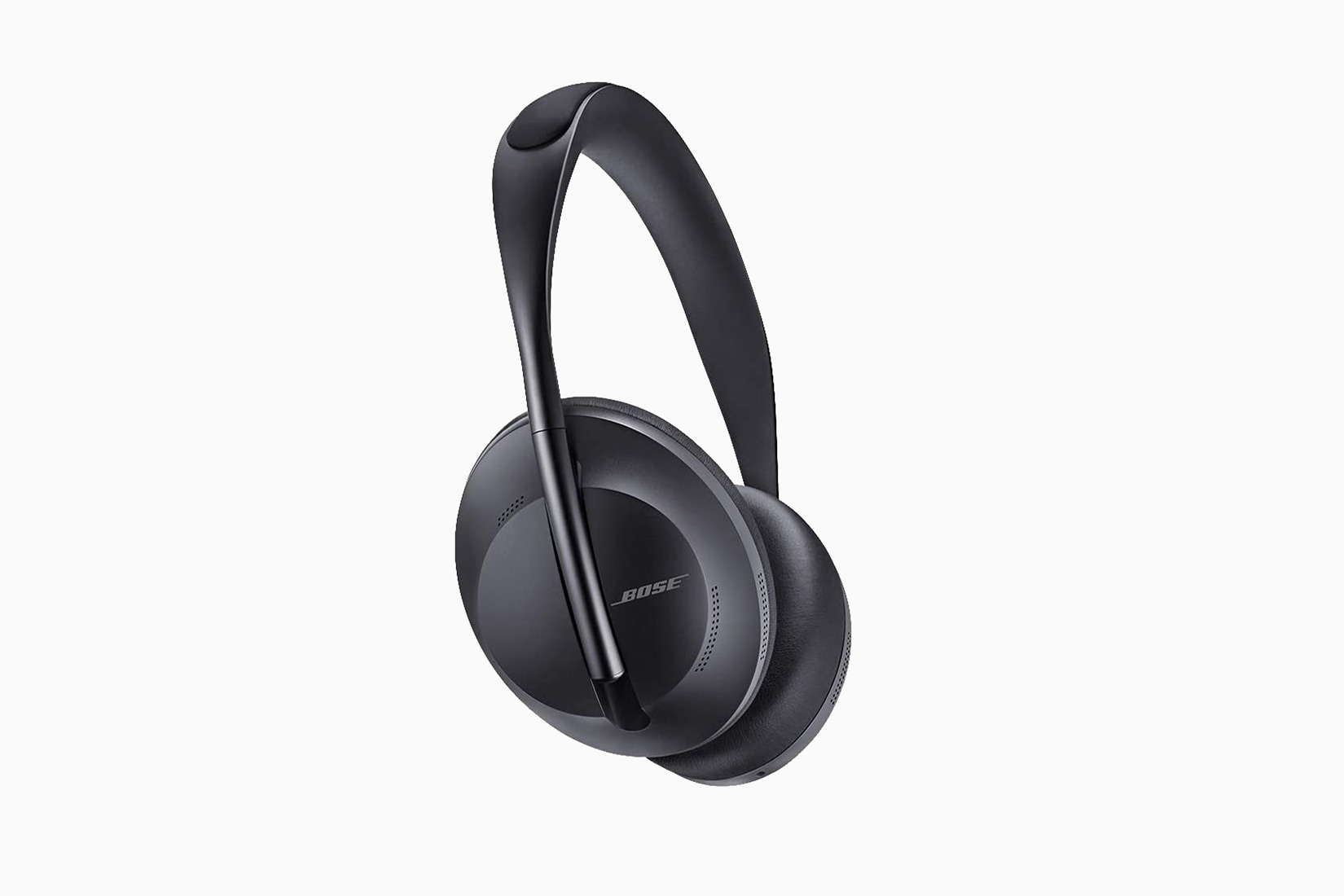 With their noise-canceling capabilities, the Bose Headphones 700 can make any place your office or studio. Their integrated microphones are built to pick up your voice, and your voice only. At both low and high volumes, the fine-tuned audio sounds precisely the way you'd like.
The Bose Headphones 700 pair with other elements of the Bose product line to allow for independent volume control and easy, individualized, listening experiences. In addition, with the Headphones 700, Bose has delved into their most famous asset. The Bose Headphones 700 feature 11 distinct levels of noise cancellation to help you customise your listening experience precisely.
Signature active EQ, an impressive bass response, clear and detailed treble sound quality: the audio experience of this headpiece is both top-tier and powerful. The stainless-steel headband features a foam underside to cushion your head for long hours of wear. The earcups are ergonomically angled, and they're lined with synthetic protein leather.
These headphones are touch-sensitive, making it easy to control tracks and enter conversation mode at a mere tap. With their multiple features at a relatively lower price, the Bose Noise Cancelling 700 are our pick for the best value headphones.
Dimensions: 5.1 x 15.2 x 20.3 cm (2 x 6.5 x 8 in)
Weight: 249 g (8.8 oz) 
Battery Life: 20 Hours
Bluetooth Range: 10 m (33 ft)
Digital Assistant Support: Amazon Alexa, Google Assistant
Water Resistant: No
Bang & Olufsen Beoplay H9i: Best headphones for commuting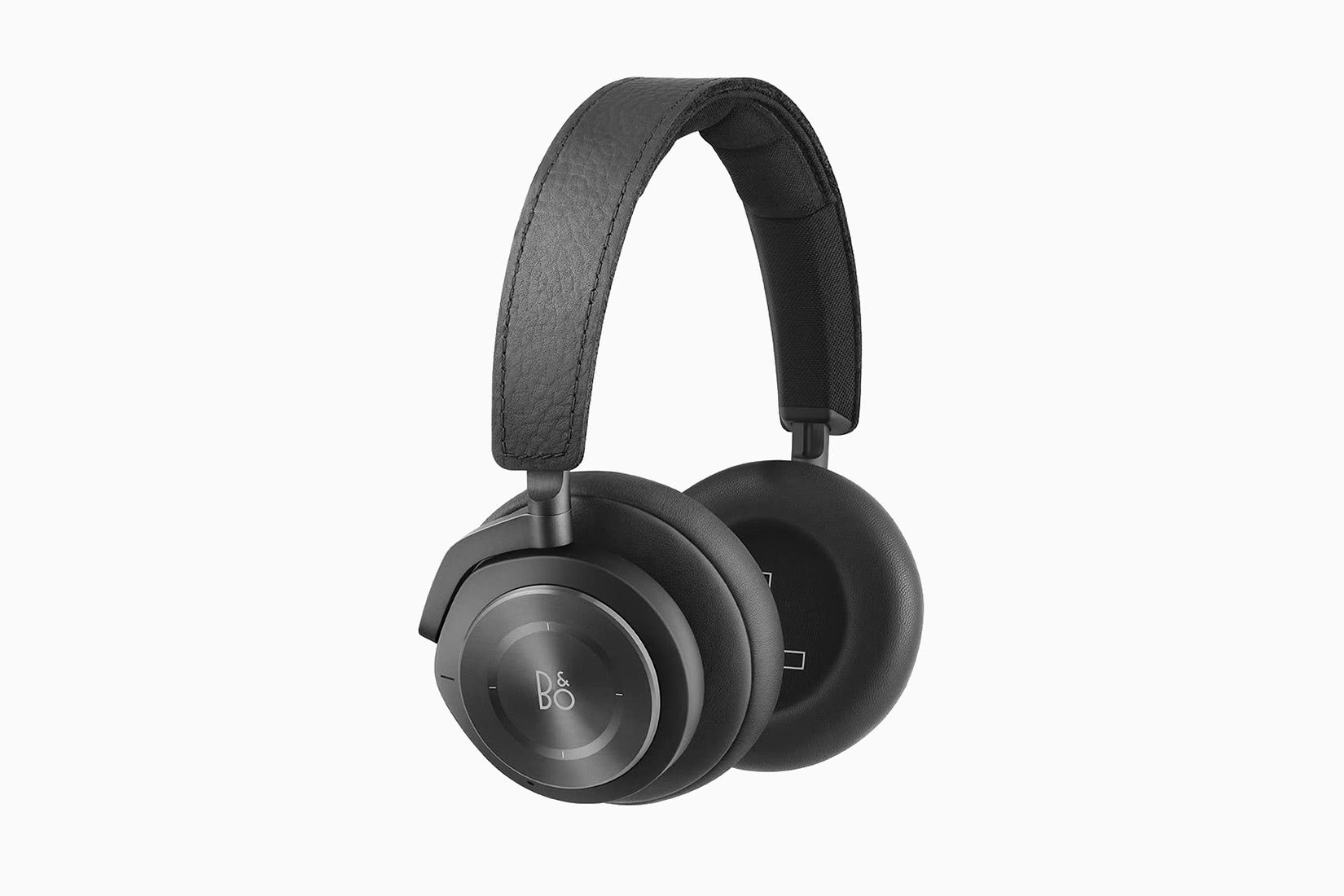 Between its modern, modular design and high-quality sound delivery, the Bang & Olufsen Beoplay H9i set offers great sound for your everyday life. Comfortable over-ear headphones offer active noise canceling so you can hear your music or calls perfectly—no matter where you are.
The aluminium interface is soft to the touch; the leather headband smoothes over your hair easily. With ear cushions made from lambskin, you'll get the sense that your headphones are snuggling up to your ears! The over-ear style means that nothing will feel cramped or crushed. Their high-style look means you'll want to wear them all day, too.
With the Beoplay H9i, you'll find you're equipped for work as well as play. This headset comes with two integrated microphones that are poised to catch your every word. At the same time, the active noise cancellation works at both high and low frequencies. If you require silence, you'll find it here.
Perhaps most intriguingly, the subtly shiny aluminum caps of the earpieces feature intuitive controls that work like magic. Simply swiping and gliding over these pieces allows you to guide your listening experience with ease. Because of its beautiful features, we consider the Bang & Olufsen Beoplay H9i as the most stylish headphones for commuting.
Dimensions: 17.78 x 20.32 x 2 cm (7.7 x 8.7 x 2 in) 
Weight: 226 g (8 oz) 
Battery Life: 18 Hours 
Bluetooth Range: 121 feet 
Digital Assistant Support: N/A
Water Resistant: No
Beats Studio3: Best headphones for workouts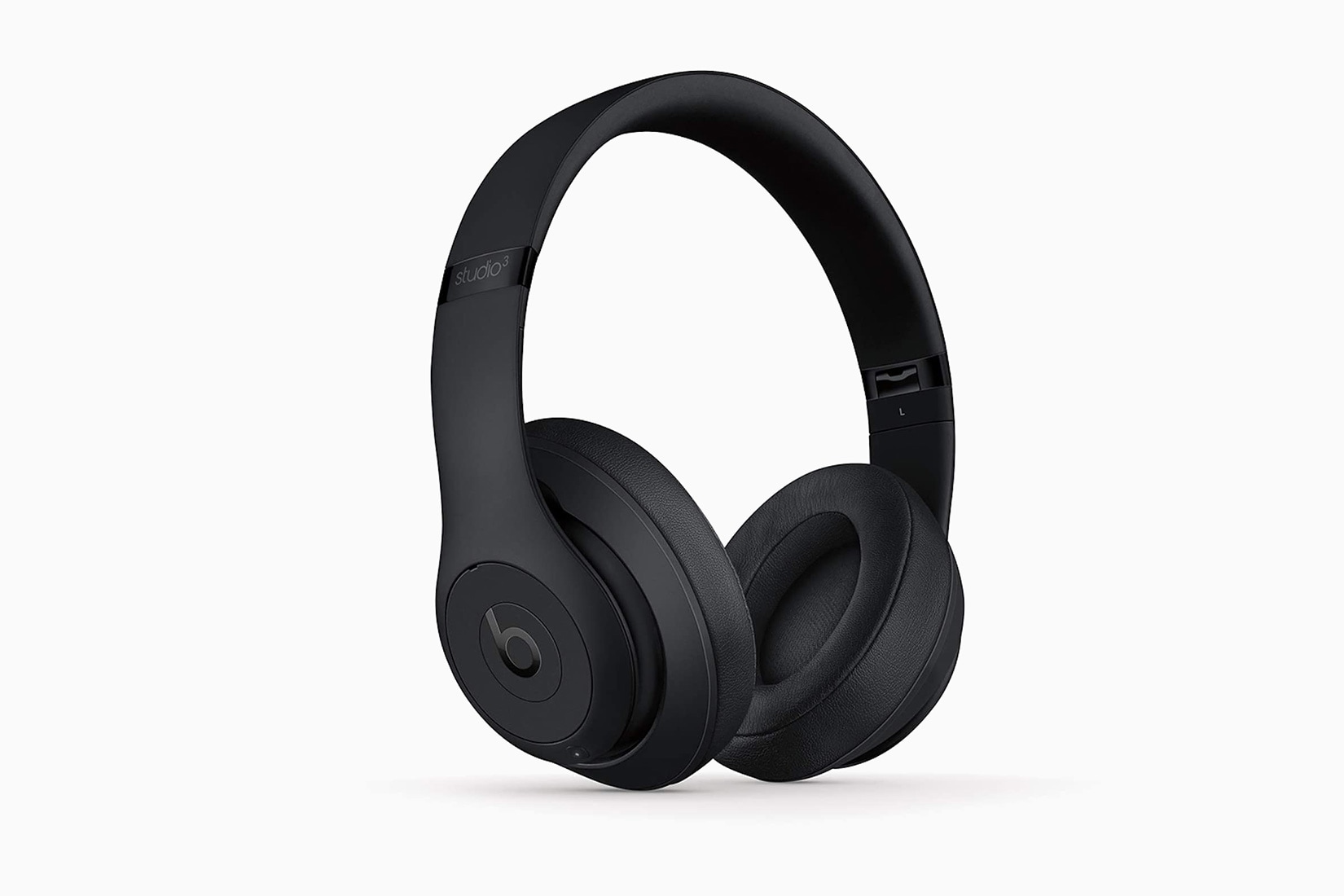 Matte grey. Rose gold. Bright red. No matter what your activewear aesthetic is, there's going to be a Beats Studio3 that is meant for you. The top-tier listening experience that is tuning into these Beats is only enhanced by their stylish exterior.
With real-time audio calibration to help you create the soundtrack of your day, the Beats Studio3 seeks to preserve the original clarity and emotion of your music. Whether you're working out or walking home, these headphones can help you feel the lilt and the sway of your songs.
Vented and cushioned earpieces make these headphones easy to wear for hours on end. Taking you effectively from the office to the gym, these Beats can enhance every moment of your life. The signature ergonomic pivoting featured in these headphones means they'll follow you through intense runs and graceful stretching alike.
Designed to fold and fit in a tiny, sleek (and included) carrying case, these headphones are meant to charge and go with your lifestyle. Featuring the latest in Bluetooth technology, these headphones will go for hours with no lags in quality.
We're pleased to call the Beats Studio3 headphones the best over-ear headphones for gym and, ultimately, the best headphones for workouts.
Dimensions: 15.24 x 10.16 x 5.08 cm (6.3 x 4.7 x 8.9 in)
Weight: 907 g (31.9 oz) 
Battery Life: 22 Hours
Bluetooth Range: 10 m (33 ft) 
Digital Assistant Support: N/A
Water Resistant: No
Jabra Evolve 65: Best headphones for phone calls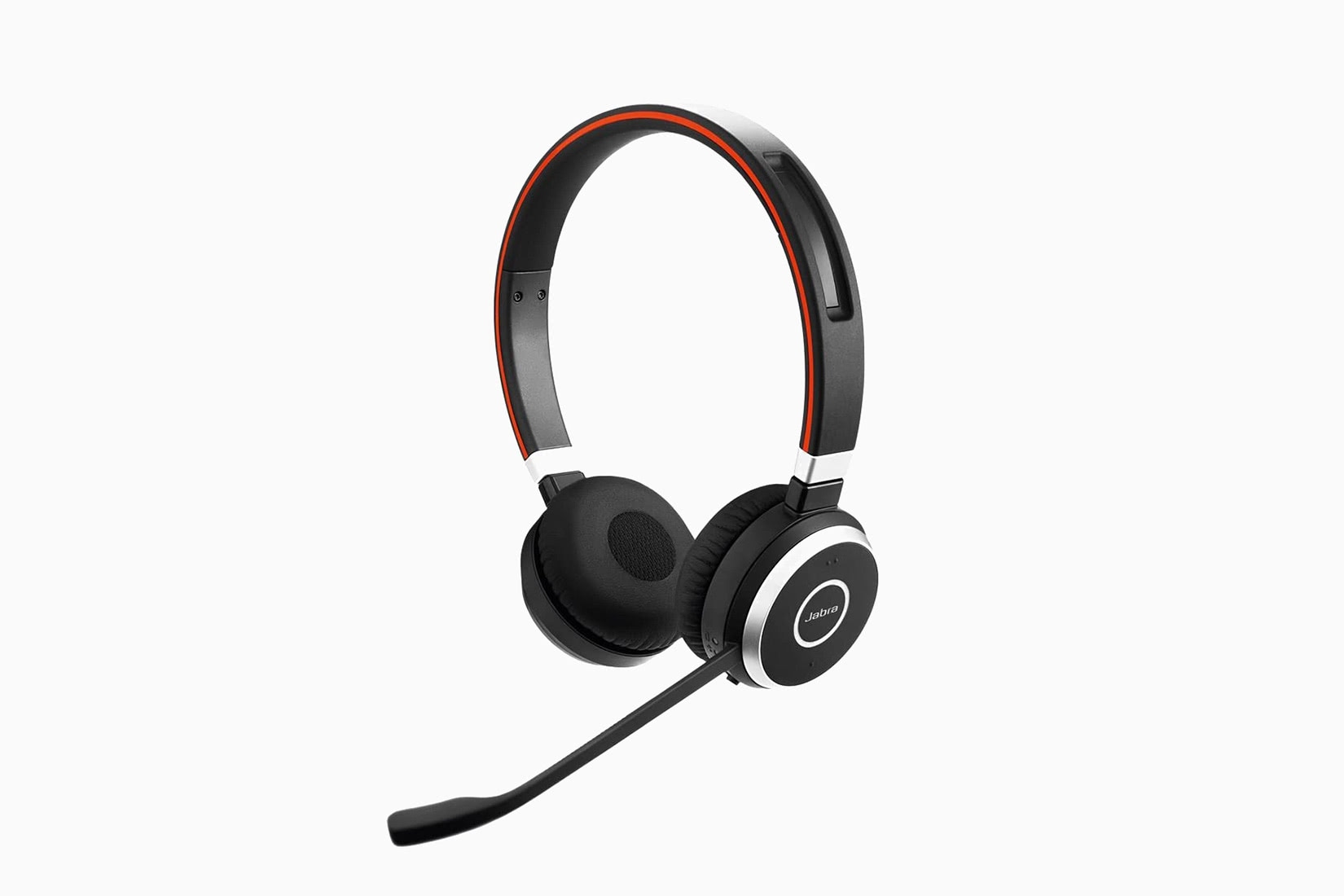 Do you find that your work headset hurts to wear all day? Are you constantly worried about dropping your signal during an important call? If your current headset microphone only picks up every other word you say, it might be time to check out the Jabra Evolve 65.
With passive noise cancellation, an integrated and conveniently-angled microphone, and leather cushions for all-day pain-free use, this headset is as ready to work as you are.
The headband has an integrated busy light. It'll flick on whenever you're on a call. No more will people bother you when you're trying hard to listen in!
Because you can pair up to 8 devices, this headset will truly follow you through your day. More than that, the Jabra Evolve 65 has dual Bluetooth connectivity. This means that you can connect to more than one device at a time—such as your laptop and your iPhone. By allowing you to seamlessly transition between projects and calls, the Jabra Evolve 65 helps you concentrate on the conversation.
With its thoughtful details geared for interruption-free speaking, we're pleased to name the Jabra Evolve 65 as the best headphones for making phone calls— as well as one of the best headsets.
Dimensions: 15.24 x 17.02 x 5.08 cm (6.1 x 6.7 x 2.3 in)
Weight: 20 g (0.71 oz) 
Battery Life: 14 Hours
Bluetooth Range: 30.48 m (100 ft)
Digital Assistant Support: N/A
Water Resistant: No
Treblab Z2: Best budget headphones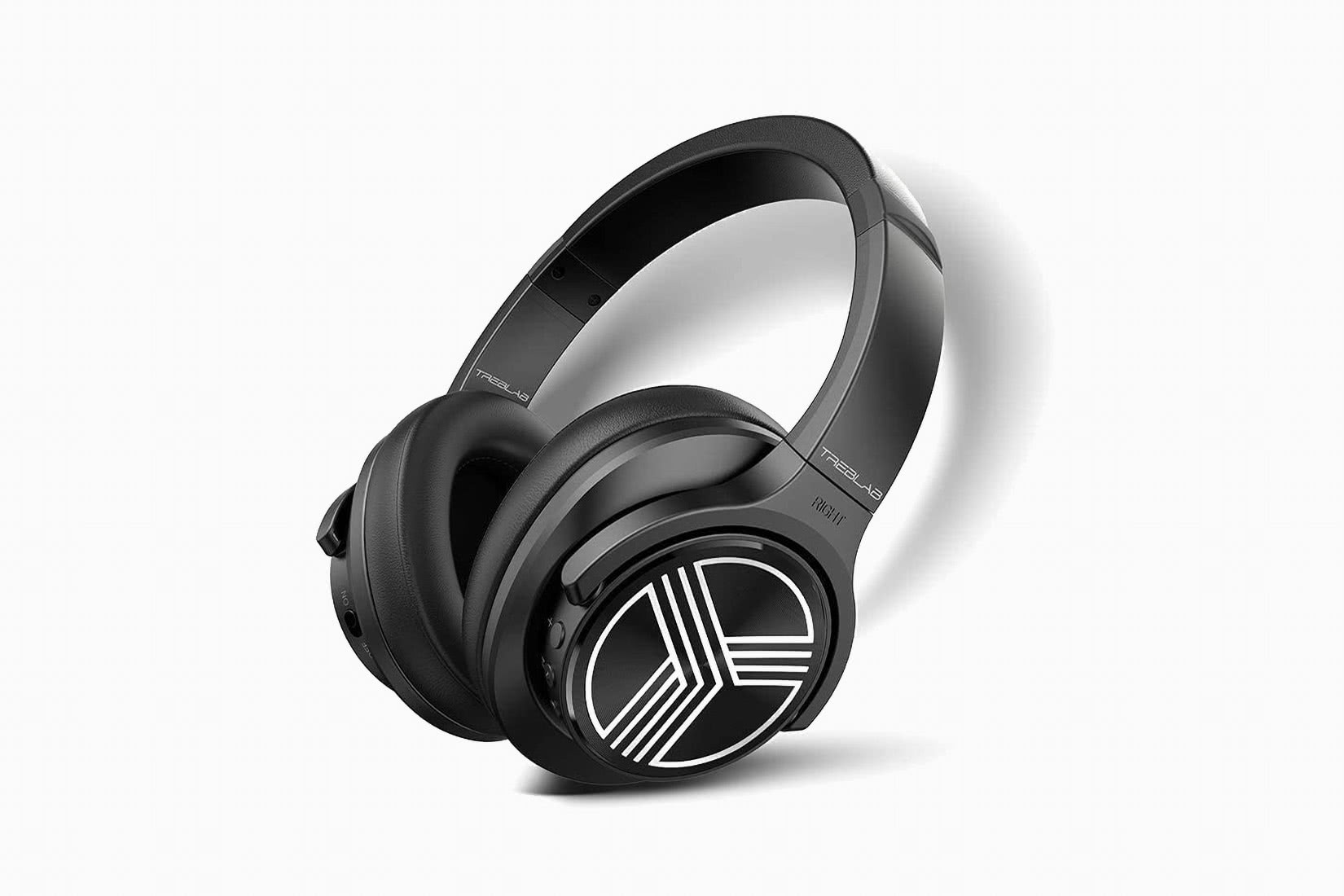 Looking for a lower-cost alternative that still offers all of the high-tech features you need? With the latest strides in audio technology, luxuriating in high-quality sound no longer needs to cost a fortune.
The Treblab Z2 proves this principle. Coming in two different stylish colorways, these budget headphones provide crisp, clear sound for all to enjoy. These headphones provide active noise canceling so you can enjoy your music as it was meant to be heard. Soft ear cushions cradle your ears so you can listen all day if you so choose.
The hardware providing that sound is impressive at this price point. 45-mm large-aperture drivers allow for pounding bass lines. You can also choose to use these headphones with or without wires, for a grounded or freeing experience as you like! If you choose to use these wire-free, you have over a day—thirty full hours—of battery life to employ.
With its high battery life and enjoyable sound quality, the Treblab Z2 is a good product for a low price. That's why we're pleased to call these the best budget headphones—in particular, they're certainly the best over-ear headphones under $100.
Dimensions: 16.25 x 20.30 x 8.13 cm (6.4 x 8.0 x 3.2 in)
Weight: 254 gr (0.56 lbs) 
Battery Life: 30 Hours 
Bluetooth Range: 10m (33 ft) 
Digital Assistant Support: N/A
Water Resistant: No
Mpow 059 headphones are even more cost-efficient, and are highly rated on Amazon! We'll call these another good option for the best cheap headphones—truly the best over-ear headphones under $50.
Audio-Technica ATH-M50xBT: Best for studio professionals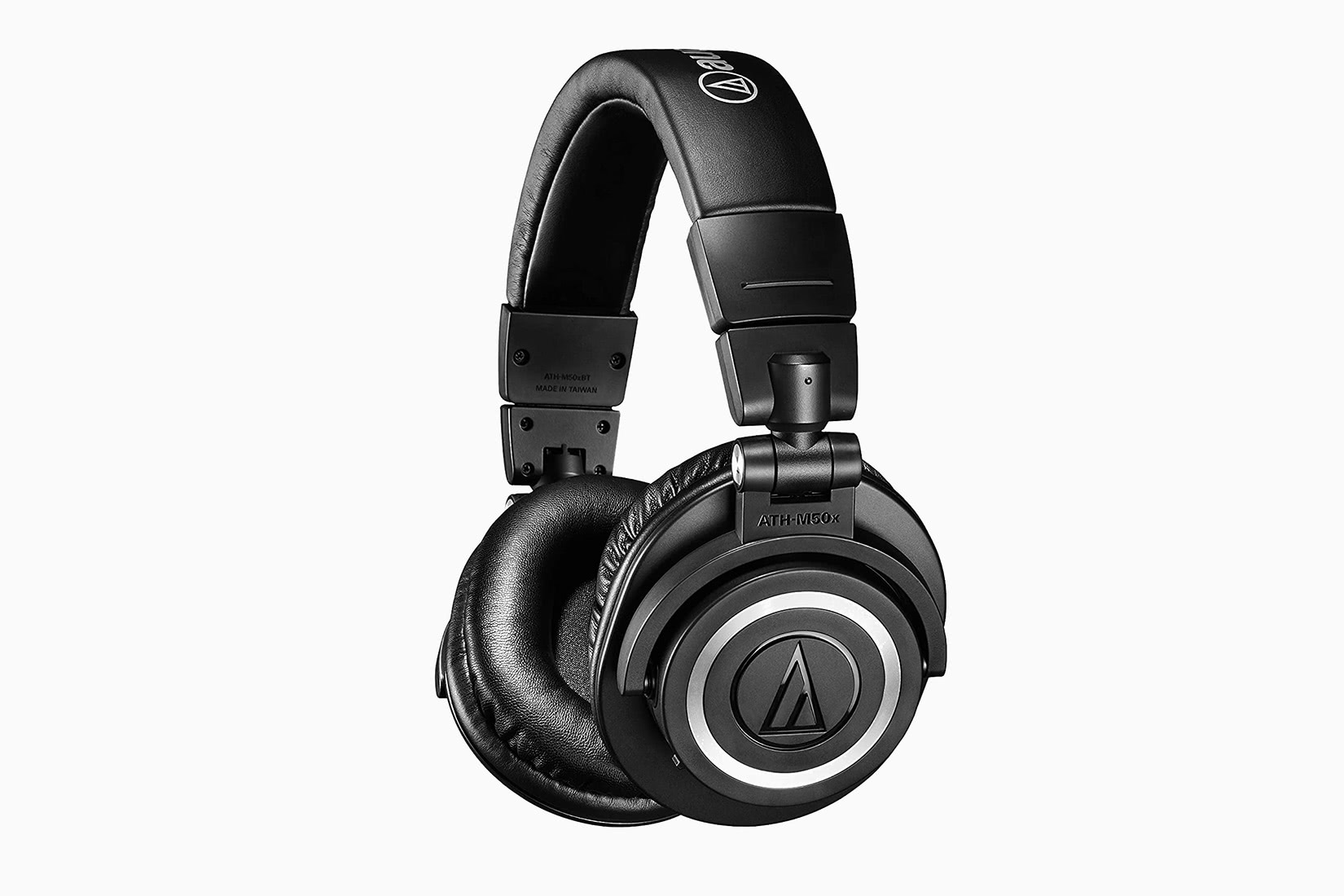 If your life is music, if you spend your days immersed in sound, you need the best tool for the job. You need a headset that is primed to last all day—and more.
The Audio-Technica headphones are sensitive, powerful, and easily manipulable. They feature thoughtful details such as an easy-fold design that help them integrate into your life. Their sonic signature allows both heavy bass and delicate melodies to come through with precision.
You can achieve complete economy of motion with these headphones. Simply touch the sides to activate voice assistance. Take calls, sift through tracks, listen to podcasts and music and more: You can wear these all day with no pain whatsoever. The ergonomic earpads and headpads have been engineered for hours of comfort.
Charge them overnight, and you'll be ready to use them wire-free all day. We're pleased to call these Audio-Technica ATH-M50xBT headphones the best for professionals – and best for studio use.
Dimensions: 20.32 x 10.16 x 22.86 cm (8.66 x 4.33 x 9.84 in) 
Weight: 308 g (10.86 oz) 
Battery Life: 40 Hours 
Bluetooth Range: 10 m (33 ft) 
Digital Assistant Support: N/A
Water Resistant: No
These Sony MDR7506 pose an excellent alternative option: they're similarly powerful, and they're Amazon's choice for this type of professional headphones.
Turtle Beach Ear Force Recon 50: Best gaming headphones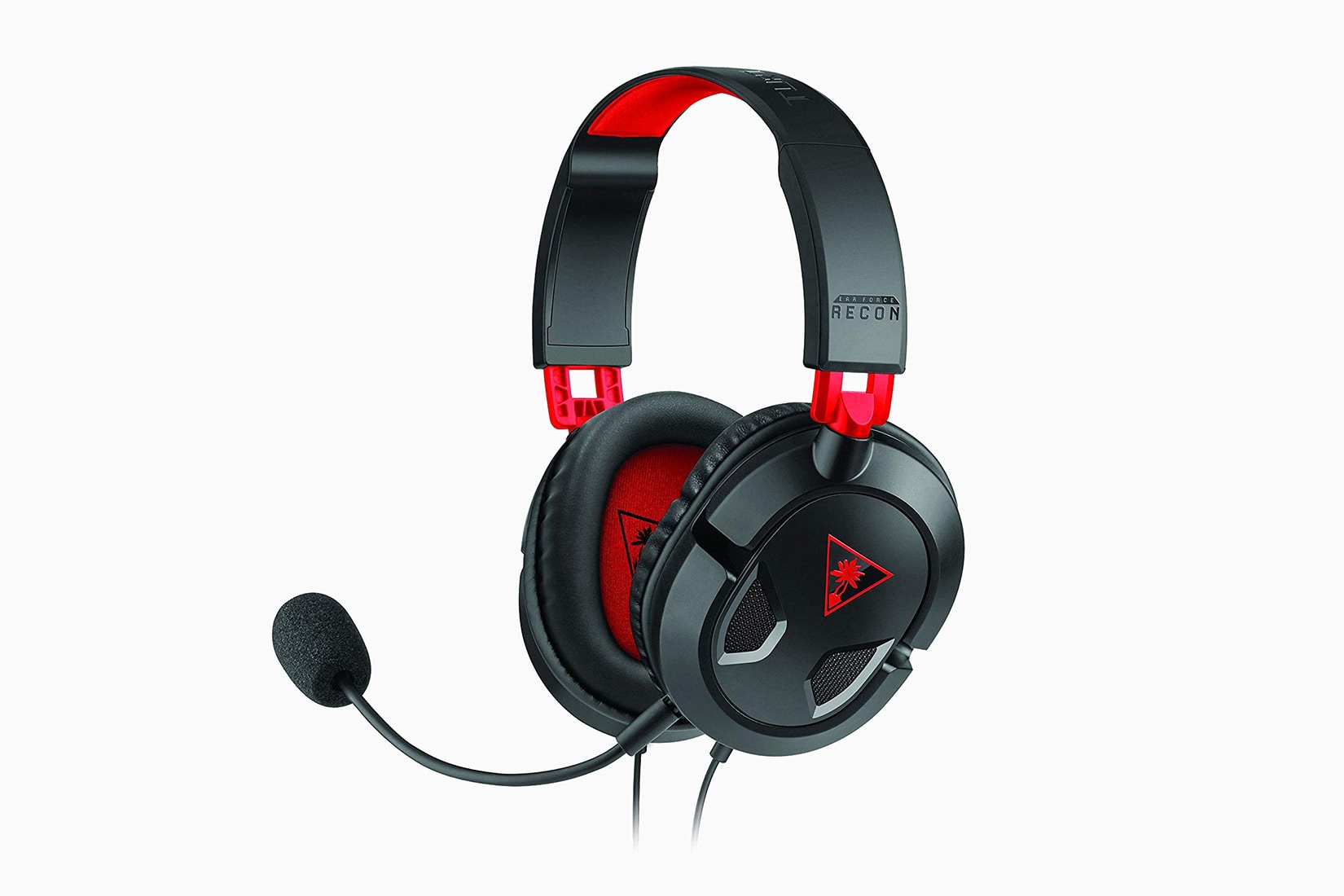 Searching for a set of headphones that are geared for action? With connectivity to Windows platforms as well as all gaming consoles, the Turtle Beach headset offers lightweight comfort for hours on end. Whether you're playing by yourself or with friends, this headset has everything you need.
An extendable microphone allows you to connect to online chat. Over-ear cushions allow for seamless, long-term comfort. The 40 mm speakers allow you to hear the glittering highs and thundering lows, whether you're in combat or peacefully enjoying your in-game life. The synthetic leather that's wrapped around the earpieces is soft and supple. They fold flat for easy storage when not in use.
Although it's primed for excellent gaming experiences, these Turtle Beach headphones can work for multiple purposes. Simply remove the microphone to enjoy music or TV, and clip back on when the action is ready to begin anew.
Due to their lightweight feel, easy chat features, and seamless (and ubiquitous) connectivity, the Turtle Beach Ear Force Recon 50 are our choice for the best gaming headphones. However, they can be used for anything: The best headset for gaming means that it's likely up for any activity.
Dimensions: 22.19 x 7.62 x 22.86 cm (8.74 x 3.94 x 9.53 in) 
Weight: 198 g (7 oz) 
Battery Life: Wired
Bluetooth Range: Wired 
Digital Assistant Support: N/A (Connectivity to gaming consoles) 
Water Resistant: No 
Sony WH1000XM3: Best over-ear headphones to run with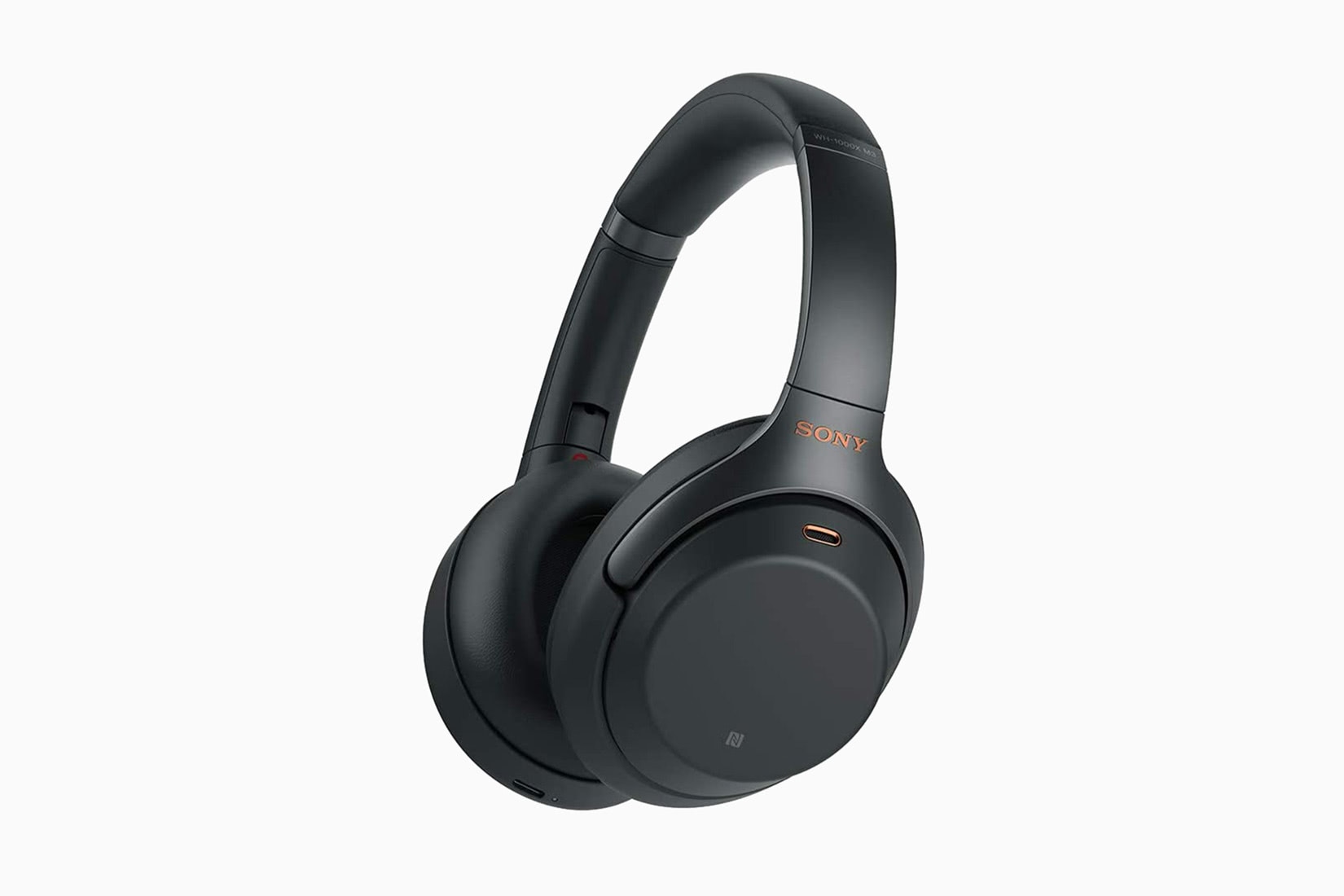 If you're looking for the best headphones to take out on a run, you're likely looking for something lightweight. Sweat-proof. Long-lasting. And chic enough to make you feel like you're dashing through a high-octane music video.
Enter: Sony headphones. With the backing of hundreds of Amazon reviews and a confidence-boosting middle-of-the-road price point, these headphones are a good choice for a number of activities. We like them for exercise because of their adaptability. They feature active noise cancellation, so you won't be distracted by cars going by. They feature quick attention mode, so you can quickly say hello to anyone you might see on the street.
Most importantly, however, these Sony headphones deliver great sound for a long time. With 30 hours of playback, you won't have to worry about charging these particularly often. The earcups are ergonomically angled, making them a treat to wear. Nothing about these headphones will distract you from the run.
Because of every thoughtful detail, we're happy to name the Sony WH1000XM3 the best over-ear headphones to run in. However, you can use the best headphones for running for anything: they're ready to come with you on your fast-paced life.
Dimensions: 17.78 x 5.08 x 25.4 cm (7.31 x 2.94 x 10.44 in)
Weight: 254 g (8.9 oz) 
Battery Life: 30 Hours
Bluetooth Range: 30 ft (10 m) 
Digital Assistant Support: Alexa
Water Resistant: Yes
Luzli Roller MK02: Best luxury headphones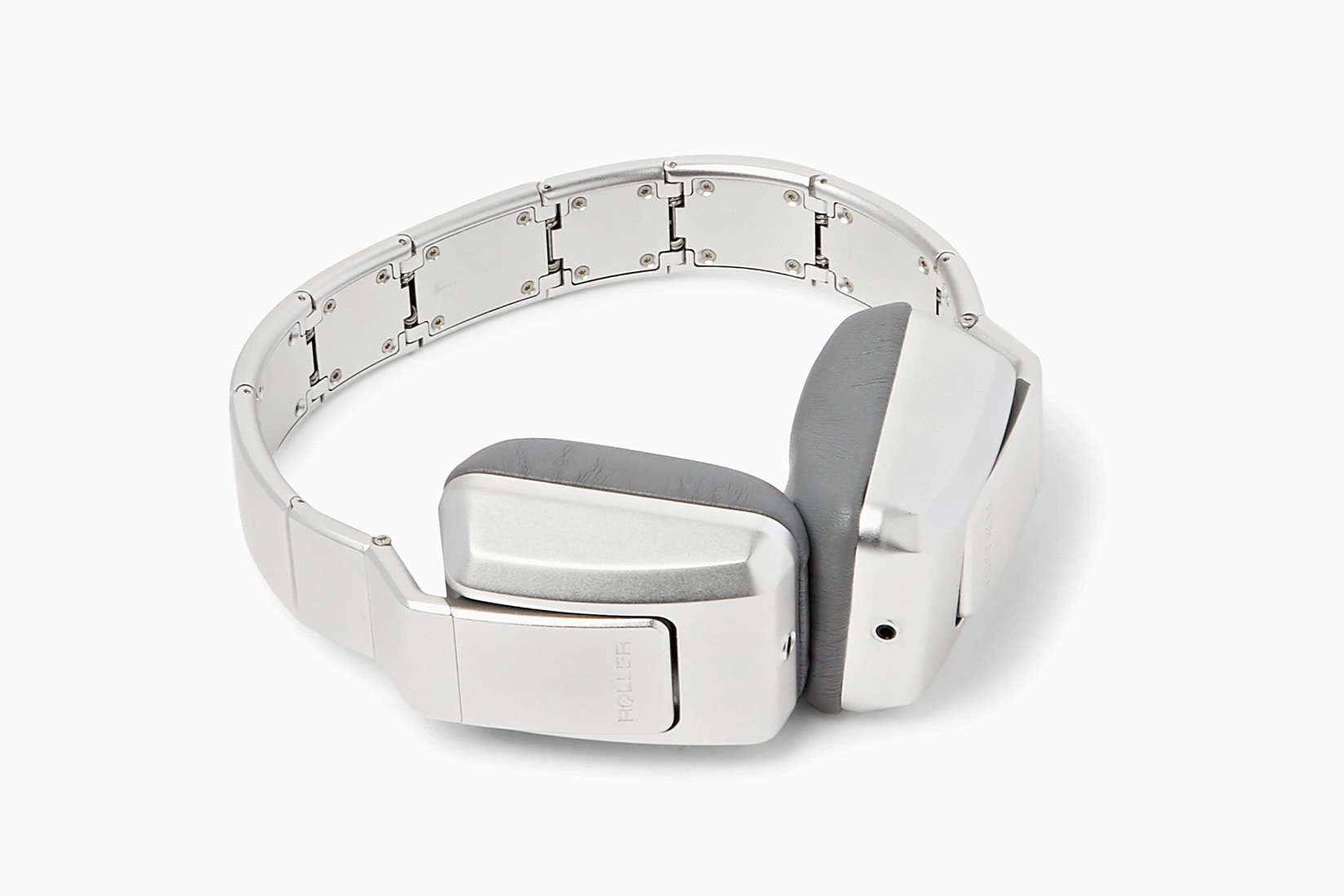 For the most high-in-the-sky option for high-quality over-ear headphones, we found the Luzli Roller MK02. With an aesthetic that's reminiscent of high-end watches, the Luzli Roller is meticulously-engineered for precise sounds and extreme comfort.
Made of pure aluminum and stainless steel, these headphones are built to last. Its unique linked headband conforms to your head, allowing for a custom feel. The sound engineers behind the Luzli Roller helped craft a warm, detailed sound presentation that is worth every bit of the higher investment.
Each headset is hand-made. There is only one size. There's a reason for this: Each headset is flexible enough to fit into your life, no matter what.
With its innovative segmented headband and weighty metal feel — as well as its higher price point — the Luzli Roller MK02 is the best luxury set of headphones on our list.
Dimensions: 23.5 x 10 cm (9.3 x 3.9 in) 
Weight: Not noted 
Battery Life: Not noted
Bluetooth Range: Not noted
Digital Assistant Support: No
Water Resistant: No 
Buyer's guide: How to find the best headphones for you
If you're looking for new headphones for the first time in a while, you might be overwhelmed by just how many options there are! Audio technology has boomed recently, and it's starting to trickle down to personal gear. It's an exciting time—but there's a lot out there. Let's go through the different options that you might want to know about.
Headphones come in several different types. You'll likely have to choose between:
Open-Back and Closed-Back: Open-back headphones leave room for ventilation around your ear, while closed-back models do not. Open-back headphones often offer a more comfortable listening experience as well as better listening for high-quality music files. Closed-back headphones, however, are better for noise cancellation, making them a good option to take out of the home.
Over-Ear and On-Ear: Over-ear headphones create a little dome over your ear. This can be more comfortable, as it won't crush anything! However, on-ear headphones deliver sound straight to your ear canal, which can offer a crystal-clear listening experience.
Wireless and Cable: Wireless headphones connect to your devices via Bluetooth, which can be excellent for working out and other on-the-go pastimes. The trade-off usually comes in the form of battery life: you'll have to remember to charge your wireless headphones every once in a while in order to use them.
Bluetooth Connectivity Types: From classic Bluetooth to single- and dual-range upgrades, Bluetooth can allow you to connect without wires. However, more recent (and potentially pricier) Bluetooth connectivity may enable you to have a larger range. Dual-range Bluetooth allows you to connect to more than one device. Think carefully about what you need from your connectivity, and look for the features to match.
Active Noise Cancellation and Passive Noise Cancellation: Passive noise cancellation is materials-based. These types of headphones rely on foam and cushioning material to block out ambient noise. Alternatively, active noise cancellation emits sound-canceling radio waves to help combat the sounds of traffic or nature, so all you can hear is crystal-clear sound.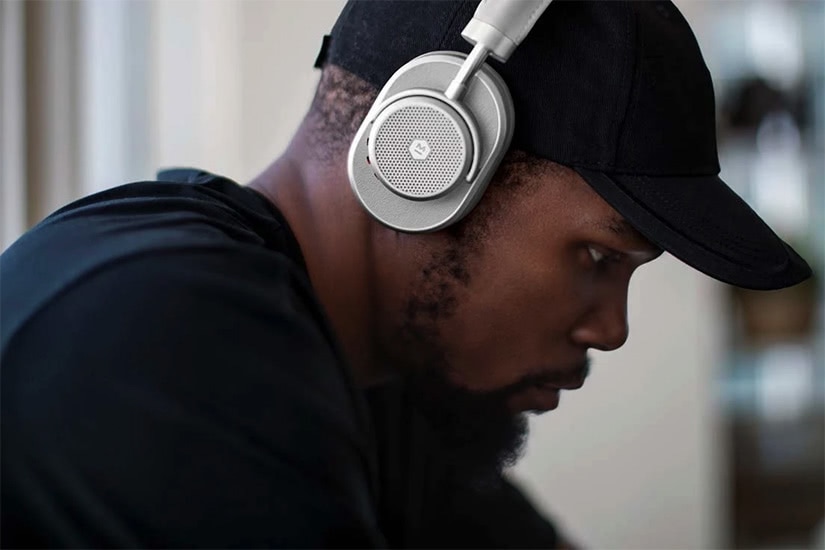 For features that will act as upgrades to your daily life, we recommend you consider the amount of time you'll be using your headphones as well as how you'll be using them. If you're more active, wireless headphones may be a good bet. If you're making lots of calls or plan to use these in the office, select one with digital assistant compatibility and a built-in microphone.
Remember: These microphones are going to be a tool to enhance your life. Choose features that are specific to you!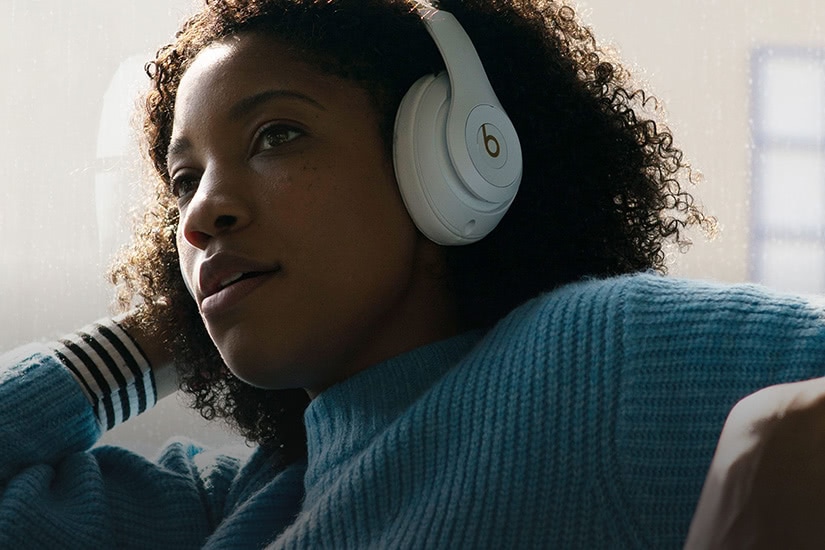 Methodology: How we select, test, and rank the best over-ear headphones on the market
To find the best over-ear headphones, we started by selecting the latest offerings from some of the trusted names on the market for known quality. We sifted through their standards and best headphone reviews to see what we could learn about current technology specifications; we looked through their options to glean data about comfort, ergonomics, sound quality, and more.
Once we had an idea about the best options from known brands, we looked through the online marketplace for up-and-coming brands, just to see if there was anything new and exciting on the horizon. After that, we had a good idea of the best options on the market. From there, we whittled down our list to give you truly the best products available. What we ended up with was our finalized list: The above ranking of the 11 best over-ear headphones on the market today.