Having the right photography gear doesn't always equal award-winning pics—but it's a step in the right direction. If you're going to take your craft seriously, you need one of the best camera backpacks to accompany you on your photography missions.
Are you a street photographer seeking to capture poignant moments in public places and instants of candid beauty? Or a wildlife photographer, trekking through the wilderness to shoot rare birds or endangered mammals?
Or maybe you're just playing around with a new camera, finding your groove, and honing your skills?
Whether you're an amateur or a professional, whether you like to photograph people, places, or exotic wildlife, you need a high-quality, functional, and durable camera backpack.
The best photography backpacks keep all your valuable equipment safe and secure, protected from knocks, bumps, and bad weather.
Here are the best camera backpacks available today—whether you need something small and inconspicuous to carry in crowded streets or something hardcore and hard-wearing for trekking up mountains.
The 13 best camera backpacks
Check our special camera backpack buyers' guide after the list to see exactly what you should pay attention to before purchasing an everyday carry bag.
Lowepro ProTactic: Best overall camera backpack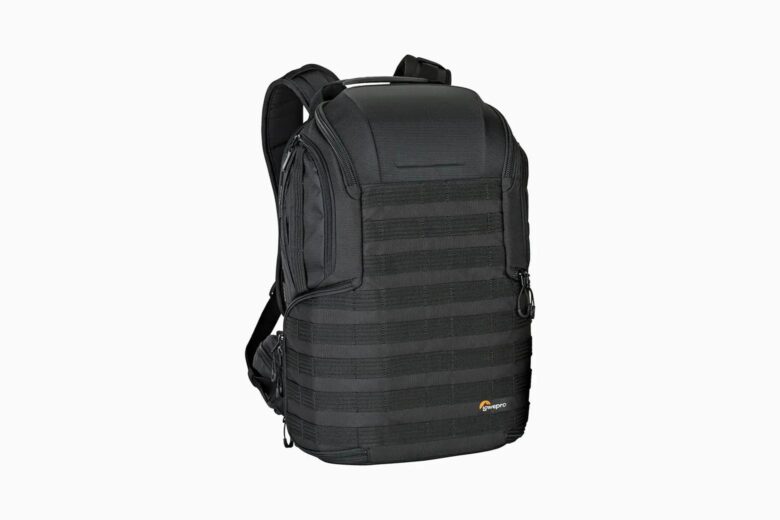 We've ranked the Lowepro ProTactic camera bag top for a whole host of reasons, from durability and comfort to features and aesthetics.
Tough EVA molding and padding functions act as protective armor all around the bag and ensure your equipment is safeguarded against any potential accidents. There's also a built-in all-weather cover to protect against even the most unforgiving downpour, as well as dust, snow, and sand.
You can adapt the camera bag to suit your unique camera setup, re-positioning the flexible dividers depending on the configuration of your camera kit. There's even room for a 15-inch laptop.
There's also a slip-lock tripod cup where you can mount your tripod securely, plus a place to store your water bottle. Multiple access points mean you can grab what you need quickly without losing sight of your target. But the real genius lies in the waist belt that converts into a utility belt—the nifty feature you didn't realize you were missing in your life.
This backpack uses ActivZone technology to create support for your shoulder blades, lumbar, and waist, so you can carry your kit all day and barely even notice it's on your back.
Best for: a rugged and high-performance camera backpack for every kind of photographer.
| | |
| --- | --- |
| Size: | 25L (14 x 8.6 x 20.5 inches) |
| Material: | water-resistant |
| Available colors: | black |
Nomatic McKinnon: Best high-end camera backpack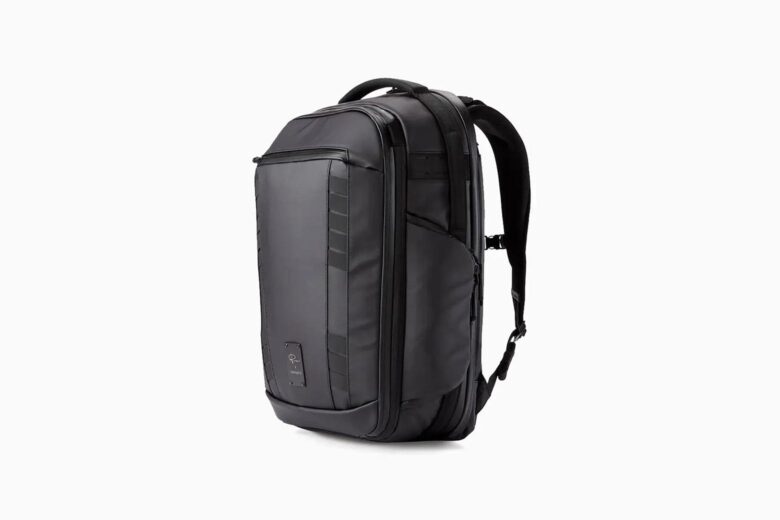 Nomatic is one of the best backpack brands. The Nomatic McKinnon was designed in collaboration with Peter McKinnon, a successful photographer and YouTube star whose videos help budding photographers refine their skills.
McKinnon'sinput into the design of this camera backpack has made it one of the best high-end camera rucksacks available—whether you're a jobbing photographer or eager amateur.
You can customize the inside of the bag using the folding dividers, adapting the bag to suit the particular job in hand. If you're going away on a weekend mission, expand the clothing section and throw in another outfit. Plus, you'll never miss a critical moment again with those quick-access side pockets.
For comfort, you've got waist and chest straps to distribute weight, and shoulder tension to help lighten the load, leaving you free to focus on capturing those perfect #nofilter shots.
With the Nomatic McKinnon, you can set out to secure mind-blowing snaps—and feel assured that your camera gear is going to survive the outing, whatever happens.
Best for: top-quality construction and materials for those who want the very best.
| | |
| --- | --- |
| Size: | 35L to 42L (22 x 13.5 x 9 inches) |
| Material: | water-resistant |
| Available colors: | black |
Thule Aspect: Best value camera backpack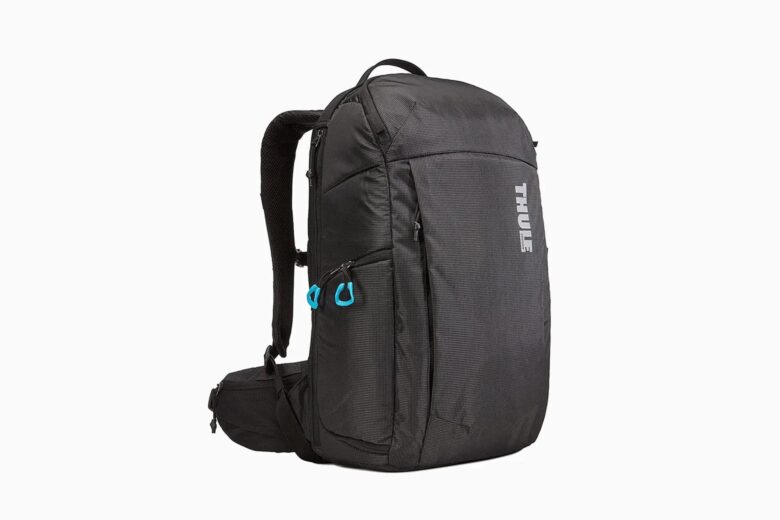 If you're just starting out as a photographer and have yet to succeed in making your passion a source of income, you probably can't justify spending a lot of cash on a camera backpack.
Don't stress. There are some fab budget-friendly camera backpacks out there to answer the prayers of money-conscious photographers everywhere.
One great example is the Thule Aspect. This incredibly well-priced camera rucksack is one of the best DSLR backpacks out there. It even has space for drone gear. After all, drone photography has really taken off (excuse the pun) in the last few years and dramatically widens the scope for incredible snaps.
Inside, the storage space is customizable and there's space for a laptop and a tablet as well as any personal items like a wallet. On the exterior, you've got a side panel to store your tripod and quick-access side pockets where you can store things like snacks. Because nothing burns calories like snapping soon-to-go-viral photos.
Even the hip-belt has pockets. These are ideal for storing small accessories such as lens cleaning wipes or memory cards.
All this, packed into a comfortable carry set-up with padded shoulder straps and an air mesh back panel for breathability.
Best for: a good quality camera backpack with a reasonable price-tag.
| | |
| --- | --- |
| Size: | 11.8 x 8.7 x 20.5 inches |
| Material: | nylon |
| Available colors: | black |
Beschoi DSLR Camera Backpack: Best carry-on camera backpack for travel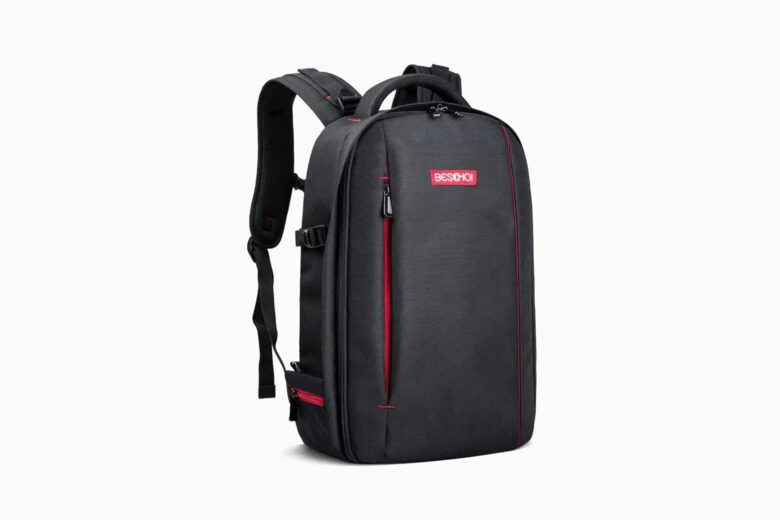 Travel photographers know that the number one rule of travelling with a camera is to never ever check in your gear. That way lies disaster.
Always carry your equipment with you as cabin baggage. The Beschoi DSLR carry-on camera bag has been designed for superior practicality when you hit the road. Inside, you've got space for up to two DSLR cameras, six lenses, a flash, a small and lightweight tripod, and even a laptop up to 13.3 inches. The exterior also has zipper pockets for storing lenses and other accessories.
It's water-proof and has reinforced stitching at all major stress points for long-lasting durability. Most importantly, it comes equipped with anti-theft zippers, an essential for travel—as is, of course, a pilot watch.
One of the best travel camera backpacks, this rucksack has been designed with a commitment to comfort. Wide and adjustable shoulder straps with breathable air-mesh prevent any undue discomfort when you're on the move. Just add a pair of high-quality walking shoes or sneakers and you're off.
Best for: frequent flyers who want to capture some Nat-Geo-worthy travel pics.
| | |
| --- | --- |
| Size: | 13 x 9.8 x 5.5 inches |
| Material: | water-repellent nylon |
| Available colors: | black |
Altura Sling Bag: Best small camera bag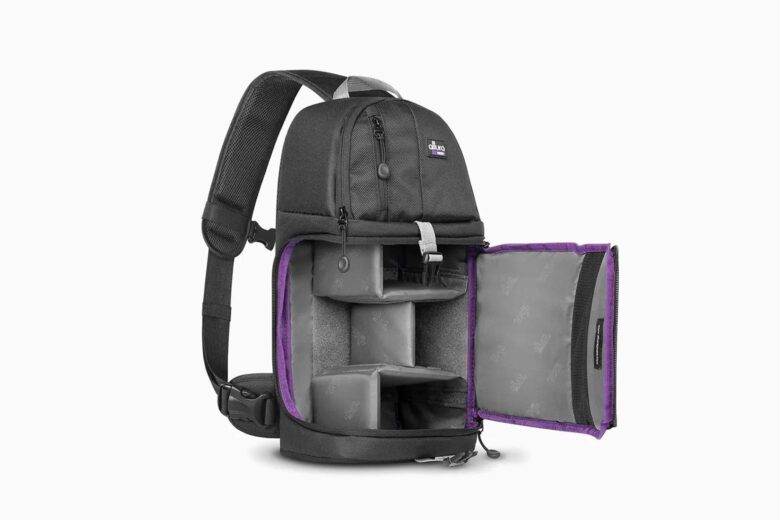 You're out and about in the city, eyes peeled, waiting for the elements to align so you can get that perfect shot. You need something lightweight and discreet so you can dash nimbly between the traffic and crowds to pick out that ideal set-up.
The Altura sling backpack is hands down the bag for the job if you're trying to keep a low profile. It has a rapid access side opening with a zip so you can quickly grab your camera when you stumble across a beautiful scene. You can also swing the bag onto your front for extra security in busy places.
Inside, you've got padded dividers that you can adjust to hold your equipment neatly and snugly. You can also fit extra lenses or a flash unit. And, despite the compact size of this bag, there's even a tripod or monopod holder.
This nifty little camera bag is the ideal piece of gear to accompany you on your daily escapades. Just add some wireless headphones and you're good to go.
Best for: street photographers wanted something inconspicuous and lightweight.
| | |
| --- | --- |
| Size: | 8.5 x 5.5 x 16 inches |
| Material: | nylon |
| Available colors: | black |
USA Gear: Best camera and laptop bag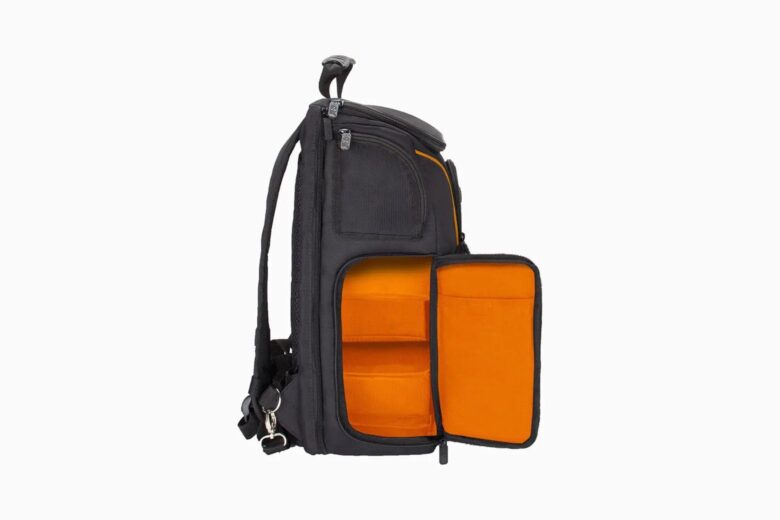 Some photographers like to edit the same day that they take their pics. Wedding photographers, in particular, often offer a same-day editing service for photos. Wouldn't it be handy, in that case, to have somewhere safe to store your laptop? This camera backpack by USA Gear is ideal.
Inside, you've got customizable storage space, including room for your laptop, phone, and charger. Outside, the materials are hard-wearing and tough. The reinforced metal zippers and soft rubber pullers are extra long-lasting.
If you're heading off on a photography expedition, whether it's to snap the crowds at a festival or into the wilderness to capture rare images of wildlife, then you need a secure way to transport your laptop. This bag does the job perfectly—all at a price that's more than reasonable.
One of our favorite features? You can tuck away any unnecessary straps into the luggage handle slot. Because there's nothing worse than being on public transport and for your strap to flick some unsuspecting passenger in the eye.
Best for: those who like to edit on the road.
| | |
| --- | --- |
| Size: | 18 x 12 x 8 inches |
| Material: | nylon and fabric |
| Available colors: | a range including black, black and blue, and black and green |
Lowepro RidgeLine Pro: Best modern design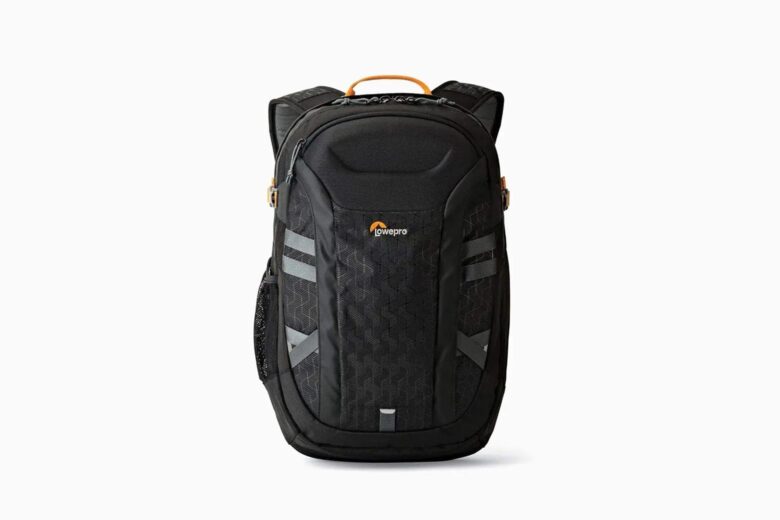 If you're rocking up to shoot at some cool event—a concert, party, or VIP wedding—you need to look the part. The Lowepro RidgeLine Pro will ensure you make exactly the right impression. It's the ideal piece of gear for the style-conscious photographer.
The exterior has been thoughtfully designed to look more streamlined and sleek—less bulky and clunky than your standard camera backpack. It's not just aesthetics, though. The air-mesh back panel is padded and breathable to provide maximum comfort no matter how long you're on the job.
A water-repellent coating protects your gear from standard weather conditions. And when things get more intense, you've got an all-weather AW Cover with heat-sealed seams to ensure your gear survives even the most brutal of nature's forces.
Inside, you've got a CradleFit compartment to protect your laptop and tablet. We definitely like the sound of nestling our most valuable possession in a cradle.
Need to travel? The backpack has a built-in trolley handle for simple carrying when paired with a rolling bag.
Best for: innovative materials and a modern aesthetic.
| | |
| --- | --- |
| Size: | 25L (12.99 x 6.69 x 19.69 inches) |
| Material: | weather-and-impact resistant polyester |
| Available colors: | a range, including black, blue, and camo green |
Vanguard Alta Sky: Best camera backpack for hiking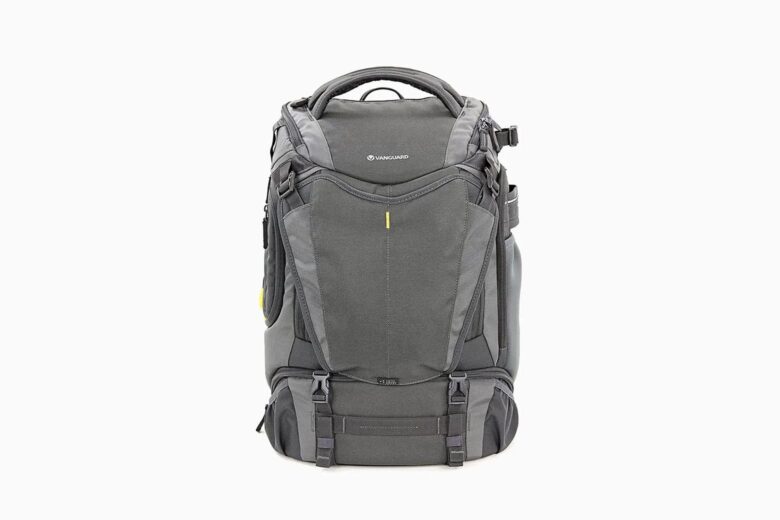 If you need to head off the beaten trail to achieve the winning shot, then you'll want a bag like Vanguard's Alta Sky 51D that's not going to fail you at the first sight of rain.
As well as all the standard camera backpack features, you've also got side pockets to hold large water bottles so you can stay hydrated during your outdoor missions. Then there's the total coverage rain cover so you can face dark clouds without fear.
Wildlife doesn't wait for you to get ready. Serendipity plays a major role in spectacular nature photos. Luckily, this camera bag has multiple access points, both at the back, side, and top, so you can always be action-ready.
Adventurer photographers looking to photograph action from an aerial vantage point will be grateful for the ability to store their drones inside this backpack. Larger drones can even be attached externally, as can a tripod.
This bag does all the leg work, leaving you to focus on getting the most memorable shot, whether it's eagles soaring across a blue sky, BMX bikers racing down a mountainside, or a forest emerging from the fog.
Best for: those seeking an all-weather, all-purpose, all-terrain camera bag.
| | |
| --- | --- |
| Size: | 14.63 x 10.25 x 22.25 inches |
| Available colors: | grey |
Neewer: Most lightweight camera backpack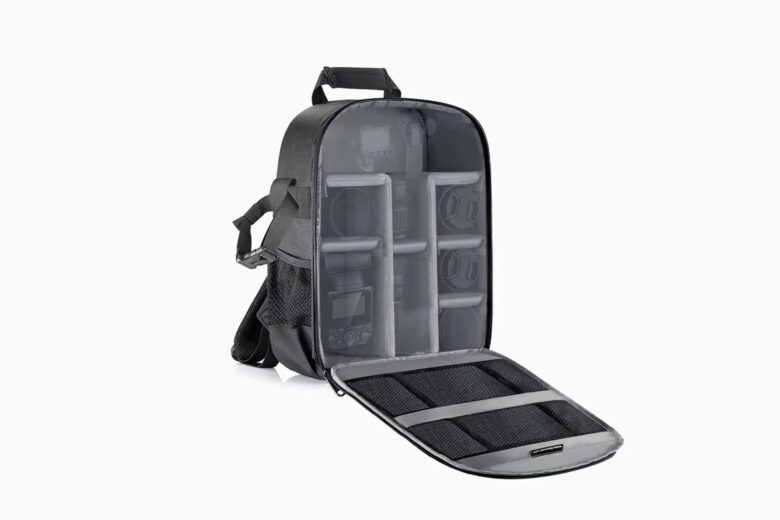 To get a truly magical photograph, you need to be on the move, wandering and exploring, creating opportunities for those wonderful chance encounters to arise.
This backpack by Neewer has been city-optimized. First up, it's waterproof, so even the greyest of days won't put you off completing your mission. The shoulder straps are padded for additional comfort. On the outside, you can secure a tripod to get those epic time-lapses.
Inside, there's ample space to fit everything from DSLRs and mirrorless cameras to a GoPro, flash units, radio triggers, batteries, chargers, and cables. All without being at all bulky, making it the ideal lightweight yet hard-wearing backpack to transport your camera and accessories around town.
This camera backpack puts up fierce competition as one of the best lightweight camera bags out there. And, as if you needed extra convincing, all the compartments can be removed, and you can use it as a normal EDC backpack whenever you fancy.
Best for: photographers on the move who need something light and easy to carry.
| | |
| --- | --- |
| Size: | 12.2 x 5.5 x 14.6 inches |
| Material: | waterproof nylon |
| Available colors: | a range including grey, black and green, and black and red |
Wandrd Hexad: Most rugged camera duffel bag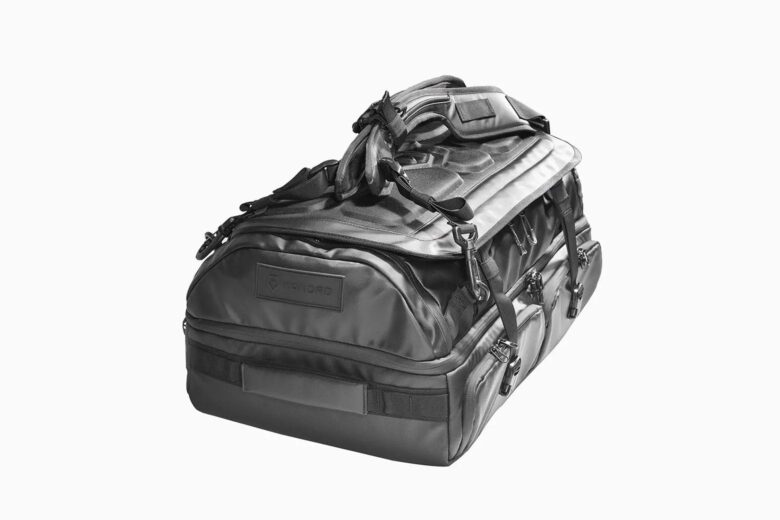 If you're happiest when you've got your entire studio with you, then Wandrd's Hexad is the bag for you.
This is not like any duffel bag you've met before. It's heavy-duty and rugged, ready to face the most challenging of photo expeditions.
Expertly marrying capacity with comfort, it's a pretty big bag at 45 liters. But it still counts as carry-on luggage—ideal if you fly a lot. And it's also comfortable to transport around, whether as a standard hold-all or as a backpack.
Inside, you've got a padded laptop sleeve and a fleece-lined pocket for your mobile phone. There's an organization pocket on the top that includes a key hook so you don't lose track of the essentials.
The bag has been created from weather-resistant materials with spill-proof pockets and also has an RFID secure passport pocket. So whether it's torrential rain or identity theft, that's two disasters that this bag has already averted.
This camera carry-all sorts out all the practicalities, leaving you free to focus on creative compositions, finding a fresh perspective, and capturing beautiful moments.
Best for: travel photographers heading out on an expedition.
| | |
| --- | --- |
| Size: | 9 x 14 x 22 inches or 45 litres |
| Material: | water-resistant materials |
| Available colors: | blue, green, and black |
CADeN: Best waterproof camera backpack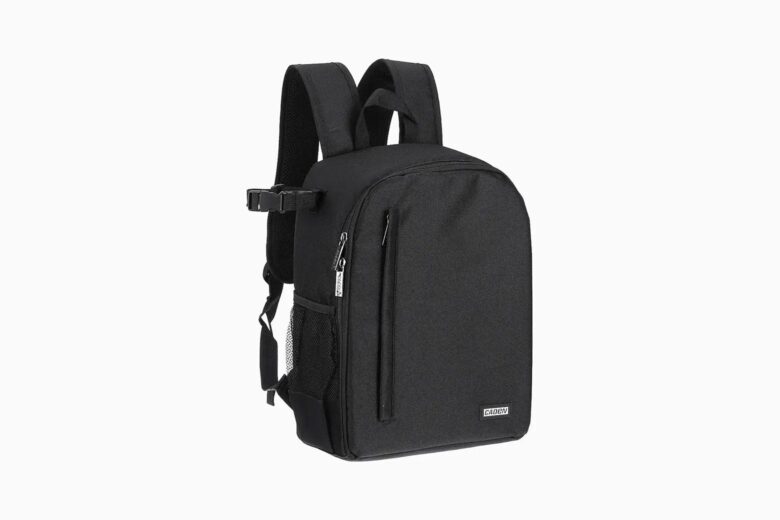 A moody and stormy landscape might look good once it's framed and on the wall, but when you're out there shooting, it's less about the beauty of the moment than your ability to keep your equipment safe and dry.
Which is where the CADeN Camera Backpack steps in. This camera rucksack is the best waterproof camera backpack on our list. It's made of high-density waterproof 900D polyester nylon with long-lasting and rust-resistant alloy zippers. So you can set up camp in the midst of a downpour while other photographers are quaking in their boots.
It's also one of the bigger bags out there with ample room for a camera body, four lenses, a flash, tablet, any other accessories, such as sunglasses, a tripod attached to the exterior, and water bottles in the elastic mesh bags. A DJI drone will also fit inside.
Even if your photography method of choice is a drive-by shooting—preferably from the window of a Bugatti—then investing in a good waterproof camera is still wise. Who knows when rain might strike, and when you've spent that much on gear, it's not a risk worth taking.
Best for: nature photographers seeking that stormy landscape shot.
| | |
| --- | --- |
| Size: | 11 x 5.5 x 14.2 inches |
| Material: | waterproof 900D polyester nylon |
| Available colors: | a range including black, blue, and green |
AmazonBasics Large DSLR Camera Bag: Best budget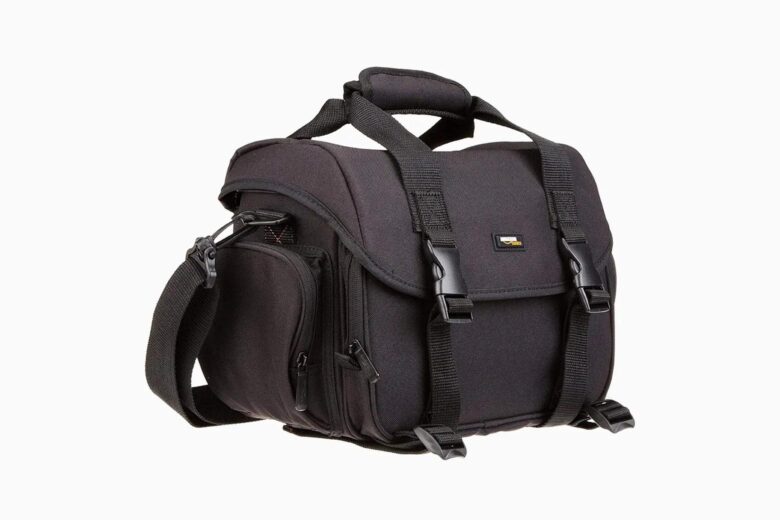 Before the art world cotton on to your undeniable talent as a photographer, you probably don't want to spend thousands on a camera backpack. Fortunately, there are a few great budget camera bags out there, including this great DSLR Bag by AmazonBasics.
Many photographers prefer messenger-style bags because they allow for easy access to gear and are often simpler and more comfortable to carry—either over one shoulder or across your body.
Inside, there's enough space for a DSLR body, accessories such as memory cards and batteries, and up to three lenses, including your favorite fish-eye or a macro lens for those arty flower pics.
The dividers can be customized according to your chosen camera set-up, and there are also straps on the outside for attaching a tripod. Finally, there's a slot for your tablet so you can edit on the go.
For a very minimal outlay, this camera bag will help you on your quest to get the money shot.
Best for: photographers who'd rather spend money on the camera than the bag.
| | |
| --- | --- |
| Size: | 12 x 7 x 9 inches |
| Available colors: | black with orange or grey interior |
Chrome Niko F-Stop: Most expensive camera backpack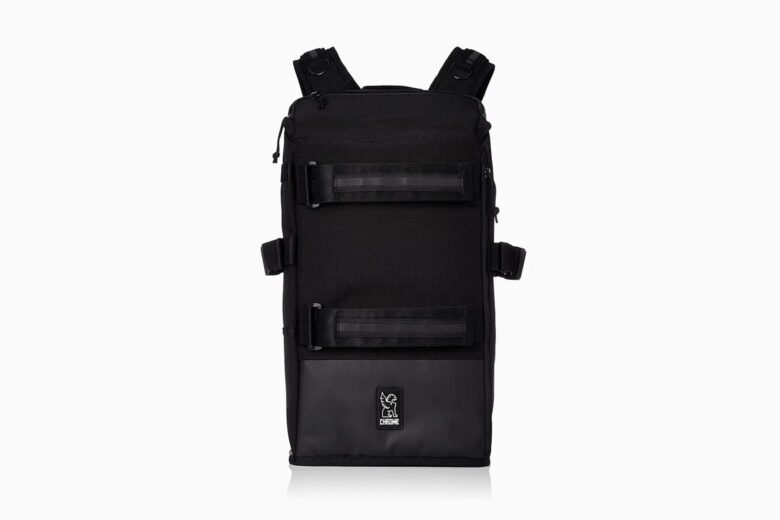 As far as first impressions go, the Chrome Niko F-Stop Pack certainly makes an impact. It's easily one of the most stylish camera backpacks out there, with a streamlined shape that resembles a cool skateboard rucksack.
Indeed, the bag has an exterior strap for holding a skateboard. But even if your photography is less about edgy shots of urban sports and more about couples kissing against a spectacular vista, then this could be the bag for you.
This is a backpack that's been built for adventure, made from ultra-tough 1050D Ballistic nylon with a 400D tarp interior. And if you're hauling your camera gear a distance greater than a mile, you'll appreciate the EVA foam back panel—comfortable and breathable.
A price like that is the ultimate guarantee of quality so you can hike up a mountain for the perfect golden hour shot knowing that the bag will make it to the summit with you.
Oh, and when you're racing the clock in the great outdoors, make sure to have a good tactical watch on your wrist too.
Best for: adventurous and style-conscious photographers.
| | |
| --- | --- |
| Size: | 20 x 10 x 7 inches |
| Material: | nylon |
| Available colors: | black |
Buyers guide: what to look for when buying a camera backpack
When buying a camera backpack, there are a few things to consider and look for, plus different options on the market to suit different needs.
Location and subject
What kind of subject and environment do you most frequently shoot? Are you a street photographer or a wildlife photographer? Or are you a casual or amateur photographer, taking photos mostly on holiday?
In which case, do you really need a camera backpack? Could a messenger or sling bag be enough? These have the advantage of looking stylish and being fairly inconspicuous.
Or what about a more versatile camera pack—one that can also double as a standard everyday carry backpack when you're not playing photographer?
Nature photographers will require a very different camera backpack to those snapping fashion models in a studio. The former will require something waterproof, hardwearing, and with enough room for telephoto lenses and tripods. The latter may need something that offers security and safety on public transport.
Then there are travel photographers who might want something light and discreet to avoid unwanted attention. Rapid access pockets are important to allow you to capture fleeting moments.
A photojournalist on assignment for a whole month will also need something that can also transport their personal gear—and maybe a bag that passes as carry-on luggage.
Equipment and gear
Just as important is the equipment you intend to use. Do you typically require just a mirrorless camera and a few lenses? Then you will only need a small camera backpack. If you need to transport multiple DSLR bodies and a drone, you'll need something much bigger.
You need a camera backpack that can hold the weight of all your equipment. Size-wise, most camera backpacks are between 30 and 40 liters, but you may find that 20 liters is enough.
Price and features
Camera backpacks can range from $30 to $300, so you can easily find one to suit your budget. The more expensive camera bags typically have more features and are made of higher-quality materials.
Extra compartments and pockets provide elevated functionality. As for comfort, does it have padding, secondary straps, or a contoured back to avoid stress on your neck and shoulders?
Pay attention to the following:
Tripod holder: you will need some method to secure your tripod to the outside, such as bungee loops or straps with clips. Or you could invest in a separate tripod bag if you require additional protection.
Quick access: this is an especially important feature for street photographers. When you see an opportunity, you need to capture it there and then. You don't want to be rummaging around in a massive bag.
Hip belt: this distributes the weight of all your equipment and lessens the load.
Waterproofing: you want non-porous materials like ballistic nylon. You should also look for sealing around the zippers. Some camera backpacks also feature waterproof rain covers.
When packing your camera backpack, here's a tip. Store your heaviest gear at the bottom of the pack. This maintains a low center of gravity so the bag won't topple over when you set it down.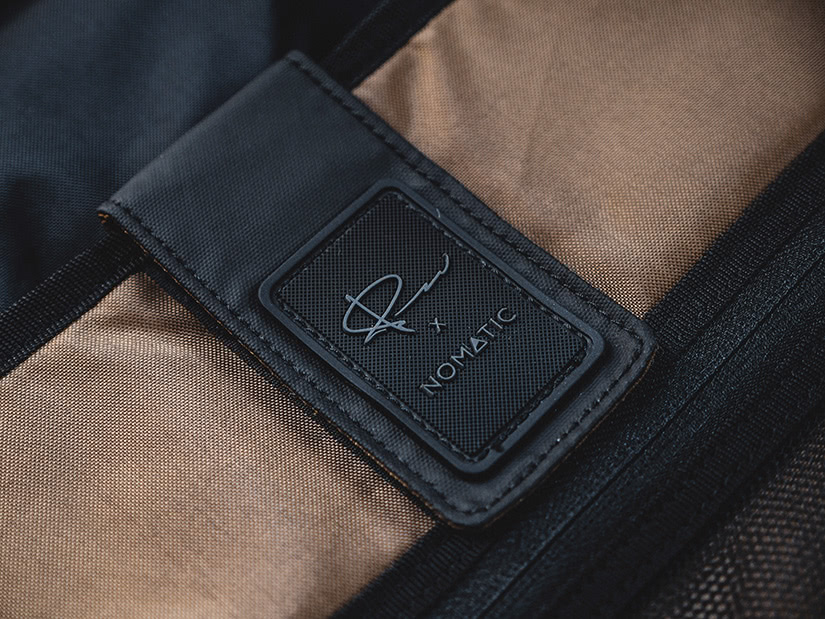 Camera backpacks: Frequently asked questions
What is the best camera backpack?
The best camera backpack is the Lowepro ProTactic backpack. This camera rucksack ticks all the boxes when it comes to comfort, features, and durability. It will protect all your important gear and has been designed to avoid stress on your shoulders and back.
How do you pack a camera for air travel?
When flying with your camera, you'll want to put it in your cabin baggage, where it will be safe and secure. Take everything apart before flying, including unscrewing all caps and lenses. Keep everything separated and securely packed, so it doesn't rattle around and avoid scratches. Silica gel packs can prevent moisture.
How do I choose a camera bag?
Choosing a camera bag will depend on your style of photography. A wildlife photographer will require a different camera backpack from a street photographer. It will also depend on how much equipment you usually carry and what your budget is. We have selected the best camera backpacks to suit a range of photography needs, from the best budget offering to the best waterproof camera rucksack.
What should I keep in my camera bag?
What you keep in your camera bag will depend on what you plan to shoot, but there are a few basics that every professional and amateur photographer needs. These include spare batteries and memory cards, a microfibre cloth to clean your lenses, a tripod, a flash, and perhaps a flash bouncer. A rain cover, or at least a plastic bag, is another good idea.