It's not easy to get a seat at the table among the world's top watch brands. It's an elite group and you have to prove your watchmaking mettle to even be a contender.
But Montblanc has more than earned its place among the best luxury watch companies. Creator of exquisite pens, crafter of fine leather goods, and now maker of highly complex watches at competitive prices, Montblanc is nothing if not multi-talented.
At a glance
| | |
| --- | --- |
| | |
| Industry: Watches | Founded: 1906 |
| Headquarters: Germany | Founder: August Eberstein and Alfred Nehemias |
| Watch Collections: dress watches, sports watches, women's watches, and smart watches | Parent organization: The Richemont Group |
| Annual Revenue: $852.5 million USD | Website: montblanc.com |
Montblanc watch price
How much does a Montblanc watch cost?
Montblanc prices start at around $1,500. The price for an entry-level Montblanc mechanical watch is $1,800 but you can get a Montblanc quartz watch for $1,290. Montblanc smartwatches prices start at $725. The most expensive Montblanc watches reach over $16,000.
What is the most expensive Montblanc watch?
The most expensive Montblanc watch is the Montblanc Regulateur Nautique Chronograph, originally on sale for $388,600. Part of the Montblanc 1858 collection, it features eight different indicators including dual time zones, a day and night display, a chronograph, and a 30-minute counter.
See how this compares to the world's most expensive watches.
What is the cheapest Montblanc watch?
The cheapest mechanical Montblanc watch is the Montblanc Tradition Quartz Date, which retails for around $1,290. The cheapest Montblanc mechanical women's watch is the Montblanc Bohème Quartz, which you can get for around $1,755. There are also the brand's Summit smartwatches, which start at $725.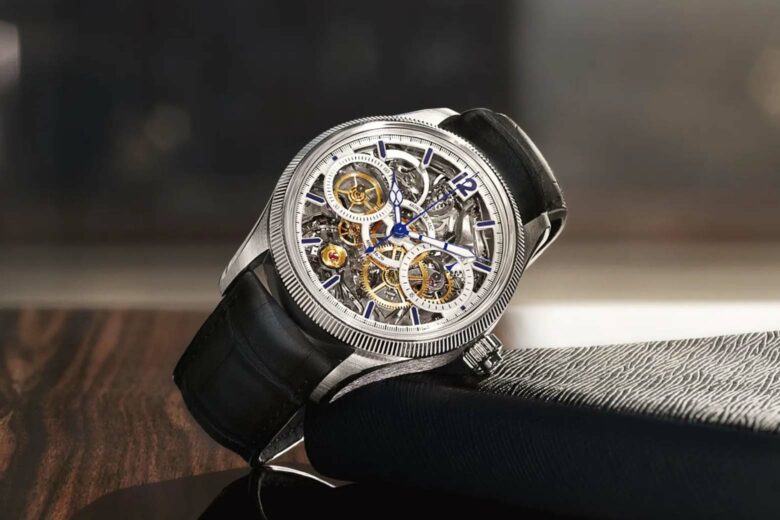 About Montblanc
History of Montblanc
Montblanc began life making luxury ink pens. Founded in 1906, its first creation was the Rouge et Noir, a pen that was revolutionary for containing an integrated ink well. But its most famous pen was the Meisterstück (German for "masterpiece"), launched in 1924 and engraved with the number 4810, a reference to the height of the Mont Blanc mountain.
It wasn't until 1998 when the company was acquired by the Richemont Group—which also owns other watchmaking giants like A. Lange & Söhne and IWC Schaffhausen—that Montblanc started making timepieces. The first Montblanc watches were distinguished by their gold cases and black dials, an explicit echo of the brand's famous Meisterstück ink pens.
In 2003, Montblanc launched its TimeWalker collection, marketed at a younger and more progressive clientele with sporty Bahaus-inspired watches.
The brand launched its first Grande Complication in 2006. That same year, Richemont acquired the prestigious Minerva watchmaking atelier in Villeret, Switzerland, and made it a subsidiary of Montblanc. Minerva watches were marketed as the Villeret Collection and were similar to the innovative timepieces the company had been making in the early 20th century.
In 2008, Montblanc presented the MB R100 Calibre, the first movement fully developed and manufactured in-house. This was used in the production of its famous Nicolas Rieussec chronograph, inspired by the Parisian watchmaker and chronograph inventor.
In 2010, Montblanc unveiled the ground-breaking Metamorphosis watch, which features two different faces. And, in 2014, the company launched the Heritage Meisterstück Collection—a celebration of its iconic fountain pen and noteworthy for offering affordable timepieces with impressive complications.
Montblanc continues to produce popular men's timepieces at competitive prices and has indisputably proven that it is as much a watchmaker as a penmaker.
Interesting facts about Montblanc
Montblanc was originally known as The Simpo Filler Pen Company. Even today, its official name is Montblanc Simplo GmbH.
The Montblanc logo is the snow-capped Montblanc mountain, symbolizing the pinnacle of craftsmanship and quality.
The company also makes luxury leather goods at a factory located in Florence, Italy.
The Montblanc Tourbillon Bi-Cylindrique is the first watch in the world to have a tourbillon with two cylindrical balance springs. This construction is typically found in ships' chronometers.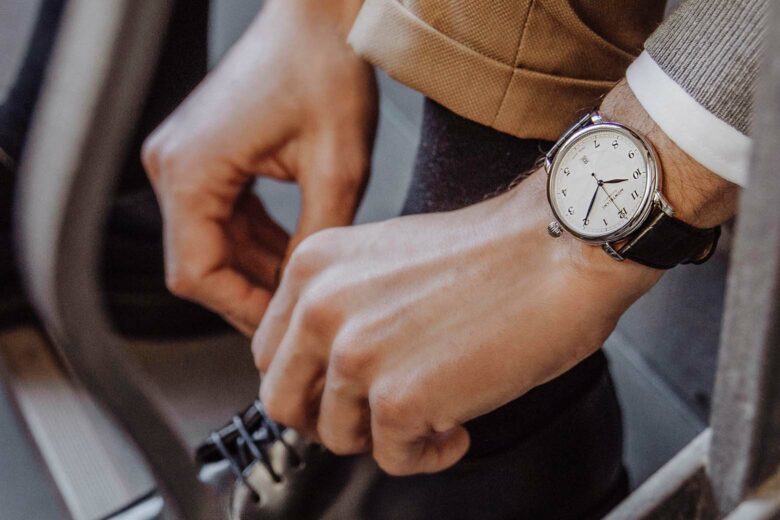 Montblanc product range
Montblanc timepieces fall into four categories. There are the Montblanc dress watch collections: the Montblanc Heritage, with vintage allure, and the Montblanc Tradition, timeless and minimalist.
Then there are Montblanc sports watches like the Montblanc Star Legacy or Montblanc 1858, both of which are elegant enough to wear with black tie.
Additionally, you have the women's watch collection, Montblanc Bohème, as mechanically masterful as they are aesthetically compelling. And, finally, there are the brand's wearable smart devices in the Montblanc Summit collection.
Signature materials and craftsmanship
Montblanc has two watchmaking centers. Simpler, more affordable, and more accessible timepieces are made in Le Locle, Switzerland. Here, skilled watchmakers make use of modern equipment for precision engineering and innovative tools and technologies like 3D printing and CNC and CAD machines. Le Locle watches are usually powered by Sellita-based movements or mass-produced in-house movements.
In contrast, at the company's Villeret manufacture, Minerva creates nearly all the components by hand. Also known as the Institut Minerva de Recherche en Haute Horlogerie, it's home to machines that are over a hundred years old and its craftsmen employ many elaborate techniques such as decorative perlage, straight-graining (used for springs and bridges), and black polishing (also known as spéculaire and renders steel reflective like a mirror). Only 200 to 300 watches are made here each year.
All watches undergo the Montblanc 500-hour test, simulating a year's worth of watch-wearing, including two hours of water-resistance testing and 80 hours of continuous accuracy testing.
Montblanc is committed to reducing its environmental footprint. It has developed plastic-free packaging and any nylon it uses is fully recyclable and sourced from recycled plastic.
Where is Montblanc made?
Montblanc's pens have always been made in Hamburg, which is also the location of the company headquarters. But Montblanc luxury watches are made in Switzerland in the district of Le Locle, near the French border, a hub for watchmaking. The production site is an old villa, built in 1906, the same year the company was founded.
Additionally, there's the Institut Minerva de Recherche en Haute Horlogerie, located in Villeret. This is where specialty Montblanc watch models are made.
Montblanc brand values
| | |
| --- | --- |
| Vegan options: | No |
| Carbon-neutral: | No |
| Gives back: | Yes |
Montblanc watches
Montblanc 1858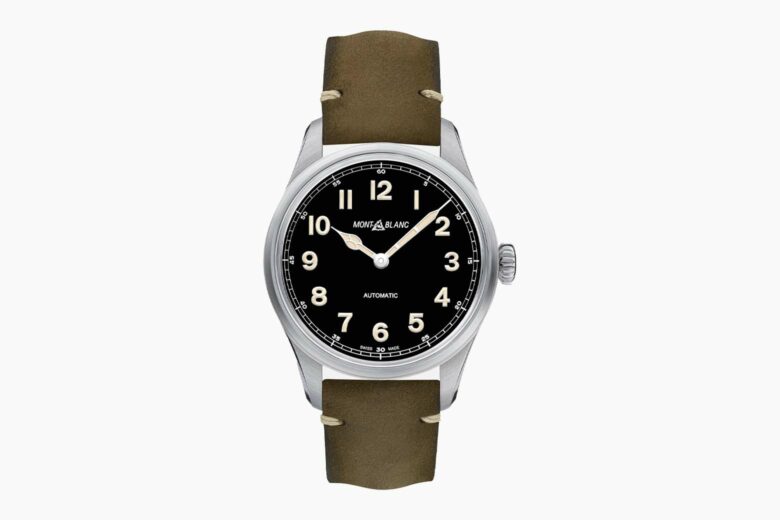 To add timeless sophistication to your everyday attire, the Montblanc 1858 collection is perfect. Inspired by watches from the Minerva archive (1858 is the year Minerva was founded), the Montblanc 1858 watch series includes sporty professional watches with impressive functionality and striking form. These are robust Swiss watches that can be worn from day to night. You'll also find military-inspired timepieces as well as adventurous dive watches too.
| | |
| --- | --- |
| Price: | $2,735 – $6,800 |
| First release year: | 2018 |
| Current case size: | 40 mm – 42 mm |
| Movement: | Automatic |
| Water resistance: | 100 m – 300 m |
| Crystal: | Sapphire |
Montblanc Heritage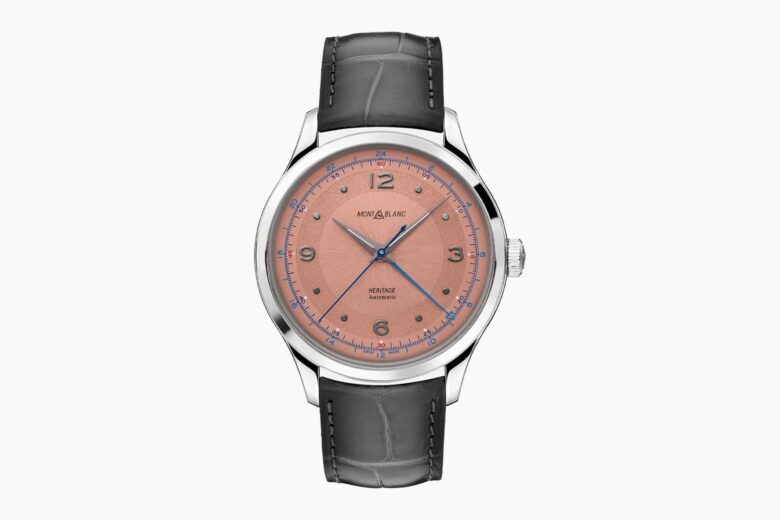 Inspired by Minerva's legendary timepieces dating from the 1940s and 1950s, the Heritage watch series offers classic styling and technical finesse. Expect elaborate decorative finishes and distinctive colors such as burnt caramel for an ultra-cool retro vibe. Alligator straps in a variety of colors complete the mood.
| | |
| --- | --- |
| Price: | $2,435 – $16,400 |
| First release year: | 2014 |
| Current case size: | 39 mm – 42 mm |
| Movement: | Automatic |
| Water resistance: | 50 m |
| Crystal: | Sapphire |
Montblanc Star Legacy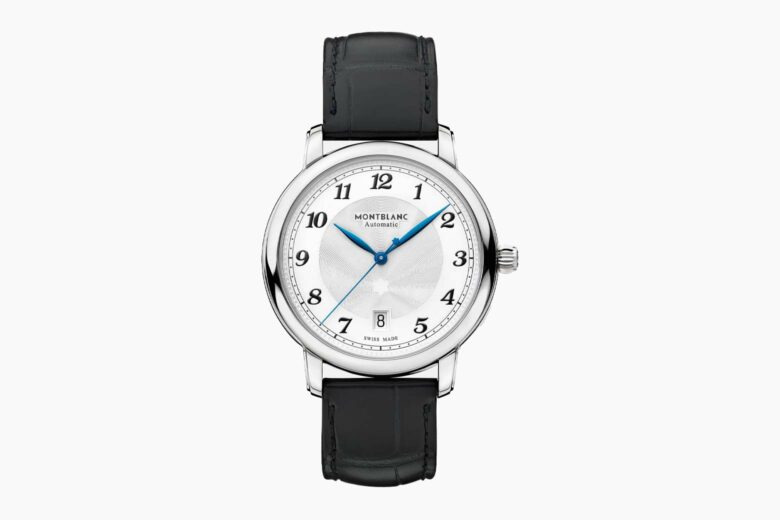 Montblanc Star Legacy situates itself firmly at the meeting place of classic design and cutting-edge technology with mechanical movements inspired by legendary Minerva pocket watches along with modern materials. Look out for the Star Legacy Metamorphosis, launched in 2010, with its massive 50 mm case and two different faces. There's also the Star Legacy Nicolas Rieussec Chronograph, a tribute to the French watchmaker who invented the first inking chronograph, a neat reference to Montblanc's own ink-stained past.
| | |
| --- | --- |
| Price: | $2,110 – $9,000 |
| First release year: | 1997 |
| Current case size: | 32 mm – 43 mm |
| Movement: | Automatic |
| Water resistance: | 30 m – 50 m |
| Crystal: | Sapphire |
Montblanc Tradition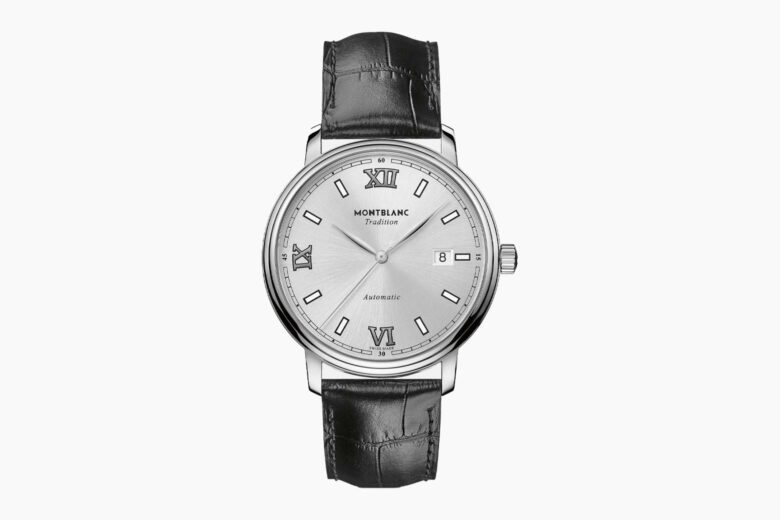 The Montblanc Tradition Collection is exactly as it sounds. These are classic luxury Swiss watches: minimalist, elegant, and wearable with slim stainless steel cases. That's not to say they're boring. Montblanc's eye for excellence is evident in every model and there are leather straps available if you want something dressier. You can also pick between automatic and quartz versions.
| | |
| --- | --- |
| Price: | $1,290 – $2,220 |
| Current case size: | 32 mm – 40 mm |
| Movement: | Automatic and quartz |
| Water resistance: | 30 m |
| Crystal: | Sapphire |
Montblanc Bohème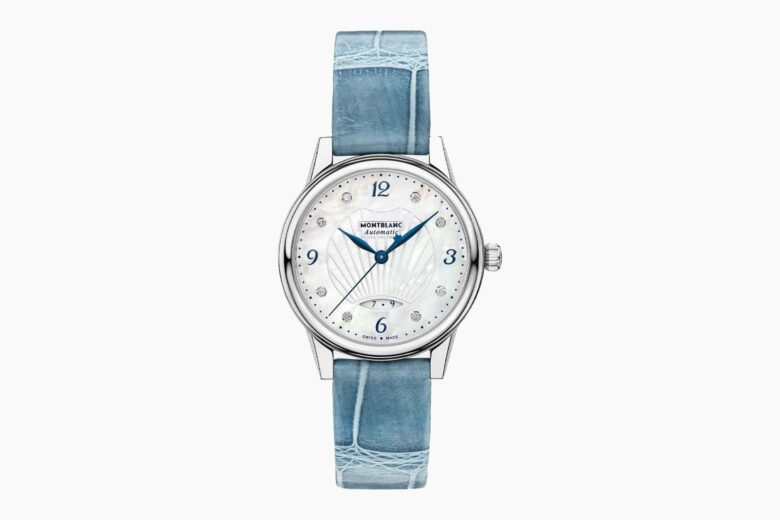 Bohème is Montblanc's dedicated women's collection and is heavy on gemstones, diamonds, and guilloché dials. But this series is more than a collection of jewelry watches. There are also striking moon complications as well as perpetual calendars and day/night functions. Look out for the Bohème ExoTourbillon Jewelry Motif Serpenti Limited Edition 18 with a multi-layered dial and purple and gold snake.
| | |
| --- | --- |
| Price: | $1,755 – $4,100 |
| First release year: | 2000 |
| Current case size: | 30 mm – 34 mm |
| Movement: | Automatic and quartz |
| Water resistance: | 30 m |
| Crystal: | Sapphire |
Montblanc Summit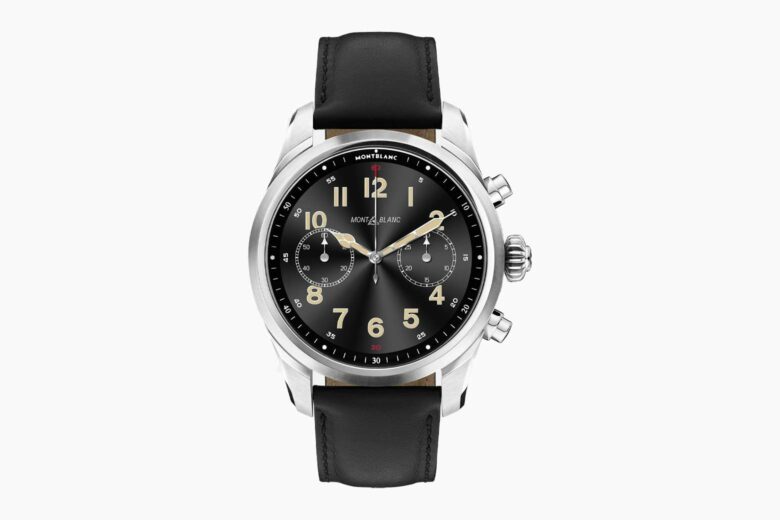 Summit is Montblanc's collection of wearable smart devices. Bringing high-tech functionality to activities such as travel and fitness, the Summit boasts exclusive apps with personalized workout recommendations, stress management, and sleep insights inside an elegant electronic timepiece.
| | |
| --- | --- |
| Price: | $725 – $1,170 |
| First release year: | 2016 |
| Current case size: | 42 mm – 43.4 mm |
| Movement: | Quartz |
| Water resistance: | 50 m |
| Crystal: | N/A |
Where to buy Montblanc watches
You can buy your Montblanc watch directly from the Montblanc website or at one of the brand's boutiques, listed here. You can even book an appointment for one-to-one assistance in buying your Montblanc watch.
You can also buy a second-hand Montblanc watch from Jomashop or from trusted retailers such as FARFETCH, Fashionphile, or Mr Porter. 
For more about buying a luxury watch, see our watch guide.
Montblanc shipping
Montblanc's standard shipping fee is $11 and takes 5-8 business days. There is also express shipping and next-day shipping. Jomashop offers international shipping for a set fee of $150 while Mr Porter and FARFETCH offer international shipping for different fees depending on the country. 
Montblanc return policy
You can return a Montblanc watch purchased via the Montblanc e-boutique within 20 days from when it was delivered, subject to quality control. Simply fill in the return form found here. Please note that you can't return the watch to a store.
Jomashop offers refunds for any watches returned within 3 days while the refund period for Mr Porter and FARFETCH is 28 and 14 days, respectively. 
Montblanc customer service number
For any questions related to your Montblanc order, or with help choosing a Montblanc watch, contact a customer ambassador on 855 221-8663.
Montblanc's social media profiles
Frequently asked questions about Montblanc watches
Is Montblanc watch a luxury brand?
Montblanc is a luxury watch brand that also makes luxury pens and leather goods. While not one of the most famous Swiss watchmakers, Montblanc makes high-quality timepieces, both mechanical and quartz, and has a collection of smartwatches.
Is Montblanc watch Swiss made?
Montblanc watches are made in Switzerland although the company is German and its headquarters are in Hamburg. The watchmaking facilities are in Le Locle and Villeret, Switzerland. For more about the brand, check out our in-depth Montblanc watch guide.
Who owns Montblanc watches?
Montblanc watches is owned by The Richemont Group, which also owns other luxury watchmaking brands such as Jaeger-LeCoultre, Piaget, and Vacheron Constantin. For more about Montblanc watches, including prices, see our guide to Montblanc.
Where are Montblanc watches made?
Montblanc watches are made in Villeret and Le Locle in Switerzland. The majority are made in a manufacture in Le Locle but the most complicated and high-end timepieces are made in Villeret by Institut Minerva de Recherche en Haute Horlogerie.