When speed knocks at the door, Hennessey answers. After decades of turning premium models into mind-blowing race demons, Hennessey cars has released its first entirely in-house design. And it has rocked the automotive world, once again.
This boutique automaker has what it takes to compete with the best, and when you get behind the wheel of these wild rides, you'll understand why. The Hennessey Venom F5 is not only one of the sleekest and most powerful vehicles ever created, but it's also one of the fastest.
At a glance
| | |
| --- | --- |
| | |
| Name: Hennessey | Industry: Automotive |
| Founded: 1991 | Founder: John Hennessey |
| Headquarters: United States | Parent organization: Hennessey Performance |
| Revenue: ~$17 million USD (est.) | Website: hennessey.com |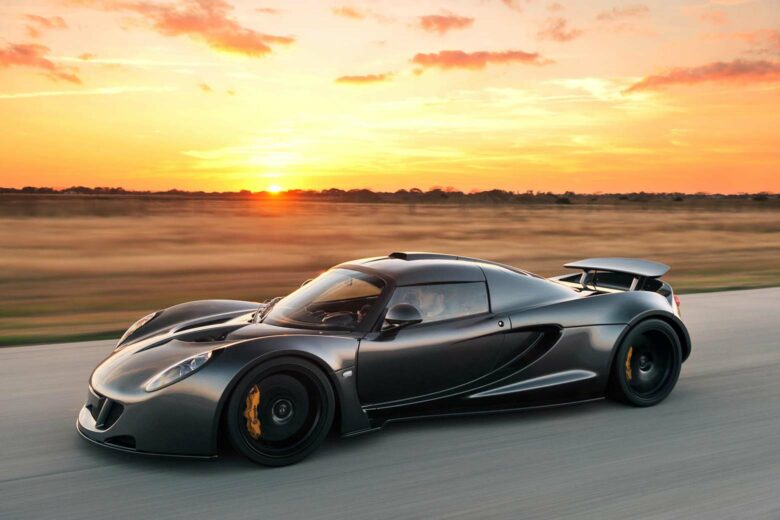 Hennessey price
How much does a Hennessey cost?
As one of the most advanced vehicles in the world, the Hennessey car prices are not for the faint of heart. The base model Hennessey Venom F5 price is an astonishing $2.1 million. But if you want an adrenaline-inducing experience, it's worth every penny.
Other Hennessey creations are spread wide across a range of prices. One of the early Hennessey-modified vehicles is the Dodge Viper Hennessey 650R, which started at just $37,000 on top of the price of a Dodge Viper GTS, quite a steal compared to more recent prices.
The Hennessey VelociRaptor 6×6 price falls in the middle, at $399,950, including the price of the donor Ford Raptor pickup truck. This six-wheeled monster has a full 8-foot bed, dual-locking rear axles, and a Texas attitude to back it up.
What is the most expensive Hennessey?
The most expensive Hennessey car for sale is the Hennessey Venom F5 Roadster, priced at $3 million. The F5 Roadster is an open-top variant, harnessing the same powerful 6.6L V-8 engine as the base model.
Although it isn't expected to begin deliveries until 2026 and the company has only released limited plans, there's another Hennessey price likely to continue the upward climb.
The details of the anticipated electric Hennessey Hyper GT are limited, but its price is expected to breach $3 million. It will likely make our list of the most expensive cars.
How much is the cheapest Hennessey?
The cheapest Hennessey car is the Venom F5 at $2.1 million. The Hennessey Venom F5 Revolution priced at $2.7 million is the next lowest-priced Hennessey auto.
But Hennessey has lower-priced vehicles that leverage platforms from other manufacturers.
The Hennessey Venom GT, built using the passenger cell of the Lotus Exige, is another more affordable model, with a starting price of $725,000. This comes with a bespoke 7.0L engine and a record-breaking speed of over 270 mph (425 km/h).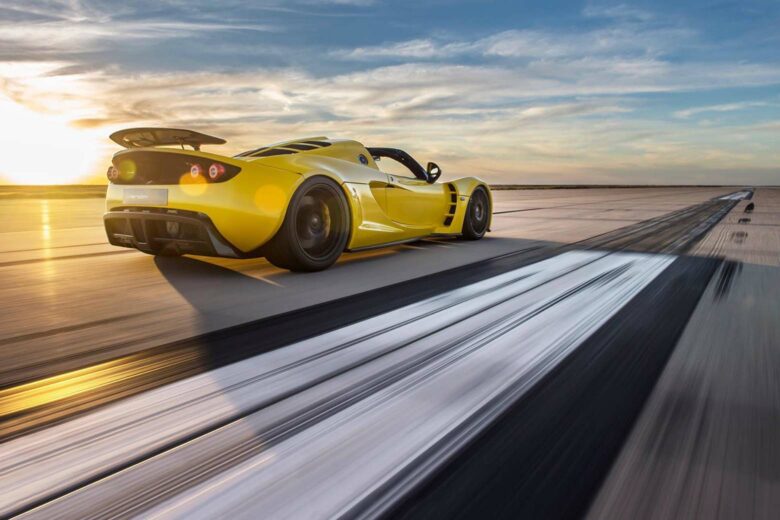 About Hennessey
History of Hennessey
When John Hennessey's father did a 100-foot-long burnout in his 1968 Pontiac GTO, it started his son's lifelong obsession with high-performance motoring. Years later, Mr. Hennessey purchased a Mitsubishi 3000 GT VR4 and tinkered away until it was fast enough for competition races.
Right away, he found the road to success. The modified Mitsubishi gathered quite the reputation, and in 1991, Hennessey Motorsports started up, bringing high-performance modifications to premium vehicles owned by people with a need for speed.
In 1993, the next chapter started when a Hennessey client asked to improve the Dodge Viper. As expected, the results were spectacular and generated demand for similar creations, eventually becoming the Hennessey Viper Venom 650R in 1996 with a 3.3 second time to 60 mph.
The modifications continued, mostly on American car brands including Hennessey Camaros, Hennessey Corvettes, and Hennessey Mustangs, plus limited McLarens and Lamborghinis.
Eventually, it became time to break out on his own.
Before the 2011 Hennessey Venom GT was released, squishing a giant V-8 into a Lotus car seemed impossible. But that's exactly what happened, and in 2014, the model took the title of the world's fastest production car.
Hennessey then pushed forward with the Hennessey Venom F5, the first entirely custom design, and once again, made the list of the fastest cars in the world.
The premier automaker now moves forward with its Venom F5 lineup and continued modification of other platforms. An electric Hennessey is also likely to come as part of Hennessey's Project Deep Space, with its first model being the Hyper GT six-wheel electric car.
Understanding Hennessey car range
The Hennessey models are simple with their naming and mostly use the original platform plus the Hennessey name.
When it comes to the Venom F5, the model name is derived from the Fujita tornado rating scale, with the F5 classification being the most violent and intense storms around.
Interesting facts about Hennessey
Hennessey also holds records as the fastest convertible car. In 2017, the Hennessey Venom GT Spyder took this title with a speed of 265.6 mph (427.4 km/h).
Hennessey Performance also has created the Tuner School education program to help pass on the stomach-churning power to others. Under the guidance of Hennessey experts, you can sign up to learn all about high-performance modifications to squeeze out the most power.
Where is Hennessey made?
Hennessey Special Vehicles and Hennessey Performance Engineering are based out of Sealy, Texas with the main assembly facility and headquarters there. Most Hennessey creations come out of this facility.
Hennessey also works with Delta Motorsport of Silverstone, England for some development and production purposes. This company helps produce some of the Hennessey components that are used in the final Texas assembly.
Hennessey electric cars
Hennessey Performance has unveiled plans to create a six-wheeled electric vehicle with a jet-like design. It is called the Hennessey Hyper GT and comes with a price tag of over $3 million, likely harnessing well over 2,000 horsepower coming from as many as six electric motors.
Maybe someday soon we'll see an electric Hennessey on the list of the best electric cars. For now, you might need to turn to Tesla, Karma, or Polestar.
Hennessey models
Let's dive into the details of Hennessey cars.
Hennessey Venom F5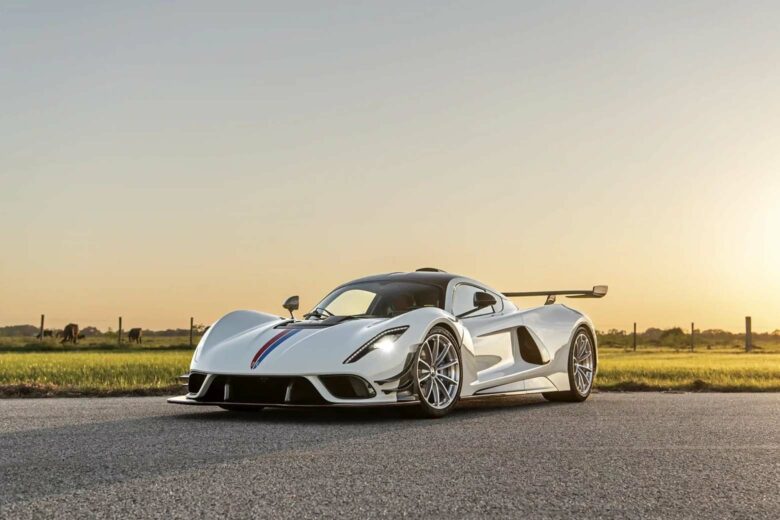 As John Hennessey's first entirely custom creation, the Hennessey Venom is nothing short of spectacular. This rear-wheel drive beast squeezes in a massive 6.6L V-8, pushing the Hennessey Venom F5 horsepower to nearly 2,000 ponies and a top speed in the same realm as Pagani and Koenigsegg cars.
The fighter-jet-inspired cockpit has a bespoke yoke steering wheel front and center, while the Venom car's exterior design grabs attention like a Maserati or an Aston Martin.
24 units of the Venom F5 Coupe, 30 units of the roofless Venom F5 Roadster, and 24 units of the track-focused Venom F5 Revolution are to be produced.
| | |
| --- | --- |
| Price: | Starting at $2.1 million |
| Release year: | 2020 |
| Engine: | 6.6L twin-turbo V-8 |
| Top speed: | 310.7 mph – 500 km/h |
| 0-60 mph: | 2.6 sec |
| Power: | 1,817 hp |
| Torque: | 1,193 lb-ft |
Hennessey Venom GT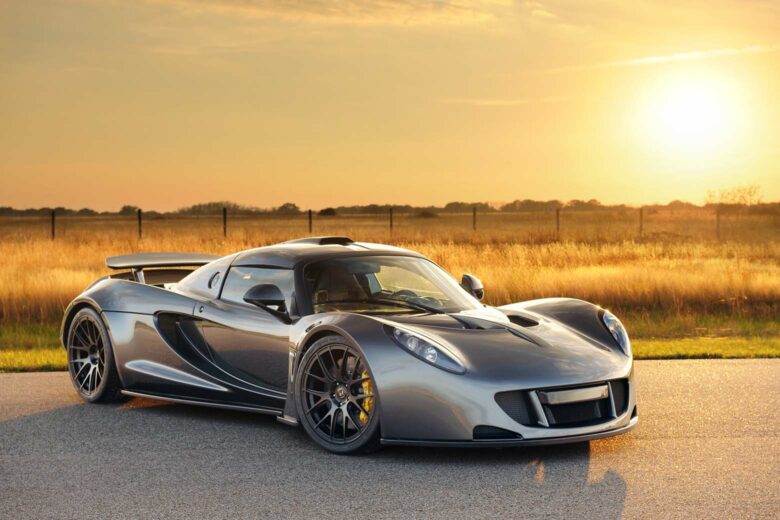 There's a fine line between genius and insanity, and when John Hennessey had the idea to combine a 1,000-horsepower engine with a Lotus Exige passenger cell, he walked along like a tightrope artist.
The Hennessey Venom GT's horsepower maxed out with the 2017 GT Final Edition's 1,451 horsepower, on a platform weighing less than 3,000 pounds.
The most expensive unit is the 2014 Venom GT World's Fastest Edition, which sold for $1.25 million, hitting Pagani and Bugatti price levels. But other Hennessey Venom GT prices started at $725,000, still nearly double the price of select Rolls-Royce and Bentley models. 
| | |
| --- | --- |
| Price: | Starting at $725,000 |
| Release year: | 2011 |
| Engine: | 7.0L twin-turbo V-8 |
| Top speed: | 270.49 mph – 435.31 km/h |
| 0-60 mph: | 2.7 sec |
| Power: | Up to 1,451 hp |
| Torque: | Up to 1,355 lb-ft |
Hennessey Venom 650R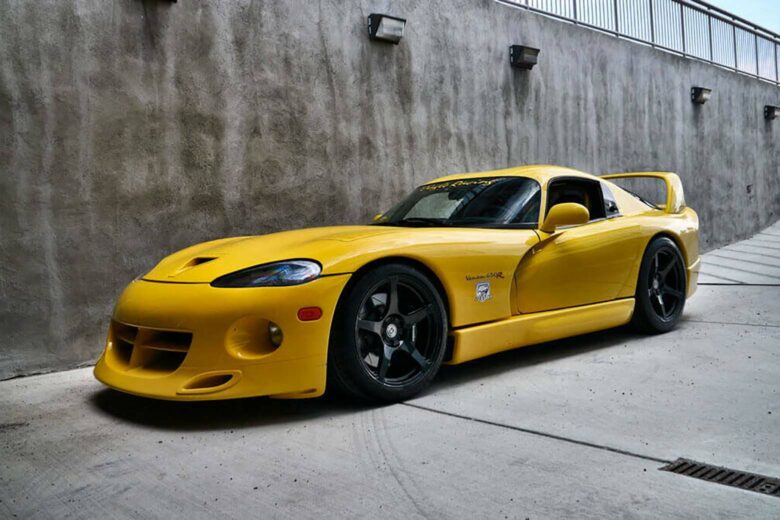 In 1993, a customer asked Hennessey to transform a Dodge Viper, kicking off a journey the world would bear witness to. In 1996, he took the second-generation Viper, bored the engine from 8.0L to 8.4L, and the Hennessey Venom 650R came to life.
It surpassed the 0 to 60 mph speed of the Ferrari F50 and Porsche 959. It also had the best available stopping distance from 70 mph.
Hennessey had proved that their modifications took the already amazing Dodge Viper and turned it into a true supercar that could surpass established names.
| | |
| --- | --- |
| Price: | Starting at $37,000 (plus donor Dodge Viper GTS) |
| Release year: | 1996 |
| Engine: | 8.4L twin-turbo V-10 |
| Top speed: | 211 mph – 340 km/h |
| 0-60 mph: | 3.3 sec |
| Power: | 650 hp |
| Torque: | 650 lb-ft |
Hennessey customer service number
To speak with a knowledgeable staff member, call the Hennessey customer service number at 1-979-885-1300. You can also send an email to info@hennesseyspecialvehicles.com or visit the Hennessey Contact Us page to inquire.
Hennessey social media profiles
Stay in the loop with the latest news and events by following the official Hennessey social media profiles:
Frequently asked questions about Hennessey
How much is a Hennessey?
If you're wondering how much is a Hennessey car, the Hennessey Venom F5 price starts at $2.1 million for the record-breaking Hennessey supercar. The track-focused Venom F5 Revolution price is $2.7 million, and the roofless Venom F5 Roadster is $3 million.
Who is the owner of Hennessey cars?
The owner of Hennessey cars is John Hennessey. He established an automotive tuning company in 1991 and has been tirelessly working on creating some of the most powerful and fastest cars ever since, culminating in the Hennessey Venom F5.
What is a Hennessey car?
A Hennessey car that is a completely in-house design is the Hennessey Venom F5 supercar with more than 1,800 horsepower and 310.7 mph (500 km/h) top speed. Other Hennessey cars are modified versions of production vehicles to increase performance.
Is a Hennessey faster than a Bugatti?
A Hennessey is faster than a Bugatti. The Bugatti Bolide is rated at 310 mph (484 km/h) and the Hennessey Venom F5 has driven 310.7 mph (500 km/h). But the Koenigsegg Jesko Absolut can go 330 mph (531 km/h) and the Devel Sixteen is rated at 347 mph (550 km/h).