Synonymous with speed and style, Lotus Cars have been devouring race tracks for over 70 years. Sitting in the driver's seat of these legendary roadsters transforms you into a speed demon, ready to unleash the fury of adrenaline-inducing weapons.
Carefully curated bodies slice through the air like a sharpened blade as the high-precision motors crank away with lightning-fast acceleration. Lotus models aren't a machine, they're a work of automotive artistry ready to conquer the impossible.
At a glance
| | |
| --- | --- |
| | |
| Name: Lotus Cars | Industry: Automotive |
| Founded: 1948 | Founder: Colin Chapman |
| Headquarters: United Kingdom | Parent organization: Zhejiang Geely Holding Group Co and Etika Automotive |
| Revenue: ~$150 million to $225 million USD (est.) | Website: lotuscars.com |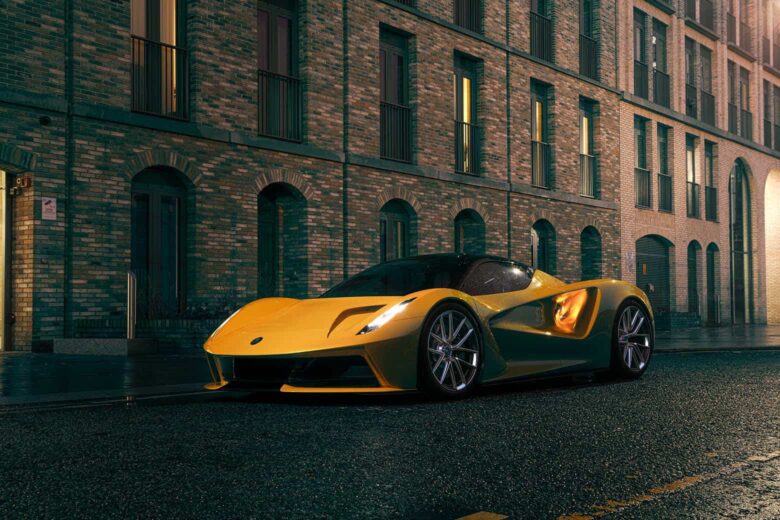 Lotus Cars price
The precision performance of Lotus Cars comes with a price tag that might be lower than you'd imagine. Out of the new Lotus for sale, the Lotus Emira is the entry-level choice with a starting price of $77,100.
Taking a broader look into Lotus car prices, including some of the models from earlier this century, you'll find the Lotus Elise for sale was originally just $53,000 for the base model.
The average price of most Lotus Cars hovers in the range of $70,000 to $100,000.
What is the most expensive Lotus car?
If you want to depart with a boatload of cash, you don't have to turn to Italian supercar brands like Ferrari. https://luxe.digital/brand/ferrari/ Lotus Cars has unveiled the Lotus Evija, a mind-blowing electric hypercar with performance only eclipsed by price, starting at an estimated $2.1 million.
The Lotus Eletre is another electric Lotus departing from convention, venturing into SUV territory for the brand's first time. The Lotus Eletre price starts at $84,500 for an all-wheel drive hyper-SUV ready to accelerate through any adventure.
Opening up to historic Lotus Cars models, the 1997 Lotus Elise GT1 is another one of the most expensive Lotus Cars. Produced to comply with homologation rules for the FIA GT Championship, there is only one in the world, valued at an estimated $1.1 million.
How much is the cheapest Lotus?
Even if you have the cash to spare, it's always nice to stretch your dollar. The cheapest Lotus Cars vehicle is still action-packed and ready for fun. The Lotus Emira price starts at $77,100.
The most affordable electric Lotus is the Eletre SUV, starting at $84,500, which is quite a deal for the over 900-horsepower drivetrain nestled within an elegant platform.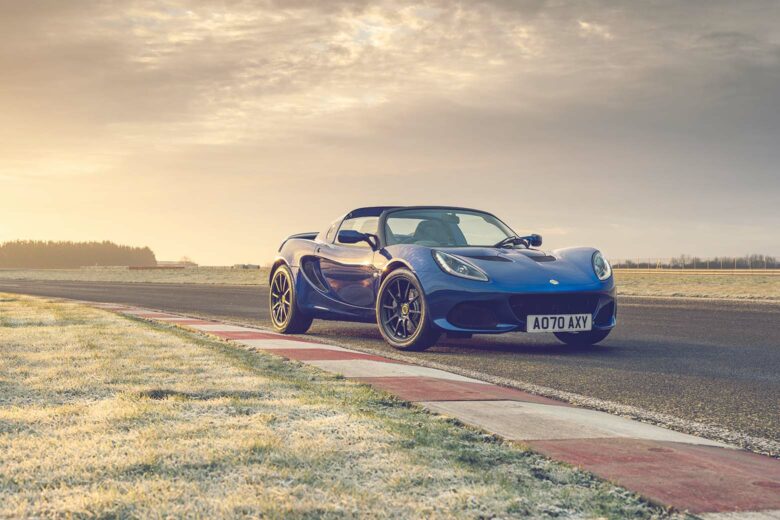 About Lotus Cars
History of Lotus Cars
Lotus Cars has been driven by an intense passion and a will to achieve greatness since day one. In 1948, race enthusiast Colin Chapman modified a 1928 Austin Seven and claimed victory during punishing trials races, planting to seed for what would later become Lotus Cars.
One year later, Chapman took his wrench to another Austin Seven, this time calling it the Lotus Mark II, the first time he used the Lotus name, and retroactively naming the 1948 vehicle the Lotus Mark I.
In 1952, Colin Chapman joined fellow English engineer Colin Dare to officially form Lotus Engineering Ltd. The Lotus Mark model names continued to build, with the 1953 Lotus Mark VI being the first production racer from Lotus Cars with approximately 100 units constructed.
The Lotus Elite, also known as the Lotus 14, was unveiled in 1957, taking the brand to the city streets for the first time and straight into the history books. This innovative model was one of the first to use a fiberglass monocoque chassis, providing a superior weight-to-power ratio and incredible agility and acceleration.
Through the 1950s and 1960s, Lotus gained notoriety for motorsports success, becoming one of the winningest teams in history. The luxury car brand also continued to churn out legendary Lotus sports cars, including the Lotus Elan, Lotus Europa, and Lotus Esprit.
Things took a challenging and sad turn during the 1980s when Colin Chapman passed away, and the race-focused brand encountered financial difficulties. Lotus Cars persevered through various ownership changes and entered into consultancy services, while also producing more iconic high-performance sports cars like the Lotus Excel and Lotus Elan M100.
After a brief stint with Toyota and General Motors, Lotus Cars eventually landed with Malaysian-based Proton before selling a majority stake to China-based Geely Holding Group in 2017. Today, Lotus Cars is owned by Geely Holding and Etika Automotive.
Most Lotus Cars continue to be produced in England, but the new electric SUV Lotus Eletre will be the first Lotus built in China.
Understanding Lotus Cars range
Lotus Cars' naming convention follows deeply-rooted trends. The earliest models were all named Lotus Mark with a roman numeral following to signify its place in the succession.
But at the eleventh iteration, Chapman decided to drop the roman numeral and call the vehicle the Lotus Eleven. Almost every model continues to use a word that starts with an E, following this Lotus Cars tradition.
Each model also continues with a simple numeric designation, typically used as the internal codename and pre-production moniker. For example, the 2023 Lotus Eletre is also known as the Lotus 132, representing the 132nd model from Lotus Cars.
Surprising facts about Lotus Cars
If you know expensive Lotus Cars, the 1997 Lotus Elise GT1 and its 542-horsepower twin-turbo V-8 probably rings a bell. But good luck seeing this in person.
Most reports say it hasn't been seen in public for over a decade, and its whereabouts are greatly uncertain. Rumors are it's sitting in a Lotus-owned facility or with a private collector in the Netherlands.
Another interesting fact about Lotus Cars is the meaning behind the logo. Some reports say that Chapman's original partners, Michael and Nigel Allen, are part of the logo, with ABCC representing Allen Brothers and Colin Chapman.
But most people understand the Lotus Cars logo uses Chapman's intitials, Anthony Colin Bruce Chapman or ACBC. One thing is certain, the Lotus Cars name is more closely intertwined with Colin Chapman's legacy than anything else.
Where are Lotus Cars made?
Most Lotus Cars continue to be produced in the brand's home country of England, headquartered in Norfolk. However, as the electric Lotus Cars models begin to hit production, the Lotus Eletre SUV will be the first model produced in China.
Lotus electric cars
Lotus Cars has eagerly embraced the electrification of its fleet. In fact, the Lotus Emira sports car is reported to be the last internal combustion engine vehicle that will come out of a Lotus factory, marking the end of an era more than 70 years in the making.
The electric Lotus Evija is a jaw-dropping, gut-wrenching, and tire-burning hypercar that produces nearly 2,000 horsepower from its four electric motors. Another new Lotus Cars electric model is the Lotus Eletre, the first Lotus SUV, packing a whopping 905 horsepower and a time to 62 mph (100 km/h) of 2.95 seconds.
Soon enough, we should all expect a more traditional Lotus sports car to come out on an electrified platform. And you should be ready to hold on tight. It's certain to be a high-performance roadster that will melt your mind and the rubber on the road.
Lotus Cars
Let's look at the current Lotus Cars lineup and some of the icons from the past.
Lotus Eletre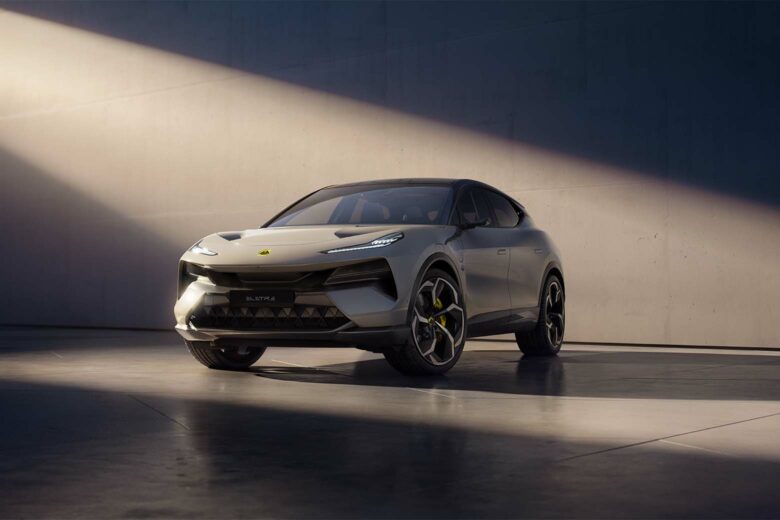 Bucking its usual sports car focus, Lotus Cars is joining the battle of fully electric SUVs with an exotic design paired with a powerful, all-wheel drive platform.
The Lotus Eletre is the luxury automaker's first SUV and a strong addition to the growing Lotus electric car lineup. A 112 kWh battery pack delivers an impressive 373 miles of range, while up to 905 horsepower throws you back into the seat, reaching 62 mph in under 3 seconds.
A dimming panoramic sunroof fills the cabin with an airy feeling, while a 23-speaker KEY sound system hits all the right notes. This Lotus SUV is a strong contender, matching the gorgeous looks of the Lamborghini Urus along with the luxuriousness of the Audi Q8 e-tron. Someday soon, this will probably hit our list of the best luxury SUVs.
| | |
| --- | --- |
| Price: | Starting at $84,500 |
| Release year: | 2024 |
| Engine: | Twin electric motors |
| Top speed: | 165 mph – 265 km/h |
| 0-62 mph (0-100 km/h): | 2.95 sec |
| Power: | 905 hp (675 kW) |
| Torque: | Not yet available |
| Range | 373 miles – 600 km |
Lotus Emira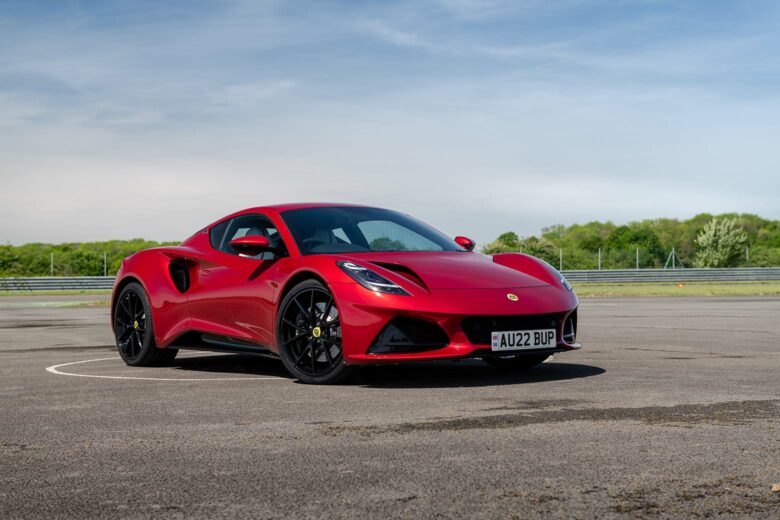 Internal combustion engine enthusiasts should prepare to shed some tears. The Lotus Emira is the last to use ICE propulsion from the legendary carmaker that's been churning them out for over 70 years.
The interior is also noticeably unique, offering daily-driver touches like cupholders, charging stations, and useful storage options that most other Lotus sports cars go without. The 3.5L V-6 is impressive, but even the base model's Mercedes-Benz sourced inline-4 screams around corners.
As Lotus sends out the combustion engine, it's done so with an elegant example that perfectly showcases the spirited sports car DNA, putting up a solid fight against the Porsche Cayman and BMW Z4.
| | |
| --- | --- |
| Price: | Starting at $77,100 |
| Release year: | 2022 |
| Engine: | 3.5L supercharged V-6, 2.0L turbocharged inline-4 |
| Top speed: | 180 mph – 290 km/h |
| 0-60 mph: | 4.2 sec |
| Power: | 400 to 359 hp |
| Torque: | 317 to 310 lb-ft |
Lotus Evija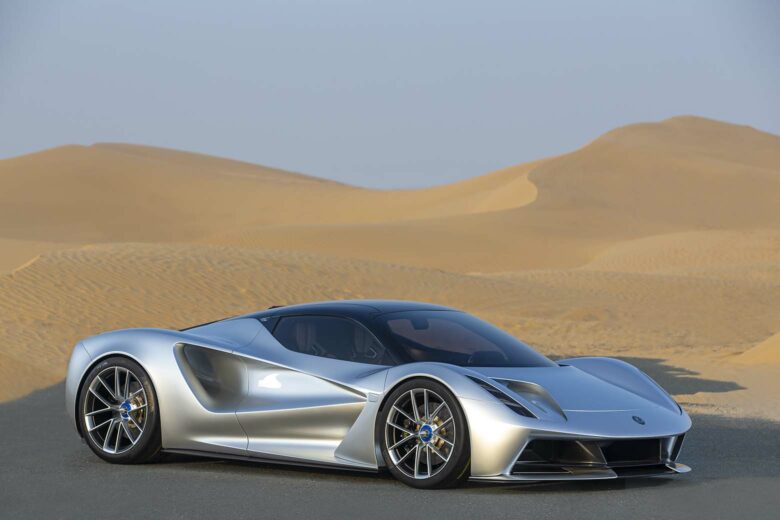 Settling down into this minimalistic F-1-inspired cockpit means business. The Lotus Evija is a hypercar in every sense of the word, and anyone who presses down on the accelerator better be prepared for the nearly 2,000 horsepower that follows.
Limited to just 130 units, the first electric Lotus uses four motors hidden underneath an artfully-sculpted exterior. Air not only rushes past this insanely-powerful vehicle, but the Carved By Air philosophy means it also flows through it.
Rivaling some Bugattis, this Lotus car pricing made it on our list of the world's most expensive cars. It's also one of the best electric cars ever produced.
| | |
| --- | --- |
| Price: | Starting at $2.1 million (est.) |
| Release year: | 2023 |
| Engine: | Four electric motors |
| Top speed: | >200 mph – 322 km/h |
| 0-62 mph (0-100 km/h): | <3 sec |
| Power: | 1,973 hp (1,500 kW) |
| Torque: | 1,257 lb-ft |
| Range: | 215 miles – 346 km |
Lotus Elise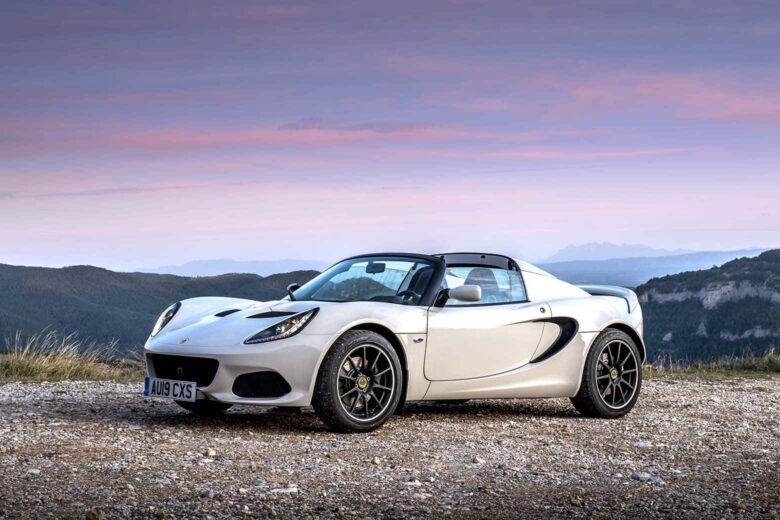 Cat-like reflexes, lightning-fast acceleration, and black-hole-level G-forces made the Lotus Elise one of the best driver's cars ever produced. The sparky 1.8L engine punches far outside its class, especially on some of the supercharged variants like the Elise Cup 260.
Even though you won't find Rolls-Royce comfort, Aston Martin style, or record-breaking top speeds, the Lotus Elise might someday make our list of the best classic cars. It is the quintessential choice for driver-focused fun.
Lotus has now ceased production of the Elise. It once served as the underpinnings for the Tesla Roadster, https://luxe.digital/brand/tesla/ but now the world will see in-house Lotus electric cars take to the streets. Polestar and Lexus EVs will need to watch their back.
| | |
| --- | --- |
| Price: | Starting at $53,000 (original MSRP) |
| Release year: | 1996 |
| Engine: | 1.8L inline-4 with available supercharger |
| Top speed: | 154 mph – 248 km/h |
| 0-60 mph: | 3.9 sec |
| Power: | Up to 250 hp |
| Torque: | Up to 195 lb-ft |
Lotus Evora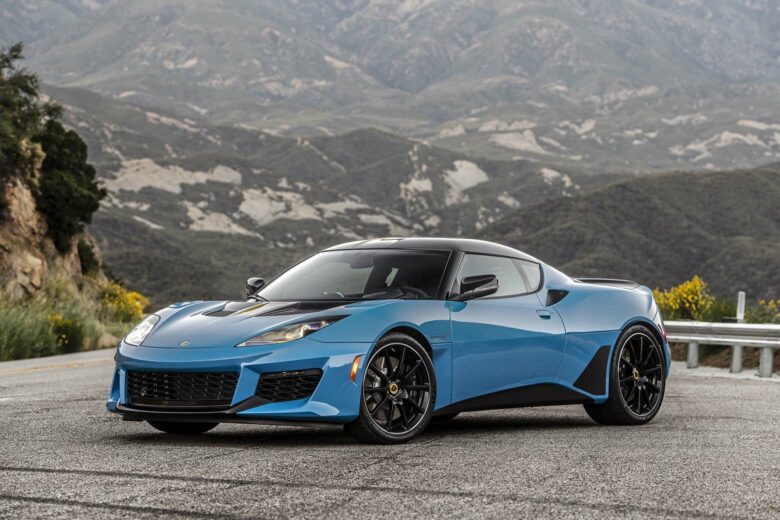 When the Evora was first unveiled, Lotus marketed it as a more practical car, with a full 2+2 seating arrangement that can fit a driver 6'5" (195.6 cm) tall. Yet underneath this more robust platform, it's still a sports car Lotus is known for producing, and no Volvo safety lovers or Land Rover off-roaders will fall for it.
The Lotus Evora GT was specifically made for the North American market, cranking up the power in one of the last variants to hit the streets. It produces a whopping 141 pounds of downforce at speeds, making it so you can cut through hairpin turns with surgical precision.
It's no electric car for kids, but it will add some child-like joy to your life.
| | |
| --- | --- |
| Price: | Starting at $99,200 (original MSRP) |
| Release year: | 2009 |
| Engine: | 3.5L V-6 with available supercharger |
| Top speed: | 196 mph – 315 km/h |
| 0-60 mph: | 3.6 sec |
| Power: | Up to 430 hp |
| Torque: | Up to 332 lb-ft |
Lotus Exige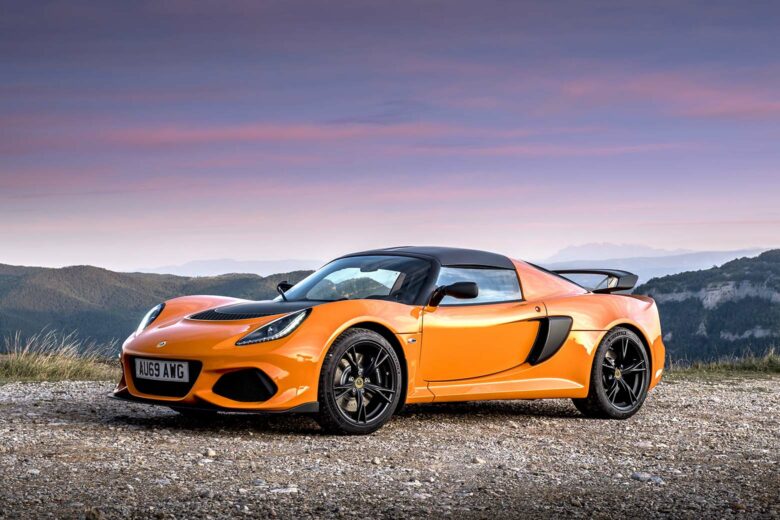 Most high-performance automakers have a never-ending itch for more. And the Lotus Exige might be this luxury brand's ideal iteration of scratching it.
Based heavily on the popular Lotus Elise, the Exige was originally a hardcore version of the roadster. In later years, it ended up taking this idea to the extremes, squishing in a relatively-monstrous 3.5L supercharged V-6 onto the mid-engine platform.
For those who want skin-stretching power and white-knuckle thrills, the Exige is the car of choice. But if you want an easy Cadillac cruiser or a relaxed Jaguar ride, don't even look at this spirited Lotus sports car.
| | |
| --- | --- |
| Price: | Starting at $66,800 (original MSRP) |
| Release year: | 2000 |
| Engine: | 1.8L inline-4 with available supercharger, 3.5L V-6 with available supercharger |
| Top speed: | 180 mph – 290 km/h |
| 0-60 mph: | 3.2 sec |
| Power: | Up to 430 hp |
| Torque: | Up to 325 lb-ft |
Lotus Cars customer service number
To get in touch with a knowledgeable representative, call Lotus Cars customer service number at 1-800-24 LOTUS (1-800-245-6887).
Lotus Cars social media profiles
Stay in the loop about the latest and greatest by following the official Lotus Cars social media profiles:
Frequently asked questions about Lotus Cars
Is Lotus made by Toyota?
No, Lotus cars are not made by Toyota. The brands were briefly intertwined during the 1980s, but Toyota quickly left its ownership stake to General Motors. Today, Lotus Cars is owned by Geely Holdings and Etika Automotive.
Can you buy Lotus Cars in the US?
Yes, you can buy Lotus Cars in the US. There are official dealerships in California, Texas, Florida, and many other states. The Lotus 340R was one Lotus car banned in the US because it had no doors, but most other models are available in the United States.
How much is the cheapest Lotus car?
The cheapest Lotus car currently available is the Lotus Emira, starting at $77,100. It is the legendary sports car maker's last internal combustion engine vehicle, using either a 3.5L V-6 or a 2.0L inline-4, with thrilling handling and acceleration.
Is Lotus a luxury car brand?
Most consider Lotus to be a luxury car brand. Lotus Cars are undeniably expensive, high-quality, and high-performance. Some fail to have overly luxurious interiors, but that matches other performance automakers like Lamborghini and various Porsches.