Girard-Perregaux does everything itself. It's one of the oldest Swiss watchmakers to lay claim to the status of manufacture, having mastered all the watchmaking crafts and united them under one roof. But it doesn't shout about its achievement and accolades.
Instead, it plays it cool about its total command of the craft while continuing to create some of the most ground-breaking and intricate timepieces on the market—not least the Tourbillon With Three Gold Bridges, whose stroke of brilliance is to take bridges from behind the scenes to center stage, showing that a watch's functional elements can also be dazzling aesthetic showrunners.
At a glance
| | |
| --- | --- |
| | |
| Industry: Watches | Founded: 1791 |
| Headquarters: Switzerland | Founder: Jean-François Bautte |
| Watch Collections: sports watches, dress watches, and women's watches | Parent organization: The Sowind Group |
| Annual Revenue: $181 million USD | Website: girard-perregaux.com  |
Girard-Perregaux watch price
How much does a Girard-Perregaux watch cost?
An entry-level Girard-Perregaux watch costs around $9,100 for a Girard-Perregaux 1966 40 mm. Girard-Perregaux watch prices for a GP Laureato begin at $11,000. Prices for a Girard-Perregaux Free Bridge start at $21,600. At the other end of the spectrum, some Girard-Perregaux watches cost nearly $1 million.
What is the most expensive GP watch?
The most expensive Girard-Perregaux watch is the Girard-Perregaux Planetarium Tri-Axial at $945,000. This timepiece features a terrestrial globe that rotates every 24 hours, offering a view of the time around the world.
See how this compares to the world's most expensive timepieces.
What is the cheapest Girard-Perregaux watch?
The cheapest Girard-Perregaux watch is a Girard-Perregaux 1966, which currently retails for around $9,100. Girard-Perregaux watch prices for a GP Laureato start at around $11,000. GP watch prices for the Bridges collection start at $21,600.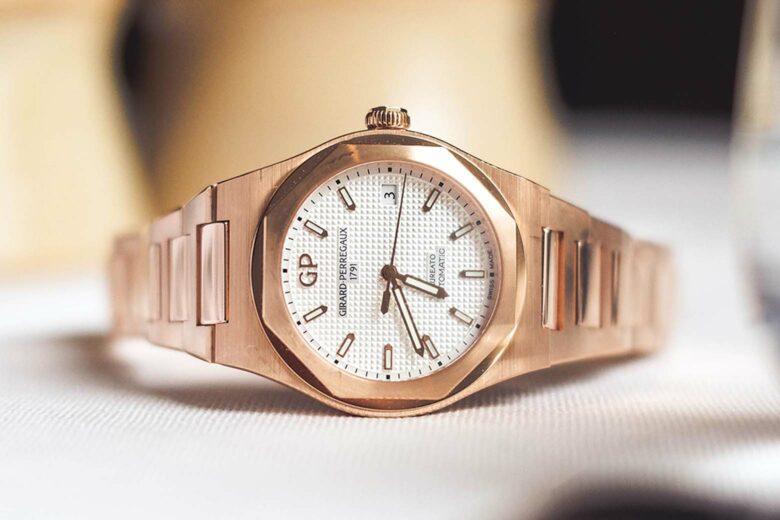 About Girard-Perregaux
History of Girard-Perregaux
The story of Girard-Perregaux starts in 1791 when watchmaker and goldsmith Jean-François Bautte began making high-end and ultra-thin jeweled watches in La Chaux-de-Fonds, Switzerland. The original name of this company is not known.
Sixty years later, in 1852, watchmaker Constant Girard founded the Girard & Cie Firm in the same city. After his marriage to Marie Perregaux, who also came from a family of watchmakers, the Girard-Perregaux Manufacture was created.
In 1906, Constant Girard's son, Constant Girard-Gallet, merged the company with the Bautte manufacture. So arguably this was the true founding year of the Girard-Perregaux company—but it's open to debate.
In 1867, Girard received the first-class award from the Observatory of the Canton of Neuchâtel for its Tourbillon with Three Bridges.
In 1889, Girard housed the same design inside an engraved pink gold case with three gold bridges. La Esmeralda Tourbillon, as it was known, won the gold medal at the Universal Exposition in Paris. The design has become a Girard-Perregaux trademark.
In the 1970s, the brand released one of the first Swiss quartz watches. Its movement frequency of 32,768 Hz is considered the industry standard today. Also around this time, Girard-Perregaux launched a watch with an octagonal bezel and integrated steel bracelet, known as the Laureato, one of the first sports watches to blur the boundary between casual wear and formal wear.
In 2013, Girard-Perregaux's game-changing Constant Escapement L.M. watch won the Grand Prix D'Horlogerie de Geneva 'Aiguille d'Or'.
Interesting facts about Girard-Perregaux
Girard-Perregaux is one of the few Swiss watch manufacturers to design and make its own movements, allowing it to consistently meet the highest levels of quality and reliability.
Famous owners of Girard-Perregaux watches include Queen Victoria, French writer Alexandre Dumas, and, more recently, director Quentin Tarantino and actor Pierce Brosnan.
The Girard-Perregaux Quasar Light Tourbillon features a case made entirely of transparent sapphire crystal.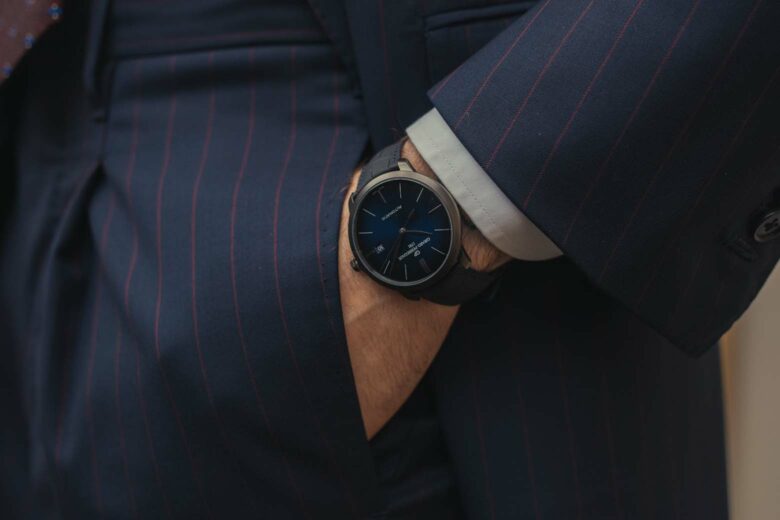 Girard-Perregaux product range
The Girard-Perregaux product range consists of five watch collections, each of which has a distinct style and focus.
First, you have the Girard-Perregaux Laureato watch family, a sporty yet elegant watch with a retro vibe.
Then there's the iconic Bridges collection, a tribute to the brand's most legendary creation, the Tourbillon With Three Gold Bridges, each featuring the same signature exposed bridges and demonstrating the company's superlative technical skill.
The Girard-Perregaux 1966 collection is streamlined and simple, offering effortless elegance for everyday as well as formal wear. Meanwhile, the Vintage 1945 collection is a series of Art Deco-inspired timepieces for vintage watch lovers.
Finally, there's the Girard-Perregaux women's watches collection, Cat's Eye, with its distinct elliptical dial and assortment of beautiful materials.
Signature materials and craftsmanship
Today Girard-Perregaux combines the most intricate decorative techniques with cutting-edge technical finesse. A single Girard-Perregaux movement, for example, can involve 400 different components, from the brand's iconic bridges to miniature gear wheels. Each component may have up to five different finishes.
Meanwhile, dials may feature any number of decorative processes such as guilloché, sandblasting, and polishing. The company champions ancient decorative techniques, with craftsmen trained in a variety of métiers d'arts including engraving, which is done entirely by hand using a tool called burin or chisel, as well as micro-painting, which involves ultra-thin paint brushes, some composed of a single hair.
When it comes to the brand's Haute Horlogerie timepieces, one watchmaker is tasked with the production of every element from start to finish. Decoration, assembly, and adjustment are all done by hand.
Girard-Perregaux prides itself on its innovative research and development. In 2013, the company pioneered a cutting-edge silicon blade for its award-winning and ultra-precise Constant Escapement L.M.
And, in 2019, the company launched Carbon Glass, the world's first mixture of carbon fiber and fiberglass, compressed at high temperatures to create a material that is exceptionally lightweight and 100% water-resistant.
As a member of the Responsible Jewellery Council, Girard-Perregaux can be certain that all its materials are responsibly and ethically sourced, from mine to point of sale.
Where is Girard-Perregaux made?
The Girard-Perregaux Manufacture is located in La Chaux-de-Fonds in the Jura mountains in Switzerland. Since 2003, this Art Deco manufacture has been the center for all the company's production activities, from design to assembly, and includes a brand museum.
Brand values
| | |
| --- | --- |
| Vegan options: | No |
| Carbon-neutral: | No |
| Gives back: | Yes |
Girard-Perregaux watches
Girard-Perregaux Laureato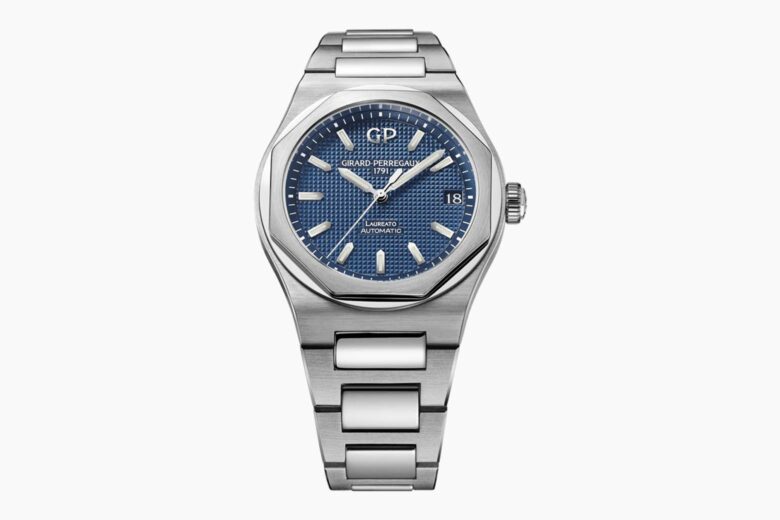 The epitome of sporty sophistication, the Girard-Perregaux Laureato is one of the most wearable luxury watches we've come across. Superbly aesthetically appealing with its raised octagonal bezel, Clous de Paris dial, and retro vibe, it represents Girard-Perregaux at its effortless best. Variations of the classic Laureato include models in pink gold, carbon, or featuring brilliant-cut diamonds. You'll also find the Laureato Equation Soleil which has a display for the twelve zodiac signs.
| | |
| --- | --- |
| Price: | $11,000 – $94,400 |
| First release year: | 1975 |
| Current case size: | 34 mm – 45 mm |
| Movement: | Automatic and quartz |
| Water resistance: | 30 m – 300 m |
| Crystal: | Sapphire |
Girard-Perregaux Bridges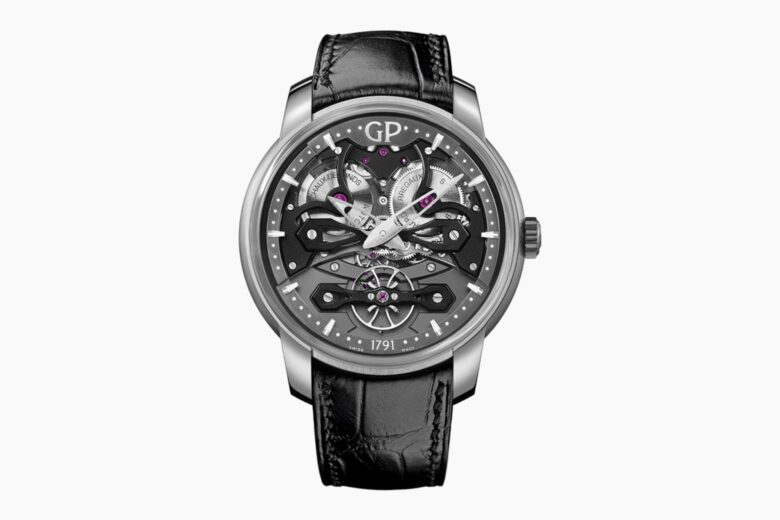 The Girard-Perregaux Bridges collection represents a reinvention of the brand's most iconic invention, La Esmeralda. In this pocket watch, the three gold bridges, usually concealed, instead took center stage. From the Neo Bridges with its open-worked black bridges to the Quasar Light, available in a colorless sapphire crystal case, this collection showcases Girard-Perregaux's impeccable technical ingenuity and endless capacity for creativity.
| | |
| --- | --- |
| Price: | $21,600 – $945,000 |
| First release year: | 1889 |
| Current case size: | 38 mm – 49 mm |
| Movement: | Automatic and manual |
| Water resistance: | 30 m |
| Crystal: | Sapphire |
Girard-Perregaux 1966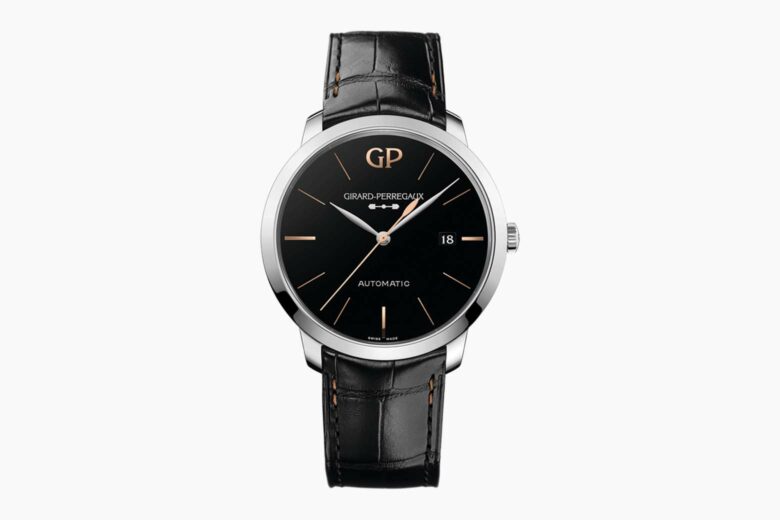 Girard-Perregaux has been proving its watchmaking credentials for over 200 years. It doesn't need to boast. Hence the Girard-Perregaux 1966 collection of men's watches: pure, simple, and classic. There are no fussy dials, overwhelming skeletonized movements, or excessive bling. Just brilliant engineering and timeless style. Round, ultra-thin, with leaf-type hands and tapered hour markers, these are timepieces that will never go out of fashion.
| | |
| --- | --- |
| Price: | $9,100 – $31,000 |
| First release year: | 2000 |
| Current case size: | 30 mm – 41 mm |
| Movement: | Automatic |
| Water resistance: | 30 m |
| Crystal: | Sapphire |
Girard-Perregaux Vintage 1945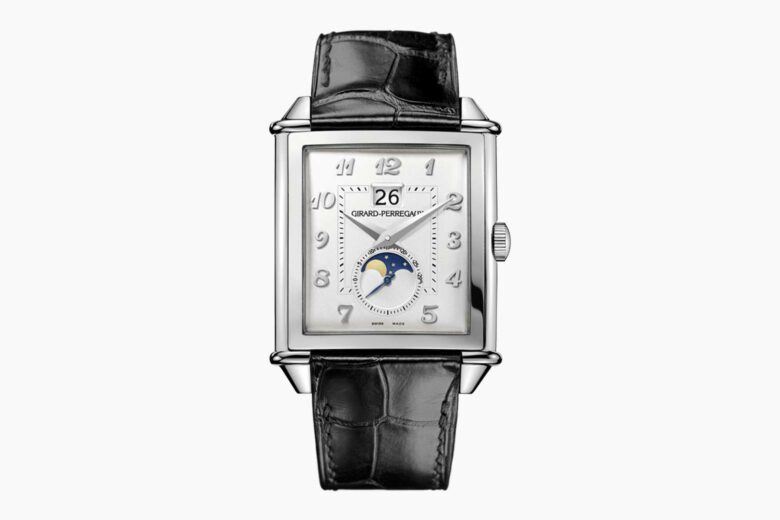 This Art Deco-inspired collection is a celebration of Girard-Perregaux's love for the period's legendary aesthetics. Straight lines and geometric shapes, along with gadroons and polished old-school numerals, evoke the iconic fashions of the era. Dials are available in a range of striking materials including onyx and silver opaline. The GP Vintage 1945 collection for both men and women is ideal for watch enthusiasts who appreciate retro styling.
| | |
| --- | --- |
| Price: | $14,500 – $21,500 |
| First release year: | 1995 |
| Current case size: | 25 mm |
| Movement: | Automatic |
| Water resistance: | 30 m |
| Crystal: | Sapphire |
Girard-Perregaux Cat's Eye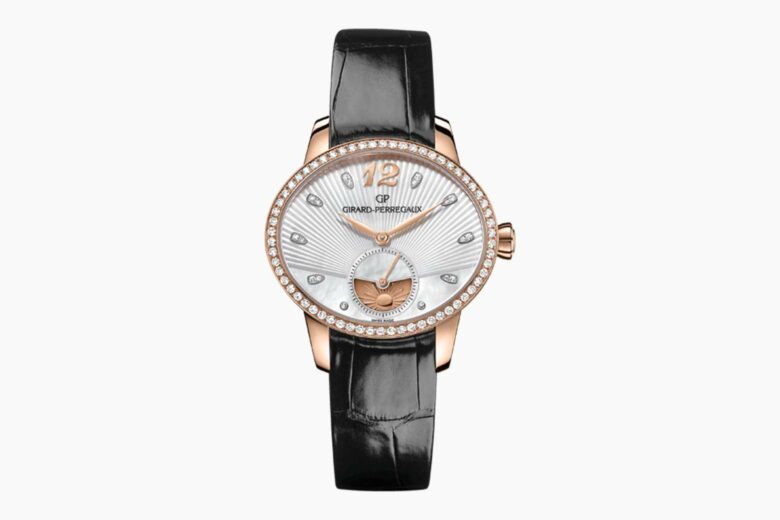 The Girard-Perregaux collection of Cat's Eye women's watches is defined by unique oval-shaped cases and a seductive array of natural materials including diamonds, gold, mother-of-pearl, and glittering aventurine. The watch won the Ladies prize at the Grand Prix d'Horlogerie de Genève (GPHG). It's not hard to see why.
| | |
| --- | --- |
| Price: | $16,100 – $465,000 |
| First release year: | 2004 |
| Current case size: | 35 mm – 39 mm |
| Movement: | Automatic |
| Water resistance: | 30 m |
| Crystal: | Sapphire |
Where to buy Girard-Perregaux watches
You can buy Girard-Perregaux watches online if your chosen model is available on the company's eCommerce site. Or you can buy GP watches in-store from one of the brand's authorized retailers, listed here. The company offers an extended warranty program which means you'll have access to expert care for 5 years after purchase.
You can also buy a GP watch from a trusted online retailer like Mr Porter where the authenticity of your timepiece can be guaranteed.
For more about buying a luxury watch, see our watch guide.
Girard-Perregaux shipping
If you buy your Girard-Perregaux watch from Mr Porter, the company offers shipping to many countries, as well as an express delivery service. It also rates its delivery service according to carbon emissions and sustainability.
Girard-Perregaux return policy
You can return your Girard-Perregaux watch to the retailer you bought it from as long as it's in the original condition, including with tags and boxes. Mr Porter allows returns within 28 days, subject to quality control.
Girard-Perregaux customer service number
To speak to a Girard-Perregaux customer service representative, contact your nearest retailer, listed here. Or send them a message via the company's online contact form.
Girard-Perregaux social media profiles
Frequently asked questions about Girard-Perregaux
Is Girard-Perregaux a luxury brand?
Girard-Perregaux is a luxury Swiss watch brand. While not one of the Big Three Swiss watchmakers (Audemars Piguet, Patek Philippe, and Vacheron Constantin), Girard-Perregaux is a respected watchmaker creating high-end timepieces.
Is Girard-Perregaux better than Rolex?
Girard-Perregaux is not better than Rolex. Rolex is definitely a more popular watch brand. However, Girard-Perregaux is celebrated for its exceptional technical know-how and eye for aesthetics. For more about the watch brand, see our Girard-Perregaux guide.
What is Girard-Perregaux known for?
Girard-Perregaux is known for its intricate watches and original use of materials. In particular, it's known for its Tourbillon With Three Gold Bridges, or La Esmeralda, a timepiece that broke with watchmaking norms with its exposed bridges.
Is Girard-Perregaux still in business?
Girard-Perregaux is still in business creating luxury Swiss timepieces known for their complications and exquisite aesthetics. For more about Girard-Perregaux, including prices, products, and history, see our Girard-Perregaux guide.