Are you planning on sprawling out seaside with the sun kissing your skin and turquoise waters teasing your toes? If so, then you'll need the perfect beach towel to lay back on and catch some rays. From light easy packing to plush and oversized, the best beach towels have got you covered.
When the beach is calling…you must go! Take along your twin-bed-sized beach towel or lightweight linen wrap and sea la vie. Finish off your summertime look with your swimsuit, sandals, and sun hat to match the beach towel for your next wanderlust adventure. You'll be spending your days at leisure with your perfectly matched beach towel in tow. Life's a beach, enjoy the waves!
The 15 best beach towels for lazy days at the seaside
Brooklinen: Best overall beach towel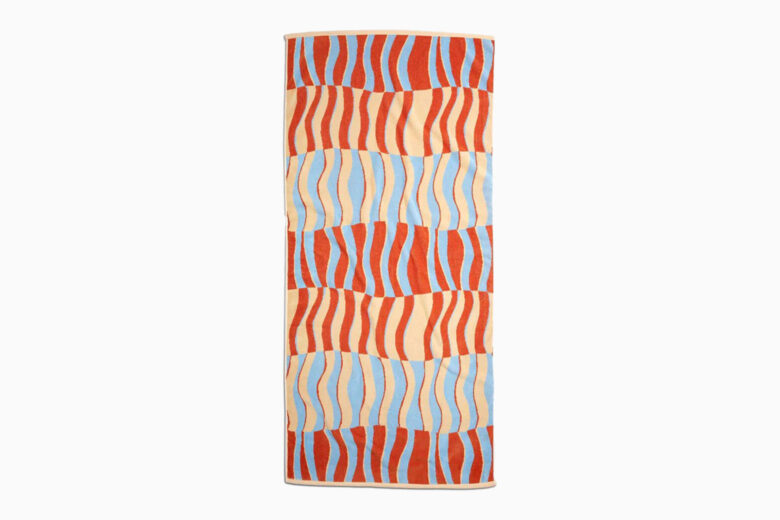 Most famous for its hotel-like bed sheets to cozy bathrobes, Brooklinen also knows how to make waves with its beach towels, transporting us all to a world of sun-dipped relaxation. Oozing 70s appeal, you're good to go from Sunrise to Sunset in pure comfort. So what's left to do but grab your best OTT pair of sunglasses and carry the retro look all the way through.
Best for: Making waves on the sand.
Towel Size: 34" x 70"
Material: Cotton
Colors: Sunrise, Sunset, Wave Runner, Cabana
Loro Piana: Best luxury beach towel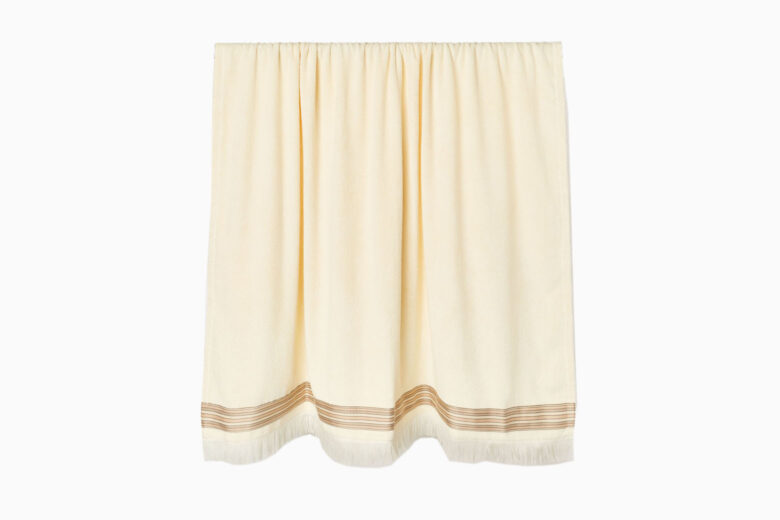 If you ever got to the beach and unwrapped your towel only to find it falling short then you've definitely got your dimensions off. The perfect luxurious towel not only feels great but covers great as well. Lie back on this sumptuous yet simplistically elegant beach towel. The minimalistic design of the Loro Piana beach towel will serve as your best companion for sunbathing in front of crystal waters. It's also the ultimate poolside towel to finish off your resort look.
Best for: Extra wrap-around luxuriousness.
Towel Size: 55" x 74"
Material: Cotton-terry
Colors: Sand, coral, blue
Chakir Turkish Linen: Best value beach towel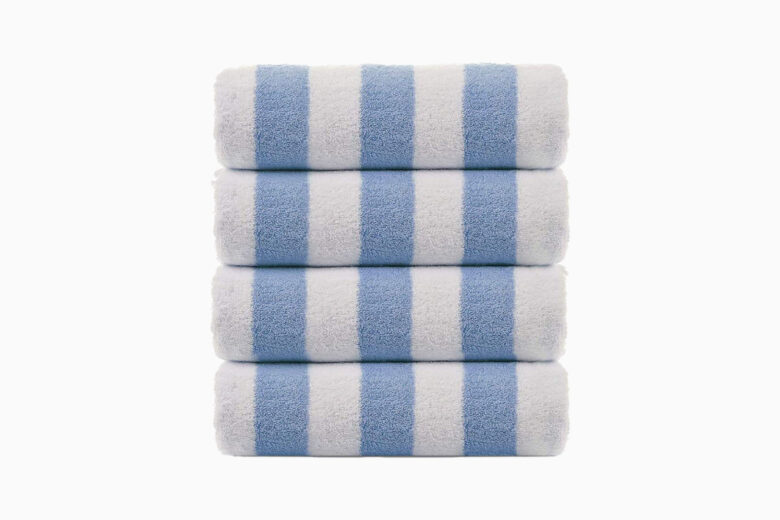 Seas the day with these cabana-style beach towels that offer extreme absorbency and warmth. You won't go wrong with these towels by Chakir Turkish Linen especially when you need a few. Keep the kiddies wrapped in soft cuddliness after their marathon swim sessions. Kids are undoubtedly going to put your beach towels through the paces, these towels are going to handle sandy feet and wet heads with ease. This is sure to become your go-to towel for waterside comfort.
Best for: Making a splash with friends and family.
Towel Size: 30" x 60"
Material: Turkish cotton
Colors: Light blue, yellow, gray
Parachute: Best oversized beach towel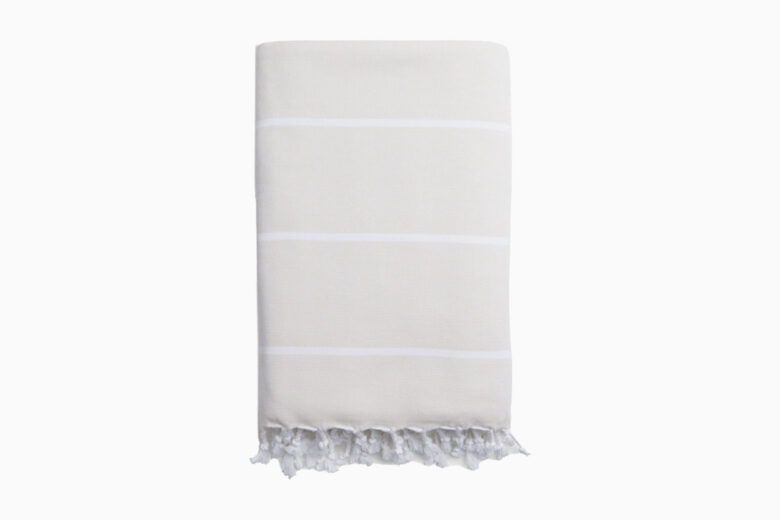 Is it a beach blanket? Or maybe a Turkish towel? It's both—and that's why we love this oversized beach towel from Parachute. They're ideal for lounging around while taking in some much-needed vitamin sea. The minimalistic design of these oversized towels ensures that it pairs well with any of your summer accessories from sun hats to your statement one-piece swimsuit. Setup the most charming picnic with the Parachute towel as your base and make the best of your lazy days spent at leisure.
Best for: A minimalist look that says take me to the sea.
Towel Size: 57" x 70"
Material: Turkish cotton
Colors: Bone, amber
Serena & Lily: Best Turkish cotton beach towel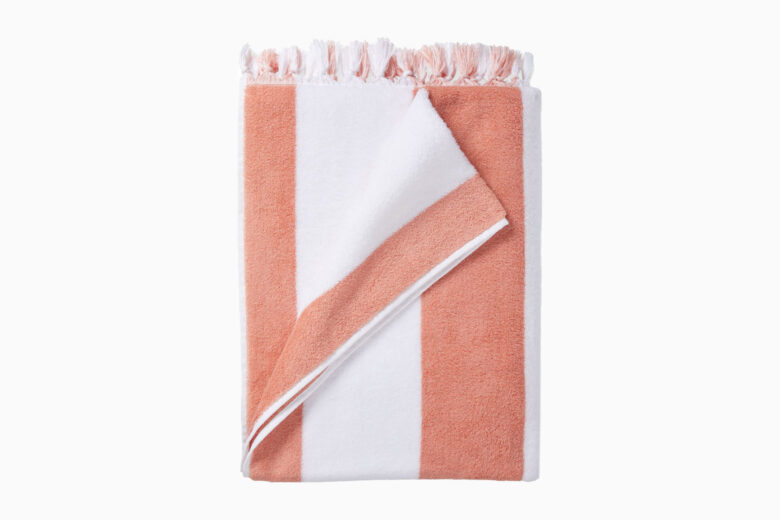 The Mallorca beach towel will have us reminiscing over Europe's evergreen holiday island. Sun, sea, sangría, and Serena & Lily. The bold stripes give these beach towels the classic day at the beach feel. Serena & Lily makes our list of the top homeware brands for good reason. Their vibrant designs are wanderlust-inducing. All you need to do now is grab your best swimsuit and slide on your favorite espadrilles and you're ready to seas the day.
Best for: Nautical vibes with a chic edge.
Towel Size: 40" x 70"
Material: Turkish Aegean cotton
Colors: Coastal blue, seashell, botanical
Luca Faloni: Best quick-drying beach towel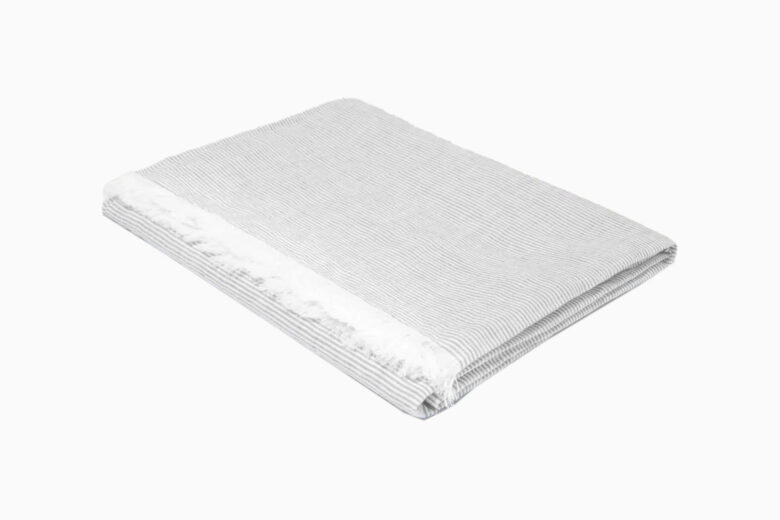 Linen makes for the best lightweight summer towel that's fast-drying and easy to pack. The classic look and feel of Luca Faloni's linen towel make it double up as the perfect makeshift wrap if you need a quick cover-up. Who doesn't need a few extra pockets here and there to protect your belongings from the sand? So bring along your cellphone and water bottle and slide them into the convenient side pocket so you're selfie ready when the moment calls.
Best for: Traveling light while living la dolce vita.
Towel Size: 70" x 50"
Material: Linen
Colors: Light grey, blue, flamingo
Sferra: Best striped beach towel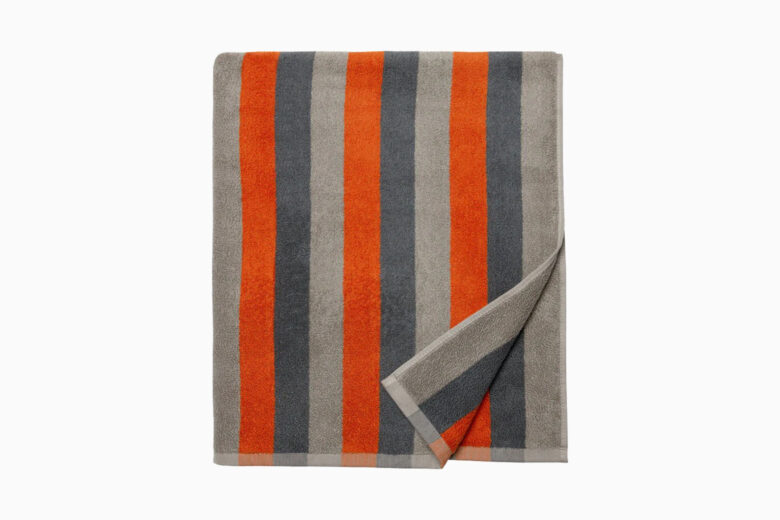 Create your own beach town memories with these gorgeous Mondello striped towels named after the beautiful Italian beach town. If Italy is out of reach, pack your own Italian-inspired picnic with your colorful beach towel in tow and you're ready to 'sea' la vie. Think antipasto, vino, and gelato on the menu and an all-white dress code right down to your fab white sneakers to downplay the vibrancy of the towels.
Best for: Beachy dreams of the Italian coastline.
Towel Size: 40" x 70"
Material: Cotton
Colors: Clementine, Magenta, Mediterranean
Frette: Best terrycloth beach towel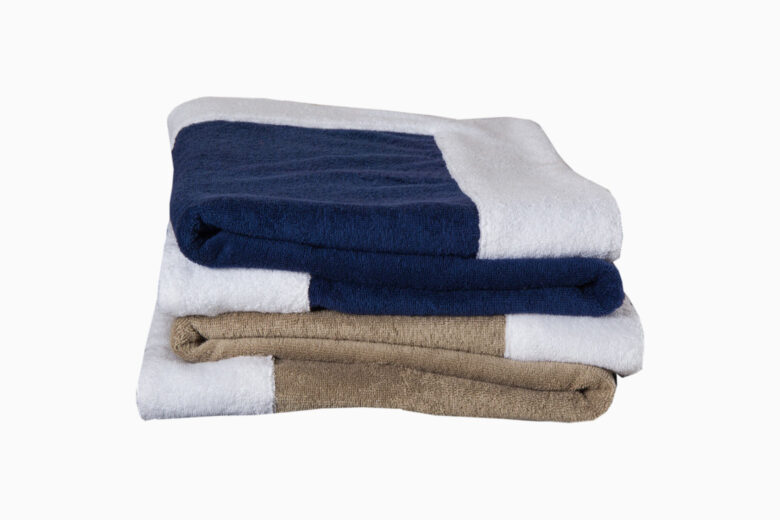 Terrycloth offers great absorbency while still keeping the softness. Just like the quintessential Mediterranean beach holiday destination, this Mediterranean beach towel by Frette is the place to spend your dreamy summer. Lifes a beach, why not make it your very own, with a soft beach towel that makes a splash whether lounging at the poolside, or the seaside.
Best for: Standout stylishness.
Towel Size: 39" x 71"
Material: Terrycloth
Colors: Slate gray, blue navy, saffron
Snowe: Best plush beach towel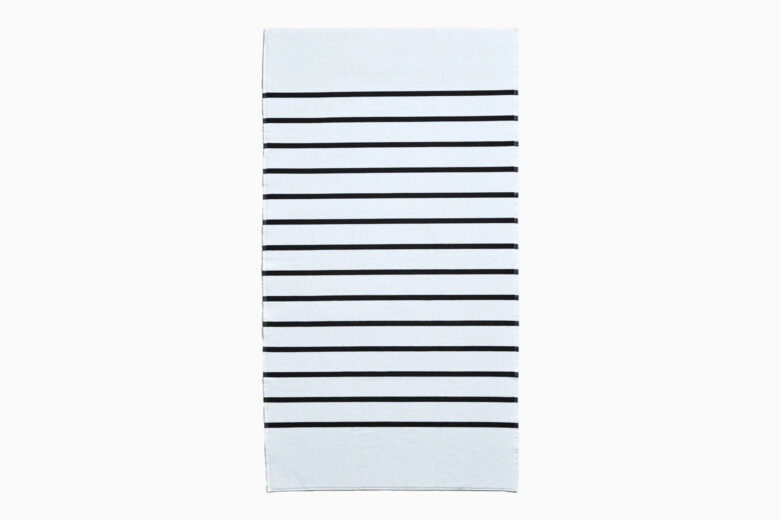 The beach towel equivalent to your twin bed luxury mattress, the plush beach towel will have you catching the rays in style and comfort. You might just catch up on some much-needed shut-eye while watching the boats sail by. Don't forget the sunscreen and classic baseball cap so you don't need to fret about burning while earning some well-deserved sun time. Snowe has delivered on our homeware needs time after time, so it's no surprise that the brand's beach range is equally impressive.
Best for: Lazy beach days.
Towel Size: 40" x 70" (wider than a twin bed!)
Material: Cotton
Colors: Blue, gray, black
Anine Bing: Best designer beach towel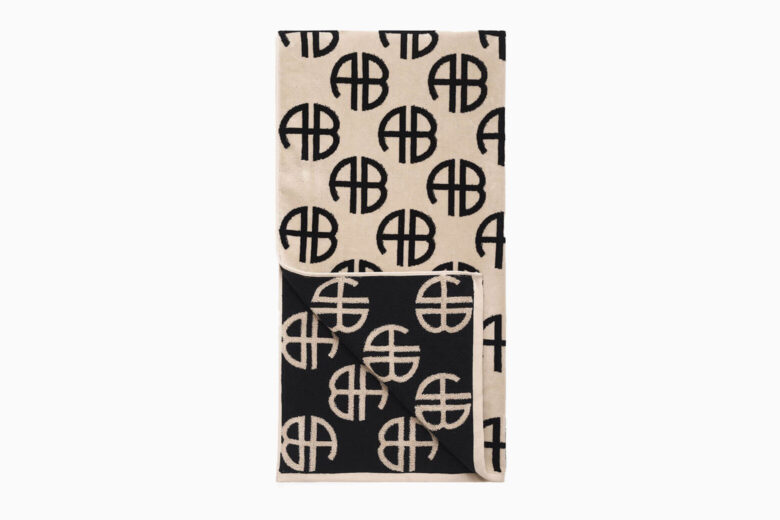 Anine Bing is one of our favorite brands for wardrobe essentials and investment pieces for women. They haven't failed to deliver with the boldly designed beach towel that carries the signature monogram. You simply cannot pass up the opportunity to finish off your stylish beachy look with the addition of this designer towel. The ultra-sleek, extra luxurious look and feel of this towel will get you to beach more and worry less.
Best for: As bold as the ocean is blue.
Towel Size: 62.25" x 32.25"
Material: Terrycloth
Color: Beige monogram print
Rainleaf: Best microfiber beach towel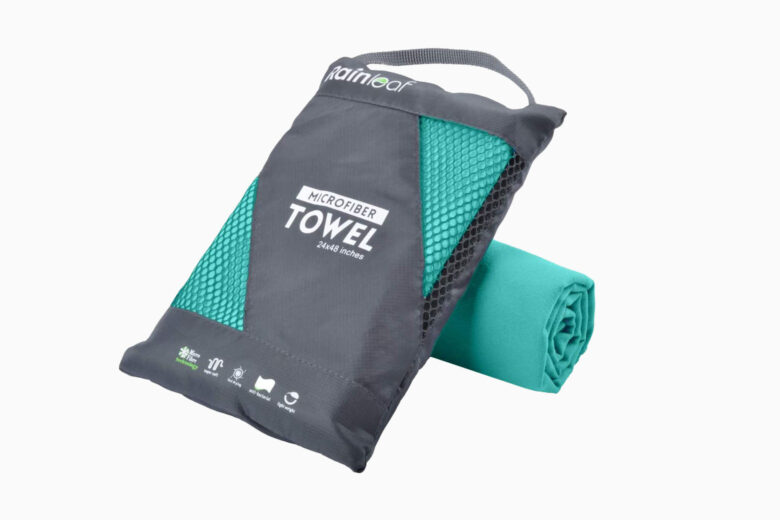 Microfiber is great for its moisture-wicking absorbency and fast-drying ability. These towels are ideal for poolside or simply use it as your picnic companion. Although not as luxurious as Turkish cotton these microfiber towels by Rainleaf make great soak-up buddies when you're on the go. They're light packing and easy cleaning which makes for a no-fuss day out in the sun. Bonus points for its sand resistance capability.
Best for: Moisture-wicking, sand resisting super powers.
Towel Size: 24" x 12"
Material: Microfiber
Colors: Blue, red, green
Sand Cloud: Best beach towel for sand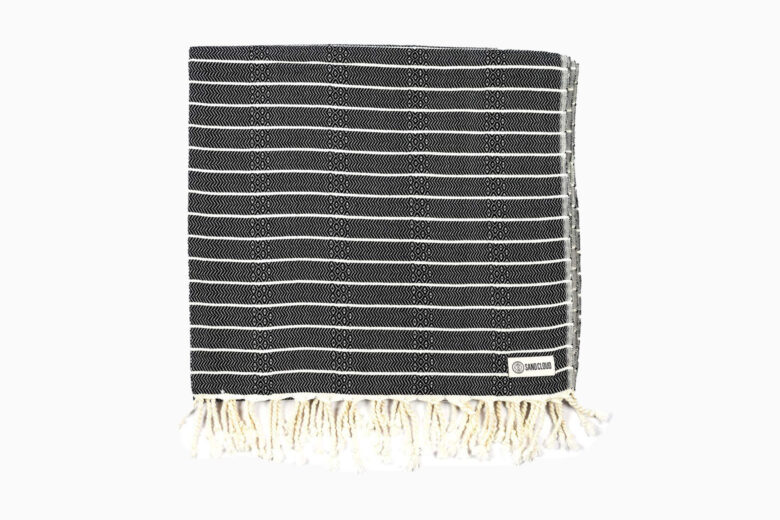 Sand Cloud has come out with the most versatile towel for lazing beachside, setting up a picnic, or lounging around the pool. When the high tides subside you'll need the perfect beach towel to keep the sand at bay. Don't let the ocean get you salty, this is the perfect wrap-around towel for you to stay dry while looking trendy.
Best for: Frolicking shoreside.
Towel Size: 37" x 69"
Material: Turkish cotton
Colors: Black, royal blue
Frescobol Carioca: Best beach towel for travel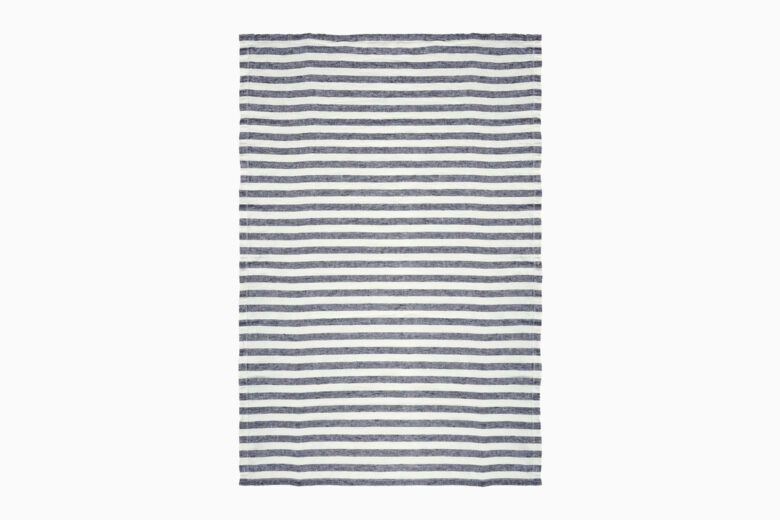 The simplistic yet stylish stripes of this all linen beach towel makes it ideal to travel with. The design is classic and makes it all the more functional to go from a day at the beach to a night on the town. Carry it with you to drape around your shoulders when the breeze is up. It's sure to pair amazingly with any of your stylish summer shoes and white sundresses.
Best for: Multi-functional traveling textures.
Towel Size: 52" x 66.9"
Material: Linen
Colors: Blue & white
Ziah: Best beach towel for the pool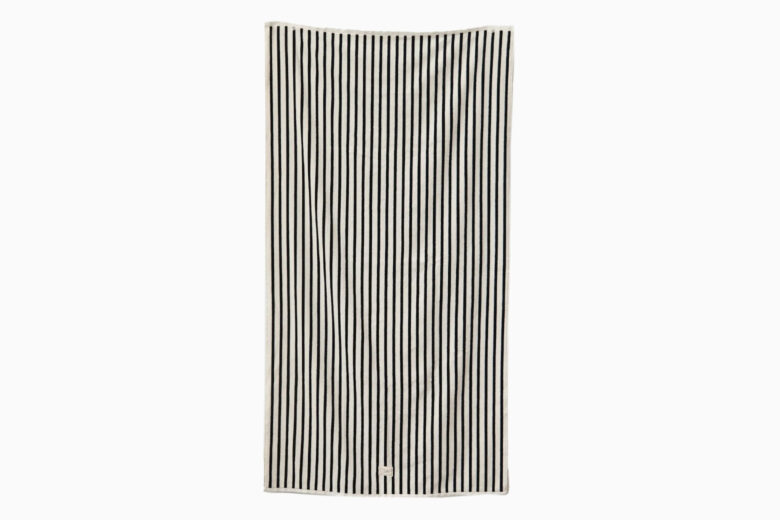 Wherever you go, go in style…be it poolside, beachside, or lakeside as long as its waterside. The magic of nature lies in the water. So grab a hold of your Jaques towel and let the water bathe your very essence. The striped design makes this towel a style staple that you can bring along no matter the season. Take the plunge to water wonderlands with Ziah's contemporary styled towel.
Best for: A classic take on the essential beach towel.
Towel Size: 35" x 67"
Material: Organic cotton
Colors: Black & ecru
Business & Pleasure Co: Best beach blanket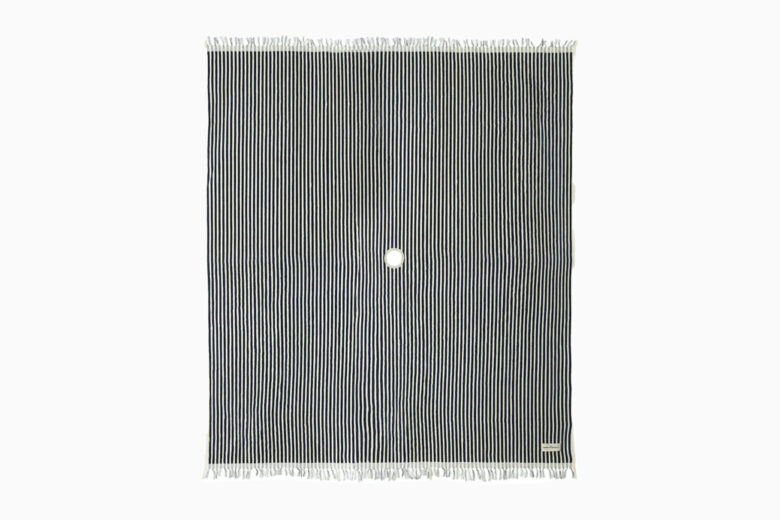 Like the sea loves the shore you're certain to love this beach blanket from the Business & Pleasure Co. It even comes decked with leather straps to tote it around with ease and the summery colors are simply sublime. So soak up the sun in warm coziness and enjoy a laid-back day at the beach. If style and comfort are your things then this will soon become your go-to blanket for easy-going glamor.
Best for: Cozying up beach style.
Towel Size: 66" x 66"
Material: Cotton
Colors: Navy, peach, maze
Frequently asked questions about the best beach towels
What material is best for beach towels?
Turkish Cotton, Terrycloth, and Linen are known to be some of the best materials for beach towels. Turkish Cotton offers a soft feeling with great absorbency and a relatively quick drying time. Terrycloth is greatly absorbent while still keeping the softness. Linen absorbs moisture in seconds and drys equally quickly.
How do you choose quality beach towels?
A good-quality beach towel offers absorbency and comfort. Beach towels shouldn't be too thick or too thin. They need to be soft and fluffy yet not too bulky to be easily rolled up and transported to where you need them. Check our round-up of the best beach towels to find the perfect one for you.
Why are Turkish beach towels better?
Turkish cotton has long flat woven fibers that soften and become more absorbent with each wash. Turkish cotton is also lightweight and has great absorbency making it ideal for the beach.
What is the best size for a beach towel?
The standard size of a beach towel is usually 30" x 60" which makes it bigger than the average bath towel. Oversized beach towels tend to be around 40" x 70".