"Some people dance in the rain. Others just get wet." Okay, we don't truly know who uttered these words of wisdom. However, we can assume that the frolicking rain-dancers were well-equipped with a good, waterproof raincoat.
Yep, there are few things in life more frustrating than masterfully doing your hair and makeup, only to have your efforts dashed by a downpour en route.
In short, whether you're dancing, singing, or simply walking to work in the rain, you're going to need a great raincoat. Period.
Fortunately, when it comes to cool raincoats to keep you dry, you won't be short of options: from classic trench coats to cute rain jackets, there's something for everyone.
We've crafted a list of the best raincoats for women, so next time you're caught in a tropical monsoon, a dire drizzle, or a sudden storm, you won't get wet– you'll dance.
The 15 best raincoats for women
Anine Bing Paddington Raincoat: Best overall women's raincoat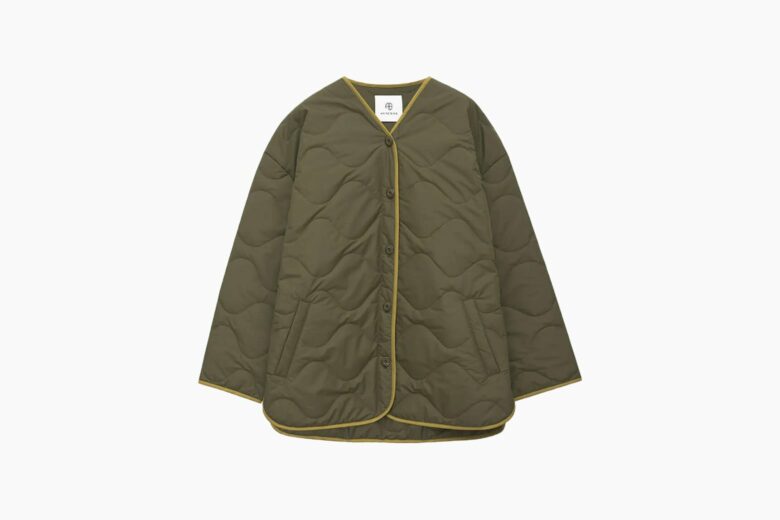 Raincoats may be primarily practical pieces, but that's not to say they cannot be stylish. So if a designer raincoat is your idea of autumnal heaven, look no further than the Paddington Raincoat by Anine Bing.
Designed for an ultra oversized fit, with a subtle nod to military bomber jackets, the Paddington Raincoat has got you covered—literally.
Wearing the Anine Bing Paddington Raincoat—made from waterproof nylon with quilted detailing throughout—you can arrive at your destination looking as perfect and fresh as when you walked out your front door.
Best for: Dazzling in the drizzle.
Burberry Kensington Trench Coat: Best designer women's raincoat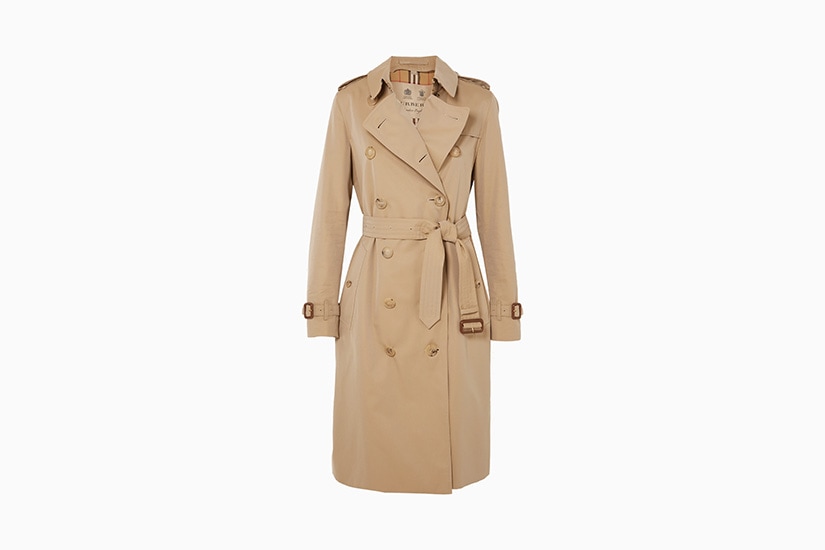 As the renowned inventor of trench coats as we know them, Burberry is an excellent, trustworthy choice when it comes to designer raincoats.
Made in England, the Kensington style is crafted from cotton-gabardine– a strong, tightly woven fabric that is quintessential to any trench coat worth its salt. Oh, and it just so happens to be a material that Thomas Burberry himself created. So, you're certainly in safe hands.
Complete with military-inspired epaulets, 100% buffalo horn button detail, and that all-important storm flap, the Burberry Kensington trench coat is the classic style at its absolute finest.
And, of course, no Burberry coat is truly complete without the brands' signature checked lining, subtly visible in the coat's fit-and-flare structure.
Best for: Any woman seeking timeless resplendence in their raincoat, with a classic trench style crafted by none other than the brand who lays claim to their invention.
Columbia Arcadia II Rain Jacket: Best value women's raincoat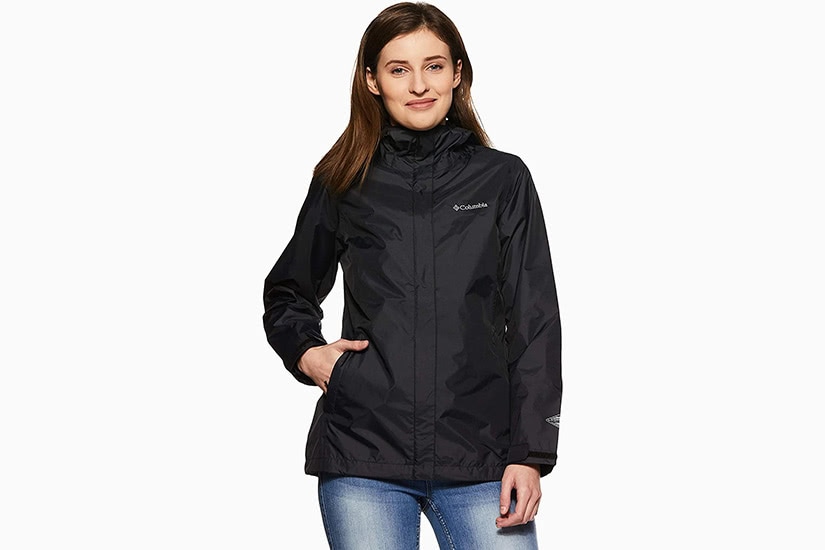 If you're seeking excellent value from your rain jacket, your pursuit ends here, with the Columbia Arcadia II rain jacket.
One of the best cheap raincoats for women, the Arcadia II is built for the rainiest of days. Featuring an Omni-tech membrane (read total waterproofing), this rain jacket will keep you beautifully dry, even when rainy weather is trying its utmost to give you a hard time.
Plus, your pristine hair and makeup will be totally protected with the adjustable storm hood. So, whether you're caught in a downpour atop Mont Blanc, or waiting in a drizzle for a midnight tax, you'll stay nice and dry.
And, for those days when the weather is a little less than sure of itself, the Columbia Arcadia II packable raincoat will pack neatly away into the teeniest of bags.
Best for: Women seeking an affordable, stylish raincoat that you can bring along with you as a 'just in case'.
| | |
| --- | --- |
| Color: | Black, Waterfall, or Bold Orange. |
Canada Goose Kinley Parka: Best women's raincoat for heavy rain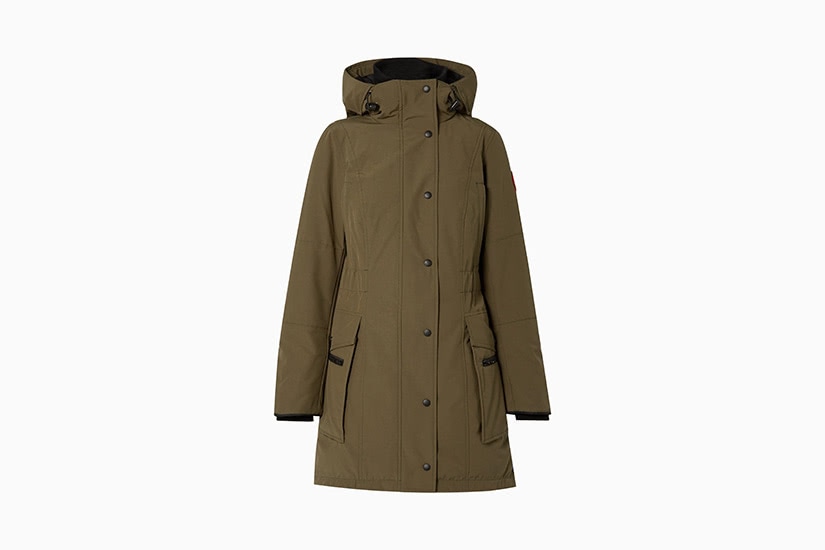 When it rains, it pours. But don't let a torrential downpour ruin your day.
Fortunately, the Kinley parka by Canada Goose is on hand to guard against the most persistent of rainfalls. So, if 'raindrops keep falling on your head'– this long rain jacket is for you.
The Kinley parka goes the extra mile, with a water-resistant rain shell filled to the brim with insulating down. There's a sizable hood to ensure the pesky drizzle stays firmly out, with ribbed-knit wrist cuffs to keep you warm, dry, and cocooned.
It's not all work and no play though: The loose fit with a subtly cinched-in waist, along with a flattering elongated length means you'll feel ultra-feminine in the Canada Goose Kinley parka, while firmly telling the rain where to go.
Best for: Women seeking a parka-style raincoat with hood by an established brand that truly appreciates the perils of being caught in less-than-agreeable weather.
Bottega Veneta Belted Bonded Coat: Most stylish raincoats for ladies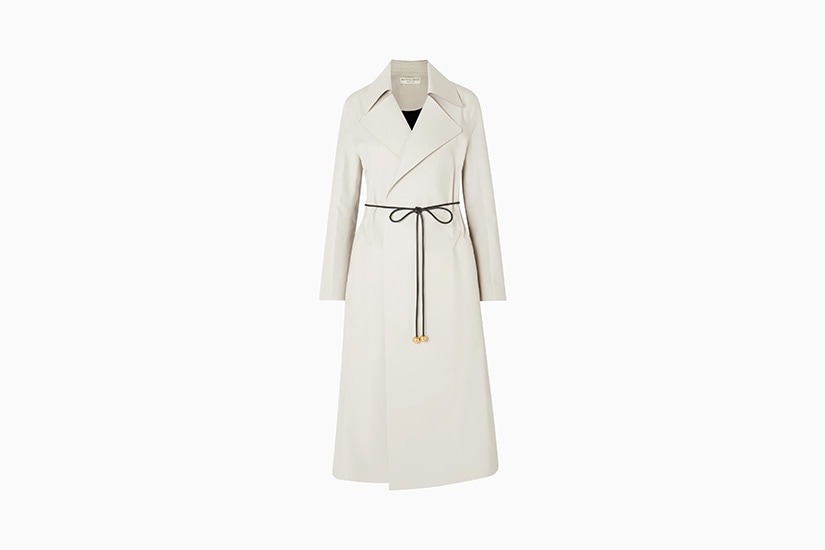 Gone are the days when you spend hours crafting the perfect outfit, only to obscure it under a shapeless, characterless raincoat. Thankfully, with the Bottega Veneta belted bonded cotton coat, you're no longer forced to sacrifice style for practicality.
Crafted in Italy from durable bonded cotton, this coat doesn't only protect your outfit– it is your outfit. And a chic one, at that. Coming in a cool, bright white, the A-line shape and double-breasting will ensure you're a gorgeous ray of autumn sunshine, on an otherwise miserable day.
Plus, statement lapels and heat-molded waist pleats make for a true hourglass silhouette, with the option for more impact with the slim leather tie-belt.
As fashion raincoats go, the Bottega Veneta belted bonded cotton coat more than does the trick.
Best for: Those seeking rainwear for women that accentuates their inherent style, all the while staying uber-chic, and most importantly, uber-dry.
Cuyana Pleat-Back Anorak: Most trendy women's raincoat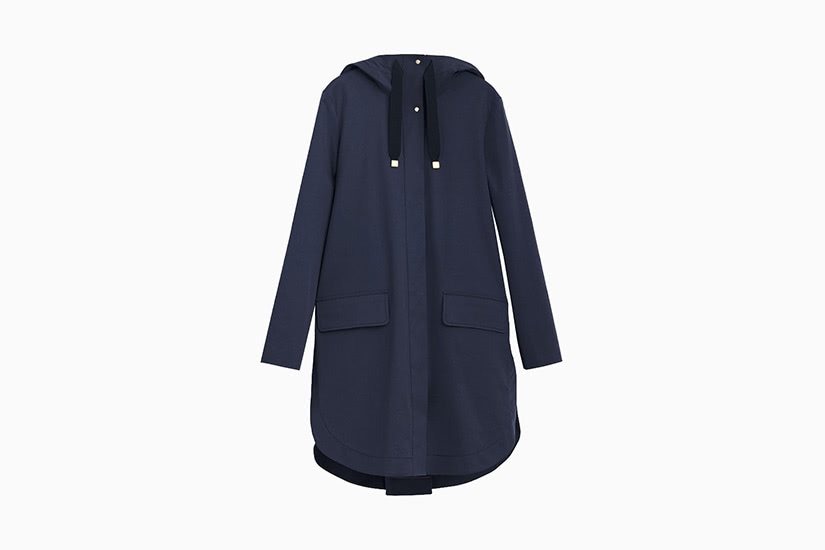 The best rain jacket for women should possess two vital characteristics: be waterproof and breathable. The Cuyana Pleat-Back Anorak has both, with a generous serving of elegance to top it all off.
Expertly crafted from Italian, heavyweight, water-repellant gabardine-cotton, the Pleat-Back Anorak has a hint of stretch for ultimate freedom of movement.
Channeling a grown-up Red Riding Hood– if she'd taken a quick detour from the woods for a jaunt down the Champs Elysées, and of course, opted for a more muted color– the exaggerated hood is playful while being totally timeless.
The Cuyana Pleat-Back Anorak possesses an understated drama with its knee-length fall and feminine curved shirttail hem for good measure.
Best for: Those seeking the best long raincoats for women, with a chic twist on a classic style that will stay safely en vogue for decades to come.
Camel Crown Rain Jacket: Best waterproof women's rain jacket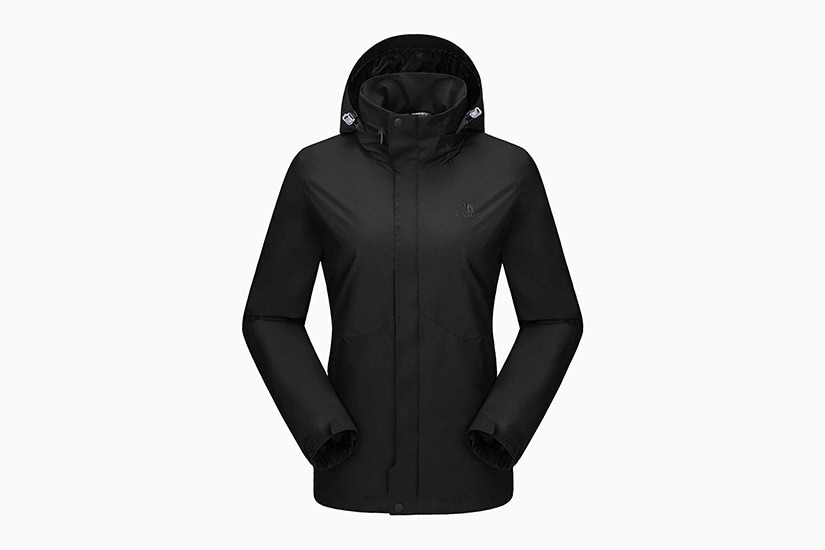 Well, a raincoat is hardly a raincoat if it's not waterproof. But, the Camel Crown waterproof rain jacket has gone to extra effort to ensure its wearer stays completely dry, even when the streets around you are soaking wet.
The brand's signature Camel-Tex rainproof technology, fully-taped seams, and 'lotus-effect' combine to make this ultra-light rain jacket exceptional.
Plus, the innovative design ensures that any offending rainwater will evolve into neat little rain beads, sliding off your coat like water off a duck's back, in a very literal sense.
The Camel Crown waterproof rain jacket is totally windproof, and the adjustable drawcord hood can be pulled tight for maximum protection or rolled into a collar when the clouds take a break.
Best for: Women seeking a highly waterproof rain jacket with the assurance of innovative tech to ensure you stay cozy and dry when you're braving tough weather.
| | |
| --- | --- |
| Color: | Black, Blue, or Dark Purple. |
SaphiRose Long Hooded Raincoat: Best full-length women's raincoat with hood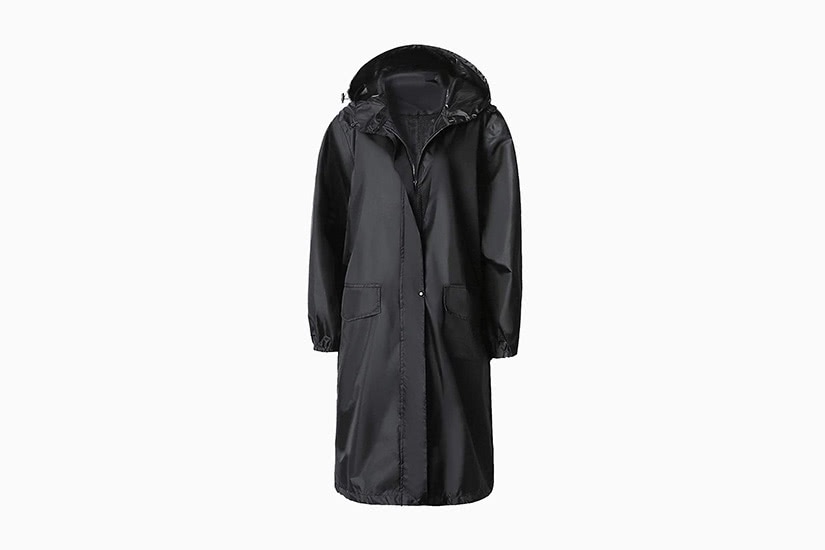 The SaphieRose Long Hooded Raincoat not only looks the part but truly delivers when it comes to rainproofing, too.
This formidable raincoat is crafted from 100% polyester, so it's breathable, lightweight, and quick-drying. Worn with the hood up, and you've got yourself a head-to-toe raincoat which will hold its own against the most furious of storms.
The zip-and-buttoned front ensures no mischievous raindrops will sneak through, and the large pockets are a safe haven for your daily essentials.
The SaphiRose long hooded raincoat is super easy to pack too, making this a perfect women's travel raincoat. So if the weather gets a little happier, you won't be left lugging around a weighty raincoat.
Best for: Those seeking a powerful, full-length waterproof raincoat that will keep you wrapped up and protected from blustery winds and heavy rain.
| | |
| --- | --- |
| Color: | Black, Navy, or Green. |
Columbia Switchback III Rain Jacket: Best women's rain jacket for hiking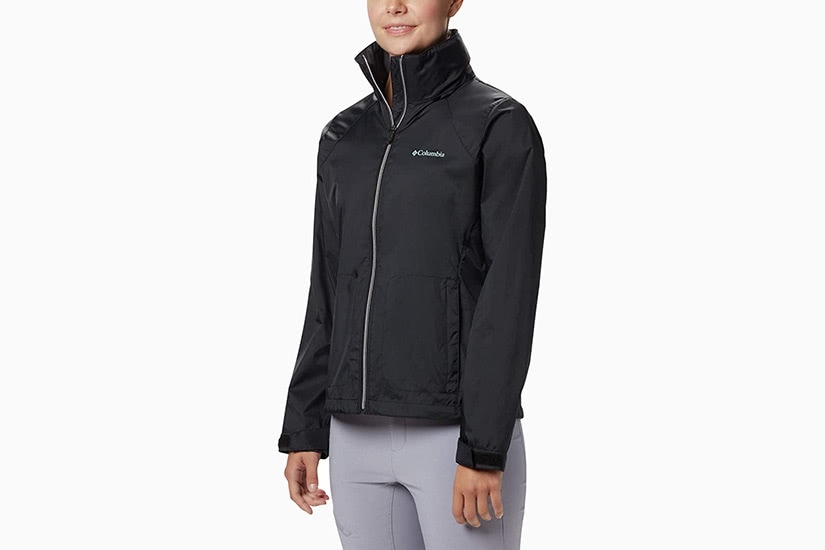 As veteran hikers know, and newbie hikers will soon learn, any day of hiking typically includes a fun array of weather changes, getting hot, getting cold, and maybe being without your rain jacket altogether. So, you'll need a rain jacket that can cater for the changing needs of the hiker.
The Columbia Switchback III is an excellent choice for your new women's hiking rain jacket. It's wonderfully lightweight, and of course, highly waterproof with the help of the hydroplus 100% nylon shell.
Plus, it packs nicely down into its own pocket. So when the sun peeks through, you can shed your coat easily. Because, well, being lumbered with an unneeded coat is the ultimate killjoy when you're trying to enjoy nature, uninhibited.
The classic design of the Columbia Switchback III has a decidedly outdoorsy vibe, while being versatile enough to throw on over any outfit for immediate protection from the elements.
Best for: Occasional, and committed hikers seeking the best waterproof rain jacket on the market which provides the waterproofing you need, without weighing you down.
| | |
| --- | --- |
| Color: | Black, Buttercup, or City Grey. |
Outdoor Research Helium II Jacket: Best lightweight packable rain jacket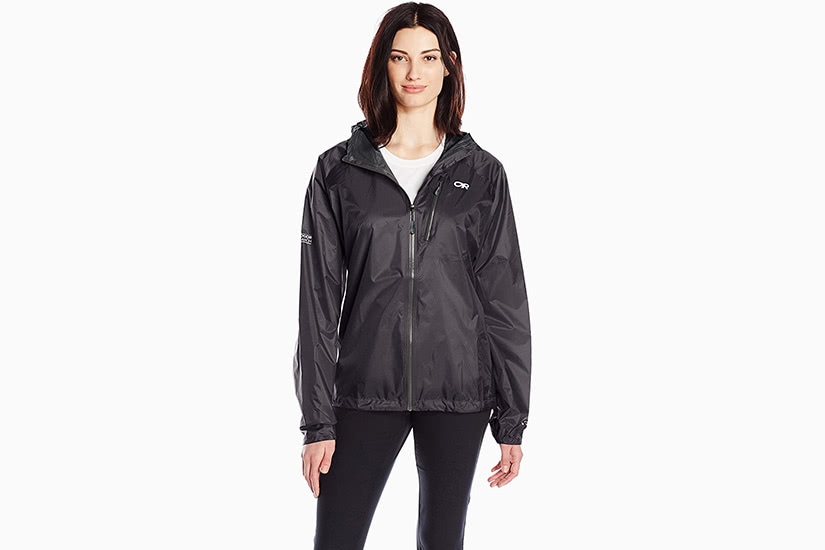 Outdoor Research have, well, done their research when it comes to creating the best women's raincoats. The Helium II is an ultralight rain jacket, weighing in at an impossible tiny 156 grams (5.5 oz). So, you can have it spare in your bag without sacrificing valuable space or adding weight.
The waterproof and windproof shell is complete with AquaGuard zippers, which does exactly what it says on the tin: keeps you perfectly dry.
There are heaps of handy extras on this rain jacket, too; reflective logos for walking or cycling in the dark, a carabiner loop for keys, and a pocket for packing away. These key features firmly place the Outdoor Research Helium II rain jacket as the best lightweight rain jacket for travel, exercise, or simply meandering through town.
Best for: Intrepid women seeking a lightweight rain jacket that is not only packable but super jam-packed with a whole catalog of extra features.
Hount Raincoat: Best women's rain jacket for hot weather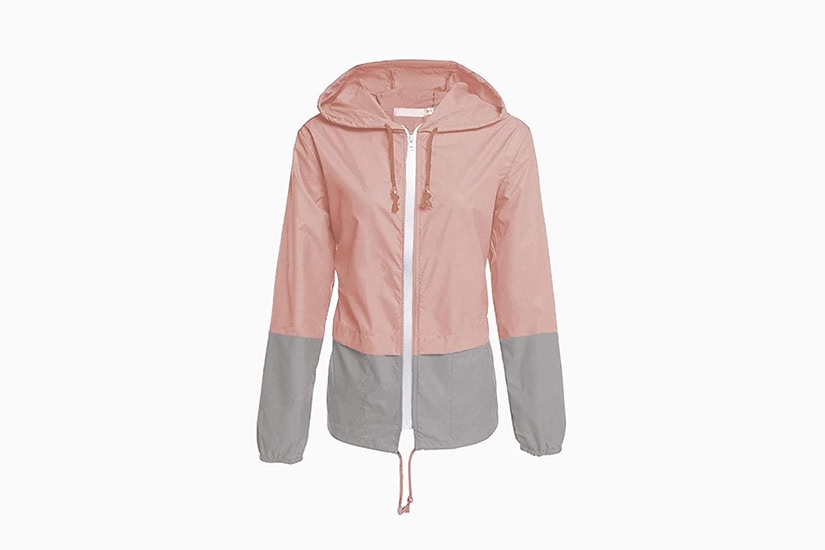 Anybody who's explored the tropics will be familiar with the often uncomfortable mix of rain and warm weather (although, it does make for awesome rainbows).
So, whether it's monsoon season, or you are simply seeking a great raincoat for outdoor exercise, the Hount Raincoat is the answer.
Despite the super pretty, delicate pastel color scheme, the Hount Raincoat is deceptively capable when it comes to fending off the rain while keeping you cool as a cucumber.
It's lightweight, so will protect you perfectly against light to medium rainfall. Plus, the quick-drying, breathable fabric helps to avoid feeling stifled when you're caught between rain and scorching sun.
The petite rain jacket will pack away smartly, and the feminine palette and fitted shape mean we've rated the Hount Raincoat as the best of women's fashion raincoats, too.
Best for: Women seeking a multi-talented rain jacket that is perfect for muggy weather and hotter climates, while being gorgeously cute at the same time.
| | |
| --- | --- |
| Color: | Light Pink, Light Green, or Mint Green. |
Wantdo Mountain Ski Jacket: Best women's rain jacket for cold weather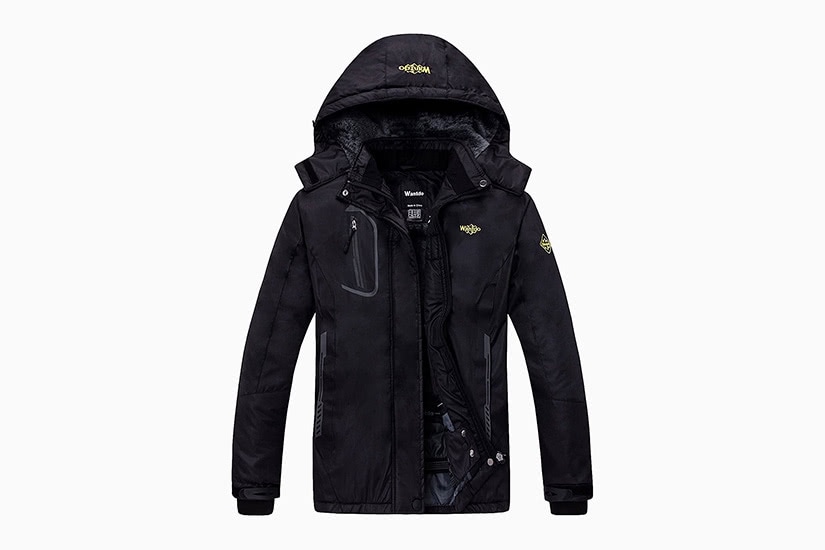 Whether you're heading for the slopes, or you just want to be one step ahead of the winter weather, the Wantdo Mountain Ski Jacket is a one-stop-shop for keeping you warm, dry, and cozy.
This hooded rain jacket possesses everything you could possibly desire from your new raincoat: The wear-resisting soft-shell is both exceptionally waterproof (even with apocalyptically heavy rainfall), and works as a strong windguard. If you're a winter-sports enthusiast, this coat is for you.
The totally strokable, fuzzy lining guarantees heat retention, so you can encase yourself in a personal warmth cocoon, even when you're facing Siberian temperatures.
Plus, there are several spacious pockets in the Wantdo Mountain Ski Jacket for keeping your valuables safe when you're getting down and dirty with nature's most challenging conditions.
Best for: Those heading off to a winter wonderland this year, or who are lucky (!) enough to enjoy icy winter weather on their doorstep.
| | |
| --- | --- |
| Color: | Black, Blue, or Rose Red. |
Columbia Heavenly Long Hooded Jacket: Best rain jacket for heavy rain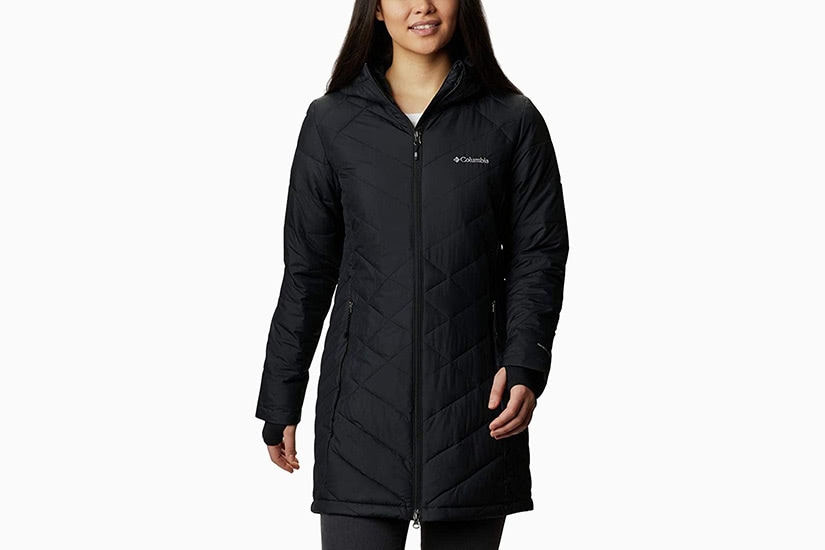 We've all been there. When you're out and about at the mercy of the elements, far from your cozy, fire-lit home, and the heavens open. The classic trench you chose is gorgeous, but it just isn't enough to protect you from the barrage of water that's relentlessly drenching you from head-to-toe.
Next time, make sure you're equipped with the Columbia Heavenly long hooded jacket. The Omni-Heat 100% polyester is armed with cutting-edge technology to keep the warmth in, and the rain out.
The chic quilting means you'll still feel as stylish as you did in your trench. Just, well, significantly drier.
Despite packing a huge punch when it comes to waterproofing and insulation, the Columbia Heavenly long hooded jacket is surprisingly lightweight. Plus, the cuffs and thumbholes work wonders at maxing out on the dry vibes, too.
Best for: Women seeking a long, hooded raincoat which does to heavy raindrops what an armored car does to bullets: keeps them safely away.
| | |
| --- | --- |
| Color: | Black, Chalk, or Tradewinds Grey. |
Abollria Outdoor Rain Jacket: Best budget women's raincoat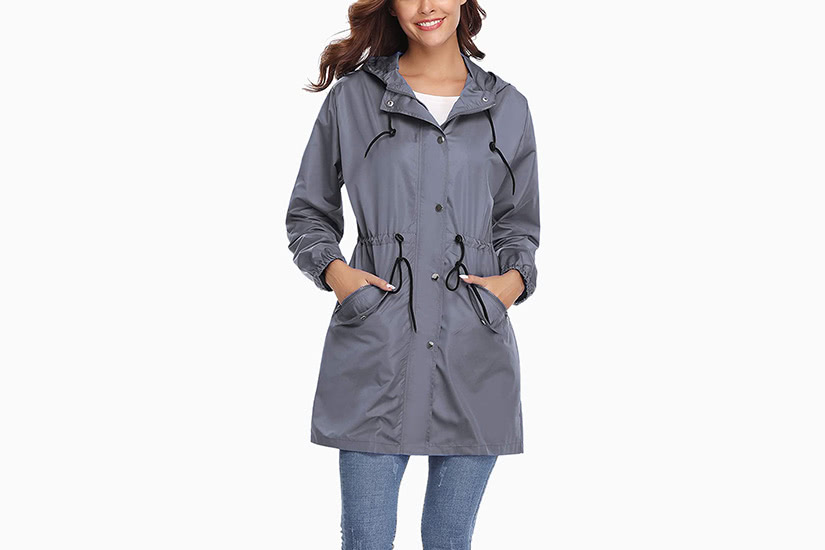 Seeking the best raincoats for women, $40 and under? Your search ends here. The Abollria Outdoor rain jacket rivals more expensive designs when it comes to rain and wind protection, and it won't cost you a pretty penny, either.
With a casual, parka-style design, this raincoat is a must-have for all seasons.
Yep, it's about as evergreen as those gorgeous forests you love to hike and camp in; simply layer it with a simple white tee for spring and summer, or wrap it up in a fluffy jumper underneath for the colder months.
The button-down pockets ensure your purse and watch will stay safely inside while being easy to access.
Plus, the adjustable waist is perfect for a little injection of femininity, and the hood will keep you firmly on the right side of windswept.
Best for: Those seeking an all-weather, budget raincoat that is super versatile, feminine, and practical.
| | |
| --- | --- |
| Color: | Black, Army Green, or Light Grey. |
Loro Piana Headley Hooded Raincoat: Most expensive women's raincoat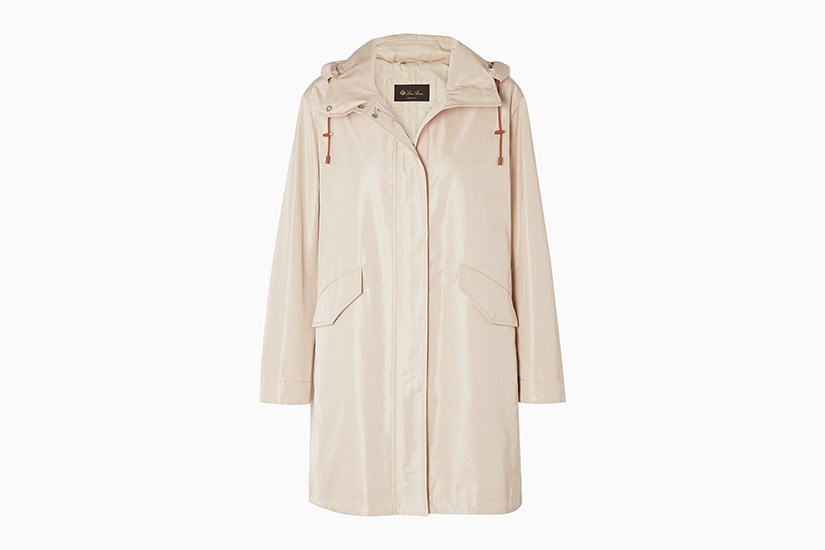 Sure, the primary function of a raincoat is to keep you dry. But there's simply no need to settle for a plain, nondescript style. The ideal women's raincoat is both practical and chic.
So, if that's what you're seeking, we're going to steer you towards the crème de la crème of beautiful, durable raincoats: The Loro Piana Headley hooded matte-satin raincoat.
Truly, it's a show-stopper. And, well, a rain-stopper, too. Treated with the brands 'Rain System', it's totally water-repellant, with a spacious hood for extra protection.
Crafted with 65% polyester and 35% silk, with a 100% lamb-leather lining, you're sure to feel wrapped up in luxe. A pure masterpiece, the Loro Piana Headley hooded matte-satin raincoat's crown jewel is perhaps the sleek, satin finish for ultimate allure.
Best for: Women seeking the ultimate, luxurious designer raincoat which is edgy, luxe, and doesn't cut any corners when it comes to rain protection.
Buying guide: Finding the best women's raincoats
Are you guilty of thinking 'Meh. A raincoat's a raincoat. Any old one will do'? Sure, you can just grab one off the rails when the need arises…
However, it's infinitely wiser to take a moment to familiarise yourself with the qualities of a good raincoat, and invest in one that you can reach for year after year.
Waterproof or water-resistant
Of course, any garment described as a raincoat or rain jacket is going to be waterproof to a certain degree. However, pay attention to the exact wording, as there's a fundamental difference between 'waterproof' and 'water-resistant'.
And trust us, by the time you've realized you've made a mistake, it might just be too late.
Waterproof
Waterproof raincoats are 100% waterproof, no matter how heavy the rain is (within reason, of course). A quality one, as opposed to a cheaper brand, will also be breathable.
So, you could purchase a cheap-and-cheerful 'waterproof' raincoat, only to find that while you're protected from rain, you feel extremely hot and sweaty underneath. Not good.
Water-resistant
Water-resistant raincoats, on the other hand, tend to be more breathable and lightweight. However, it won't hold up incredibly well in anything more than light to medium rainfall.
Now, that's not to say they are not worth having. But just consider the general climate where you are, and what you'll need from your new raincoat.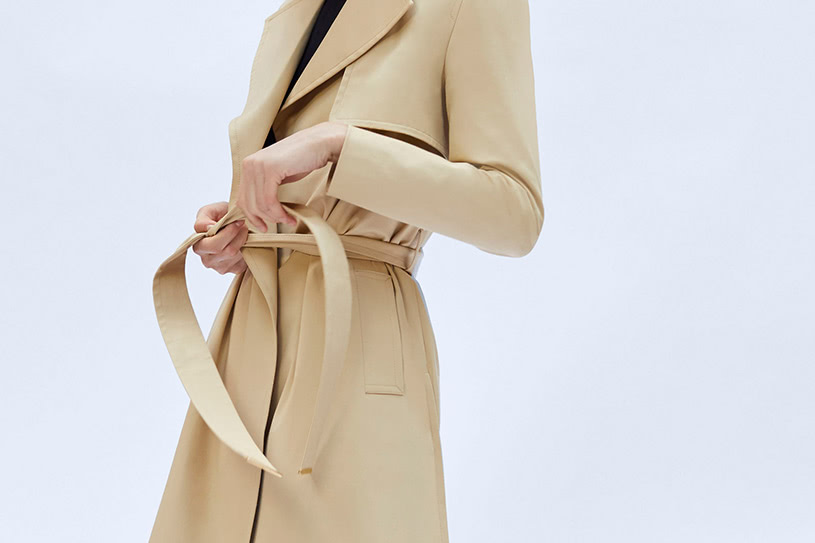 Other features to consider
Each brand, style, and price range will offer slightly different features. Depending on your individual needs, you may or may not need these qualities.
To hood or not to hood
If you live in activewear throughout winter, and you plan on cycling, hiking, and SUP-ing throughout the rainy seasons, you'll need an adjustable hood. This is so you can secure the hood close to your head and face, limiting wind and rain contact, not to mention eliminating the need to constantly faff.
However, if you're more likely to be sporting your raincoat over cocktail dresses and heels, and your 'outside time' consists of short walks between bars, a more casual, oversized hood is the way to go.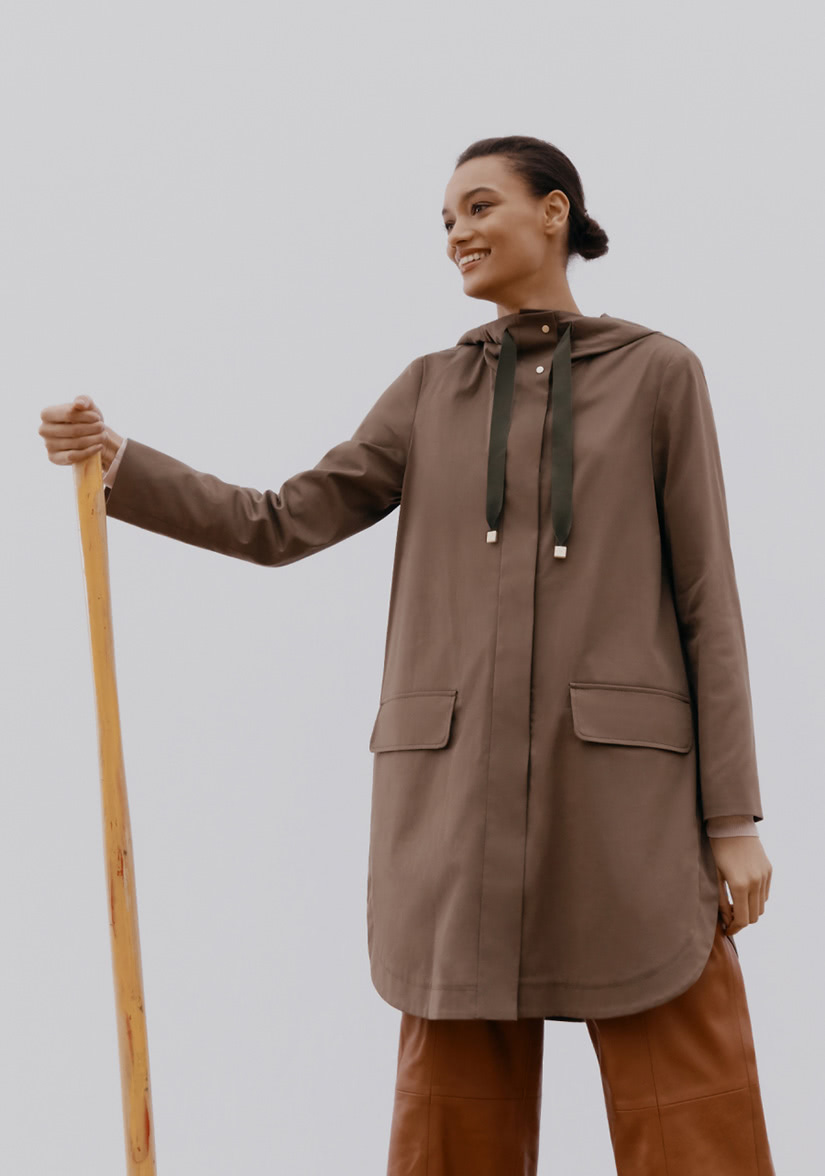 Pockets
Again, if you're going to be out in nature in your raincoat, you'll want a few pockets for your essentials.
On the other hand, if you're mostly an indoorsy type and your raincoat is for getting to work or going to visit friends, you'll likely have a handbag anyway, so pockets become less important.
Drawcords
While totally more of an aesthetic aspect, a good drawcord allows you to cinch in your raincoat at the waist. This makes for a more structured silhouette while keeping the coat closer to your body, which helps with windguarding and general comfort.
Of course, if you're cycling or hiking, the last thing you want is your raincoat flailing about in the wind. So, consider a raincoat with a drawstring waist.
Frequently asked questions about women's raincoats