The market is awash with tea options (what else can you expect from the second most consumed beverage in the world after water). So, for a tea brand to truly stand out, it has to be a little bit special. Say a warm namaste to VAHDAM India. Launched in 2015 by fourth-generation tea entrepreneur Bala Sada, VAHDAM is headed by a man with more accolades than the late Queen had dainty china cups.
Applauded as one of the best tea brands in the world, VAHDAM is certainly a favorite here at Luxe Digital. Any time, any day, you can find our team sipping and sampling their flavorsome, 'Made in India' teas.
Integrating tea and wellness, VAHDAM is digitally native and vertically integrated. Thus, they bypass the figurative middle-man, sourcing, packaging, and shipping straight from India—which, if you missed the memo, is one of the most prolific tea-growing nations in the world. Any tea you sip from VAHDAM will have been packaged garden fresh within days of harvest at the brand's BRC Certified state-of-the-art facility—resulting in flavors fresher than the Prince of Bel-Air.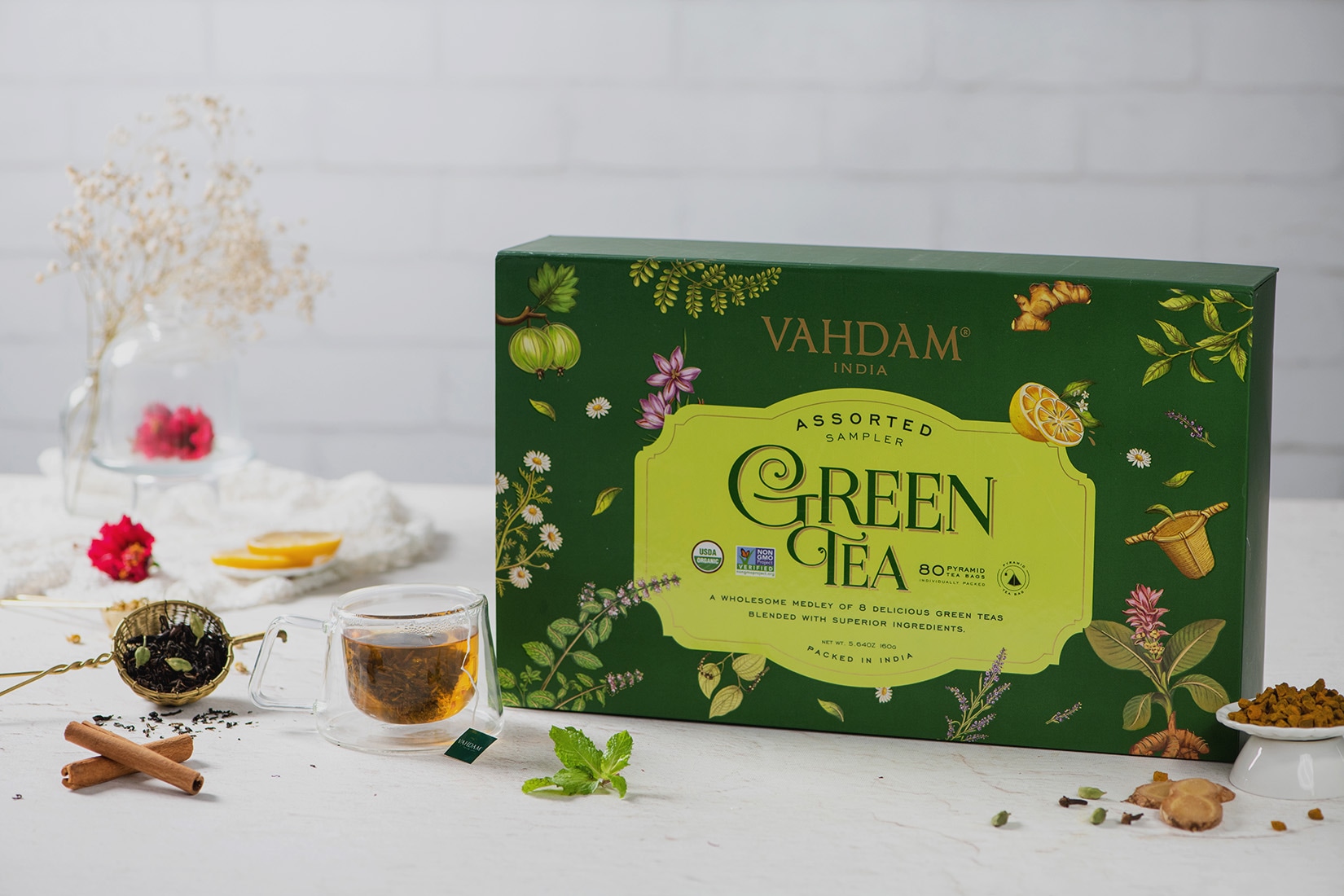 Not convinced yet? Have a chat with Oprah. The chatshow megastar featured VAHDAM teas on her list of favorite things not once, just twice. In a row. Well, if it's good enough for Oprah, it's good enough for us! These aromatic blends are a mainstay in the pantries of super-celebrities like Mariah Carey, Ellen DeGeneres, and even Martha Stewart. Sounds like the ultimate tea party, right?
Of course, celebrity endorsements notwithstanding, at Luxe Digital, we're pretty huge on sustainability. And guess what? VAHDAM passes our (rigorous) scrutiny with flying colors.
Committed to helping people and the planet in a way that transcends simply echoing flimsy buzzwords, VAHDAM breaks the mold. Not only is it India's first-ever Certified Climate Neutral and Plastic Neutral tea brand, but also redirects 1% of its revenue towards the education of its tea-growers' children under its flagship CSR initiative—TEAch Me. So, when you're sipping on your steaming VAHDAM tea, you can sit back and relax safe in the knowledge you've made a direct impact.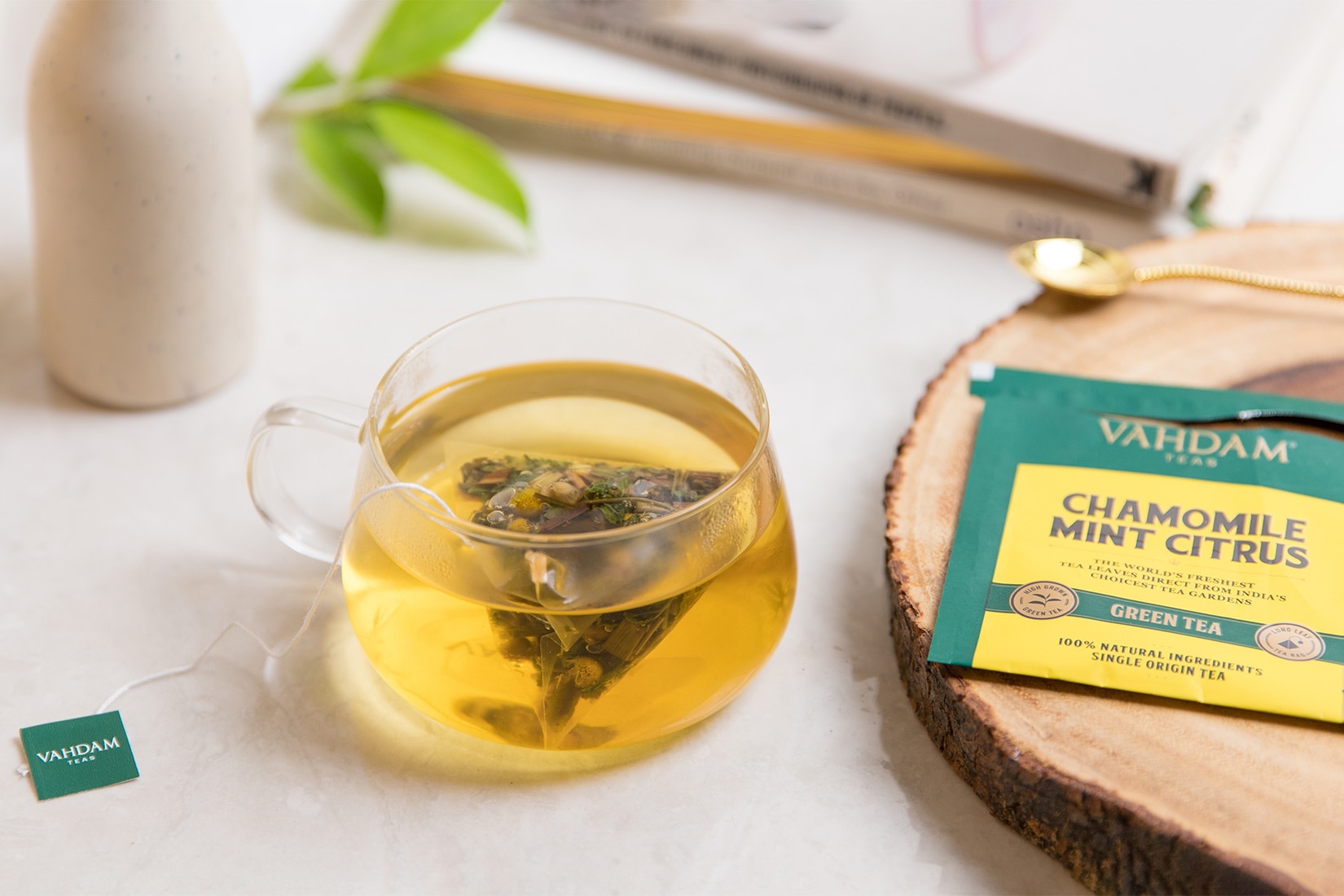 And what about wellness? VAHDAM supplies not only a gorgeous array of heartwarming, soul-satiating teas but also a range of superfoods; think elixirs for digestion, turmeric, Ashwagandha, Moringa blends, and of course, the super-powder of the moment: Matcha. And, that's not it. VAHDAM is on hand to supply you with all the elegant teawares and drinkwares you need to host a party to rival the Mad Hatter's.
Too good not to share, the best VAHDAM teas are our go-to for gifts, too. From loose-leaf to pyramid-shaped bags to gift sets, there's something for every palate and lifestyle.
From a medley of all the major tea types to the ultimate selection of a single variety, VAHDAM's gorgeously packaged samplers and assortment boxes are the perfect chance to experiment and savor ​​tantalizing teas on a daily. Got. a friend who guzzles green tea like it's going out of fashion? Gift them the Assorted Green Tea Sampler, sure to blow their new-age mind.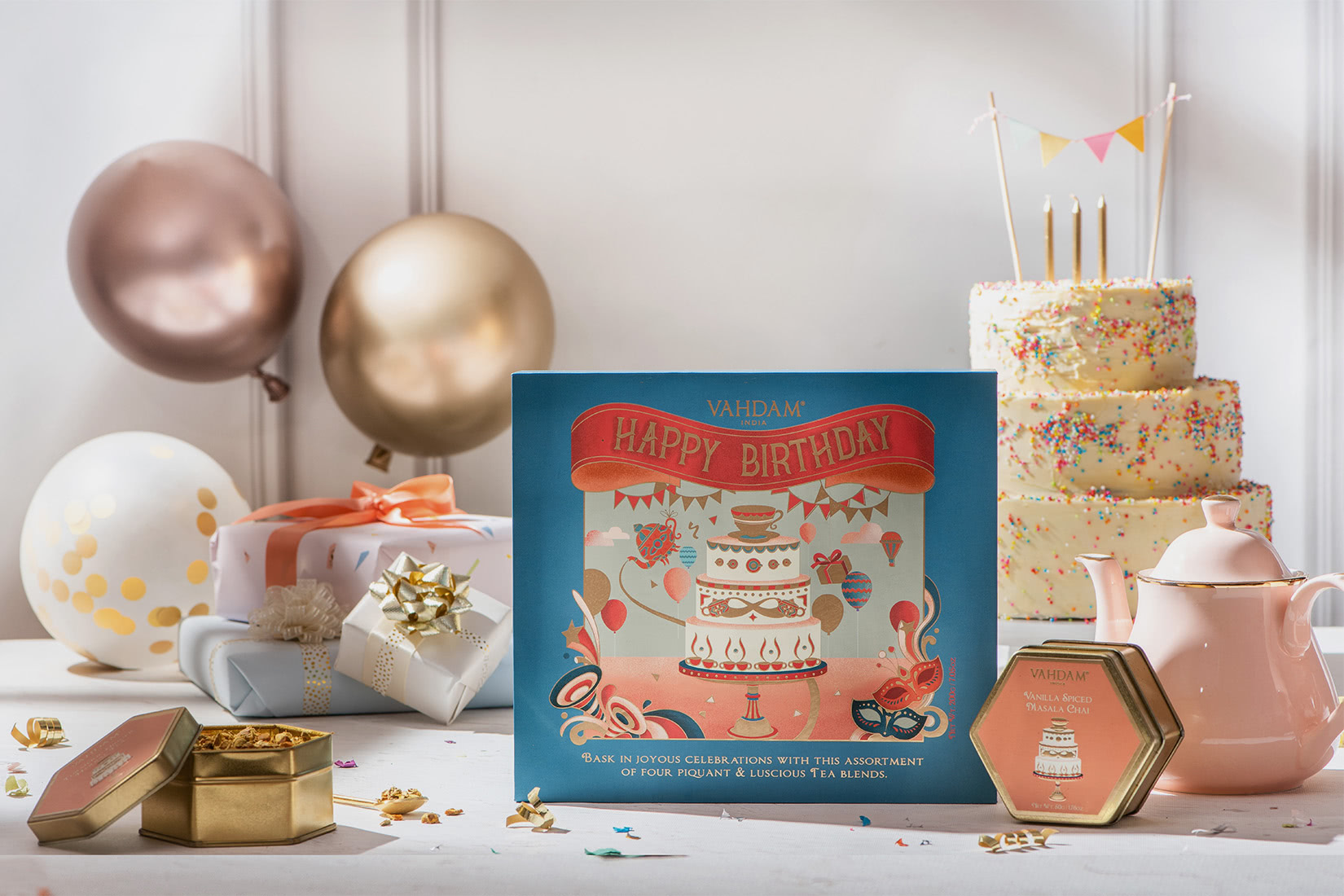 Whether it's for a birthday or a holiday, or a simple token of gratitude, there is something to suit the occasion and please the tea drinker in your life. The Happy Birthday Assorted Tea Gift Set, for example, is jam-packed with fragrant herbal teas, warming chai, and the ubiquitous green tea.
VAHDAM Teas Review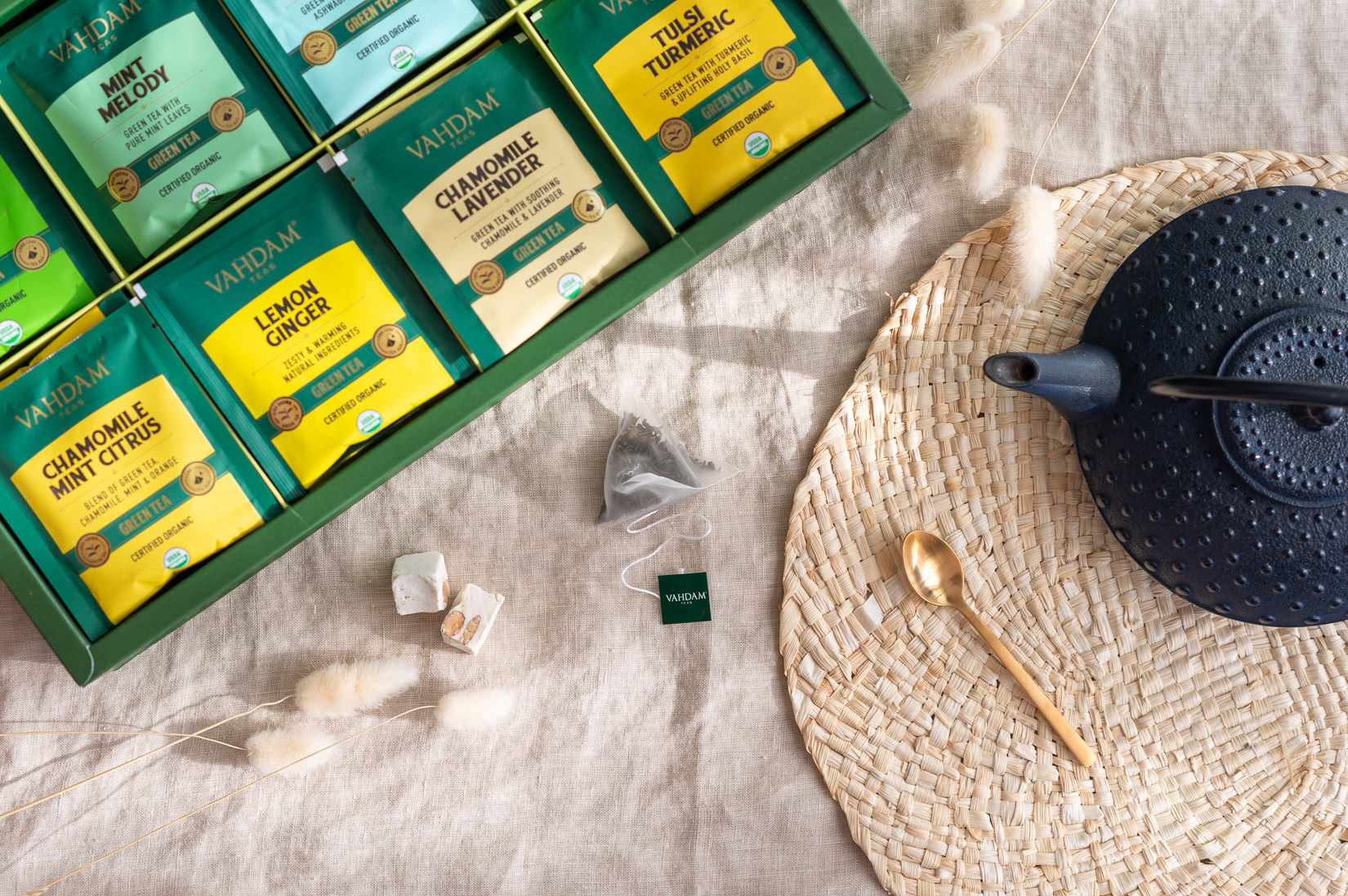 The great unboxing
The VAHDAM experience begins far before you put the kettle on—presented in #Insta-worthy packaging, the unboxing of any VAHDAM tea selection is an absolute joy. With each blend's box embellished with fine art denoting the flavors found within, VAHDAM is a treat for the eyes before your tastebuds get a look in. 
All about that taste
They could be the most ethical, sustainable tea brand in the world, but naturally, the proof is in the sipping.
Expect full-bodied florals on a creamy almond stage from the Blooming Rose Black Tea, sure to give you that feel-good boost. Wildly contrasting, the Himalayan Green Tea exudes subtle earthy notes characteristic of the leaf. However, any bitterness is offset by a sweet, meadowy palate—super refreshing, no matter what time of day.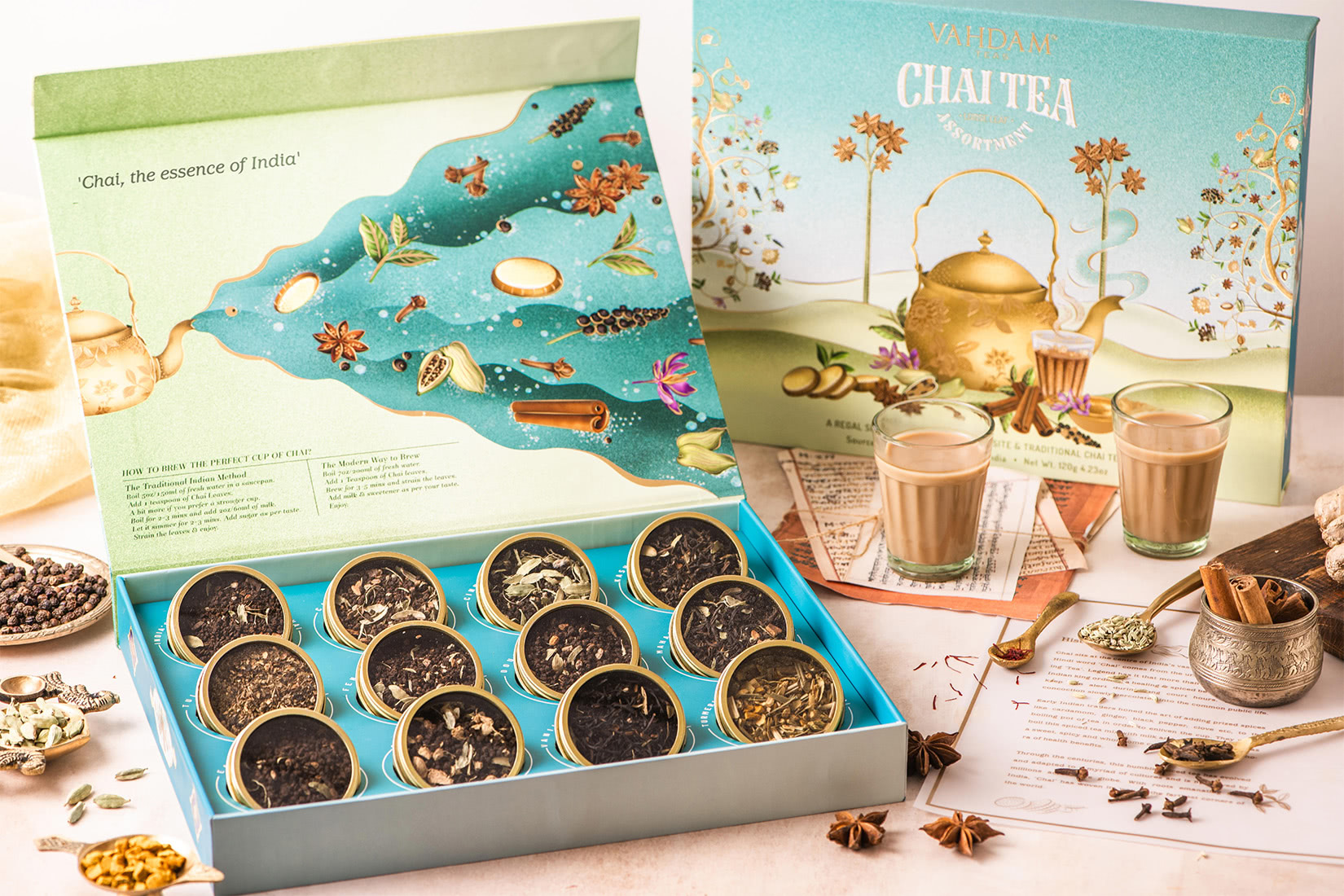 We're obsessed with the Authentic Masala Chai, eclipsing any competitor. Billowing steam supplies your olfactories with complex sweet-and-spicy notes upon infusion, while your tastebuds will be warmed with cinnamon and cardamom, finishing with a kick of cloves and black pepper. All in all, this is the best chai tea we've ever tasted, inside India or out.
Quali-tea without the hefty price tag
You'd be forgiven for thinking VAHDAM Tea requires you to dig deep into your pockets—not so, our tea-sipping friends. Despite the conscious supply chain and education support from the revenue, VAHDAM is surprisingly affordable. For example, the Authentic Masala Chai Blend comes in at less than $30 for over 200 cups; that's 15c per cup—not a price to be sniffed at.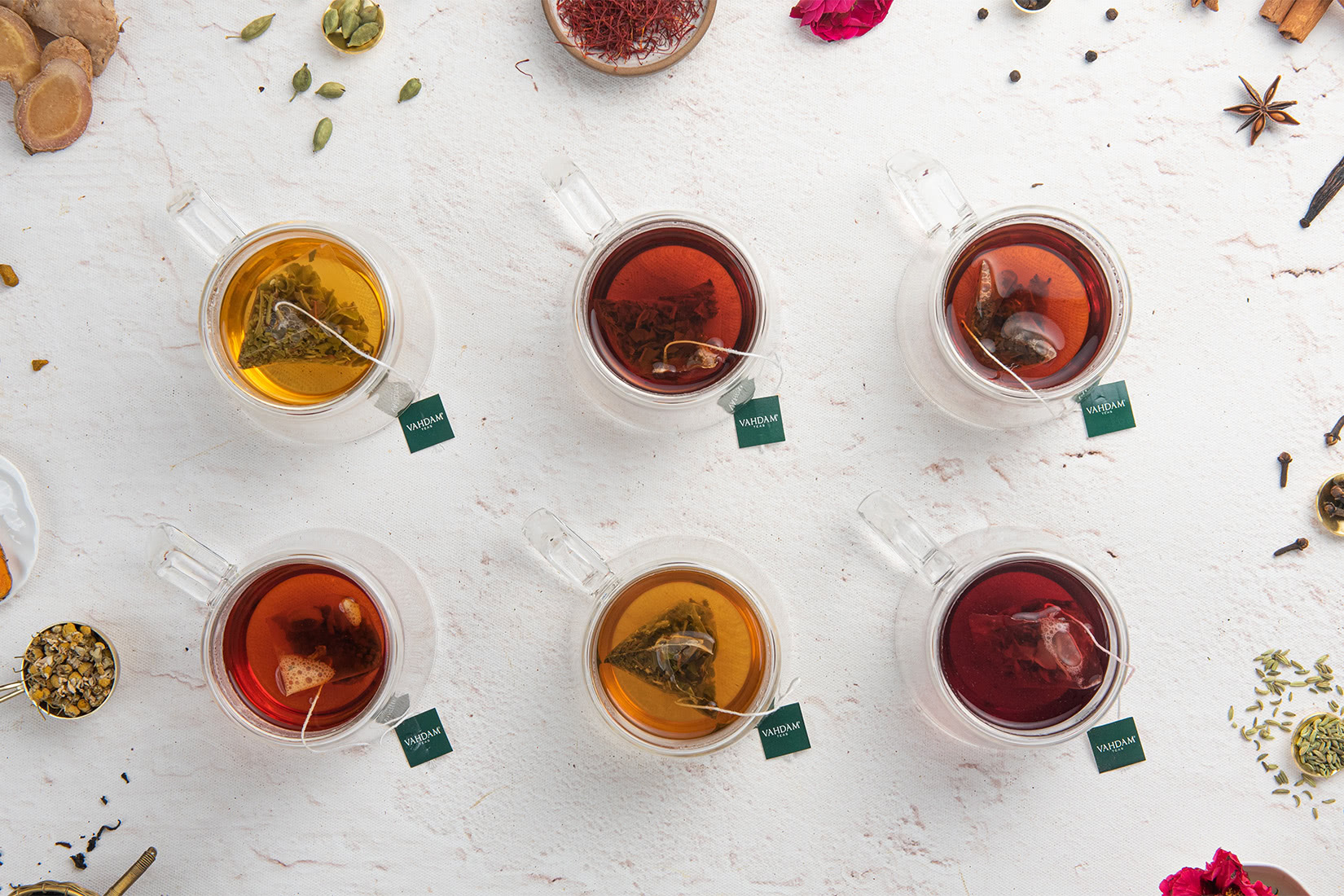 Who's it best for?
Or rather: who isn't it best for? Anybody who enjoys an aromatic brew, prioritizes ethical manufacturing, and supports tea growers, will go starry-eyed for VAHDAM teas. Whether you prefer a classic black tea (good morning, Earl Grey and English Breakfast) to kickstart your day, spicy chai for an afternoon pick-me-up, or a calming herbal tea to wind down in the evening, VAHDAM is the tea brand for casual tea drinkers and seasoned sippers alike.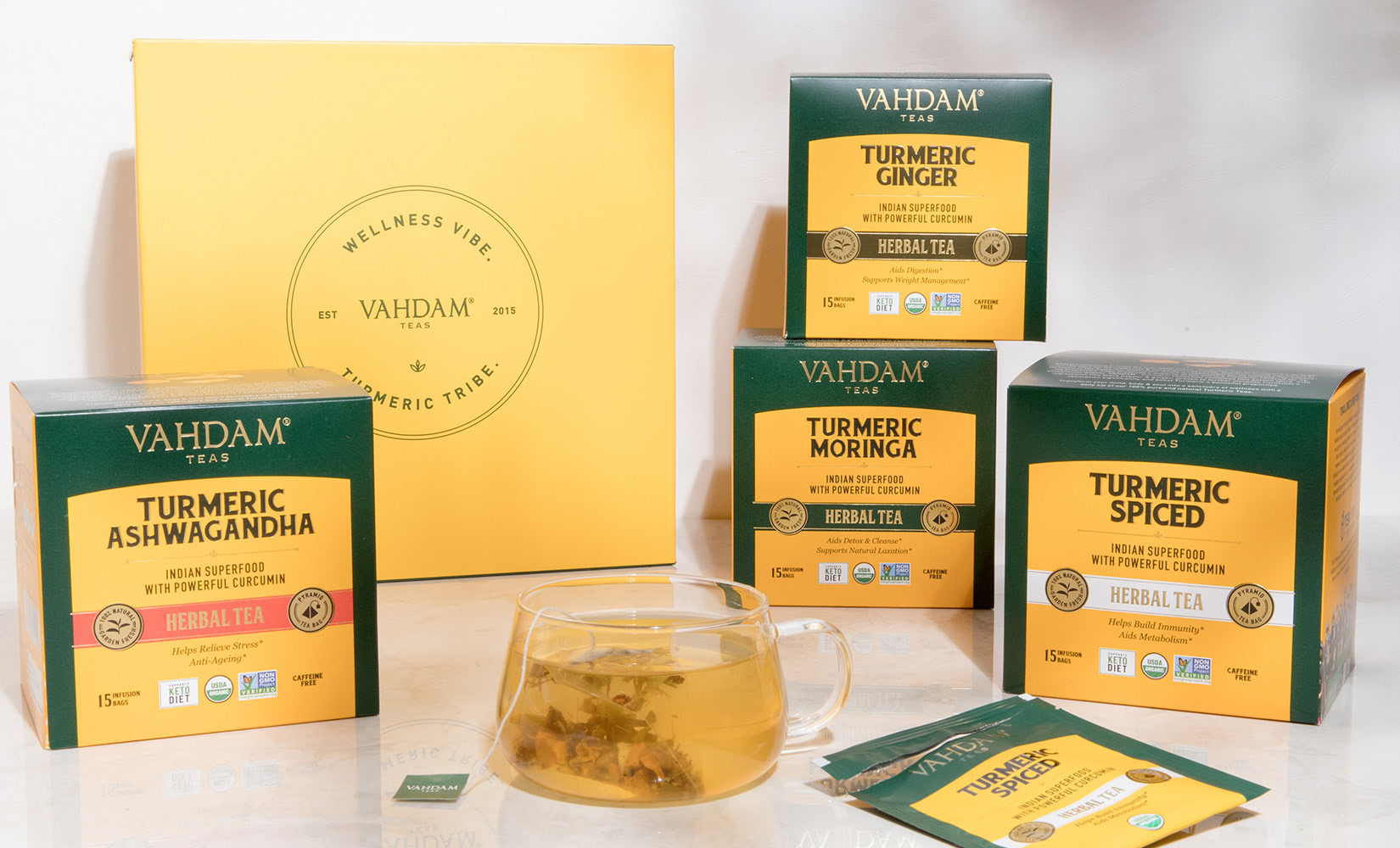 VAHDAM tea flavors
Whether you like your tea classic and popular, or bold and adventurous, you're certainly not short of choice at VAHDAM. Offering your classic black teas and antioxidant-rich white teas through to zingy green teas, fragrant herbal teas, and signature single-estate tea blends, no one will go thirsty. No matter what your preferred tea flavor, you're sure to find it.
If you've got a penchant for chill, opt for one of the invigorating iced teas. Or, nourish your body and soul with a superfood blend; pick from matcha, honey-golden turmeric lattes, and organic chai lattes. Or, if you're anything like us, treat yourself to the whole range. Seriously: why not have it all?
Tea time: Our handpicked favorites
Organic Himalayan Green Tea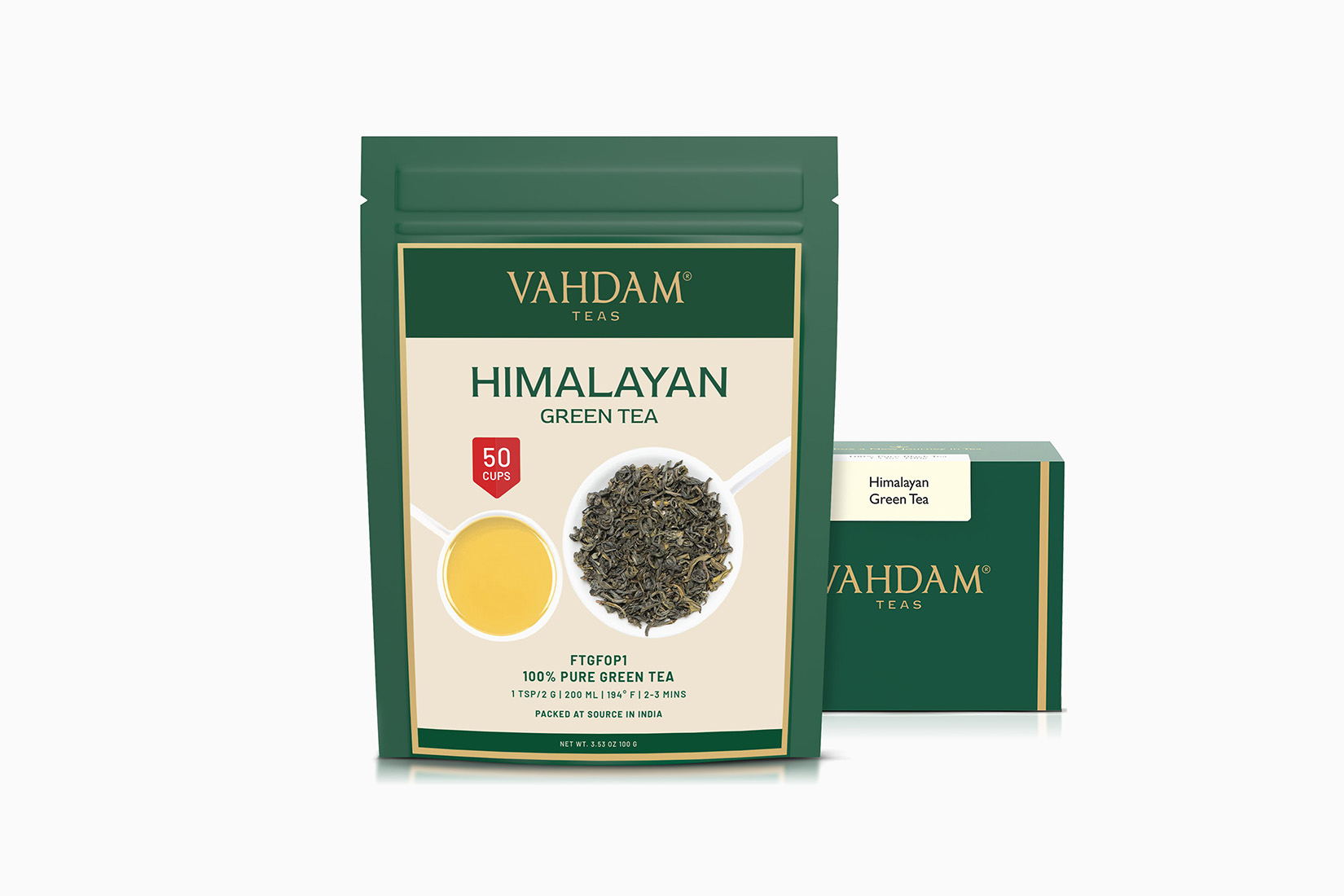 It's green. It's organic. It's everything we want from a hot drink. Handpicked from the Himalayan region of northern India, you can truly taste the freshness.
Oozing antioxidants and flavenoids, the VAHDAM green tea stands out from the crowd—not only for its conspicuously lacking bitterness but also for its low caffeine content. Yes, that means any time can be tea-time without worrying about the jitters.
A green tea for card-carrying fans and newbies alike, the Organic Himalayan Green Tea bypasses bitterness in favor of a sweeter, morning dew-like palate—pour a cup, we must insist.
Authentic Masala Chai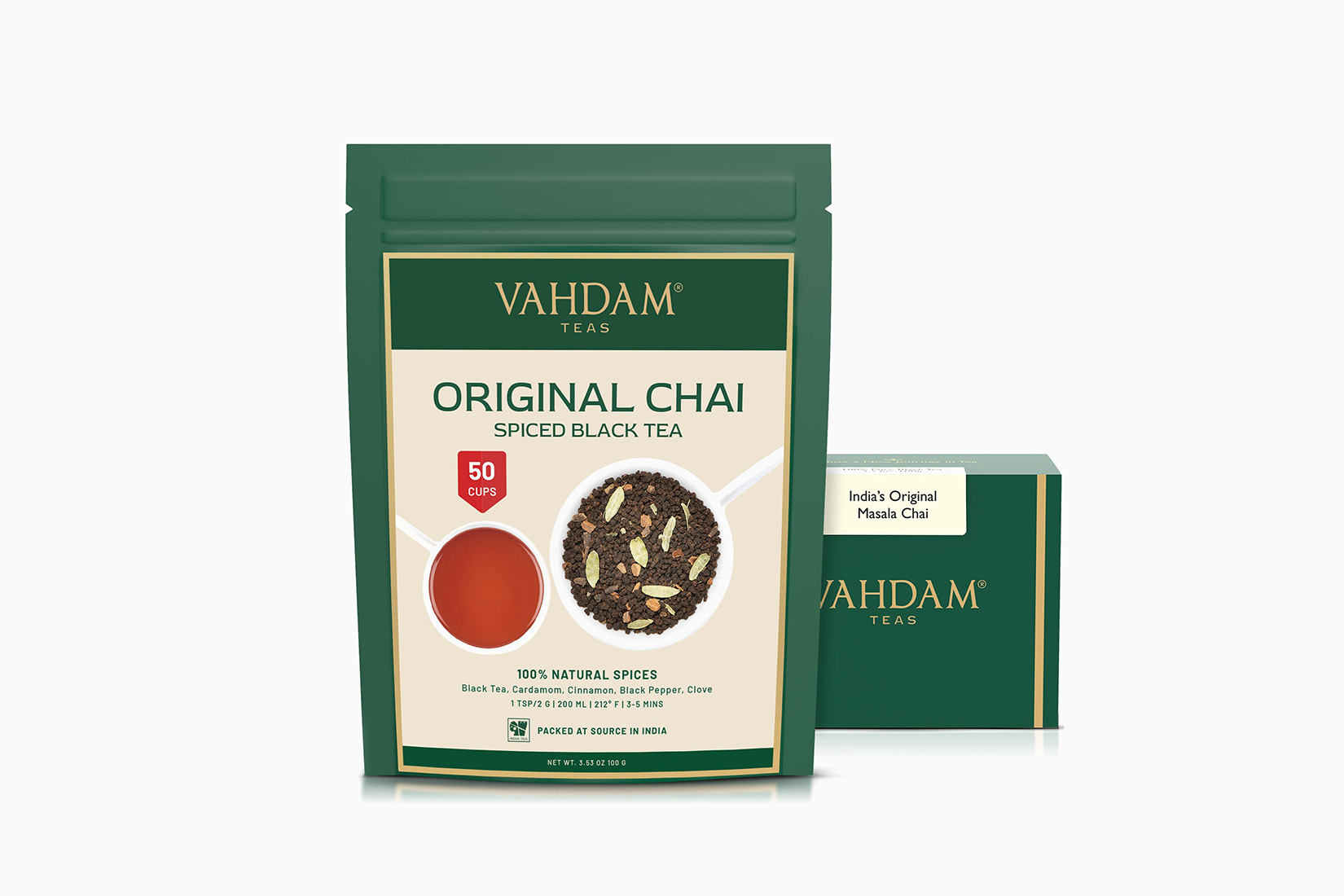 Providing a true taste of India, we can attest you won't find a tastier chai blend anywhere. Lovingly crafted with thoughtful proportions of the cornerstone spices: cinnamon, cardamom, cloves, and black pepper, you'll be tasting the expertise with every aromatic cup.
The loose-leaf blend can be taken black or with a splash of milk (plant-based if you prefer) and a dash of sugar for a treat. Truly iconic, the Authentic Masala Chai will instantly warm your tastebuds, rejuvenate your soul, and nourish your body. All that from a tea? Sip it and see; this chai blend will melt your heart.
15-Day Turmeric Wellness Starter Kit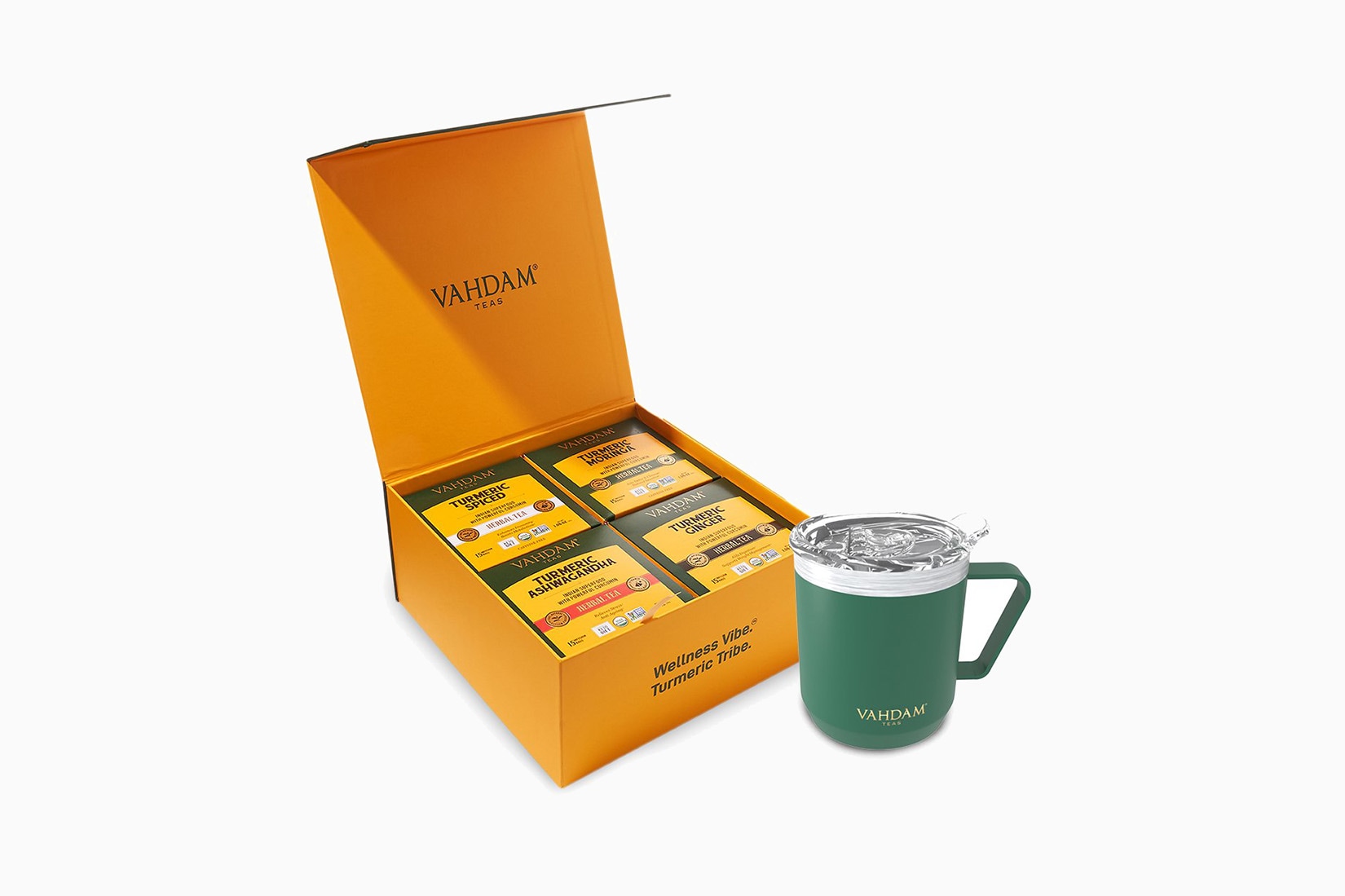 Need a push in the right direction when it comes to well-being? Gift yourself (or someone you love) the 15-Day Turmeric Wellness Starter Kit. Chock-a-block with four Indian turmeric blends equalling 60 cups, the days ahead will be a touch more wholesome with these pyramid teabags on-side.
Packed with Indian turmeric (the best in the world thanks to its sky-high curcumin levels—the do-gooding active ingredient), ginger, ashwagandha, and moringa, the 15-Day Turmeric Wellness Starter Kit is the ultimate dream team. Vegan, calorie-free, keto-friendly, and certified organic, the VAHDAM turmeric tea can do no wrong.
True to form and covering all bases, VAHDAM even supplies the Dual-Insulated Stainless Steel Drift Mug with this set, keeping your brew piping hot for 4 hours or refreshingly cold for 10 hours.
Assorted Tea Bags Variety Sampler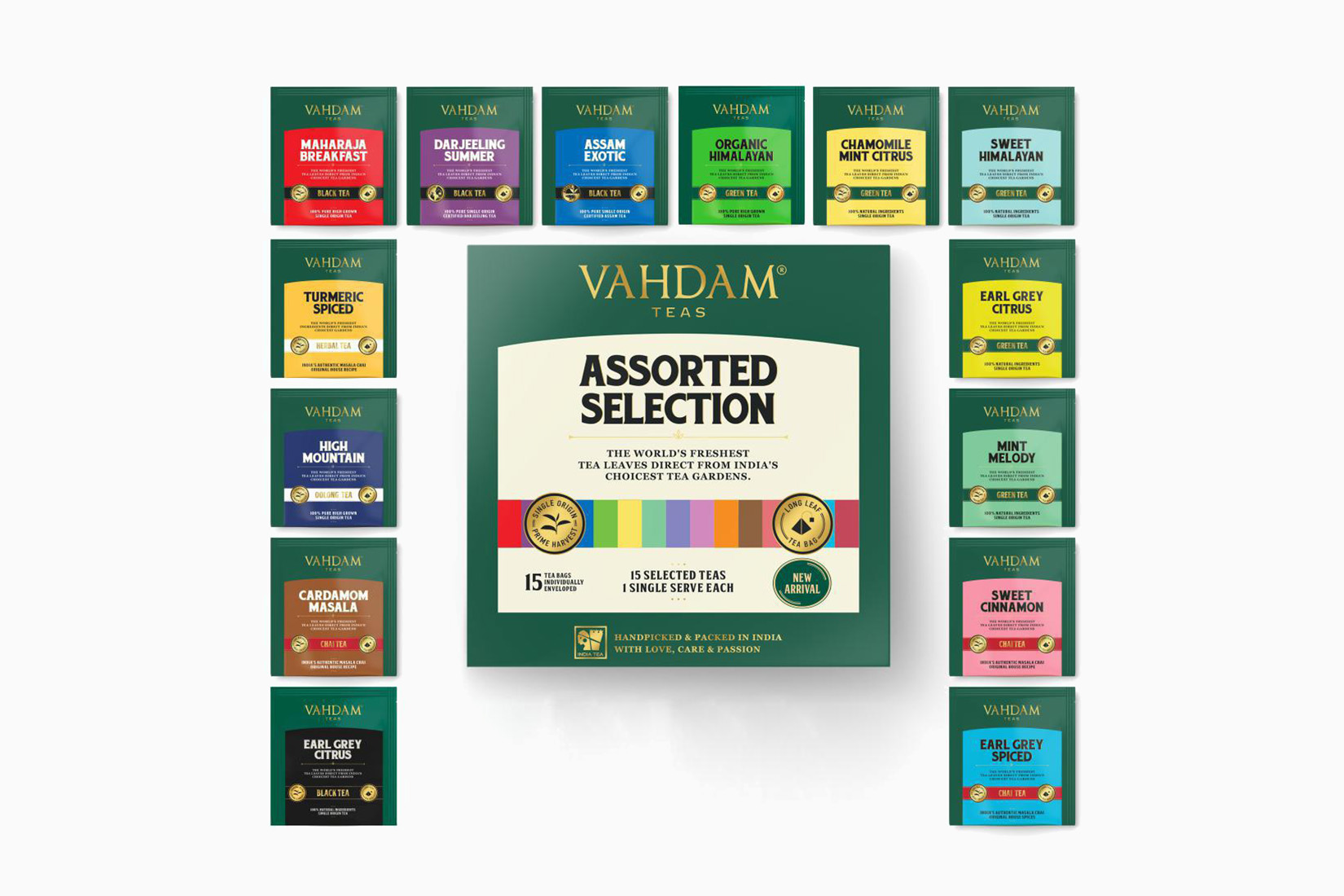 For those who love to shake things up, opt for the Assorted Tea Bags Variety Sampler. Overflowing (neatly) with 15 handpicked tea blends, there's a flavor for every mood. Encased in the brand's thoughtfully-designed pyramid bags for a better and bigger brew, you can be sure your delectable tea won't end up littering the bottom of your cup.
So what do you get? From energizing Mint Melody (our pick for a pre-workout sip) to elegant Earl Grey Citrus and Turmeric Spices, you'll find both familiar blends and exciting new flavors in this tantalizing pack.
Assorted Herbal Tea Sampler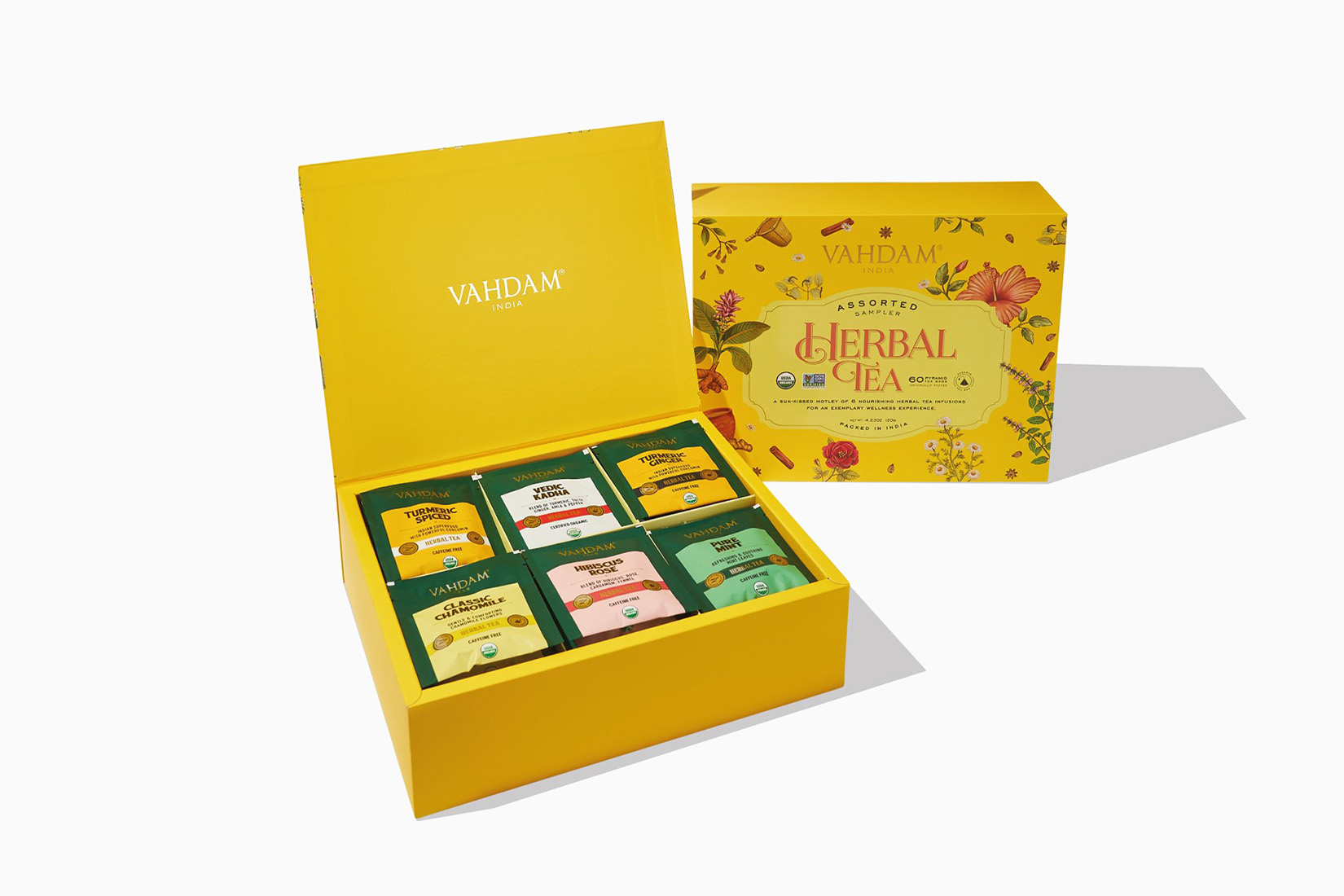 Not one for black tea? No drama: VAHDAM has you covered with the Assorted Herbal Tea Sampler, boasting 6 varieties with 10 bags of each. The handpicked selection is the crème de la crème of the brand's finest herbal teas, with flavors like Vedic Kadha, Pure Mint, Classic Chamomile, and Hibiscus Rose. Oh, and the all-important golden duo: VAHDAM Turmeric Spiced Tea and Turmeric Ginger.
Whether you're hosting a tea morning or you simply wish to sample the best herbal blends India—nay, the world—has to offer, the Assorted Herbal Tea Sampler serves up a veritable feast.
How do you drink VAHDAM Tea?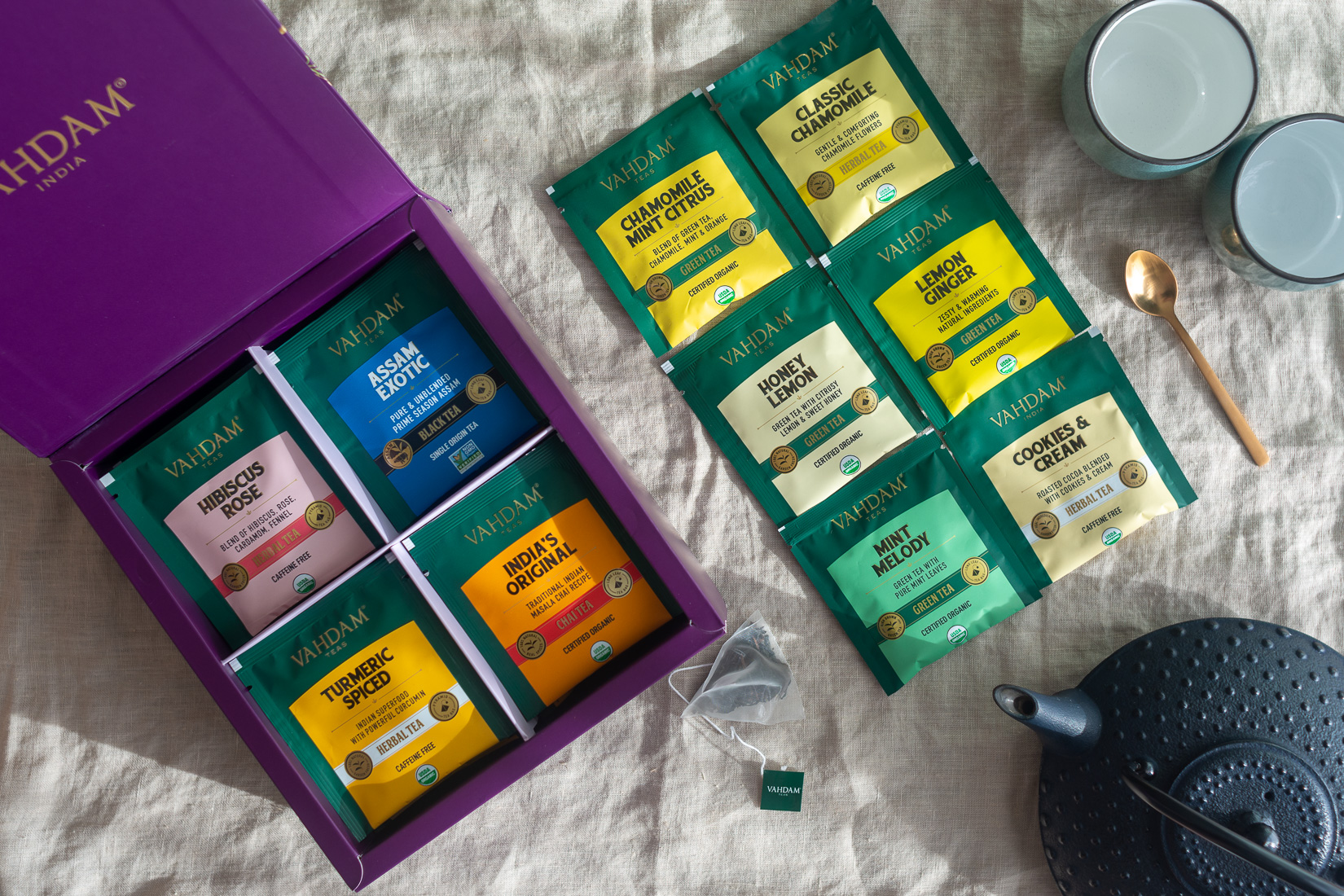 Naturally, execution is key when it comes to savoring the finest tea. Fortunately, with every blend, VAHDAM provides exact brewing information. You'll be clued up on optimal temperatures and brew times for each blend, so you can achieve the perfect cup every time.
Now, the only question is: To dunk or not to dunk?
Where to buy VAHDAM Teas
Can't wait to get your hands on VAHDAM teas? No fear: there are plenty of stores stocking the beautiful blends. Go direct at VAHDAM's site, or Amazon, or head to one of the 1000+ stockists across the US for a plethora of options, including Nordstrom, Neiman Marcus, Bloomingdales, Nordstrom, Bergdorf Goodman, Saks Fifth Avenue, Wegmans, Erewhon Market, Sprouts Farmers Market, Macy's, and Wegmans.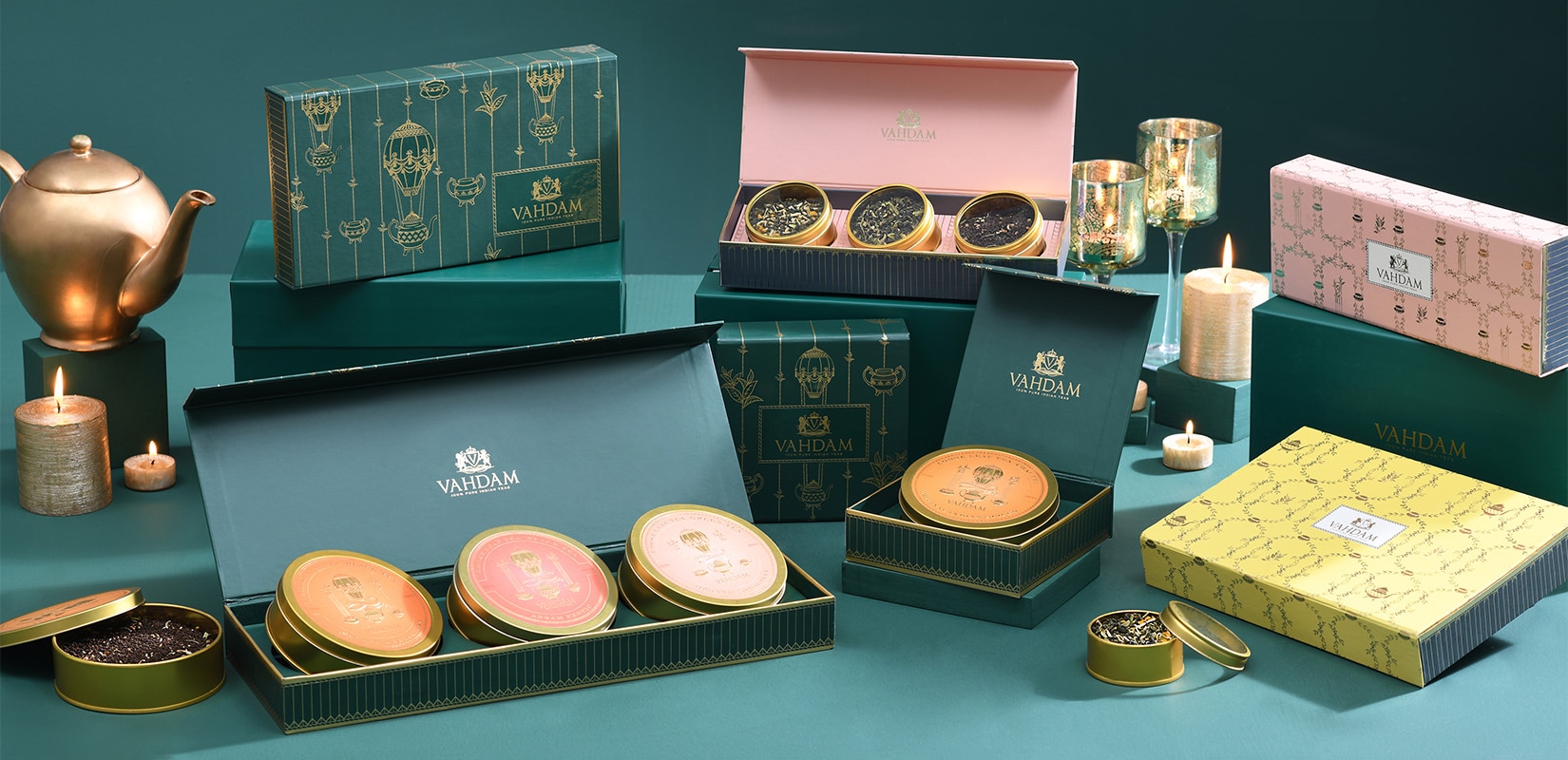 Frequently asked questions about VAHDAM Teas
Is VAHDAM a good company?
Yes, VAHDAM is an excellent tea brand that sources, packages, and ships direct from source in India, smoothing out the supply chain and prioritizing both the freshness and quality of their products and also the welfare of their tea growers. With 1% of the revenue going towards the education of the tea-growers children, we simply can't fault them.
Is VAHDAM Tea organic?
Many of VAHDAM's tea blends are certified organic. Simply check the details of your chosen flavor to ascertain its certification. Read our full VAHDAM review for more information about this tea brand.
What are the best tea brands?
In our humble opinion, VAHDAM is hands-down one of the best tea brands in the world. From their thoughtful manufacturing to innovative and traditional flavor combinations, VAHDAM takes your tea break to refined new heights.
Does Oprah endorse VAHDAM tea?
Oprah placed VAHDAM on her Favorite Things list for two years consecutively, in 2018 and 2019. From the queen of chatter, that's quite the accolade.
Where is VAHDAM tea made?
VAHDAM sources teas from across 150 renowned tea plantations across India, including the famous tea-growing regions: Darjeeling, Assam, Sikkim, Nilgiris, and Kangra.
Who started VAHDAM India?
Fourth-generation entrepreneur Bala Sada—featured in Forbes Asia 30 Under 30 in 2018 and coming with a legacy of 85 years in tea—founded VAHDAM India in 2015 at the age of 23 years old in India. Going from strength to strength, VAHDAM has wetted the lips of tea drinkers in over 130 countries. VAHDAM is the reverse anagram of the founder's father's first name, MADHAV.