Earning passport stamps without leaving the house might sound a little out of the ordinary but it's all part of the fun when you've got yourself an Atlas Coffee Club subscription.
If you're someone who can't help but mention stories from travels past, fills their home with artifacts from all over the world, and dreams of loftily saying: "Oh, those? They're my coffee beans grown in Tarrazu, a coffee farming community that lies deep in the heart of the Costa Rican hillside. Delicious, aren't they?" to your guests, Atlas Coffee Club is an unmissable addition to your day to day life.
Because no one does coffee like Atlas Coffee. This monthly subscription service is one of the best coffee subscription clubs and our favorite way to get premium coffee delivered at Luxe Digital.
Taking you on a journey each month across the world, one new, sustainably sourced bean from a different part of the world at a time, it's a brilliant way to elevate your coffee game authentically and ethically.
Each month, go on a world tour of coffee, with Atlas-roasted beans from Tanzania, Kenya, Colombia, and beyond. Guaranteed freshness and packaged up in a stylish Travel Package each time, Atlas Coffee Club's specially curated coffee is set to become a new favorite part of your morning.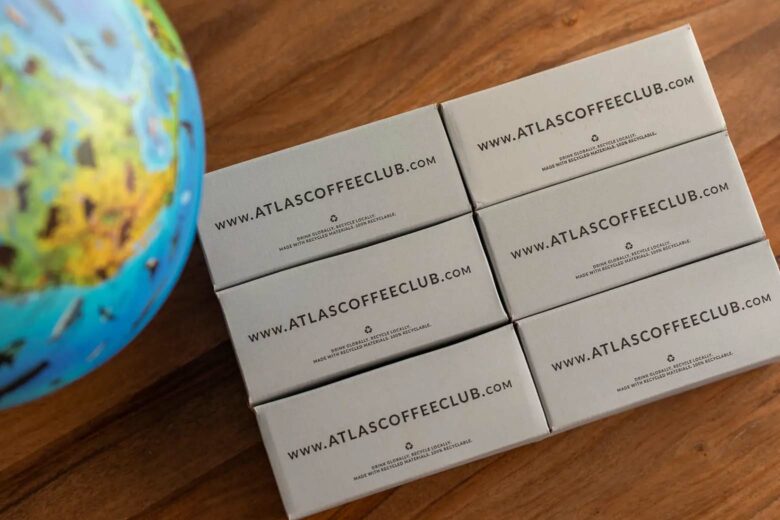 Atlas Coffee Club Review
The pros:
Consistent, high quality and delicious coffee beans
The best option for branching out in the world of coffee
Unique experience that's also a great gifting idea
The cons:
At $14 per bag for a 12 oz. bag (plus $4.95 shipping), it's not the cheapest option for getting your caffeine fix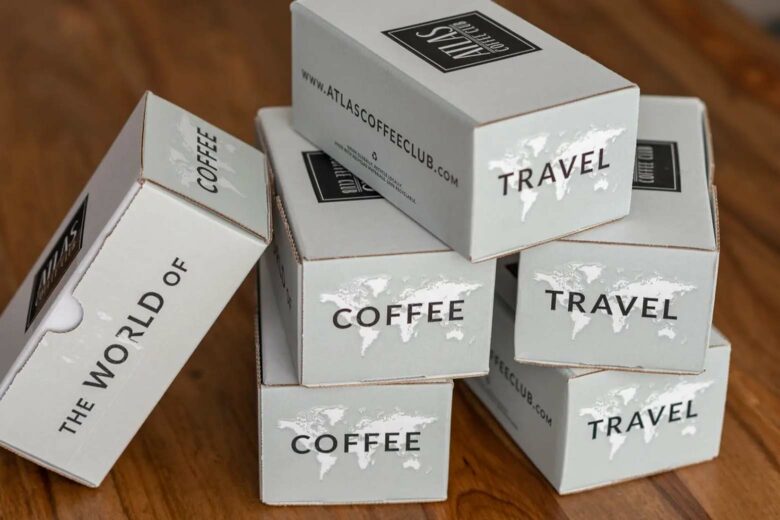 The Atlas Coffee Club subscription: Our verdict
Atlas Coffee Club makes drinking your morning cup far more exciting than just strolling across the road to your closest Starbucks. This subscription service is a brilliant way to broaden your horizons in the world of coffee roasting and educate yourself on different parts of the world at the same time.
Add to that the fact that the brand goes further than simply being fair trade and has a big push on ethical, sustainable roasting: we're convinced.
How Atlas Coffee Club works
A worldwide coffee tour sounds incredible if you're someone who can't live without at least one mug a day and Atlas Coffee Club manages to do just that, without having to step further than your kitchen. The process is simple: fill out a couple of questions on the Atlas Coffee Club's website so they understand your preferences, decide how big of a bag you require to keep your coffee fix under control, and choose how often you want to receive it.
Then let the magic brew.
Each month, you'll receive a different bag of coffee from somewhere around the world, packed into a unique box with local artwork and a postcard from the country your beans were sourced from.
You'll get to read through tasting notes and brewing tips for each batch as well as detailed information on how that exact batch of coffee was processed.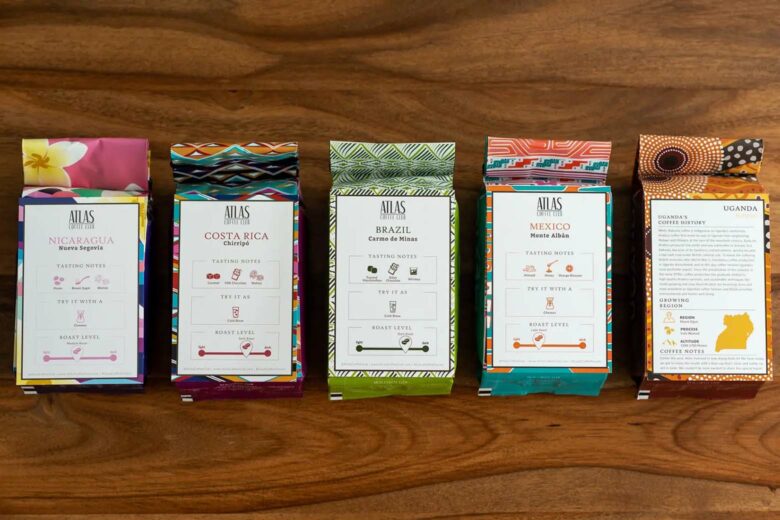 Atlas Coffee subscription
Coffee selection: Discover new horizons
Atlas' beans are all specialty grade, which means you can expect high-quality beans every single month. They're also all single-origin and hand-picked at peak ripeness for the highest quality. All of the beans are roasted fresh to order; something you can enjoy even more if you're stocking up every two weeks via Atlas Coffee Club so your beans are always fresh.
Membership options: How often do you want to receive a new bag?
The beauty of Atlas Coffee Club is how easy it is to tailor to your specific preferences. When you sign up for a membership, you can choose how often you want to receive your coffee: once a month or once every two weeks. If you select once a month, you'll receive a new coffee each time.
If you select once a fortnight, you'll receive the same coffee twice a month, but it means you don't have to worry about the first batch losing its freshness. The latter option is great if you're sharing your subscription with another person or don't want to ration your monthly bag to one cup a day.
Tailored experience: How do you like your coffee?
Don't have a coffee grinder at home or can't bother to grind your beans each time you want a cup? No problem. Atlas Coffee Club can send you a bag of whole beans or freshly ground coffee. You decide!
Do you prefer strong coffee in the morning and something sweeter after lunch? You can choose your exact coffee roast preferences between light to medium, medium to dark, or all roast types to get a combination of both.
When joining their subscription service, you can also select how much coffee and how many bags you'd like to receive each month. You can choose between half a bag (6 oz or about 15 cups), one whole bag (12 oz or 30 cups), or two whole bags (24 oz or 60 cups).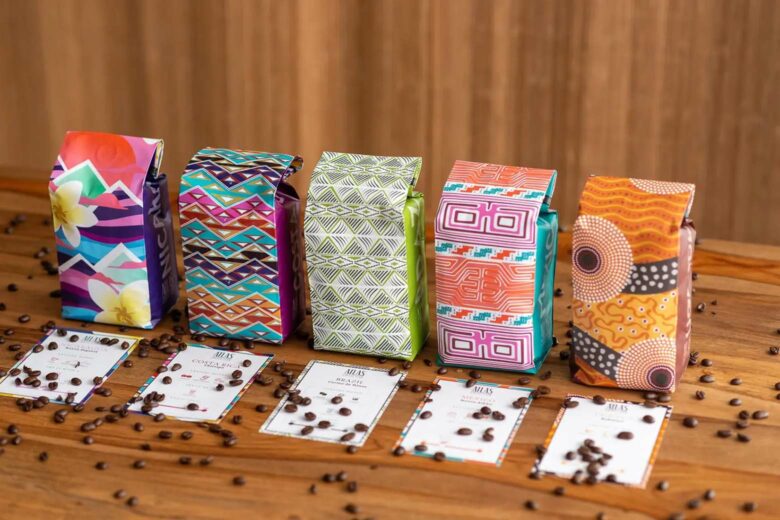 Packaging: A work of art
Atlas Coffee Club really takes things one step further when it comes to packaging. Taking inspiration from the country of origin of your beans each month, your coffee will turn up in a vibrant bag designed by a local artist, reflecting traditional textiles and landscapes. Each "travel package" also comes with a postcard from your beans' home country. It is a great opportunity to learn more about unique parts of the world while you're drinking your daily cup.
Delivery: You decide when and how often
Atlas Coffee Club's standard option is delivery every four weeks, on the exact day of your choosing. However, if you know you'll get through more coffee than one-month supplies or if you're sharing your subscription with one or more other people, you can opt for delivery every fortnight instead.
Just keep in mind that, as the coffee of the month only changes every four weeks, if you opt for delivery twice a month you'll receive the same coffee twice before trying a new one. But you can update your delivery preferences at any point during your subscription if needed.
Shipping takes between three to six business days in the U.S. and five to 12 business days if you're based in Canada.
Price: Better yet cheaper than a Starbucks
Atlas Coffee Club is a little more expensive than picking up a bag of Folgers coffee from your local supermarket. But it's a lot cheaper than buying coffee out every day, especially when you take into consideration the special features of this subscription box. A six oz half-bag of coffee costs $9, a 12 oz full bag costs $14 and a 24 oz double bag costs $28.
Shipping costs $4.95 on top of the subscription price. Additional charges apply for shipments to Canada, which start at $6.
So you're looking at about $0.46 cent per cup. Perfectly reasonable for high-quality coffee if you ask us.
Coffee subscription gifts
Atlas Coffee Club is a great gifting idea for the coffee lover in your life. You can choose between three different options, depending on how much you'd like to spend on your coffee-loving friend: you can opt for a three-month, six-month, or 12-month subscription option.
Coffee tasting experience
Unpacking your box from Atlas Coffee Club is akin to receiving a package from a friend located far away. It's a lot more exciting than simply ripping open your next bag of coffee from the supermarket and more interesting to read while you're waiting for your coffee to brew.
Take a look at our round-up of the best coffee makers of the year if you want to upgrade your coffee brewing experience while you're at it.
The surprise of discovering a new coffee bean each month is also an exciting addition to your day: instead of pouring your mug and downing it before a long day at work, it makes drinking coffee into an event, where you'll take the time to explore the tasting notes with each sip.
And that's another area – arguably the most crucial one – where Atlas Coffee Club really excels: all of its brews are delicious. Their team doesn't cut corners when it comes to quality.
Even if you're a self-confessed coffee snob, it's very unlikely you'll be anything less than very impressed with each new bag. No wonder the brand is so often quoted as one of the best coffee subscriptions on Reddit.
Atlas Coffee prices and discount codes
Atlas Coffee Club offers an exclusive discount code for Luxe Digital with a generous 50% off of your first bag of coffee. Just use the coupon LUXEDIGITAL at checkout to enjoy the discount.

Here is a table summarising the prices for the various subscription options:
| Half bag | Full bag | Two bags |
| --- | --- | --- |
| $9 | $14 | $28 |
Keep in mind that you can choose the frequency at which you want to receive your order, the roast type, and the ground type, whichever bag size you select.
And here's the price summary for the gifting options:
| 3 months | 6 months | 12 months |
| --- | --- | --- |
| $60 | $109 | $199 |
The alternatives
While Atlas might be the best coffee subscription for varied coffee, there are plenty of others available if you're looking for something specific. Spirit Animal Coffee and Driftaway Coffee are other good subscription options for ethically sourced gourmet coffee with a variety of different specialties and membership options.
Volcanica Coffee and Trade Subscription are another two premium options that allow you to curate your monthly cups to your exact desired taste.
Take a look at our selection of the best coffee bean brands of the year if you want to see more options.
Frequently asked questions about Atlas Coffee Club
Is Atlas Coffee Club worth it?
Yes, Atlas Coffee Club is worth it if you like to discover high-quality coffee from new origins on a monthly basis. Atlas Coffee Club is a brilliant monthly subscription for putting the pleasure back into your daily cup of coffee and learning more about different beans and flavors at the same time.
Can you cancel Atlas Coffee Club?
Yes, your subscription to Atlas Coffee Club can be canceled anytime with a normal membership, which runs month to month. Three months, six months, or annual packages can only be canceled at the end of their cycle.
Who owns Atlas Coffee?
Atlas Coffee Club is owned by Michael Shewmake and is based in Austin, Texas, United States.