A small step for dress shoes, a giant step for sustainable fashion. Although a slight twist of Armstrong's famous words, we think it's fitting considering the trailblazing nature of this innovative men's footwear label. Amberjack was born to modernize the outdated dress shoe with contemporary, comfortable models. And while the carbon-neutral brand leaves no footprint on the earth, it's certainly left its mark on the fashion industry.
At a glance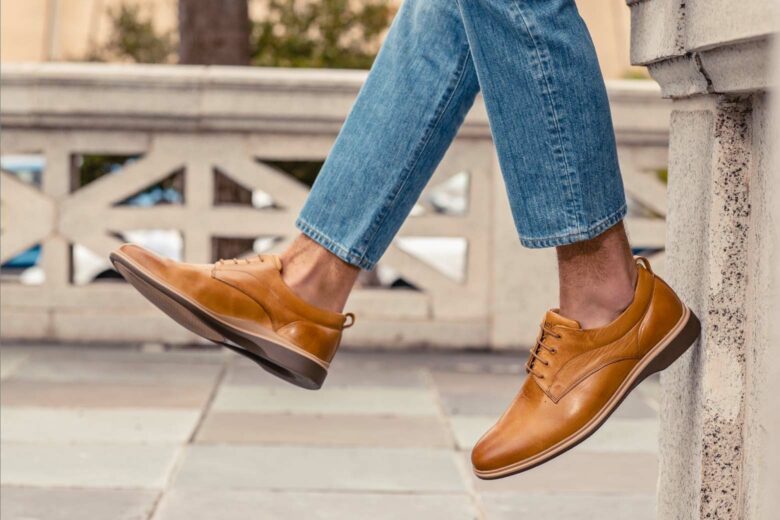 Behind Amberjack
History of Amberjack
Established in New York in 2020 by John Peters, Amberjack was born to reinvent the tired dress shoe. The innovative brand launched with a single shoe silhouette—The Original. The Original epitomized what the footwear label would ultimately become. It focused on sustainability. It pressed hard into comfort and quality. And it was obsessed with modernizing what was quickly becoming an outdated silhouette.
But why the need for change? After graduating from college, Amberjack founder John Peters worked with many well-known leaders in the fashion and footwear industries. And while he was captivated by the soul (and sole) that went into each design, he was disappointed by how little thought actually went into sustainability. Even brands that marketed themselves as "fully green" were more concerned with their bottom line than anything else. And the label "eco-conscious" was more often used as a marketing ploy as opposed to a real interest in change.
Inspired by brands such as Allbirds—who were actually doing something to make a difference—John Peters decided to follow in their innovative footsteps (pun intended.) From the get-go, Amberjack was more interested in comfort, quality and sustainability than it was with reducing the shoes' cost price. The Originals were hybrid dress shoes that infused innovative technologies with decades of craftsmanship. The unique silhouette took the footwear world by storm. And soon after launching, the brand was able to expand its product range into various shoe types—all of which stepped into Amberjack's trailblazing mentality.
Interesting facts about Amberjack
Yep, Amberjack is a type of fish found in the Indian and Pacific oceans. But it is not the muse behind the luxury brand's name—despite the fact that it reeled in an enormous fan base soon after launching (sorry we had to.) Rather the name "Amberjack" is a combination of "amber" and John Peter's grandfather's name, "Jack."
Why Jack? As John's childhood hero, his grandfather personified the quintessential gentleman—as do Amberjack shoes. Why amber? Amber is a fossilized resin with the uncanny ability to capture and preserve an object from a moment in time. It's also the traditional color used for old-world dress shoes. And in a way, "amber" represents the infusion of old with new.
This marriage between old and new is evident throughout the brand. From shoe designs to the materials used, the luxury label plays with the idea of merging the two worlds to create a brand that is classically timeless and also always one step ahead of the curve.
A nod towards the past, Amberjack exclusively uses A-grade quality leather usually used for luxury cars. While its proprietary comfort is representative of a movement towards "the new." The cushioned soles are similar to those found in high-performance athletic shoes. And working with the same supplier that engineered the all-hailed Adidas Boost, the brand is passionate about adopting various cutting-edge technologies.
Amberjack product range
Since launching the luxury label with just The Orignal, Amberjack has expanded its product range to include a collection of men's footwear. And while each shoe is made from distinctive materials, all Amberjack shoes are designed to reinvent men's dress shoes that are better for your feet and better for the planet.
Amberjack's collection of the most comfortable dress shoes for men includes The Original, The Loafer, The Chelsea, and The Tux. All silhouettes run the gamut in colorways—from Chestnut brown to Cobalt blue. The brand's signature rubber sole is evident in all silhouettes. And leather textures range from glossy to suede. So there's just enough choice to find your perfect pair without scrolling through an overwhelming number of options.
Signature materials and craftsmanship
You won't see it advertised all over its homepage, but Amberjack is one of the only carbon-neutral footwear brands. In fact, it chooses to be discreet around its planet-saving endeavors, as the brand firmly believes that sustainability in fashion should be normalized, not glorified. And while we appreciate the brand's sentiment and humility, we know you want to know just how your Amberjack shoes are contributing towards a less-destructive future.
Amberjack exclusively sources its leather from an ISO-certified sustainable tannery. This means that the tannins absorbed by the leather skin are biodegradable and environmentally friendly. The process used reduces the number of harmful chemicals released. And it always requires far fewer natural resources than traditional tanning methods.
While the brand is yet to release vegan leather options, all of the leather used is sustainably sourced as a byproduct of the meat industry. The luxury label only used full-grain, A-grade quality leather for improved durability. This type of leather is usually used on luxury cars or by affluent footwear labels who subsequently sell their shoes at a much higher price point.
Besides the leathers used on Amberjack shoes, the brand manufactures all its footwear in the north of Portugal in a fair wage factory. It only uses plastic-free packing. And all its shipping and transportation are 100% carbon neutral. Talk about multiple steps in many right directions.
Where are Amberjack shoes made?
Marrying a modern metropolitan mindset with timeless European craftsmanship, Amberjack shoes are designed in Brooklyn, New York and manufactured in the Felgueiras region in the north of Portugal. Famous for shoe-making, many of the world's most affluent footwear labels derive from the Felgueiras. Amberjack only works with small, high-quality factories—many of which manufacture shoes for well-known labels that sell them for double or triple the price.
Brand values
| | |
| --- | --- |
| Vegan options | No |
| Carbon-neutral | Yes |
| Gives back | Yes |
Our favorite finds from Amberjack
Amberjack The Original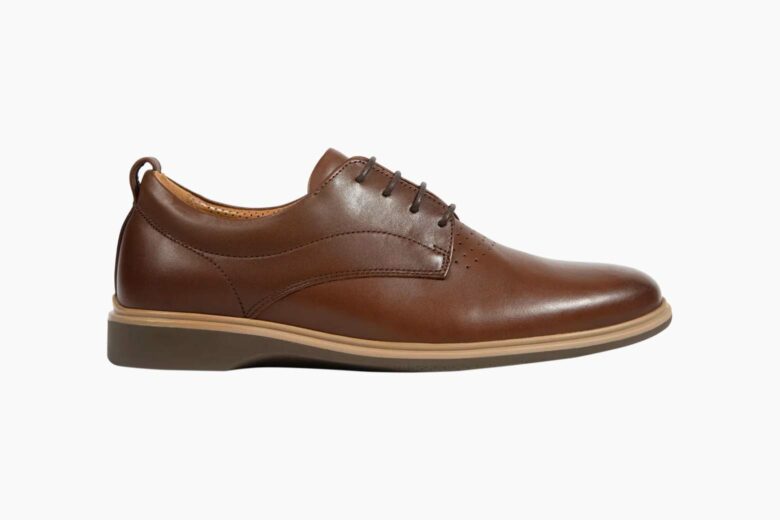 Renowned as Amberjack's flagship shoe, this is the silhouette accredited for catapulting the brand to overnight fame. As our overall best dress shoes for men, we're evidently a member of the shoe's enormous fanbase. But what makes The Original so special? With heat-activated arch support, increased ventilation, and buttery soft sheepskin lining, they're indisputably our most comfortable dress shoes. And the fact that they look fantastic—well, that's just a bonus.
See also our in-depth Amberjack shoes review for more details.
Amberjack The Loafer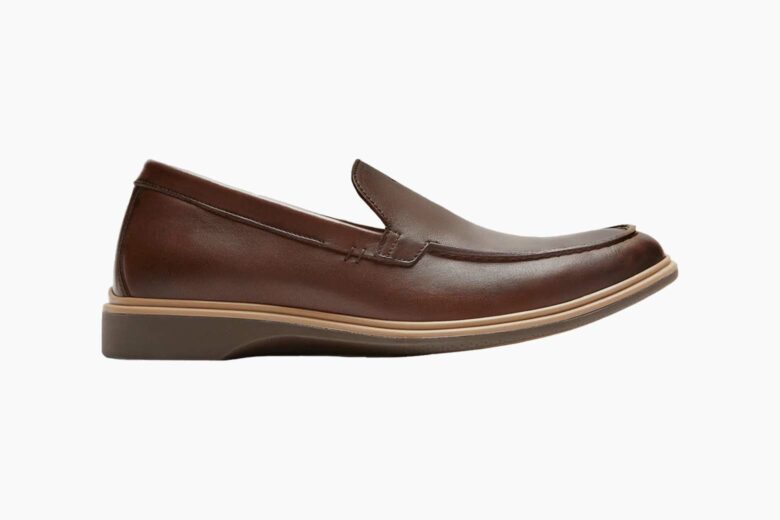 One of the most comfortable pair of men's loafers, The Loafer by Amberjack fuses old-school class with cutting-edge technologies to create a slip-on shoe that is both sophisticated and superlatively comfortable, and easy to wear. Made from water-repellent suede, you won't have to worry about the odd puddle on your way to work. And the dual-density outsole is as strong and supportive as a hiking boot—making a life-in-motion polished and pain-free.
Amberjack Chelsea Boots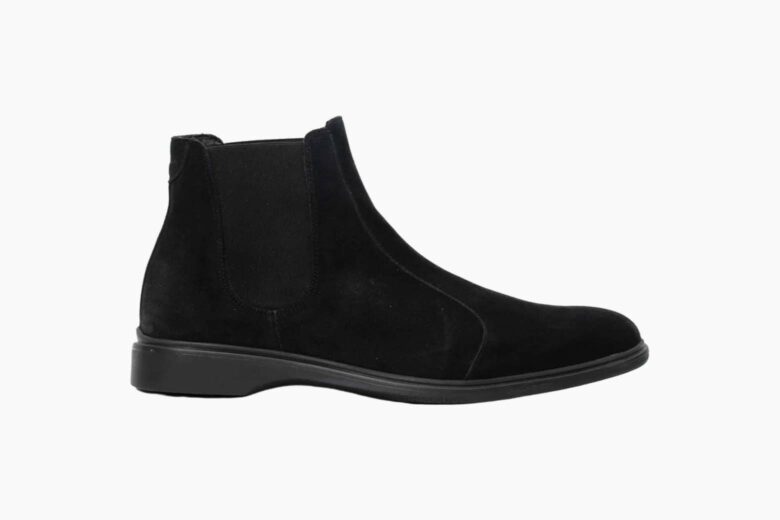 Amberjack Chelsea boots are number one on our list of the best Chelsea boots for men—no small feat (or feet) considering the number of luxury footwear brands out there. So why the frontrunner accreditation? The Chelsea boots are far more affordable than other luxury brands of similar quality. The thermo-mouldable insole provides a personalized fit. And the protected suede is suitable for all climates.
For more on why we adore these shoes, see our full Amberjack shoes review.
How do Amberjack shoes fit?
As stated by the brand itself, Amberjack shoes do run large. We recommend sizing down, even by half size. However, if your feet are wider than most, you can probably stay true to size.
Once finding the perfect fit, Amberjack shoes are incredibly comfortable. Roomy-yet-snug, the supple leather is the shoe equivalent of a foot hug. Heat-activated arch support molds to your foot for a customized tailored fit. And ample ventilation makes Amberjack footwear effortlessly breathable.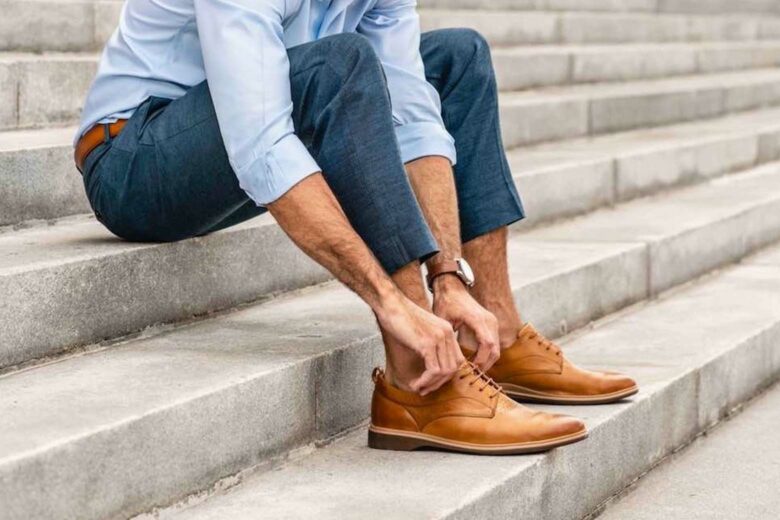 How to tie Amberjack shoes?
As comfortable as Amberjack shoes may be, there's nothing more annoying than constantly bending down to tie your laces. So you best tie them up properly. Practically and aesthetically, we recommend a classic straight lace with a hidden knot. What do we mean by this? Once tying your laces, tuck the bow underneath the tongue of the shoe so that it can't be seen. That way it won't come undone. And we love the clean aesthetic.
Amberjack price
Yep, Amberjack is considered a luxury brand due to its high-quality craftsmanship and premium materials, but the brand's shoes are also fantastic value for money. Amberjack shoes are manufactured in the same family-run factories as other well-known affluent labels. And while they showcase the same impeccable eye for detail, Amberjack shoes are far more affordable than other luxury brands. All Amberjack shoes are priced between $175 and $199, making it possible to add more than one pair to your everyday rotation.
Where to buy Amberjack
Cutting out the middleman, Amberjack's direct-to-consumer sales approach keeps the brand's quality high and its prices low. The affordable luxury label sells its men's footwear exclusively on the Amberjack website, where you'll find its full range of unique silhouettes and colorways.
Amberjack shipping
Amberjack shipping is fast, free, and 100% carbon neutral. The luxury brand offers free international shipping on all orders to anywhere in the world. Shipping time depends on where in the world the order is being delivered. However, if you are shipping within the US, you can expect your order to arrive within 3-7 business days.
Amberjack return policy
Amberjack has a full money-back guarantee on all orders returned within 30 days of when the order was placed. And the brand has an exchange policy on all orders exchanged within 60 days of when the order was placed. All US returns and exchanges are free. However, if your order was placed outside of the US, you will incur shipping charges.
Frequently asked questions about Amberjack shoes
Where are Amberjack shoes made?
Amberjack shoes are designed in Brooklyn, New York, and manufactured in the Felgueiras region in the north of Portugal. This Portugese region is famous for shoe-making and many well-known affluent labels manufacture their shoes in the same small, family-run factories as Amberjack. 
Are Amberjack shoes waterproof?
Amberjack shoes are made from water-repellent leathers and suede, making them appropriate for all weather conditions.
Are Amberjack true to size?
Amberjack shoes run large. We recommend sizing down by half a size when ordering your pair. However, if you have a slightly wider foot, we recommend staying true to size.
Who owns Amberjack?
Amberjack is owned by founder, John Peters. John launched the luxury men's footwear label in 2020 in New York with just a single silhouette, The Original. And since then, he's expanded the offering to include The Loafer, The Chelsea and The Tux.