Racing stripes might not actually exist outside of their metaphorical term but you'll find a pretty close equivalent when it comes to moving faster in the form of Adidas Ultraboost trainers.
Undoubtedly one of our favorite pairs of running sneakers, these stylish, affordable, and all-around impressive trainers are some of the best when it comes to fusing style and speed.
If you're a fan of running or a fan of Adidas, or know anything about the fitness world at all, you'll probably already be aware of some of the Ultraboost's incredible features. From the unique design to the cushioned sole and large range of colors, the Ultraboost is top of its game if you're looking for fashion-ready movement — both literally and metaphorically.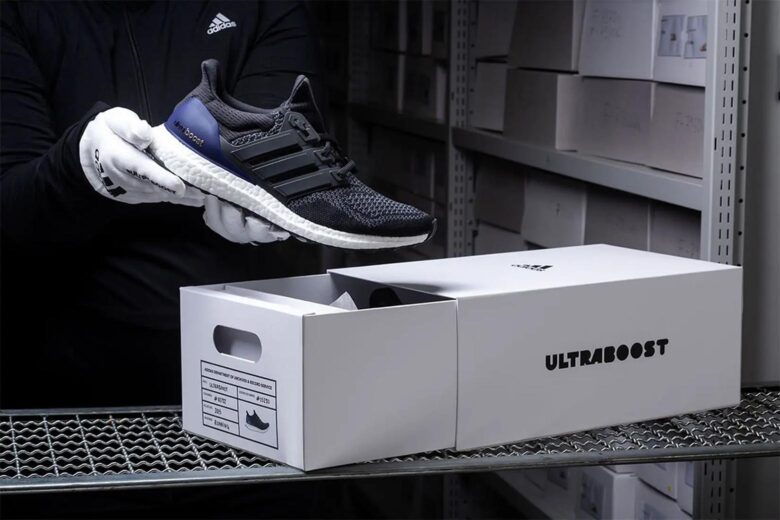 As the name would suggest, the "boost" is part of the unique selling point of these trainers. While other sneakers may simply encourage you to move forwards, Adidas Ultraboost physically pushes you onwards: that finish line in your head seeming only mere steps away.
Of course, if you're planning on running marathons or ultra-marathons, you'll want a running shoe specifically tailored to such long distances. We wouldn't recommend Ultraboost for that sort of duration, as the thicker sole isn't quite as streamlined as you'd need for optimum performance.
But, if you're a beginner runner or are running distances up to around a half marathon, you'll find the Ultraboost more than capable of cheering you on along the way. Overall, we're big fans.
Adidas Ultraboost review
There aren't many shoes that promise success the same way Adidas Ultraboost do. Suitable for everything from easy-paced training right through to half marathons and promising high performance both on the treadmill or outdoors, these Adidas Ultraboost shoes are a dream for any runner looking for a little extra spring in their step.
The pros:
Responsive cushioning under the sole without being overbearing
High-quality materials designed to last
Large range of colors
Stylish enough to wear for sports or daytime wear
The cons:
It's possible to find almost as good trainers for a cheaper price
Cushioning boost can take a bit of getting used to at first
Heavier than other running shoes
The alternatives
We love the Ultraboost's impressive boost but, if you're looking for less of a physical boost on your shoe, there are a few other impressive options on the market to weigh up. The closest alternative to Adidas' Ultraboost has to be the Nike React Infinity Run Flyknit 2. While the Nikes are a little cheaper, they're not quite as comfortable as the Ultraboost.
Other prime contenders in the world of bounce-ready running sneakers include Axel Arigato's Genesis Sneaker, with a higher price point and a sturdier sole, or New Balance Fresh Foam Beacon V2 — a cheaper option in a very lightweight package.
We're also big fans of APL TechLoom Tracer Running Sneakers, at a higher price point in a sleek, black colorway.
Hands-on experience and benefits
Unboxing your Adidas Ultraboost promises the sort of energy boost that'll convince you to throw on your favorite workout clothes, pull on your new trainers and head out for a run. A sort of shoe version of boxed motivation, these sleek, stylish sneakers are a recipe for success for all kinds of short to mid-distance running.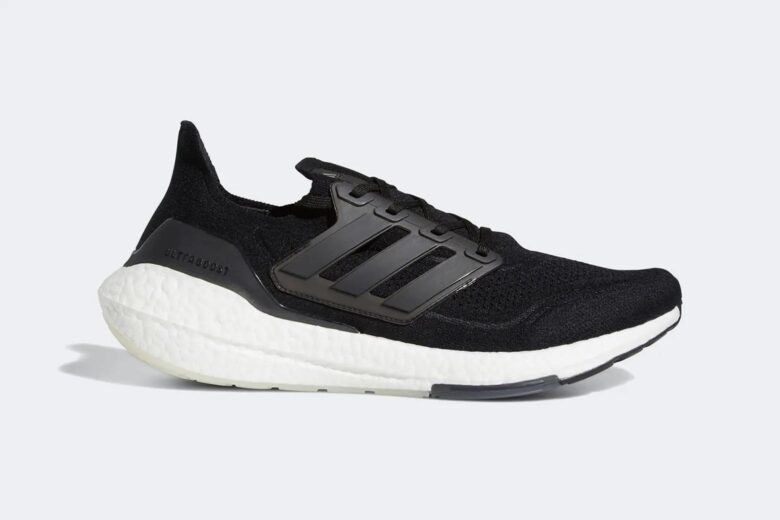 That's something you'll both understand and appreciate as soon as you've taken them out the box and admired them in your hands. Materials and craftsmanship are both at the top of Adidas' game in this shoe, which is one of the reasons you'll spot them so often worn as part of a day-to-day outfit, athleisure style.
The Ultraboost is made from a mixture of materials, each working its magic on a specific level of the shoe to push you forwards (and upwards) even further. The Ultraboost uses an updated Boost foam material under the entire foot, which is one of its most impressive features.
Even if you've tried Ultraboosts before, you'll notice new and impressive features in the latest releases. These promise to include an extra 20% more boost than previous versions, and it's impossible not to notice the physical spring in your step with Adidas Ultraboost shoes, too, thanks to the floating torsion spring embedded in the boost. Boost by name, boost by nature.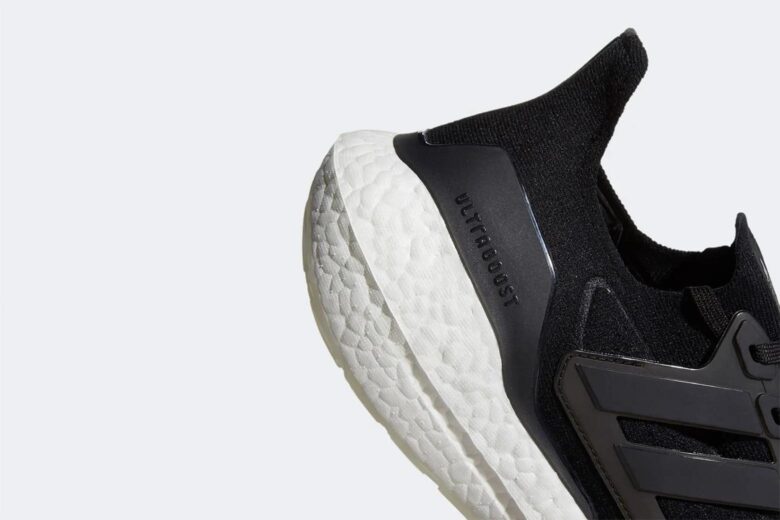 Adidas' Ultraboost also comes in a huge variety of colours, ranging from sleek white or jet black though to multi-coloured options to suit every personality. The chunky design, incorporated here for maximum bounciness, means these sneakers work just as well on the treadmill as they would when paired with tailored trousers for a smart-casual look.
These trainers generally come up at the correct size, which means there's no need to size up or down. Sizes range from UK 3.5 right through to UK 18 (available online or can be ordered to try on in-store), which gives them a much bigger audience than most sports shoes go up to.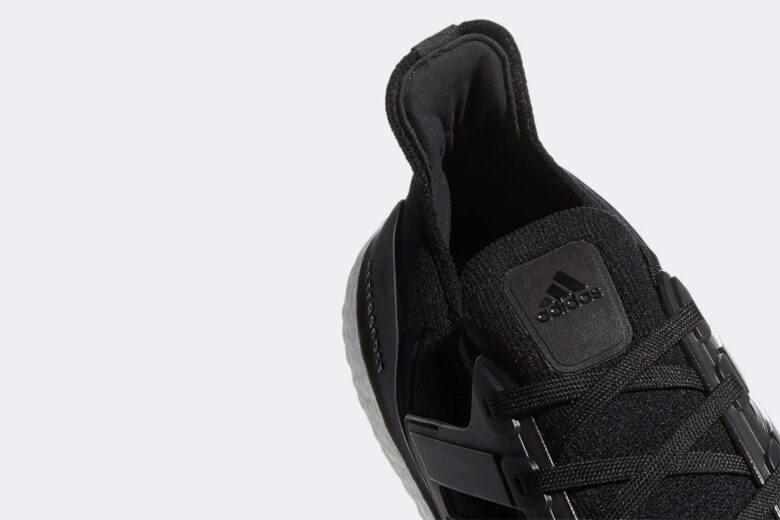 The specially selected materials ensure that, as long as you get the right size, Adidas Ultraboost shoes will fit like a glove (or a sock), propelling you forward at the right time without even thinking about blisters or any uncomfortable rubbing.
As running trainers, Adidas Ultraboost shoes have accepted they'll see a bit of wear and tear in their time. They're durable enough to last plenty of outings, whether that's hours spent at the gym, miles covered around your neighborhood, or simply days spent walking around. If and when they do eventually get dirty, a quick wash will bring out the original colors once again.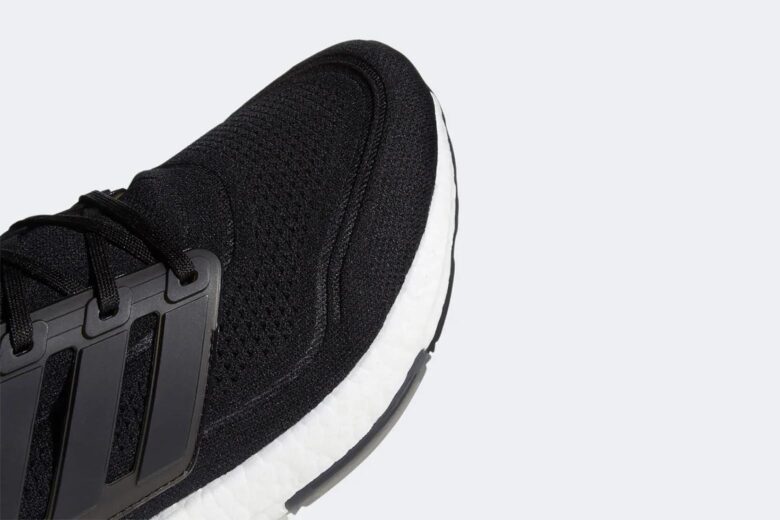 The price of Adidas Ultraboost varies a little depending on where you buy them from, but pairs are mostly available directly from Adidas for around $230 – $260.
Adidas Ultraboost 21 vs. 20 vs. DNA
Delve a little deeper into the world of Adidas Ultraboost, and you'll discover that there's not just one specific type in the market. Both the Ultraboost 20 and the 21 have their pros and cons, but most boil down to ideal preference.
The 20 is regarded as being a smoother shoe for running, with the 21 considered to be a little clunkier (thanks to the addition of even more foam) with more of a snug fit. If you're running on smooth terrain, the 21 might be a better choice.
If you're running outdoors and need to keep more of a careful eye on the ground beneath your toes, the 20 offers a more eyes-on-the-ground feel.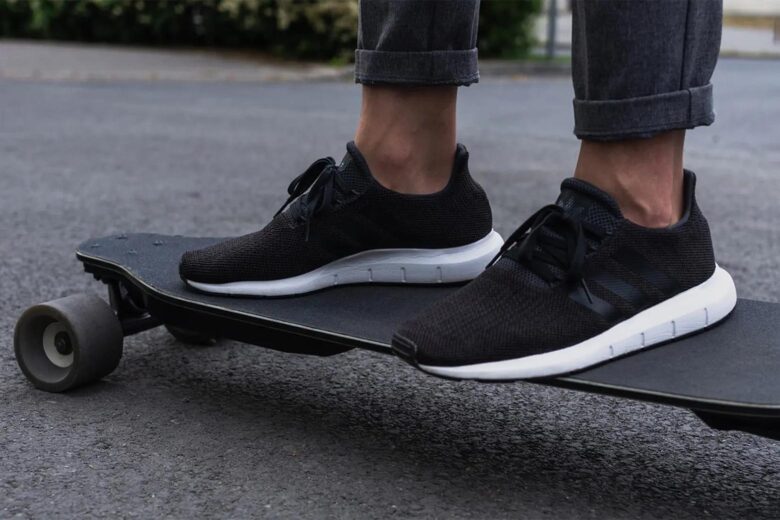 In contrast, the Ultraboost 4.0 DNA has an airier, lighter feel and is more suitable for shorter distances due to its shape. Overall though, all three designs make for an enjoyable workout.
Where to buy Adidas Ultraboost?
Their consistent popularity means it's easy to find Adidas Ultraboost sneakers in almost all good quality sports shops. You can also buy them online, either directly through the Adidas website or on many good sports retailers' websites.
They're available in the UK and the US as well as across Europe, Asia, and Australia. You may find different colors are only available in each specific location — but there are enough stylish ones so you'll never struggle to find a pair you love.
Frequently asked questions about Adidas Ultraboosts
What's so special about Adidas Ultraboost?
Adidas Ultraboost manages to do it all: this running shoe is supportive but not restrictive, bouncy but not over the top, and fashionable enough to wear during day-to-day life as well as in the gym. Read our Adidas Ultraboost review to see what make these running shoes so special.
Why is Ultraboost so popular?
The Adidas Ultraboost is such a popular running shoe due to its flexibility, accessible price, and wide variety of colors. It's known for its great performance for workouts, especially for runners.
Is Adidas Ultraboost worth it?
If you're looking for a smooth workout trainer that offers plenty of support without being restrictive on foot, the Adidas Ultraboost is a great running shoe and is definitely worth the price.
Are Adidas Ultraboosts good for running?
Yes, Adidas Ultraboosts are some of the best trainers for running. Supportive cushioning, plenty of stability, and arch support all come together to ensure this popular running shoe always stays in the game.