It's official: burpees and jumping jacks are out, and personalized, tailored, and — dare we say it? — fun workout programs are in.
The best streaming workouts combine AI technology, computerized sensors, and a whole host of other scientific elements to bring the personal trainer directly to you, from the comfort of your house.
Wave goodbye to the gym, because these fitness programs will have you sweating, squatting, and strengthening anytime, anywhere, tailored specifically toward your goals, fitness levels, and preferences.
Some of these fitness apps cover a whole spectrum of exercises from yoga workouts to 5K prep and dance cardio. Others are designed purely with one type of movement in mind. And it doesn't matter whether you've got a whole collection of home gym equipment at your disposal or you'd rather keep it simple with bodyweight exercises as these workout programs cover plenty of ground.
It's time to get your heart pounding, blood thumping, and endorphins rushing through your body: we've done the heavy lifting for you and these are the most popular workout plans, the top fitness apps, and, in our opinion, some of the best exercise programs to sweat to.
The 15 best workout programs
P.volve: Best workout program for toning and sculpting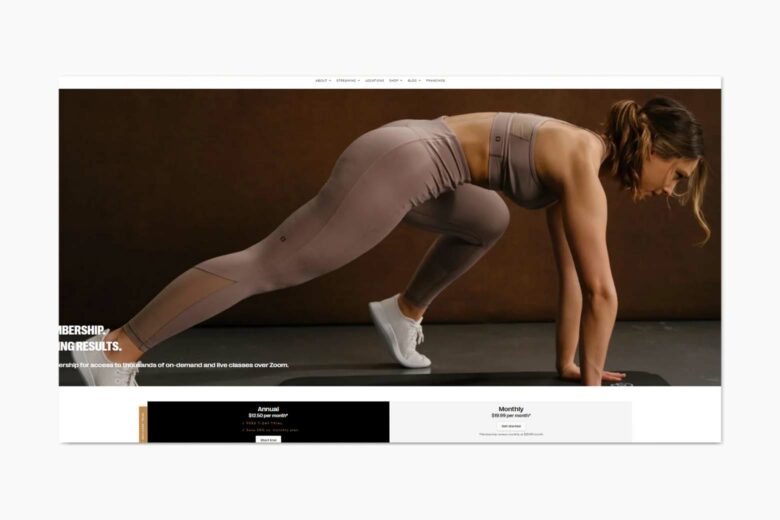 Not only does P.volve build your confidence through the toned, lithe body you achieve from its workouts, but it also takes it one step further at the beginning. The whole premise of P.volve is to make sure you're working out properly, which means the first step is to master each of the functional moves. Once that's done, it's time to take a deep dive into the endless variety of workouts on the app, which can all be filtered according to your workout goals.
A quick burst of energy can be maximized with a one-off sweat session or larger, long-term goals can be measured and tracked through different fitness programs. Each time you complete a workout, you'll watch the little progress bar jump a little closer toward your final goal. P.volve uses resistance-based, high-intensity, low-impact movements that are more accessible in the workout world and combines these to strengthen, sculpt and energize the entire body in one quick blast.
Best for: Accessible, deceivingly tough workouts that keep you motivated throughout.
| | |
| --- | --- |
| Cost: | $14.99 a month |
| Workouts: | Resistance-based and high intensity |
| Class length: | Less than 60 minutes |
| Required equipment: | Resistance bands and ball |
Obé: Best short fitness classes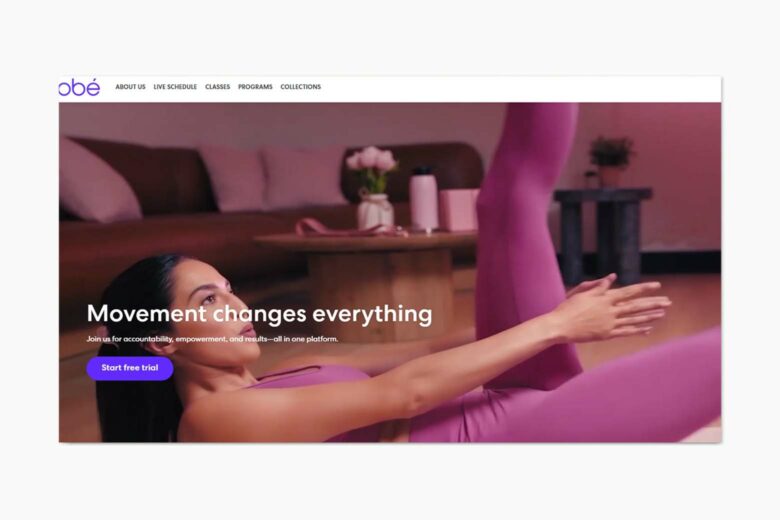 Only got 45 minutes to squeeze in a quick workout? Don't fuss about heading out for a quick run around the block or frantically starting your high knees and sit-ups: Obé has just the solution. This fitness program is designed for those with a busy schedule with classes under 30 minutes long that make you feel like you've just finished a two-hour session at the gym.
The 22 live classes that run every day are brilliant for convincing your body that you're there in the studio with a trainer in front of you. After 28 minutes, you'll find yourself sweating and exhausted and excited to do it all over again tomorrow.
Best for: Those with tight schedules looking to relieve a quick burst of energy.
| | |
| --- | --- |
| Cost: | $27 a month |
| Workouts: | A variety of workouts including HIIT, dance cardio, power, and barre |
| Class length: | Up to 30 minutes |
| Required equipment: | None |
The Sculpt Society: Best workout program for dance cardio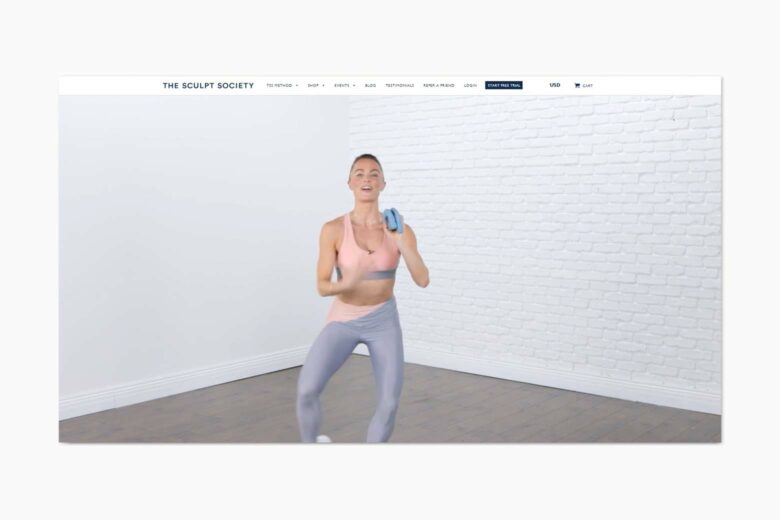 Take the whole "dance like no one's watching" thing to new levels with the addition of The Sculpt Society to your workout routine. From the comfort of your house, you can break out your inner Beyonce with fun classes that don't even feel like workouts. The beauty of dance-led workouts is how quickly they pass before you even realize you're breaking a sweat and The Sculpt Society's are especially fun.
Each workout is led by celebrity trainer Megan Roup and the burst of energy, intensity, and sheer joy will almost definitely keep you coming back after the first routine. As well as providing a great resource for toning your body, Megan also focuses on empowerment and confidence, which means each class finishes with both your mind and your body on top form. Even if you're a strict non-dancer, you'll enjoy The Sculpt Society thanks to its simple moves that are easy and fun to follow.
Best for: Reliving your childhood dreams of being a backing dancer.
| | |
| --- | --- |
| Cost: | $19.99 a month |
| Workouts: | Dance cardio, sculpt, yoga and meditation |
| Class length: | 5 – 50 minutes |
| Required equipment: | Mat, hand weights, resistance bands |
FitOn: Best workout app for exercising with celebrity trainers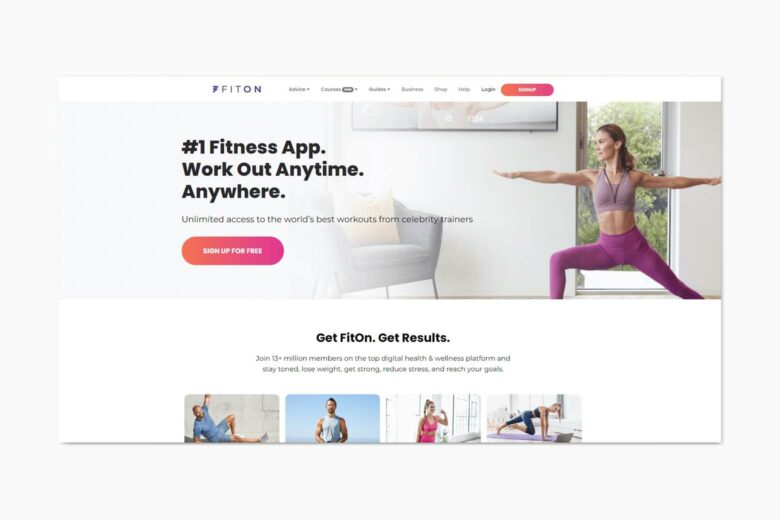 After a few workouts with FitOn, you'll not only find yourself looking forward to hanging out with your favorite celebrity trainers but possibly also referencing them in conversation, too. Combining motivating words and the occasional joke with an entire encyclopedia of workouts, FitOn is the answer to almost everyone's workout problems. Used by more than five million people, this fitness app will help you to tone, shape, build and stretch with workouts designed to suit everyone from beginners through to athletes.
It's the closest thing you'll find to having an on-hand personal trainer, ready to whip you into the best shape of your life as soon as you've opened the app. FitOn can also take the place of the friend who convinces you to spontaneously join her/his group class in the morning, thanks to its (optional) daily reminders and gentle persuasion. Energetic background music is the cherry on top that'll keep you energized past that last rep.
Best for: Feeling motivated and energetic as soon as the music starts.
| | |
| --- | --- |
| Cost: | Free for basic, $11.30 a month for premium |
| Workouts: | A variety of workouts including cardio, HIIT, strength, yoga, and stretching |
| Class length: | 5 minutes to 60+ |
| Required equipment: | Dumbbells for some workouts |
The Axle Workout: Best full-body fitness program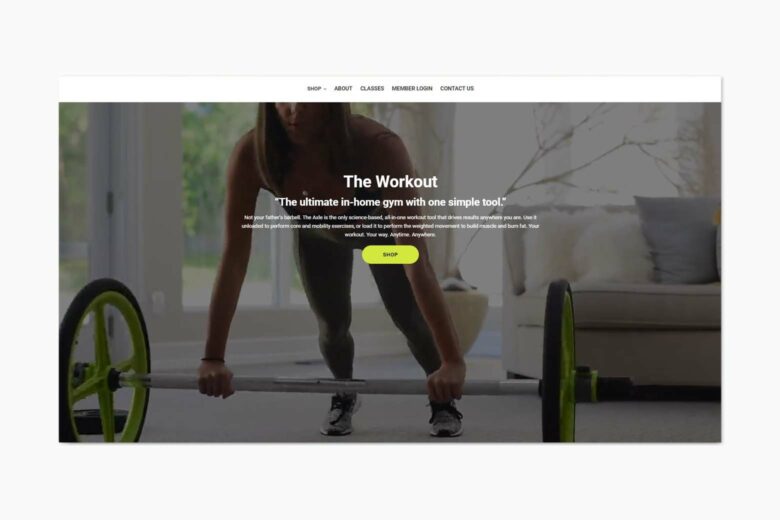 The best kind of full-body workout will have you waking up in the morning and wondering why none of your limbs want to move. Reminding you of muscles you didn't even know existed, Axle at Home is a science-based workout program that combines core and mobility workouts.
The Axle barbell can be used to contort your body into all sorts of weird and wonderful workout positions during a huge variety of live and on-demand sessions. Each home workout is led by a certified instructor in a way that seems both private and interactive. A soon-to-be essential to your health routine, the Axle makes physical workouts something to look forward to.
Best for: Admiring the barbell the same way you would your firstborn child.
| | |
| --- | --- |
| Cost: | $35 a month |
| Workouts: | Mostly HIIT and bodyweight |
| Class length: | 30 minutes |
| Required equipment: | Axle barbell |
Alo Yoga: Best yoga workouts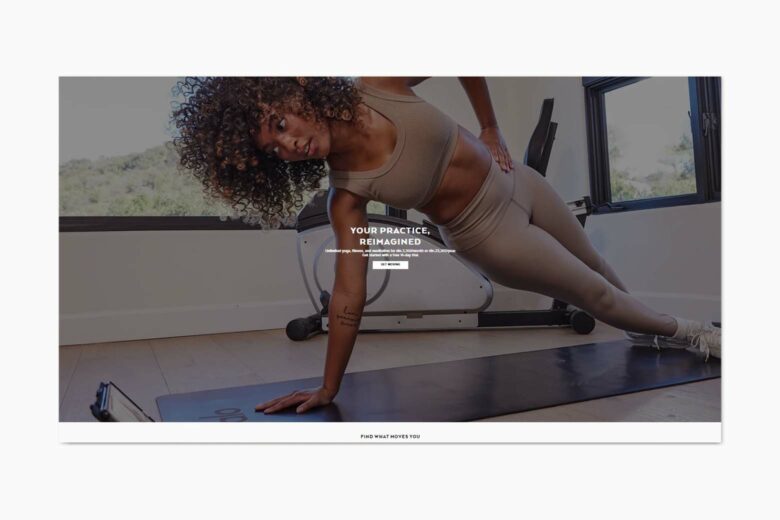 Can't get to your usual yoga studio? No problem. Alo Yoga's Alo Moves is the perfect setting for allowing your body to breathe, relax and pretend you're back on the mat from the comfort of your home. Alo Moves combines unlimited yoga, meditation, and more to help you hit your PBs and stay zen at the same time.
The encouraging instructors will make you determined to make movement a daily part of your routine again — whether that's in the form of Vinyasa stretches, HIIT sessions that leave you breathless, or mindfulness to keep you present. Alo Moves also makes time for those other challenges that you might have put off in the past. Fancy learning how to hold a handstand or stretch into splits? The guided classes will put your spare hours to good use, toning your body while providing new fitness goals for extra motivation.
Learn more about the Alo Yoga brand.
Best for: Going with the flow — from home.
| | |
| --- | --- |
| Cost: | $20 a month |
| Workouts: | Mostly yoga, also strength, barre, pilates |
| Class length: | 10 – 30 minutes |
| Required equipment: | Yoga mat |
Tempo Fit: Best online fitness program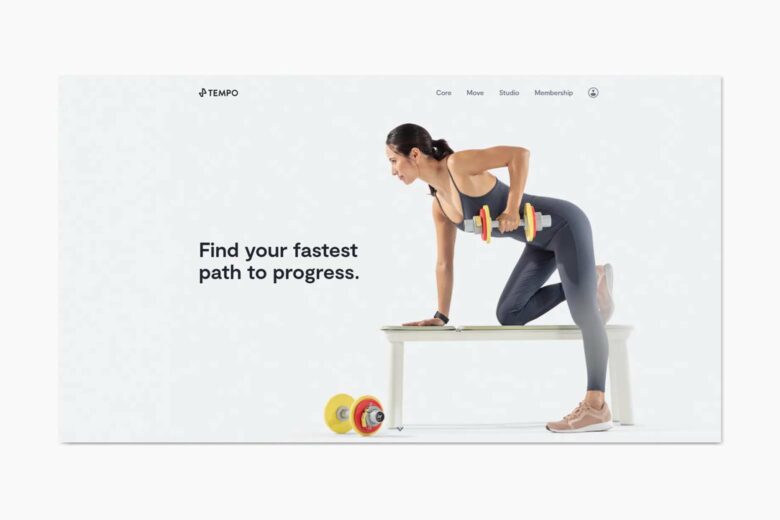 Tempo Fit is basically the closest thing you'll find to an on-demand personal trainer. This AI-powered home gym is the workout of the future: utilizing 3D sensors to count your reps and keep you in good form on a real-time basis. One of the most impressive fitness routines available, it'll correct your form when lifting weights, encourage you to squat deeper, and count your reps — so there's no cheating.
You'll quickly notice physical changes, from subconsciously standing with your feet a little further apart to instinctively knowing the best positions for other strength sessions. Tempo makes recommendations based on your goals, whether that's losing weight, toning up, or increasing your rep count. It'll also show you how you've progressed, making even the toughest workouts seem more than worthwhile by the time you've finished.
Best for: Perfecting your technique and moving to your own tempo.
| | |
| --- | --- |
| Cost: | $55 a month |
| Workouts: | Full body workouts |
| Class length: | 15 – 45 minutes |
| Required equipment: | Tempo Studio |
Aaptiv: Best audio classes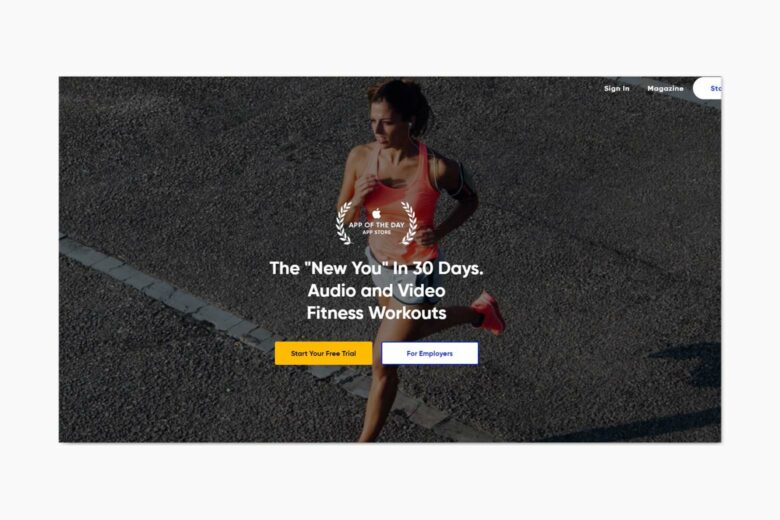 It doesn't matter whether you're turning your walk into a one-mile run or you're looking for an intensive workout plan filled with cardio burn and strength training — Aaptiv combines it all. Especially suitable for newbies or those looking to step up their game, this fitness program has an almost endless number of classes to join.
Aaptiv makes workout boredom a thing of the past, thanks to its ridiculously motivating trainers who say encouraging words via the app whenever you feel yourself losing energy. A large number of trainers and the ever-changing music means you'll start to discover new songs and instantly save them to your mental checklist for your next Aaptiv workout. Choose between pop, electronic dance, hip hop, rock, R&B, or chilled beats to ensure your workout ends only when the music stops and not a moment before.
Best for: Those who can't start a day without some background music on.
| | |
| --- | --- |
| Cost: | $15 a month |
| Workouts: | Running, strength, full body, cardio burn |
| Class length: | 15 – 60 minutes |
| Required equipment: | None |
Nike: Best free workout program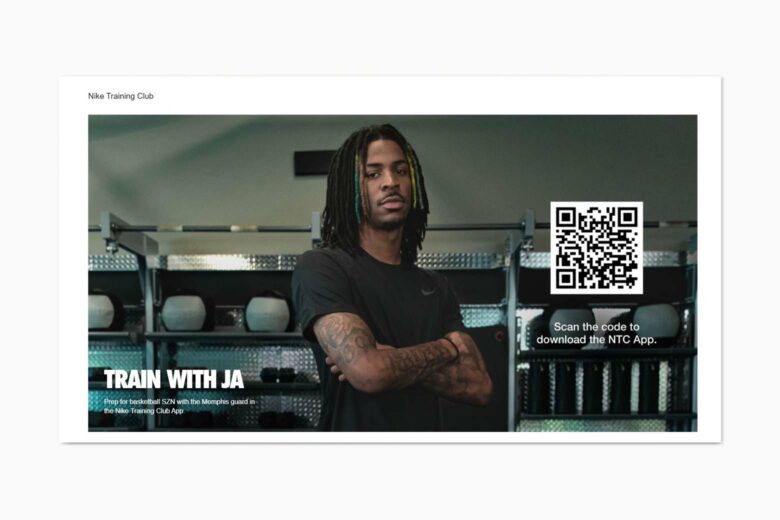 Along with your trainers, activewear, and resistance bands, you'll want to add Nike's training app to your list of workout essentials. Much like everything else Nike creates, the Nike Training Club app is good quality, long-lasting, and designed to make a difference in the fitness world. Better yet, it's free: a ploy that simultaneously makes it more accessible and justifies your recent splurge on new workout gear.
The beauty of the Nike Training Club is how versatile it is. All and any type of workout goals are encouraged, no matter how big or small you're aiming. Multi-week programs will keep you on track while one-off, on-demand, studio-style classes are waiting for those extra bursts of motivation. A holistic wellness guide and nutrition tips will also add to your healthy routine plans.
Best for: Sampling a bit of everything at the start of your fitness journey.
| | |
| --- | --- |
| Cost: | Free |
| Workouts: | Literally everything you could think of |
| Class length: | 10 – 60+ minutes |
| Required equipment: | None |
Apple Fitness+: Best workout program for Apple fans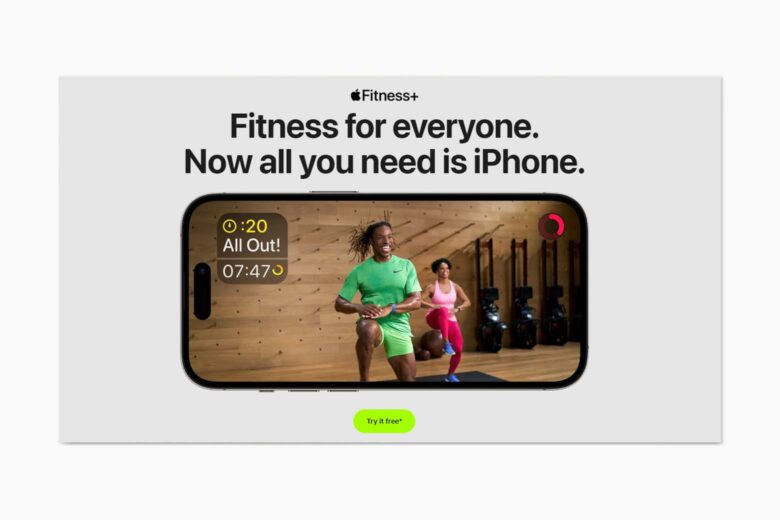 The new kid on the block in the form of workout programs, Apple Fitness shot to the top of the class with a well-rounded, functional, and motivating workout plan that will have you checking your iPhone or Apple Watch each day. Gamification comes into play here, with a variety of colorful little rings that will tick themselves off the list when you've achieved them each day.
From walking a set number of steps to keeping your heart rate at a certain point, you'll download the app for casual use and find yourself doing laps around your apartment in the evening to tick off those little rings once and for all. Motivating in the best way possible, this app is the perfect blend of information and inspiration that allows quick progress. From HIIT to yoga to core and strength and with workout plans specially designed for beginners, Apple Fitness gives Apple lovers a whole new product to rave about.
Best for: Tech-lovers who can keep one eye on their Apple Watch while sweating.
| | |
| --- | --- |
| Cost: | $9.99 a month |
| Workouts: | HIIT, strength, core, yoga, etc |
| Class length: | 10 – 45 minutes |
| Required equipment: | Apple product, mat |
Barre3: Best barre workout program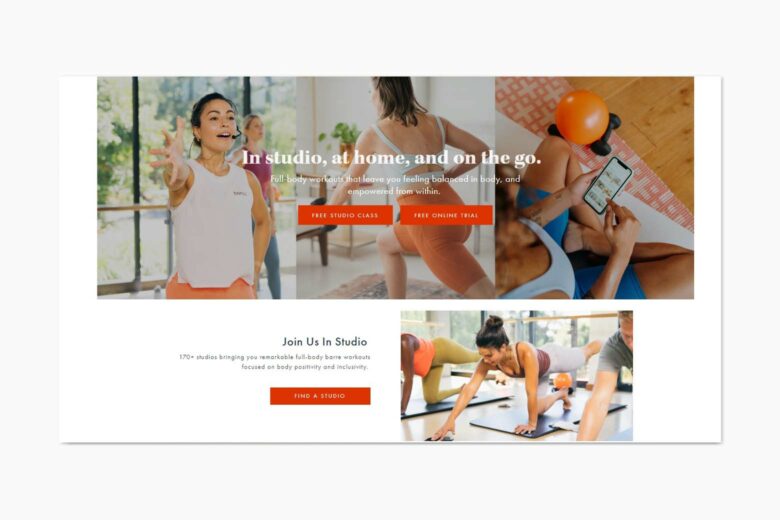 A strong core, increased flexibility, improved stability, and better alignment are just some of the benefits of a good barre workout. So if you've been mourning the loss of your weekly studio sessions then it's time to say hello to Barre3 — an at-home fitness program that'll make you reconsider whether you even need to go back to in-person sessions in the future.
Barre3's online program offers two live classes a week as well as two new on-demand sessions every seven days, too. If you're in the mood to tackle more than four classes per week, you can access any of Barre3's 300+ already uploaded workouts or join in with one of their challenges. Combining strength training with cardio and mindfulness, you'll end your final day of Barre3's 30-day challenge with a renewed sense of achievement.
Best for: Getting closer to those ballerina-esque limbs after each workout.
| | |
| --- | --- |
| Cost: | $16.58 a month |
| Workouts: | Barre, strength, core |
| Class length: | 10 – 60 minutes |
| Required equipment: | Mat, dumbbells occasionally |
Daily Burn: Best workout program for variety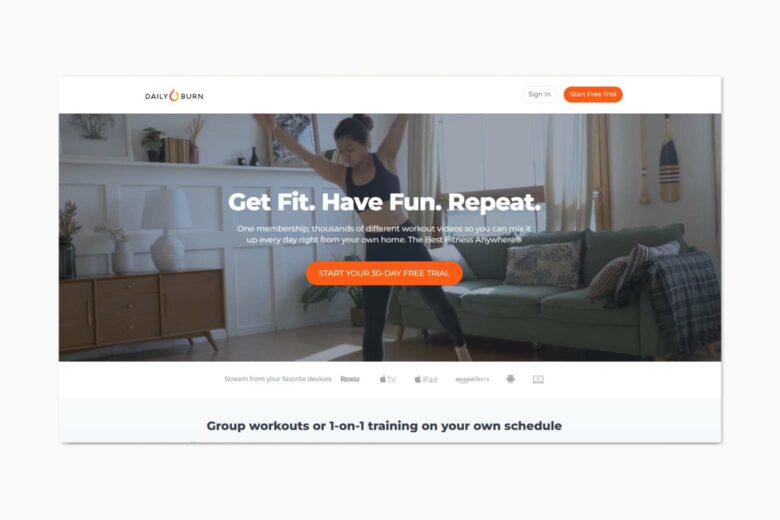 The challenge of Daily Burn far exceeds the heart-pounding, sweat-pouring, gasping-for-breath feeling that comes at the end of each workout. Nope: the challenge here is deciding which of the thousands of workouts to do first. A brilliant burst of motivation for anyone who often gets bored of the same fitness routine, there are quite literally more workouts online at Daily Burn than you could ever hope to get through.
Which, in itself is somewhat of a challenge. Press play on group workouts or one-on-one training and let your body puff its way through pilates, muscle building, kickboxing, strength training, yoga, and more. Flexibility and stretching workouts will relieve you from any DOMS symptoms after a day of heavy cardio and beginner-focused categories also help to encourage you to branch out from your typical routine. A weekly goals portal means you can check in with yourself to keep consistent with your challenges.
Best for: Those who live by the mantra "variety is the spice of life".
| | |
| --- | --- |
| Cost: | $14.95 a month |
| Workouts: | Running, yoga, HIIT |
| Class length: | 10 – 60 minutes |
| Required equipment: | None |
Peloton: Best spinning workout program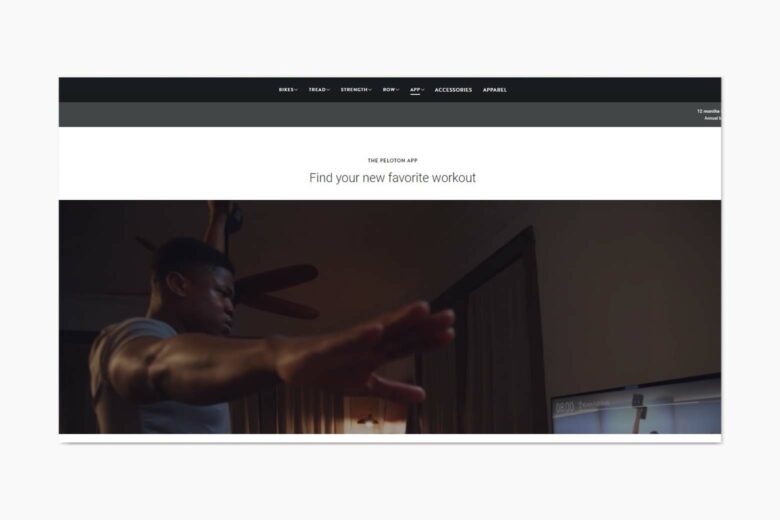 Chances are you already have at least one friend who endlessly raves about Peloton. And you might have questioned how a stationary bike gained such a huge fanbase, but once you've experienced spinning the Peloton way you'll be equally as hooked. Peloton will keep you motivated, energized, and ready to pedal faster and harder as each month passes. Soon, you'll find yourself taking the place of being That Friend.
And while Peloton might be famed for its spin classes, there's actually plenty more on the app to experience. So if you do find yourself needing a break from the bike, join in with strength, yoga, outdoor running, or bootcamp. When you're finished, get involved with a stretching or meditation class. After a while, you'll not only be scheduling Peloton classes into your daily routine, but you'll actively look forward to them, too.
Best for: Proudly showing off those thighs of steel.
| | |
| --- | --- |
| Cost: | $12.99 a month |
| Workouts: | Mostly spinning but also strength, yoga, running |
| Class length: | 15 – 60 minutes |
| Required equipment: | Peloton bike |
Tonal: Best strength training workout program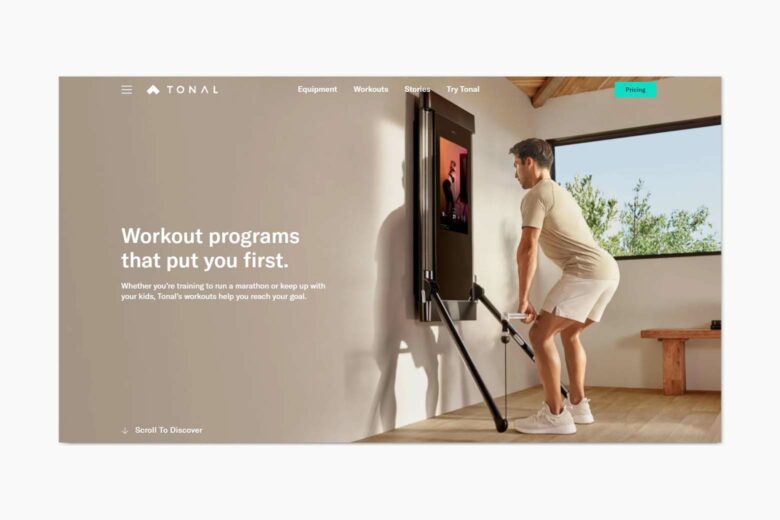 Tonal takes the stress out of workouts with customized programs designed specifically for you. Or, if you're at the other end of the spectrum and know exactly what you want to work on today, you can formulate your own custom plan and tick off each movement as you finish it. Designed with strength training in mind, it's the best fitness program for anyone looking to lift heavier, squat deeper, and pull further.
Choose your moves, sets, reps, and even dynamic weight modes at the start of each routine, and feel endlessly motivated as you achieve each set. But don't be put off if you've got strength training dreams but don't know all the ins and outs: Tonal can also suggest different weights and movements in its Free Lift program, which lets you choose each move as you go, while still taking advantage of Tonal's AI to suggest weights and track your progress.
Best for: Becoming a fitness pro without leaving the house.
| | |
| --- | --- |
| Cost: | $149 a month |
| Workouts: | Mostly strength based |
| Class length: | Customizable |
| Required equipment: | Tonal system & smart accessories |
Mirror: Best real-time feedback workout program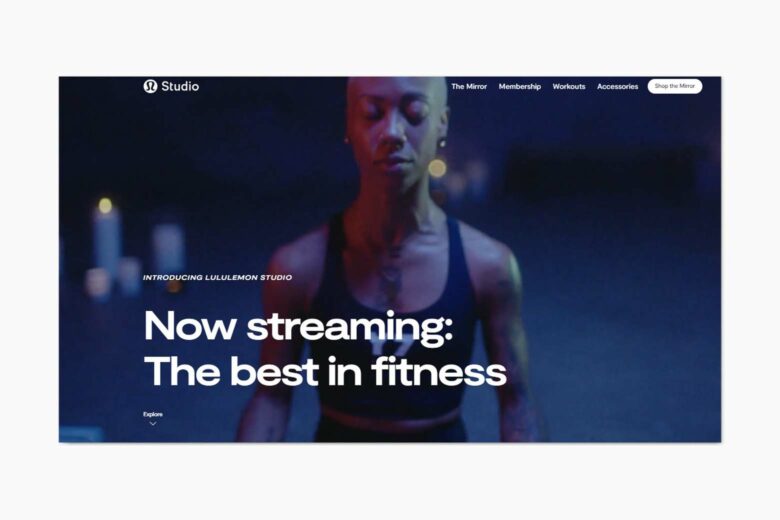 Let's face it, other than occasional gym selfies or checking your form, no one really wants to stare at themselves in the mirror while working out. Those squatting expressions and red cheeks should be firmly saved for everyone else unfortunate enough to be working out at the same time. But the Mirror app will take all of those illusions and twist them into something not only beneficial but also imperative for future workouts.
Known as the nearly invisible home gym, Mirror works by combining advanced camera technology and its own algorithms to guide you through your workout. Expert instructors, including celebrity guest trainer Tracy Anderson, provide live feedback while you workout, helping you to hit your goals from the safety of your own house. If it's the gym's inevitable competitiveness that keeps you motivated, join one of Mirror's group classes to hit your personal best against others. And, once you're done, check out how you performed in the performance dashboard that magically appears on screen/mirror.
Best for: Finding yourself accidentally waiting for feedback next time you're looking at the real gym's mirror.
| | |
| --- | --- |
| Cost: | $42 a month |
| Workouts: | A variety of workouts including dance, boxing, yoga, cardio, and strength |
| Class length: | 5-60 minutes |
| Required equipment: | The Mirror |
Buyers guide to workout programs
One of the best things about at home workout programs is that they're generally designed without equipment in mind. For most workout programs, you'll only need a mat and perhaps some dumbbells or small weights to complete each routine.
It can also help to invest in some high-quality activewear, a great pair of trainers or workout shoes, and a stylish water bottle to make sure you look and feel the part while you sweat.
Before you start any new workout routine, make sure to dedicate some space for your lunges, reps, or other movements, which will also help to get your brain in the zone before each class begins.
Looking for some ways to sweat a little smarter?
A workout challenge will keep you motivated and on track with regular progress checks. Or, sign up to a new workout program with a friend, in order to keep each other in line when the thought of sleeping in seems more appealing than a cardio session.
Try to find an exercise you enjoy: whether that's strength training, running, yoga, dance cardio, or barre. The goal is for your workout routine to become something you look forward to rather than simply power through.
And, it should go without saying, make sure you spend some time warming up and cooling down before and after your workouts. The last thing you need is the threat of DOMS preventing you from hitting tomorrow's session.
Frequently asked questions about workout programs
What are the best fitness programs?
Some of the best fitness programs come from FitOn, Obé, Alo Yoga and P.volve. We've rounded up the 15 best workout programs, helping you to pick the one most suited for your fitness and health goals.
What is the best workout app?
The best workout app is FitOn. It combines endless free workouts with motivating instructors, daily reminders, and nutritional advice.
What are the best free workout programs?
Some of the best free workout programs come from FitOn and Nike. From beginner-friendly exercises to more advanced workouts, these free fitness apps let you explore new routines—no credit card required.
What is the best on-demand workout?
Some of the best on-demand workouts come from Axle, Tempo Fit, P.volve, and FitOn. They are designed to fit your specific #fitnessgoals and host a library of workouts for you to choose from.