In the rarified world of haute horology, prices can feel a little out of control. Sure, we'd all love a limited edition diamond-adorned watch in a patented gold alloy with a skeletonized movement—but can we all afford it? No. Hence the appeal of Tissot.
A refreshing antidote to overpriced luxury timepieces, Tissot watches are handsome, ultra-precise, look good with everything, and are affordable enough that you won't be scared to take them out the box.
Because the best watch is a watch you'll actually wear.
At a glance
| | |
| --- | --- |
| | |
| Industry: Watches | Founded: 1853 |
| Headquarters: Switzerland | Founders: Charles-Félicien Tissot Charles-Émile Tissot |
| Watch Collections: dive watches, sports watches, dress watches, and women's watches | Parent organization: The Swatch Group |
| Annual Revenue: $1.05 billion USD | Website: tissotwatches.com |
Tissot watch price
How much does a Tissot watch cost?
Tissot is a great entry point into traditional Swiss watchmaking with prices for an entry-level Tissot watch starting at $300 for a Tissot Tradition. Tissot watch prices for a Tissot PRX begin at $325. Tissot watch prices for a Tissot Seastar start at $375. At the other end of the spectrum, expect to pay around $2,750 for some Tissot PRS 516 models.
What is the most expensive Tissot watch?
The most expensive Tissot watch is the Tissot Heritage Navigator Limited Edition Men's Automatic COSC 18K at $8,250. Featuring an 18-karat gold case, silver dial, and brown leather strap, it's exceptionally precise as well as very luxurious.
See how this compares to the world's most expensive watches.
What is the cheapest Tissot watch?
Tissot watches offer high-level Swiss craftsmanship at value prices. The cheapest Tissot watch is a Tissot Tradition, with prices starting at $300. Tissot watch prices for a Tissot PRX start at $325. You can pick up a Tissot PR 100 for $325 and a Tissot Seastar for $375.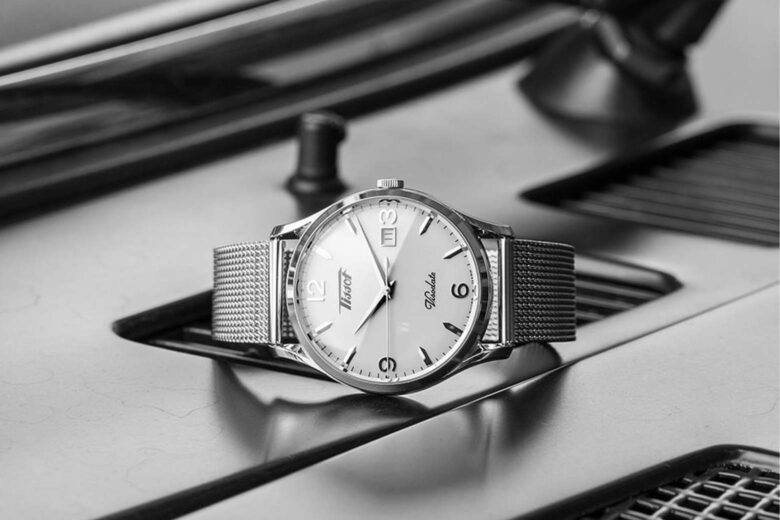 About Tissot watches
History of Tissot
Tissot was founded in 1853 in Le Locle in Switzerland by father and son Charles-Félicien Tissot and Charles-Émile Tissot. That same year, the company launched its legendary pocket watch with two time zones as well as its first mass-produced pocket watch. Gold-cased pocket watches with highly reliable movements soon became the watch brand's signature.
In 1858, Charles-Émile Tissot traveled to Russia and, with the blessing of the Russian Czar, began selling Tissot pocket watches across the Russian Empire. The company was also the recipient of several awards and prizes including the Grand Prix in Paris in 1900 and first prize for both Chronometers and Marine Chronometers in the Neuchâtel Observatory Competition in 1907.
In 1918, Tissot earned the status of a manufacture and, in 1919, released the Tissot Porto. In 1925, it formed a partnership with Louis and Gustave Brandt, directors of high-end watch brand Omega. This later led to the creation of the Société Suisse pour l'Industrie Horlogère (SSIH) in 1930 which would become the Swatch Group in 1983.
Interesting facts about Tissot watches
Tissot watches have been worn by many celebrities and A-listers over the years, including Elvis Presley, Grace Kelly, and Angelina Jolie.
Tissot is the official timekeeper of the MotoGP and International Basketball Federation. The brand also sponsors professional racing car drivers like Danica Patrick.
The Tissot Antimagnétique was the world's first antimagnetic watch, released in 1930.
The Tissot Navigator, released in 1951, was the world's first automatic watch with 24 different time zones.
The Tissot Astrolon, aka the IDEA 2001, was released in 1971 and was the world's first plastic mechanical watch.
Tissot watches have appeared in action movies including Tomb Raider and the James Bond classic, Die Another Day.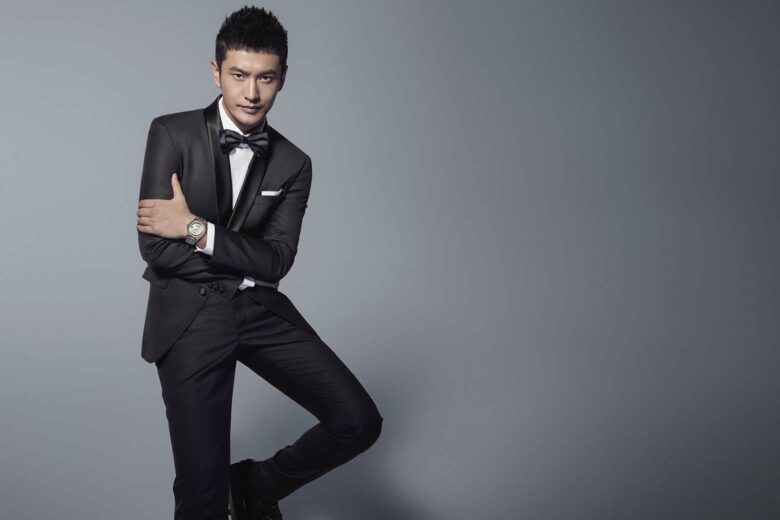 Tissot product range
Tissot boasts an incredible number and diversity of watch models for men and women, grouped into no less than 40 collections:
Tissot Carson
Tissot Gentleman
Tissot Le Locle
Tissot Pr 100
Tissot Seastar 1000
Tissot Prx
Tissot Chrono Xl
Tissot Classic Dream
Tissot Lovely
Tissot Supersport Chrono
Tissot Bellissima
Tissot T-my Lady
Tissot Everytime
Tissot Excellence
Tissot Prs 516
Tissot T-touch Connect Solar
Tissot Tradition
Tissot Couturier
Tissot Flamingo
Tissot Heritage Porto
Tissot Prc 200
Tissot Glendora
Tissot Savonnette
Tissot Seastar 2000
Tissot T-race
Tissot Gent Xl
Tissot Heritage Visodate
Tissot Pocket
Tissot Heritage 1973
Tissot Heritage Memphis
Tissot T-race Cycling
Tissot T-wave
Tissot Bridgeport
Tissot Goldrun
Tissot Odaci-t
Tissot Telemeter
Tissot Ballade
Tissot Chemin Des Tourelles
Tissot Stand Alone
Tissot T-complication
Within these collections, you'll find everything from hard-wearing and hardcore deep sea divers to delicate and graceful women's dress watches, and everything in between. We've chosen to focus on the most popular collections in our run-down.
These are the Tissot PR 100, an accurate, solid, and wearable timepiece with a quartz movement; the Tissot Seastar dive watch; the Tissot Tradition men's dress watch; the Tissot PRC 200 chronograph; the racing-car-inspired Tissot PRS 516; the Tissot Heritage Visodate with its old-school-cool vibes; and, finally, the 1970s-style Tissot PRX.
Signature materials and craftsmanship
One of Tissot's most groundbreaking innovations is its T-Touch technology. In 1999, the brand released the first T-Touch, a watch with six different functions, including a compass, barometer, and altimeter, all operated using touch-screen technology. This was 10 years before smartphones started using similar technology.
Other notable inventions to come out of the Tissot workshops include the first watch made out of stone, known as RockWatch, produced in 1985 and made from granite from the Alps. In 1988 came the Wood Watch, made out of briar wood, and the brand has also launched a PearlWatch.
Boundary-pushing craftsmanship is also found in Tissot's Two Timer, the first watch to feature both analog and digital time displays, as well as the Nivachron™ balance spring, made from a titanium-based alloy—far more resistant to magnetic fields than standard springs.
Meanwhile, Tissot's Expert Solar and Connect Solar watches are powered by tiny solar sensors located on the watch dial. This means the timepieces can run for several months without needing to be recharged.
Finally, there's the Tissot Powermatic 80, a movement with an impressive 80 hours of power reserve. This means it can still tell the time accurately after three days without wear, compared to an average of 1.5 days for most other timepieces.
Where is Tissot made?
Tissot watches are made in Le Locle in Switzerland where the company was founded in 1853. As Swiss-made watches, their quality and accuracy are indisputably superior. The company produces around four million watches a year: two million quartz watches and two million mechanical watches.
Brand values
| | |
| --- | --- |
| Vegan options: | No |
| Carbon-neutral: | No |
| Gives back: | Yes |
Tissot most popular watches
Tissot PR 100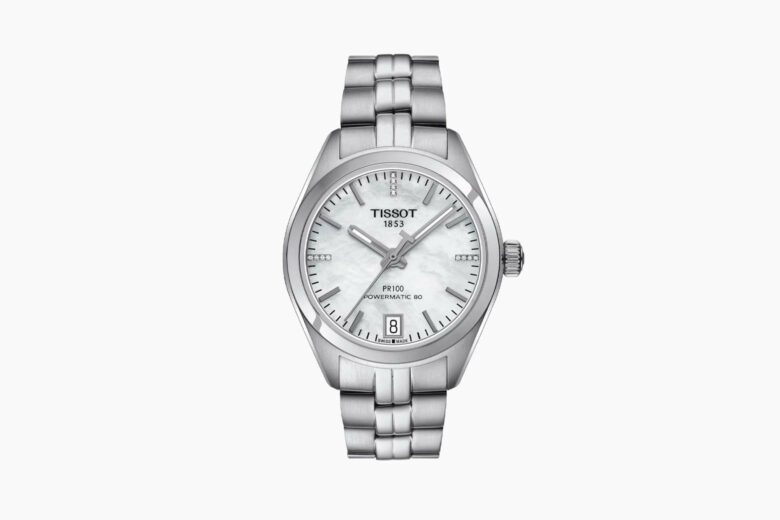 One of Tissot's most versatile and crowd-pleasing models, the Tissot PR 100 collection offers a range of stylish steel watches. PR stands for Precise and Robust—two of our favorite words for describing a watch. These Tissot timepieces offer major value for money, with starting prices as low as $325. For that, you get a solid and reliable ETA quartz movement, scratch-resistant sapphire glass, and 100 m of water resistance. What's not to like?
| | |
| --- | --- |
| Price: | $325 – $1,295 |
| Current case size: | 36 mm – 44 mm |
| Movement: | Quartz |
| Water resistance: | 100 m |
| Crystal: | Sapphire |
Tissot Seastar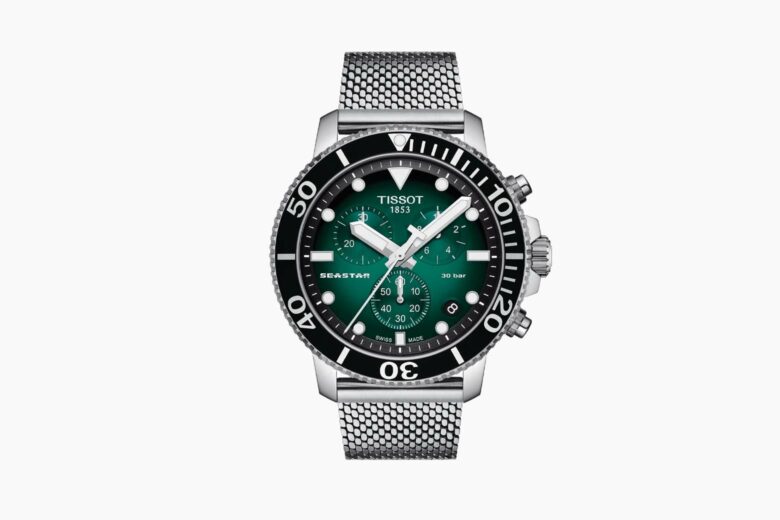 The Tissot Seastar is considered one of the best entry-level Swiss dive watches and for good reason. Seastars are sturdy, high-performing, and high-quality timepieces, carefully designed to be the ultimate ally for deep-sea adventures. There's the Tissot Seastar 1000, with a sleek ceramic rotating bezel that gives it the look and feel of a far more expensive watch. And there's also the Tissot Seastar 2000 Professional Powermatic 80, a muscular beast of a tool watch with 80 hours of power reserve and 600 m of water resistance.
| | |
| --- | --- |
| Price: | $375 – $1,075 |
| First release year: | 1952 |
| Current case size: | 36 mm – 46 mm |
| Movement: | Quartz and automatic |
| Water resistance: | 300 m – 600 m |
| Crystal: | Sapphire |
Tissot Tradition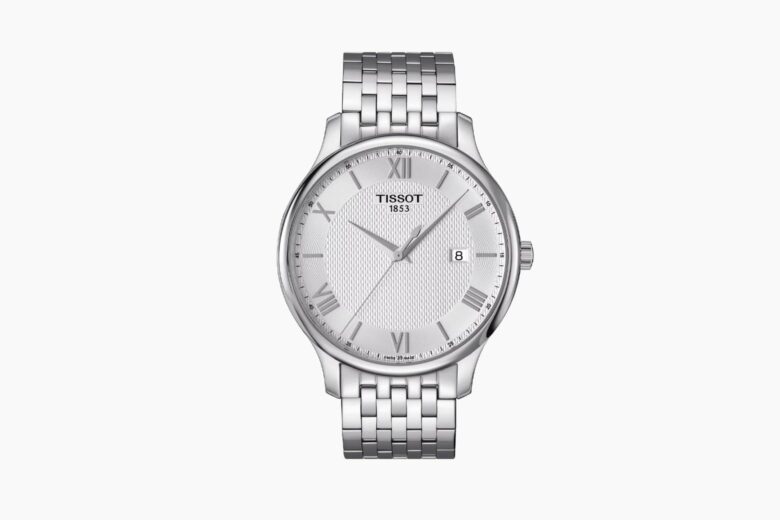 One of Tissot's most affordable watch series, the Tissot Tradition offers 1950s-inspired minimalism at an approachable price-point, making it a no-brainer addition to your black-tie attire. With the design and build quality of a much more expensive watch, the Tissot Tradition features an ever-reliable quartz movement and practical 30 m of splash resistance. Look out for the Tissot Tradition Chronograph in particular, with its subtle guilloché decoration and gently curving case.
| | |
| --- | --- |
| Price: | $300 – $750 |
| Current case size: | 40 mm – 42 mm |
| Movement: | Quartz and automatic |
| Water resistance: | 30 m |
| Crystal: | Sapphire |
Tissot PRC 200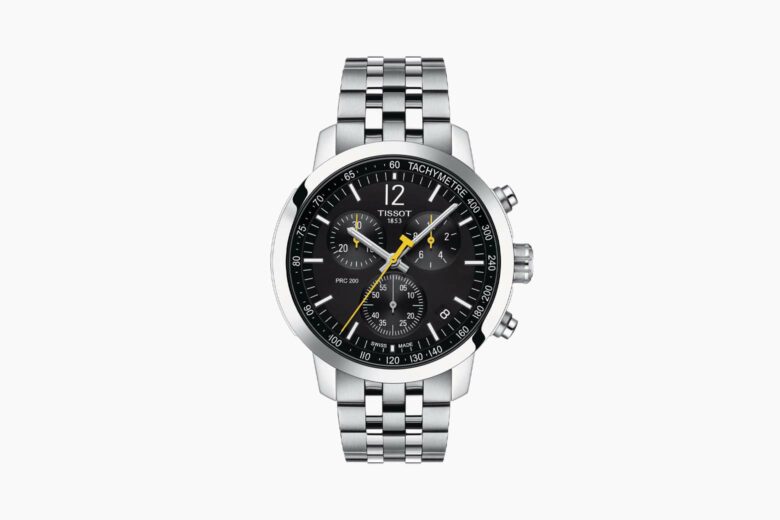 If we told you that you could get your hands on a Swiss-made mechanical chronograph movement for under $1,000, you'd never believe us. But thanks to Tissot, you can. The Tissot PRC 200 features a date window, a 6-hour totalizer, running seconds, and 30 minutes counter. A clean-lined, crisp, legible, and high-functioning watch, available with either a sleek alligator strap, rubber strap, or bracelet, it also boasts 200 m of water resistance so you can use it while diving.
| | |
| --- | --- |
| Price: | $450 – $525 |
| First release year: | 2013 |
| Current case size: | 43 – 44 mm |
| Movement: | Quartz |
| Water resistance: | 200 m |
| Crystal: | Sapphire |
Tissot PRS 516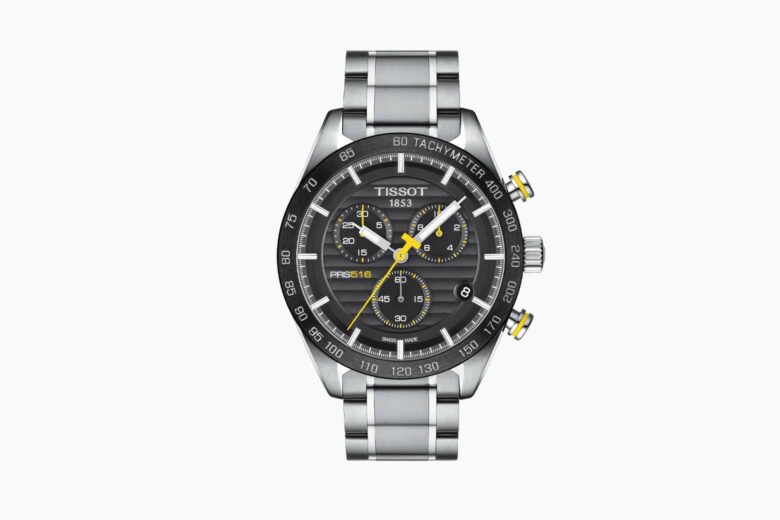 Tissot has always excelled at producing sporty chronographs. The Tissot PRS 516 is yet another example of the watch brand's knack for crafting robust, athletic, and speed-hungry timepieces. The PRS 516 features holes in the bracelet to evoke those holes found on steering wheels in sports cars, as well as pushers inspired by engine pistons, alongside a chunky no-nonsense case. No surprise, then, that PRS stands for Precise, Robust and Sporty. That's exactly what this watch is—and then some.
| | |
| --- | --- |
| Price: | $425 – $2,750 |
| First release year: | 1965 |
| Current case size: | 42 – 45 mm |
| Movement: | Automatic and quartz |
| Water resistance: | 100 m |
| Crystal: | Sapphire |
Tissot Heritage Visodate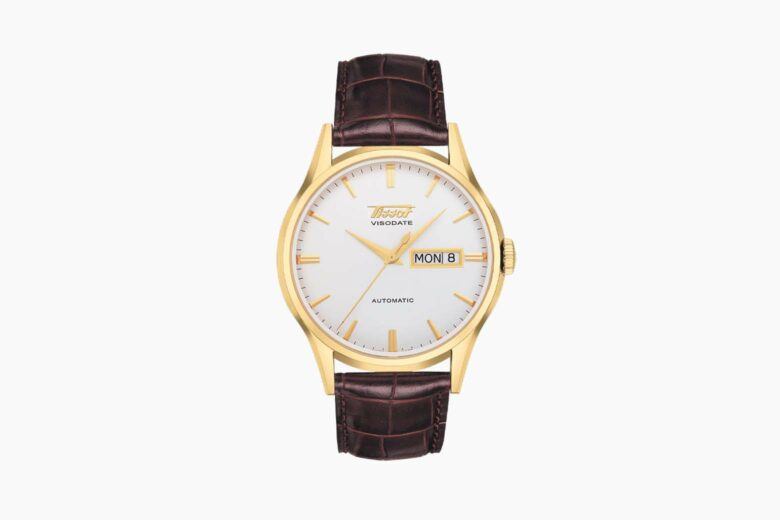 For old-school class and elegance, there's no better Tissot watch than the Tissot Heritage Visodate. The indisputable vintage feel is created by the domed sapphire crystal, gently curved dial, and highly polished case. While the Visodate is quite large for a traditional wristwatch, we find the size allows it to better catch the eye of admiring passersby. And the 80-hour power reserve in the Tissot Heritage Visodate Powermatic 80 is an added bonus.
| | |
| --- | --- |
| Price: | $650 – $675 |
| First release year: | 1954 |
| Current case size: | 42 mm |
| Movement: | Automatic |
| Water resistance: | 30 m |
| Crystal: | Sapphire |
Tissot PRX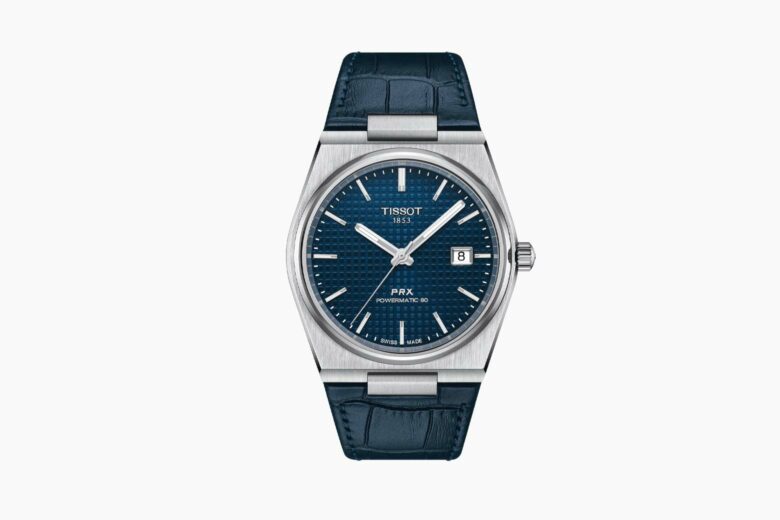 With a pleasantly affordable price tag and sleek contemporary feel, the Tissot PRX is another firm favorite among Tissot fans. Featuring a slim-line 1970s-style aesthetic, satin-finished integrated bracelet, and embossed chequered dial, it echoes other iconic 70s watches like the Rolex Oysterquartz or Audermars Piguet Royal Oak but at a fraction of the price. Choose between a reliable quartz movement, a Tissot PRX Powermatic 80, or the Tissot PRX Automatic Chronograph with its Valjoux A05.H31 caliber with an extended 60-hour power reserve.
| | |
| --- | --- |
| Price: | $325 – $1,850 |
| First release year: | 1978 |
| Current case size: | 35 mm – 42 mm |
| Movement: | Quartz and automatic |
| Water resistance: | 100 m |
| Crystal: | Sapphire |
Where to buy Tissot watches
You can buy Tissot watches online from the company or from an authorized Tissot retailer. You can also buy Tissot watches from trusted third-party stores such as Jomashop where the authenticity of your timepiece can be guaranteed.
For more about buying a luxury watch, see our watch guide.
Tissot shipping
Tissot offers free standard shipping on all watch orders. Shipping rates for strap purchases vary depending on location. For standard shipping, orders will be sent with either UPS or DHL and you'll receive your watch within 1 to 5 working days.
If ordering your Tissot watch via Jomashop, you can enjoy international shipping for a set fee of $150.
Tissot return policy
You can return your watch within 30 days of delivery as long as it is unworn and undamaged. Returns are free unless it is a strap-only purchase. Visit the Tissot website to receive your prepaid return label.
Jomashop accepts returns within 3 days for a full refund.
Tissot customer service number
For help with your Tissot watch order or for any other queries, contact the Tissot customer service department on 0845 899 0086.
Tissot social media profiles
Frequently asked questions about Tissot watches
Is Tissot luxury watch?
Tissot is a luxury watch brand known for its high-quality and affordable luxury watches, as well as its tactile T-Touch technology. For more about Tissot, including history and prices, see our Tissot watch guide.
Is Tissot part of Rolex?
Tissot is not part of Rolex. Tissot is owned by the Swatch Group, which also owns other luxury watch brands like Omega, Longines, and Rado. For more about Tissot, including history, products, and prices, see our Tissot watch guide.
Which is better Seiko or Tissot?
Seiko is better than Tissot if you're interested in innovative design and technical expertise. But if you want affordable high-end watches from a Swiss watch brand with an impressive heritage, then Tissot is better.
Which is a better brand, Longines or Tissot?
Longines is a better brand if you want a sports watch with classic styling that will never go out of fashion. But when it comes to affordability, Tissot is a better choice. Both are owned by the Swatch Group.