They call America the Land of Opportunity and for watch brand Bulova, it's certainly true. Founded in New York by Czech immigrant Joseph Bulova back in 1875, the watch company soon became one of the country's most successful watch producers and the 20th century saw it hit milestone after milestone.
Watches for WW2 soldiers? Tick. Watches for astronauts landing on the moon? Tick. First radio advertisement? Tick. First TV advertisement? Another tick. Then came the iconic Accutron tuning-fork watch, and, later on, ground-breaking high-frequency quartz technology.
Today, the brand is wooing watch wearers around the world with exciting remakes of iconic models from its historic catalog. It's safe to say Bulova has definitely made it.
At a glance
| | |
| --- | --- |
| | |
| Industry: Watches | Founded: 1875 |
| Headquarters: USA | Founder: Joseph Bulova |
| Watch Collections: | Parent organization: Citizen Watch Company |
| Annual Revenue: $164 million USD | Website: bulova.com |
Bulova watch price
How much does a Bulova watch cost?
The starting price for an entry-level Bulova watch is $180 for a watch from the Bulova Classic series. Bulova watch prices for a Bulova CURV start at $930 while prices for a Bulova Marine Star begin at $280. Bulova Precisionist watch prices start at $740.
What is the most expensive Bulova watch?
The most expensive Bulova watch is the Joseph Bulova Collection First Edition 24-Karat Gold Watch, released in 2015 and with a retail value of $42,000. Only 32 pieces were ever produced.
See how this compares to the world's most expensive watches.
What is the cheapest Bulova watch?
The cheapest Bulova watch is a Bulova Classic with prices starting at $180. You can also pick up certain Bulova re-issues for $450. A Bulova Crystal can cost as little as $280 and Bulova Marine Star prices also start at $280.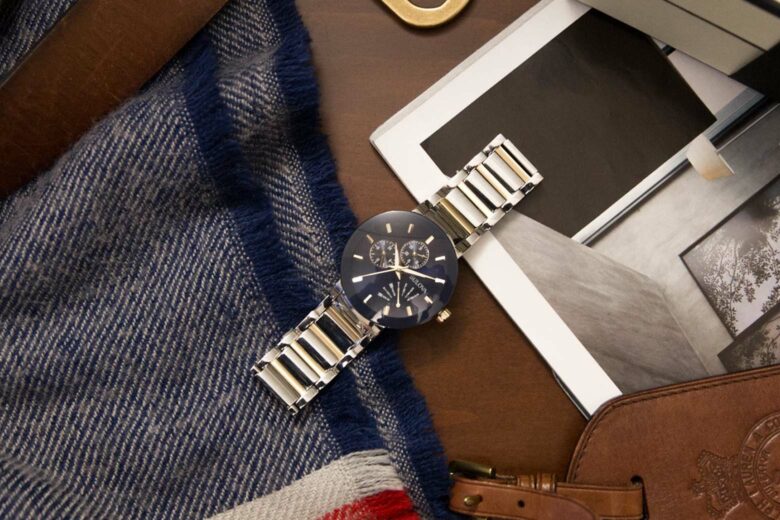 About Bulova watches
History of Bulova watches
Bulova was founded in 1875 in New York by Joseph Bulova, an immigrant from the Czech Republic. In 1912, Bulova established its first Swiss factory dedicated to mass-producing watches and the first series of Bulova watches for men was released seven years later.
The company then set up a store in downtown New York. Soon after, they launched their first line of women's watches, followed by a line of diamond watches. The brand was soon one of the biggest American watch manufacturers of the day.
In 1941, Bulova released the world's first TV advertisement with the message, "America runs on Bulova Time!"
During WW2, Bulova contributed to the war effort by producing highly precise military watches. Then, in the 1960s, the watch company launched its influential Bulova Accutron, the world's first fully electronic watch. It featured a 360-Herz tuning fork instead of a balance wheel, guaranteeing accuracy to one minute per month. This earned it the status of the most accurate watch in the world at the time.
Although an Omega watch was the first timepiece on the moon, all the time-keeping instruments on NASA's spacecraft were Bulova Accutrons and Bulova Accutrons have been used in 46 NASA missions in total.
During the 1970s and 1980s, Bulova continued to release innovative timepieces, from the Accutron Quartz to a series of digital watches with LCD displays.
In 2008, Bulova was bought by the Citizen Watch Company and soon after launched the Bulova Precisionist: the world's most accurate quartz watch with a continuously sweeping second hand. Other pioneering designs since then include the Bulova CURV, the world's first curved chronograph.
Interesting facts about Bulova watches
In 1926, Bulova produced its first radio advertisement broadcast. The message was: "At the tone, it's 8 o'clock, Bulova Watch Time."
After famous aviator Charles Lindbergh became the first man to fly across the Atlantic without stopping, he was awarded the Bulova watch prize of $1,000 and became the face of their best-selling Lone Eagle wristwatch.
After WW2, Bulova opened the Joseph Bulova School of Watchmaking where disabled veterans were able to learn a trade.
After Dave Scott, mission commander on board Apollo 15, realized his Omega watch was broken, he decided to use his personal Bulova Chronograph. This timepiece went on to sell for $1.6 million at an auction and Bulova later launched a re-issue of the pilot watch called the Lunar Pilot.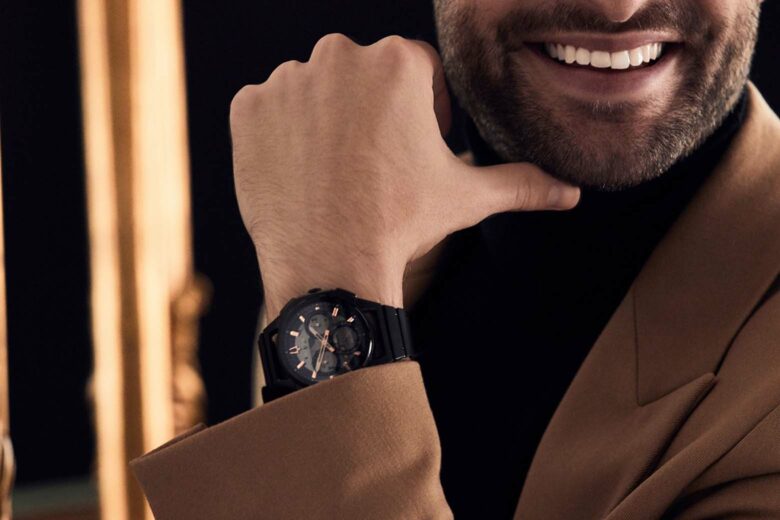 Bulova product range
Bulova's watch collections range from extravagant dress watches to functional maritime timekeepers but each represents the brand's capacity for affordable elegance and innovative functionality.
First, there's the Bulova Archive Series, a collection of re-issues that includes some of the watch brand's most iconic models, such as the Lunar Pilot.
The Bulova Classic collection of dress watches for men and women is elegant and easygoing while the Bulova Crystal collection is decadent, daring, and definitely black-tie appropriate.
For boundary-pushing design and extreme precision, look to the Bulova CURV while the Bulova Marine Star is a series of stylish ocean-ready timekeepers.
The Bulova Modern collection includes four sub-collections, each one defined by its sophisticated and future-forward design.
The famous Bulova Precisionist watch series is, as the name suggests, extremely precise while, finally, the Bulova Rubaiyat collection of women's watches is feminine and fabulous.
And while we didn't cover them in this run-down, Bulova has also crafted a number of special collections, featuring, for example, watches inspired by the architect Frank Lloyd Wright or the Apollo Theatre as well as timepieces that pay tribute to Frank Sinatra.
Signature materials and craftsmanship
A commitment to precision and innovative technology has always been at the forefront of the Bulova ethos. As a result, the watch brand's history has included a number of notable milestones.
First, there was the Bulova Accutron, with its tuning-fork mechanism that ensured an oscillation rate of 360 times per second, 150 times faster than a mechanical timepiece with a balance wheel. It also guaranteed the watch accuracy to one minute a month. The Accutron was also known for its distinctive humming noise, instead of a traditional ticking sound.
Meanwhile, the Spaceview Accutron was one of the first mass-produced watches with a visible movement, originally designed for sales reps to wear to impress customers but later put on sale for public purchase after customers showed interest.
Other stand-out models include the all-digital Computron LED, with its futuristic trapezoidal case with an LED Display, and, more recently, the Bulova CURV, the world's first curved chronograph. This timepiece features an ultra-high-frequency quartz chronograph movement that is then bent and fitted into an ergonomic slimline case.
Where are Bulova watches made?
Despite its American origin, Bulova watches aren't made in the United States, but in Japan, Hong Kong, and Switzerland (for the higher-end models) while the headquarters are in New York. The first Bulova watch was made in a factory in Biel, Switzerland.
Brand values
| | |
| --- | --- |
| Vegan options: | No |
| Carbon-neutral: | No |
| Gives back: | Yes |
Bulova watches
Bulova Archive Series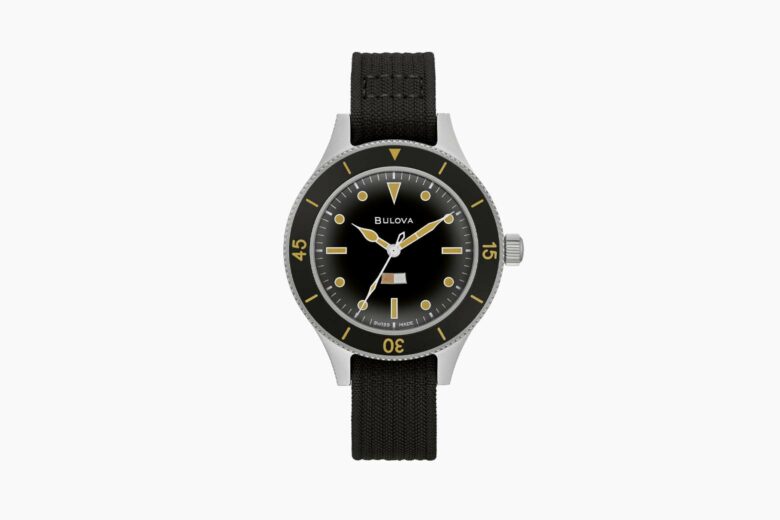 The Bulova Archive Series of watches sees the watch brand embark on some time-travel, re-visiting its most memorable timepieces and reimagining them for the modern-day. These reissues of classic Bulova watches include the 1970s-inspired Chronograph-A with its distinctive surfboard-shape oval on the dial, the Bulova Lunar Pilot, a recreation of the watch worn during the Apollo 15 mission, and the MIL SHIPS, based on a US Navy prototype. This collection also includes the iconic Computron gaming watch as well as the Oceanographer dive watch, aka the Bulova Devil Diver.
| | |
| --- | --- |
| Price: | $450 – $999 |
| First release year: | Different release dates for each reissue |
| Current case size: | 38.5 mm – 45 mm |
| Movement: | Automatic and quartz |
| Water resistance: | 50 m – 200 m |
| Crystal: | Sapphire |
Bulova Classic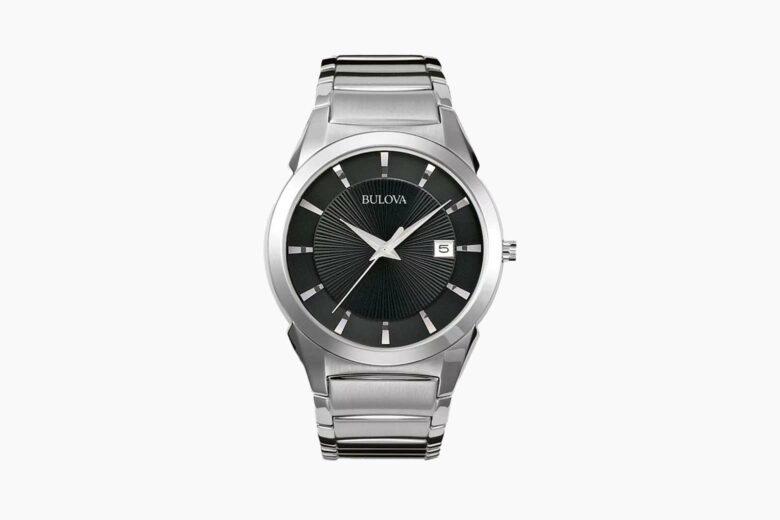 A collection of Bulova watches for men and women, the brand's Classic watch series draws on vintage design codes to deliver a wide variety of timelessly elegant watches, united by their understated and refined aesthetic. Sub-collections range from the Aerojet with its crosshair pattern and NATO strap to the superbly sophisticated American Clipper, as well as the Bulova Regatta with its distinctive angled lugs. We particularly like the Bulova GMT in this collection, as this functionality with such elegant styling is rarely found at this kind of price in the luxury watch world. Check our hands-on Bulova Wilton GMT review to learn more about that particular model.
| | |
| --- | --- |
| Price: | $180 – $720 |
| First release year: | 2018 |
| Current case size: | 38 mm – 46.5 mm |
| Movement: | Quartz and automatic |
| Water resistance: | 30 m – 100 m |
| Crystal: | Mineral and sapphire |
Bulova Crystal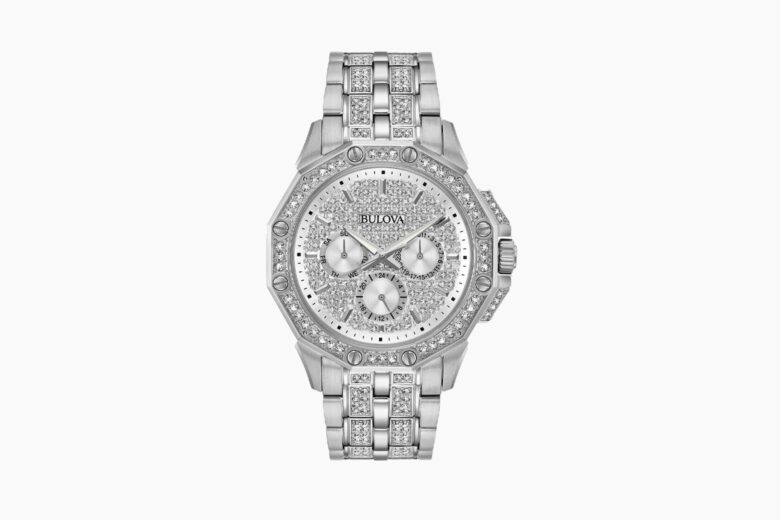 Another collection featuring watches for men and women, the Bulova Crystal watch series is just as it sounds. These are watches covered in crystals. From a Bulova Octava embellished with 300 crystals to a Bulova Phantom with a rose gold-tone stainless steel case and 120 crystals, these timepieces are your go-to when it comes to affordable watches with glam factor.
| | |
| --- | --- |
| Price: | $280 – $450 |
| Current case size: | 32 mm – 41.5 mm |
| Movement: | Automatic and quartz |
| Water resistance: | 30 m – 50 m |
| Crystal: | Mineral |
Bulova CURV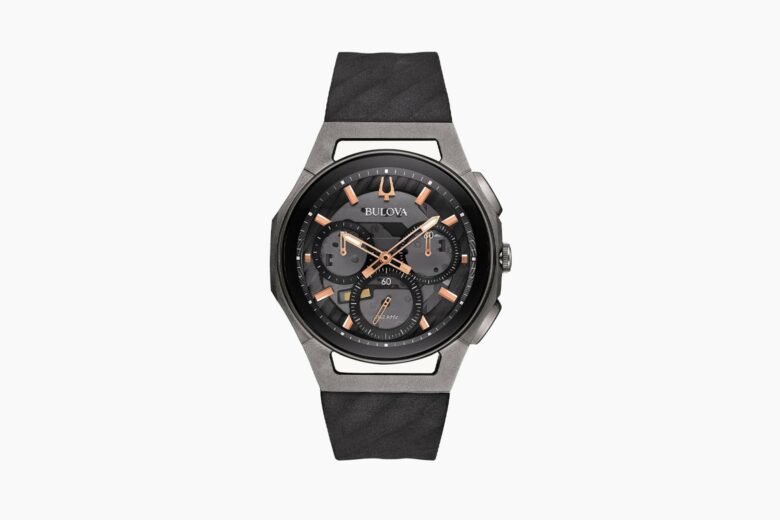 Setting a major horological milestone as the world's first curved chronograph, the Bulova CURV features an ergonomic design that hugs your wrist for next-level comfort, as well as a quartz movement with a 262 kHz vibrational frequency for extreme precision time-keeping. Visually, it sets new standards too, with a sleek, angular, and athletic appearance that feels very much of the moment.
| | |
| --- | --- |
| Price: | $930 – $990 |
| First release year: | 2016 |
| Current case size: | 40.5 mm – 44 mm |
| Movement: | Quartz |
| Water resistance: | 30 m |
| Crystal: | Sapphire |
Bulova Marine Star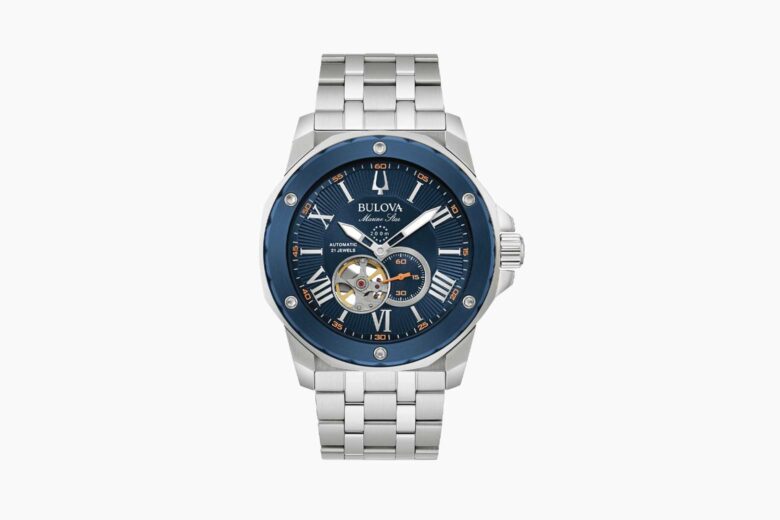 A collection of bold and confident timepieces designed for life on the high seas, the Bulova Marine Star watch series features innovative materials and an assertive aesthetic. Offering both functionality and style, it's ideal for those after an inexpensive but undeniably elegant watch for wearing aboard a luxury yacht or for any other ocean adventures—even if it's just a stroll around the marina.
| | |
| --- | --- |
| Price: | $280 – $780 |
| Current case size: | 32 mm – 45 mm |
| Movement: | Quartz and automatic |
| Water resistance: | 100 m – 200 m |
| Crystal: | Mineral and sapphire |
Bulova Modern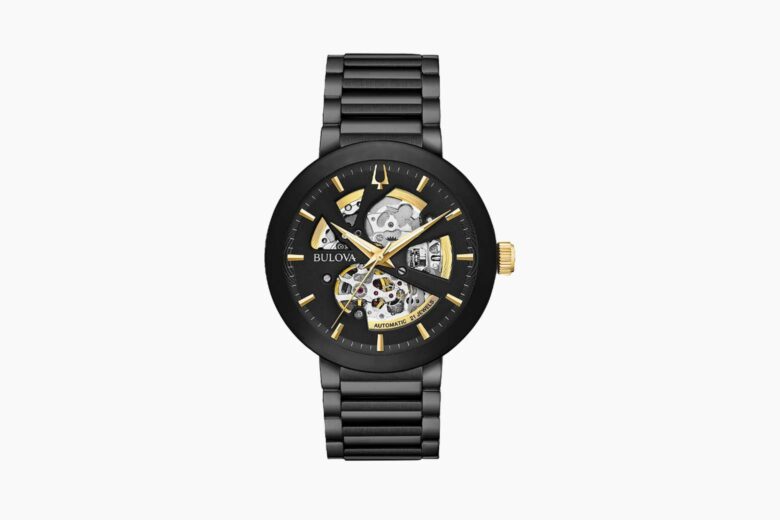 Streamlined, geometric, and with one eye firmly on the future, the Bulova Modern watch series offers watch wearers accessibly priced but aesthetically elevated timepieces for adding instant zing to any outfits. Choose between the squared-shaped Quadra, curvaceous Millennia, eye-catching Gemini, and ultra-avant-garde Futuro.
| | |
| --- | --- |
| Price: | $330 – $800 |
| Current case size: | 30.75 mm – 42 mm |
| Movement: | Quartz and automatic |
| Water resistance: | 30 m |
| Crystal: | Mineral |
Bulova Precisionist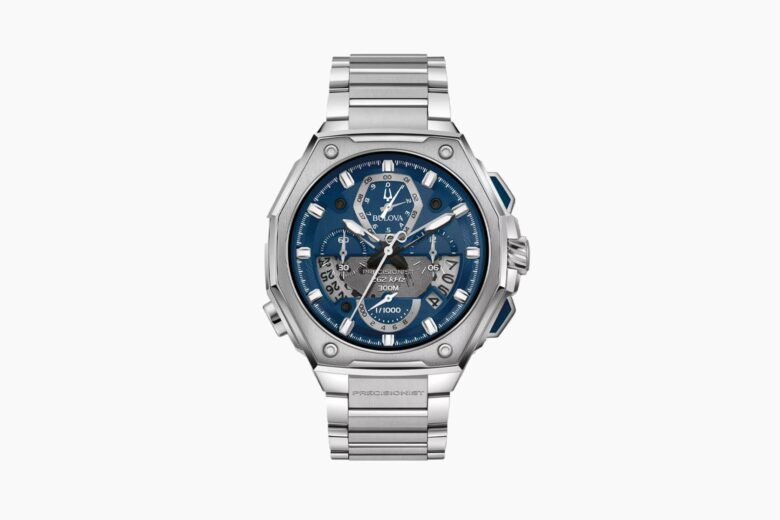 The aptly named Precisionist collection, one of the watch brand's most popular models, is where Bulova really delivers the engineering excellence for which it is known. This watch series offers timing to 1/1000th of a second and features innovative case shapes and boundary-pushing materials including Damascus steel. These are watches to make a statement, turn heads, and, of course, tell the time extremely precisely.
| | |
| --- | --- |
| Price: | $740 – $3718 |
| First release year: | 2010 |
| Current case size: | 30.75 mm – 42 mm |
| Movement: | Quartz and automatic |
| Water resistance: | 30 m |
| Crystal: | Mineral |
Bulova Rubaiyat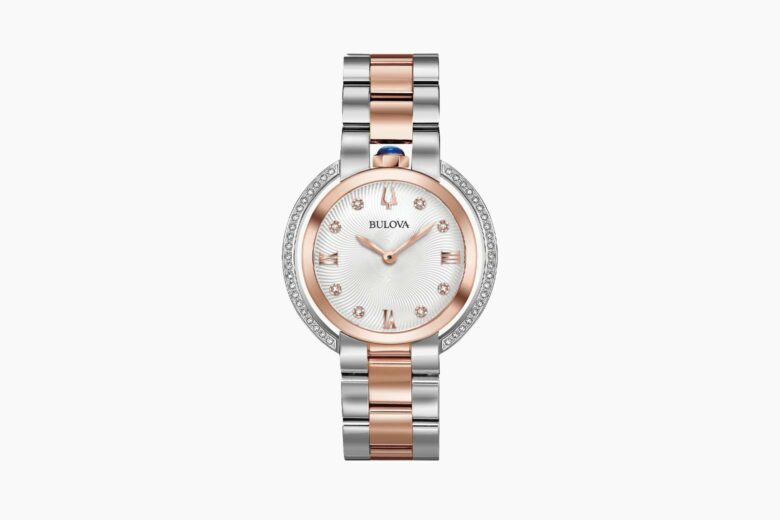 First introduced in 1917, the Rubaiyat is one of Bulova's most established and most prestigious models, and the first female-focused design to come out of the company workshops. Over 100 years later, the timepiece retains the same sleek appeal and is available with a range of alluring materials and accents, including black ceramic, diamonds, and sapphires.
| | |
| --- | --- |
| Price: | $370 – $3,530 |
| First release year: | 1917 |
| Current case size: | 35 mm – 40 mm |
| Movement: | Quartz |
| Water resistance: | 30 m |
| Crystal: | Sapphire |
Where to buy Bulova watches
You can buy Bulova watches from authorized retailers or online via the company official website. Bulova watches are covered by Bulova's three-year Global Warranty, although to qualify for the warranty, you'll need proof of purchase from an authorized Bulova retailer.
For more about buying a luxury timepiece from one of the world's best watch brands, see our watch guide.
Bulova shipping
Bulova offers shipping via a two-day UPS service. Watch orders over $450 will require a signature on delivery.
Bulova return policy
You can return your Bulova watch for free within 28 days of receipt as long as it's in its original condition and with the original packaging. For watches purchased via other retailers, you should contact them directly.
Bulova customer service number
For help with your Bulova watch order or for answers to any other queries, contact the Bulova customer service department on 800-233-3350.
Bulova social media profiles
Frequently asked questions about Bulova watches
Is Bulova a good brand of watch?
Bulova is a good brand of watch if you're looking for affordable watches in a range of styles. Some of the brand's timepieces, such as the Bulova Precisionist, are also highly accurate. For more about the brand, see our Bulova watch guide.
Do Bulova watches have value?
Bulova watches don't typically hold their value like other luxury timepieces. They are usually re-sold for much less than their original retail price. However, they are high-quality timepieces so remain a good investment.
What's so special about Bulova watches?
Bulova watches are admired for their innovative technology, like the Bulova Precisionist, a highly accurate quartz movement with a sweeping hand. Bulova watches are also popular because they're affordable.
Is Bulova a Swiss watch brand?
Bulova is not a Swiss watch brand as its headquarters are in New York. However, some of its watches are made in Switzerland, while others are made in Japan and Hong Kong. For more about Bulova watches, see our Bulova guide.