You may have noticed (we certainly have) that Bulova is very much a realization of the American Dream. Founded in 1875 in New York City by Joseph Bulova—an immigrant from Bohemia (now the Czech Republic)—the American watchmaker has a company history that reads like a seemingly limitless checklist of horological milestones.
From crafting trench-ready timepieces for WW2 soldiers to pioneering quartz technology to going to the moon and back, Bulova is known for its relentless appetite for pushing boundaries—without breaking financial walls.
A watch brand that stands the test of time (forgive the pun), Bulova is one of our favorite luxury watch brands for stylish, innovative, and wearable timepieces that you won't have to launch a crowd-funding campaign to finance.
And, now launching re-creations of its most iconic models, it's not just Bulova's future-focused models that get the hearts of watch lovers stirring.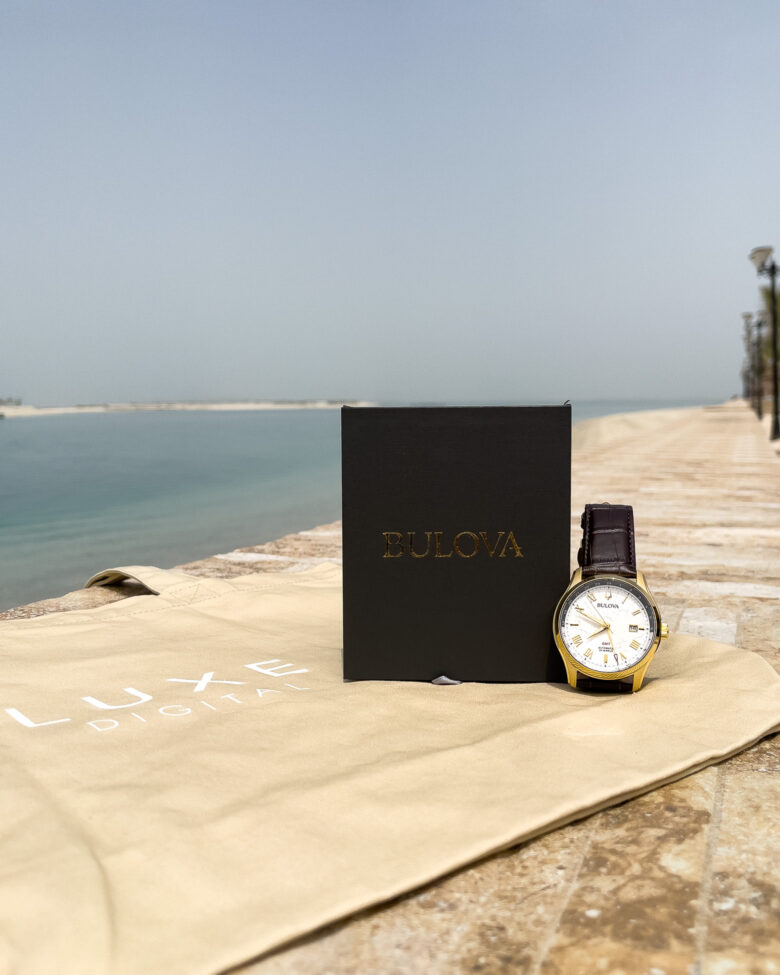 But what's getting watch lovers talking is a more recent release. While not a re-issue (look to the Bulova Archive Series for that), the Bulova Wilton GMT is a traditionally styled timepiece from the Bulova Classic collection of elegant dress watches.
If the energy of jumping for joy could be encompassed within a watch, the Bulova Wilton GMT would be it.
In this Bulova Wilton GMT review, we're going to dive deep into its functionality, aesthetics, and appeal, based on our own time spent with this ultimate traveler's watch, and with a focus on its most exciting feature: a Miyota GMT movement with local jumping hour—a functionality conventionally found only in much more expensive timepieces.
With so many journeys to tick off your bucket list, let's not waste time and explore everything there is to know about this game-changing dual-timer.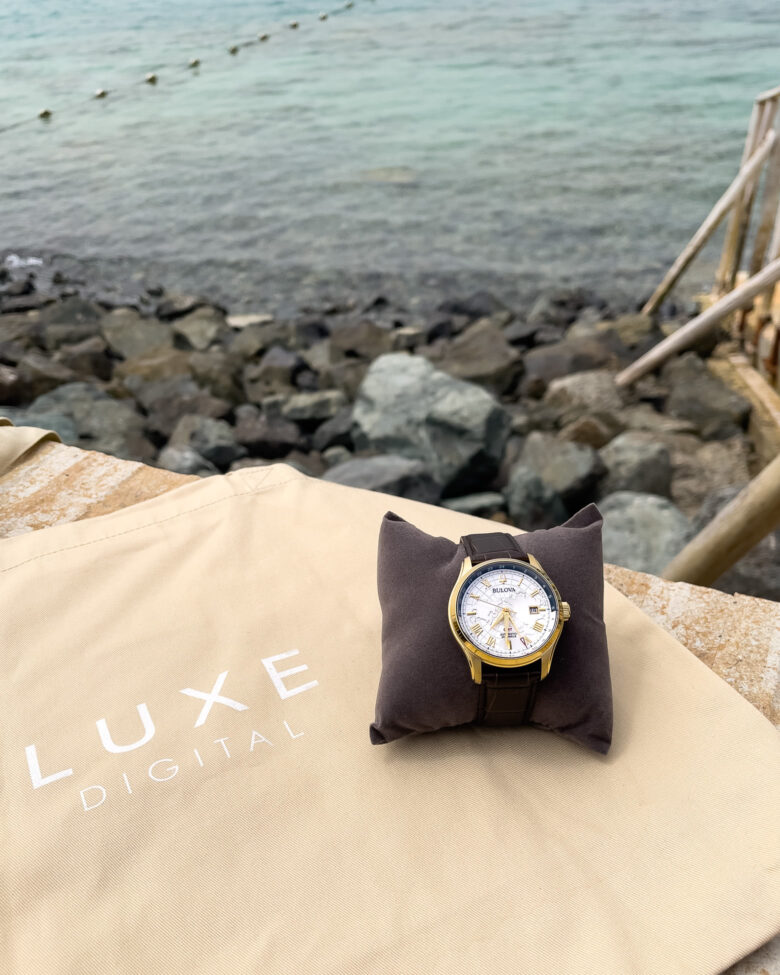 Bulova Wilton GMT Review: A high-flyer at a low price
What if we told you there was a chance you could wear a dual-time display watch with a jumping local hour hand (aka "flyer" or "true" GMT complication for nerdy watch collectors) without spending over $1,000? You'd leap at the opportunity. For that reason alone, we're big fans of the Bulova Wilton GMT and applaud its mission to democratize this covetable complication.
The pros:
Offers a 'true GMT' movement at an accessible price.
Features sapphire crystal compared to the Hardlex used by the Seiko 5 Sports GMT (another affordable GMT watch).
Available in two variants: a blue dial and stainless steel case or a white dial with a gold-coated case. Choose according to individual preference.
The cons:
Might feel a little large for some, although the chunky style will appeal to others.
Stately and old-school in styling, although this makes it a great dress watch for formal occasions.
30 meters of water resistance means this watch isn't appropriate for more adventurous pursuits. However, this is fairly standard for a dress watch.
Hands-on experience and benefits
It houses the Miyota Caliber 9075, a 'true' GMT movement
Admittedly, the most stand-out feature of the Bulova Wilton GMT Automatic—the Miyota 9075 movement—was not actually made by Bulova. This movement, which has created quite a splash in the watch-making world, represents a significant step towards making 'true' GMT movements available for those on a budget.
By 'true' GMT movements, we mean those with a jumping local hour hand. Rarer and typically more expensive, they allow the hour hand to be set locally. But thanks to Miyota and Bulova, these movements are now available for those of us with slightly tighter purse strings who want seamless timekeeping.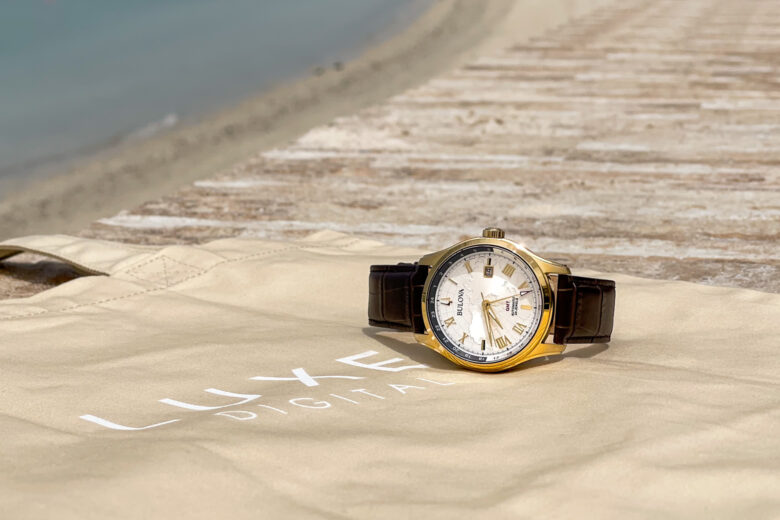 The movement boasts automatic winding but features a hand-winding capability too, and beats at 4 Hz or 28,880 vph frequency. It also has hacking seconds and a 42-hour power reserve. You can see it at work through the Bulova Classic Wilton GMT's exhibition case back (which is screw-down to provide 30 meters of water resistance). It's a high-quality movement that functions identically to elite GMTs from brands like Rolex and Omega.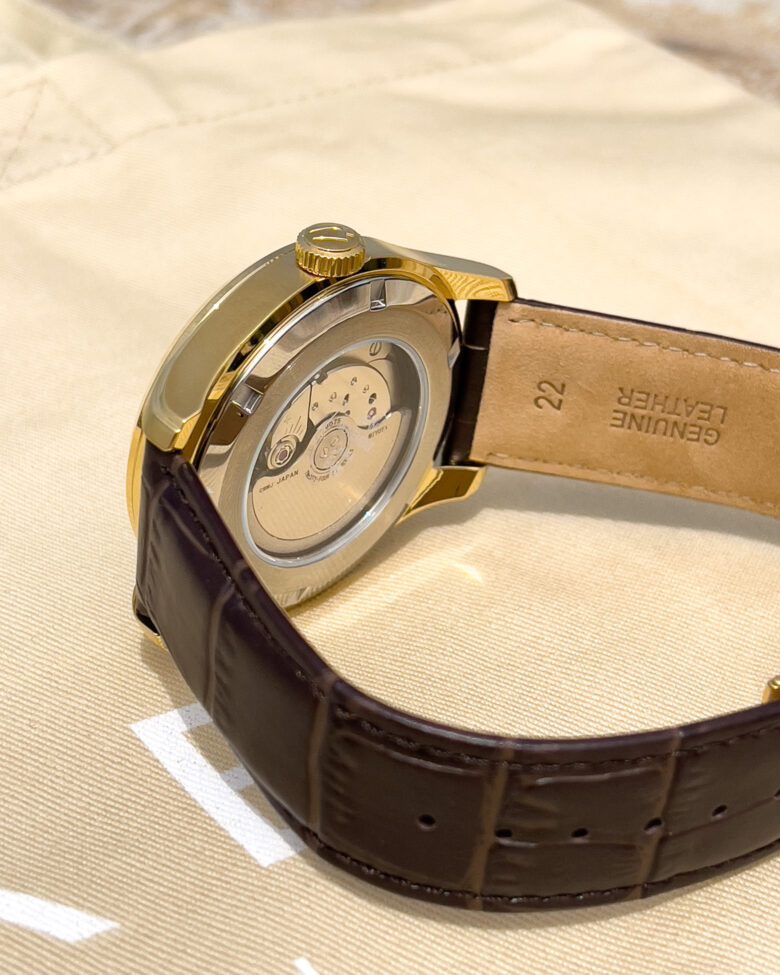 It offers a dressy take on dual-time zone travel watches
The Bulova Wilton GMT is available in two versions. Pick between a blue dial with a stainless steel case or a silver-toned dial with a gold-plated case. Both look traditional and stately with classic mid-century styling, but the gold-plated variant is the slightly more refined of the two. As far as we're concerned, the Wilton GMT is the perfect accessory for black-tie attire.
Examining the Bulova watch more closely, you'll find a combination of polished and satin finishes, a subtle but sophisticated touch. Both variants of the Bulova Wilton GMT have a dial with an embossed representation of a world map—a nice touch and a cool feature to point out to those wanting a closer look. Both also have elegant dauphine hands, applied Roman numerals, and lume on the hour, minute, and GMT hand. This makes for easy reading in lower light conditions. The GMT hand also has an arrow tip with a red frame to increase legibility.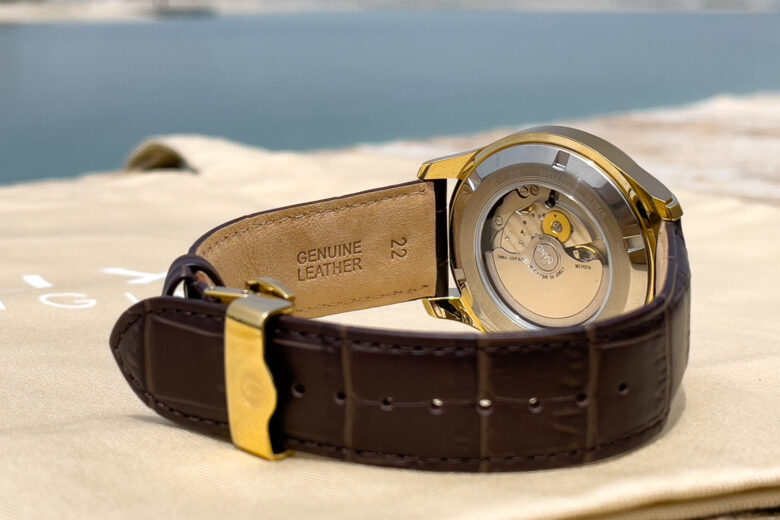 You'll also find a white date aperture at the three o'clock position, which is conveniently easy to see but unobtrusive enough that it doesn't distract from the rest of the dial design. A bi-color 24-hour scale is found on the periphery of the dial, while the crystal is domed sapphire with anti-reflective treatment—strong, scratch-resistant, and distortion-free. This is another advantage that the Bulova Wilton GMT has over the Seiko 5 Sport, which has a Hardlex crystal.
The blue dial version has a black leather strap, while the gold-plated dial has a brown leather strap. The absence of crown guards adds to the sleek and refined appearance of the watch (making it perfect for business travel) compared to rugged GMT sports watches with bulky bezels.
Fit and sizing: It's time for a big, big world of attractiveness
With a case size of 43 mm, but actually measuring 49.5 mm lug to lug, the Bulova Wilton GMT is undeniably big for a dress watch, which are typically up to 41 mm. However, with a recent trend towards chunky watches being worn on formal occasions, this didn't bother us. And the leather strap doesn't extend much beyond the watch case, so even for those with relatively small wrists, we found the watch doesn't actually look too large.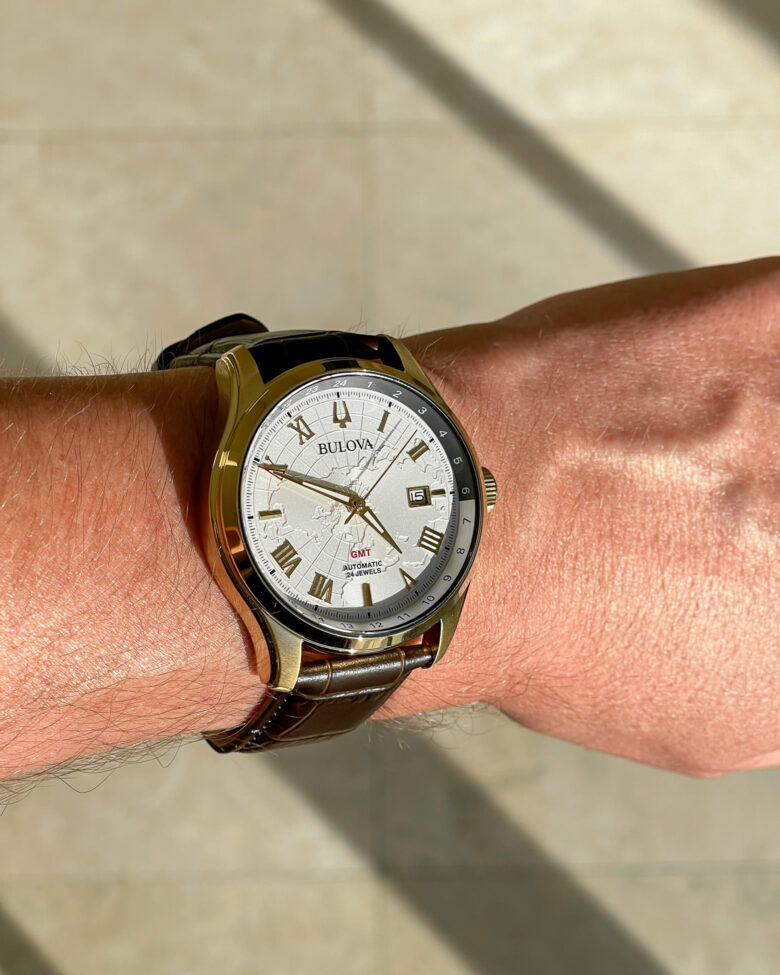 It feels fairly heavy in the hand but is actually lighter once attached to the wrist. While it does sit relatively high, and you might find your shirt getting stuck around it sometimes, this does serve to give the watch more presence. Our model came with a butterfly clasp—easy to use, doesn't risk folding the leather, and allows the watch to sit better against the wrist.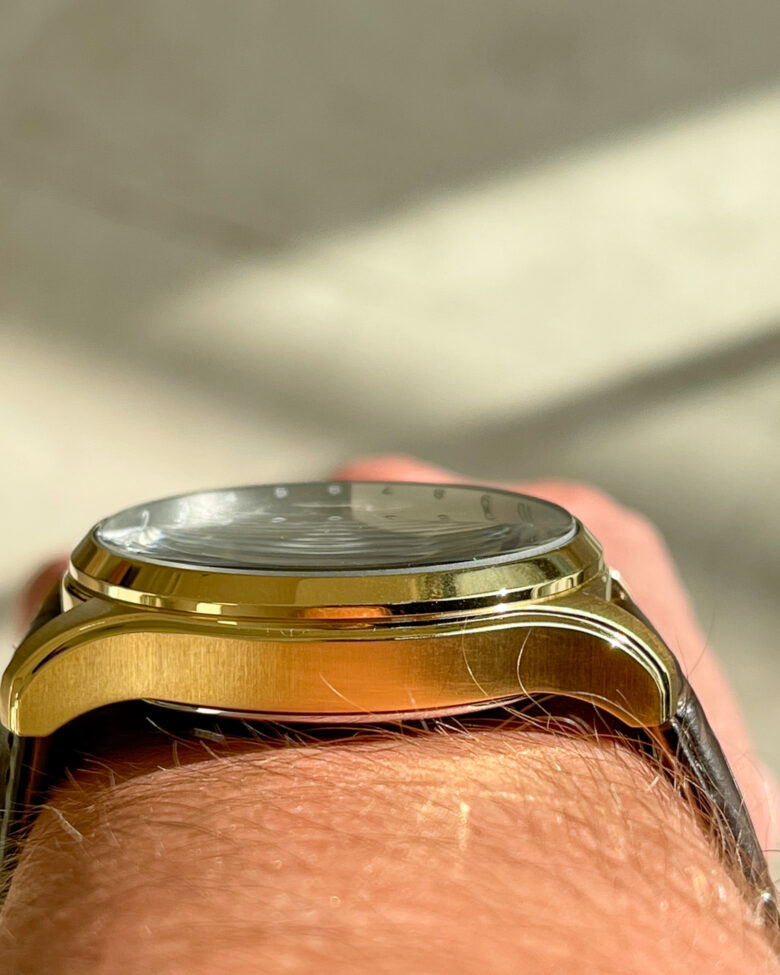 While searches for the Bulova Wilton GMT on Reddit reveal that some users find the leather a little uncomfortable, for us, the nubuck lining feels luxurious against the skin, and we haven't experienced any issues with rubbing.
Care and maintenance: A watch that stands the test of time
The Bulova Wilton GMT has been designed to last as long as it's cared for. So clean your watch as often as possible with a soft cloth. Avoid anything that might scratch the crystal. Download the manual as a PDF from the company website for answers to any questions.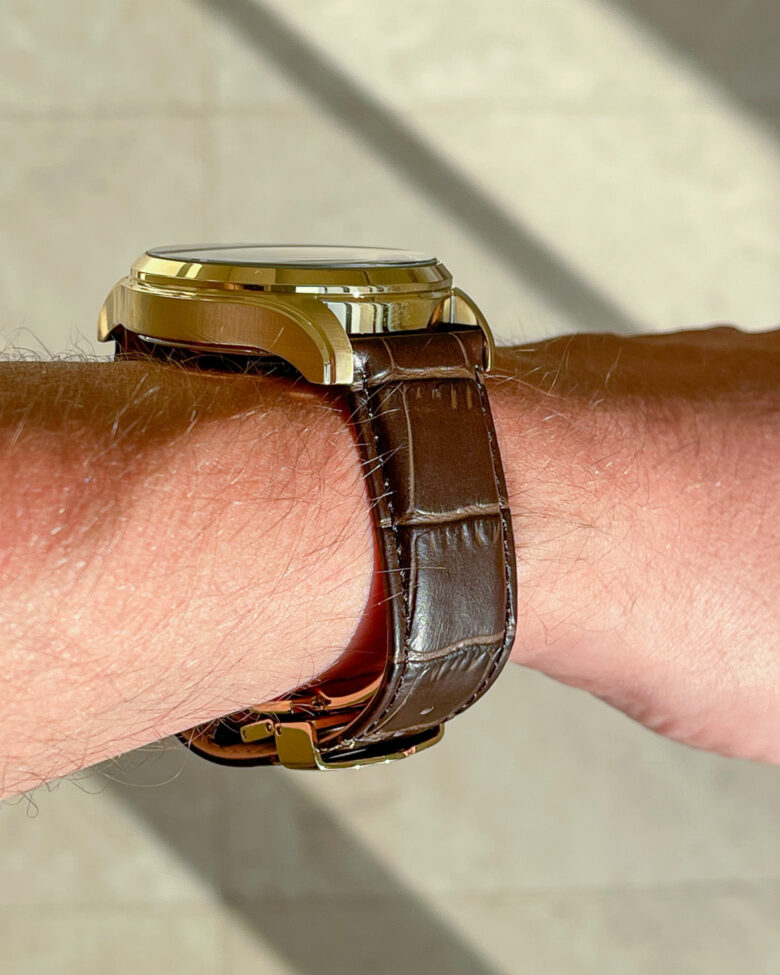 Finally, send your watch for regular servicing. Bulova has several service centers around the world. Find out more about servicing your watch at service@bulova.com. 
Bulova Wilton GMT Price: The ultimate sub-1K 'true' GMT watch
In the watch world, you generally get what you pay for. But in the case of Bulova, you get a lot more than that.
The Bulova Wilton GMT is currently retailing for $875 with a blue dial and $895 for a gold–plated dial. This is an astonishingly good price for a watch with a 'true' GMT complication, which typically costs well over $1,000.
By offering this highly-coveted movement at affordable prices, the Bulova Wilton Classic is starting a not-insignificant revolution in the watch-making world. Bulova hasn't skimped on quality, either. This is a solid and well-made watch that you can depend on. 
Who is the Bulova Wilton GMT best for?
For those of us who can't justify splurging our entire paycheck on a new watch, the Bulova Wilton GMT is an especially tempting addition to our watch collection.
The GMT functionality also makes this timepiece a top choice for frequent fliers and world travelers. It's easy to set the hour hand to another time zone without impacting the accuracy, and you can check the dual-time with a quick glance by looking at the bi-colored dial ring with 24-hour indication. For those of us traveling between time zones and wanting to stay on track, the Bulova Wilton GMT is a convenient and stylish way to tell the time.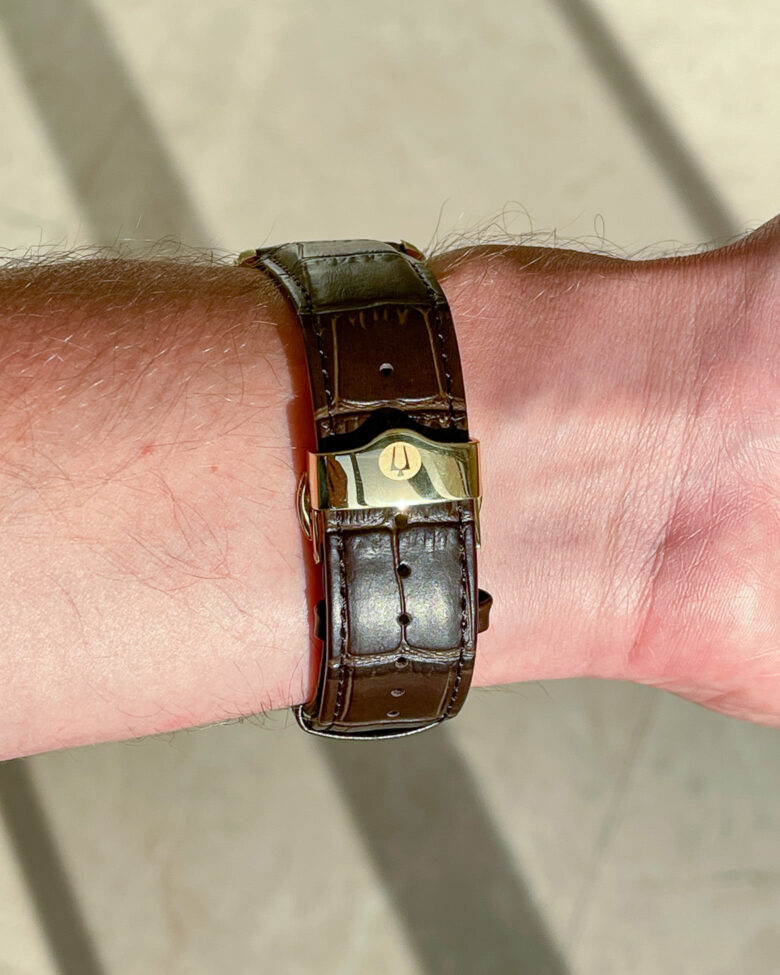 Where to buy Bulova Wilton GMT?
You'll find the Bulova Wilton GMT for sale directly from the company's website. Bulova watches are covered by the brand's three-year Global Warranty, and there's a two-day UPS shipping service available. You can also buy Bulova watches from one of the brand's authorized retailers.