There's a luxury holiday, and then there's a stay on a superyacht. And then there's a holiday that takes it that final step further: a stay on one of the world's largest superyachts.
With onboard swimming pools, cinemas, helicopter landing pads, and spas, the world's biggest and most expensive superyachts come kitted out with more facilities than your average five-star hotel.
Owned by some of the world's richest people — along with a few anonymous owners who'd prefer to keep their luxury transport a secret — these mega yachts redefine the word "boat" into something indescribably sleek, stylish, and seriously impressive.
While a majority of the 21 largest luxury yachts in the world are for private use only, a few of them are available for charter.
If superyachts are your thing, you'll want to read on for all the facts and figures on all of the largest yachts in the world.
The 21 largest yachts in the world
Looking for other ways to move in style? Check our round-up of the most expensive cars in the world and the most expensive private jets in the world. They are both perfectly good alternatives to owning a yacht. And if you prefer to stay home, we've ranked the most expensive houses in the world to give you some inspiration too.
21. A (Motor Yacht) | 390 feet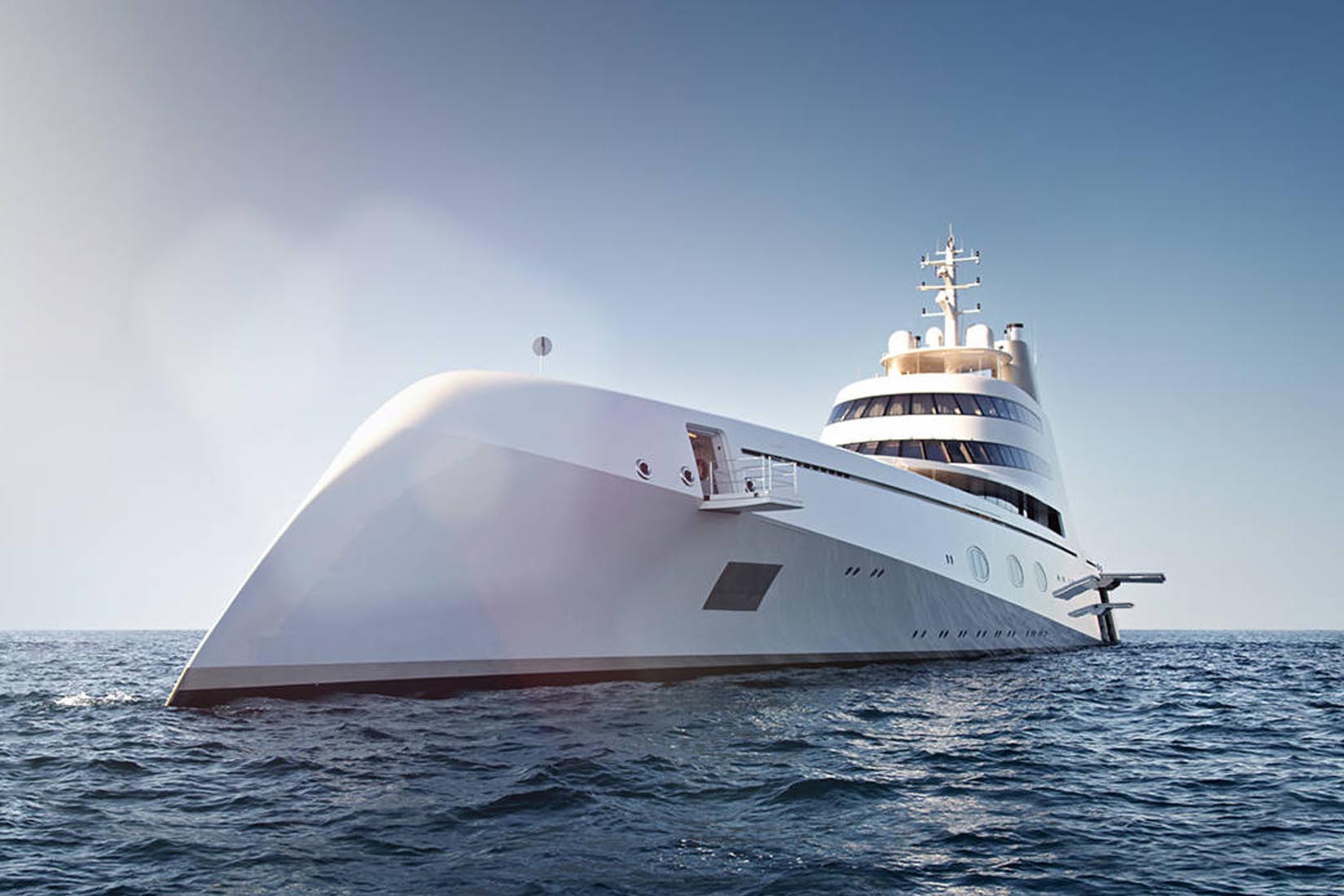 Sleek and futuristic, A is more than just a pretty face. While you might think her naming verges on lazy, it was actually chosen for efficiency purposes. The name "A" was used in the hope that the vessel would appear first on shipping registers. Her design was also chosen with technology and cruising in mind. Basically, a trip on A should be painless in every way possible.
Crafted with the help of legendary designer Philippe Starck, her futuristic look took no more than two hours to think up, from start to finish. It was designed to make use of the best elements of life at sea: the wind and the waves, crashing together in front of you.
LOA: 390 feet (119 metres)
Builder: Blohm + Voss
Country of build: Germany
Year of build: 2008
Yacht owner: Andrey Melnichenko
Yacht price: $300 million 
Number of guests: 14
Number of crew: 37

20. Crescent | 445 feet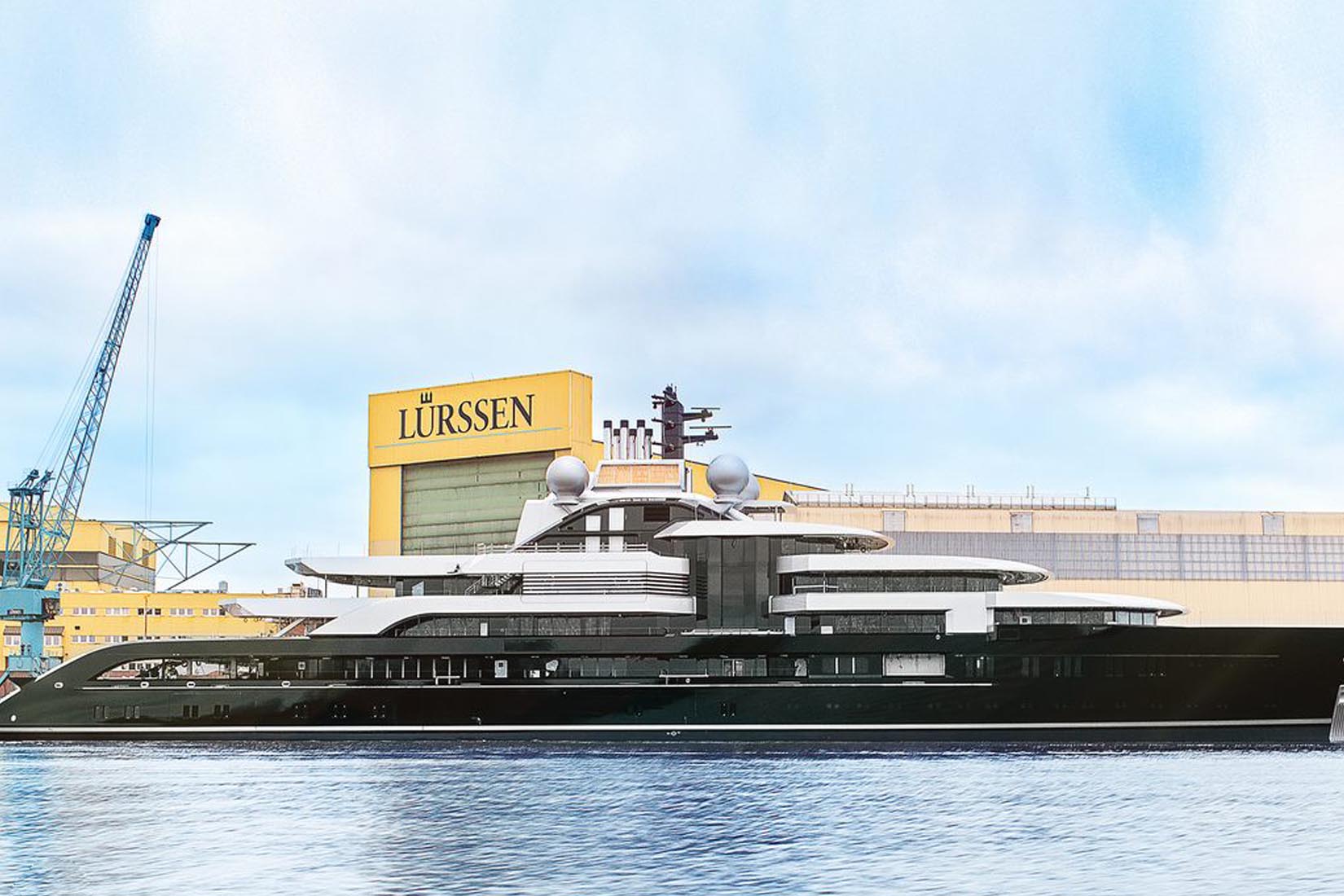 Despite being one of the most well-known super yachts in the world, not much is known about the Crescent. Designed by Espen Oeino with interiors curated and fitted by Zuretti Interior Design, the Crescent prefers to keep a low profile in the world of super yachts.
Even her owner is unknown, with experts understanding that she's owned by a billionaire of some sort (which you might guess, based on her price tag) but whose identity hasn't been revealed. Crescent was previously known as Thunder and isn't currently available for charter or sale.
LOA: 445 feet (135.6 metres)
Builder: Lurssen 
Country of build: Germany
Year of build: 2018
Yacht owner: Unknown 
Yacht price: $600 million
Number of guests: 18
Number of crew: 40

19. Savarona | 446 feet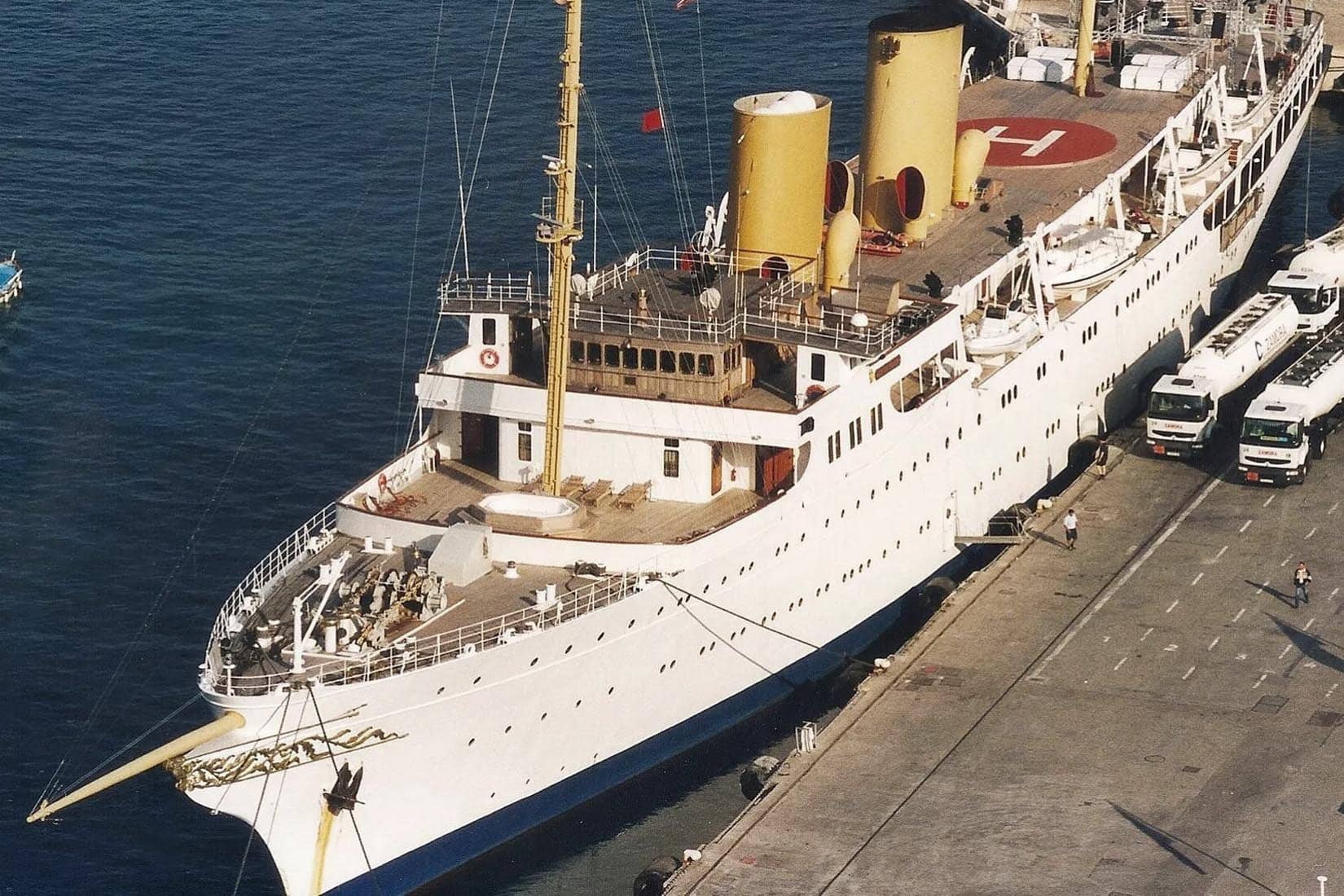 Savarona is the second-largest yacht built by Blohm & Voss and spends most of her time in the Mediterranean. This luxury superyacht is one of the oldest in the market — a perfect fusion of traditional charm and modern facilities.
Previously named Gunes Dil, Savarona was designed by Cox & Stevens, with interior design carefully handled by Donald Starkey. She's available to charter on a weekly basis and has been refurbished over the years. Back in the day, her cost price was $4 million, and in 1989, she was chartered by Kahraman Sadikoglu, owner of the Turkish Sadikoglu Group, who spent an estimated $50 million on refurbishing her from top to bottom.
LOA: 446 feet (135.94 metres)
Builder: Blohm & Voss
Country of build: Germany
Year of build: 1931
Yacht owner: Government of Turkey
Yacht price: $100 million
Number of guests: 34
Number of crew: 48

18. Flying Fox | 446 feet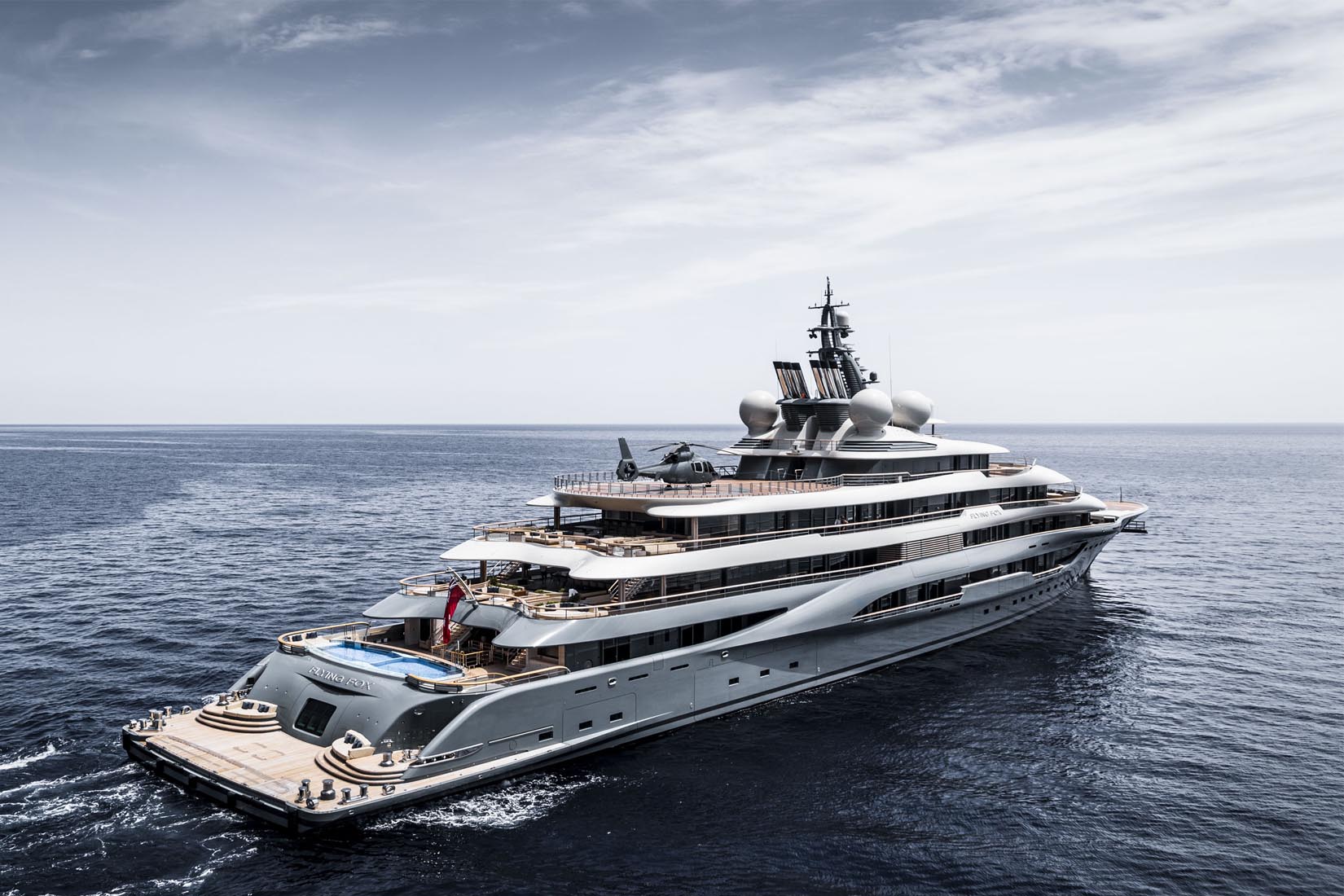 Flying Fox is known as the most expensive charter yacht in the world, and a week aboard will set you back around $3 million. Chartered by the one and only power couple Beyonce and Jay-Z in 2021, it's filled to the brim with all of the luxury facilities you could ever possibly want.
The Flying Fox is rumored to be owned by Jeff Bezos, although that's a claim that's never been totally certified. She spends most of her time in the Mediterranean, specifically Cannes, Capri, and Sardinia, although she's recently visited Norway, too. She can accommodate the largest helicopters on the market, and it reportedly took more than 50 meetings with her owner for interior design to be completed.
LOA: 446 feet (136 metres)
Builder: Lurssen
Country of build: Germany
Year of build: 2019
Yacht owner: Unknown
Yacht price: $300 million
Number of guests: 22
Number of crew: 54
17. Rising Sun | 454 feet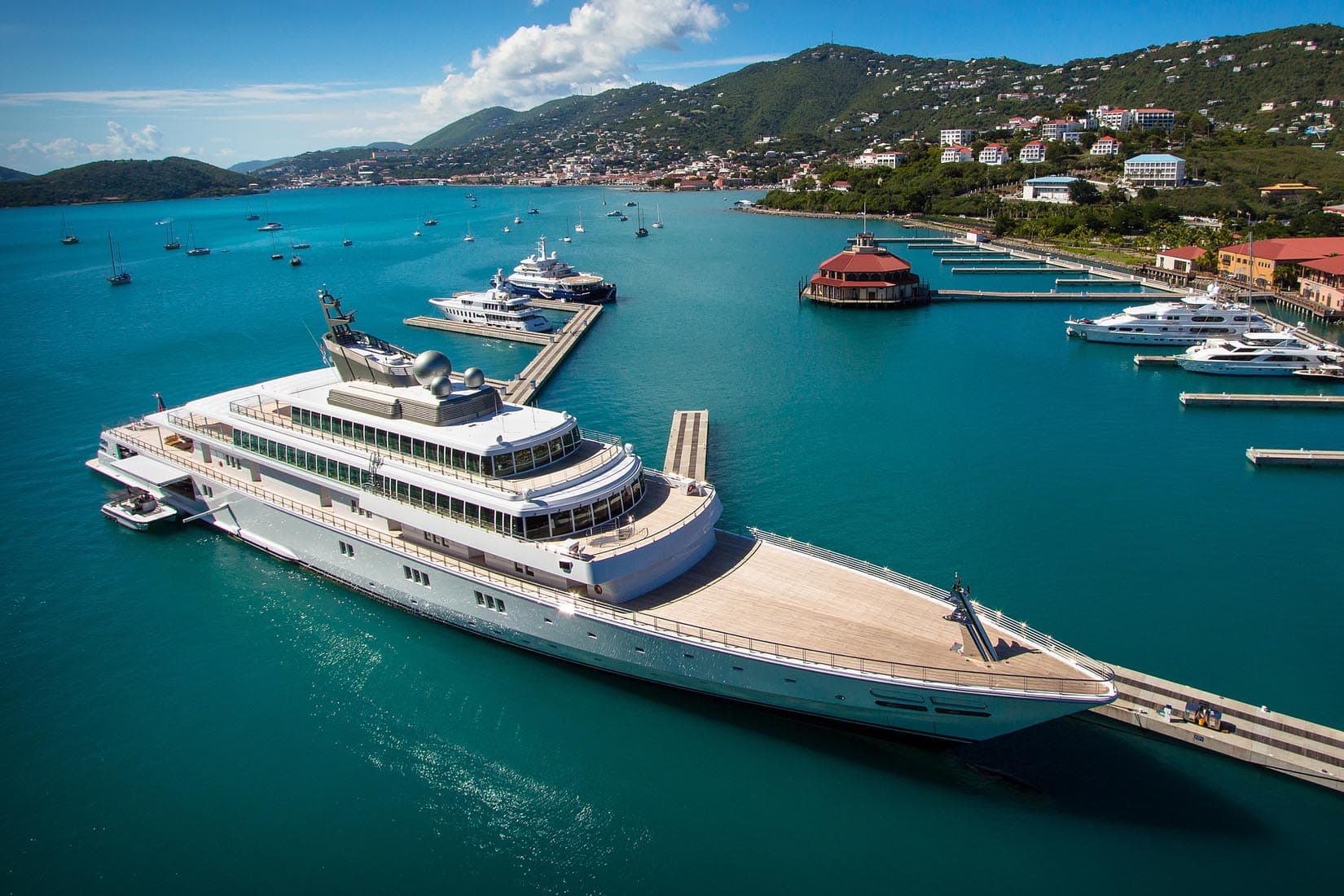 The Rising Sun's original owner, Larry Ellison, CEO of Oracle Corporation, sold her in 2010 as he considered her too large. Famously used by David Geffen for self-isolation, Rising Sun has also been a popular hang-out spot for celebrities like Oprah Winfrey and Beatrice, the Princess of York.
She's a Superyacht with impressive attention to detail like interiors kitted out in teak and onyx and endless features like a full gym, a large wine cellar, a sauna, and a spa. She's got a full-size basketball court that doubles up as a helicopter landing pad and a private cinema for those long evenings spent at sea.
LOA: 454 feet (138 metres)
Builder: Lurssen
Country of build: Germany
Year of build: 2004
Yacht owner: David Geffen
Yacht price: $400 million 
Number of guests: 16
Number of crew: 45

16. Al Salamah | 457 feet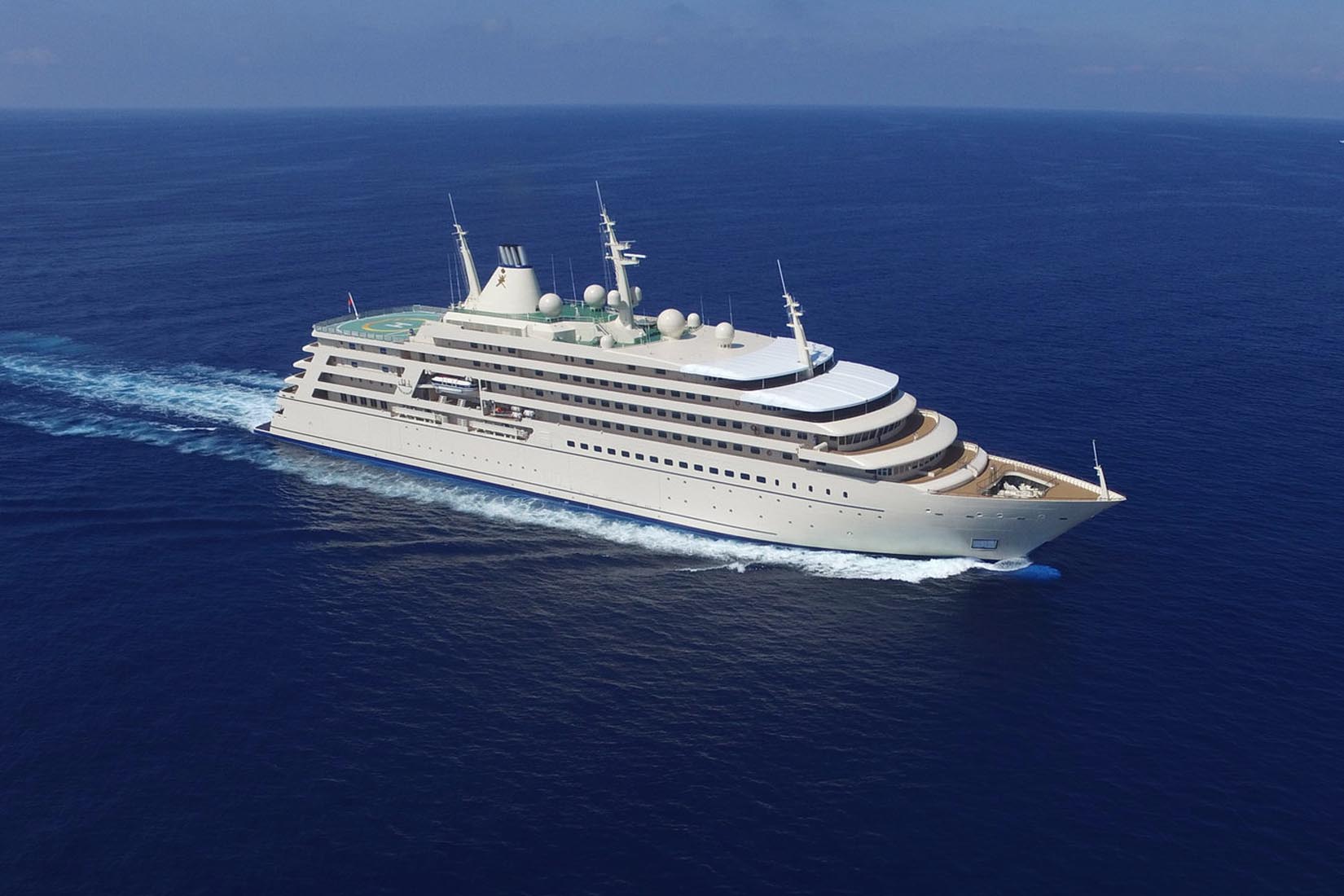 Al Salamah is part of the Omani Royal fleet and started her very secretive life in Genoa. Known as the world's biggest superyacht right up until 2016, she's a sleek masterpiece of a ship, with a distinctive cream color and beach club design.
Al Salamah does everything in multiples, from the five galleys onboard (the main galley, a bakery, a crew galley, an owner's diet galley, and an Arab galley), three hospitals (one for the owner, one for guests, and one for the crew) and 2,000 sqm of floor space. She was put on sale briefly for $280 million USD, before being delisted and instead given as a gift to the Crown Prince of Bahrain.
LOA: 457 feet (139 metres)
Builder: Lurssen
Country of build: Germany
Year of build: 1999
Yacht owner: Crown Prince of Bahrain
Yacht price: $280 million
Number of guests: 40
Number of crew: 134
15. Scheherazade | 459 feet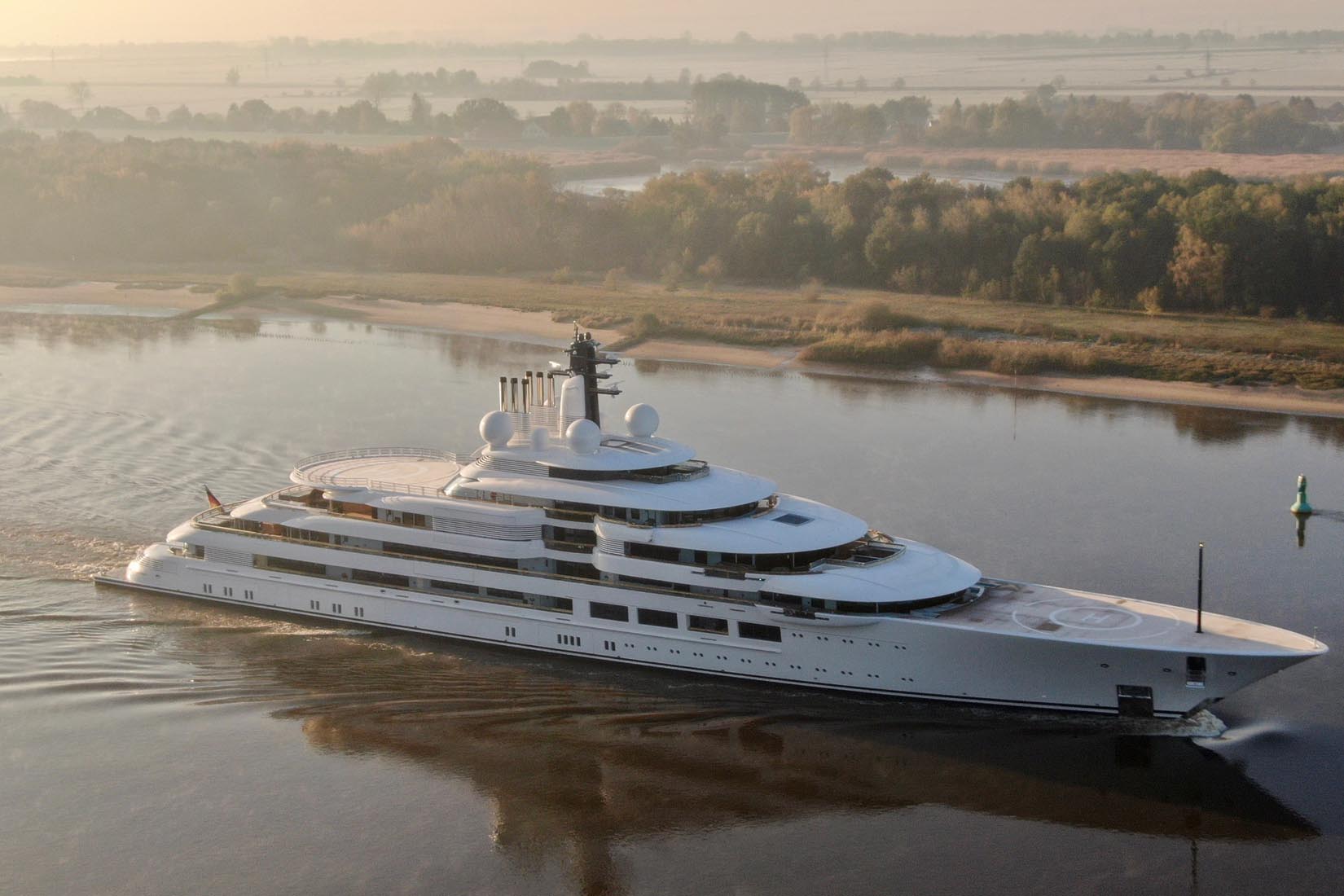 Two helicopter landing pads, two outdoor Jacuzzis, and two outdoor fire pits: Scheherazade doesn't hold back with not only the essentials but also the luxuries. Previously named Lightning, "Scheherazade" is mostly associated with a female character in the Middle Eastern folk tales in the series One Thousand and One Nights.
Not much is known about this superyacht, and even her birth and building process were referred to under a codename: Project Lightning. No one involved in her creation, even Lurssen, has revealed anything about her interiors or her owner. All that's really known is that she sailed from Germany to Norway initially after completion.
LOA: 459 feet (140 metres)
Builder: Lurssen
Country of build: Germany
Year of build: 2020
Yacht owner: Unknown
Yacht price: $700 million 
Number of guests: 18
Number of crew: 40
14. Ocean Victory | 460 feet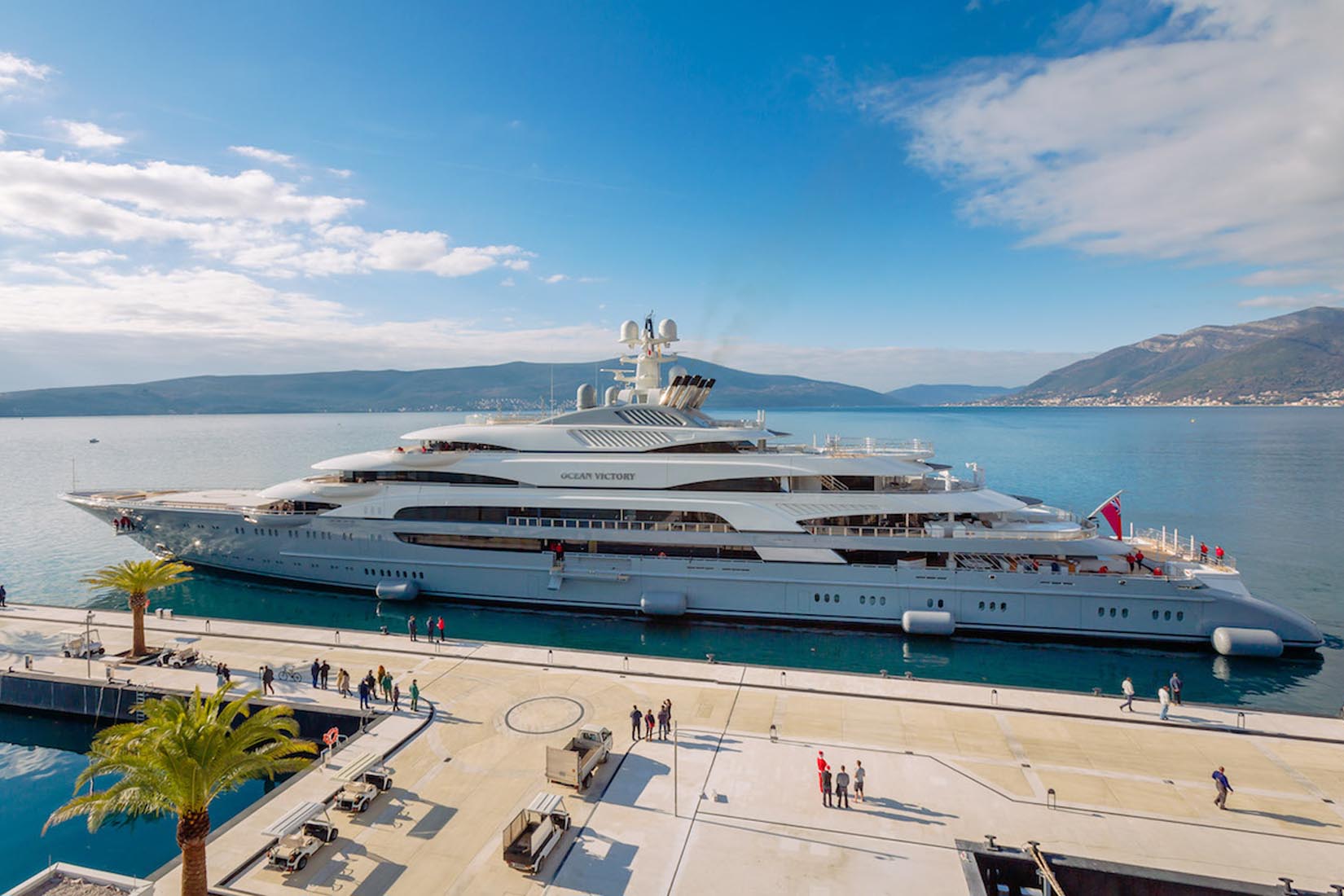 Ocean Victory has traveled all over the world, from Europe to Southeast Asia and back again. Owned by Russian billionaire Viktor Rashnikov, she's the upgraded vessel to follow his purchase of the 76-meter Ebony Shine.
She's one designed with pure luxury in mind, from the six individual swimming pools onboard to the 300-square meter spa area. She's beautiful both inside and out, with a unique concept designed by Espen Oeino and interior designer Alberto Pinto. The largest superyacht ever built in Italy, Ocean Victory shows some of the finest in the world when it comes to premium quality adventures at sea.
LOA: 460 feet (140 metres)
Builder: Fincantieri
Country of build: Italy
Year of build: 2014
Yacht owner: Viktor Rashnikov
Yacht price: $300 million 
Number of guests: 28
Number of crew: 56

13. Solaris | 461 feet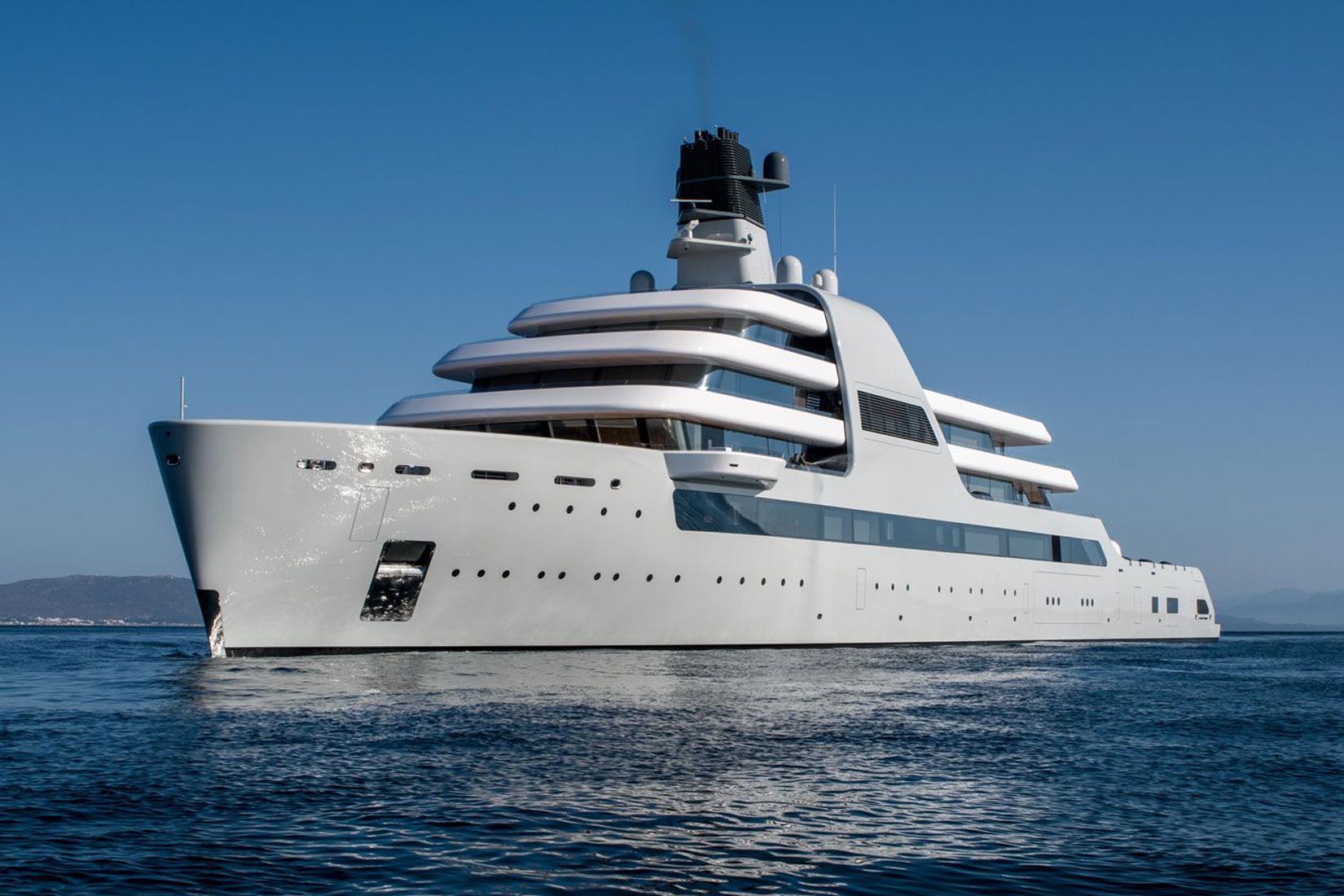 Everything about Solaris was supposed to be kept a secret when she was being built – a secret that didn't last long when her huge size was spotted undergoing sea trials in the North Sea. One of this Superyacht's main attractions is her beach club on the top floor: the perfect spot for relaxation during those long days out at sea.
That beach club comes complemented with endless other stylish amenities, like a large helipad, sun deck, and a crane to launch tenders, toys, and subs. Interior design is largely unknown, but, if it's anything as sleek and white as its exteriors, it's sure to be impressive.
LOA: 461 feet (140 metres)
Builder: Lloyd Werft
Country of build: Germany
Year of build: 2021
Yacht owner: Roman Abramovich
Yacht price: $600 million 
Number of guests: 36
Number of crew: 60
12. Yas | 463 feet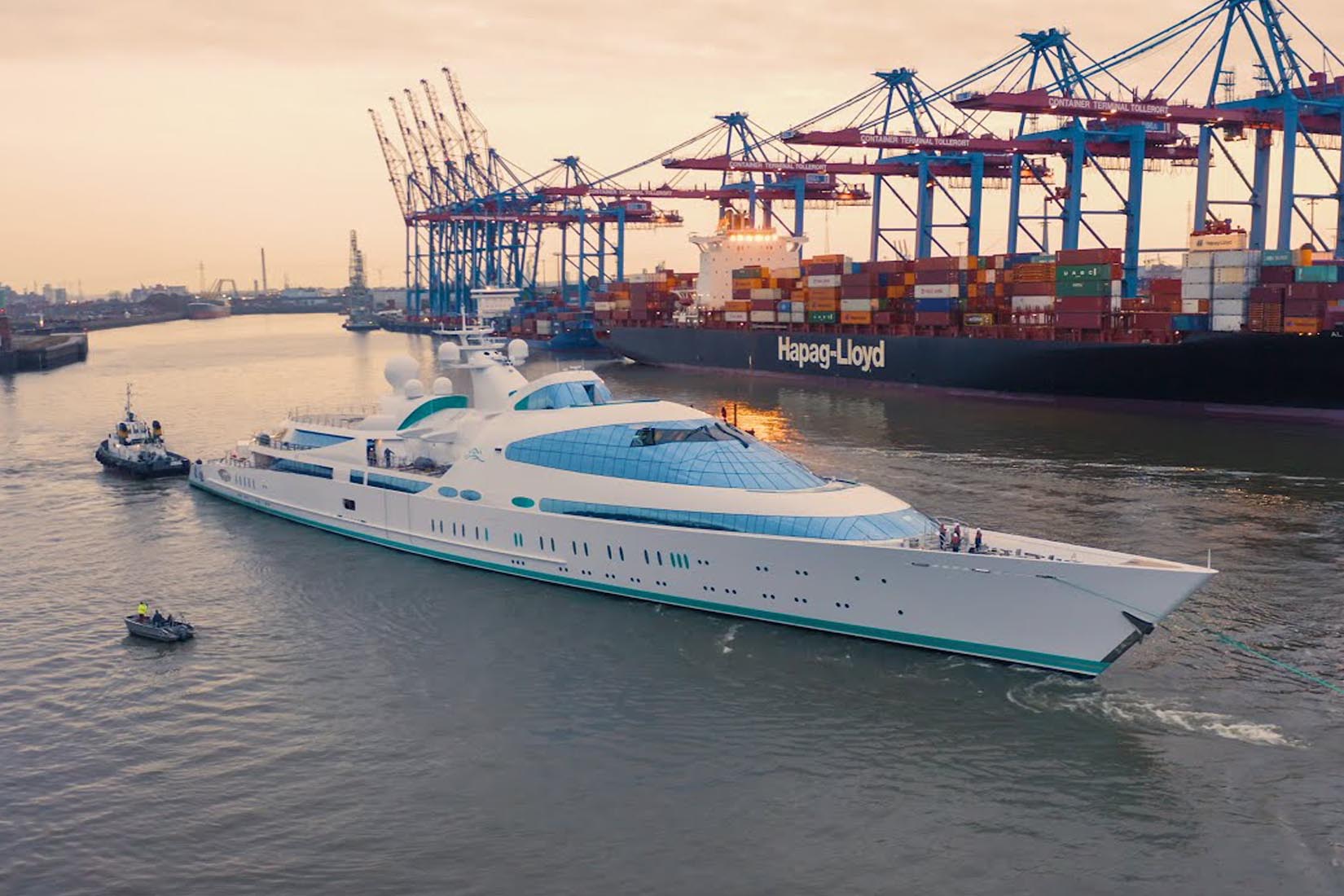 Yas is known best for its seamless and rather unusual design — one that's a little different from most superyachts out there. The owner of Yas wanted a yacht that lived up to his own heritage; one with a backbone reminiscent of the navy and with abstract lines throughout.
He chose an existing boat in Abu Dhabi, which was deconstructed within the region before being shipped off and renovated into the wonder that it is today. The Yas yacht was originally a Dutch navy frigate, which you'd never guess from strolling around onboard today.
LOA: 463 feet (141 metres)
Builder: Koninklijke Schelde
Country of build: The Netherlands
Year of build: 1981
Yacht owner: Hamdan bin Zayed al Nahyan
Yacht price: $180 million 
Number of guests: 60
Number of crew: 56

11. Dream Symphony | 463 feet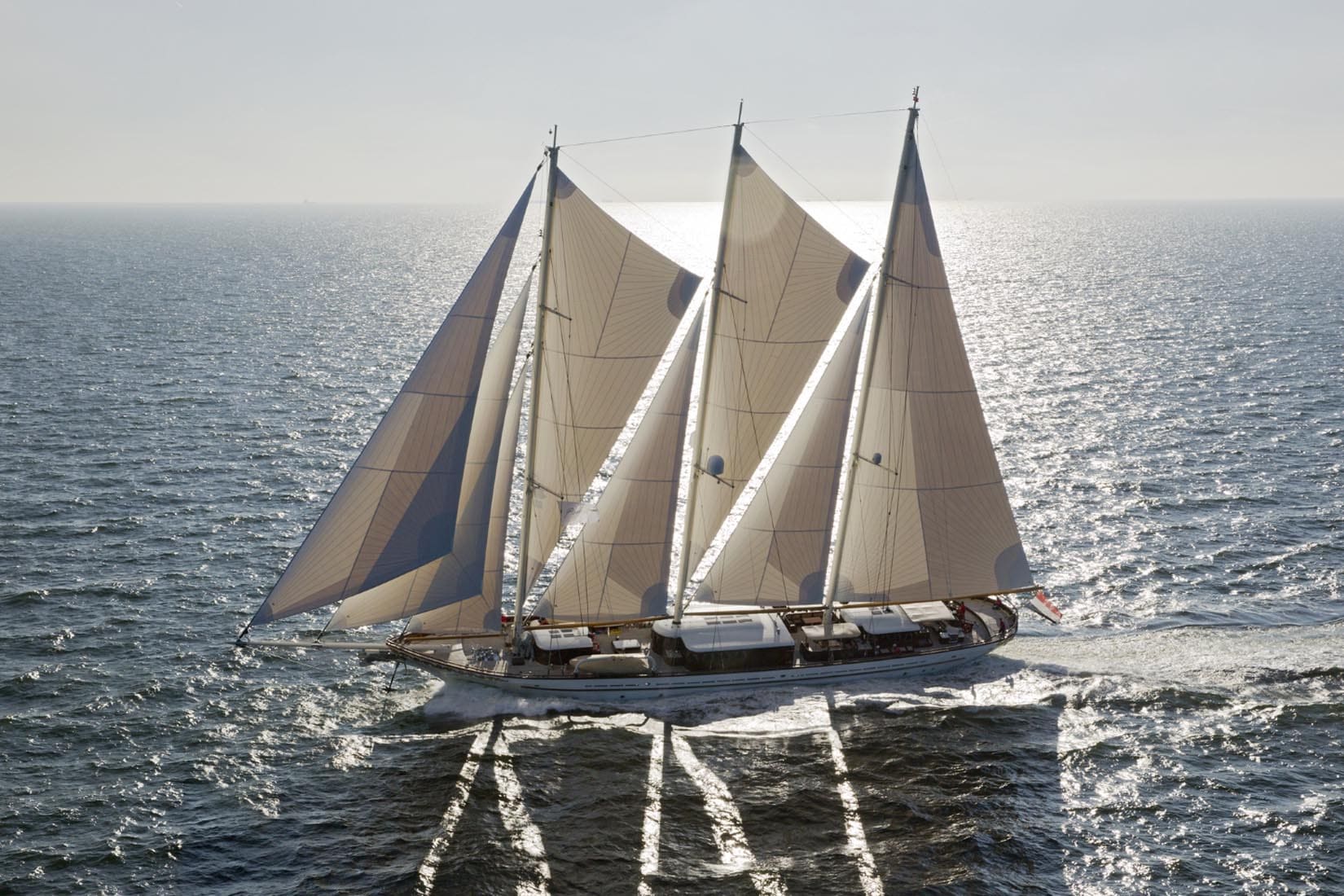 Dream Symphony is almost as much of a joy to admire as she is to sail on, thanks to her stunning design and seamless presentation. One of the newest superyachts on the block, Dream Symphony's beautiful interior styling comes courtesy of Ken Freivok with unique wood building technology.
She's also one of the greenest superyachts out there, specifically designed to have as minimal an impact on the environment as possible. She comes with a Teak deck and a huge, glass swimming pool in the center. She's also got a rising floor, best used for helicopters to land on, dropping off its latest guests.
LOA: 463 feet (141 metres)
Builder: Dream Ship Victory
Country of build: Turkey
Year of build: To be delivered in 2022
Yacht owner: Unknown
Yacht price: Unknown
Number of guests: 18
Number of crew: 32

10. Nord | 465 feet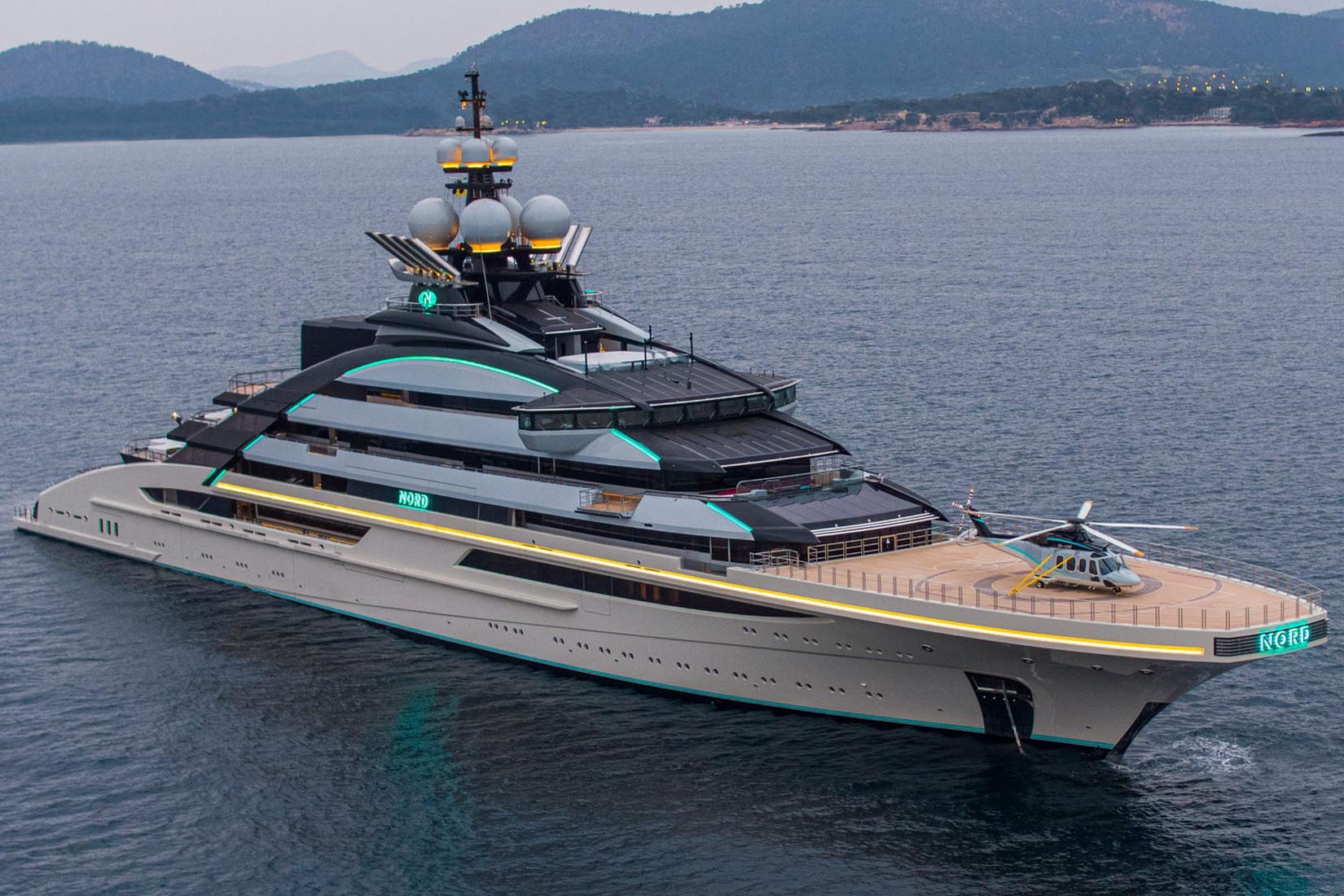 Nord's distinctive bow design has never been seen before on a yacht. That's one of the first things you'll notice about her. The next thing you'll notice is her unusual design, which verges on battle-esque and has been called "a warship wearing a tuxedo" by Dan Lenard of the Italian design studio Nuvolari-Lenard.
She's one of the best superyachts out there for fun, with a sports and diving center on the lower deck, a swimming pool higher up, overlooking the ocean, and a fleet of tenders. She was designed for global exploration: a yacht that will calmly cruise her way all across the world.
LOA: 465 feet (142 metres)
Builder: Lurssen
Country of build: Germany
Year of build: 2020
Yacht owner: Alexei Mordashov
Yacht price: $500 million 
Number of guests: 24
Number of crew: 40
9. El Mahrousa | 478 feet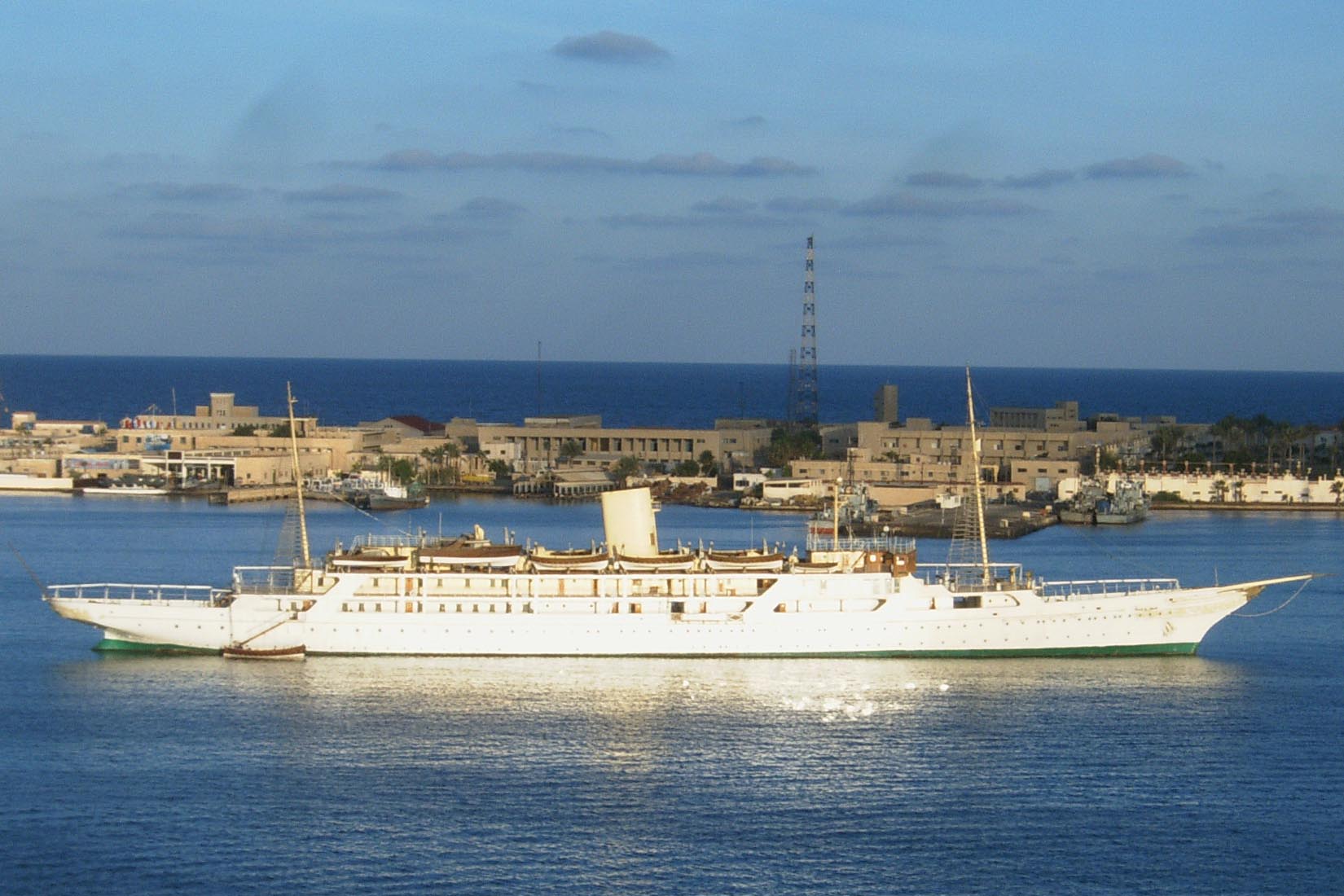 El Mahrousa had a few different names in her time, ranging from the translated "The Protected" to El Horreya, which in Arabic translates to "Freedom." It's not surprising that she's had more than one name when you take into account her age. As the oldest superyacht in the world, she's undergone a lot of restoration over time, including multiple lengthenings and faster engines.
She was renamed back to El Mahrousa in 2000 and gained even more recognition for being the first ship to cross the new Suez Canal extension in 2015. Back in her original days, she was built on the River Thames and took her first trip in 1867.
LOA: 478 feet (146 metres)
Builder:  Samuda Brothers
Country of build: England
Year of build: 1863
Yacht owner: Egypt's presidential yacht
Yacht price: Unknown
Number of guests: Unknown
Number of crew: 160
8. Prince Abdulaziz | 482 feet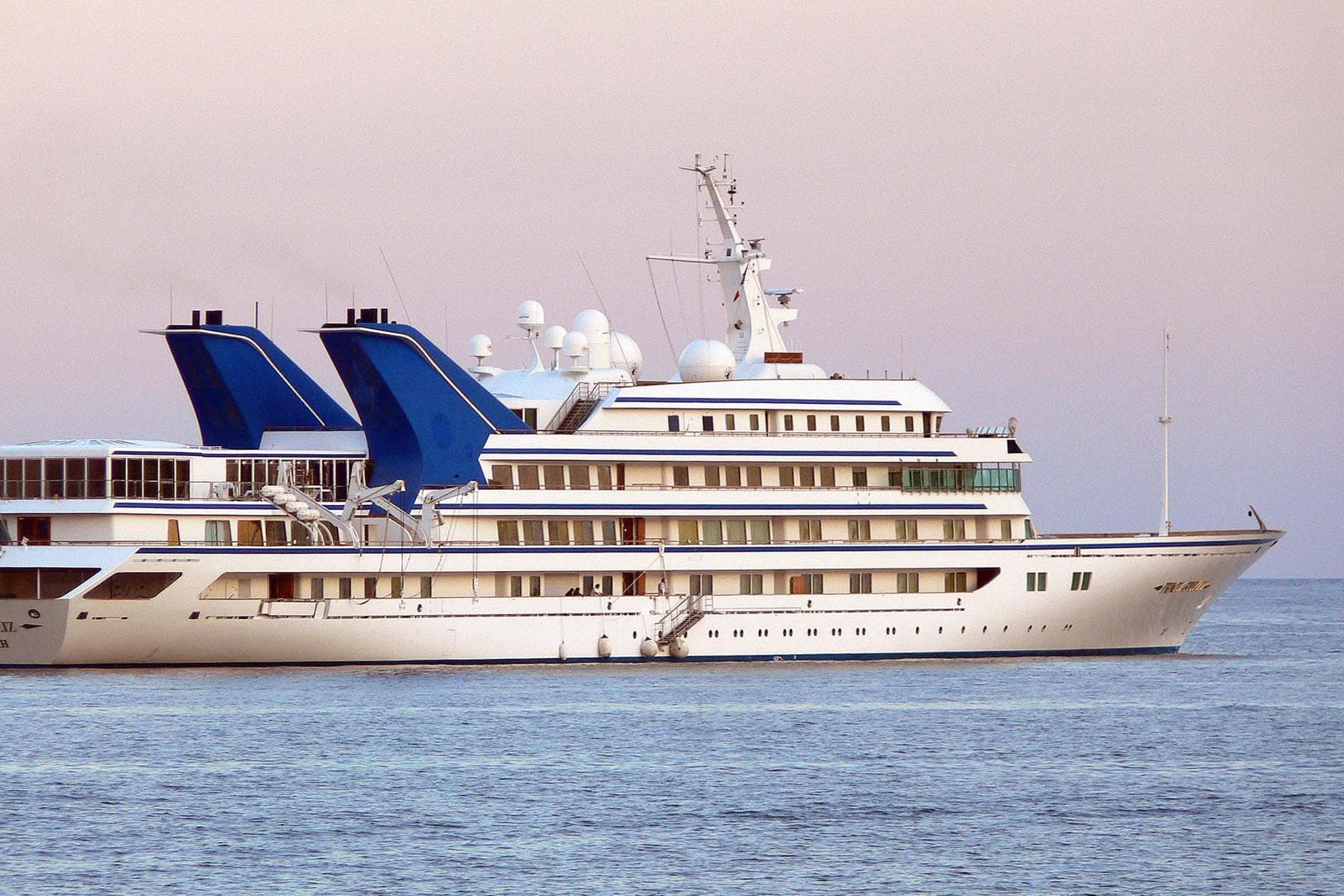 The Prince Abdulaziz yacht was ordered by King Fahd, who named her after his son Prince Abdul Aziz. Now, she's owned by his brother, Abdullah. Just one of the yachts owned by the Saudi royal family, she's spotted frequently throughout Europe, especially Cannes, where the royal family owns a property.
She's been redecorated once — in 2007 — in a project that took 15 months to complete, without even taking into account the rest of the ship's upkeep. The Prince Abdulaziz is known for its combination of bold colors and fusion of traditional and modern design, thanks to its influence from the late David Hicks.
LOA: 482 feet (147.01 metres)
Builder: Helsingor Vaerft
Country of build: Denmark
Year of build: 1984
Yacht owner: Prince Abdul Aziz bin Fahd
Yacht price: $100 million
Number of guests: 64
Number of crew: 65
7. A+ | 483 feet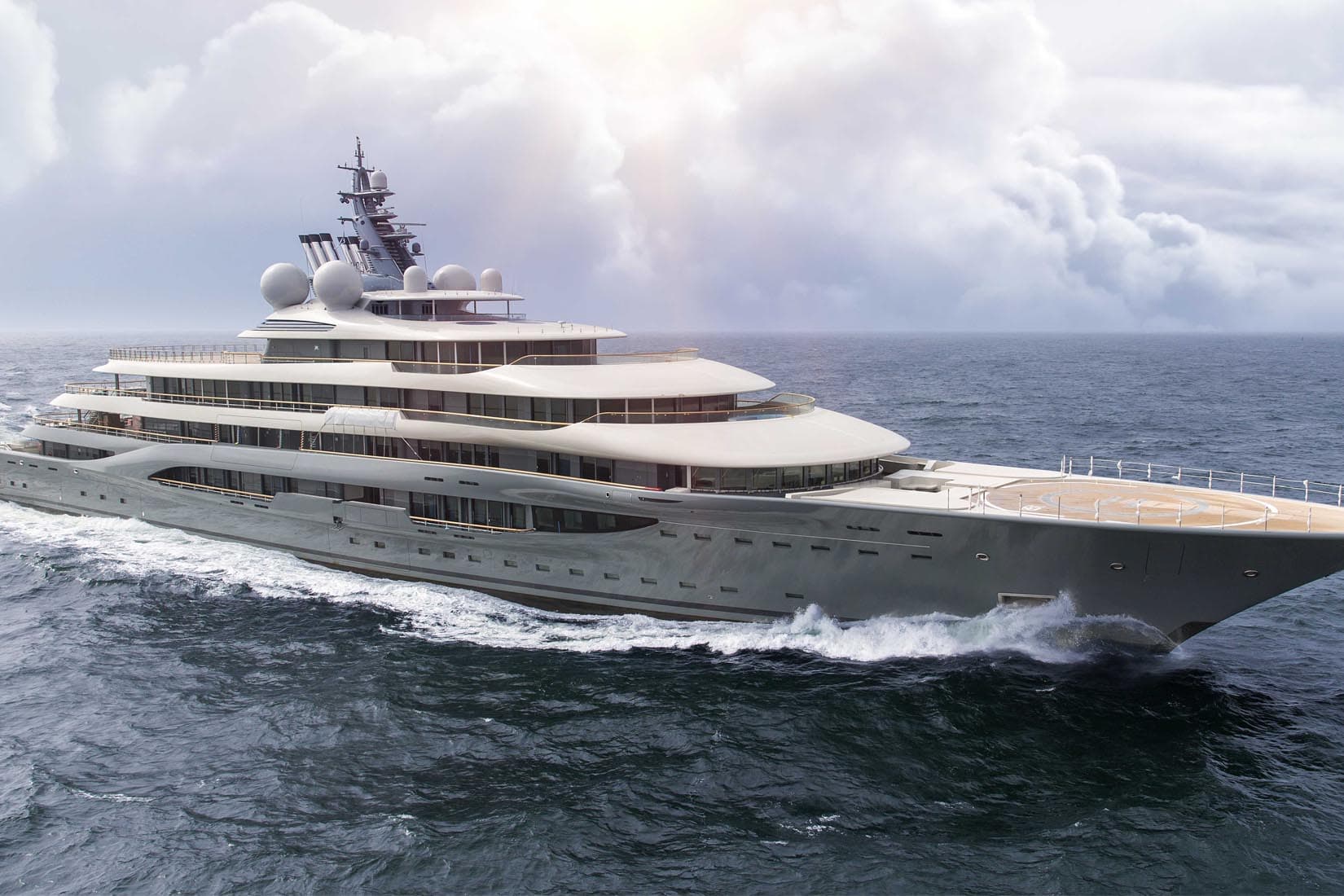 What do you do when the name "A" is already taken for your superyacht? Choose the next closest thing: A+. Previously named Topaz, this superyacht was the world's fourth-largest luxury yacht when she was built, before being stripped of that particular title only a few years later.
Nevertheless, she's a seriously impressive superyacht, with endless facilities like a large jacuzzi, double helicopter landing pads, a swimming pool with a swimming platform and underwater lights, as well as a fitness hall, cinema, and a large conference room. She's also well equipped with water toys, like jet skis, inflatable boats, a catamaran, and even a mini-submarine.
LOA: 483.1 feet (147.25 metres)
Builder: Lurssen
Country of build: Germany
Year of build: 2012
Yacht owner:  Mansour bin Zayed Al Nahya
Yacht price: $527 million
Number of guests: 62
Number of crew: 79

6. Al Said | 508 feet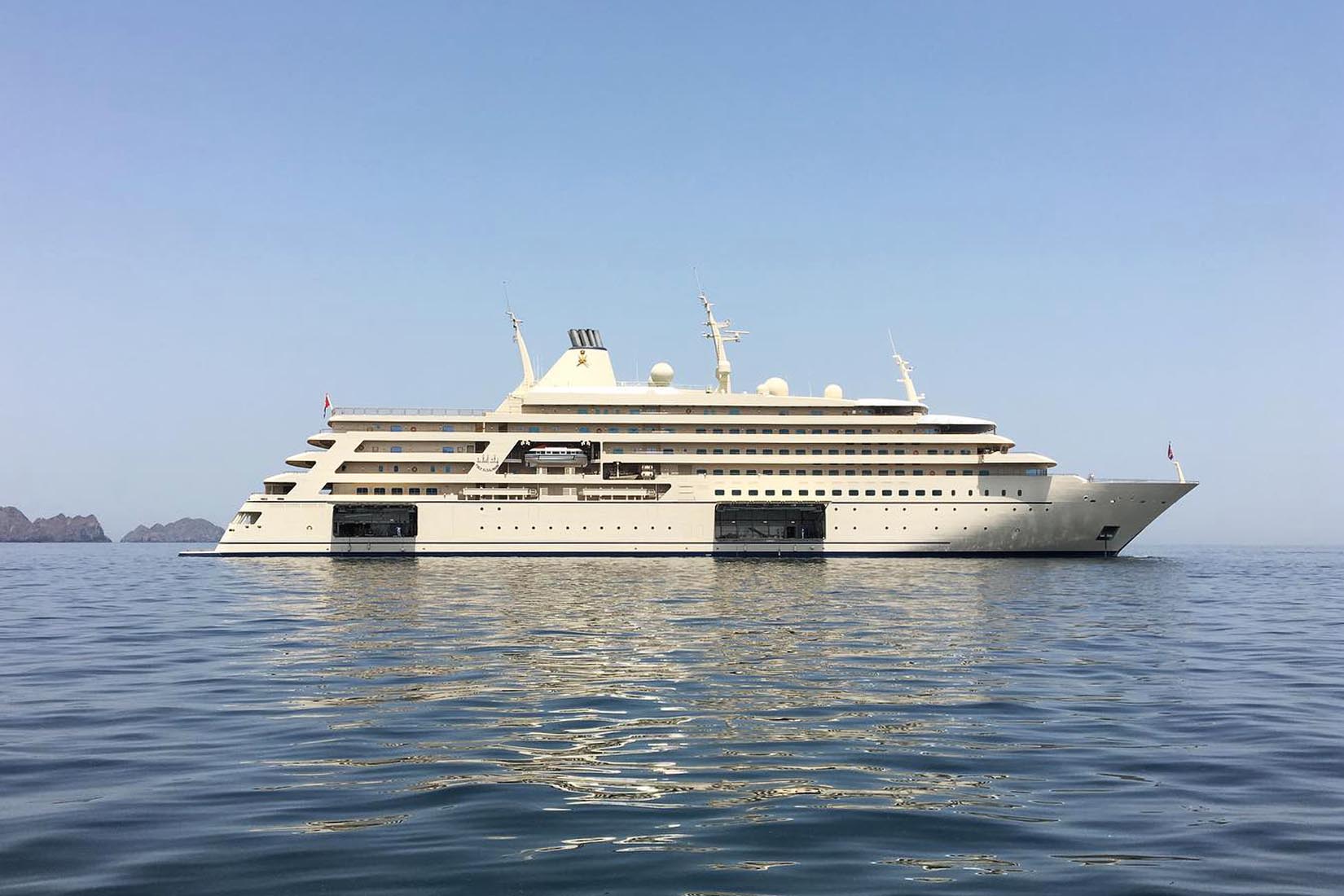 Another Superyacht built, shrouded in secrecy, Al-Said was referred to as "Project Sunflower" the entire time she was being created, right up until she was delivered to her owner in 2008. Not much is known about Al Said, from her movements through to her amenities — although she is known to have a huge concert room with space for a full 50-person orchestra.
Currently, she's flying the flag of Oman and has spent a lot of time in its surrounding waters. Her interior was styled by British designer design house RWD, with exterior design being credited to Espen Oeino. When she was delivered to the Sultan of Oman, she replaced a previous ship of a smaller size.
LOA: 508 feet (155 metres)
Builder: Lurssen
Country of build: Germany
Year of build: 2008
Yacht owner: Sultan of Oman
Yacht price: $600 million 
Number of guests: 65
Number of crew: 140
5. Dilbar | 511 feet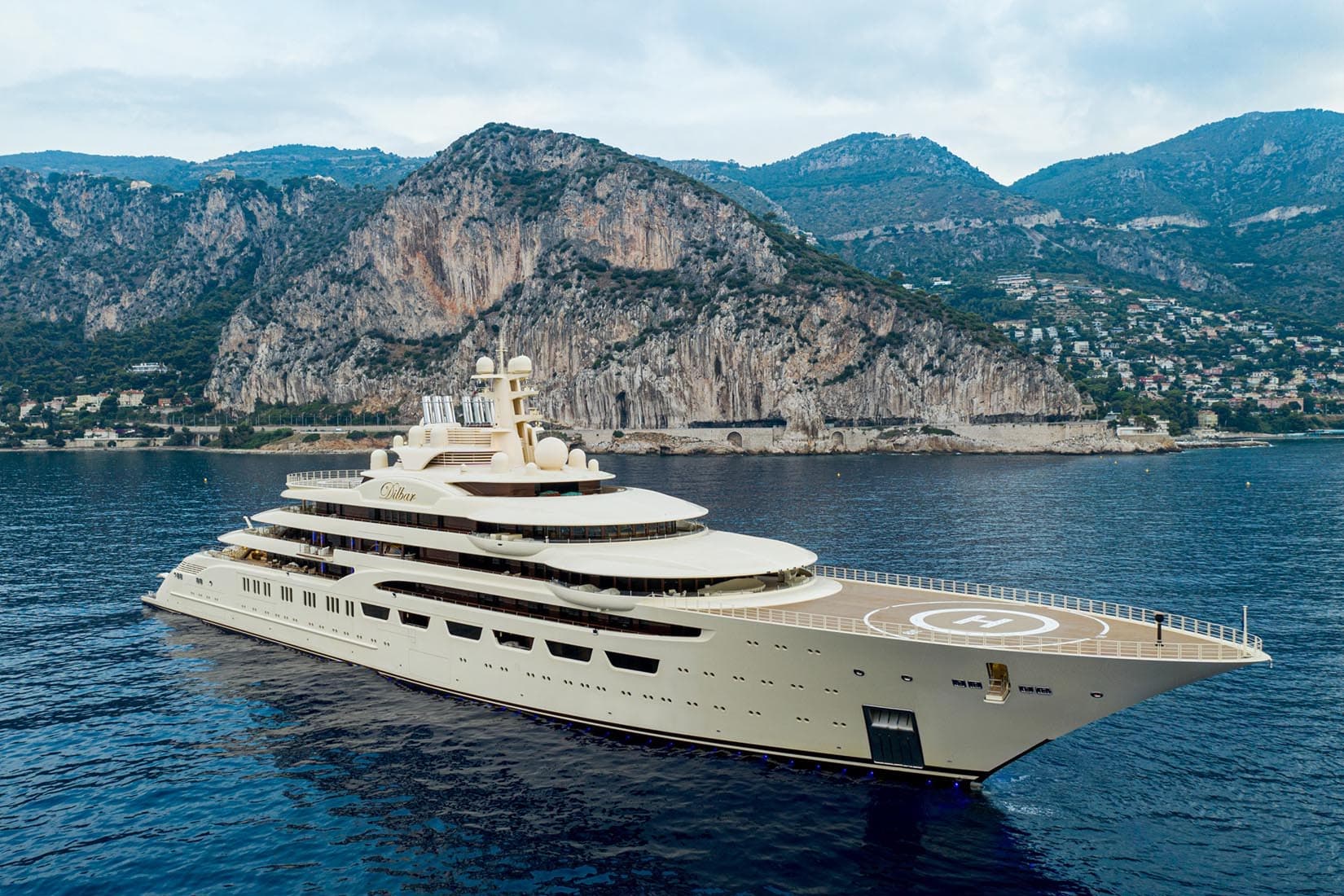 Dilbar, or Project Omar, as it was originally known as, is another superyacht designed with the help of exterior expert Espen Oeino, but with interiors strikingly designed by Andrew Winch. Dilbar is famously known as the world's largest yacht by gross tonnage (interior volume) but as the fifth-longest superyacht in the world.
She's home to a spa pool and beach club, as well as a large private cinema, spacious cabins set high on the main deck, a spacious dining room, and a salon with its own piano. She's just as classy and beautiful on the inside as she is on the outside.
LOA: 511 feet (156 metres)
Builder: Lurssen
Country of build: Germany
Year of build: 2015
Yacht owner: Alisher Usmanov
Yacht price: $256 million
Number of guests: 40
Number of crew: 80
4. Dubai | 531 feet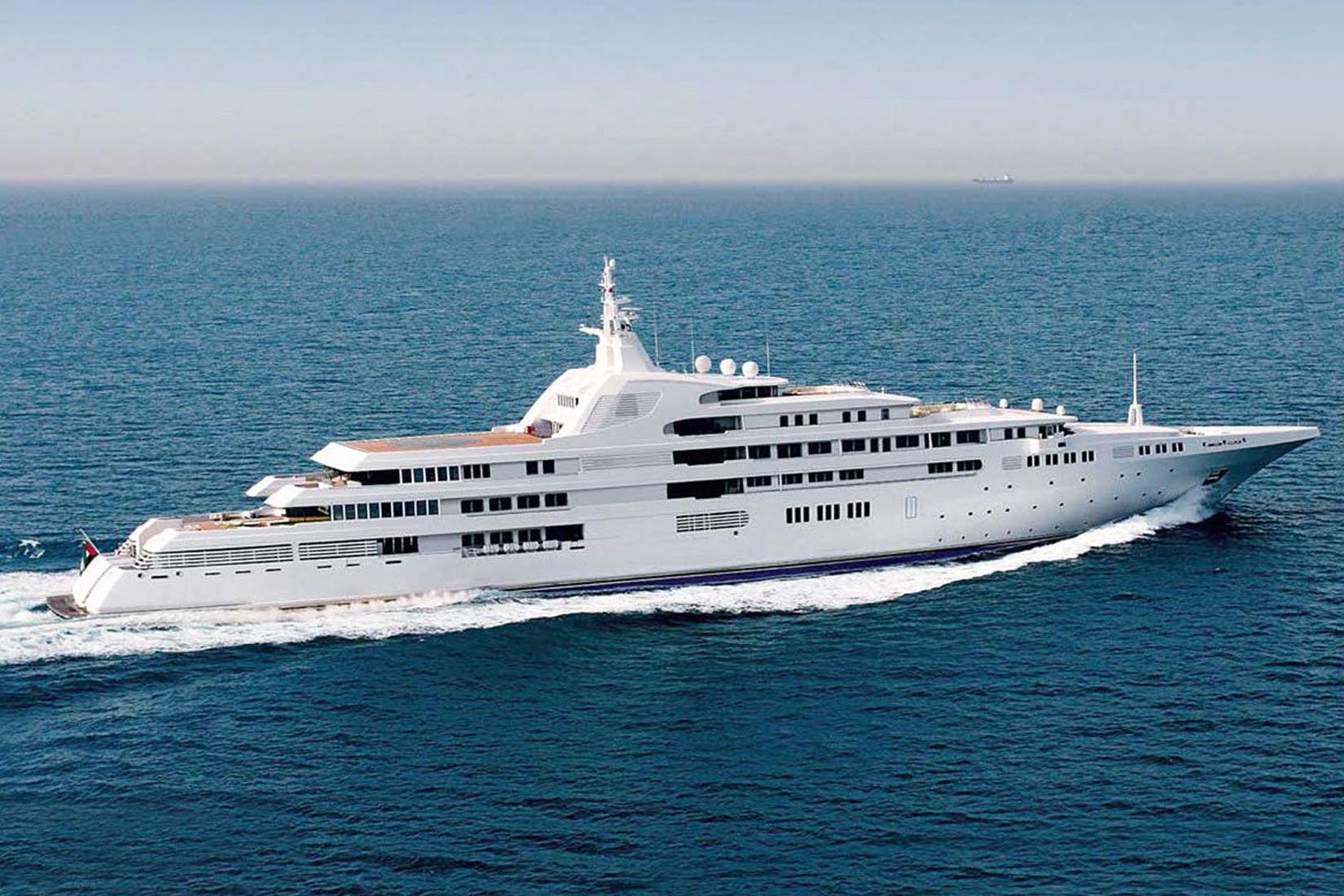 Dubai had multiple names in the planning stages — including Panhandle, Platinum, and Golden Star. Owned by the ruler of Dubai, it was aptly named after its home country and comes with all of the luxurious amenities you'd expect from such a name.
The Dubai comes complete with a huge swimming pool and two jacuzzis. Further down, you'll find a large dining room with striking blue and burgundy decor and space for up to 90 guests. Dubai usually spends her time moored at Sheikh Mohammed's private island in front of his summer palace in Dubai. She's basically the definition of a floating palace.
LOA: 531 feet (162 metres)
Builder: Blohm + Voss and Lurssen
Country of build: Germany
Year of build: 1998
Yacht owner: Sheikh Mohammed bin Rashid Al Maktoum
Yacht price: $400 million
Number of guests: 115
Number of crew: 88

3. Eclipse | 533 feet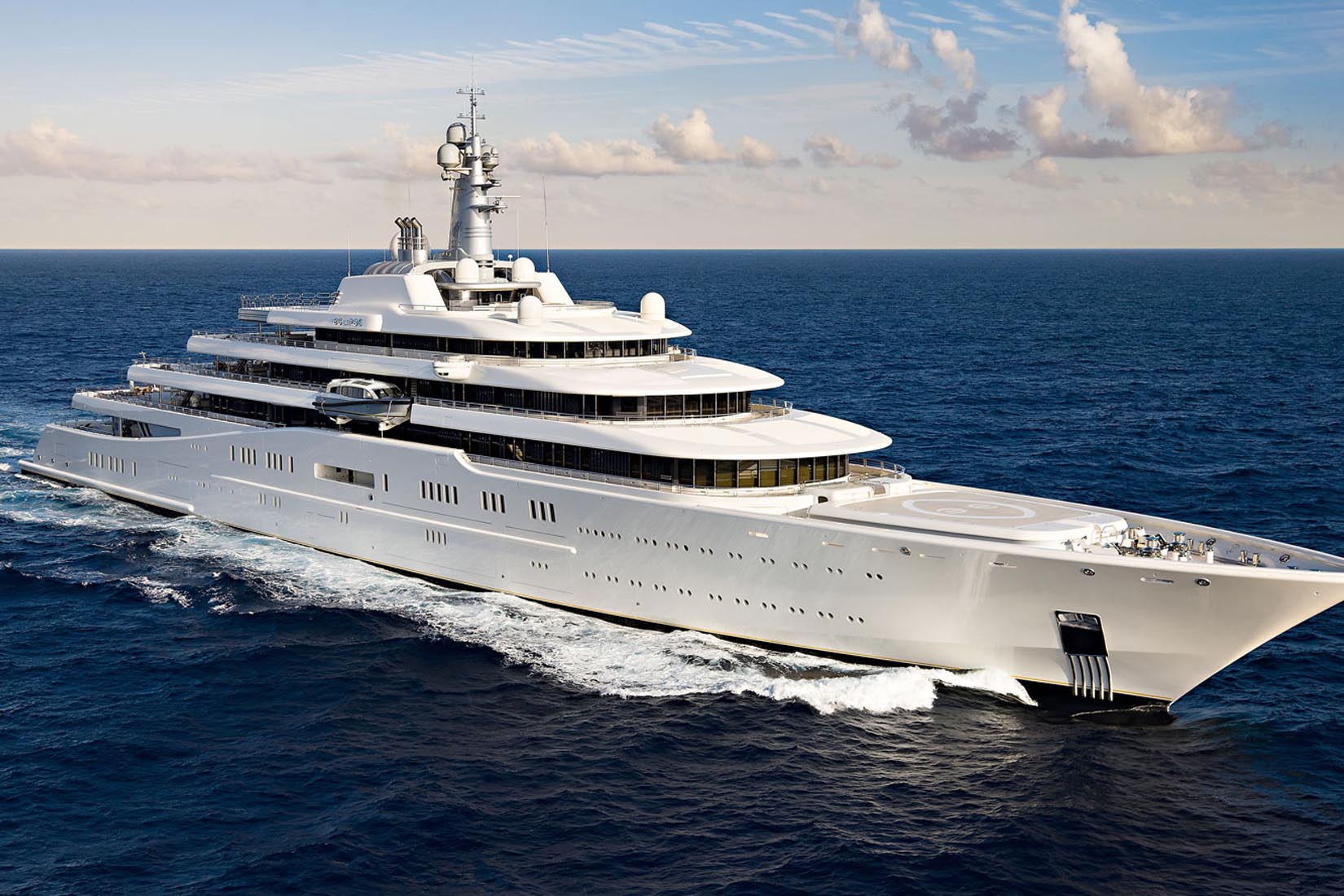 It took around five years for Eclipse to be built from start to finish. While she was always designed to be a huge, luxurious Superyacht, the focus was more on decking it out appropriately rather than breaking any records. An award-winning superyacht, she's incredibly spacious, with endless rooms to explore and a sleek, neutral color palette running through.
The Eclipse's owner, Roman Abramovich, was more focused on facilities: he wanted more than one helicopter pad and a large swimming pool, too. Other than that, designer Terry Disdale had free reign for the rest of the superyacht. It's just as much a clean piece of architectural styling as it is a stunning experience on deck.
LOA: 533 feet (162.5 metres)
Builder: Blohm + Voss
Country of build: Germany
Year of build: 2009
Yacht owner: Roman Abramovich
Yacht price: $500 million 
Number of guests: 30
Number of crew: 70
2. Fulk Al Salamah | 538 feet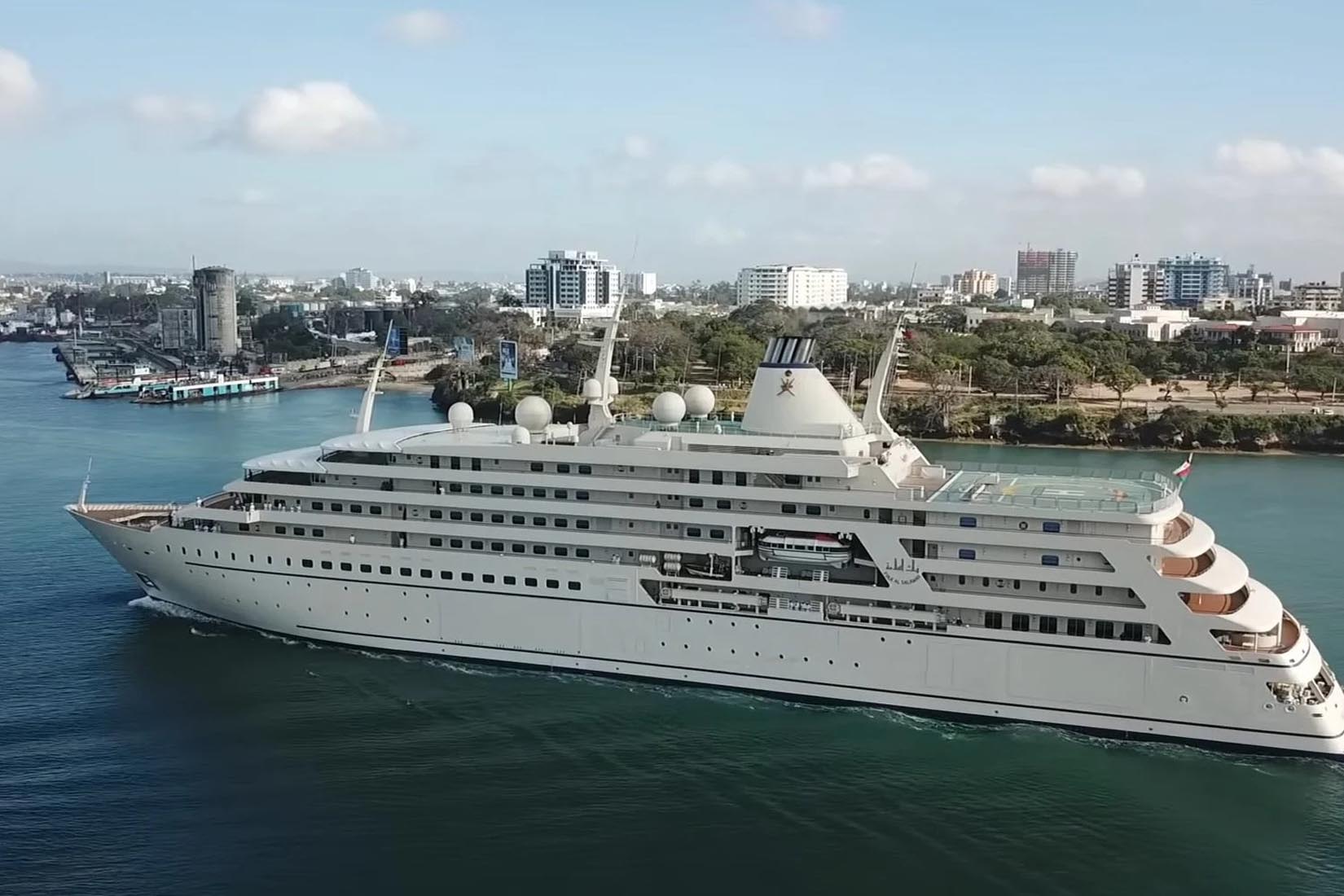 Fulk Al Salamah translates to "Ship of Peace" and that's something that sounds like a given when you've taken a look at this superyacht's incredible layout. Developed under the codename Project Saffron, Fulk Al Salamah is more of a support vessel than she is a typical superyacht.
While she might still come complete with all of the necessities for a particularly relaxing voyage, she's more so known for being a transport ship for the Royal Navy of Oman. She's also used as a sort of friendship boat — pun intended — and is often sailed across the world with the intention of strengthening ties with the Sultanate. In some ports, influential people are welcomed onboard.
LOA: 538 feet (164 metres)
Builder: Mariotti
Country of build: Italy
Year of build: 2016
Yacht owner: Sultan Haitham bin Tariq
Yacht price: $500 million 
Number of guests: 40
Number of crew: 100
1. Azzam | 590 feet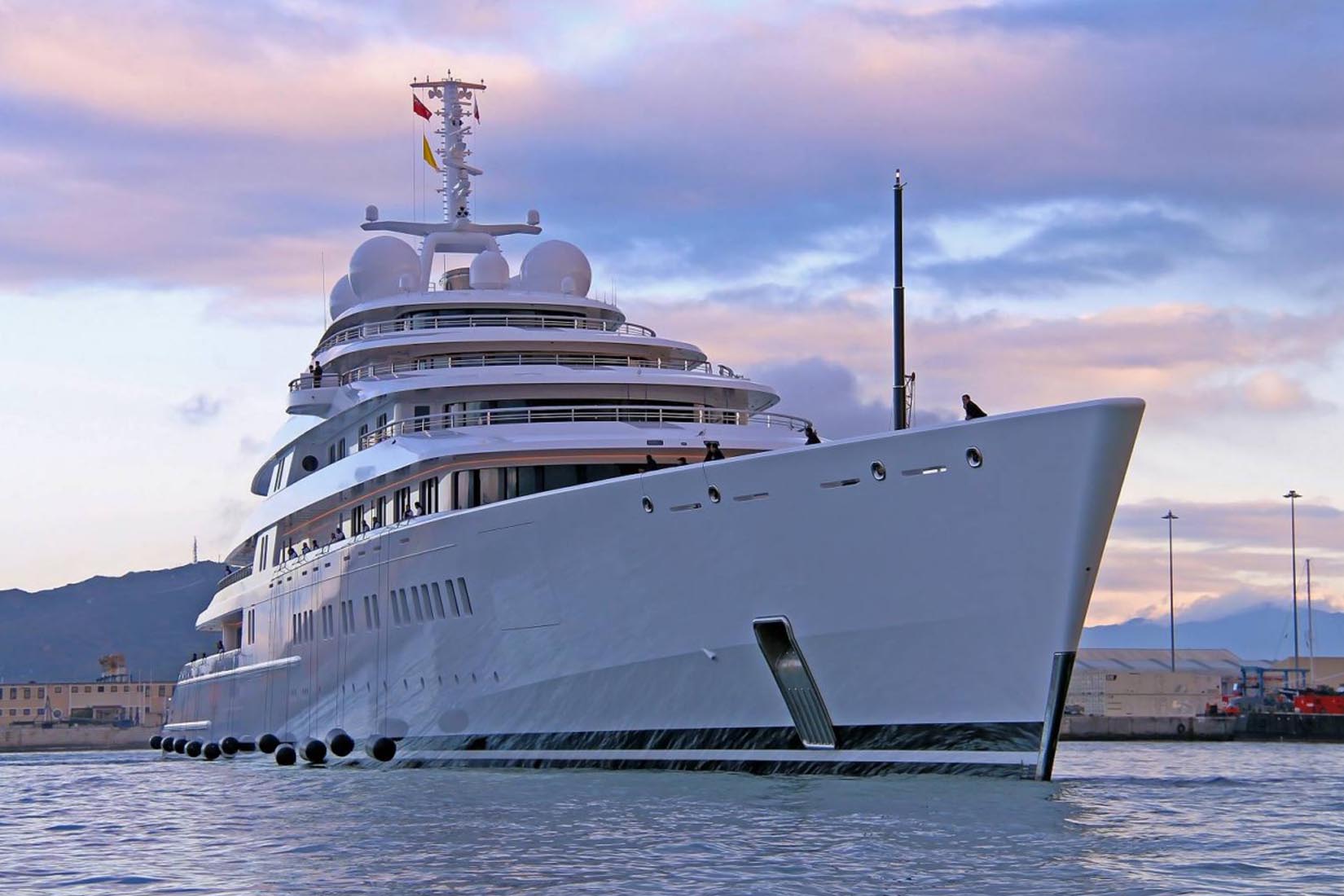 Most superyachts in the top 10 category have a few mere inches between sizes, but the Azzam shoots far ahead with a large amount of extra length. The largest superyacht in the world, she was never designed to win the title — rather just to be a sleek and elegant vessel. Azzam was crafted backward, with the plans for her interior confirmed long before her exterior was fully signed off.
Her length only came to be as such to incorporate everything required for the interiors, which added an extra 35 meters to her overall size. She's also designed to look smaller than she actually is, with a blend of indoor and outdoor living. It took more than 4000 people to build Azzam, clocking up six million man-hours over a period of four years.
LOA: 590 feet (180 metres)
Builder: Lurssen
Country of build: Germany
Year of build: 2013
Yacht owner: Sheikh Khalifa bin Zayed Al Nahyan
Yacht price: $600 million
Number of guests: 36
Number of crew: 60
The most expensive yacht in the world
The fact that the History Supreme, the world's most expensive superyacht, comes coated in gold, is only part of the reason for its high cost. A superyacht with a real-life Midas touch, it was sold to an anonymous Malaysian businessman for $4.8 billion.
Robert Kuok, the richest Malaysian businessman, is the rumored owner of History Supreme, but no one has confirmed for sure. The History Supreme also comes with plenty of other impressive touches: a master bedroom decked out in platinum, a wall feature made from meteoric stone, and a genuine T-Rex dinosaur bone, to add to the list.
She took three years to build from scratch and comes with 10,000 kilograms of solid gold and platinum. Other seriously luxe features are her 68 kilograms 24-carat gold Aquavista Panoramic Wall Aquarium and a liquor bottle adorned with a rare 18.5-carat diamond. The base of the vessel comes wrapped in gold, too.
Frequently asked questions about the world's largest yachts