We've seen many great phones this year, including the iPhone X Max, the Samsung Galaxy S10, and the Pixel 3. These are all great iterations on well-known models. But one phone that truly shook up the industry in 2019 is the recently released Huawei P30 Pro. With innovative features and exceptional photo quality, the P30 Pro is a serious contender for the best phone of the year. But, is it right for you? Let's find out.
Chinese phone maker Huawei overtook Apple last year to become the second largest smartphone brand in the world. Driven by the strong demand for big displays and advanced camera functions, Huawei has successfully brought to market exactly what consumers wanted.
With the P30 Pro, Huawei is making a bold statement. The high-end phone comes with a premium build quality, a sleek display, and an exceptional camera designed in partnership with well-known German lens manufacturer Leica. And all that for a competitive price.
When the Huawei P30 and P30 Pro launched in Singapore this April 2019, people started queueing from 9 pm the night before and the two models were completely sold out before noon.
I started to know about Huawei since its launch of its previous Mate 20 Series and I have heard great reviews of the phone ever since. My fiancé has also been raving to me about the cameras on Huawei. I often use my phone to take photos so having a good camera is really key for me. When I heard about the night mode of the P30 Series, I was very impressed."
– Ms. Yvelyn Tey, the first person to get her hands on the new Huawei flagship phone in Singapore.
It's the P30 Pro's camera that's the real star of the show. With a 5x optical zoom, a 10x hybrid zoom, and an incredible 50x digital zoom, in addition to a wide-angle lens and superb low-light performance, it's probably the most advanced camera system available in a smartphone today.
But before talking in detail about the camera, let's look at the other features that make the P30 Pro such an attractive package.
Huawei P30 Pro Review: A premium flagship phone with exceptional build quality
The P30 Pro is a flagship phone in the true sense of the word. It comes with a gorgeous 6.47'' OLED display that gently curves around the edges. The fingerprint reader is subtly hidden behind the screen, making for a more elegant look while maintaining the safety and ease of use of unlocking your phone with your finger.
Inside, the P30 Pro comes with an industry leading Kirin 980 processor. It's the world's first 7nm mobile process chipset, delivering stronger performance and lower power consumption.
The P30 Pro's battery is particularly noteworthy. The phone comes with a powerful 40 W charger, giving you 70% of recharge in just 30 minutes and you can use wireless charging if you want. But more interestingly, you can enable dramatic battery saving of up to 190 hours (That's nearly 8 days!) if you want to. Now the tradeoff is that the phone will aggressively manage background apps to save as much of your battery as possible, but you can fully customise which apps can still work in the background.
Huawei P30 Series also offers reverse charging. That's a handy little trick that enables you to charge a pair of Bluetooth headphones or your friend's phone by using your P30 as a wireless charging station. How thoughtful is that!
The P30 Pro introduces industry-leading camera innovation with Leica lenses
But what you really care about is the camera. And rightly so. The Huawei P30 Pro comes with a front camera for picture-perfect selfies and not one but three back-facing cameras! (Hello Instagram-worthy shots.)
First, you have your standard focal length high-resolution camera. While its focal length is standard, its image processor isn't so. It performs superbly in all conditions. It's fast, snappy, and delivers beautiful photos. It particularly shines in low-light situations (pun intended) with ISO capable of reaching up to 409,600. The result is an image quality at night that is simply astonishing.
The second camera is a superzoom spanning from x5 to x50 with a periscope telephoto lens. The zoom takes advantage of the 40 MP sensor from the main camera and uses smart image stabilisation to help take sharp photos from x5 to x10. You can then push it from x10 all the way to x50 if you want but you'll be losing slightly on image quality. At x50, it also becomes very hard to keep the camera stable without using a tripod.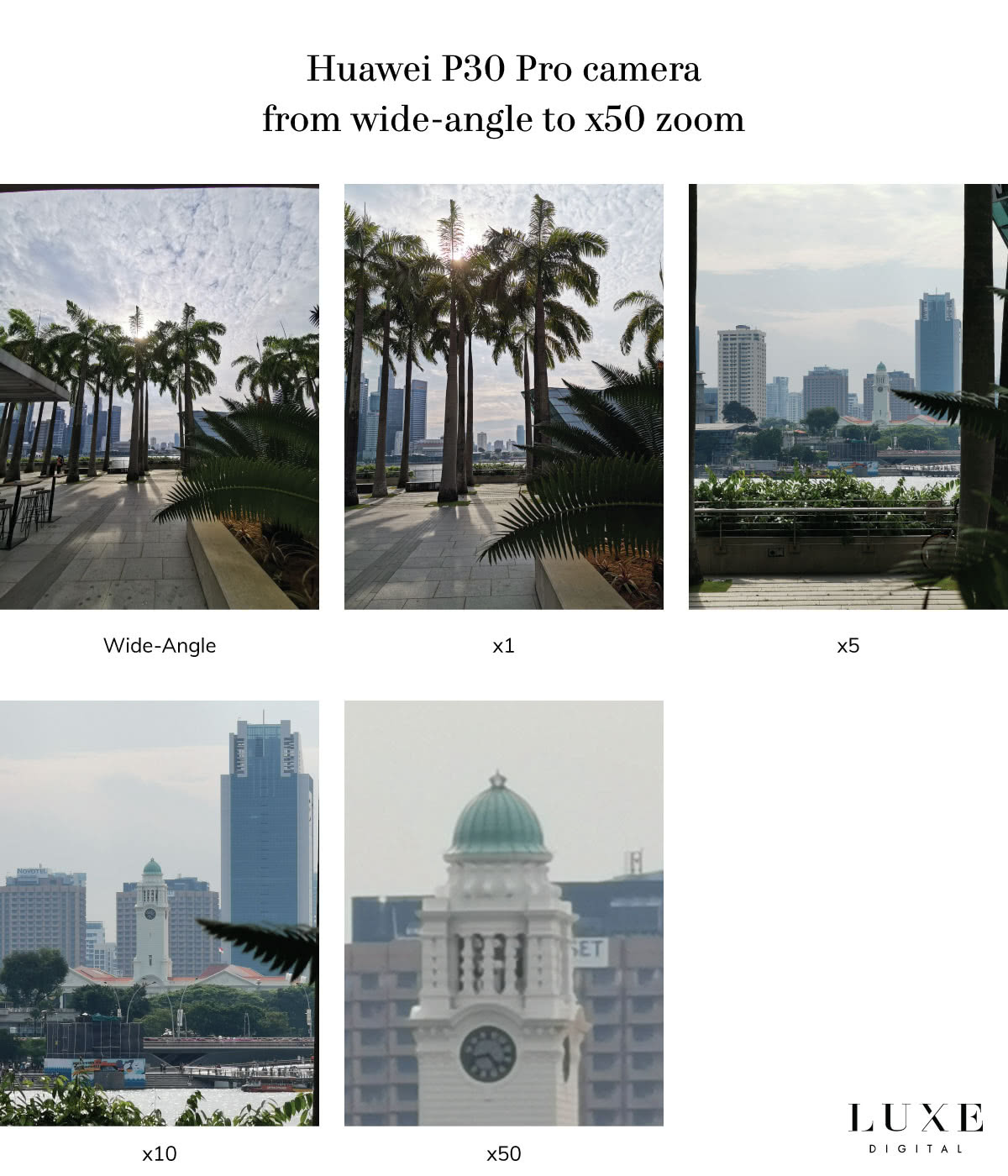 Finally, you have an ultra wide angle lens to take spectacular landscape photos. With the equivalent of a 16mm lens, you'll be able to capture large scenes with a slight fish-eye effect.
These three lenses combined result in a phone that's a real pleasure to use for photography. The P30 Pro offers a broad spectrum of zoom level with an exceptional image quality. You'll be able to trust your phone to always take the best shots possible and be delighted to see what you're able to capture in your albums.
Final review of the Huawei P30 Pro
The Huawei P30 Pro is an excellent phone overall. It's a stylish premium device with a superb build quality and exceptional cameras. You can check the official website for more technical information and all the detailed specifications.