Move over coffee table books: the coolest homeware accessory in town nowadays is the bookshelf speaker. An injection of crystal-clear sound provides the ideal commentary for all of your day-to-day activities, and the best bookshelf speakers deliver just that.
The main difference between bookshelf speakers and portable audio speakers? Ask any self-respecting audiophile, and they'll be able to clarify.
A bookshelf speaker has the power to envelop the room in its rich sound; to all-encompass the mood of the hour and to instantly replace any negative undertones with a thumping bassline or melodic tune.
And, when it comes to powered speakers, we'd consider ourselves something of an audio snob. Stylish designs and unique architecture are other prerequisites when it comes to selecting the best home speakers.
It doesn't always have to be about making the room shake with jaw-clenching volume. Nope: in our eyes, the most impressive bookshelf speakers can show their power confidently yet subtly — it's crystal clear, both metaphorically and literally.
The 7 best bookshelf speakers
Check our special bookshelf speakers buyers' guide after the list to see exactly what you should pay attention to when shopping for high-end speakers online.
Looking for another category of speakers? Check our round-up of the best wireless speakers and best computer speakers for your desk. We've also reviewed the best headphones and true wireless earbuds if you prefer something more portable.
Master & Dynamic: Best overall bookshelf speaker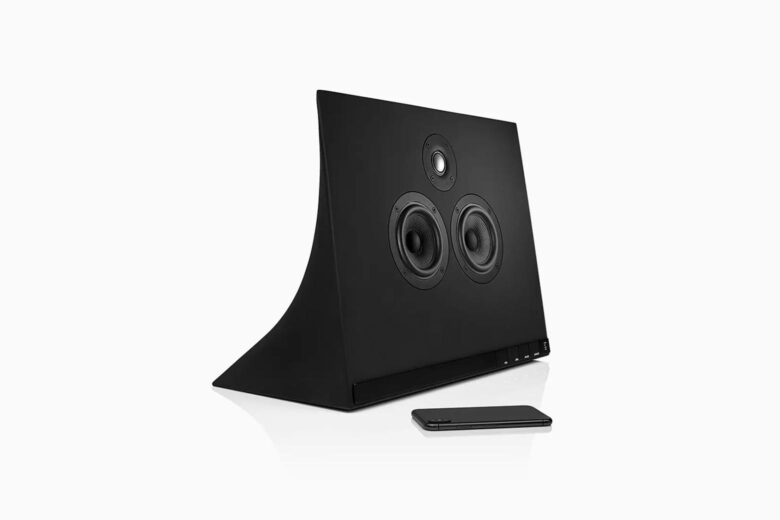 Master & Dynamic is the cream of the crop when it comes to delivering powerful sound. Their latest bold and immersive speaker comes in the form of the MA770 Wireless Speaker: a smooth, stylish beast of a speaker with sharp sound and classy design. Everything about this audiophile speaker was designed to be revolutionary: from the rich noise projecting from deep inside to the unusual curved edges that deserve to be displayed in your house.
Available in black or dark grey, it's a speaker that's noticeable without being over the top: one that confidently performs your favorite songs rather than merely playing them. Designed with the leading architect, Sir David Adjaye, Master & Dynamic's MA770 is a beauty to look at and a beauty to listen to. It's a piece of sensory-focused craftsmanship in speaker form.
Best for: Pleasing for the everyday listener, verging on seductive for the audiophile.
Devialet: Best high-end bookshelf speaker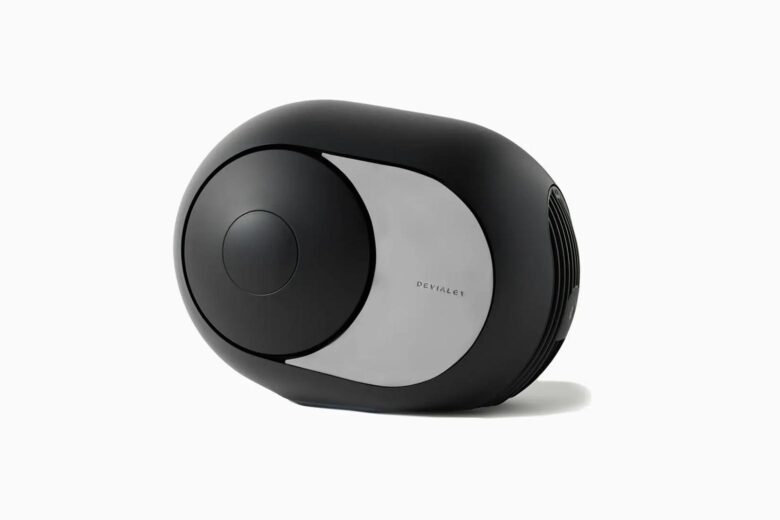 Devialet's Phantom I 108dB Wireless Speaker is the unusual sculpture or rare artwork equivalent of bookshelf speakers: a talking point that surpasses just admiring it. A sleek, minimal design, available in black or white and infused with some incredibly powerful noise, the Phantom is loud and striking, promising to make a scene, both in style and sound. It took the brand three years to design such a speaker, and so it's kitted out with all of the necessary qualities to infuse a room with top-quality sound.
Think two lateral woofers, Analog Digital Hybrid amplification, Speaker Active Matching, and Heart Bass Implosion. Even if you're not entirely sure what all of the above mean, you can rest assured that they all come together to produce unbeatable tones. Better yet, this cozily-sized speaker promises impressive volume despite its small size. It's one you'll fiddle with the volume settings before almost jumping back when realizing just how powerful the Phantom is. Prepared to be verging on overwhelming.
Best for: Sound that'll stop you mid-conversation.
KEF: Best value bookshelf speaker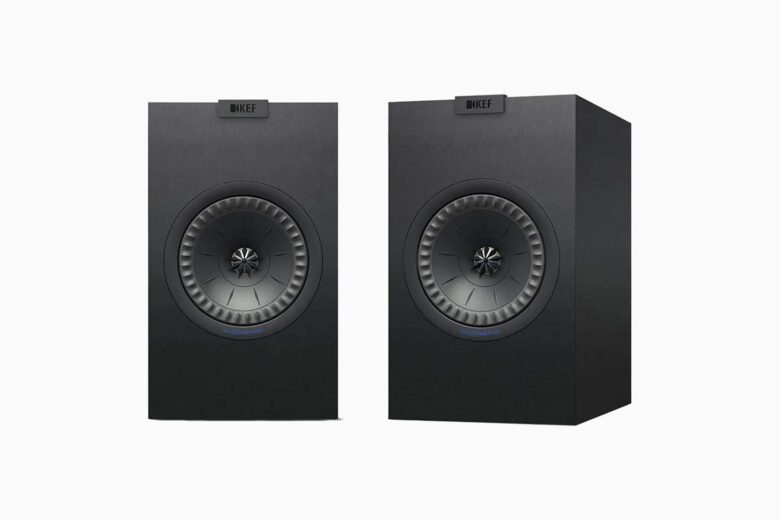 KEF's Q150B speakers might not have the most roll-off-the-tongue name, but they're certainly conversation starters in the world of bookshop speakers. The newest release from the brand, these speakers are a brilliant example of everything a traditional speaker should be, in size, shape, and sound. Available in black, walnut, or white, this pair of speakers is renowned for its crystal-clear sound quality and ease of use.
It's ideal for your home theatre set up or anyone who wants to elevate their days with the addition of some expertly curated playlists. Their budget-friendly price shouldn't be disregarded in favor of more expensive speakers: these are a secret weapon in the world of quality and quantity. Buy these and feel smug that you're the proud new owner of some of the best bookshelf speakers in the business, without paying over the odds for the privilege.
Best for: Feeling grateful that "KEF" is so easy to remember with all the recommendations you've been giving away.
Q Acoustics: Best powered bookshelf speaker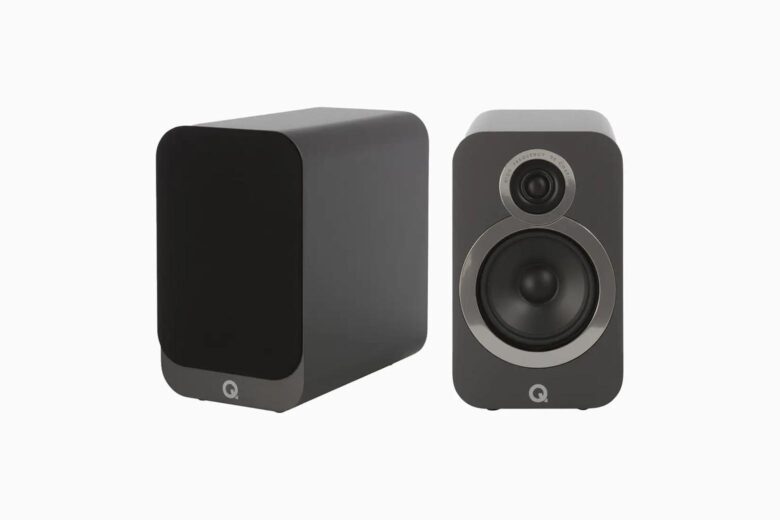 The curved edges and granite colorway of Q Acoustics' 3020i Bookshelf Speaker make it look far more expensive than it actually is. An award-winning design is the cherry on top when it comes to playing incredible sound without foregoing style. This wall-mounted pair doesn't hold back when playing your favorite tracks, and its subtly placed wires means no rudely disrupted songs while you hunt around for the charging cable.
This is a bookshelf speaker just crying out to be proudly displayed, ideally in a prominent setting where you'll get the most out of it each day. Even if you're not a fan of granite, this bookshelf speaker also comes in black, white, and walnut. It was designed to deliver beautiful, room-filling sound without sacrificing aesthetics, making this an expert all-rounder when it comes to sound quality.
Best for: Rearranging the rest of your bookshelf to give this speaker the room it deserves.
Sonos: Best wireless bookshelf speaker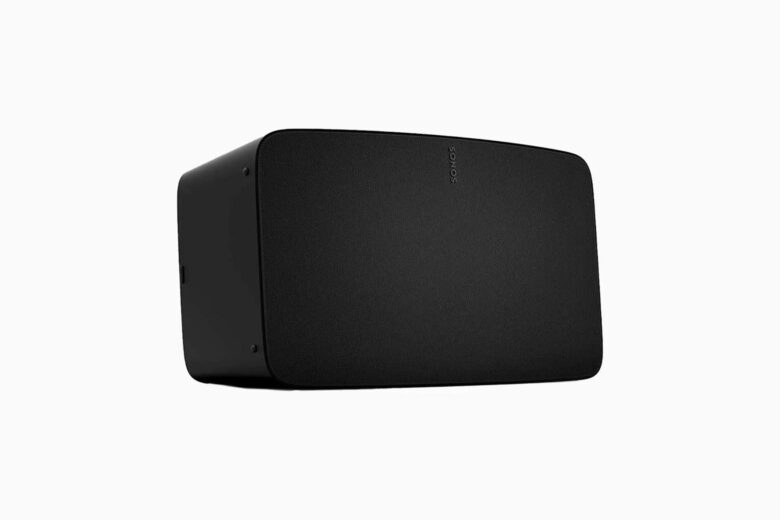 You can't go wrong with a Sonos speaker and the Sonos Five is a clear winner when it comes to impressive wireless bookshelf speakers. Small but mighty, this single speaker comes in jet black or sleek white and promises a clear, vivid sound no matter whether you're playing pop hits, heavy techno, or classical tunes.
Widely considered to be the best Sonos speaker, its wireless nature means you can carry it from cooking in the kitchen to relaxing in the living room or even delicately placed (safely) in the bathroom for your solo shower hits. Perfect for playing music and also a brilliant option for powering your movie marathons, the admirable sound quality from Sonos ensures you'll feel less like you're watching or listening to something and more like you're right there seeing it live. One Sonos speaker is enough to power a room, or bring another into the mix for a synced-up pair.
Best for: Resisting the urge to try and carry around with you, childhood teddy style.
Klipsch: Best bookshelf speaker for computers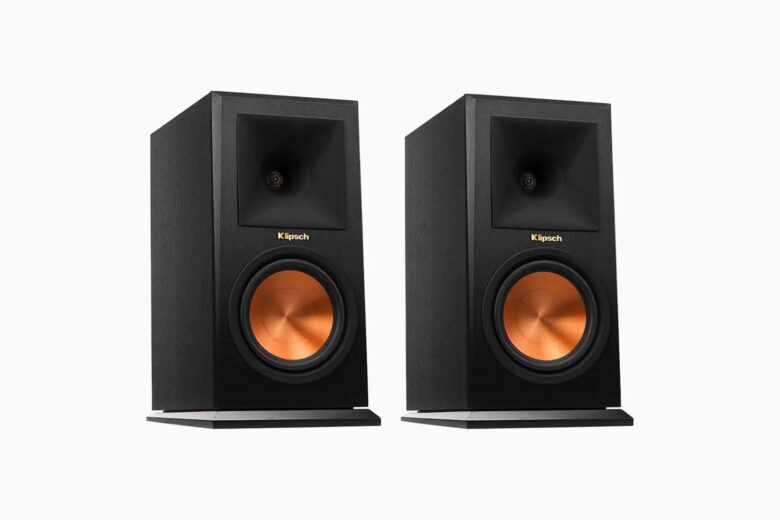 If you're the friend who spends their time creating mixes or constantly downloading new songs to play around with, you need a good pair of computer-friendly speakers to complete the set. The best pair for the job? Klipsch's RP-150M Bookshelf Speaker. Available in pure black or with cherry or walnut accents, these speakers are designed to make your favorite songs sound even better. Everything about the look of this speaker is designed to encourage the cleanest, most natural sound possible.
It utilizes the worlds of geometry and science to bring together a speaker fit for purpose for even the biggest audiophiles. Its cerametallic woofers represent the pinnacle of Klipsch's unique design, with some of the cleanest, most powerful low-frequency response on the market. These speakers may shine when paired up with your computer, but they're also a great option for syncing up into a whole surround sound set if you're really looking to be impressed.
Best for: Feeling like you're no longer just playing the game but now also in the game.
Edifier: Best budget bookshelf speaker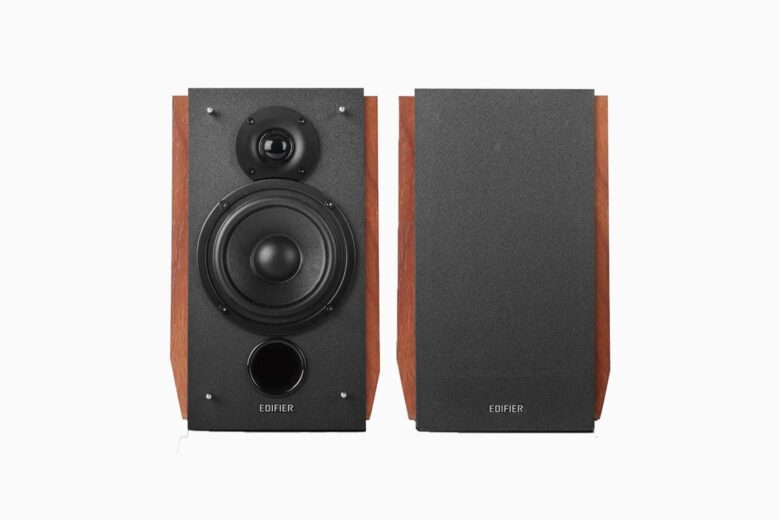 A budget speaker doesn't have to mean budget sound, as proven confidently by Edifier's R1700BTs Bluetooth Bookshelf Speakers. Stylish in a very classical way, these speakers are designed to tick off all boxes when it comes to delivering top-quality sound. They're suitable for pairing up with phones, laptops, or tablets over Bluetooth; promising premium sounds across a wireless network.
Clear lows, highs, and midranges are all to be expected when using these speakers via the Bluetooth connection or standard cabled method. The versatility also means they're ready to go at any occasion and can easily be transported to your next event if you're the one in charge of supplying the sounds. If you're looking for a quality speaker that doesn't set you back too much money, Edifier's bookshelf speaker is an obvious addition to your household.
Best for: Classic design, modern style, friendly price.
Buyers Guide to the best bookshelf speakers
Bigger doesn't necessarily mean better when it comes to bookshelf speakers. And, especially if you're planning on displaying your speaker in a smaller room, it's worth looking at some of the more minimal options on the market rather than hastily picking up the biggest you can find. Before you choose your bookshelf speaker, keep in mind the following:
Sound quality
The biggest factor when it comes to bookshelf speakers, especially if you're something of a self-confessed audio snob.
You'll be able to tell the difference between good and bad sound just from listening with a naked ear, but the best bookshelf speaker for you probably depends on what sort of music you'll be listening to — whether it's bass heavy, relies on crystal clear melodies or simply needs to be noisy.
A good indication of great sound quality also comes from listening to live music through your speaker. It should be clear, have a balanced tone quality, and shouldn't result in any buzzing noises.
Wired or wireless
Wired bookshelf speakers are often more reliable if you're using them for long periods of time, as there's no need to recharge them or keep an eye on battery levels. However, they're often less portable and heavier, as well as require the need to be near a charging point at all times. They're generally also bulkier.
But keep in mind that wired connections don't rely on things like a strong Bluetooth or WIFI connection to keep music consistent. If you're planning on keeping your bookshelf speaker in one place, a wired option is probably easier. But, if you'd rather carry it around the house or further afield, a wireless speaker is likely more convenient.
Size
If you're choosing a speaker as a homeware addition to spend its days proudly in your living room or kitchen, a larger and heavier speaker is fine. But if you're buying a new speaker to take from location to location, a smaller and lighter speaker is preferable.
You also need to keep in mind the size of your room. A small speaker might not be powerful enough to fill a large room, and a large speaker may look unsightly placed prominently in a smaller room.
Extra components and set-up
Depending on what your main purpose in buying a speaker is, you'll want to keep in mind its ability to sync up with other components. Things like subwoofers, soundbars, and surround sound system setups aren't compatible with all bookshelf speakers. It's worth checking to see whether your speaker will be just as compatible in the future as it is with your current requirements.
Frequently asked questions about bookshelf speakers
Do bookshelf speakers sound good?
High-quality bookshelf speakers have the ability to project full, deep bass and loud sound around the entire room. Read our full guide to see all the best bookshelf speakers.