HYDRATE! It's the call of personal trainers around the world. And for good reason. The health benefits of hydration are well-documented. But as it turns out, the delivery systems for that hydration are not all created equal, and some can be downright hazardous to your health.
LARQ to the rescue. We are already big fans of LARQ water bottles, known for their sleek design and functionality.
LARQ is now making a splash within the home filtration system market, so we were thirsty for more and had to see if this innovative pitcher lives up to its promise of cleaner, better-tasting water too.
LARQ water pitchers bring innovative tech to the small water filter pitcher game. The filter itself is plant-based, which adds to its sustainability. The water pitcher uses UV-C technology to obliterate nasty bacterial critters in your H2O that regular filters might miss and is self-cleaning.
In short—we're looking at the next generation of home-based filtration systems.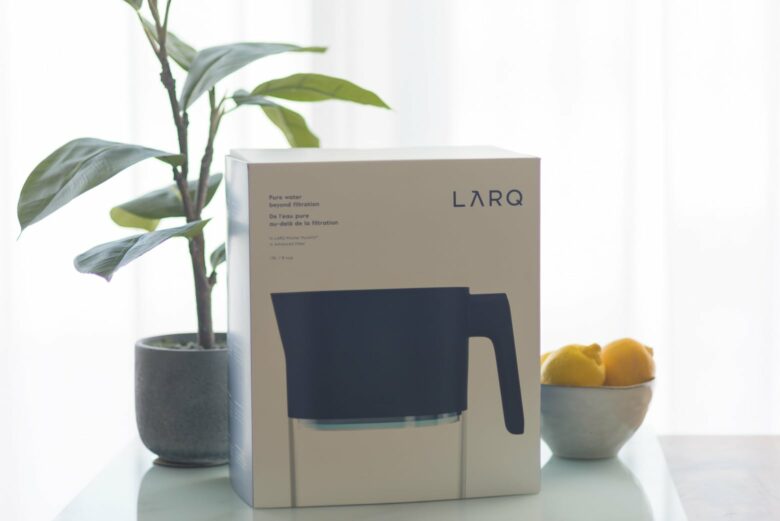 LARQ Pitcher review
As we discovered in our LARQ review, the LARQ pitcher delivers on its promise for cleaner-tasting water. It actually makes it less of a burden for our team at the office to keep up with our hydration goals.
The pros:
The double-action filtration system produces water that is noticeably purer in taste than other filtration systems
Self-cleaning
App helps you keep track of your hydration goals
The cons:
More expensive than other filtration water pitchers (filters are also more expensive), however eco-friendly plant-based filter lasts longer and replaces more than 450+ standard single-use plastic water bottles per filter
Slightly longer refill times than older pitchers due to the extra filtration
While neither is as thorough as the LARQ PureVis, they're still both going to provide you with water that is cleaner than straight from the tap, and keep plastic water bottles out of the dump.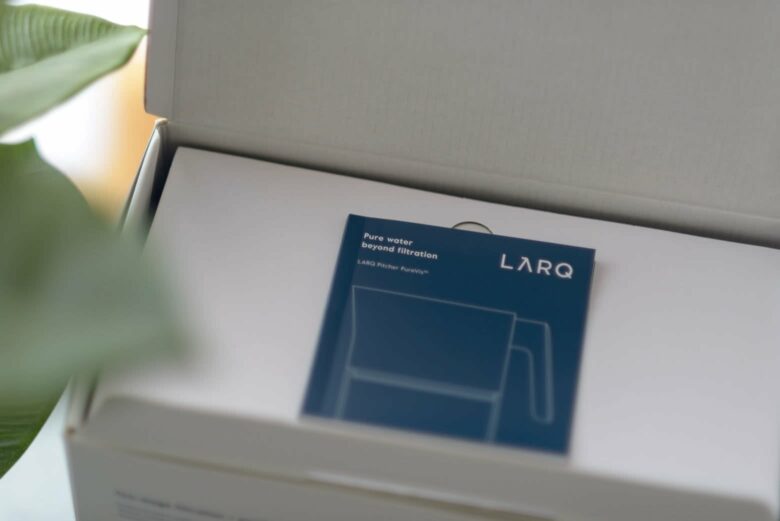 Our hands-on review
Unboxing
While they make a great sales pitch about their products' functions, LARQ didn't skimp on aesthetics. We previously took a look at LARQ's PureVis bottles, and they ended up on our list of the best water bottles, in part because of their cool modern design.
The LARQ pitchers keep that trend going with a simple and bold look. It has the additional aesthetic feature of a gentle blue light which pulses when the purifier is doing its thing.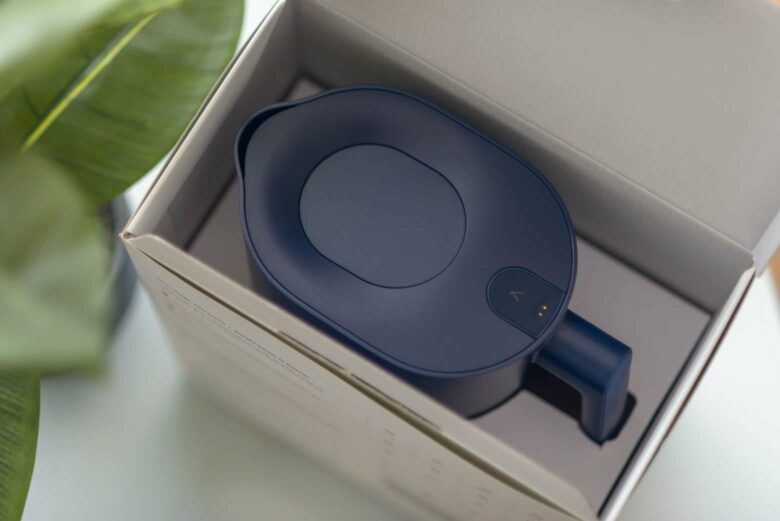 The tech
LARQ pitchers send your water through a two-step purification process before it's ready for you to drink. The first step involves their proprietary filters.
LARQ offers two levels of plant-based filters for your pitcher. The "Essential Filter" offers basic protection and improved taste, while the "Advanced Filter" (which we recommend) offers protection against harsh contaminants. They boast that their filters last up to 50% longer than other brands.
After the filter, the water gets additional cleaning from the PureVis' UV-C (a short-wavelength ultraviolet light) LED system. Microorganisms hate the stuff because it destroys their nucleic acids and plays merry havoc with their DNA. UV-C lights are nicknamed "germicidal lamps", and they have been used for decades to sterilize medical work facilities.
According to their stats, the PureVis system knocked out 99.99% of E. coli and Salmonella in water in just 3 minutes.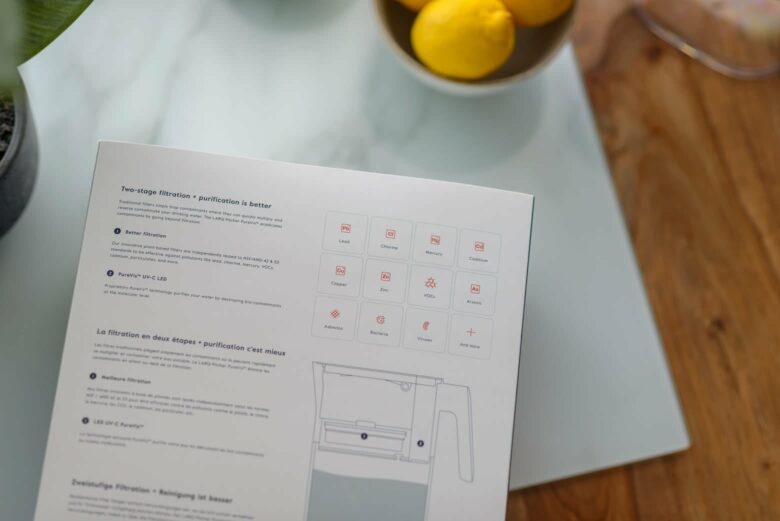 Self-cleaning
Traditional filters drain out the chlorine from your tap water before it hits the reservoir in the bottom of your pitcher. That means that water collected in the bottom has nothing in it to keep bacteria from growing.
Within two weeks, that lovely chlorine-free water becomes a problem in and of itself, providing a breeding space for bacteria, which can cause an unpleasant odor.
LARQ tackled that problem by installing a self-cleaning system. You don't have to do anything, the self-cleaning mode flips on automatically every six hours and gives your pitcher a solid cleaning for 15 seconds.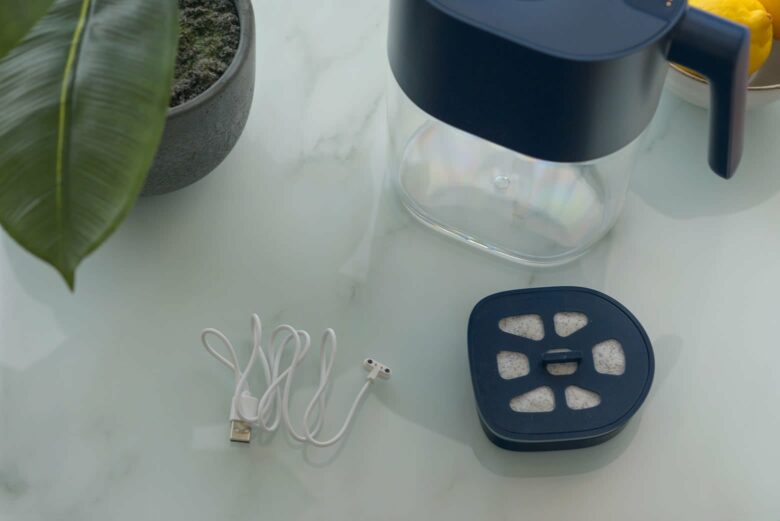 The LARQ Pitcher app
The LARQ Pitcher PureVis is in the running for best water filter pitcher because of its technology, but is an app really going to add any value?
As it turns out, it really does. The app gives you data not only about the pitcher itself but also about your consumption habits.
You can track how much water you and your family are drinking in a day, as well as keeping track of when it's time to swap out your filter and recharge the pitcher's battery. It's a convenient way to make sure you're keeping up with your hydration goals.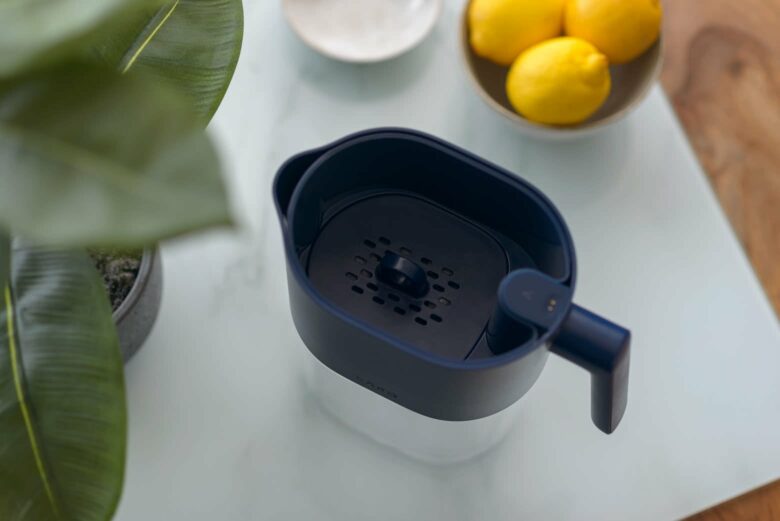 LARQ Pitcher water taste
The LARQ Pitcher PureVis sets a new standard for how water should taste. It might be best to describe the flavors it lacks—minerals and the gunky smell/taste you associate with other pitchers that don't have a cleaning system. It's amazing how quickly you'll become attached to this level of cleanliness in your drinking water.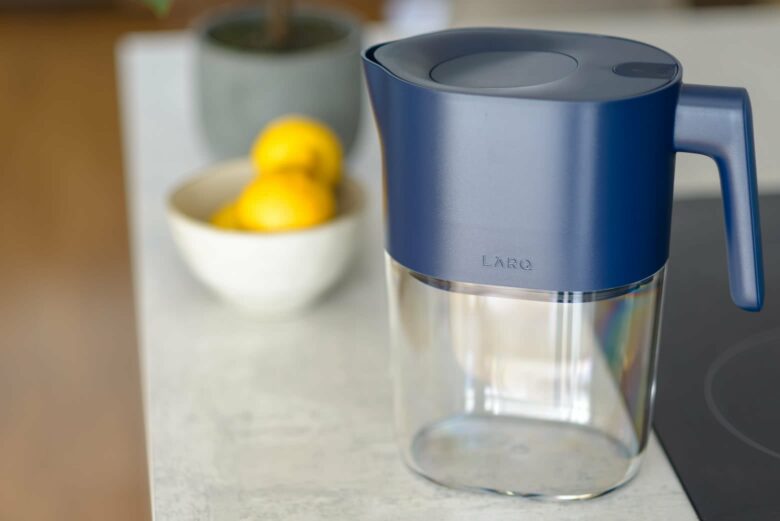 Materials
The LARQ Pitcher PureVis features an environmentally-friendly plant-based filter. The pitcher itself is constructed from plastic that is rated BPA-free, phthalate-free, and food-grade. The pitcher is dishwasher-safe (once you remove the electronic bits and pieces), adding an additional layer of cleanliness.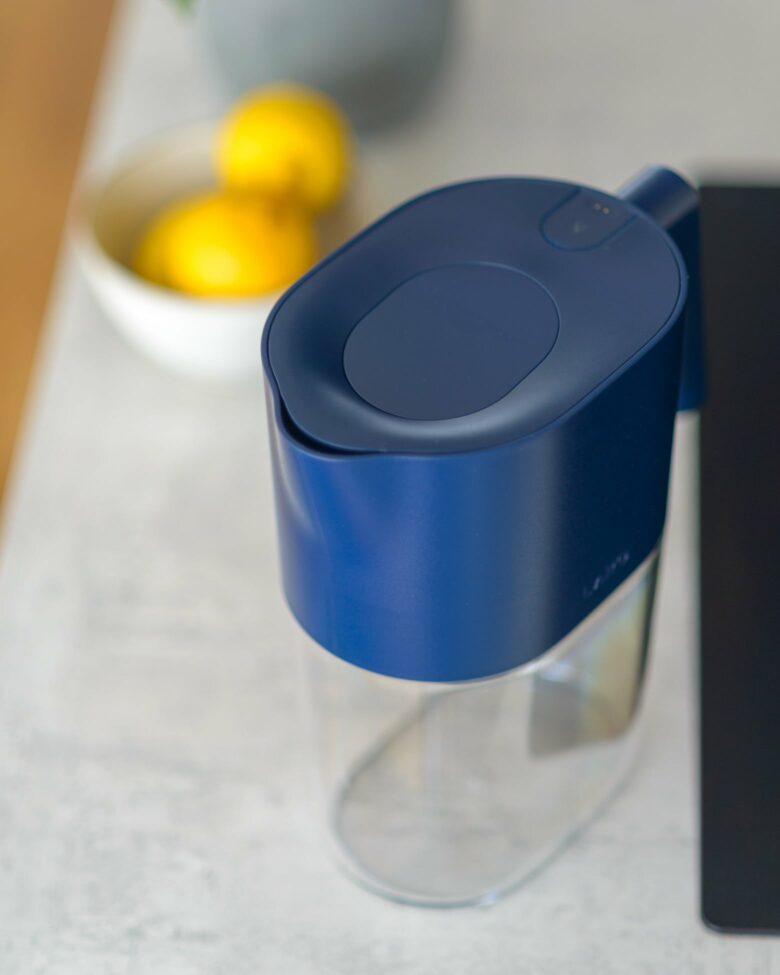 The look
The LARQ Pitcher PureVis has a clean and solid modern look to it. The top half (where the electronics and filters live) looks more substantial than other pitchers.
Additionally, the LARQ Pitcher PureVis features a slowly pulsing blue light that not only lets you know it's busy cleaning your water but looks cool too. Your friends' water pitchers are going to seem so lame in comparison.
You can choose from two colors—Monaco Blue or Pure White.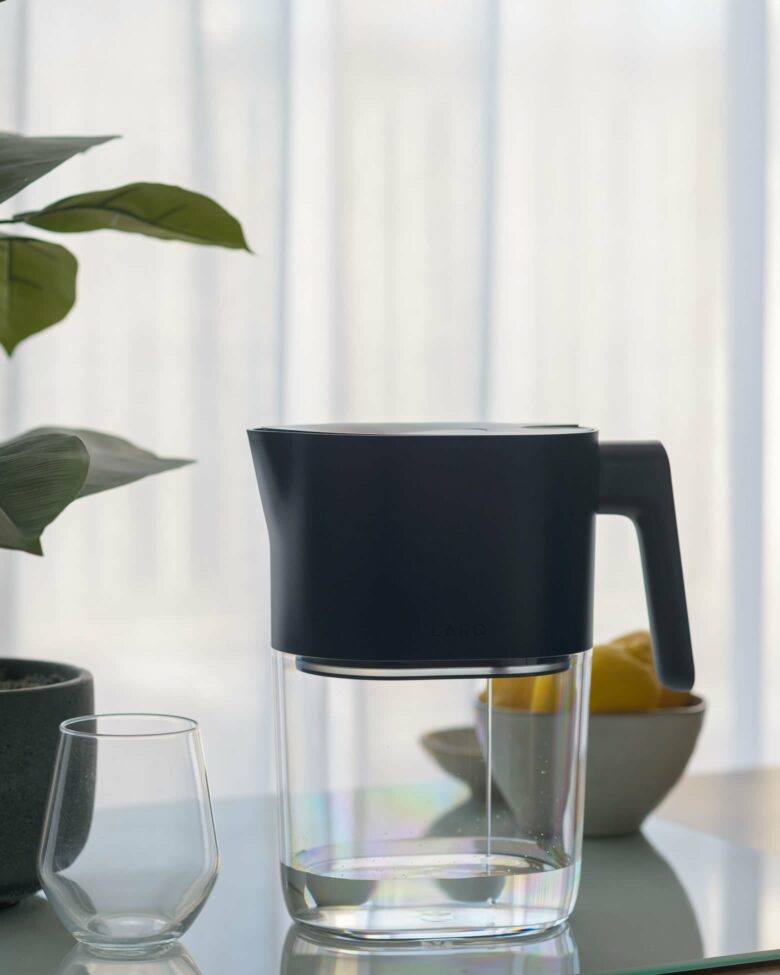 Price
The PureVis is currently going for $148.
Filters can either be bought individually, or you can set up a subscription where they will be delivered to you every two months.
Each individual sale runs $29 for the Essential Filter or $35 for the Advanced Filter.
If you go with the subscription option, prices drop to $23 for the Essential and $28 for the Advanced.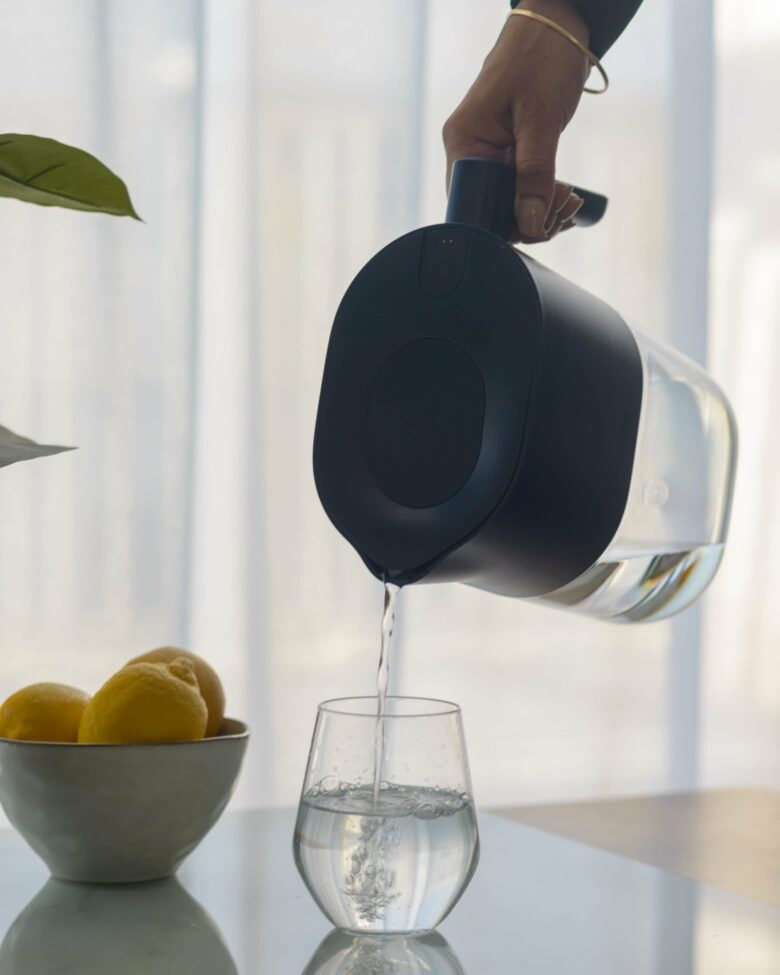 Is the LARQ Pitcher PureVis an upgrade I need?
Think about how much water you consume in a day—straight up, and in coffee, tea, soups, smoothies, and recipes.
Now that we've tried out the LARQ Pitcher PureVis, the thought of drinking down the funky grime that builds up in regular water pitchers is just plain gross. Considering how much water we take in during the day, the LARQ Pitcher PureVis may be the biggest positive impact we can make on our health for a relatively small price.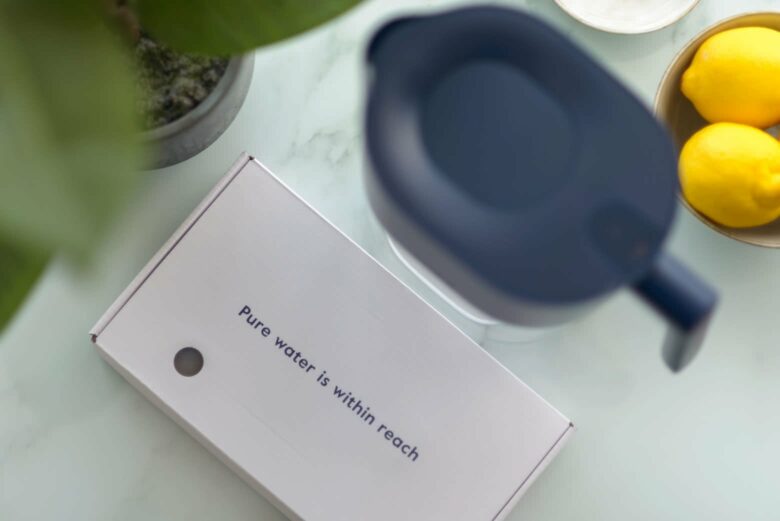 LARQ versus Brita
The LARQ Pitcher PureVis is over $100 more than your basic Brita. Is it worth the jump in price?
The big difference is the UV-C and self-cleaning technology that does a far better job of cleaning your water.
There's also the app. Some Britas do come with electronic timers built into their tops that roughly estimate when it's time to swap in a new filter. The LARQ app is much more precise about filter usage. And it has the added value of measuring your water consumption.
A Brita is better than nothing, however, the LARQ PureVis is actually an investment in your health, making it worth the expense of making the upgrade.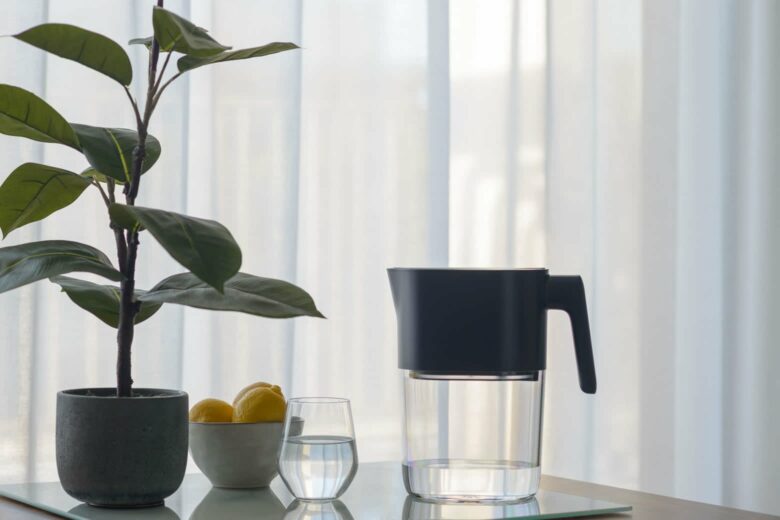 Is the LARQ water pitcher worth it?
In our opinion, 100% yes. Considering how much more work it's doing to keep you healthy, the LARQ water pitcher is definitely worth the price.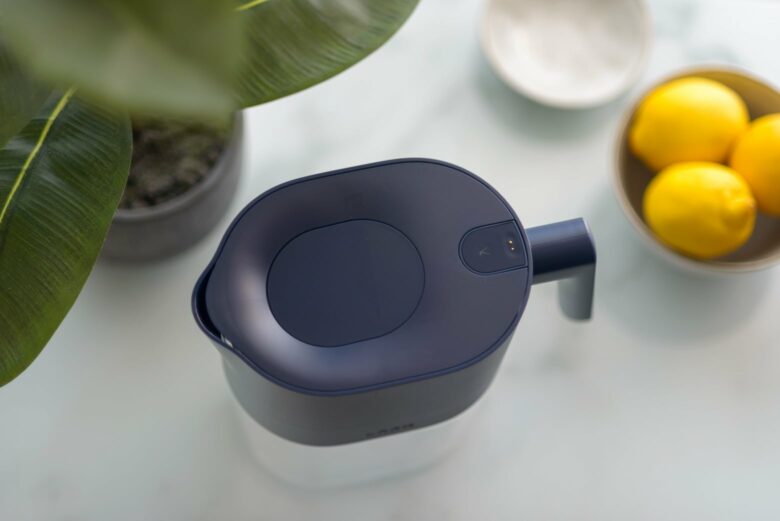 Where can I buy LARQ PureVis Pitchers?
Grab your PureVis Pitcher direct from LARQ. If you like, you can also set up a subscription for your filters at the same time.
How long does a LARQ filter last?
This will depend on how many people are using the pitcher. A family of four will wear out a filter faster than an individual. LARQ claims its filters will last up to 50% longer than filters of other brands, cleaning 60 gallons of water before it needs to be swapped out. With the LARQ app, you won't have to guess when it's time to replace the filter, it will give you an exact time.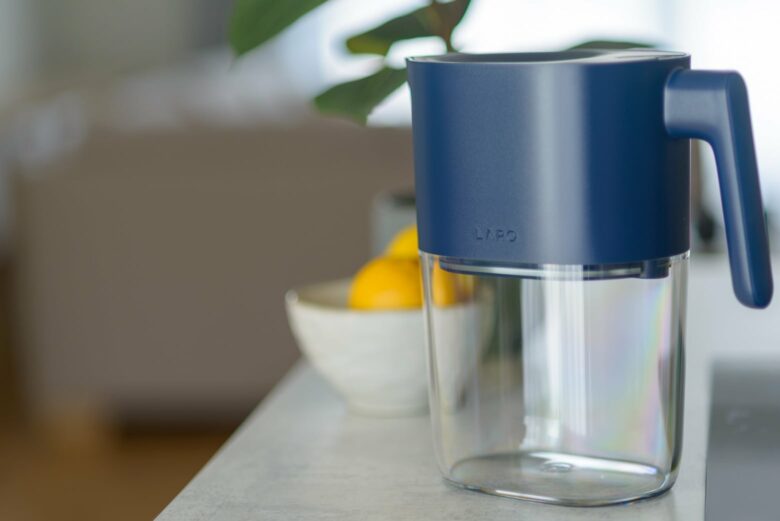 Frequently asked questions about the LARQ water pitcher
Does LARQ remove PFAS?
Yes, the LARQ Pitcher PureVis eliminates PFAS / PFOS as well as a range of other contaminants such as lead, mercury, and VOCs. Check our in-depth LARQ Water Pitcher review to learn more.
Does LARQ improve the taste of water?
Absolutely. You'll notice a difference between older filtration systems and the PureVis. And the difference between the PureVis water and water straight from a tap is night and day.
Does LARQ filter out lead from water?
Yes. LARQ filters out lead as well as mercury, pharmaceuticals, and VOCs (Volatile Organic Compounds).
How many plastic bottles will a LARQ pitcher replace?
A single LARQ pitcher filter will replace over 450 basic single-use water bottles.
Can you put a LARQ water pitcher in the fridge?
Yes, you can put your LARQ water pitcher in the fridge. Read our LARQ Pitcher review to learn more.