Goosebump-inducing bass and notes that dance across the room highlight the difference between a good wireless speaker and the best high-end wireless speakers.
The ultimate accessory for any self-respecting audiophile, these portable systems have the ability to upgrade any kind of performance from one that you'll sing along to, to one that'll stun you into silence.
With an ever-growing range of styles and features, it's harder than ever to pick the perfect premium wireless speaker that combines everything you need. Rich and sparkling tones are found across the board when it comes to our shortlist of the best wireless speakers, no matter whether they're paired with a lightweight and durable option that's a picnic essential or a multi-room system fit for even the loudest parties.
There's no need to compromise on quality thanks to a huge range of beat-thumping luxury speakers with the ability to make music sound unlike anything you've heard before. Along with stylish designs and out-of-this-world performance, many high-end wireless speakers also come complete with extra features like shock-proof technology and voice assistance.
Not sure where to start? We've broken down our review with everything you need to know when it comes to investing in your next wireless speaker, from the perfect home theatre set up right through to the sophisticated and minimalist designs.
The 11 best wireless speakers
Check below our listing to see exactly what to look for when shopping for wireless speakers and tips on how to find the speakers that are best for your needs.
Master & Dynamic MA770: Overall best wireless speaker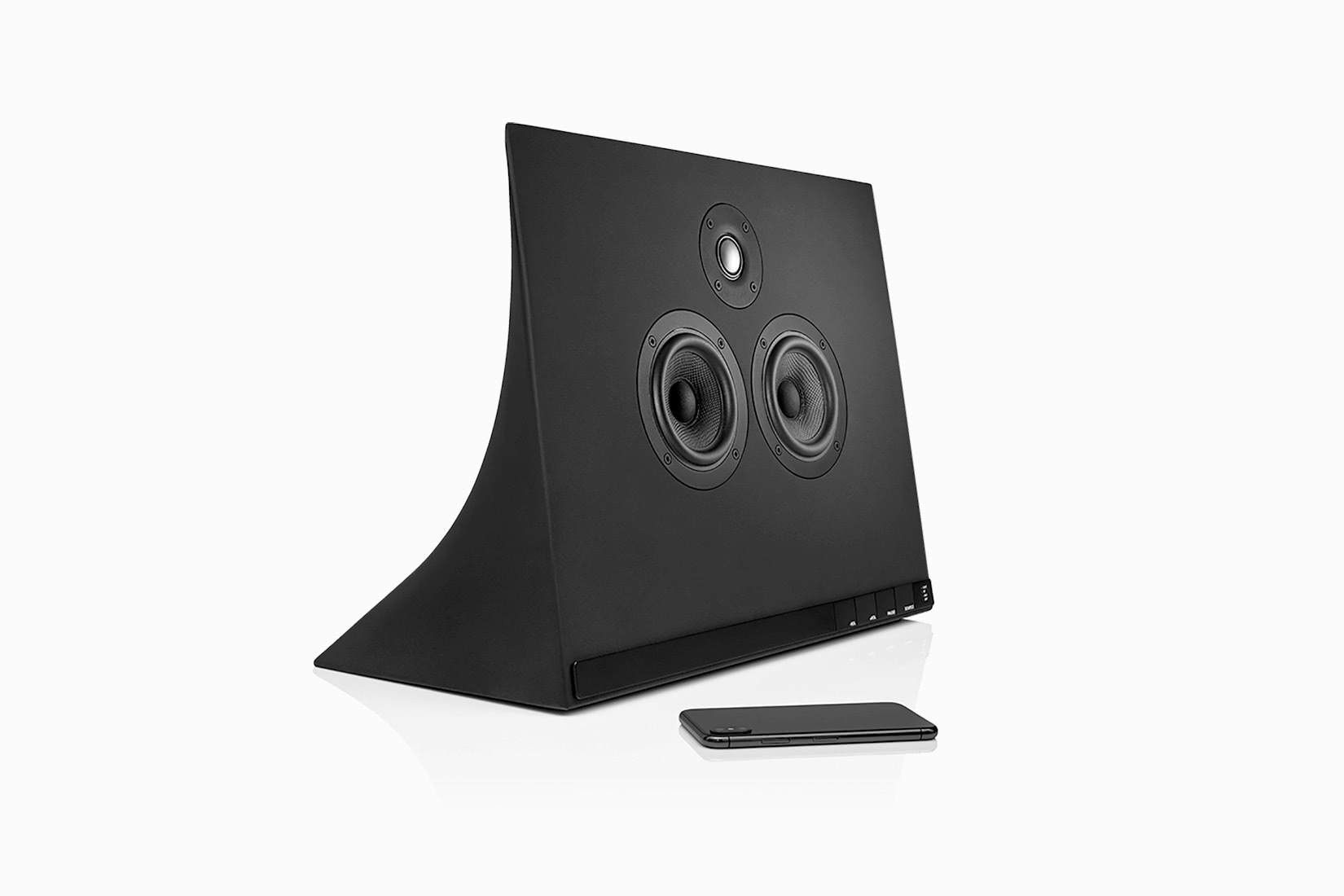 Crisp and clear, the Master & Dynamic MA770 has an almost magical ability to make your favorite tracks sound like they're being performed live in front of you. This ultra-premium wireless speaker fuses rich detail with a flawless design to create a speaker so good it practically redefines the listening experience.
With sculptural angles and curves, thanks to architect David Adjaye's role in its creation, you wouldn't anticipate this speaker is made from actual concrete. But that, combined with its efficient dual 4″ woven long throw woofers, promises an incomparable sound quality that'll resonate through the room.
It's a dramatic-looking piece of technology, confidently performing with a deep and expansive bass and a detailed frequency range. At 16kg, it's not a speaker you'll want to move around often, so place it front and center and wait for the audacious, angular design to envelope you with its sound.
| | |
| --- | --- |
| Dimensions: | 41 x 51 x 25cm (16 x 20 x 10inch) |
| Weight: | 16kg / 35lbs |
| Wireless connectivity: | WiFi and Bluetooth 4.1 with LE |
| Amplification power: | 100W |
Devialet Gold Phantom: Best high-end wireless speaker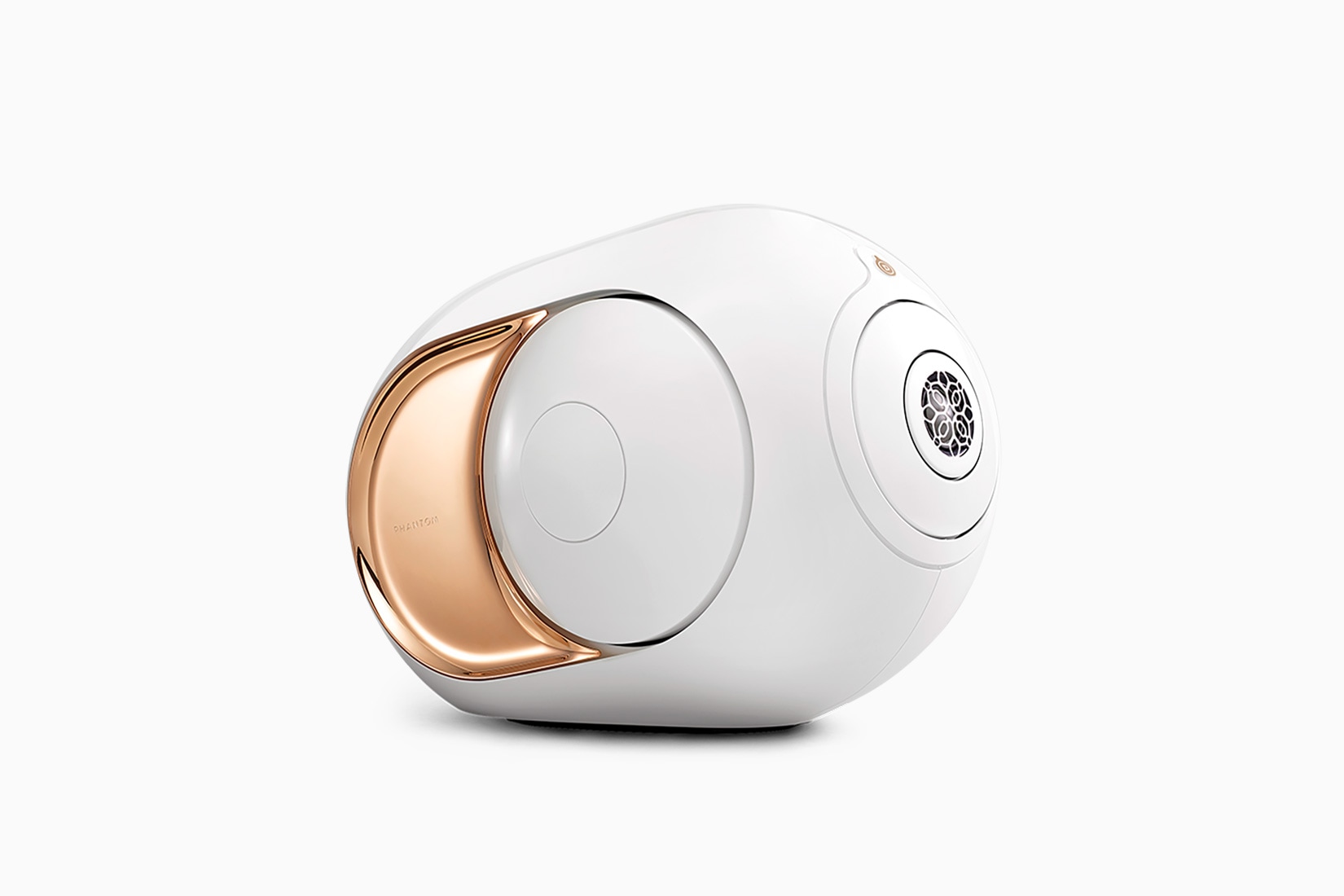 Exceptional sound quality means that Devialet Gold Phantom has the ability to make songs you've heard 1000 times before sound brand new. This is a luxury speaker that takes the idea of a standard musical device and throws it into space, with a deep, unbelievable bass and a design so sleek it rightfully deserves its own place of pride in the house.
The sheer amount of power inside of this speaker – a huge 4500w – makes its peak volume performance rival a modest aircraft. The Devialet Gold Phantom isn't playing around. Raw and intense, it's a speaker built for audiophiles through and through, with a striking exterior and unbelievably clever technology.
Vibration and power flow through the room at the touch of a button, promising to make even the songs you'd usually skip sound good enough to play on repeat. Devialet surpassed itself with the Gold Phantom, pushing past the limits of what a traditional speaker sets out to do with the arrival of ultra-sharp trebles, immense bass, and no distractions whatsoever.
| | |
| --- | --- |
| Dimensions: | 26 x 25cm (10 x 9.5 inch) |
| Weight: | 11.4kg / 25lbs |
| Wireless connectivity: | Wi-Fi Dual-band and Bluetooth A2D and AVRCP profiles |
| Amplification power: | 4500W |
Alternative: Devialet shines above most when it comes to wireless speakers and the Phantom Reactor 900 is another brilliant option.
With 900W and a compact design, it's another top choice for a high-end wireless speaker.
Sonos Five: Best value wireless speaker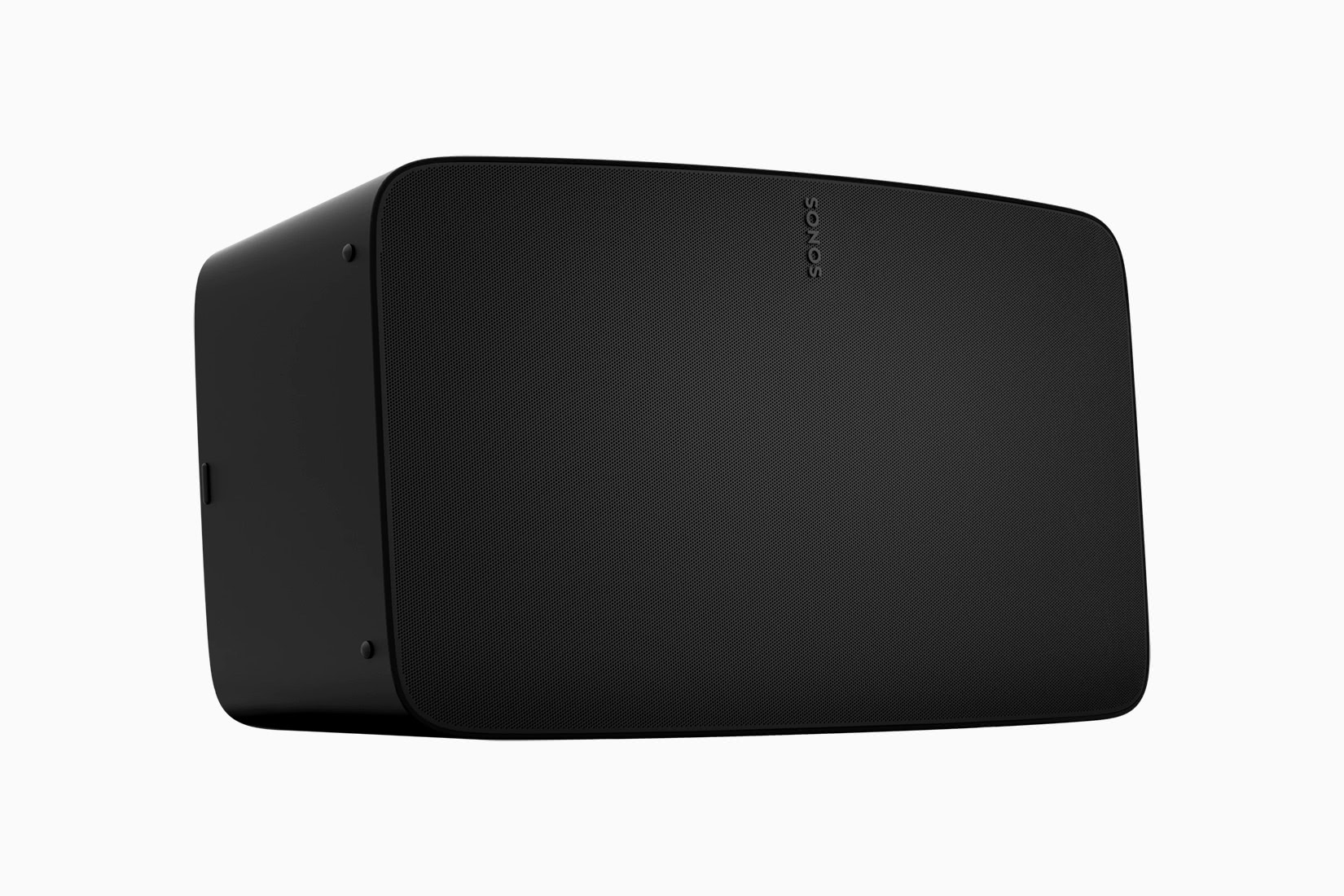 Sound performance and style go hand in hand with the Sonos Five, with a new speaker that shines wherever it's placed. Vividly clear with a fantastic, warm sound, it's a speaker that'll fill the room and silence it at the same time.
Melodic beats benefit from the Sonos Five's six custom-designed drivers inside and even the heaviest of drum beats sound crystal clear, beat by beat. Three high-excursion woofers provide unparalleled deep bass with architecture that eliminates reverb. There's also no need to worry about echo, with Sonos' Trueplay software that automatically tunes the speaker to the unique acoustics of the room.
Place it horizontally and the speaker will automatically separate the left and right channels. Or, step up the game with an additional Sonos Five for an unbeatable pairing. For those who really aren't messing around with their sound systems, a dedicated subwoofer can be added for extra bass.
| | |
| --- | --- |
| Dimensions: | 37 x 20 cm (14.5 x 8 inch) |
| Weight: | 5.8kg / 13lbs |
| Wireless connectivity: | Wi-Fi |
| Amplification power: | 120W |
TREBLAB HD77: Best portable wireless speaker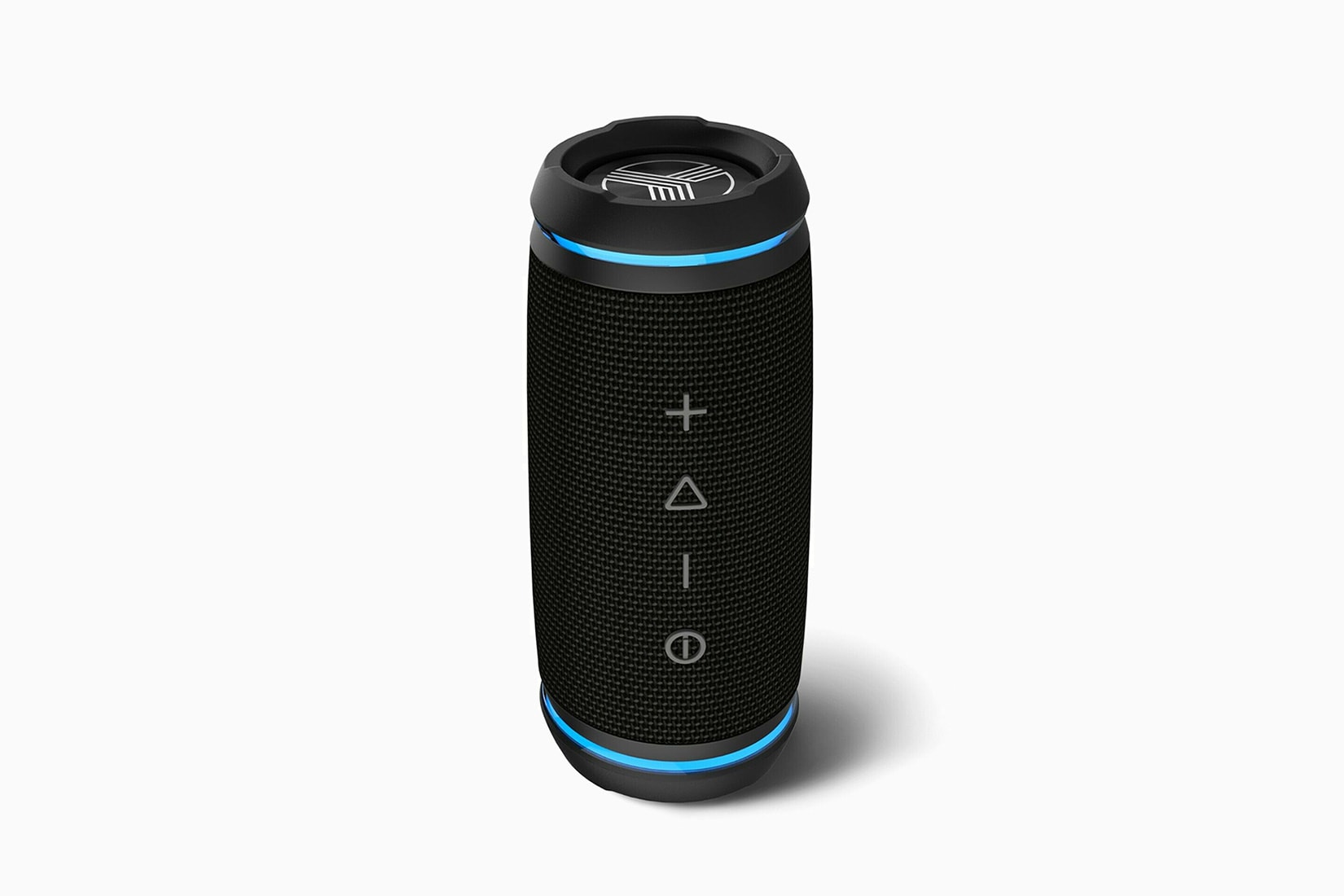 The TREBLAB HD77 is made for carrying around — think of it as the ideal speaker for playing your life's soundtrack. Along with suncream, snacks, and sunglasses, it's the companion you'll take with you to the beach, on a picnic, and for a casual stroll. Once you've got used to pairing your day's activities with a blast of sound, you'll feel lost without it.
Whether it's a picnic, pool party, or beach day, you can provide the beats with this nifty outdoor speaker. 25W stereo sound and DualBass™ technology, as well as noise-canceling functionality, deliver impressive sound quality even over wind and other background noise.
TWS technology means you can connect two speakers together for double the disco power. And there's even a carabiner and carrying strap so you can attach it to your backpack for music on the go—up to 20 hours of it, in fact, thanks to the high-capacity battery with PlayXTend™ technology.
With IPX6 water resistance to protect from light rain and accidental splashes, no accidents will ruin your day. And this TREBLAB speaker has also got rubber feet to provide shockproofing against falls, knocks, and drops.
| | |
| --- | --- |
| Dimensions: | 8 x 18.6 cm (3.19 x 7.36 inches) |
| Weight: | 625 grams / 1.38 lbs |
| Wireless connectivity: | Bluetooth 4.2 |
| Amplification power: | 25W |
Bang & Olufsen BeoSound 2: Best multi-room audio speakers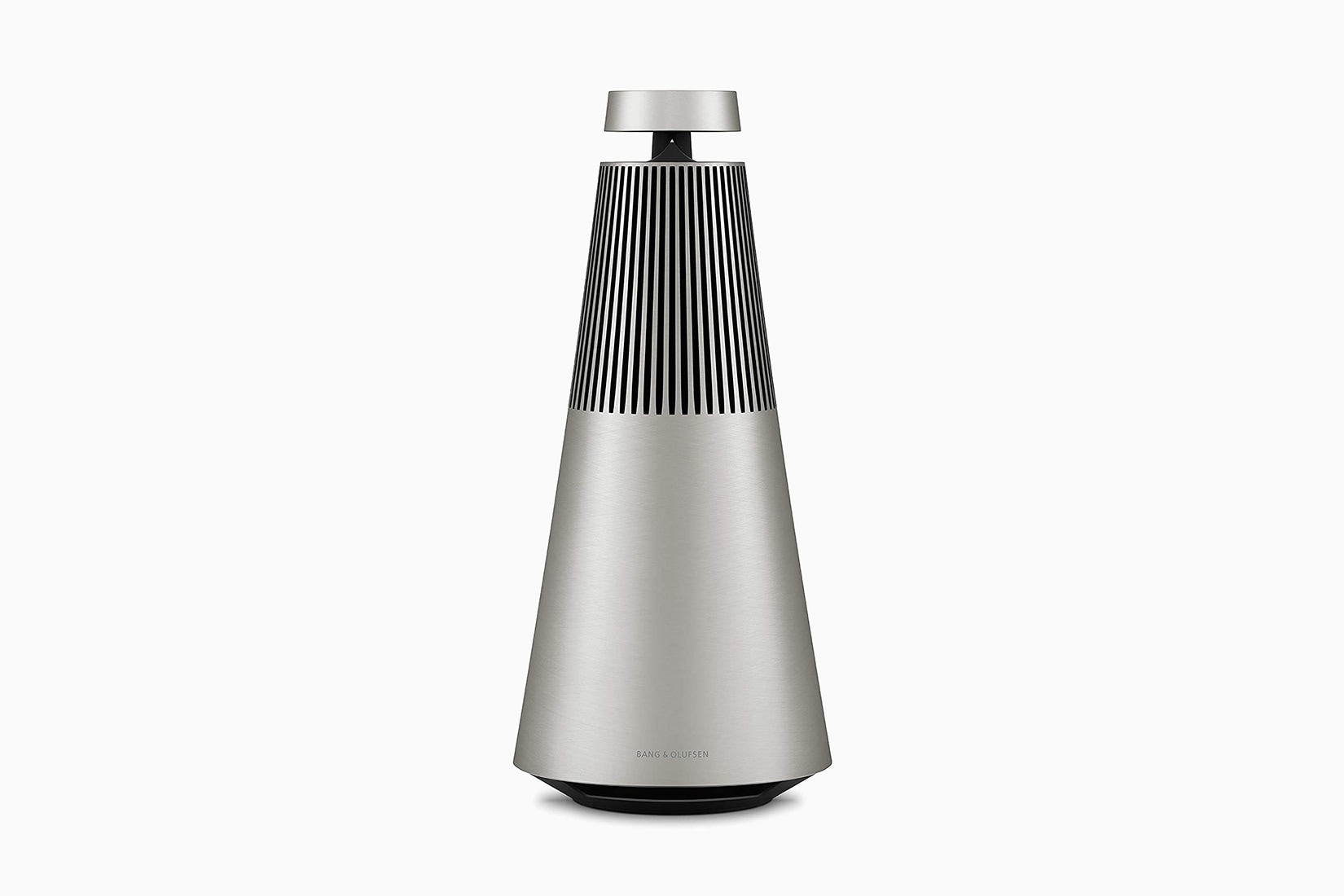 Deceptively small, the Bang & Olufsen BeoSound 2 is anything but when it comes to its deeply satisfying musical performance. Promising 360 degrees of sound, this wireless speaker is intriguing to look at with its extruded aluminum (also available in gold) and sculptured edges.
But you'll be too busy focusing on the sound to spend too much attention on its unique design. The BeoSound 2 is engineered to be placed anywhere in a room and still sound incredible when playing everything from chilled acoustic tracks to beat-pounding electronics. It's the upgrade necessary for sound lovers: simple to set up, allowing you to be enveloped in sound in a matter of minutes.
A proximity sensor detects which direction you're approaching from and aligns the controls accordingly. Its immersive audio, set to perform effortlessly throughout the house, is the ultimate option for a powerful sound system that's best enjoyed from one room to another.
| | |
| --- | --- |
| Dimensions: | 20 x 43 cm (7.8 x 17 inch) |
| Weight: | 6.3kg / 14lbs |
| Wireless connectivity: | Wi-Fi/WLAN 802.11 b/g/n (2.4 GHz & 5 GHz) and Bluetooth 4.1 |
| Amplification power: | 102W |
Alternative: The Bang & Olufsen BeoSound 2 comes with a premium price tag. However, the older version — the sleek and silver BeoSound 1, is another excellent choice for $500 less.
TREBLAB HD-Max: Best wireless speaker for outdoor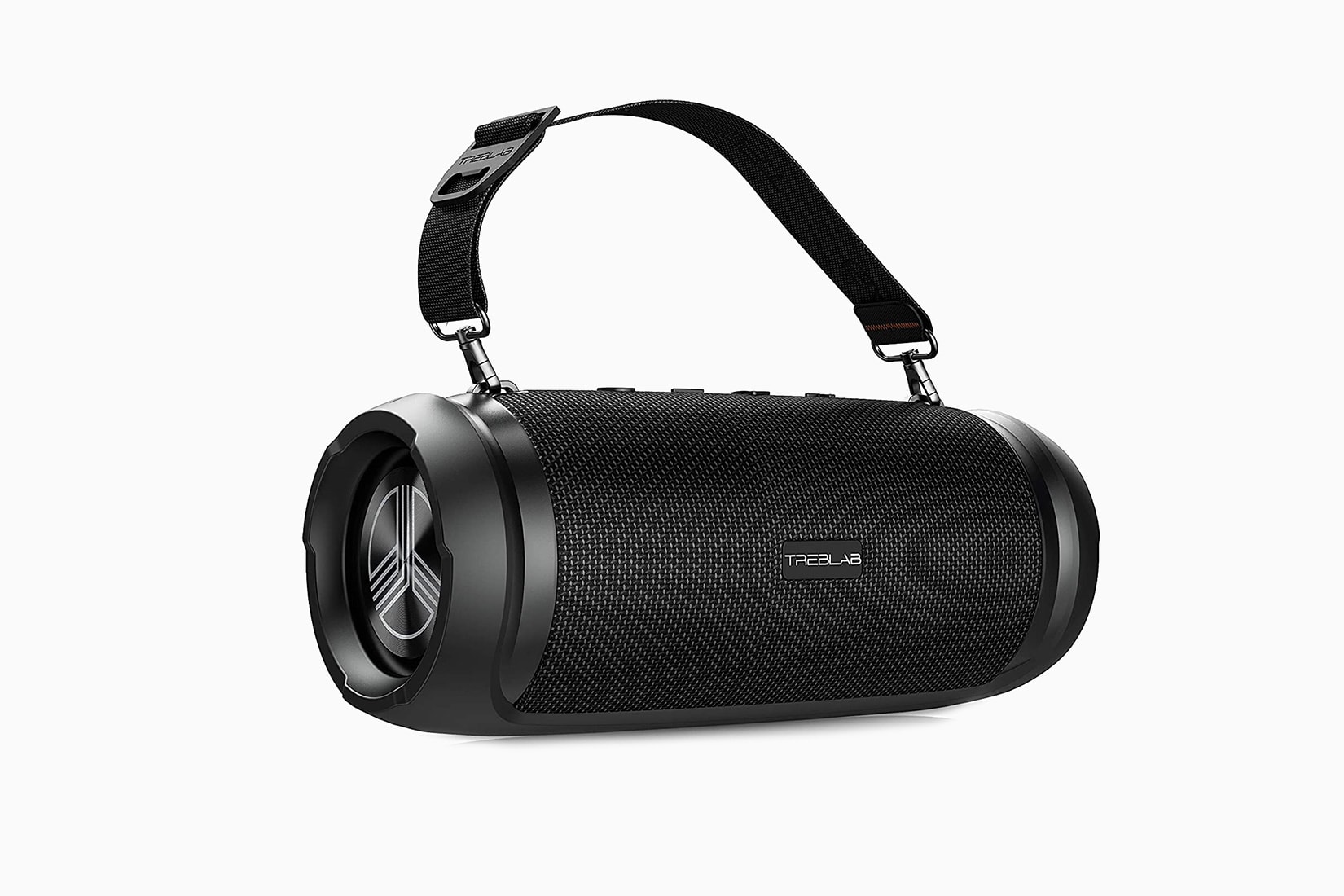 Looking for musical accompaniment to your next alfresco dinner party? Or maybe you've got a garden party planned where quality beats are as necessary as quality booze? Either way, you need a reliable outdoor speaker and the best one for the job is the TREBLAB HD-Max. And not just because it comes with an attached bottle opener, either.
Select from one of three modes: indoor, outdoor, and Bass Boost. With a 50W speaker and wide volume range, this speaker delivers a complex, multi-layered, and refined sound experience—impressive enough that your guests are guaranteed to comment.
Want to take the speaker somewhere remote for a proper rave? It can run for up to 20 hours on half-volume. Pair with another HD-Max speaker for extra volume and heart-thumping surround sound bass. The speaker can also connect to any Bluetooth device within 10 meters (33 feet) for minimal boogie limitations.
Rain threatening? With IPX6 waterproofing, this speaker can resist water and moisture of any kind—even sleet and snow. The final bonus to this take-anywhere, do-anything TREBLAB speaker? It doubles as a portable power bank.
| | |
| --- | --- |
| Dimensions: | 12 x 31 cm (4.8 x 12.4 inches) |
| Weight: | 2.7 kilograms / 5.97 lbs |
| Wireless connectivity: | Bluetooth 4.2 |
| Amplification power: | 50W |
Amazon Echo 3rd Gen: Best voice assistant speaker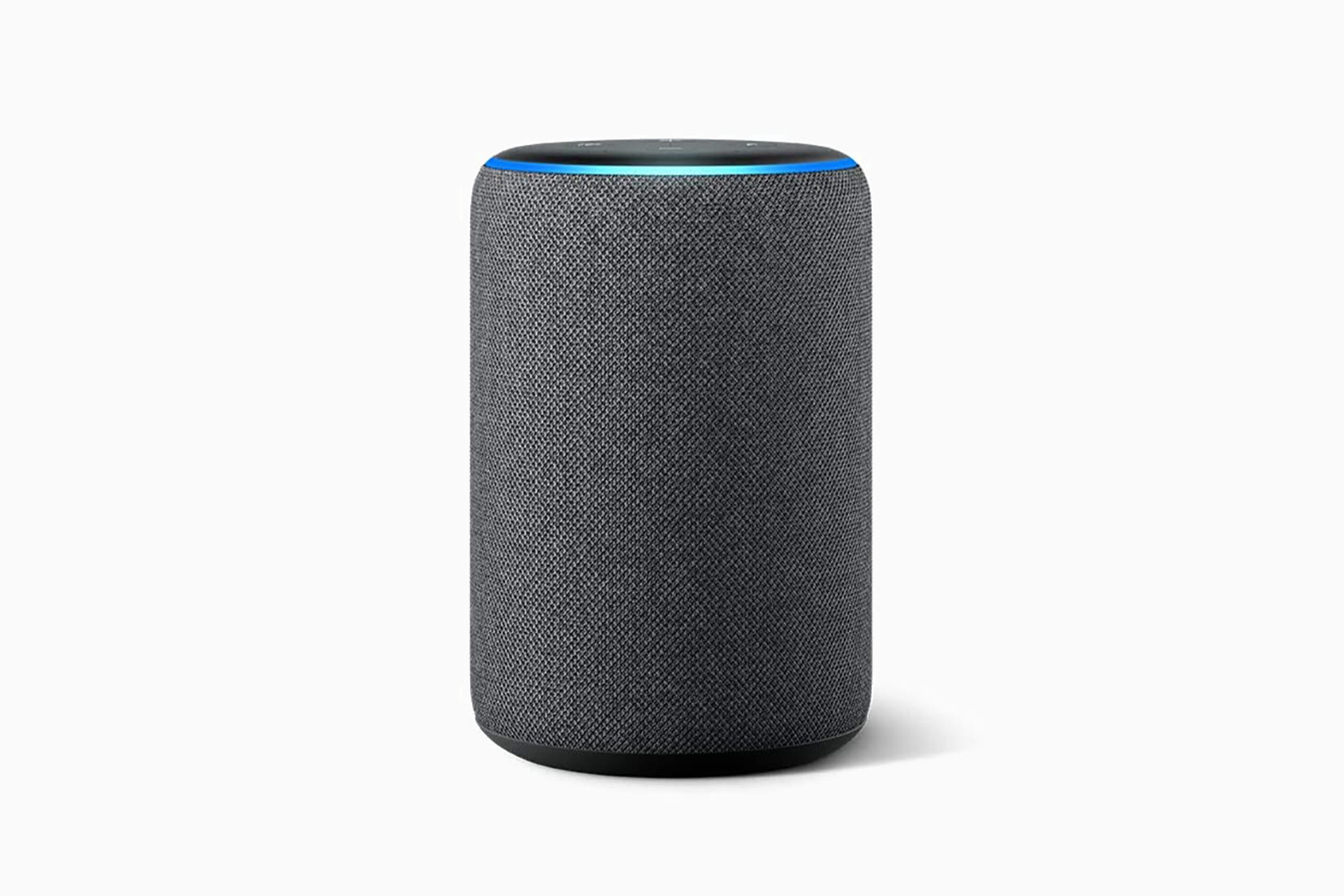 Amazon's Echo 3rd Gen is an upgrade on its predecessor in every way possible. Its audio hardware offers strong, consistent sound, while its main focus, Alexa's smart assistant powers, shines through whenever the speaker is put into action.
Small but mighty and full to the brim with intelligent features, the Echo 3rd Gen is balanced and detailed with a speaker system that's top of the class. Its multi-purpose nature, combined with its varying colorways, makes this speaker one for the busy household that doesn't want to compromise on sound.
When you're not busy chatting to Alexa, pay attention to the clarity of the music. Controlled by a brief command, it delivers sound that dances around the room with smoothness and expression. It's powerful and well-balanced, particularly for its size, and its 3-inch woofer, Dolby Audio, and 360-degree sound make for an impressive listening experience.
| | |
| --- | --- |
| Dimensions: | 14.8 x 10 cm (5.8 x 3.9 inch) |
| Weight: | 800g / 1.8lbs |
| Wireless connectivity: | Dual-band Wi-Fi supports 802.11a/b/g/n/ac (2.4 and 5 GHz) and Bluetooth A2DP |
| Amplification power: | 15W |
Samsung SWA-8500S: Best wireless speaker for your TV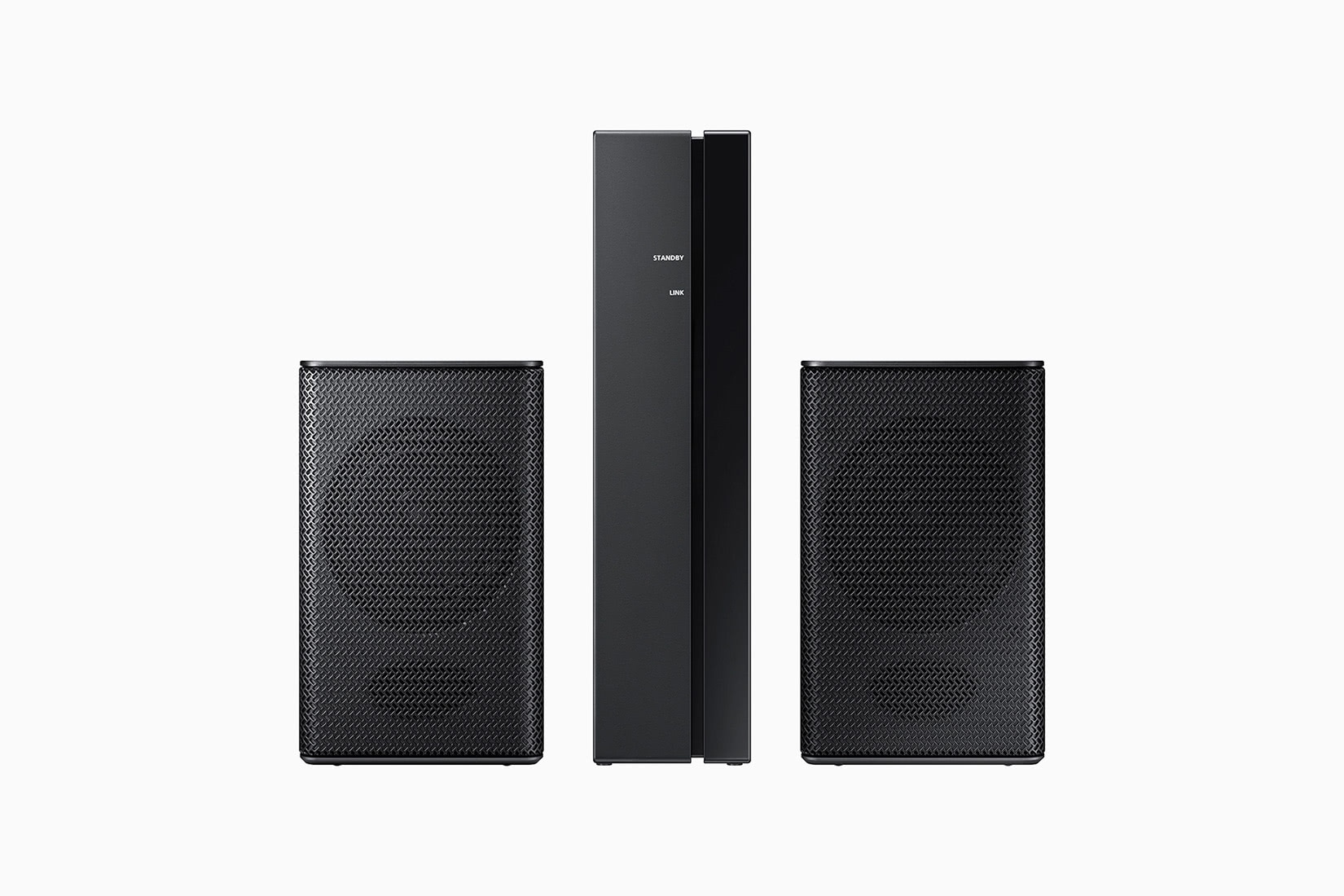 You can buy the most impressive visual setup on the market but nothing elevates a movie experience like a brilliant speaker system. Samsung's SWA-8500S delivers from every direction, heightening the action of your favorite games, movies, and shows until it feels like you're watching it live in front of you.
This immersive setup is clutter-free and easy to assemble, promising power and depth in a matter of minutes. The well-balanced sound profile is the perfect addition to your home theatre experience, making you laugh all the louder in front of your favorite rom-com or holding onto the sofa a little tighter during the jumpy moments of a thriller.
A quick flick of the remote boosts the back speakers for more music, peripheral sound, or a focus on the dialogue. Its accurate, lifelike sound acts as the missing piece in the puzzle and, its unbeatable quality means any other combined visual audio setup almost pales in comparison.
| | |
| --- | --- |
| Dimensions: | 5 x 13 cm (2 x 5.2 inch) |
| Weight: | 700g / 1.54lbs |
| Wireless connectivity: | Wi-Fi |
| Amplification power: | 54W |
Naim Mu-so Qb v2: Best design speaker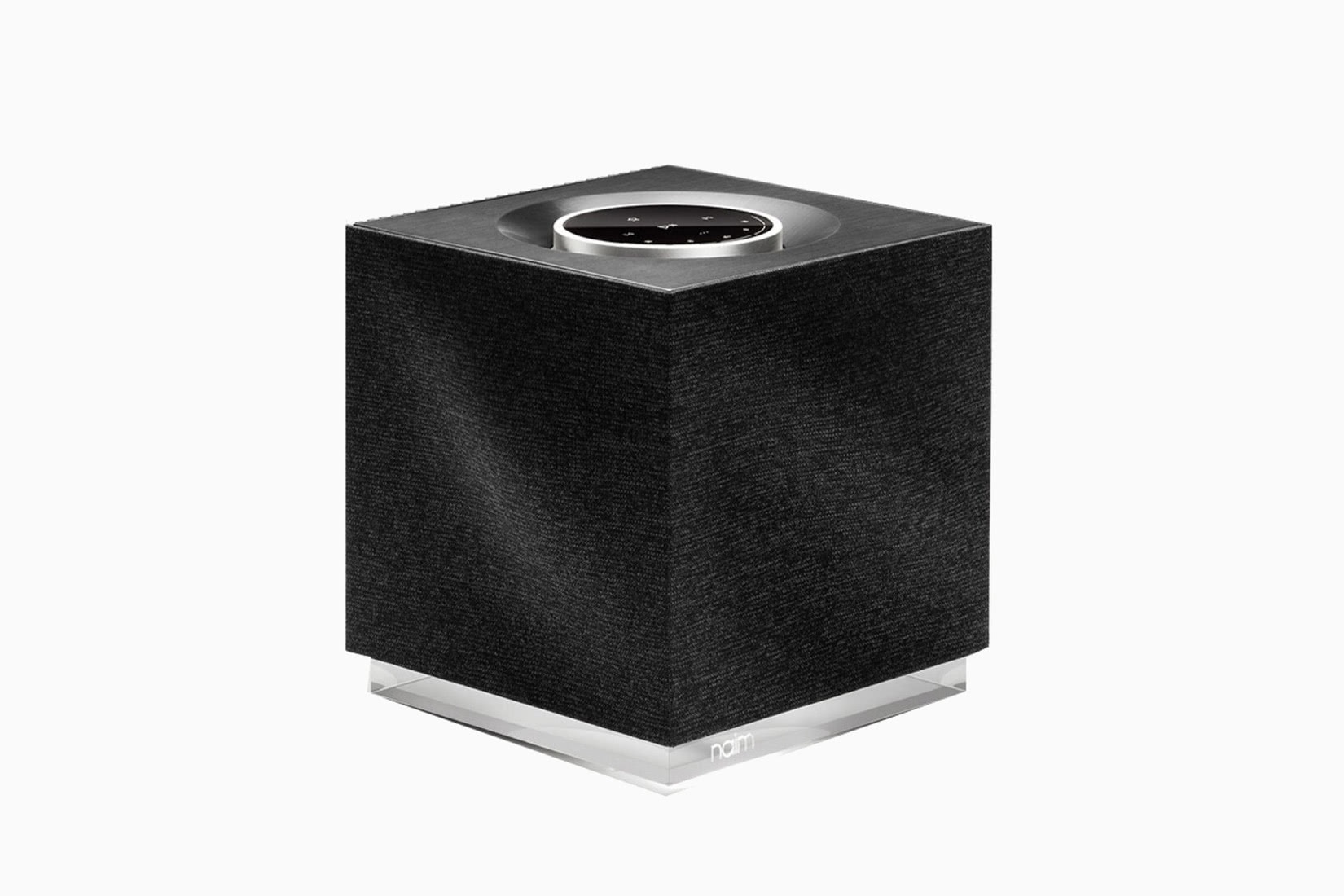 A sleek black box, the Naim Mu-so Qb v2 promises style and substance paired with huge sound and great connectivity. It's a truly phenomenal piece of technology with its modern and minimalist design, illuminated acrylic base, and characteristic rippling audio.
Its sound is balanced, crisp, and clear with an ability to seemingly accentuate every feature of music from the bass to the warmth. The Naim Mu-so Qb v2 is also impeccably made, premium, and functional while maintaining an accessible price. It's everything impressive rolled into a good speaker with more than a little extra on top.
For such a small speaker, it's almost startling to hear the Naim Mu-so Qbv2 put into action for the first time. Its quality and craftsmanship is backed up by cutting-edge technology making this speaker one that performs on the outside and the inside.
| | |
| --- | --- |
| Dimensions: | 21.5 x 21 cm (8.5 x 8.35 inch) |
| Weight: | 816g / 12.45lbs |
| Wireless connectivity: | Wi-Fi and Bluetooth aptX |
| Amplification power: | 300W |
Ultimate Ears Wonderboom 2: Best budget wireless speaker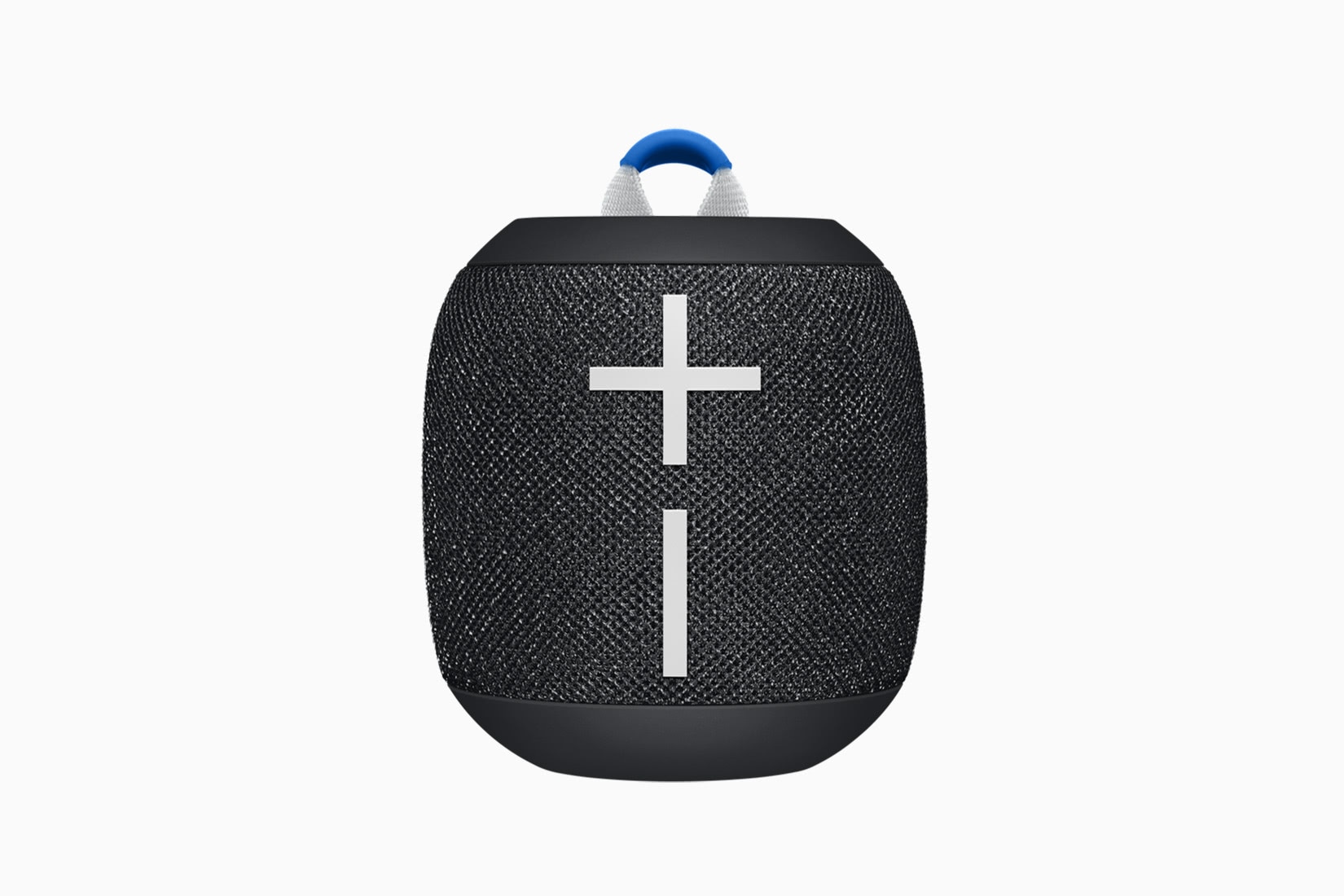 Water-resistant and with an impressive 13-hour playback time, the Ultimate Ears Wonderboom 2 crams a lot of power into a brilliantly low cost Bluetooth speaker for less than $100. It's one of the best-performing inexpensive wireless speakers, with a rich sound that highlights the highs and the lows of every track.
Its strong bass performance and 100-foot wireless range make it an ideal companion for parties and picnics while its acoustic precision drivers promise impressive clarity. It plays music without any distortion — an unusual quality for a wireless speaker at this price point — meaning there'll be no complaints from even the most audio-conscious friends.
Pair it with almost any device in a matter of seconds before turning up the volume and blasting your favorite songs. It's a wireless speaker that performs to a far superior level than what its price point suggests, making it a great staple for any occasion.
| | |
| --- | --- |
| Dimensions: | 13 x 6.6 cm (5.25 x 2.6 inch) |
| Weight: | 255g / 0.9lbs |
| Wireless connectivity: | Bluetooth 4.2 |
| Amplification power: | 10W |
With a crisp and bass-heavy sound and 14 hours of battery life, the OontZ Angle 3 3rd Gen is another excellent choice for a budget-friendly wireless speaker. At less than $30, it stands out from the pack with multi-directional sound, impeccable quality, and durability for even the most spontaneous adventures.
Martin Logan Crescendo X: Most luxurious wireless speaker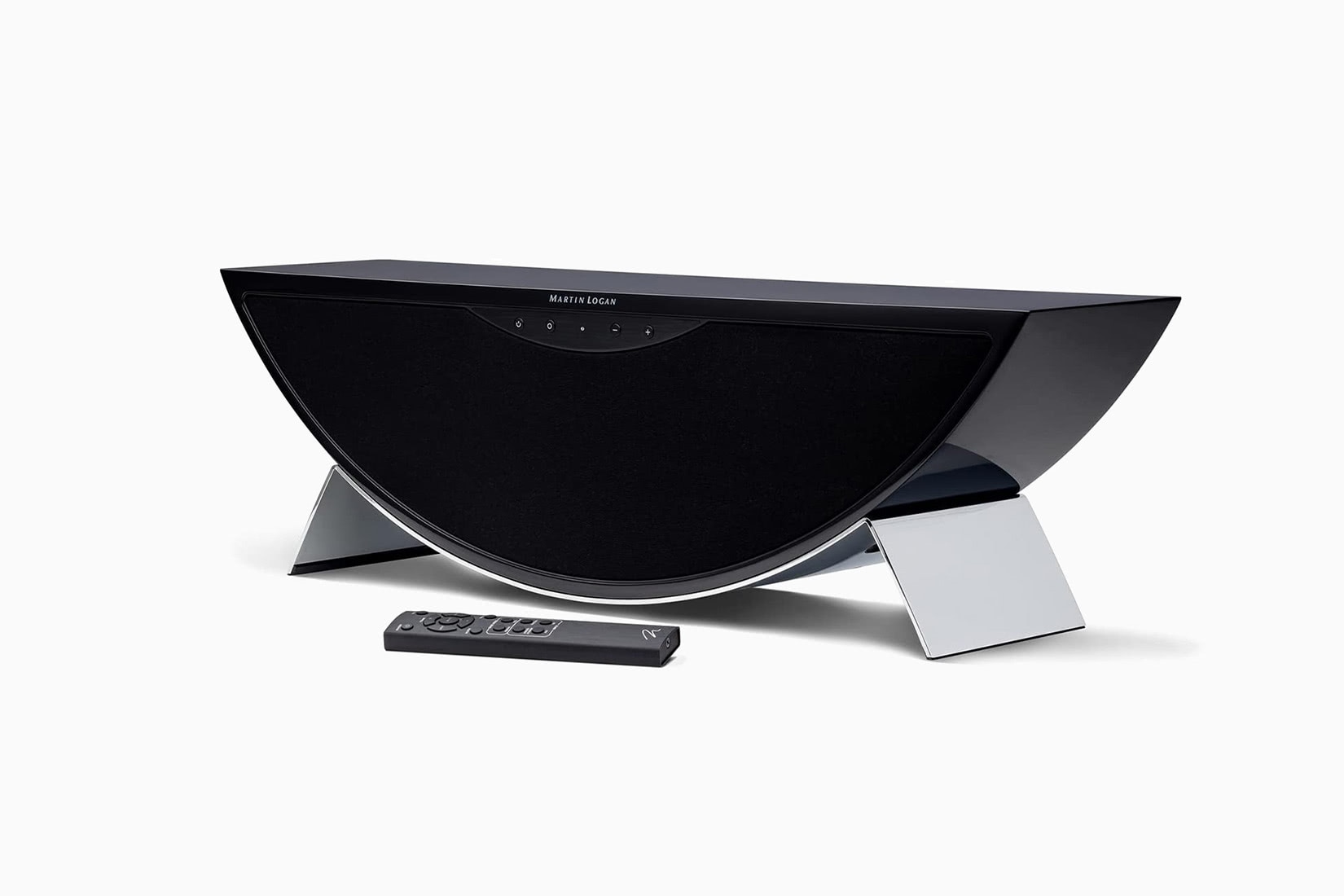 The Martin Logan Crescendo X is, undoubtedly, one of the ultimate table-top speaker systems that money can buy. It offers a lot for its price tag, including plenty of connection methods and a beautifully high-definition sound. Available in a piano black or walnut finish, the Crescendo X's sound is just as dramatic as its name suggests.
For top volume sounds, it offers two bass functions: Normal and Bass+. Both bold looking and sounding, it bursts out clean, untouched notes from whatever genre of music you queue up next. This wireless speaker is seriously fun to listen to, with a stylish and elegant look that sits joyfully wherever it's placed.
It's versatile and strong, unafraid of hitting the high notes or deep lows without any distortion or lessening quality. Everything about it exudes luxury. Clear resolution and crisp, balanced sound more than justify the price of this wireless speaker.
| | |
| --- | --- |
| Dimensions: | 17.5 x 66 cm (6.9 x 25.9 inch) |
| Weight: | 4kg / 9lbs |
| Wireless connectivity: | Wi-Fi, Bluetooth v4.0 (supports AAC, aptX®, MP3, SBC) |
| Amplification power: | 140W |
Wireless speakers buyer's guide
What's the difference between Bluetooth and Wi-Fi speakers?
Bluetooth speakers are more common but wifi speakers offer a better sound experience, as they don't compress the audio during the connection and playback process. Most high-end speakers offer both connection options. Wifi speakers have the ability to connect to your home network and can run on AC power, while Bluetooth speakers are typically more portable and connect directly to a device like a smartphone or a computer. 
They're also usually battery-powered. Wifi connection lets you sync multiple speakers at once, making it ideal for multi-room access but keep in mind you're limited to bandwidth limitations, which can affect the quality of audio streaming.
We found in our tests and reviews that Bluetooth connection is generally easier to set up than wifi-powered speakers and its technology works with a huge range of different devices. However, its range is limited (to around 33 feet/10 meters generally) and it can only connect from one device to one speaker at a time.
The features to look for
Multi-Room Audio
The ability to play music throughout a series of rooms is currently a big thing in the world of wireless speakers. The best wireless speakers, including those from our list, offer the ability to play different songs in different rooms at the same time.
Portability
Keep in mind where you'll be using your wireless speaker the most. If you travel often or prefer to use it for outdoor activities or barbeques, a Bluetooth-controlled speaker might be more appropriate than a wifi connection.
Durability
This is especially important if you're looking for a portable speaker. We've only featured speakers made of premium quality components that can withstand high volume and a thumping beat.
Audio Quality
No one's satisfied with below-average audio quality but if you consider yourself a true audiophile then only the best quality will do. Look for wifi-controlled speakers with a good midrange clarity and, where possible, a multi-part setup for surround sound.
Voice Assistants
It might not be a brand new feature but there's still something mildly thrilling about changing the song just by raising your voice slightly. Some speakers, like the Amazon Echo, offer voice control; unlocking new possibilities for audio enthusiasts who can change the track without lifting a remote.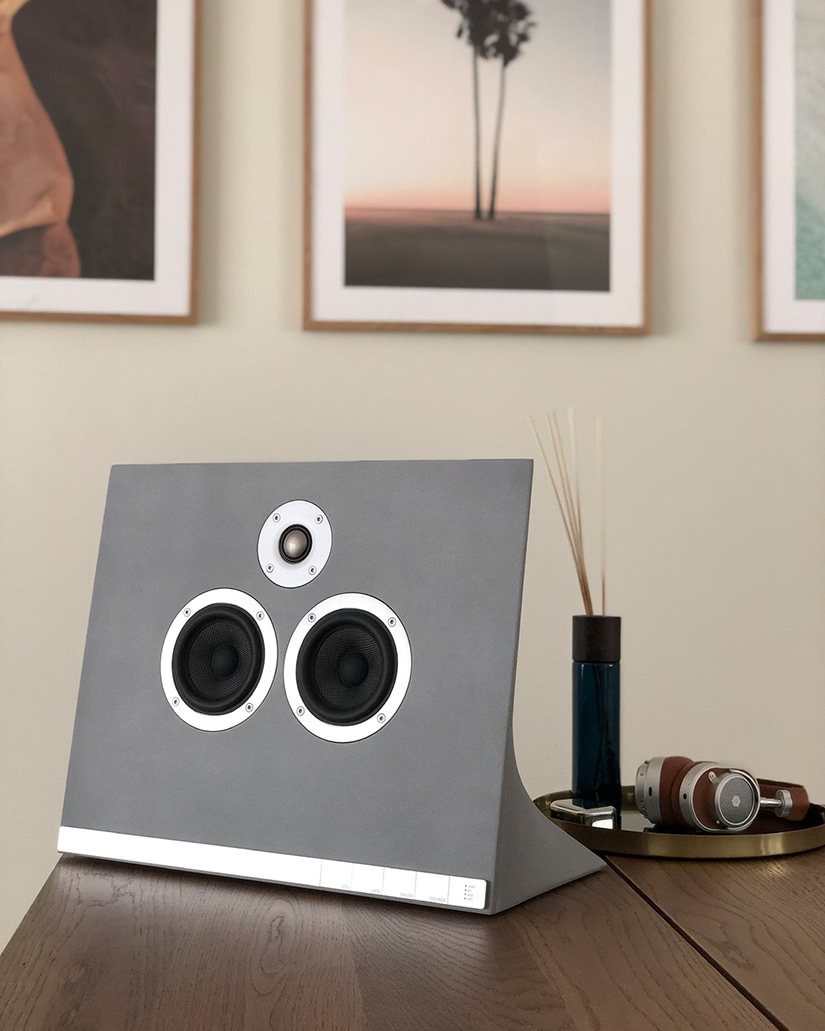 Frequently asked questions about wireless speakers
Which is the best wireless speaker to buy?
The best overall wireless speaker to buy is the Master & Dynamic MA770, an ultra-premium wireless speaker with sculptural angles and curves that promises an incomparable sound quality that'll resonate through the room.
What are the top 10 speaker brands?
The top 10 best speaker brands are: Master & Dynamic, Bang & Olufsen, Martin Logan, Devialet, Sonos, Samsung, JBL, Ultimate Ears, Naim, and OontZ.
Is Sonos the best wireless speaker?
Sonos is one of the best wireless speaker brands alongside Master & Dynamic, Martin Logan and Bang & Olufsen. Our breakdown of the 11 best wireless speakers will help you to choose a premium option for your requirements.
What is the best Bluetooth speaker?
The best wireless Bluetooth speaker is the Ultimate Ears Wonderboom 2 with an impressive 13-hour battery life and a 30-meter/100-foot Bluetooth range. It's easily portable and promises clear, undiluted sound with extraordinary bass.
Which speaker has the best sound quality?
The Bang & Olufsen BeoSound 2 is the speaker with the best sound quality for those looking for multi-room sound. Its design promises 360 degrees of music and it's engineered to be placed anywhere in a room and still perform effortlessly. However, rest assured that our strict shortlisting process means every speaker on our list promises high-fidelity sound.
What's the best portable Bluetooth speaker?
The best portable Bluetooth speaker is the TREBLAB HD77. This wireless speaker is both top-performing and durable with a punchy sound and an excellent battery life.