A global streaming service made by artists for true music fans? Sounds good. And its lossless-quality song library, well, sounds even better.
Let's hear it out for… Tidal.
Any Tidal review needs to mention that the streaming service offers stunningly high-quality audio—The Tidal HiFi plan gives listeners CD quality FLAC-based 16-bit/44.1 kHz while the Tidal HiFi Plus plan dishes out a whopping MQA (Master Quality Authenticated) 24-bit/96 kHz level of sound. (Note: The Master-level tracks require the desktop app, and Tidal recommends a high-quality Digital-to-Analog Converter. You can read how to optimize your sound system for Tidal on this support page).
For those amongst us that live their life to their own soundtrack, Tidal is the audiophile choice.
Though it used to lean primarily on hip-hop tracks, Tidal now offers 90 million+ tracks (in a multitude of music genres), some of which feature exclusive content from major recording artists.
And then there's that artist-oriented profit system. Artists have called out other streaming services for paying out pennies in return for millions of plays of their songs. Not exactly the type of business model that encourages our favorite artists to keep making more of what we love.
Ready to get your groove on? Then slip on your favorite high-quality earbuds or crank up your turbo-charged home theater system and let's dive headfirst into Tidal.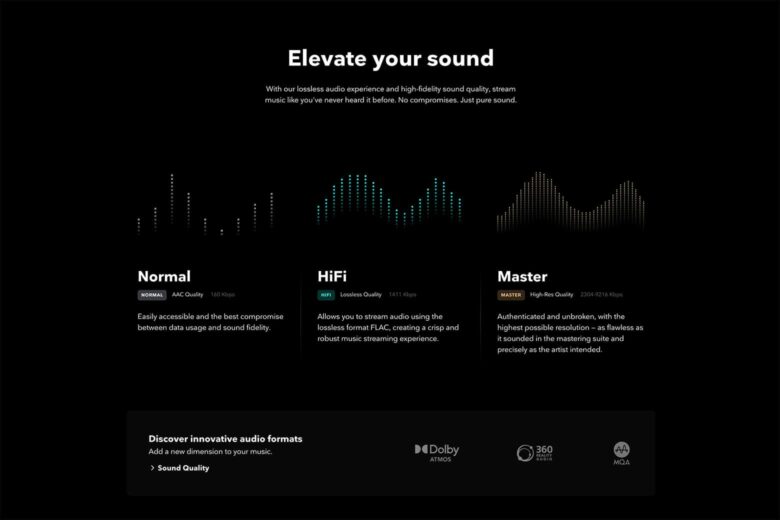 An ears-on review of Tidal
Our verdict
Tidal does indeed manage to crank up the sound quality compared to most of its competitors. In terms of the Tidal subscription plans, the highest level (HiFi Plus) does cost more per month than competitors' plans, but it comes with that Master-track level of sound, tons of exclusive music-oriented content, and the feel-good knowledge that artists are being paid better for their efforts.
The pros:
Top of the market audio quality.
Exclusive content from major artists.
Artists receive higher royalties.
The cons:
Small podcast selection for the moment.
The alternatives:
Apple Music offers a wide catalog of artists. They are Tidal's top competitor when it comes to audio quality, with their Apple Lossless Audio Codec (ALAC) offering resolutions from 16-bit/44.1 kHz (CD Quality) through to 24-bit/192 kHz.
Spotify is the world's biggest music streaming app. It offers the ability to download music files to your desktop or device for offline app playing. Tons of podcasts.
Youtube music makes it easy to see if there are video versions of your favorite songs. However, the sound quality doesn't compete.
Audio quality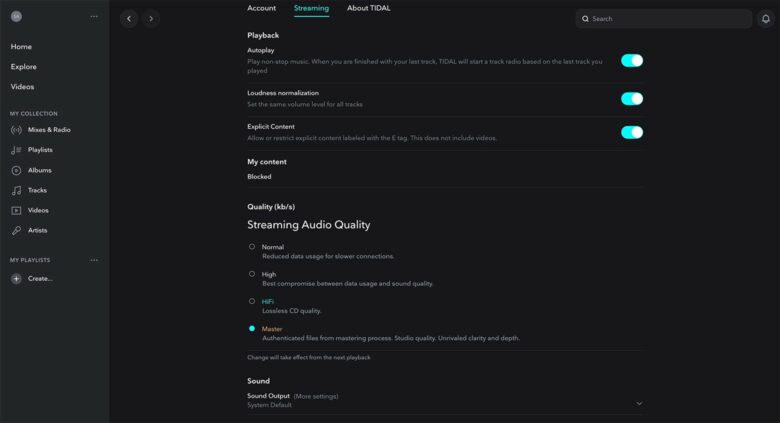 If you're a real bitrate audio snob, then Tidal is absolutely the streaming service you want to integrate into your top-tier wireless speaker system, or your preferred choice of high-end headphones like Master & Dynamic's MW75s. As mentioned above, Tidal's HiFi Plus plan ($19.99 per month for individuals with 30 days of free trial) delivers your music in MQA (Master Quality Authenticated) 24-bit/96 kHz.
This essentially means that you're listening to your music at the same levels of quality as heard in the studio while it's being recorded (hence the term "Master Quality").
The highest tier audio quality may require an upgrade to high-grade headphones or better quality bookshelf speakers in order to be heard. The MQA tracks need a high-end sound delivery system to really take advantage of this boost in audio quality. Mid-range or poorer speakers or headphones will likely not be able to render the audio well enough for you to be able to hear the difference. Also, not every track comes in the MQA flavor.
That being said, when it comes to Tidal HiFi vs HiFi Plus plans, the question is, "is Tidal HiFi Plus worth it?" It's an easy yes if you have a system that can keep up with the sound files. Even a Google search of the term "Tidal review reddit" reveals that the cynical Reddit review world agrees that Tidal delivers the best audio quality of the available streaming services.
Repertoire
Tidal was reportedly a bit limited to more pop and hip hop numbers in its earliest days (which makes sense, considering the line-up of owner/artists), but has since significantly expanded its library into more niche musical spaces occupied by non-pop/hip hop artists. As of now, Tidal has 90M+ songs and 450K+ videos in its library.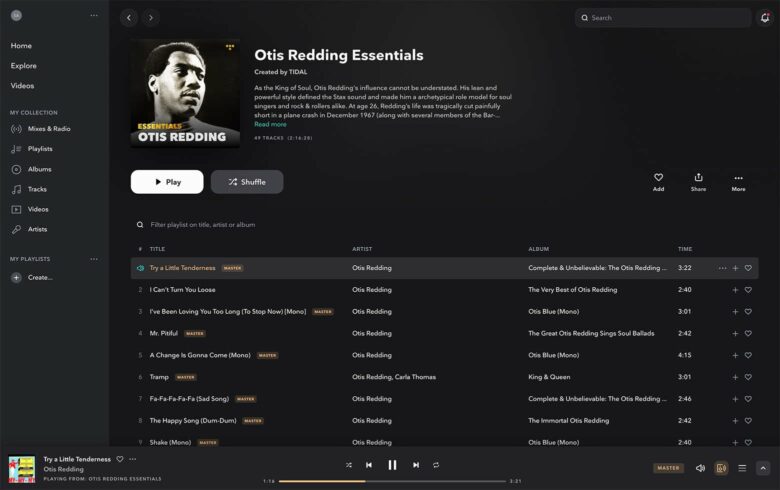 Some tracks come with artist exclusives. Scrolling down a bit in the Videos section leads to a section called "Album Experiences", which features additional short videos that accompany albums in which the artists explain their approach to tracks or the albums as a whole. Since Tidal is focused on doing more for the artists, this is a nice feature that allows you to understand the performer's creative processes and what they're trying to get across with their work.
App experience
The app is pretty much the experience you're used to if you've used any of the other mainstream musical services. A search bar will get you started, and suggestions pop up based on an algorithm that feeds off of your selected tracks or albums. Tidal also allows you to search by Genres (e.g. Decades, Pop, Africa, Country, Latin, etc.), Moods (Workout, Pride, Party, Relax, etc.), Chart Topper Lists, and by non-explicit content.
Playlists are easy to create. You're given the option of creating Playlists or Folders. Folders can hold multiple playlists, allowing you to organize your selections as you see fit. To fill out those playlists, on desktop you can simply drag and drop a song into a playlist. On mobile, hit the three buttons to the right of the track and choose the add to playlist option.
On the desktop app, once you get into the video section of Tidal, navigation is a bit trickier than it needs to be. If you start a video and want to go back, the back arrow is nowhere to be seen. It turns out that you need to minimize the video's page (there's no X to close it), and that will reveal the previous non-video page, including your navigation arrows. This could be made a bit more intuitive but you'll quickly get the hang of it. This isn't a problem on mobile since you can use your device's native back-button to easily take a step back.
As for switching between sound delivery systems, switching Tidal from one set-up to another (e.g. from headphones to a home theater) is a breeze. The task requires one click to open up the options, and a second click to choose your new sound delivery system. The symbol for sound systems looks like a speaker with sound waves coming out of its right side. This symbol is almost always present at the bottom of the desktop app, and can be found at the bottom left of song pages on mobile. Tidal offers a large number of integrations with the most popular audio devices out there.
Lyrics
Tidal has a neat little lyrics option to let you follow along with your favorite songs. On the bottom right of the app is an up-arrow that takes you to a separate Now Playing page, press that and you will be presented with a screen that has the options Play Queue, Suggested Tracks, Lyrics, and Credits along the top.
Choosing the Lyrics option does exactly what you'd expect, presenting you with the lyrics that light up with each line sung. If you click or tap on a line, that line of the song will be replayed.
Podcasts
Currently, Tidal only has a handful of podcasts, and many of them revolve around the hip-hop world. If you're into true crime, sports, comedy, and so on, in the battle between Tidal vs Spotify, Spotify wins this round.
Tidal Originals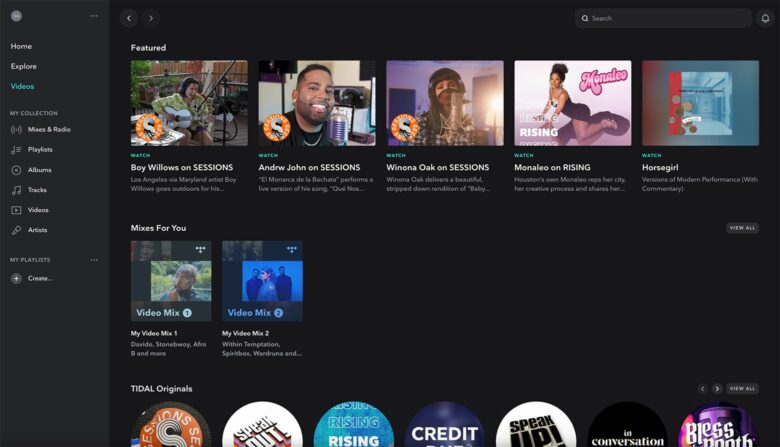 Here's one of the points where Tidal shines. Found in the Video section, Tidal has created a ton of premium content in the form of documentaries, interviews, concerts, short films, and other special events revolving around artists.
For example, the Sessions section contains recorded performances, many by up-and-comers. No music-video razzmatazz, just the performer, their instruments, and their talent. The Speak Out selection features LGBTQ+ artists and activists talking about their lives, coming out, and what it means to be an LGBTQ+ artist. Tidal Rising is all about, you guessed it, highlighting talented up-and-comers. Credit Due digs into the heroes behind the recording sessions and the work that they do. In Conversation is made up of mini-documentaries about performers like The Raconteurs or Sean Ono Lennon. Taken altogether, the Tidal Original sections are about performers and behind-the-scenes heroes, with each title taking a different approach in getting to know the creative people that make the music that you love.
Integrations
The team behind Tidal really put in the legwork when teaming up with app and hardware makers. You can easily hook up Tidal to a who's who list of smart TVs, wearables, audio gear, and so on like Sonos, Roon, Audirvana, HiFi Rose, Yamaha… the list is too long to totally lay it out in this article but you can see the entire selection here.
Subscription plans
There are three plans you can choose from when signing up with Tidal. The first is Tidal Free. This is a trial run of 30 days of full access.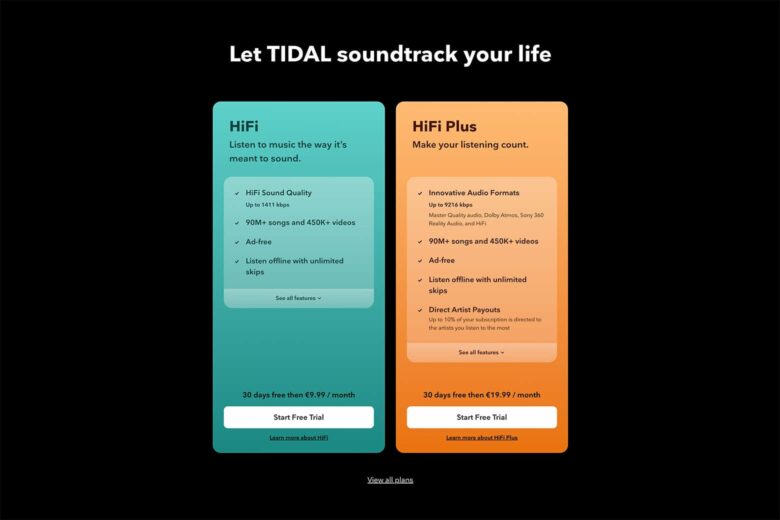 The real decision is between Tidal HiFi vs HiFi Plus. Tidal HiFi is more affordable and allows you to play songs at CD quality (up to 1411kbps). You get access to the full library of songs, videos, and exclusive content.
HiFi Plus is where you want to be if you want the best streaming quality that money can buy. The audio quality jumps up to as much as 9216kbps, which is the level of quality of an original recording. Songs at this level also offer up Dolby Atmos or Sony 360 Reality Audio, which are designed to give you an at-the-concert feel (this will depend on your audio equipment).
Additionally, with HiFi Plus up to 10% of the subscription price goes directly to the artists you listen to, which is a nice feel-good bonus.
Can you listen to Tidal offline?
You can indeed listen to your Tidal collections offline. Set your device to Wifi (to avoid additional data usage) and then choose Download while in your collection.
Price: How much does Tidal cost?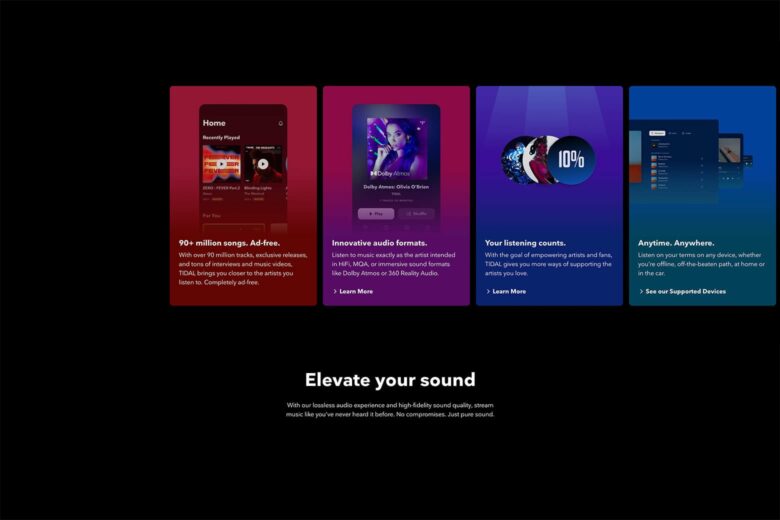 Who is Tidal best for?
Tidal is perfect for music lovers who want the best music listening experience across all their devices while supporting the artists they love.
Tidal vs Spotify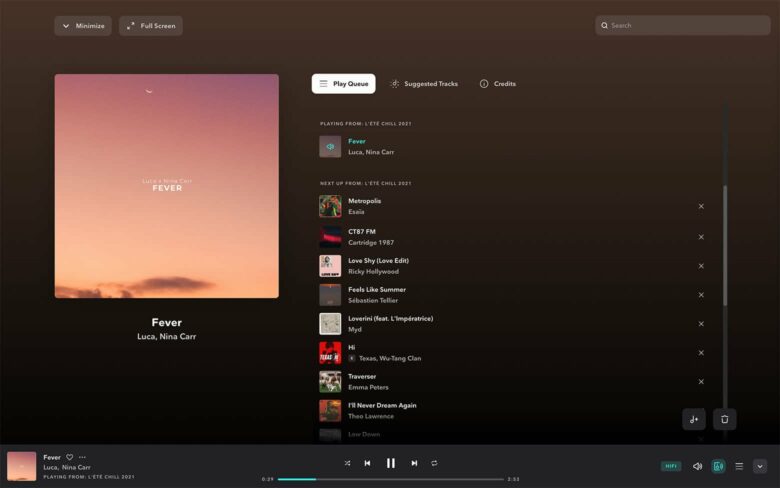 Audio quality
Tidal wins in this category. In Tidal's HiFi Plus subscription model, your music can reach the level of original master tracks at 9216kbps (you will need high-end audio equipment to fully take advantage of this level of audio). Spotify tops out at 320Kbps.
Price
Both services offer monthly subscriptions of $9.99/mo. However, this is not Tidal's top tier, which goes for $19.99/mo, and allows access to their highest quality audio tracks. Price, therefore, comes down to whether or not you want to pay for that extra boost to your sound.
App experience
Tidal and Spotify's apps are basically the same. We did find the Tidal app's design to be slightly sleeker. It feels more premium and less cluttered than Spotify, but it's a minor edge.
Song recommendations
As you'd imagine, both apps base song recommendations based on your cultivated playlists and the artists you listen to the most. In addition to suggested artists and songs, Spotify also automatically generates both a weekly and a daily mix list for you that are refreshed each week and day, respectively. Both apps have playlists curated by staff. How well the algorithms work will depend on how eclectic your tastes are, but both apps do the job well enough that you're likely to at least discover one or two new tracks that you'll enjoy on a regular basis
Where to sign up for Tidal
You can sign up for Tidal at their website, Tidal.com. There is a free trial, and subscriptions will run you either $9.99/month (for an individual) for their HiFi plan, or $19.99/month for the HiFi Plus plan.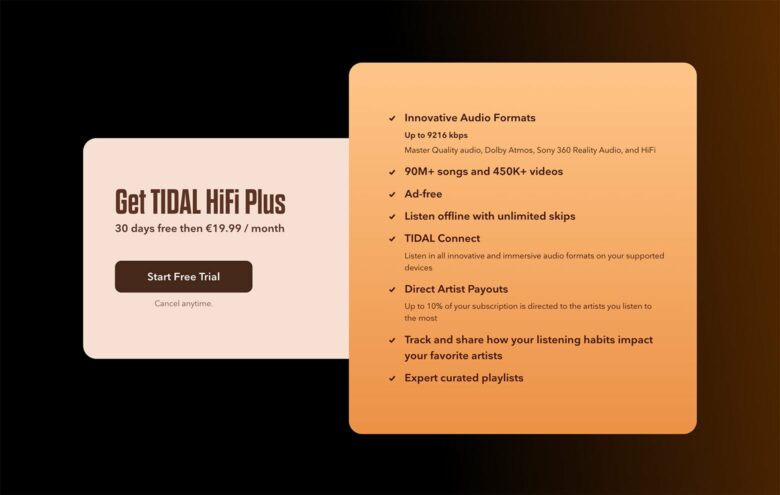 Frequently asked questions about Tidal