From long commutes to the office to stealing away for a coffee break, it's easy to lose track of pens, chargers, and the essentials that get you through your day. Instead of stashing everything in a briefcase, a tech organizer can make a big impact on your day. Whether you work from home or are always traveling, tech pouches keep things organized—no matter how busy the day gets. The problem? Not all tech organizers are created to be practical- or endure the daily grind of commutes, meetings, and lunches.
For that reason, we researched and analyzed the top tech accessory organizers on the market. The goal: find the best tech pouches that keep you from grasping for a lost pen in the middle of an important meeting or even just keep you focused as you brainstorm. Our selections from Peak Design, Bellroy, Horizn Studios, and more include the most versatile, durable, and best value tech organizers you can buy. From stylish leather tech organizers to small travel tech organizers, here are our top 10 picks.
Dagne Dover Arlo Tech Organizer: Best overall tech pouch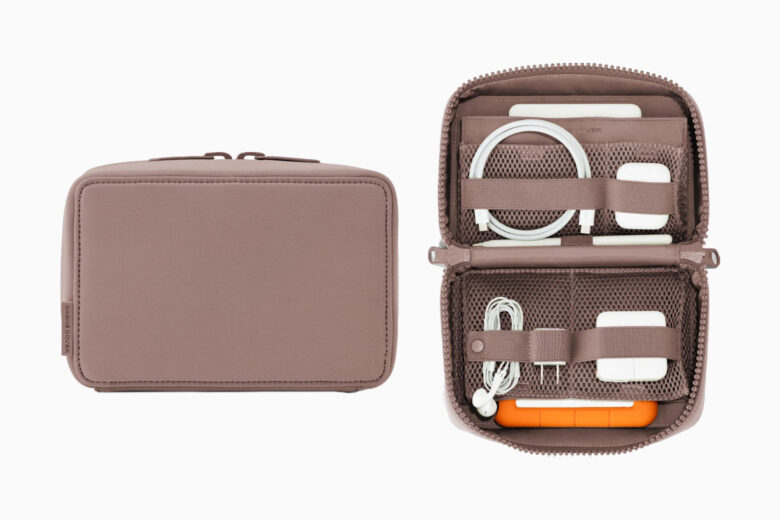 The high-performance mesh and recycled materials will keep your favorite earbuds, cords and chargers safe and sound. Caught up in the rain? Zinc-alloy hardware provides reliable performance, so you don't have to worry about your cords getting wet. And at under 10 ounces, this pouch includes multiple compartments for dust-free storage. Buy the Arlo Tech Organizer in black, gray, moss, blue, or tan. 
Check our in-depth review of Dagne Dover's bags and our profile on Dagne Dover's brand.
Best for: A tech organizer on weekdays, and a toiletry bag on weekends.
Amazon Basics Travel Case: Best value travel organizer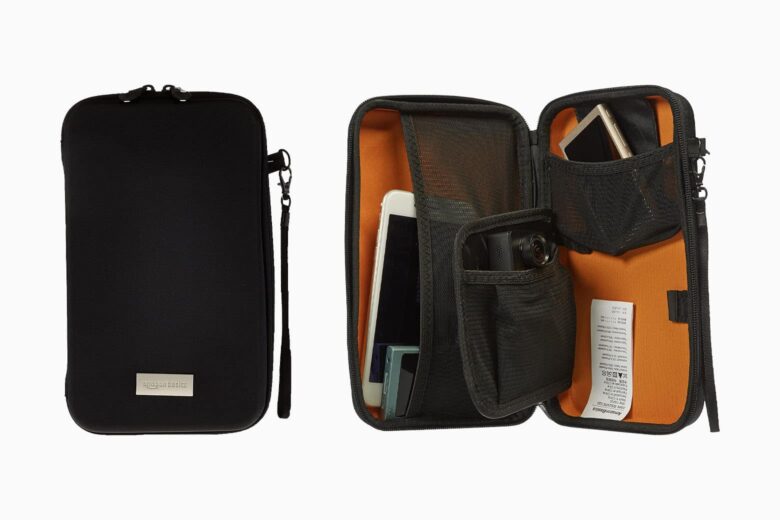 As stylish and impressive as some travel organizers are, what we love about this Amazon Basics Travel Case is how it can fit just about any budget. Economical EVA plastic gives you the protection you need for everything from small electronics, to adapters, and memory cards. We also can't get enough of the stretch mesh pockets. And, based on the reviews, we are far from the only ones.
Best for: Versatile storage under $50.
Harber London Tech Dopp Kit: Best high-end tech organizer pouch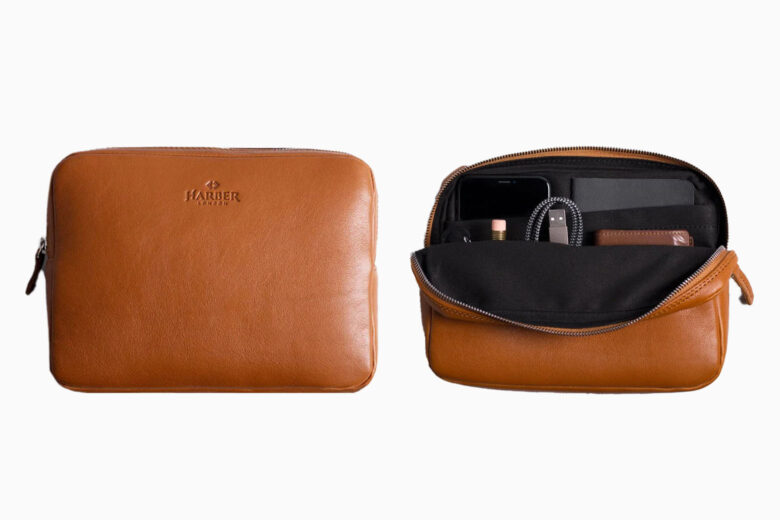 There's just something timeless about a sleek leather tech organizer—and this one by Harber London is the answer to why. Just like the best men's wallets, the Tech Dopp Kit will be by your side, every day. With built-in pockets and dedicated slots, it's not hard to find room for cords and adapters or even your favorite pen.
Best for Polished, professional on-the-go storage.
Bellroy Tech Kit: Best small tech organizer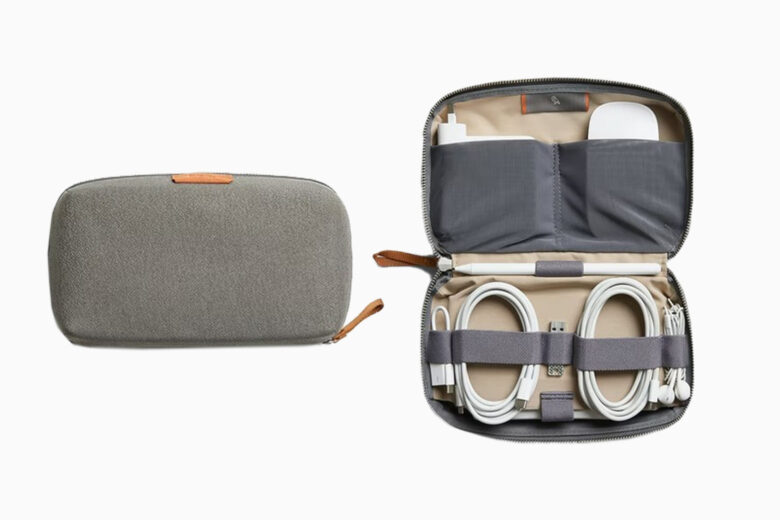 Life is busy, and that's why sometimes having an organizer that is clutter-free is just what's needed. Whether you're traveling far or just commuting in the city on an incredible electric bike, this small tech organizer will keep everything in place. High-visibility lining pairs with magnetic slip pockets, and elastic cable loops to withstand even the craziest traffic. And we love the unique embossed exterior on the Bellroy's Tech Organizer.
Best for Staying organized when life gets busy.
Horizn Studios Tech Organizer: Best waterproof tech organizer pouch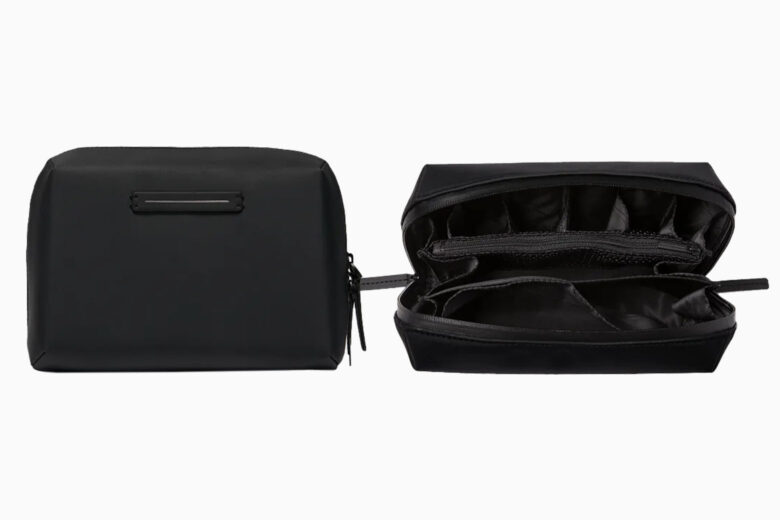 Weather can change on a dime, and anyone who's trying to stay organized in an ever-changing climate knows the struggle. Just like the best travel backpacks, this tech organizer is prepared to handle all weather conditions- even a downpour. It's also one of the few that's both fully waterproof and vegan. And feel free to stash everything from adapters and cables in the clever zippered pouch. The Horizn Tech Organizer is a stand-out for anything that comes its way.
Best for: Vegan, all-weather organization.
Away Tech Case: Best nylon tech organizer pouch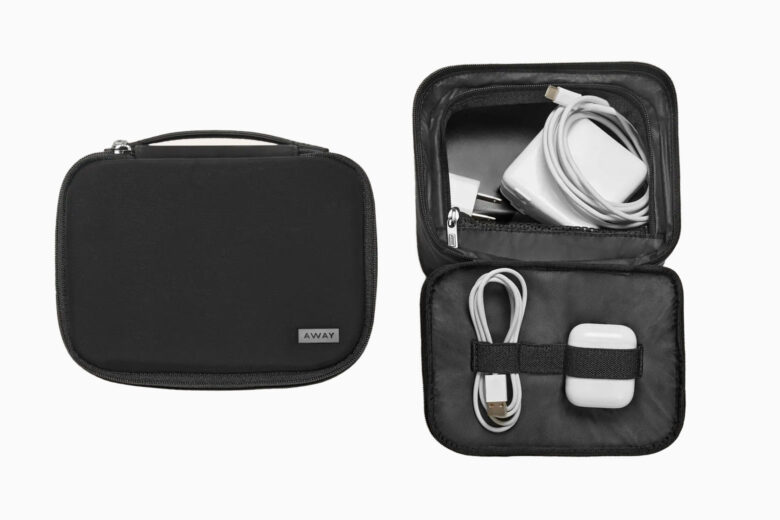 Life calls for versatility, and sometimes you just need something simple to keep you focused. What we love about this nylon tech organizer is that it's a great substitute for your best laptop case or sleeve. In a hurry? Chargers, cords, and other small accessories fit seamlessly into the large pockets and mesh zip compartments. The Away Tech Case manages to be stylish and practical—without trying too hard.
Best for: Stylish, everyday use.
Cuyana Tech Case: Best monogrammable tech organizer pouch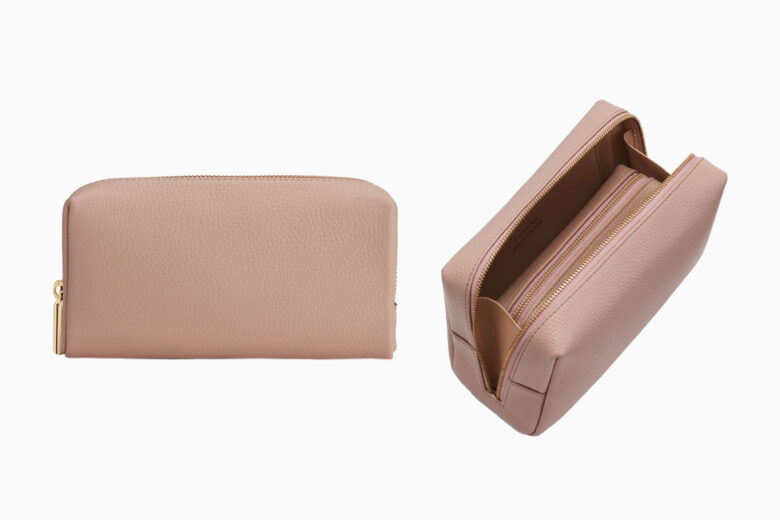 You want your best headphones to have a personalized fit, so why not opt for a tech case with a personalized touch too? What's striking about this tech case is that it's customizable. Add a monogram on the pebbled leather for a personal but refined touch of style. We love that it's made by hand with responsible sourcing standards—and unlike many organizers, the Cuyana Tech Case can double as the perfect makeup pouch.
Best for: Personalized practicality.
Peak Design: Best tech pouch for organization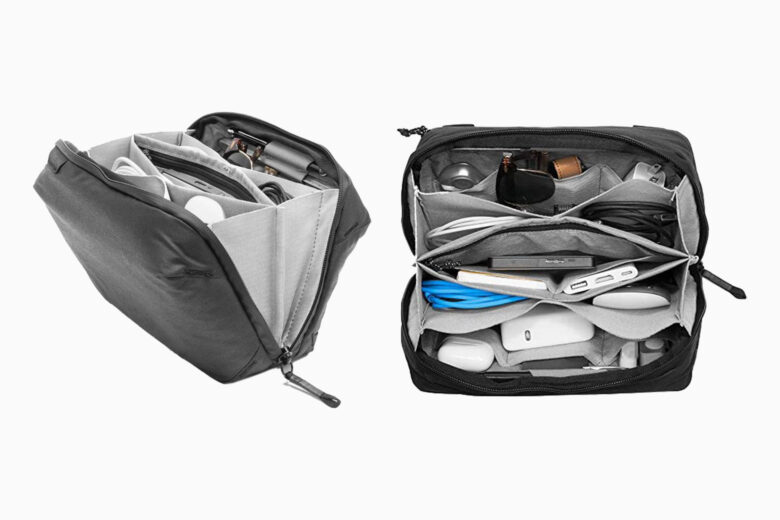 We know commuting is hectic, and that's true whether you're commuting by bus, car, or even one of the best electric scooters. To keep yourself from getting lost in the hustle, we like a tech pouch that includes multiple compartments for everything. While some organizers focus on storage space for cords and adapters, this Peak Design Tech Pouch holds sunglasses, adapters, chargers, and more—all with an impressive design.
Best for: A place for everything and everything in its place.
Smof: Best large tech organizer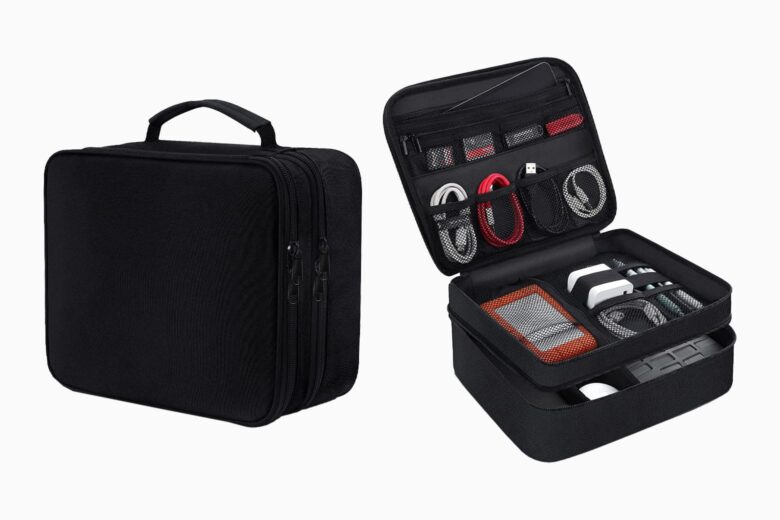 Cell phones have larger screens than ever, and tablets are used in just about every corner. So we were pleased to find a tech organizer that was up to the challenge of storing larger accessories. Ditch the typical tablet case and combine all your storage space with this weather-resistant tech carrying case. We love the weather-resistant Oxford material, with three layers of space. Complete with anti-vibration construction, the Smof Cable is a top choice for keeping tablets and larger accessories safe.
Best for: Generous storage space.
Native Union: Best compact travel tech pouch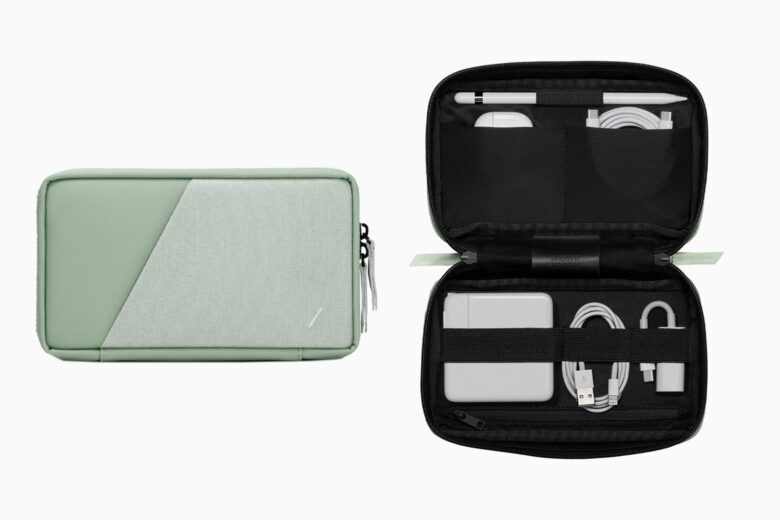 With how much we're willing to pay for phones and even the best iPhone cases, it's always ironic that we don't always think as much about important cords and adapters. From SIM cards, cables, and chargers—this tech touch is designed to get us to pay as much attention to our cords as we do our phones. Plus, the gray, navy, or sage canvas exterior is casually stylish, making the Native Union Travel Pouch one of the best tech organizers around.
Best for: Storing small gadgets.