Watching a great movie without the best home theatre speakers is a little like drinking your favorite cocktail without its base ingredient or throwing on an incredible outfit but going barefoot. In short: you'll notice pretty quickly that there's something crucial missing.
That's something any self-respecting tech-head or audiophile will already know. Much like how the best TV is another important element to the ideal home cinema setup, the addition of some crystal clear sound elevates your movie night like never before.
The best home theatre systems do what the best headphones or the most impressive earbuds do, but on another level. Rather than concentrating sound between your ears, a surround sound system takes it one step further and envelops you in its magic.
These systems have stepped up a notch in recent years. As well as that unbeatable, crystal clear sound, you can also now expect wireless set-ups, stylish designs, and Bluetooth connectivity.
Some of our favorite home theatre sound systems come complete with voice activation and unique technology that keeps you in the heart of the music at all times. You'll never rush to press 'play' faster.
The 9 best home theatre speakers
Check our home theatre speakers buying guide after the list to see exactly what you should pay attention to when shopping for speakers online.
Sonos Arc: Best home theatre speaker overall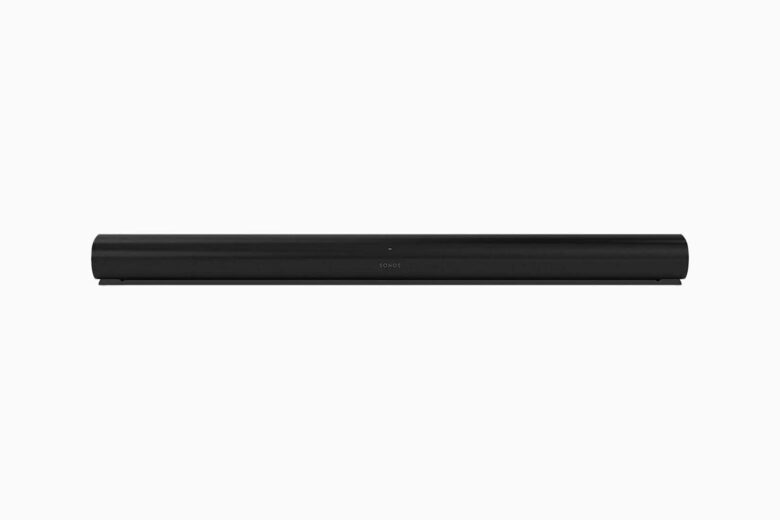 The Sonos Arc is the friend who's always up for doing something exciting, speaker edition. Ready to go (and almost one step ahead of you) whether you're in the mood for a fast-paced gaming session, an action-packed TV blockbuster or the first play of your new favorite album, this premium soundbar excels above all. Its brilliantly realistic sound is the difference between simply watching and listening or actually entirely feeling the music. 
Tuned to perfection with a never-ending list of impressive features – including 3D sound with Dolby Atmos, voice control with a built-in Amazon Alexa and Apple AirPlay 2 – the Sonos Arc brings together all the best inside one small, suave design. This is also a speaker renowned for selling out quickly – one that appeals to the masses on such a scale that you'll find yourself joining its unofficial fan club as soon as you've set it up.
Best for: Taking over all five senses with its incredible sound.
| | |
| --- | --- |
| Dolby Atmos: | Yes |
| Wireless: | No |
Sennheiser AMBEO Soundbar: Best high-end surround sound system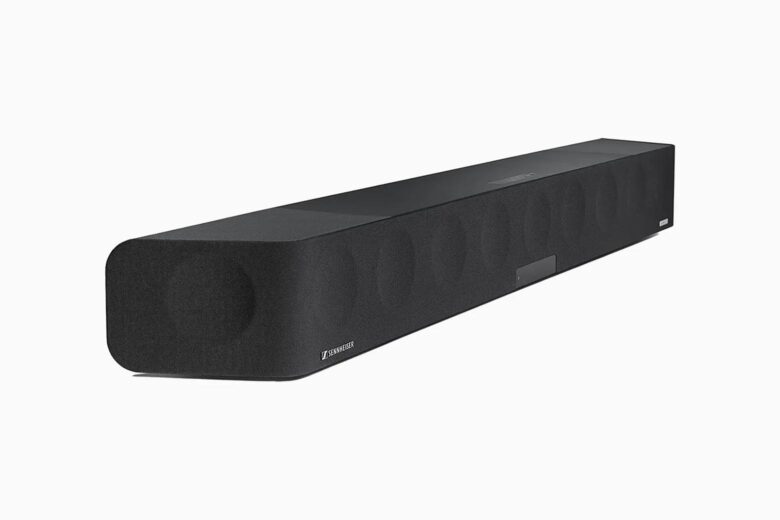 Sennheiser's sleek and rounded design puts the AMBEO Soundbar at the forefront of the game when it comes to stylish and high-end home theatre speaker systems. This jet-black panel looks right at home anywhere in your house, providing a bass-heavy soundtrack at every opportunity. While some home theatre speakers might come with additional subwoofers, the AMBEO soundbar has no need for unnecessary additional pieces. 
A built-in equalizer and three bespoke AMBEO 3D technology modes ensure whatever you're playing sounds crystal clear to even the biggest of audiophiles. Its advanced room calibration also works to tailor the experience to your surroundings, without the stress of manually changing the settings each time. If you're someone who appreciates high-quality sound without the frustrations of having to set it up each time, Sennheiser's AMBEO is the perfect solution. Once you've installed it, the plug-and-play nature means you'll never have a desire to replace it.
Best for: Top of its class and then some.
| | |
| --- | --- |
| Dolby Atmos: | Yes |
| Wireless: | Yes |
Sony HTX8500: Best value home theatre speaker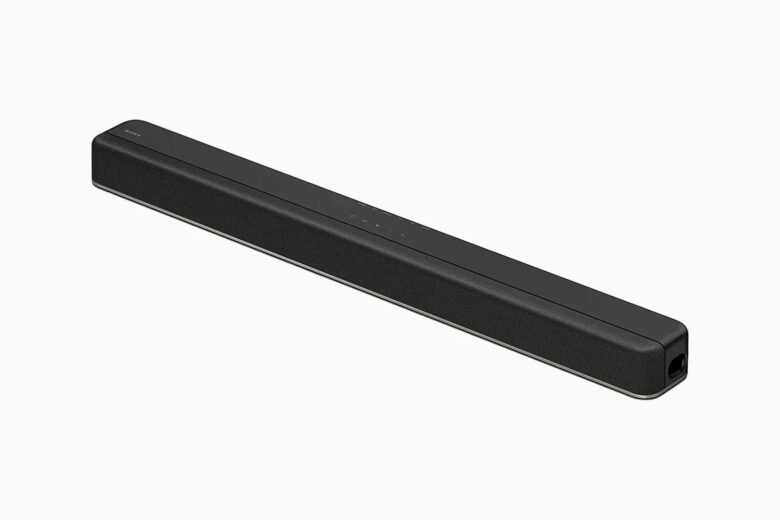 Good old trusty Sony is always there when you need a reliable home speaker set up. There's a very good reason this brand has lasted generations – and why your new Sony home theatre system will likely also last generations: it promises unbeatable quality at enticing prices. Of course, Sony isn't a cheap brand, but it's a brilliantly good value brand and the Sony HTX8500 highlights that more than ever.
This system comes with dual built-in subwoofers for deep bass and loud noise without any crackling or hesitation. Seven different sound modes all work their unique magic to enhance your home entertainment experience, no matter whether you're blasting your favorite tracks or preparing for a movie night with all the trimmings. Compact and sleek, this home theatre system is a wildly popular choice with high-quality sound to match a high-quality design.
Best for: A consistent major player in the world of home theatre systems.
| | |
| --- | --- |
| Dolby Atmos: | Yes |
| Wireless: | Yes |
Amazon Echo Studio: Best home theatre speaker for small rooms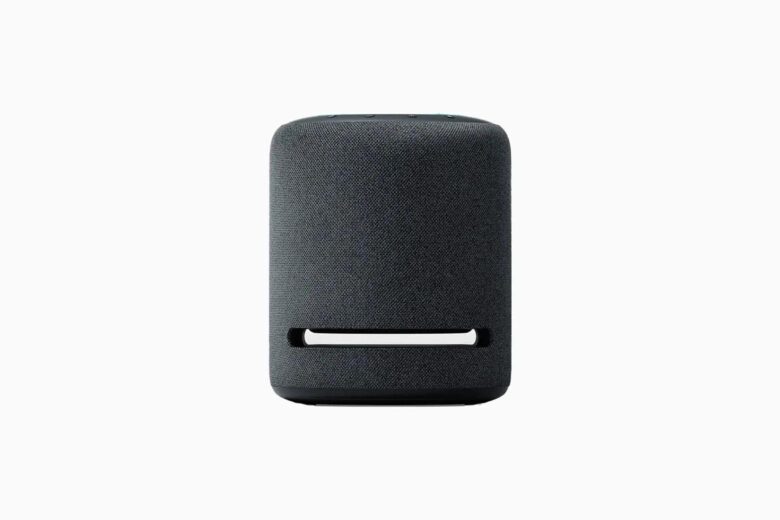 A huge home theatre system might look impressive but setting it up in a smaller room does nothing to complement the room itself or the sound quality that comes from it. You want the system to blend in with the surrounding room, rather than overpower it. The best example? Amazon's Echo Studio. Don't be alarmed by the miniature size of this home theatre system; it packs a punch despite its small size and comes with all the necessary bells and whistles to ensure a top-quality performance. 
While other Echos in the past may have excelled from a technology standpoint but fallen behind when it comes to the audio, the Echo Studio was specifically designed to show off in this department. It comes with the ability to do everything else that Alexa is usually capable of, as well as five individual speakers that perform powerful bass, dynamic midranges, and crisp high notes.
Best for: Congratulating Alexa on her excellent music taste.
| | |
| --- | --- |
| Dolby Atmos: | Yes |
| Wireless: | Yes |
Sony HT-G700: Best home theatre speaker with bluetooth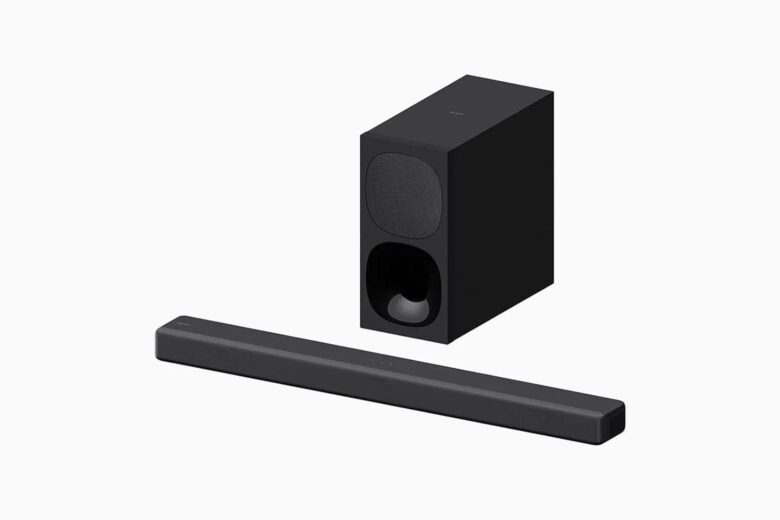 Another firm Sony favorite, this Bluetooth-capable home theatre speaker promises an effortless set-up, where connecting cables and fiddling around with settings are a thing of the past. Just realized your playlist in the living room has spontaneously switched while you're in the kitchen? Make use of the Bluetooth connection for an all-but hands-free approach to music curation. 
A brilliant option for anyone who enjoys powerful bass, the Sony HT-G700 connects not only to your phone but also to your TV, making it your new BFF in the world of cozy movie nights. Perpetual Sony high-quality craftsmanship and a traditional design means this home theatre speaker will never look or sound out of place with the rest of your set-up. If you struggle to go about your daily life without a background of music, this is the home theatre speaker that pushes you into the main character role every day.
Best for: Subtly taking over the playlist, hands-free, without anyone noticing.
| | |
| --- | --- |
| Dolby Atmos: | Yes |
| Wireless: | Yes |
VIZIO Elevate: Best surround sound system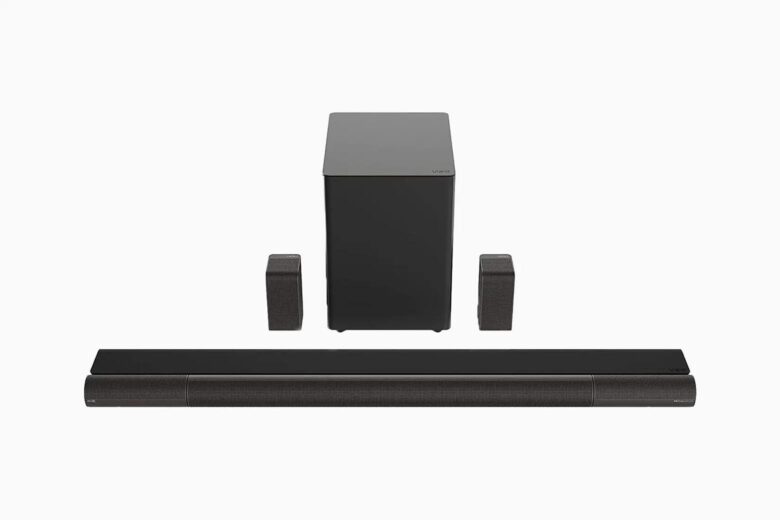 VIZIO's Elevate Sound Bar really is the whole package. If you're looking for a simple solution that doesn't involve too much brain power or endless Googling to source the best of the best for each element of a home theatre system, opt for this one. A done-for-you box inclusive of all of the essentials, this soundbar features a huge 18 high-performance speakers that automatically rotate to optimize your audio experience. 
Even if you're a little cautious of the robot world, you'll enjoy its usage here, with sound that almost follows you around the room, providing clearer vocals and ultimate sound. It's also a soundbar that doesn't discriminate, with the possibility to sync up to Alexa, Siri, or Google Assistant to make life even easier. Separate tweeters and dual woofers offer more cherries on top of the cake when it comes to seriously impressive features. 
Best for: Impatient listeners and instant gratification.
| | |
| --- | --- |
| Dolby Atmos: | Yes |
| Wireless: | Yes |
Bose Smart Soundbar 700: Best smart home theatre speaker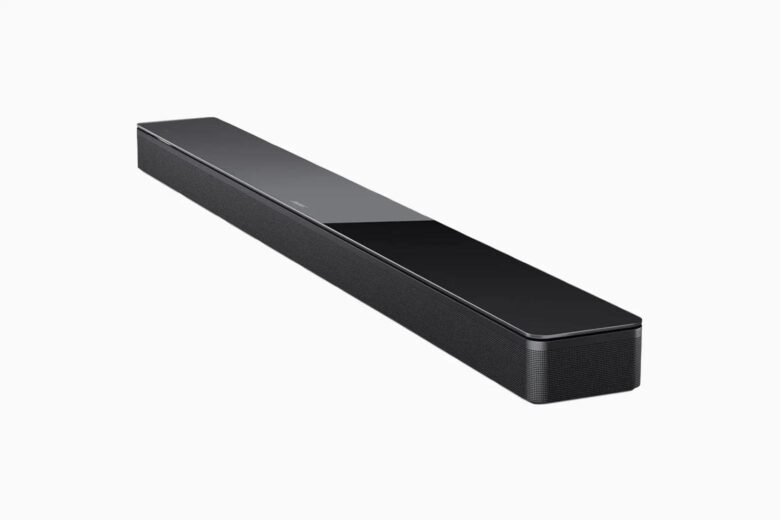 Bose's Smart Soundbar 700 is subtle and understated: a home theatre system you'll set up and find yourself absent-mindedly talking to throughout the day. Almost (but not quite) able to guess what you want playing before you've even requested it, the Soundbar 700 is fully equipped with everything you need for a seamless listening experience. Regarded as the best-performing soundbar from Bose, it's top of the range if you care about sound quality and just another one of its excellent features if you're no audiophile but want something prestigious anyway.
Its smart features include built-in Amazon Alexa and Google Assistant as well as a noise-rejecting mic system that listens in every direction for your voice. What that translates to is not only a system that can change the music on demand, but also one that'll tailor how that music sounds depending on where you're requesting it from.
Best for: Wondering how long it'll be before speakers can read your mind, too.
| | |
| --- | --- |
| Dolby Atmos: | No |
| Wireless: | Yes |
Klipsch RP-402S: Best surround speakers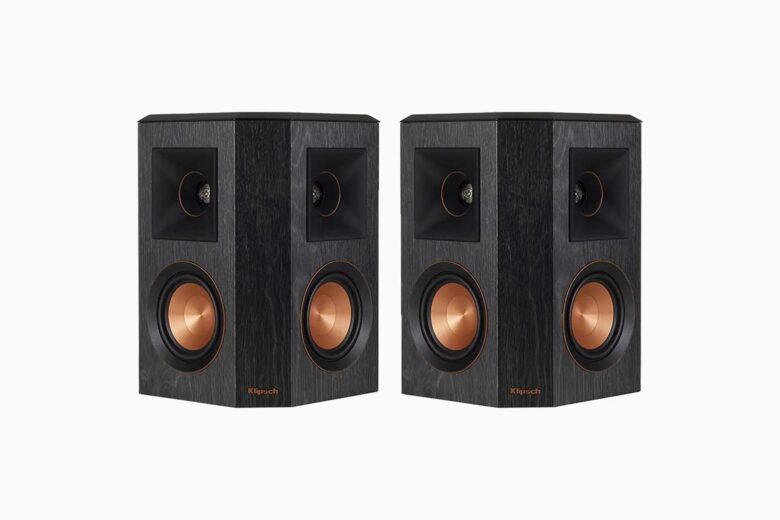 Klipsch's surround speakers are a stylish essential for anyone with a taste for modern and fashionable interiors. Better yet, these coordinating speakers are the secret to effortlessly filling the room with sound; the final touch on your interior dreams. A delight not just for the ears but also for the eyes, the Klipsch RP-402S comes in walnut or ebony with copper accents that make this speaker look just as prestigious as it sounds.
Infusing the brand's signature acoustic expertise with cutting-edge technology, these surround sound speakers promise to deliver the ultimate home theatre solution without setting you back thousands of dollars. The specifics of this device are laden with fancy, technical words ("Hybrid Tractrix Horn Technology" and "Linear Travel Suspension Titanium Diaphragm Tweeter" are perfect examples) but the overall gist is impeccable sound quality that's focused towards the listener rather than bouncing off the walls with reverb.
Best for: Feeling like you're actually starring in those action movies.
| | |
| --- | --- |
| Dolby Atmos: | No |
| Wireless: | No |
Roku Streambar: Best budget home theatre speaker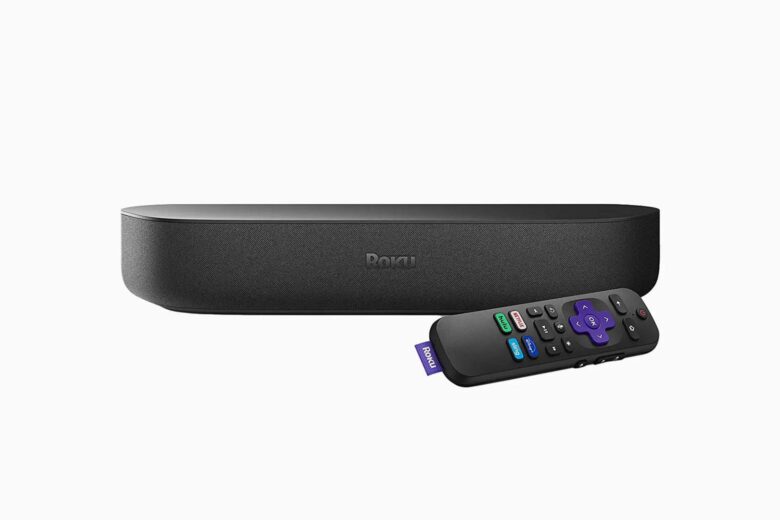 Buying Roku's Streambar is an easy decision in every sense. From the price, which comes in varying levels depending on any extra requirements, to the classic design and the top-quality audio. Then there are the technical elements of it, the fact that it pairs up with Amazon's Alexa, and also the stress-free nature of setting the whole system up. 
Even if you wouldn't consider yourself an expert in the technical world, you'll find this system a piece of cake. So it's no surprise to hear that Roku, as a consistent, budget-friendly favorite in the world of speakers, absolutely ticks all boxes with its Streambar. Bluetooth-ready, equipped with four internal speakers, and smarter than your average soundbar: the only complex part about buying this system is deciding which songs you'll play on it first. A voice remote control is the final star in the sky when it comes to this speaker's admirable qualities. 
Best for: Being the gift that doesn't stop giving.
| | |
| --- | --- |
| Dolby Atmos: | Yes |
| Wireless: | Yes |
Buyers guide to the best home theatre speakers
A great home theatre system can elevate your listening experience like no other. But choose the wrong one and you'll find yourself tampering with the sound, fiddling with the settings, and searching for additional elements far more than you'll simply spend time enjoying it. Read on for everything to consider before buying a home theatre system.
The visual side
The best home theatre system is accentuated with a Smart TV – with Bluetooth connectivity, premium visuals, and more. If you're buying an entirely new audio and visual package, you'll want to opt for a smart TV for the best results. If you're pairing a new system with an existing TV, it's worth checking the features of your current TV so you're not buying unnecessary speaker features that don't sync up.
Size
As you might imagine, a bigger room needs a bigger home theatre system with more speakers and noise in general. But, unless you're adding a set-up to a huge, airy room with high ceilings, you might be surprised by just how capable smaller speakers are.
Newer releases are often far more powerful than their delicate sizes might suggest. And, if you're buying a system for a smaller room, you'll definitely want to opt for a smaller speaker. Choosing speakers that are too big can result in unwanted reverb and sound vibrating off of the walls.
Dimensions
You'll want to ensure you've chosen a set-up that fits in nicely with the rest of the room. Many modern speakers come in sleek, subtle designs which can fit in seamlessly with your TV. If you're planning on hanging your speakers on the wall, you'll want to check whether they're suitable for being lifted or would be happier staying on the ground.
Additional elements and ease of use
If you're looking for a home theatre system for plugging and playing, there are plenty of options on the market that can be set up in mere minutes. Not all of these are capable of adding further speakers or other audio elements further down the line, though.
If you think there's a chance you'll want to grow your set-up to include extra speakers in the future, you should double-check its ability to do so, pre-purchase.
Dolby Atmos
You'll often see the words "Dolby Atmos" popping up when browsing home theatre speakers. This relatively new sound technology is the secret weapon to elevating sound in every way possible. Speakers with Dolby Atmos are generally louder, clearer, and more immersive. They tend to offer more sound outlets, resulting in more of a professional surround sound appeal. If you're looking for the best of the best, Dolby Atmos is definitely a feature to look for. Not all speakers include this technology and some opt for their own interpretation of the technology, instead. 
Connectivity
Some home theatre systems are Bluetooth enabled, others can sync up with Google Assistant and Amazon Alexa and some can do both. Others don't have this option. Check your desired speaker accordingly, depending on your preferences.
Frequently asked questions about home theatre speakers
Which is better: 5.1 or 7.1 home theatre?
A 7.1 system is better for larger rooms and clearer sound quality. If you're choosing speakers for a smaller room, a 5.1 system will still do the job well.