As anyone that's read out watch pieces before has probably realised, we here at Luxe Digital are avid fans of the moon phase. Perhaps a little too much, considering it's a useless complication to anyone other than professional divers and the coast guard. Even so, it has a certain celestial appeal.
Yet it has been becoming ever more common and, while from our perspective that's no bad thing, it does mean that only the most spectacular stand out. Taking some time out from getting lost amid the jungle of twenty-foot stands here at Baselworld, here are this show's moonphases that really stood out for us. They all make for a perfect luxury gift.
Arnold & Son HM Double Hemisphere Perpetual Moon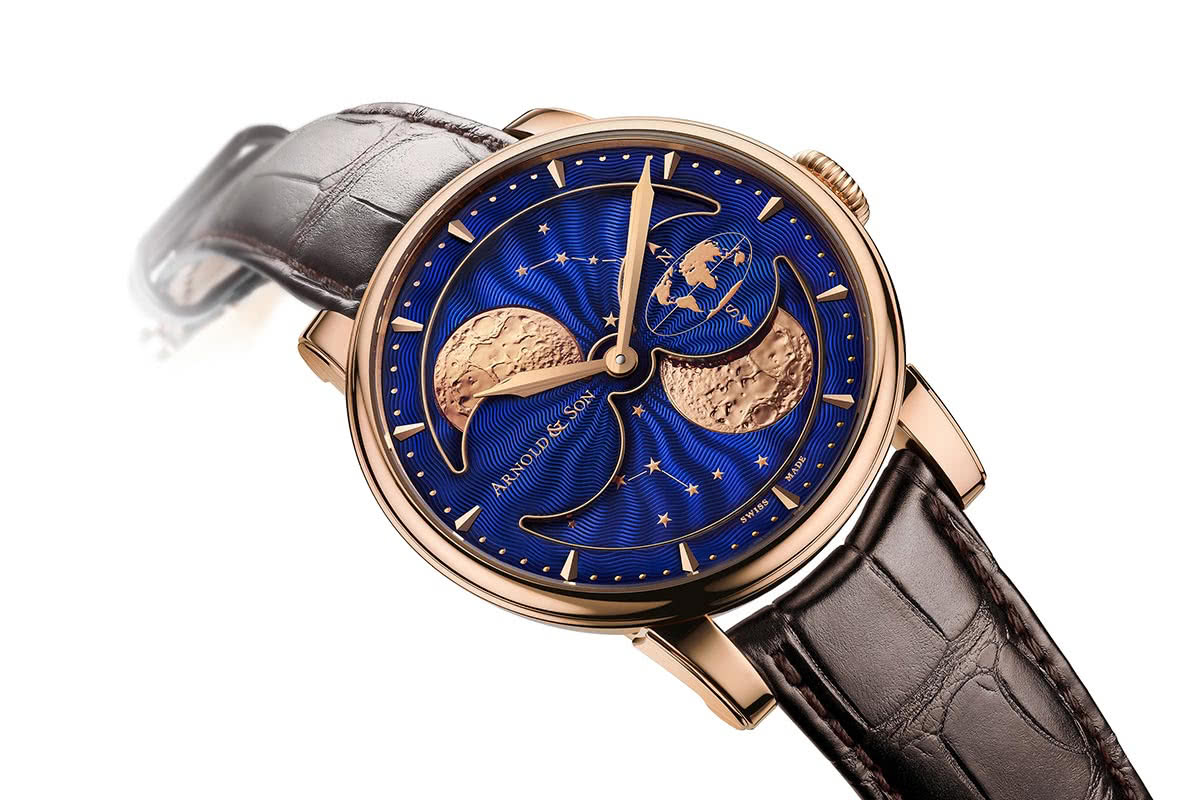 This might not be one of Arnold & Sons' talking pieces this year – which just goes to show how much the brand does have to talk about – but it's stunning nonetheless. After all, what's better than a moonphase? Two of them.
Rather than restricting itself to the northern hemisphere as most do, this take on the complication covers the entire world, using a double moon disc to show the progression of Luna across both north and south. It' also spectacularly beautiful, if maybe a little too much to some eyes. The combination of rose gold and blue is a classic, a rich palette that you can't fail to notice. We'd be the first to admit it's not a watch for subtlety, but then why wouldn't you want to show it off? Particularly with that texture dial, a combination of guilloche, blue lacquer and clear.
Andreas Strehler Papillon Sauterelle à Lune Exacte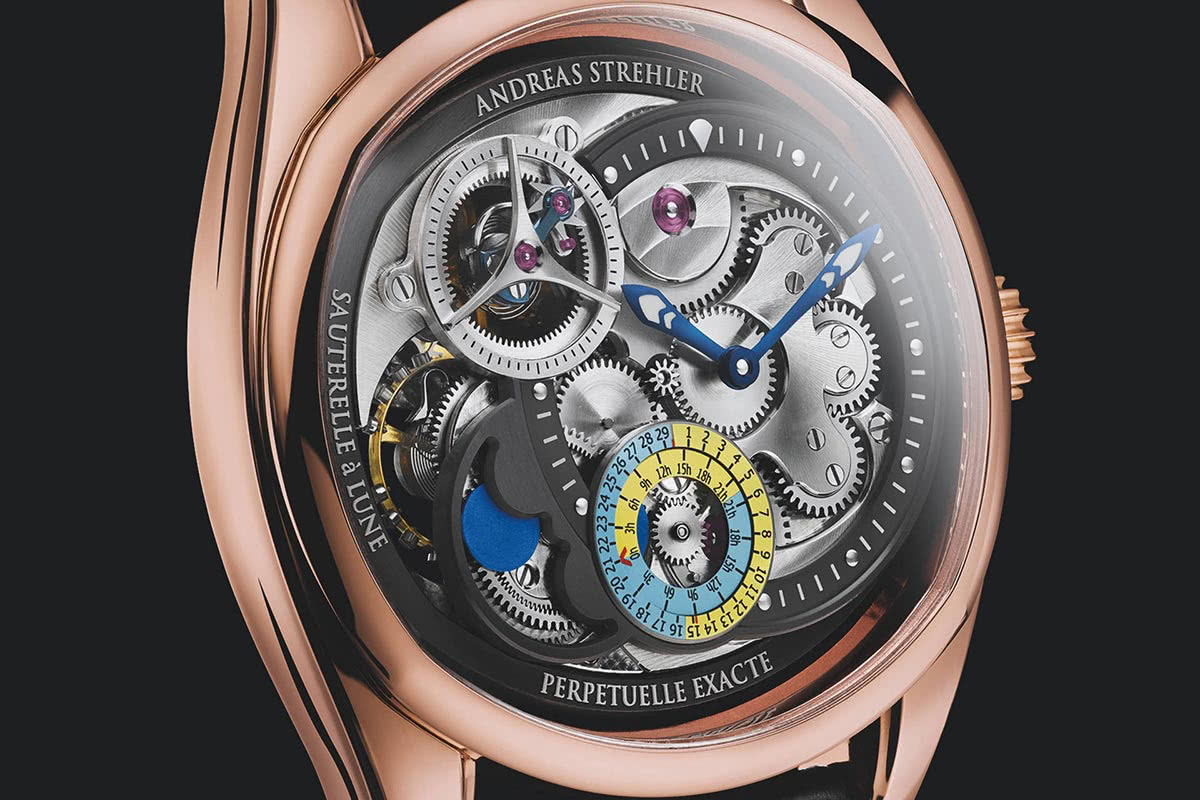 Even though he makes just ten watches a year, each crafted by his own fair hands, Andreas Strehler is the undisputed master of the moonphase. Granted it's not a field all that many people want to dominate, but even if they did they're unlikely to come close. Strehler's mechanism is accurate to 2 million years.
The latest iteration of that record-breaking movement – a record we can assume it will hold for a good long while – the Lune Exacte takes lunar accuracy to new levels. Rather than just roughly gauging the phase the moon is in (even ones with scales of days rarely add an indicator), Andreas uses a Vernier scale to show not just the day, but the hour. It's a completely unnecessary level of accuracy, but that's what makes it so brilliant. After all, with digital time everywhere, watchmaking is all about the wonderfully superfluous, the moonphase most of all.
Just don't expect to get your hands on one of these beauties any time soon; as they're made to order, you could be waiting as much as half a year.
Omega Speedmaster Moonphase Co-Axial Master Chronometer Chronograph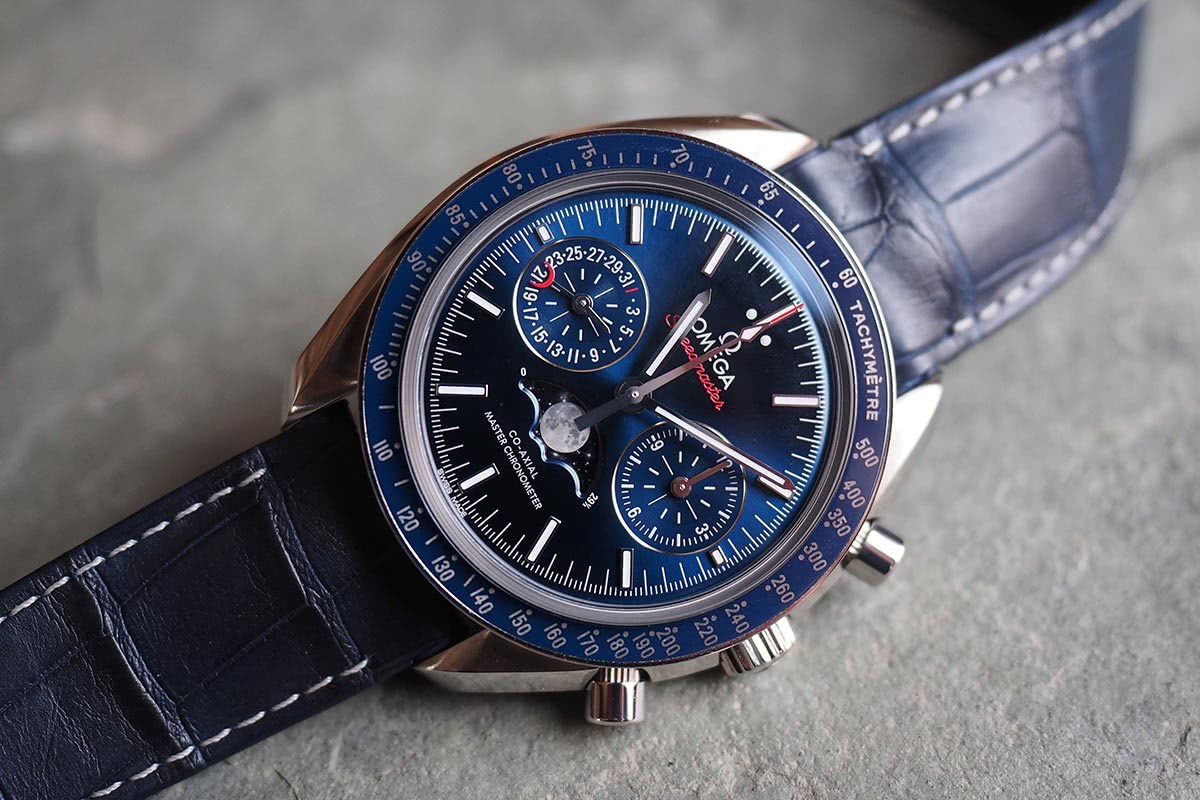 Any horological talk of the moon inevitably leads toward OMEGA. The moon watch is among the most extreme of horological accomplishments which, along with its inimitable style, has made the Speedmaster a classic. This year they have built on their stellar reputation with the addition of a moon watch moonphase.
Being the official watch of the world's most respected spacefaring organisation, it stands to reason that the moon in question is as accurate as a NASA photograph. Every crater, every rock and possibly every footprint can be seen if you look close enough. Backed by a host of stars – again, perfectly accurate representations – it's a phenomenally detailed image. The watch is also METAS approved, which is far more demanding than even COSC, making it an extraordinarily accurate, hardwearing timepiece. It's also rather fetching with its blue dial and Liquidmetal tachymeter scale. There's more than one Speedmaster first here. It may be a lot more accessible than the other two here, but it's no less impressive in its own way.
Photo credits: Hodinkee