Over two centuries old, Ulysse Nardin's illustrious heritage lies in crafting precise and reliable marine chronometers. But while its skill for making seaworthy watches is almost unrivaled, Ulysse Nardin refuses to be limited to one area of expertise.
The watch company is constantly expanding into new territories. Year after year, it releases industry-disrupting luxury watches, defined by their avant-garde style and spearheading the use of revolutionary materials.
Ulysse Nardin will not be put in a box.
| | |
| --- | --- |
| | |
| Industry: Watches | Founded: 1846 |
| Headquarters: Switzerland | Founder: Ulysse Nardin |
| Watch Collections: dive watches, dress watches, and tool watches | Parent organization: The Kering Group |
| Annual Revenue: $188 million USD | Website: ulysse-nardin.com |
Ulysse Nardin watch price
How much does a Ulysse Nardin watch cost?
Ulysse Nardin prices start between $6,000 and $7,000 for a Ulysse Nardin Diver watch. The price for an entry-level Ulysse Nardin Freak is $24,800 for the brand's Freak X. You can also pick up a Ulysse Nardin Marine Torpilleur for around $8,300. At the other end of the spectrum, Ulysse Nardin prices can extend well over $400,000.
What is the most expensive Ulysse Nardin watch?
The most expensive Ulysse Nardin watch is the Ulysse Nardin Royal Blue Tourbillon, valued at $1.1 million. This mega Haute Horlogerie watch features 568 baguette diamonds and 234 baguette-cut royal blue sapphires. The crown is fitted with a cabochon sapphire.
See how this compares to the world's most expensive watches with our guide.
What is the cheapest Ulysse Nardin watch?
The cheapest Ulysse Nardin watch is an entry-level Ulysse Nardin Diver, currently retailing for $6,700. The cheapest Ulysse Nardin Marine watch is the Marine Torpilleur, currently on sale for $8,300. The cheapest entry-level Ulysse Nardin Freak is the Freak X, which you can buy for $24,800. A Ulysse Nardin Blast Dual Time is $9,400.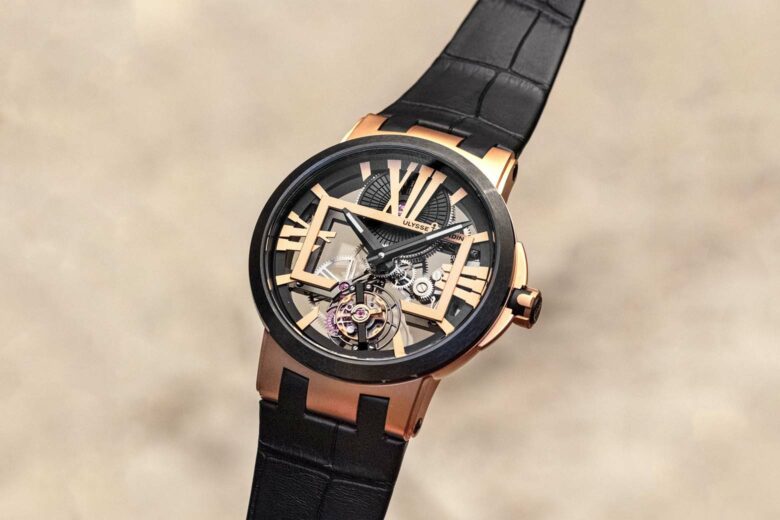 About Ulysse Nardin
History of Ulysse Nardin
Ulysse Nardin was established by its eponymous founder in 1846 in Le Locle in the Swiss Jura. While only 24 years old, Nardin was set on his vision of creating the world's most precise marine chronometers and navigational instruments to help those traversing the high seas.
His enterprising spirit drove the company's rapid growth and he was soon supplying international shipping companies with highly reliable timekeepers for safe sailing. In 1874, the Neuchâtel Observatory awarded the company the first of many official certificates.
Ulysse Nardin died in 1876 and was succeeded by his son, Paul-David Nardin. The company went on to win two Swiss patents and a gold medal at the Paris Universal Exhibition, as well as becoming the official supplier for the US navy.
The brand came under new ownership in 1983 when Rolf W. Schnyder took over, joining forces with talented watchmaker Ludwig Oechslin to create men's watches that used modern materials like silicium, a unique material with metal-like properties. The first creation to emerge from this partnership was the Astrolabium Galileo Galilei.
Throughout the 1980s, the company continued to release highly complex timepieces, adding to its series of astronomical watches as well as creating a line of chiming Sonata timepieces.
In 2001, Ulysse Nardin released the Freak, one of its most famous models, with a seven-day carousel tourbillon and no dial, crown, or hands. Instead, the movement itself rotates to show the time.
In 2014, Ulysse Nardin joined Kering's luxury watches & and jewelry division. And, in 2015, the GPHG Tourbillon Watch Prize was awarded to the Ulysse Anchor Tourbillon, the result of eight years of development and featuring an escapement made entirely of silicon, an unprecedented innovation in horology.
Interesting facts about Ulysse Nardin
By 1976, the company had already earned 4,300 watchmaking awards, including 18 gold medals.
Ulysse Nardin watches have been used by over fifty world navies as well as international shipping firms.
The Marine Tourbillon Grand Deck, inspired by yachting, was launched in 2016, featuring wood marquetry to evoke a ship's deck and a boom pulled by nanowires to indicate the minutes.
Ulysse Nardin brand ambassadors are all adventurers. They include free-diver Fred Buyle, skipper Armel Tripon, and snowboarder Mathieu Crepel.
Wondering about Ulysse Nardin pronunciation? It's said Ooh-LEESE Nahr-DAHN.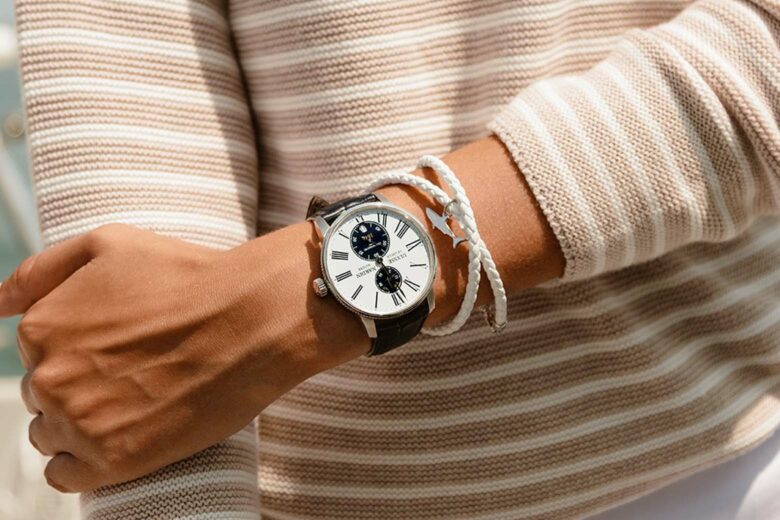 Ulysse Nardin product range
Ulysse Nardin watches fall into five watch families. Each collection shares the same commitment to quality and craftsmanship but each is distinct in style and purpose.
First, there's the Ulysse Nardin Marine collection, a tribute to the brand's origins in marine chronometers. Then, with a similar sea-inspired focus, there's the Ulysse Nardin Diver collection for ocean explorers who venture below the sea's surface.
Next, you have the Ulysse Nardin Freak collection, described as a 'laboratory on the wrist', highly experimental and avant-garde.
With the Ulysse Nardin Blast collection, the brand swaps seafaring influences for more explosive style, inspired by extreme phenomena such as volcanic eruptions and lunar landscapes.
Finally, the Ulysse Nardin Classico collection is about horological prowess and elegance. Here you'll find some of the most decorative Ulysse Nardin watches, such as the miniaturized paintings of the Mila Manara series, as well as the brand's technically impressive line of astronomical watches.
Signature materials and craftsmanship
One thing that distinguishes Ulysse Nardin from competitors is its development of cutting-edge materials. For example, silicum. This metalloid (an element that resembles metal without actually being metal) is light, sturdy, corrosion-resistant, and incredibly hard—ideal for micromechanical projects that require a high degree of precision. The brand also launched DIAMonSIL®: a patented diamond-coated silicon, as seen in the 2007 Freak DiamonSil.
Ulysse Nardin also acquired the Swiss enameling company Donzé Cadrans SA, in 2012. This allowed for the creation of Ulysse Nardin watches featuring ultra-fine detailing and realistic depictions of intricate scenes. On Ulysse Nardin watch dials, you'll find grand feu enamel, Guilloché enamel, Champlevé enamel, and Cloisoné enamel. The company is one of the few Swiss watchmakers with in-house enameling expertise.
Another pioneering development in watchmaking came with Ulysse Nardin's use of jacquemarts in a minute repeater. These tiny automated figures move around with the operation of the minute repeater. On the brand's 2014 Safari Jaquemarts Minute Repeater, for example, activating the minute repeater chime lever causes a lion's paw to stretch forward and reach for a monkey swinging on a branch.
Ulysse Nardin is taking steps towards greater sustainability in all its operations. For example, there's the Ulysse Nardin R-STRAP, made from fishing nets, and the brand's Diver The Ocean Race timepiece, also made from recycled fishing nets—a luxurious example of upcycling.
Where is Ulysse Nardin made?
Ulysse Nardin has two watchmaking facilities. One is in Le Locle, where the company was founded and where high complications are made. The other is in La Chaux-de-Fonds. This is where the brand's calibers are developed and Ulysse Nardin watches are assembled. There is also the brand's manufacturing unit at Sion, where they make elements like silicium.
Brand values
| | |
| --- | --- |
| Vegan options: | No |
| Carbon-neutral: | No |
| Gives back: | Yes |
Ulysse Nardin watches
Marine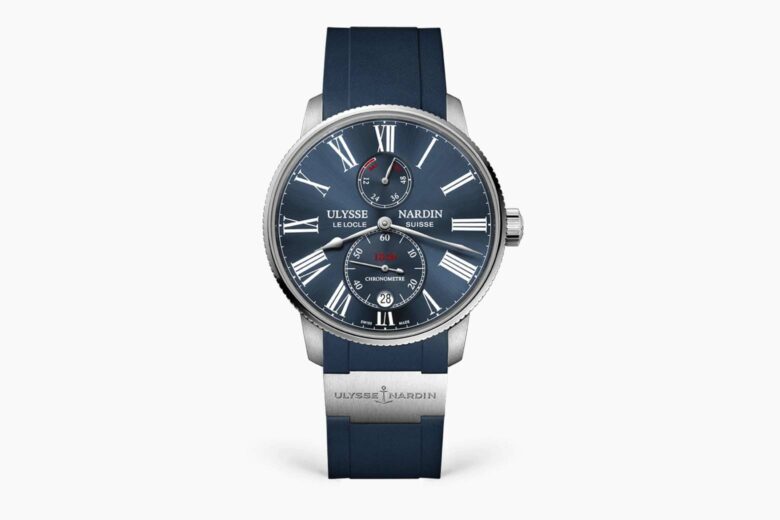 Designing highly precise ocean-worthy watches and navigational instruments has been Ulysse Nardin's raison d'être since it was founded in 1846. The Ulysse Nardin Marine collection represents the best of the watchmaker's nautical-inspired timekeepers, with performance-ready and ultra-reliable watches, as favored by the world's navies and merchant ships.
Look out for the Ulysse Nardin Marine Torpilleur, named for a 19th-century torpedo ship, and featuring the same design tropes as the brand's original prize-winning marine chronometers.
| | |
| --- | --- |
| Price: | $8,300 – $337,700 |
| First release year: | 1996 |
| Current case size: | 42 mm – 44 mm |
| Movement: | Automatic and manual |
| Water resistance: | 50 m |
| Crystal: | Sapphire |
Diver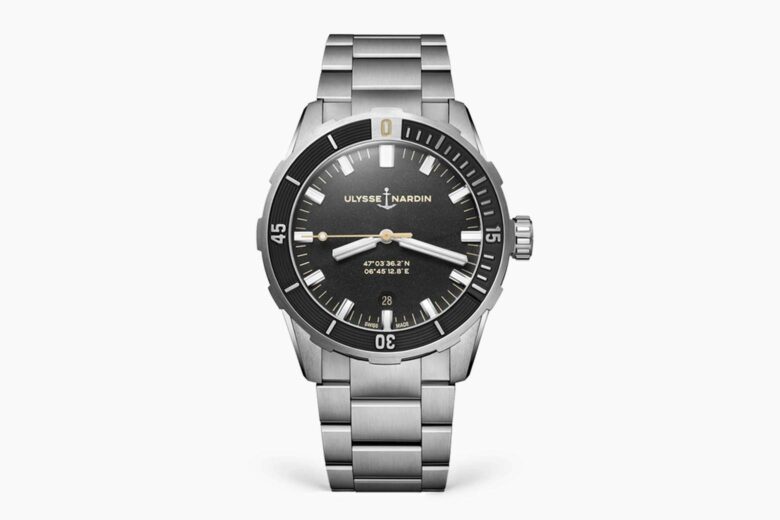 This collection of hyper-adventurous timepieces for men and women redefines the meaning of intrepid. These superbly reliable dive watches are rugged, robust, and functional. The Ulysse Nardin Deep Dive, with water resistance to 1000 m, is the epitome of this watch collection: big, bold, and ready for action. The company also makes 39 mm dive watches for women, known as the Lady Diver.
| | |
| --- | --- |
| Price: | $6,700 – $40,600 |
| First release year: | 1964 |
| Current case size: | 39 mm – 46 mm |
| Movement: | Automatic |
| Water resistance: | 200 m – 1000 m |
| Crystal: | Sapphireechani |
Freak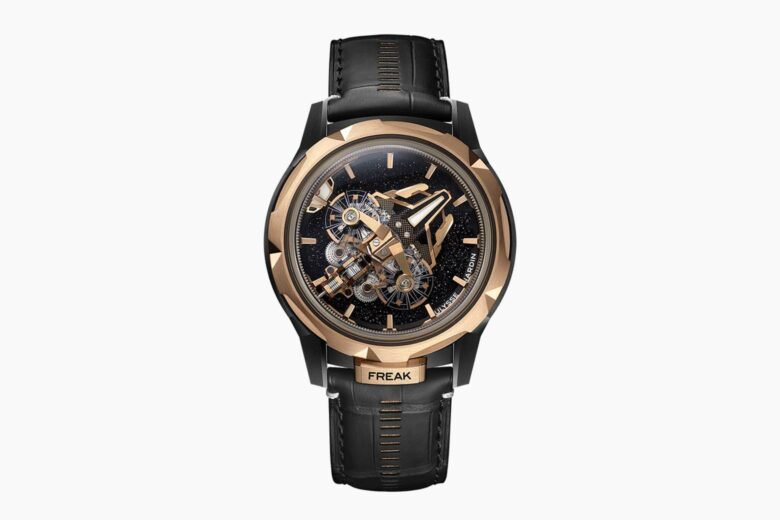 As the name suggests, the Ulysse Nardin Freak watch series is anything but ordinary. These are weird timepieces—but in the best possible way. For one thing, there are no hands. Instead, the movement itself indicates the time. The Ulysse Nardin Freak was also the first luxury watch to use silicon components. Enjoy a revolution on your wrist with this ultra-unusual timepiece.
| | |
| --- | --- |
| Price: | $24,800 – $137,200 |
| First release year: | 2001 |
| Current case size: | 43 mm – 45 mm |
| Movement: | Automatic and manual |
| Water resistance: | 30 m – 50 m |
| Crystal: | Sapphire |
Blast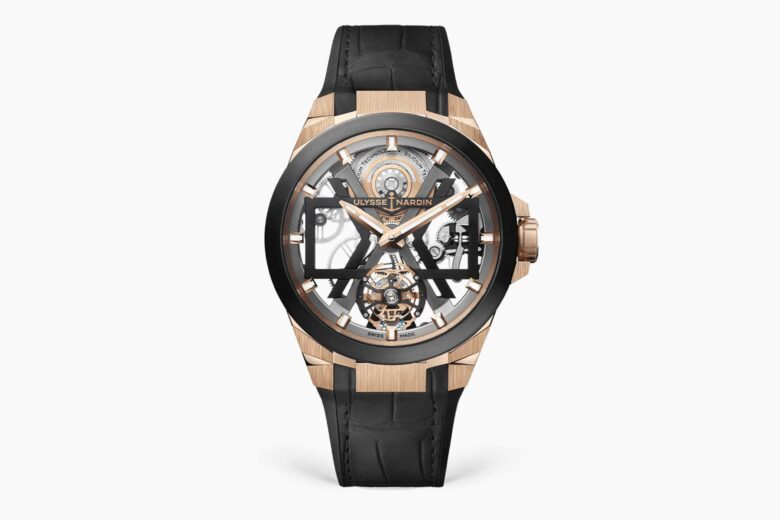 Another Ulysse Nardin watch family that doesn't play by watchmaking rules, the Blast collection consists of extra-large watches using unorthodox materials in unconventional ways. Inspired by the Earth's extremes (think volcanic eruptions and glaciers), this is definitely not a discreet watch. The Blast is an open-worked tourbillon with parts made from the brand's pioneering silicium—a timepiece to really make sparks fly.
| | |
| --- | --- |
| Price: | $9,400 – $432,600 |
| First release year: | 2020 |
| Current case size: | 42 mm – 45 mm |
| Movement: | Automatic and manual |
| Water resistance: | 30 m – 100 m |
| Crystal: | Sapphire |
Classico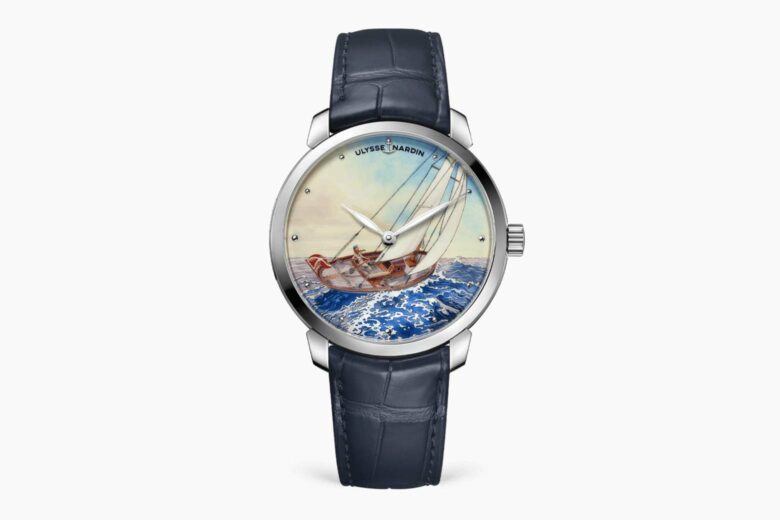 A tribute to Ulysse Nardin's storied history, the Classico collection is a homage to watchmaking know-how. The mood is prestigious and noble, harking back to the watch brand's past. The engineering is exceptionally meticulous and precise, as you'd expect, especially with the Trilogy of Time astrology watches. Look out for the Milo Manara limited editions, made in collaboration with the Italian comic artist and featuring stunning erotic ocean-inspired motifs.
| | |
| --- | --- |
| Price: | $21,300 – $285,200 |
| First release year: | 2015 |
| Current case size: | 40 mm – 44 mm |
| Movement: | Automatic and manual |
| Water resistance: | 30 m |
| Crystal: | Sapphire |
Where to buy Ulysse Nardin watches
You can buy Ulysse Nardin watches from the company's website or in person from one of the brand's boutiques, listed here. All newly-purchased Ulysse Nardin watches have a 5-year warranty. You'll have one year from the purchase date to activate it online.
You could also buy your Ulysse Nardin watch from a trusted online retailer such as FARFETCH, Jomashop, or Mr Porter. 
For more about buying a Ulysse Nardin watch, see our watch guide.
Ulysse Nardin shipping
Jomashop offers international shipping for a set fee of $150, not including customs charges or taxes. Mr Porter and FARFETCH charge different shipping fees depending on the country.
Ulysse Nardin return policy
You can return your Ulysse Nardin watch to the company within 30 days from the date of delivery. To do so, visit the dedicated portal here. All returns are subject to quality control and must have the original tags. Your refund will be issued in 10 to 15 days. Bespoke and personalized watches cannot be returned.
If you bought your watch via FARFETCH, you can return it within 14 days. Mr Porter offers a full refund for returns within 28 days and Jomashop accepts returns within 3 days.  
Ulysse Nardin social media profiles
Frequently asked questions about Ulysse Nardin
Is Ulysse Nardin worth buying?
A Ulysse Nardin watch is worth buying if you're looking for a luxury timepiece that features award-winning micro-mechanical engineering and daring aesthetics. For more about Ulysse Nardin, including prices and history, see our Ulysse Nardin guide.
Is Ulysse Nardin luxury?
Ulysse Nardin is a luxury watch brand that made its name creating ultra-precise marine chronometers but now has a reputation for avant-garde design and the use of highly innovative materials. Learn more about the brand with our Ulysse Nardin watch guide.
What is Ulysse Nardin famous for?
Ulysse Nardin is famous for making marine chronometers and navigational instruments for sailors and divers. In recent years, it has also gained a reputation for its progressive design and use of cutting-edge materials like silicium.
Who owns Ulysse Nardin?
Ulysse Nardin is currently owned by the Kering Group, a French multinational luxury goods company. Before that, it was owned by Swiss businessman Rolf W. Schnyder, who became CEO of the brand in 1983.