It doesn't take a genius to work out why Seiko watches are so enduringly popular: They are affordable, unique, and unfailingly durable. No wonder Seiko is Japan's most iconic watch brand and the beloved favorite of watch wearers worldwide.
While cheap can be a code word for tacky or second-rate, Seiko is proof that it's possible to have your horological cake and eat it, so to speak, offering excellent value timepieces at a fraction of the prices of other high-end watch brands.
Here's why everyone loves a Seiko.
At a glance
| | |
| --- | --- |
| | |
| Industry: Watches | Founded: 1881 |
| Headquarters: Japan | Founder: Kintaro Hattori |
| Watch Collections: sports watches, dive watches, dress watches and women's watches | Parent organization: The Seiko Group |
| Annual Revenue: $1.9 billion USD | Website: seikowatches.com |
Seiko watch price
How much does a Seiko watch cost?
Seiko watches fall under many different price points but the starting price is $275 for some Seiko 5 Sports models. Seiko watch prices for a Seiko Prospex start at $395 while Seiko watch prices for a Seiko Presage begin at $425. At the other end of the price spectrum, some Seiko watches retail for more than $2,000, such as certain Seiko Astron models.
What is the most expensive Seiko watch?
The most expensive Seiko watch series is the King Seiko collection, with prices starting at $1,470 and reaching $3,050. These are the brand's higher-end timepieces and feature superior accuracy and style appeal.
See how this compares to the world's most expensive watches with our guide.
What is the cheapest Seiko watch?
The cheapest Seiko watch is a Seiko 5 Sports with prices currently starting at $275. You can also pick up a Seiko Diamond for $350, a Seiko Coutura for $425, and a Seiko Presage for $425. Seiko watch prices for a Seiko Prospex begin at $395.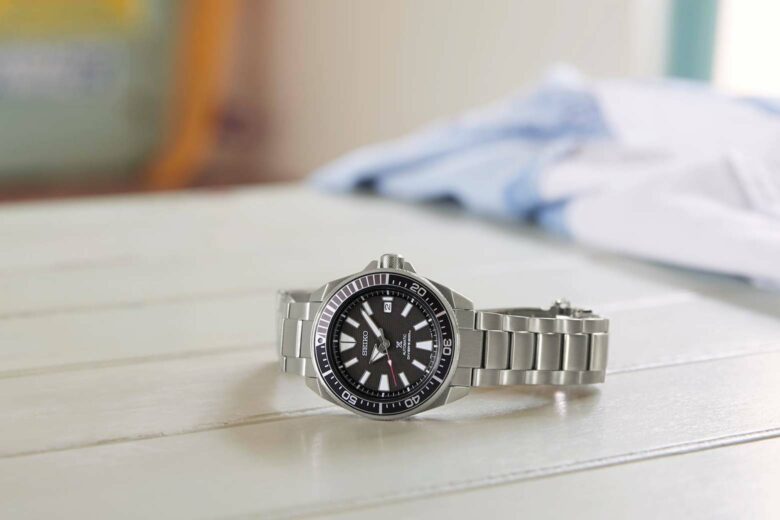 About Seiko
History of Seiko Watches
The Seiko story begins in 1881 when Kintarō Hattori opened a clock shop in Tokyo, aged 21 years old. The store was a hit and business boomed. With ambitions to become a clock manufacturer, Hattori hired engineer Tsuruhiko Yoshikawa, and in 1892, set up the Seishoka, or factory.
Two years later, in 1895, the Seishoka produced its first pocket watch. Soon after, the company began to export clocks to China where Hattori became known as 'Japanese King of Timepieces'.
In 1913, Seikosha produced its first wristwatch, known as the Seishoka Laurel.
In 1923, Japan was hit by the Kanto earthquake, which destroyed the Seishoka factory. Fortunately, the prototype for the watch company's new range of wristwatches was recovered and work began to rebuild the company. At this time, the watch brand began selling watches under the name Seiko. 
Hattori died in 1934, leaving the company to his son. While production slowed during WW2, by the end of the 1950s, Seiko was creating around 3 million watches a year, including its first in-house movement known as the Seiko Marvel.
In 1960, the company launched the Grand Seiko line of luxury watches to compete with high-end Swiss timepieces. And, in 1964, Seiko was chosen as the official timekeeper for the Tokyo Olympic Games, bringing the brand global recognition.
The Seiko Astron 35SQ was released in 1969, the world's first quartz watch. In fact, this is considered the watch that started the 'quartz crisis', transforming watchmaking forever.
During the 1980s, Seiko launched the Seiko TV watch with its built-in LCD display television screen. And, in 1990, the watch company was officially named the Seiko Corporation.
The 1990s brought a series of other innovations including the Seiko Scubamaster, Seiko Perpetual Calendar, and Seiko Kinetic series.
Seiko's innovations have continued into the 21st century with the launch of the world's first solar watch in 2012, known as the Seiko Astron.
Interesting facts about Seiko
In 1975, Seiko introduced the world's first titanium dive watch.
Celebrities and A-listers who have sported Seiko watches over the years include Arnold Schwarzenegger, actress Sigourney Weaver, and tennis player Novak Djokovic.
'Seiko' means exquisite or success in Japanese.
Seiko watches have been the official timekeepers for various sporting events, including several FIFA World Cups as well as the Olympic Games.
The Seiko TV watch appeared in the James Bond movie, Octopussy, and the 1978 Seiko Golden Tuna appeared in For Your Eyes Only.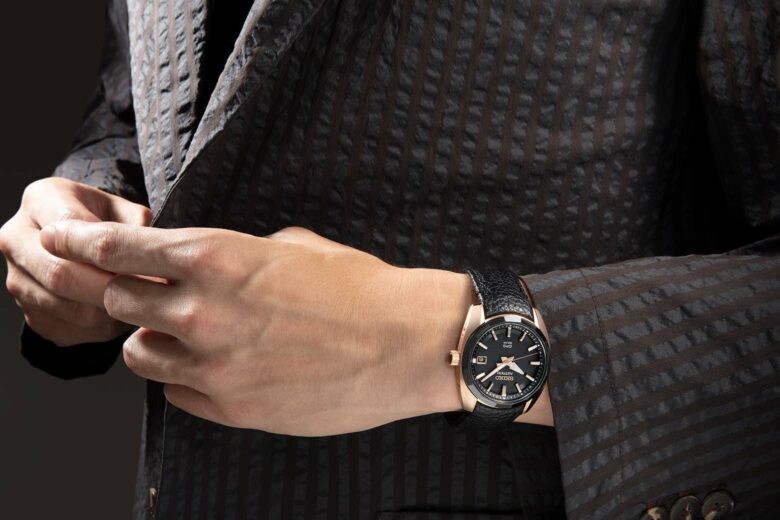 Seiko product range
Seiko's range of watches for men and women falls into seven different collections, each with a slightly different focus or theme.
First, there's the popular Seiko Prospex, an endurance sports watch that includes multiple sub-collections with diverse purposes, including dive watches with an impressive 1000 m of water resistance.
Then there's the Seiko Presage, a retro-inspired dress watch offering classically Japanese cool and plenty of vintage personality.
Up next is the famous Seiko Astron, the world's first solar watch, providing eco-friendly sun-powered functionality and versatile styling.
The King Seiko is Seiko's series of high-end timepieces that combine refined elegance with the watch brand's well-attested dedication to quality and reliability.
Then you have the Seiko 5 sports: affordable, athletic, all-day, every-day watches that continue to be one of the Japanese watch brand's most popular options.
The Seiko Diamond collection of dress watches features, unsurprisingly, diamonds, while the Seiko Coutura watch series includes sophisticated timepieces with the added bonus of solar technology.
Seiko vs. Grand Seiko: what's the difference?
Grand Seiko began life as a watch series made by Seiko. Grand Seiko was Seiko's collection of high-end timepieces, designed to compete with luxury Swiss watches.
Today, however, Grand Seiko is its own individual brand, even if its parent company remains the same. This explains why the aesthetic of watches made by Grand Seiko and Seiko is so similar.
Many parts of a Grand Seiko watch are made by hand with meticulous attention to detail and superior quality control. Materials are often of an elevated quality too. As a result, Grand Seiko watch prices are much higher, starting around $2,000 and sometimes reaching as high as $10,000. Grand Seiko watches have the same level of prestige as watches by the likes of Omega or Rolex.
Seiko watches, meanwhile, are known for being affordable. They are made almost entirely by machines from hard-wearing but fairly standard stainless steel.
Signature materials and craftsmanship
Seiko is synonymous with innovation, most famously for introducing the world to the quartz wristwatch in 1969 with the Seiko Astron 35SQ.
There is also the watch brand's range of dive timepieces, from the original Seiko Scubamaster, released in 1965 and Japan's first dive watch, to the 1975 Seiko Grandfather Tuna, whose case exterior alone featured over 20 patents, as well as the Seiko Scubmaster Digital Cal. M726 in 1990, the world's first computerized dive watch.
The Seiko Kinetic series broke new ground in 1986 with its ability to convert kinetic movement into electrical energy so that the wearer could generate power simply through wrist movements, allowing for eco-friendly, high-functioning, and enduring timekeeping.
More recently there was the 2005 Seiko Spring Drive, which followed 28 years of research and development, accurate to 1 second a day and featuring a 72-hour power reserve, fast winding, and a continual glide motion.
And, in 2012, came the Seiko GPS Solar watch, using GPS technology to automatically change the time to 40 different time zones.
Seiko watches also showcase a number of traditional crafting techniques, especially when it comes to dials. You'll find enamel dials, Urushi dials (deep black and made by applying layers of lacquer from the sap of the Urushi tree), Shippo enamel dials (created through repeated application of glaze and firing followed by extensive polishing), and Arita porcelain dials, made from Japan's 400-year-old porcelain.
Seiko also prioritizes environmentally-friendly practices wherever it can, including Reduce, Reuse, and Recycle initiatives, wastewater treatment, and energy-saving sensor network systems.
Where is Seiko made?
Seiko watches were originally made exclusively in Japan. Today, however, the company has subsidiaries elsewhere in Asia, including Singapore, Malaysia, and China. That said, high-end Grand Seiko watches are made entirely at the watch company's factory in northern Japan, known as Morioka Seiko Instruments.
Brand values
| | |
| --- | --- |
| Vegan options: | No |
| Carbon-neutral: | Not yet, although 100% of all electricity at Seiko's factories in Japan comes from renewable energy sources. |
| Gives back: | Yes |
Seiko watches
Seiko Prospex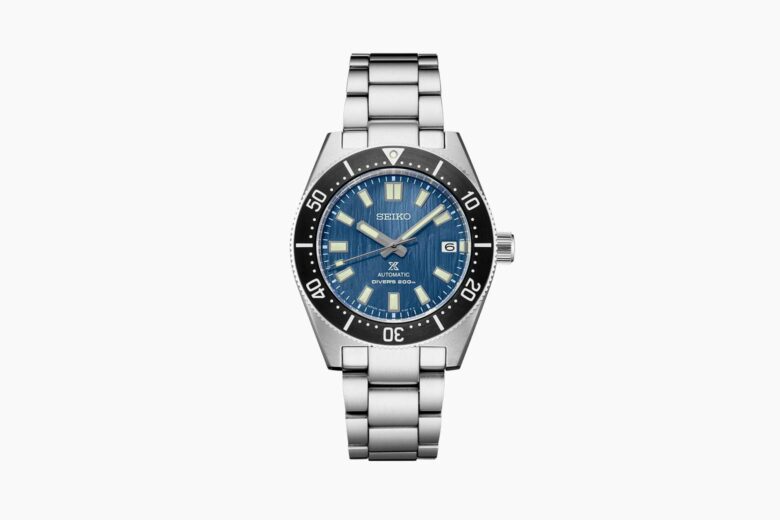 The Seiko Prospex is the brand's line of watches designed for thrill-seekers, adventure-lovers, and sports enthusiasts, on all terrain, from sea to land to sky. If you have a passion for high-adrenaline pursuits, then the Seiko Prospex is for you. The collection ranges from the Prospex LX, with the brand's innovative Spring Drive, to the Prospex Speedtimer, the world's first automatic chronograph with a column wheel and vertical clutch, as well as the Prospex Street Series.
| | |
| --- | --- |
| Price: | $395 – $6,500 |
| First release year: | 1965 |
| Current case size: | 38 mm – 52.4 mm |
| Movement: | Automatic |
| Water resistance: | 100 – 1000 m |
| Crystal: | Sapphire |
Seiko Presage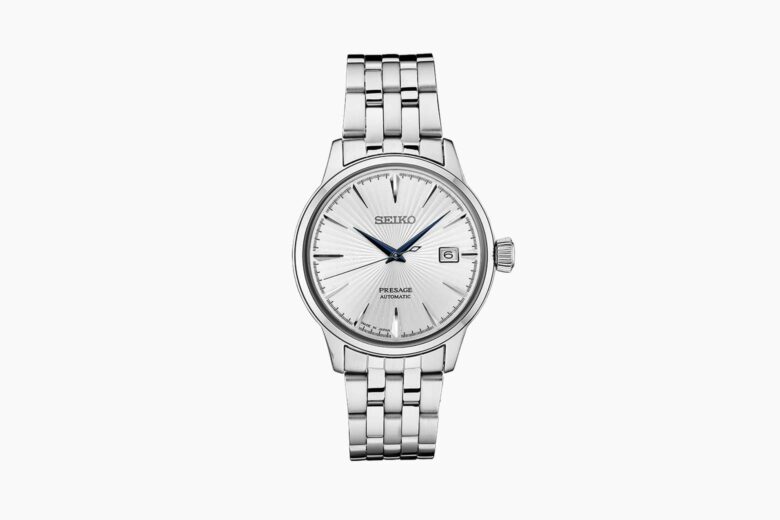 Combining retro 1960s Japanese aesthetics with traditional craftsmanship, the Seiko Presage watch series offers wearers elegance as well as unfaltering quality and durability. Featuring LumiBrite in subtle sepia for vintage vibes and a sharp-edged angular aesthetic inspired by the hemp plant, the Presage is the perfect Seiko watch collection for those seeking style and substance. Look out for the Seiko Presage Cocktail Time, each named after a drink mixed by award-winning bartender Hisashi Kishi, as well as the calm and serene Presage Zen Garden.
| | |
| --- | --- |
| Price: | $425 – $4,500 |
| First release year: | 2016 |
| Current case size: | 33.8 mm – 42.2 mm |
| Movement: | Manual and automatic |
| Water resistance: | 50 – 100 m |
| Crystal: | Sapphire |
Seiko Astron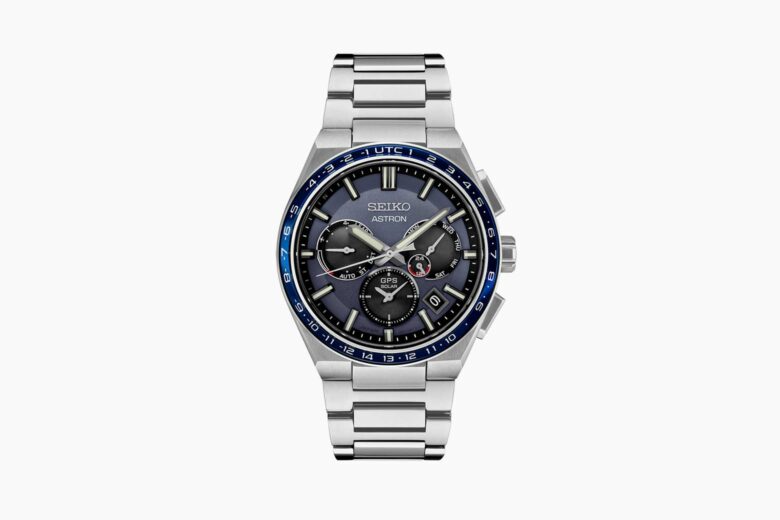 One of Seiko's most popular watches, the Seiko Astron was the world's first solar watch with GPS functionality, offering quartz reliability and no need to ever change the battery. Eco-friendly and easy to use, using sunlight as a source of energy, and able to receive GPS signals wherever you can see the sky, Seiko Astron watches are also available with a range of straps, from sophisticated crocodile leather to sporty rubber options.
| | |
| --- | --- |
| Price: | $1,600 – $2,900 |
| First release year: | 2012 |
| Current case size: | 39 mm – 43.1 mm |
| Movement: | GPS Solar |
| Water resistance: | 100 – 200 m |
| Crystal: | Sapphire |
King Seiko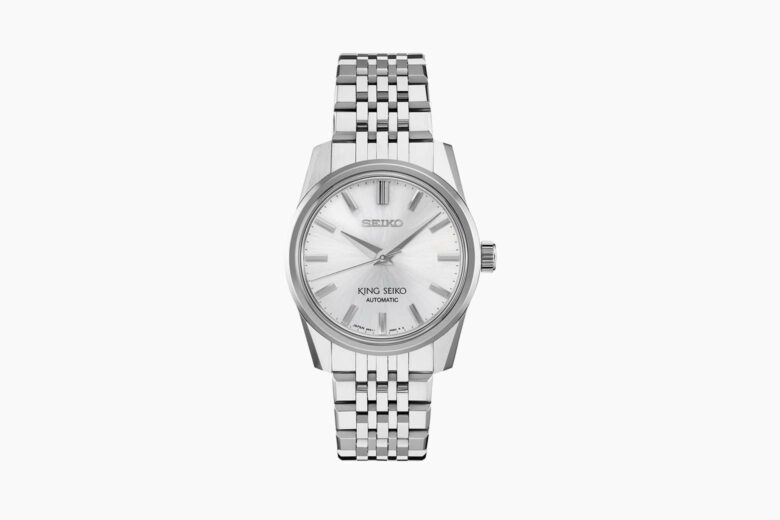 The King Seiko collection represents the watch brand's move into more luxury offerings with a higher price-tag and elevated style and accuracy. Paying homage to the original 1965 King Seiko, notable for its impressive construction quality and durability, these timepieces are distinguished by their angular design, slim case, boxed-shaped sapphire crystal, and multiple beveled surfaces reflecting the light. With a 70-hour power reserve and 100 meters of water-resistance, these Seiko watches work hard and look good simultaneously.
| | |
| --- | --- |
| Price: | $1,470 – $3,050 |
| First release year: | 2022 |
| Current case size: | 37 mm – 38.1 mm |
| Movement: | Automatic and manual |
| Water resistance: | 50 – 100 m |
| Crystal: | Sapphire |
Seiko 5 Sports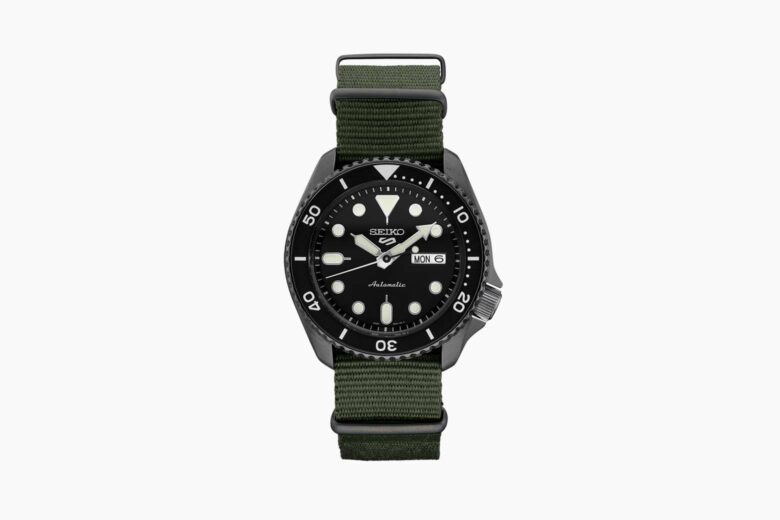 Seiko has an ongoing relationship with sport and the Seiko 5 Sports watch series is a celebration of the brand's ability to provide the highest levels of reliable timekeeping for the world's most important sporting events. From the Seiko Sportmatic 5, launched in 1963 and Japan's first-ever automatic day-date watch, to the military-inspired Seiko 5 Sports Field, this collection of timepieces has something for everyone. No surprise that it's a continual best-seller.
| | |
| --- | --- |
| Price: | $275 – $595 |
| First release year: | 2019 |
| Current case size: | 39.4 mm – 42.5 mm |
| Movement: | Automatic and manual |
| Water resistance: | 100 m |
| Crystal: | Hardlex |
Diamond Collection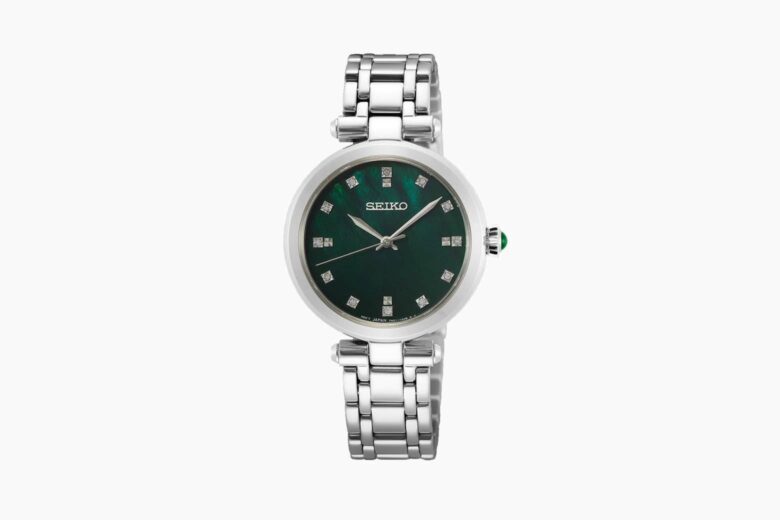 The Seiko Diamond collection is as it sounds. These are watches featuring diamonds in all their dazzling and glinting glory. You'll find a mixture of dress watches with a choice between circular and rectangular cases, chunky or petite, and dials ranging in color and design. Some are more extravagant than others but all are united by their impeccable aesthetic and commitment to accuracy and durability.
| | |
| --- | --- |
| Price: | $350 – $550 |
| Current case size: | 27 mm – 34.7 mm |
| Movement: | Quartz and solar |
| Water resistance: | 50 – 100 m |
| Crystal: | Sapphire and Hardlex |
Seiko Coutura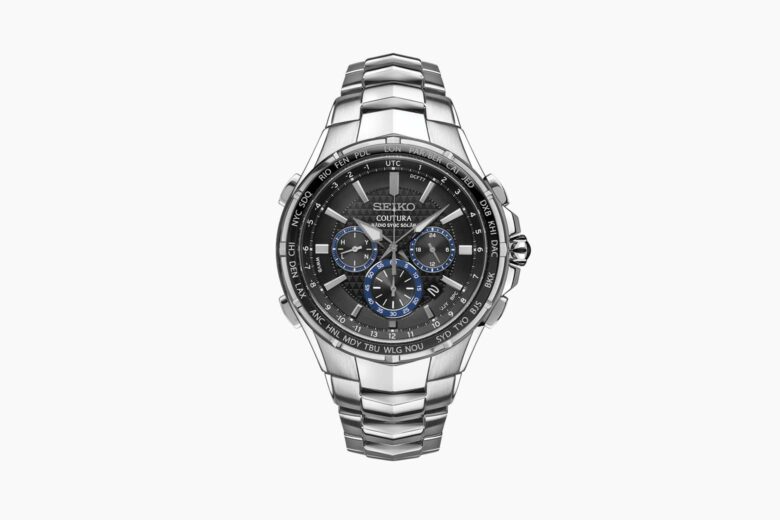 Elegant, accurate, eco-friendly, and affordable—what's not to like about the Seiko Coutura collection? These sophisticated timepieces run on solar energy, making them as sustainable as they are stylish. Pick between pearl, ceramic, and diamond finishes and enjoy timeless cool combined with cutting-edge modern technology in a versatile day-to-day watch.
| | |
| --- | --- |
| Price: | $425 – $695 |
| Current case size: | 42.5 mm – 45.5 mm |
| Movement: | Solar |
| Water resistance: | 100 m |
| Crystal: | Sapphire |
Where to buy Seiko watches
You can buy Seiko watches in-person from one of the stores listed here or online via the company's e-boutique. Seiko watches come with three-year warranty protection. You can also buy authentic second-hand Seiko watches from trusted retailers such as Jomashop
For more about buying a luxury watch, see our watch guide.
Seiko shipping
Seiko USA offers free 2-day shipping on all orders. Seiko also offers free shipping to the UK within 2 to 5 working days.
Seiko return policy
Seiko watches can be returned within 30 days after the watch was delivered. Returns outside of 30 days will not be accepted and all returns must be in the original condition.
Seiko customer service number
For help with your Seiko watch or for any other inquiries, you can speak to a Seiko customer service representative on 1(800) 722-4452.
Seiko social media profiles
Frequently asked questions about Seiko watches
Is Seiko a good brand of watch? 
Seiko is a good brand of watch if you're looking for affordable, durable, and accurate timepieces—and especially if you're after a solar-powered watch. For more about Seiko, including history and prices, see our Seiko watch guide.
Are Seiko watches as good as Rolex? 
No, Seiko watches aren't as good as Rolex. Rolex is more prestigious and offers superior craftsmanship. The two brands play at very different levels in the watchmaking game. However, Seiko does typically outperform other similarly priced watches.
Is Seiko watches worth anything? 
Seiko watches are not known for being worth anything years down the line. They do not typically hold their value, although some limited edition models might increase in value with time. But they are still reliable timepieces that will last.
Is Seiko a cheap brand?
Seiko is a cheap brand by luxury watch standards. You can pick up a Seiko watch for around $200 to $300 which is far less than timepieces by the likes of Omega or TAG Heuer. For more about Seiko watches, including prices, see our Seiko guide.