How to immediately make alcohol more fun? Make it blue. Such is the unique charm and enduring magic of Hpnotiq, the aquamarine mix of fruit juices, vodka, and cognac that became an instant best-selling US liqueur.
Pronounced like hypnotic, but with a twist on the traditional spelling that no one can seem to remember (Hypnotiq? Hpnotique? Hpnotic?), this sensational drink feels both fun and luxurious. It's immediately entertaining without being at all gimmicky.
Hpnotiq was introduced to the world at the turn of the millennium. No better drink to celebrate the start of a new century than this radically eye-catching liqueur, the color of tropical seas and summer skies.
Hpnotiq is a fruit liqueur that tastes like a cross between mango and passion fruit. It's refreshing and easy to drink with a light mouthfeel and unrivaled versatility, able to hold its own in the company of a range of cocktail ingredients.
Sipping on Hpnotiq, you're in good company. NBC called it the 'drink of choice of celebrities, and the liqueur has made appearances at all the hottest events, including the Grammys, Oscars, and New York Fashion Week.
Sure, it hasn't been around that long compared to more classic spirits like whisky, brandy, and bourbon. But young as it is, Hpnotiq – or Hypno, if you're in the know—is already a sensation.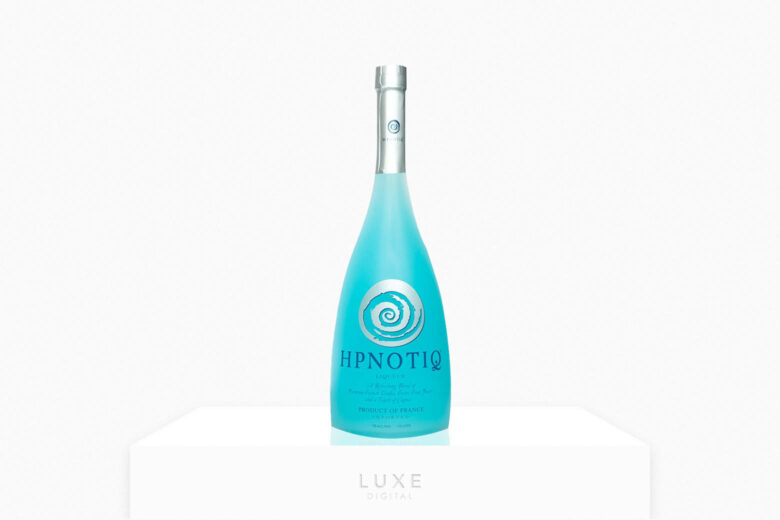 Hpnotiq bottle sizes and prices
| Bottle | Size | Price (USD) |
| --- | --- | --- |
| Hpnotiq | 750 ml | $20 |
| Hpnotiq Sparkle | 750 ml | $20 |
| Hpnotiq Harmonie | 750 ml | $25 |
| Hpnotiq | 1000 ml | $25 |
Hpnotiq: the story behind the brand
A flash of inspiration
Hpnotiq was the creation of Raphael Yakoby. At 25, Yakoby was a college drop-out still living with his parents. Then, on a trip to Bloomingdale's in New York City in the early 2000s, he glimpsed a bottle of blue perfume.
The color was immediately alluring. Could the same idea be applied to alcohol?
And so Yakoby set about perfecting the recipe for a blue liqueur. He had no business experience but the idea was a good one. Once he'd refined the blend, he formed a partnership with Nick Storm.
Storm took a case of Hpnotiq to a Sony party where it was a big hit. He then continued to take it to promotional events, clubs, and parties, using his music industry friends to get the word out.
Soon after, Storm managed to get a bottle into the video Trade It All by rapper Fabolous. While today it's common practice to promote alcohol via music videos—think Busta Rhymes and Courvoisier — at the time, it was revolutionary.
Suddenly, Hpnotiq was famous. It was everywhere. In three years, the pair sold 1 million cases of the liqueur, making it one of the fastest-growing liquors in history. Nick Storm became known as the 'million case man' and has gone on to work with Sean Combs on Cîroc vodka.
Combs was also instrumental in the success of Hpnotiq, agreeing to sell the liqueur in his chain of restaurants, Justin's, in New York. Soon after, other celebrities were also promoting Hpnotiq, from Kanye West to Missy Elliot, cementing the brand's status as a pivotal piece of club, hip-hop, and pop culture. It even appeared on the TV show, Jersey Shore.
As for Yakoby? A year after launching, he'd made $50 million. Then he made headlines again in 2018 after his Versaille-esque mansion on Long Island went on the market for $60 million.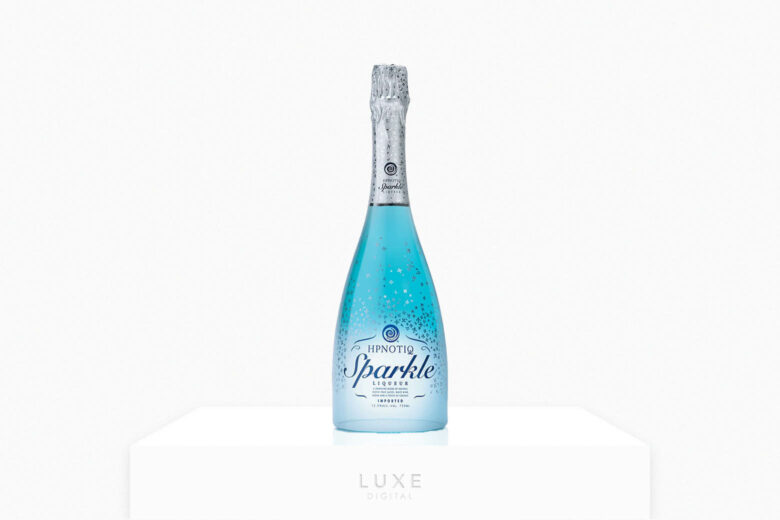 Digging deeper: what exactly is Hpnotiq?
The first thing that will strike you about Hpnotiq is its dazzling pale blue color. This mesmerizing shade, similar to the waters of a Caribbean island, makes the drink and its frosted Champagne-shaped bottle instantly recognizable.
Then there's the taste. In a word, tropical. A mix of mango, passion fruit, and citrus, it's sweet but bold with an undeniable alcoholic punch at 17% ABV, or 35 proof.
Made and bottled in the Cognac region of France, Hpnotiq is a triple-distilled French grain vodka. It's filtered through charcoal for optimum smoothness before being blended with five different cognacs, each aged in oak.
Also added is an unnamed mix of fruit juices, combined with the spirits by a master blender. The reason for the blue coloring? That's top-secret, unfortunately. Something to do with the maceration of the fruit, perhaps?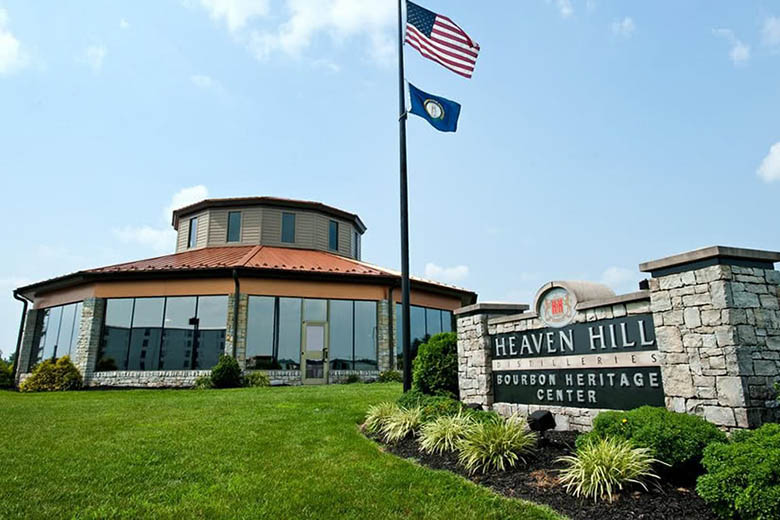 Rainbow shades: Hpnotiq types and flavours
Beyond classic Hpnotiq—blue and tropical-tasting—there's Hpnotiq Sparkle, released in 2014. It's the same as the original but has Champagne-like bubbles. Released around Christmas—with an advertising campaign led by Khloe Kardashian—it's the perfect festive drink.
In 2011, the brand introduced the world to Hpnotiq Harmonie. This purple Hpnotiq is a blend of vodka, fruit, flowers, and Cognac. With its lavender, violet, and berry infusion, it's a real sweet treat and a favorite among young female drinkers, in particular. It tastes great mixed with equal parts Champagne.
In 2019, rapper Fat Joe, one of the original artists to promote Hpnotiq in the early 2000s, became a brand ambassador and launched a limited edition bottle: Hpnotiq OG.
How to drink Hpnotiq
Hpnotiq is a drink like no other, which means there are no rules when it comes to how you drink it.
You can sip it straight over ice or straight from the fridge as an aperitif in a glass of your choice. We recommend a tumbler or shot glass—depending on how much you want to drink.
But this remarkable blue liqueur really comes into its own when mixed with other ingredients in cocktails. It teams well with a whole range of flavors, especially lighter spirits such as rum, vodka, Champagne, sparkling wine, or gin.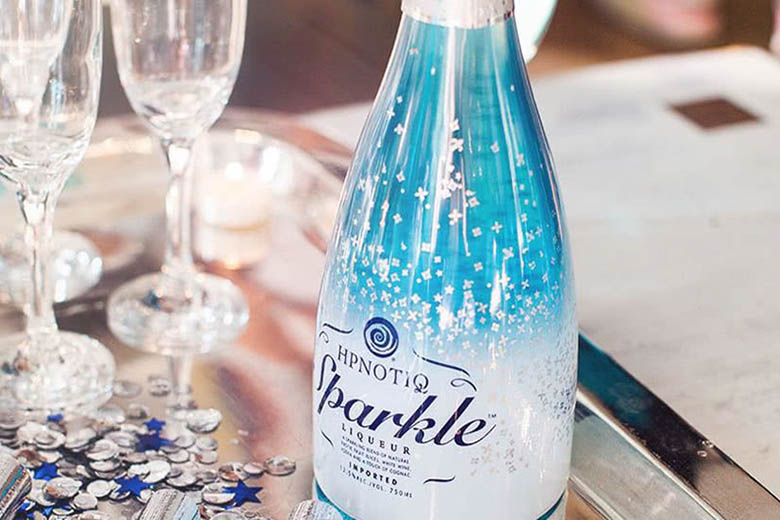 Hpnotiq cocktail recipes
Hpnotiq is a true party drink, which means it's best consumed in company. Pick up a bottle online, invite your friends over, and start mixing up one of these Hpnotiq cocktails, ranging from tropical treats to classic Martinis.
Incredible Hulk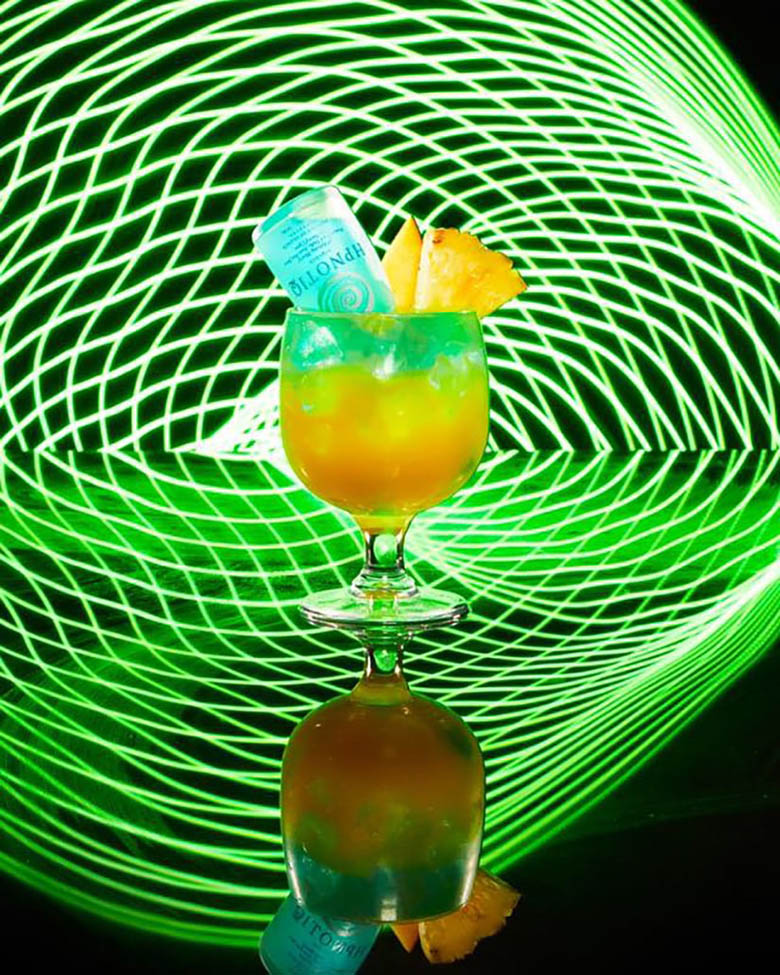 Quickly becoming a favorite with fans after it was introduced in one of Sean Combs' restaurants in New York City, the Hulk was a hit with male drinkers in particular. Adding Hennessy to Hpnotiq brings a bit of edge to the fruity sweetness.
Ingredients
60 ml Hpnotiq
60 ml Hennessy Cognac
Ice
Fill a lowball glass with ice. Add the Cognac followed by the Hpnotiq. The more Hpnotiq you add, the greener the drink will be.
Hpnotiq Breeze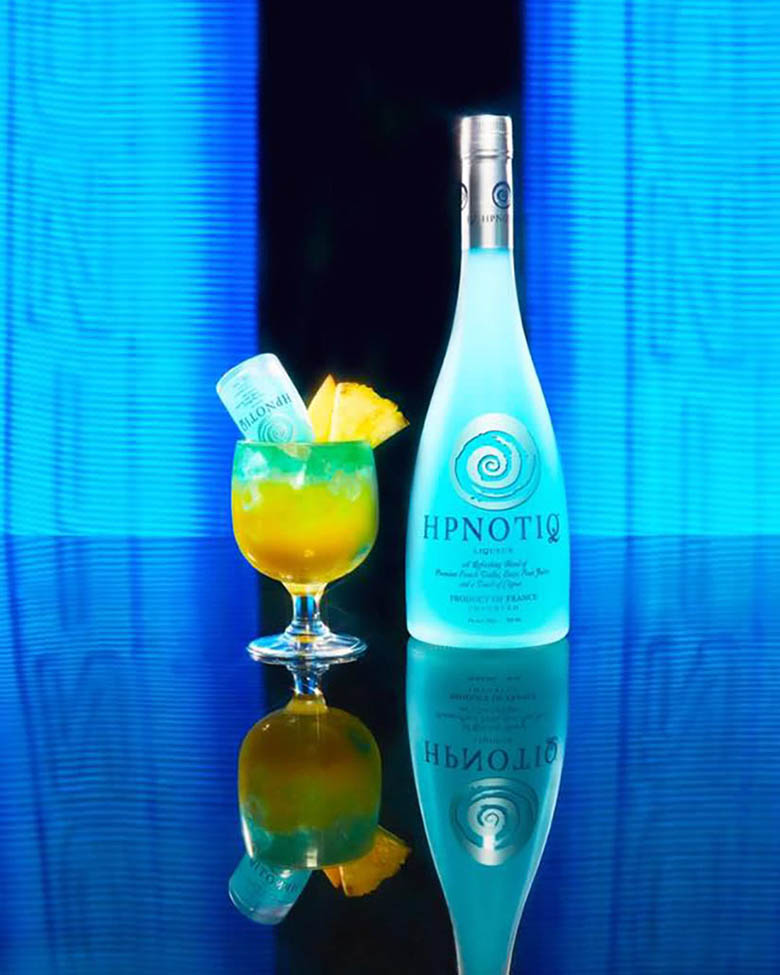 Ready for a holiday? This drink will transport you to a tropical island with its heady combination of pineapple and coconut rum. The perfect poolside beverage. Cocktail umbrella not optional.
Ingredients
60 ml Hpnotiq
Pineapple juice
30 ml coconut rum
Rim the glass with sugar. Add the Hpnotiq, rum, and pineapple juice to a shaker with ice. Shake until mixed. Strain into a glass. Garnish with pineapple chunks and an umbrella.
Hpnotiq Martini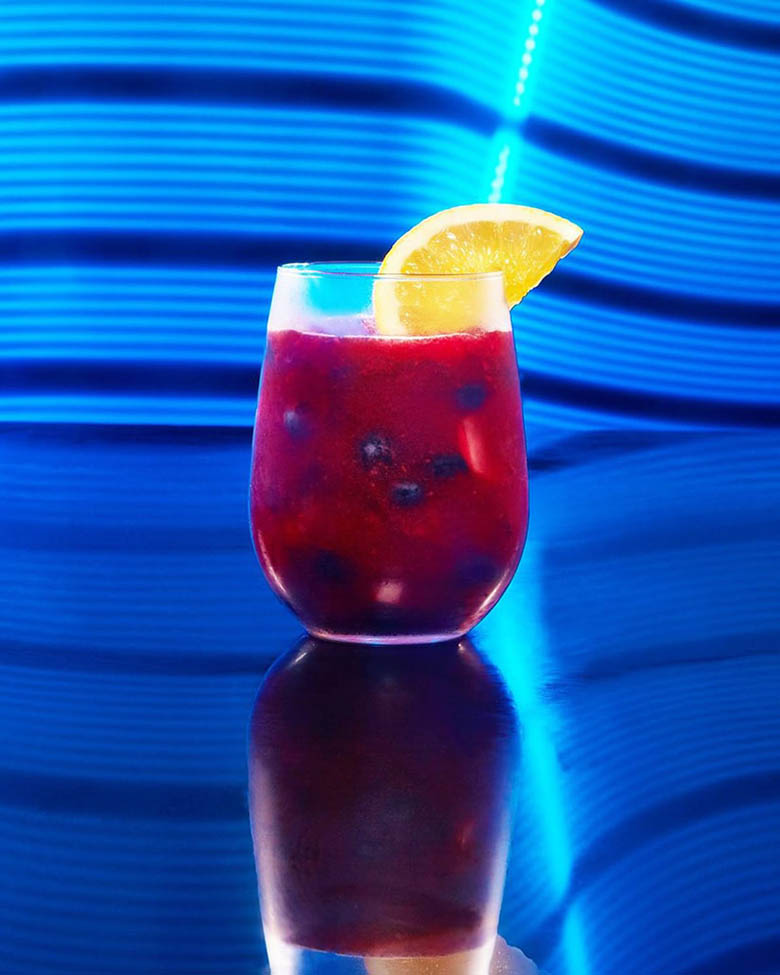 This two-ingredient cocktail—a major twist on an old-school classic—is deceptively simple. You can shake one up in under 30 seconds and yet it still tastes sophisticated and delicious—as well as being incredibly smooth.
Ingredients
30 ml Hpnotiq
30 ml cranberry juice
Simply shake all the ingredients with ice, then strain into a cocktail glass and garnish with lemon.
Frequently asked questions about Hpnotiq
Can you drink Hpnotiq straight?
You can drink Hpnotiq straight, either chilled or over ice. You can drink it as a shot or as a longer drink. Hpnotiq is also incredibly mixable, working well in a whole range of cocktails—most famously the Incredible Hulk cocktail where it's combined with Hennessy Cognac.
What kind of liquor is Hpnotiq?
Hpnotiq is actually a liqueur rather than a liquor, because it's a sweetened spirit with added flavors. It has a vodka base that is then blended with natural fruit juice and a dash of Cognac.
Does Hpnotiq need to be refrigerated?
Hpnotiq can be stored in the fridge or freezer as it's best enjoyed chilled. However, it also keeps fine outside of the fridge. You can simply shake it with ice in a cocktail shaker or pour it over ice in order to chill it.
How much is a Hpnotiq?
The price of Hpnotiq depends on the type of bottle. A standard 750 ml bottle of Hpnotiq costs around $20. A 1-liter bottle of Hpnotiq costs $35. There's also the brand's Hpnotiq Sparkle variant, which costs around $20. Plus there's Hpnotiq Harmonie which costs around $25 for 750 ml.