To say Cîroc is not your average vodka is an understatement. This award-winning premium vodka is enjoyed by the likes of rap stars and runway models and has become a hallmark of the global luxury lifestyle. Cîroc is a serious VIP vodka and a serious success story.
For many years, vodka suffered from bad press. It hasn't got the same air of class and tradition as whisky, or the same fun-loving spirit of, say, tequila or rum. But today this has all changed and Ciroc has played its part shaking up the game and re-envisioning vodka as a contemporary luxury spirit.
Unlike most vodkas, Cîroc is made by distilling grapes—rather than grains, potatoes, rye, or corn. Inspired by French wine-making traditions, it's supremely smooth, fresh, and fruity—with a hint of citrus, orange, and anise.
Cîroc has established itself as a distinct luxury spirit, vibrant and bold, and with all the prestige that comes with being created by a master French distiller. Popular with younger drinkers especially, at the heart of the brand is an ethos of celebration, a taste for the sophisticated, and a love for the sensational.
The joys of a high-end vodka such as Cîroc are multiple. It tastes great with almost anything. Your hangover won't be so bad because, having undergone five distillations, this is an extremely pure product. Another plus? It's gluten-free and diet-friendly, with just under 100 calories per shot.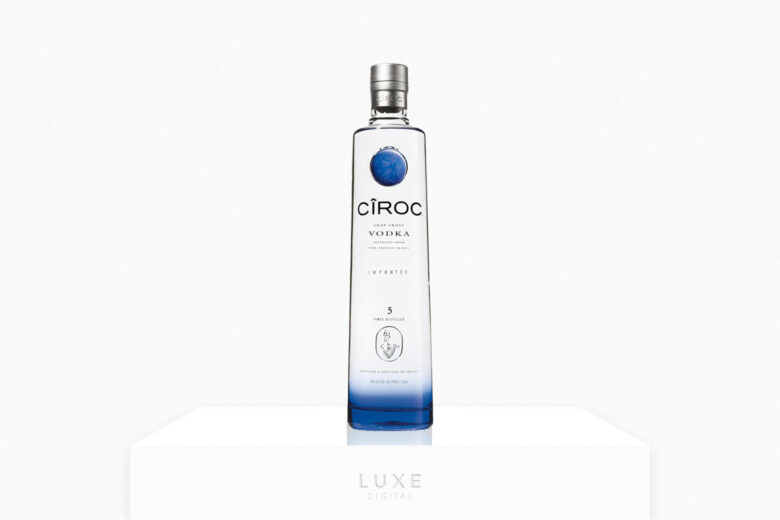 Cîroc bottle sizes and prices
| Bottle | Size | Est. Price (USD) |
| --- | --- | --- |
| Cîroc Vodka | 375 ml | $18 |
| Cîroc Vodka | 750 ml | $34 |
| Cîroc French Vanilla | 750 ml | $35 |
| Cîroc Mango | 750 ml | $35 |
| Cîroc Apple | 750 ml | $35 |
| Cîroc Pineapple | 750 ml | $35 |
| Cîroc Red Berry | 750 ml | $35 |
| Cîroc Amaretto | 750 ml | $35 |
| Cîroc Coconut | 750 ml | $35 |
| Cîroc Peach | 750 ml | $35 |
| Cîroc Summer Colada | 750 ml | $35 |
| Cîroc Blue Stone | 750 ml | $40 |
| Cîroc White Grape | 750 ml | $41 |
| Cîroc Vodka | 1750 ml | $45 |
| Cîroc Ten Vodka | 1000 ml | $245 |
Ciroc vodka: the story behind the brand
Cîroc was the creation and invention of Jean-Sebastien Robicquet, a master French distiller descending from a long line of expert winemakers. In 2003, Robicquet brought together his family history of wine-making and deep knowledge of distilling to launch Cîroc Vodka.
What makes Cîroc distinct from your average vodka? Namely that it's made from grapes rather than grains. This gave rise to the brand's slogan, 'Go Against The Grain.'
The process of making Cîroc begins with harvesting the finest of French grapes: the Ugni Blanc and Mauzac Blanc varietals. Ugni grapes come from the famous Cognac region of France, while the ancient white grape varietal of Mauzac hails from the Gaillac region. The grapes are picked during the winter, just after the first frost—hence the name of the original Cîroc vodka: Snap Frost.
Most vodkas require heat to release the sugars but by using cold processes, Cîroc is able to create a more fresh and flavourful spirit. The grapes undergo cold maceration to soften the skin and pulp. This juice is then cold fermented, converting the sugar to alcohol, producing wine.
The Ugni Blanc grapes are then distilled four times in stainless steel column stills while the Mauzac Blanc grapes are distilled in copper stills. These are then blended together at a ratio of 95% Ugni Blanc and 5% Mauzac blanc before undergoing a fifth distillation in a traditional copper pot. Here the grape spirit interacts with the metal to create the smooth, fresh, and utterly original Cîroc Vodka.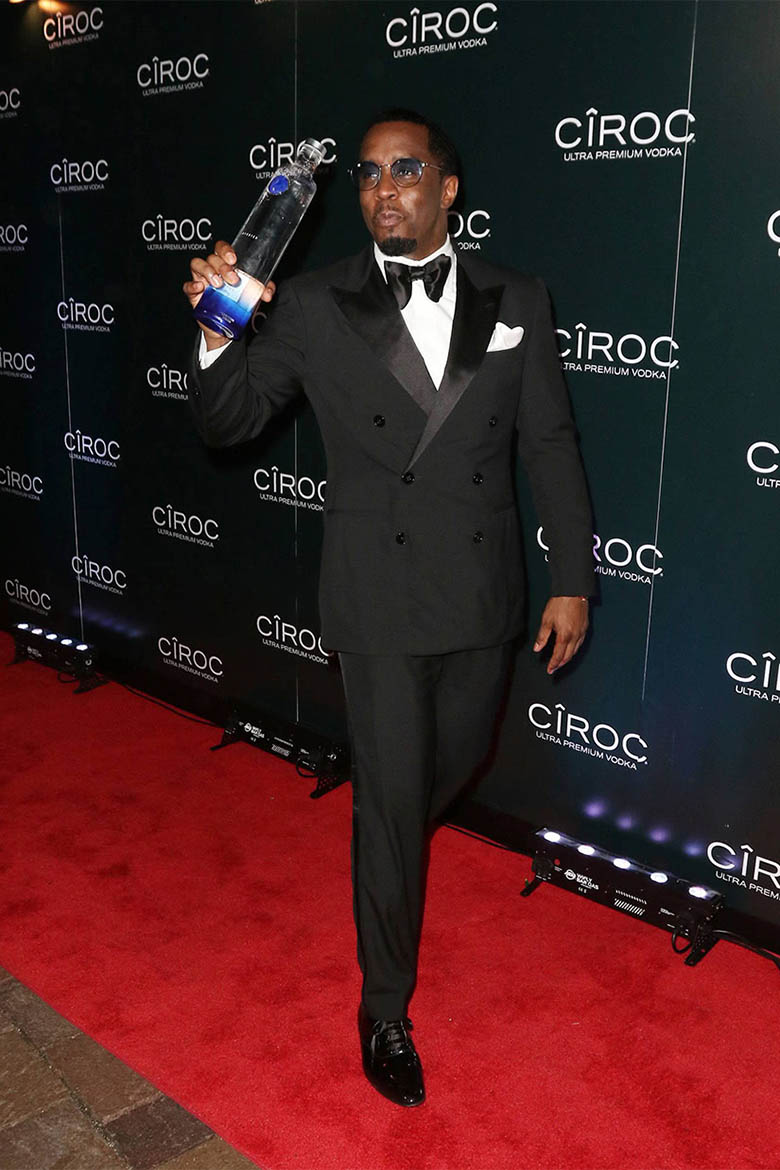 21st Century Cîroc
Cîroc has often collaborated with major figures from the worlds of fashion and music, positioning itself as the drink of choice for jet setters and celebrities.
For example, three-time Grammy-winning hip-hop star and business mogul Sean 'Diddy' Combs is the face of the brand. At one point he was even jokingly referring to himself as Cîroc Obama. Cîroc's success owes in large part to the star's promotion of the vodka.
In 2010, Cîroc was the official vodka of the MTV Movie Awards, while in 2018, the brand launched Cîroc X Moschino, inviting Jeremy Scott, creative director of the fashion label to design a Cîroc vodka limited edition bottle. The finished product has a print of the iconic Moschino gold chain wrapped around it.
The name Cîroc is an amalgamation of the French words cime and roche, meaning summit and rock. This image of lofty mountain peaks perfectly captures the sense of success and thriving that the Cîroc seeks to evoke.
Meanwhile, the color blue at the heart of Cîroc's brand image is inspired by the Isatis Tinctoria, or pastel flower, indigenous to the southwest of France. As for the rooster perched on a pile of grapes on the cap of the bottle? That alludes to the Gaillac region of France where Mauzac blanc grapes grow and whose symbol is the rooster.
Today, Cîroc offers an entire range of vodkas, from the classic Cîroc Premium Vodka—smooth and sleek—to the Cîroc Ten, the most expensive of the brand's offerings, only available as a one-liter bottle and costing around $250.
Then there are the different Cîroc vodka flavors, such as the aromatic and silky Cîroc Red Berry, the tropical Cîroc Mango, or the summery and sunny Cîroc Watermelon. These fruity Cîrocs cost around $35.00.
For a slightly higher price tag, there are limited edition Cîrocs like the Cîroc White Grape, designed as a festive drink for Christmas and which tastes great with Crème de Cassis and Champagne.
How to drink Cîroc vodka?
Most people would grimace at the thought of drinking vodka straight, but with Cîroc, you can enjoy it neat or on the rocks. Cîroc premium vodka can also be enjoyed in a cocktail.
Traditionally, vodka is drunk straight, and from a shot glass. For the full sensory experience, try it alongside raw seafood, caviar, or lobster.
Cîroc's smoothness means it lacks the alcoholic burn of poorer quality vodkas. Plus, sipping it neat, you'll be able to detect all the subtle aromas and flavors: lemon zest, grass, and sage, and an aftertaste of black pepper and vanilla.
But whether you're drinking it straight or in a cocktail, you'll first want to chill your vodka. Buy a bottle of Cîroc Vodka online and store it in the freezer. Freezing it removes any harsher flavors and subdues the sometimes overpowering alcoholic burn.
If you want to add a little mixer, such as tonic or soda, you'll need a larger glass with space for ice and garnish, and a thick base if you plan to muddle together a lot of ingredients. Cîroc Vodka is between 35 and 40 percent ABV, making it the perfect spirit for all kinds of cocktails.
Cîroc cocktail recipes
Here are the top three most popular cocktails made with Cîroc vodka.
The Cîroc Diddy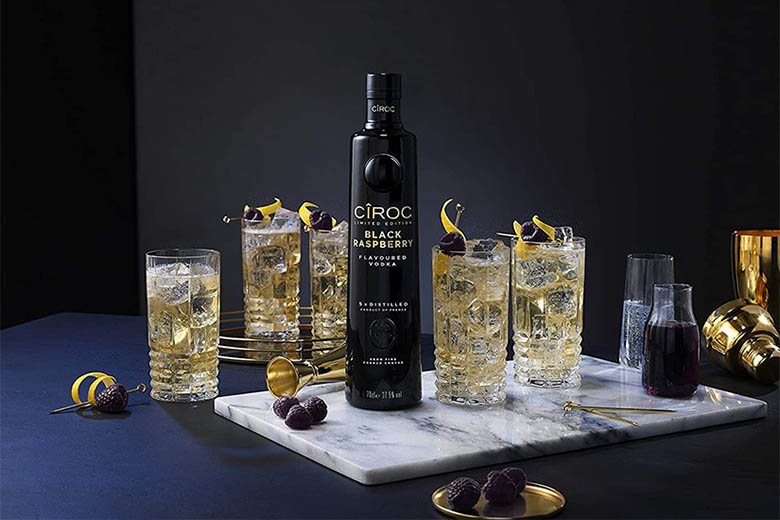 Named for Sean 'P Diddy' Combs, the face of the Cîroc brand, the Cîroc Diddy is a wonderfully simple cocktail and a great alternative to a gin 'n' tonic. Experiment with the ratio of vodka to lemonade depending on your personal preferences.
Ingredients:
45 ml Cîroc Vodka
45 ml lemonade
Cocktail recipes: Add all the ingredients to a highball glass with ice. Stir and garnish with lemon.
Cîroc Peach Bellini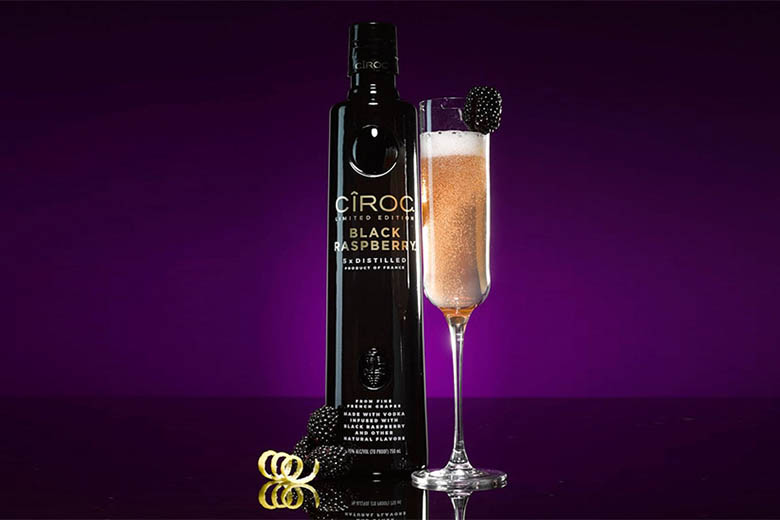 An incredibly easy cocktail to assemble, but one sure to be a hit with all party-goers, this bellini is made with Cîroc Peach, one of the brand's infused vodkas. It has all the juicy succulence of peach along with the delectable fizz of Champagne, and is the perfect drink for a hot summer's day.
Ingredients:
40 ml Cîroc Peach
10 ml Champagne
Cocktail recipes: Add the Cîroc Peach to chilled Champagne in a flute glass. You can adjust the ratios according to your taste and play around with adding fresh fruit like strawberries and raspberries too.
Cîroc Blue Stone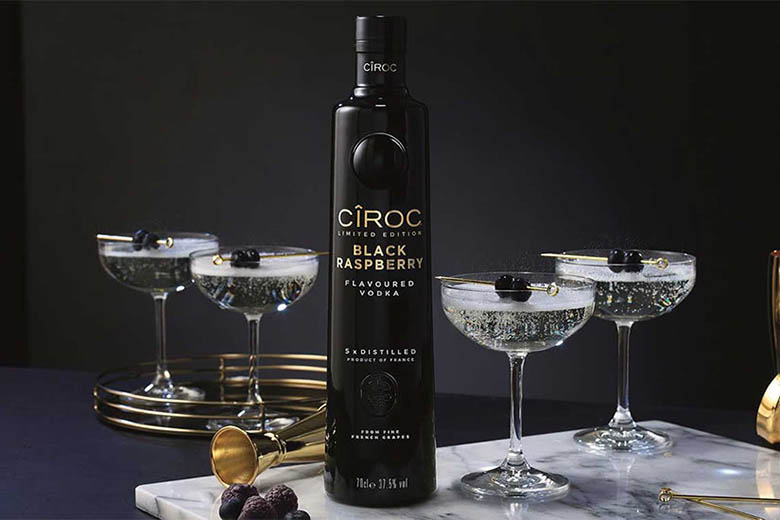 A simple but deliciously refreshing Cîroc cocktail using the more-ish flavors of vanilla and lemon. The ultimate celebratory cocktail, it was conceived as part of the Cîroc On Arrival campaign in collaboration with fashion photographer Mario Testino.
Ingredients:
40 ml Cîroc Vodka
20 ml fresh lemon juice
10 ml vanilla syrup
Soda water to top up
Cocktail recipes: Add ice to a highball glass. Shake together all the ingredients save for the water in a cocktail shaker. Strain into the glass, top with soda, and garnish with dark grapes.
Cîroc frequently asked questions
How much is a bottle of Cîroc?
The price of a bottle of Cîroc depends on what kind of Cîroc you're after. The classic Cîroc Snap Frost Vodka costs around $28 for 750 milliliters. On the other hand, Cîroc Ten Vodka costs around $245 for 1000 milliliters.
Is Cîroc a good vodka?
Cîroc is a high-quality vodka and the second-bestselling premium vodka in the world. Thanks to the expertise and experience of the Cîroc distillers who create the spirit—in a process that involves distilling grapes five times—the result is a vodka that is superbly smooth and refined.
What kind of liquor is Cîroc?
Cîroc is a vodka, but unlike most vodkas that are made using grains or corn, Cîroc is made by distilling the finest of French grapes. The fermentation and distillation are done at low temperatures to maintain the freshness and flavors of the spirit.
What's the best Cîroc flavor?
The best Cîroc flavor is Peach Cîroc. It's made from grapes, like the original Snap Frost Cîroc vodka, but then infused with a blend of sun-ripened peaches. Other popular flavored Cîroc vodkas include Apple Cîroc, which goes well with cranberry juice, and fresh and creamy Pineapple Cîroc.
What is the largest bottle of Cîroc?
The largest bottle of Cîroc is a six-liter bottle that retails for around $480, the perfect purchase for parties. Like all Cîroc vodkas, it's distilled five times, producing a smooth and clean flavor that tastes great both in cocktails and neat.