Cointreau's enduring appeal owes in part to the eternal allure of oranges. Historic symbols of abundance, in both art and culture, oranges have long been associated with prosperity and wealth. Synonymous with sunshine and summer, there's just no other color quite as full of life.
The famous orange liqueur, instantly recognizable with its square-shaped amber-colored bottle, is considered one of the most luxurious and classic alcohols around.
Cointreau is the most well-known triple sec-style drink. We say triple sec style because—while it was originally called Cointreau Triple Sec—Cointreau is not actually triple sec. True cocktail connoisseurs understand that there is a subtle difference—not least in terms of Cointreau's price.
The exact difference between Cointreau and triple sec is contested. But there are a few points where they clearly diverge.
Firstly, Cointreau is French—and is proud of its French heritage. Secondly, Cointreau uses oranges from around the world—from Ghana to Brazil, while triple sec sticks to oranges from the Caribbean. In terms of flavor, Cointreau is much lighter than triple sec. And, finally, Cointreau has an ABV of around 40%, while triple sec is usually between 20 and 25%.
Cointreau can be enjoyed in a cocktail but also neat or over ice. And, with its mixture of sweet and bitter orange peels, the liqueur has a very distinct flavor. Sweet yet refreshing and clean, Cointreau delivers a fruity complexity—citrusy but with warm and spicy notes.
What we're basically saying is Cointreau is incredibly drinkable—trust us.
So whether you're sipping it in the form of a Sidecar or Cointreau Margarita, straight, or on the rocks, here's everything you need to know about the inimitable orange liqueur.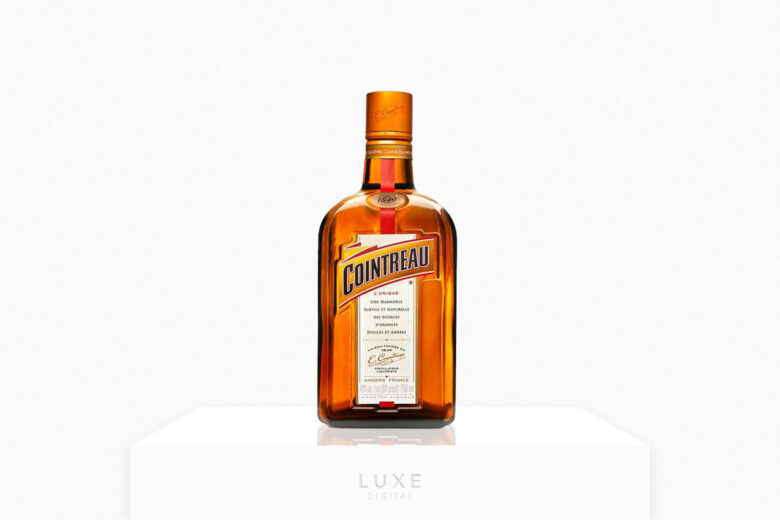 Buying Cointreau: bottles and prices
| Bottle | Size | Est. Price (USD) |
| --- | --- | --- |
| Cointreau Blood Orange | 500 ml | $27 |
| Cointreau 375 ml bottle | 375 ml | $25 |
| Cointreau Blood Orange | 700 ml | $34 |
| Cointreau Noir | 700 ml | $43 |
| Cointreau 750 ml bottle | 750 ml | $36 |
| Cointreau 1 liter bottle | 1000 ml | $40 |
| Cointreau 1.75 liter bottle | 1750 ml | $70 |
Cointreau: the story behind the brand
Cointreau began life in 1849 after Adolphe Cointreau, a confectioner hailing from Angers, France, decided to expand the family business by producing liqueurs. The company's first product was actually Guignolet—a traditional cherry liqueur. It wasn't until 1857 that the orange alcohol began to appear in brand recipe books.
In 1875, Adolphe's nephew, Édouard Cointreau, joined the business and focused his efforts on liqueurs made from oranges. After years of research, he succeeded in producing a drink that was high in flavor but not too sweet, created using a combination of dried and fresh orange peels from both sweet and bitter fruits.
To this day, no one knows exactly how Cointreau is made. The company has kept its manufacturing process incredibly hush. Even on visits to the distillery, photography is restricted and many areas are off-limits. This secrecy just adds to the sense of intrigue and romance around this alcohol brand.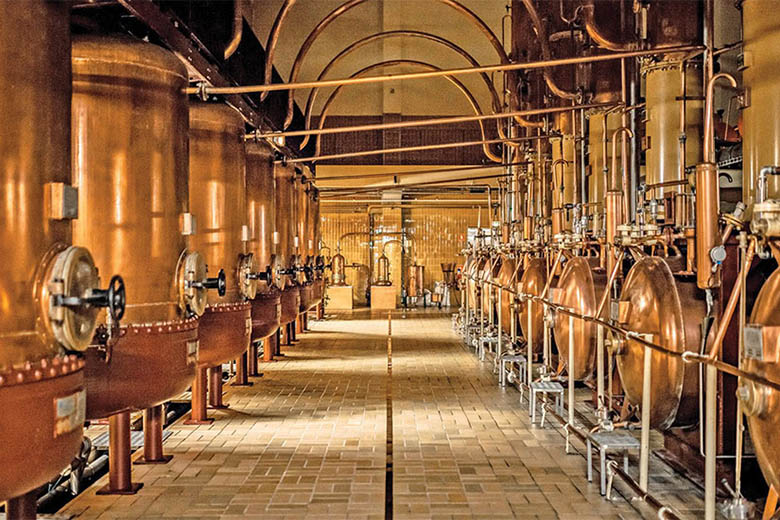 However, we do know the main ingredients: alcohol, water, sugar, and orange peel. The skill lies in balancing the combination of peels from different oranges. These oranges are sourced from around the world, from Spain to Senegal, and include varieties like the juicy salustiana and the small and sweet pera orange. Some of these peels are macerated to lend fresh vanilla-like notes to the drink.
When it first emerged, Cointreau offered drinkers something different. Something exotic and exciting. After all, oranges were a rarity at that time—considered a true luxury.
In fact, Cointreau was almost too appealing, and there followed a whole host of copycat drinks. This led the family to change the company name, dropping the Triple Sec part of the title. From then on, it would be simply known as Cointreau.
Part of Cointreau's success lies in its intuitive understanding of the power of marketing. First, there was the invention of the character Pierrot Cointreau, who featured on Cointreau ads for decades. Then there was a cinema commercial—the first in history—screened in 1899, and directed by the Lumière Brothers, French pioneers of cinema.
More recently, Cointreau has run several memorable advertising campaigns. For example, Be Cointreauversial, with burlesque dancer Dita Von Teese as a brand ambassador. With her 1930s-inspired aesthetic, both provocative and elegant, Von Teese perfectly captures the brand's signature daring, vibrancy, and sensuality.  
Then there was The Art of the Mix, inspired by the most famous Cointreau cocktails: the Margarita, Cointreau Fizz, Sidecar, and Cosmopolitan. Each cocktail ingredient is embodied by a unique character, coming together to dance in an enthralling celebration.
While Cointreau is one of the oldest family-run distilleries in the world, it has also succeeded in staying current and relevant in an evolving consumer landscape. In 2018, for example, the brand updated the Cointreau logo, sharpening the letters to make it feel fresher and more modern.
Cointreau is not just for sipping as an apéritif or as a digestif. Cointreau is also a popular ingredient in cooking. For example, in a sponge cake or with baked fruits, or as a salad dressing or sauce for fish. You can even use Cointreau to flavor coffee.
The brand has also launched a couple of other products alongside its most well-known orange liqueur.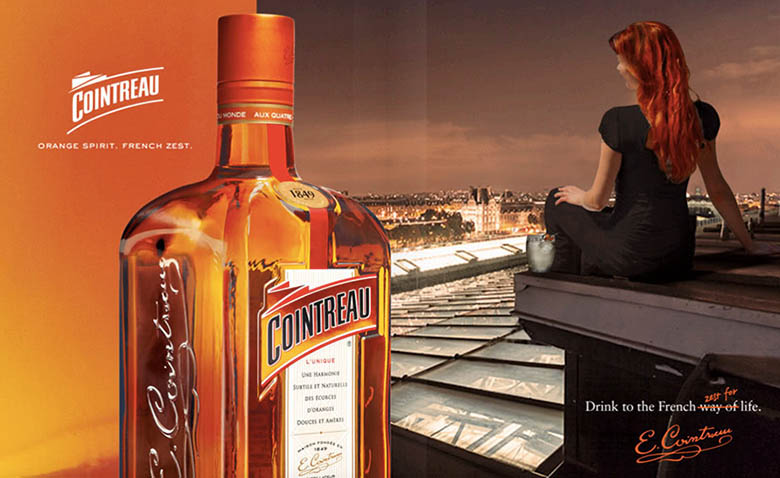 There's Cointreau Noir, a blend of 70% Cointreau and 30% of the brand's own Rémy Martin Cognac, macerated with walnuts and almonds to create a complex and rich flavor. Best enjoyed neat and perfectly chilled.
Then there's Cointreau Blood Orange, where Corsican blood orange is added to the standard Cointreau ingredients, lending the classic liqueur a hint of fruity freshness.
So what makes Cointreau so special? Sure, there's its association with all things bold, luxurious, and, of course, French. But, what it really boils down to is the flavor. There's no other drink that so perfectly balances sweet and bitter, rich and fresh, and can be enjoyed in such a variety of ways.
How to drink Cointreau
The best way to drink Cointreau is in the form of a classic cocktail. Cointreau features as an ingredient in hundreds of cocktails—from the iconic Sidecar or Cosmopolitan to innovative takes on the classic Martini or Margarita.
However, many people enjoy drinking Cointreau straight—or over ice as a digestif or apéritif. Given its high alcohol content—nearly double that of Triple Sec—you'll want to sip it in a manner similar to whisky or brandy.
In terms of glasses, that will depend on how you choose to drink Cointreau. If it's a Cointreau Fizz, for example, you'll want a wine glass. A Margarita will call for a classic sombrero-shaped Margarita glass. If drinking it straight, seek out a lowball or small tumbler.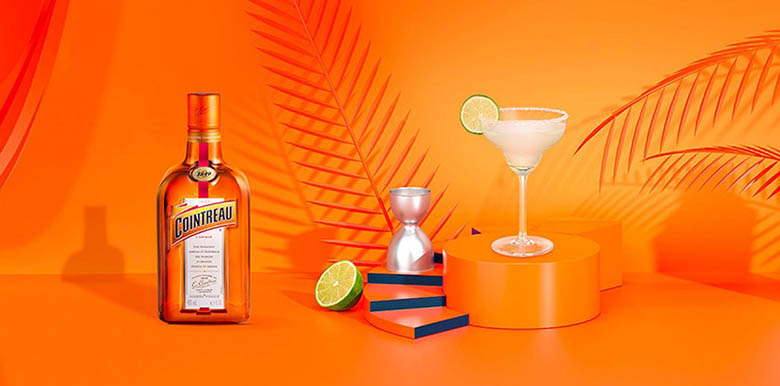 Cointreau cocktail recipes
Cointreau features in over 350 different cocktail recipes, and no bartender shelf is complete without one of those brown square bottles.
Here are the top three cocktails featuring Cointreau. All that remains is for you to set up your home bar, order a bottle online, and get shaking.
Cointreau Sidecar
The Sidecar emerged on the drinking scene in the 1920s. It's purportedly the invention of an American soldier in Paris who named it after his motorcycle sidecar. However, others say the name refers to whatever's left in the cocktail shaker after it's been strained. This surplus is served as shot on the side—aka a sidecar.
Ingredients:
50 ml of cognac, Armagnac, or bourbon
25 ml of Cointreau
25 ml of fresh lemon juice
Ice cubes
Lemon or orange twist for garnish
Cocktail recipes: Add the ingredients to a cocktail shaker alongside ice cubes. Shake and strain into a chilled cocktail glass before adding the garnish.
There are variations on the traditional Sidecar of course. For example, you might want to rim the glass with sugar before starting. If it's too sour, try adding some Spanish brandy de Jerez or Angostura bitters.
Cointreau Margarita
The original Margarita was allegedly the brainchild of Margarete Sames, a Dallas socialite who rustled it up for guests in her holiday home in Acapulco, Mexico, back in 1948. She is said to have quipped: 'A margarita without Cointreau is not worth its salt.'
Today, you'd be hard-pushed to find a bar that doesn't serve a Margarita. It's one of the most popular cocktails in the world. 
Ingredients:
50 ml of high-quality tequila
20 ml of Cointreau
25 ml of fresh lime juice
Salt for rimming the glass
Extra lime for garnishing
Cocktail recipes: Use a lime wedge to wet the outer rim of a glass and dip it in salt to coat. In a cocktail shaker, add the ice, tequila, Cointreau, and lime juice, and shake hard until the outside is cold. Strain over ice and garnish with a wedge of lime.
Cointreau Fizz
A drink designed to showcase the unforgettable flavors of the orange liqueur, a Cointreau Fizz also happens to be a superbly easy cocktail to make. Sweet and fizzy, it's also very refreshing—perfect for a hot summer's afternoon.
Ingredients:
50 ml of Cointreau
15 ml of fresh lime juice
50 ml of soda water
Cocktail recipes: Combine the lime juice, Cointreau, and ice in a cocktail shaker. Shake until the tin is cold. Strain into a wine glass over ice and add soda water to top up. Garnish with lime, orange, or perhaps orange blossom. You could even add a shot of prosecco if you're feeling naughty.
Cointreau: Frequently asked questions
What is the difference between Triple Sec and Cointreau?
Triple sec and Cointreau are both orange-flavored liqueurs, made from orange peels, but they are not the same. Triple sec is a type of liqueur—similar to curaçao but less sweet. Meanwhile, Cointreau is a registered trademark and brand, not a category of alcohol.
What type of alcohol is Cointreau?
Cointreau is an orange liqueur made from a mixture of sweet and bitter orange peels. As a liqueur, Cointreau is distinct from drinks like gin or rum, being a sweetened spirit more often added to cocktails than drunk neat or over ice.
How much is a bottle of Cointreau?
A 750-milliliter bottle of Cointreau costs around $36. However, you can buy Cointreau substitutes at lower prices, such as triple sec, curaçao, Grand Marnier, or Combier.
Can you replace Cointreau with triple sec?
You can replace Cointreau with a brand of triple sec when making cocktails. Flavour-wise, they are fairly similar. Triple sec has a lower alcohol content, averaging around 20 to 25%, while Cointreau comes in at around 40%. So if you're looking for something less intense, triple sec is a good option.
Can you get drunk off Cointreau?
The alcohol content of Cointreau is 40% so it's pretty potent and can certainly make you drunk. However, it has quite a strong taste so you'd struggle to drink copious amounts quickly. Instead, it's better to sip it slowly, either in the form of a cocktail or over ice, before or after a meal.