Emerging onto the horology scene in 2002, Bremont is but an adolescent by watchmaking standards. But this plucky youngster has managed to command instant respect in an industry where legacy counts for so much.
Bremont has championed British watchmaking from the get-go, reinvigorating the country's watchmaking potential. Two, because of its uniquely fascinating origin story. And three, because few brands celebrate both aviation and adventure quite like Bremont.
At a glance
| | |
| --- | --- |
| | |
| Industry: Watches | Founded: 2002 |
| Headquarters: England | Founder: Nick and Giles English |
| Watch Collections: pilot watches, dive watches, racing watches, field watches, and dress watches | Parent organization: Privately owned |
| Annual Revenue: $47 million USD | Website: bremont.com |
Bremont watch price
How much does a Bremont watch cost?
The starting price for an entry-level Bremont watch is $3,695 for a Bremont Solo-37. Bremont watch prices for a Bremont Supermarine also start at $3,695. Bremont watch prices for a Bremont MBII start at $4,995. At the other end of the price spectrum, a Bremont Limited Edition Longitude costs $24,995.
What is the most expensive Bremont watch?
The most expensive and exclusive Bremont watch is the Bremont 1947 Collection, created in collaboration with Ronnie Wood of the Rolling Stones. The collection consists of 47 hand-painted watches, painted by Wood himself while on tour. Each one retails for around $46,000.
See how this compares to the world's most expensive watches.
What is the cheapest Bremont watch?
The cheapest Bremont watch is a Bremont Broadsword which currently retails for $3,445. Bremont watch prices for an Airco Mach 1 begin at $3,795. You can pick up a Bremont S00 Kaimu for $3,695 and a Bremont ALT1-P2 for $4,995.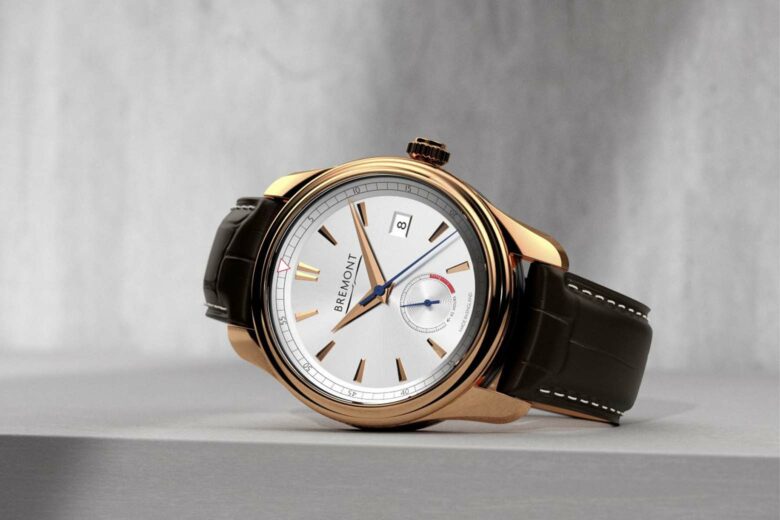 About Bremont
History of Bremont
The Bremont story begins in 1995 when co-founder Nick English and his father, a Royal Air Force veteran, were participating in a practice flight for an air show. When they were unexpectedly forced to make a sharp maneuver to avoid a collision, their plane lost control and went into a spin. Nick's father died and Nick only just survived.
After his recovery, and following this close brush with death, Nick and his brother Giles decided to ditch their careers and take over their father's company.
The next part of the Bremont story takes place when the two brothers were flying across France in a biplane and were forced to make an emergency landing in a field. The farmer welcomed them into his home and, during their stay, it emerged that he had also flown aircraft during WWII. Plus, he too had a passion for timepieces. The farmer's name was Antoine Bremont.
The Bremont company was founded in 2002. Nick and Giles English went to Switzerland to learn all they could about watchmaking and for five years, prototyped and tested their designs in some of the most extreme conditions on earth. Hence the company motto: 'Beyond Endurance'.
The company's first collection of men's watches was launched in 2007.
Interesting facts about Bremont
Bremont has partnerships with a number of top British brands including Jaguar and British Airways.
Bremont has acted as the official timing partner for England Rugby and the Isle of Man TT.
A quarter of Bremont's business is constituted of military contracts, creating bespoke watches for combat personnel.
Bremont watches is the only watch manufacturer with permission to feature the signs and badges of the Royal Navy, British Army, and Royal Air Force on their products.
Bremont MBI watches are made specifically for pilots who have ejected from Martin-Baker flight seats. Bremont MBII watches are a similar model but are available to all buyers.
Bremont watches featured in the movie Kingsman and co-founder Nick English even makes a cameo appearance.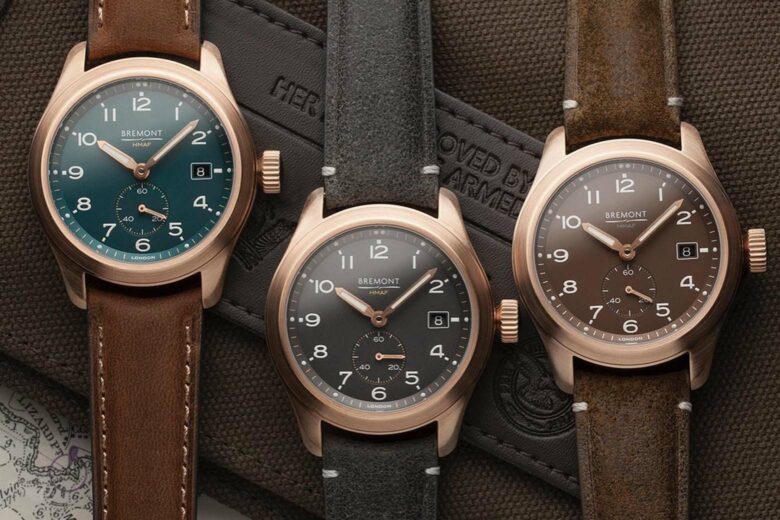 Bremont product range
Bremont's history is inextricably tied up with aviation and so pilot watches form the heart of the brand's product range. However, Bremont also offers a variety of other timepieces, which can be grouped roughly into five categories.
First, there are, of course, the Bremont pilot watches. These are found in the Bremont Altitude collection, which is divided into five subcategories, ranging from the entry-level Bremont Solo to the famous Bremont MBI and MBII.
The Bremont Supermarine collection is the brand's line of dive watches with impressive water-resistant timepieces, including some spectacular limited editions.
The Bremont Motorsport collection is just as it sounds. Racing car-inspired watches, including timepieces born from collaborations with iconic car manufacturers like Jaguar.
Then you have the Bremont line of field watches, known as the Armed Forces collection, which includes the Bremont Broadsword, inspired by the original 1940s Dirty Dozen timepieces.
For dress watches, look no further than the Bremont Mayfair watch collection, which includes Bremont women's watches, each one immaculately conceived and superbly functional. There's also the Bremont Time Capsule collection, tributes to people and moments throughout history, some of which are definitely black-tie material.
Signature materials and craftsmanship
A significant part of the Bremont ethos is its commitment to British engineering. As such, nearly all the brand's watch parts are produced in the UK, including all the hand-made leather packaging.
Bremont watches are hand-made in limited numbers with truly admirable attention to detail. The margin of error is only 2 microns. Given that a human hair is 60 microns, that gives you some idea of Bremont's perfectionism.
The Bremont Trip-Tick case was one of the brand's earliest innovations. Cases are made in three separate pieces, which allows for more flexibility when it comes to case shape and materials. Midsections are typically made from titanium or carbon-coated steel while glucydur, an antimagnetic alloy, creates resistance to thermal deformation and expansion. Additionally, there are nine layers of anti-reflective treatment on both sides of the case's sapphire crystal.
Bremont cases are said to be seven times harder and more scratch-resistant than those of competitors. Martin Baker, a manufacturer of aircraft ejection seats, submits Bremont's watches to rigorous testing procedures including vibration, crash, altitude, and extreme temperature testing, as well as ejection from a fighter plane.
Bremont's manufacturing facility is being upgraded to improve its eco-credentials, with a living roof and recycled air heating system. Meanwhile, the brand's Waterman watch was made to support Sustainable Coastlines Hawaii. And the company even commissioned a watch strap made from fire hose as an alternative to crocodile leather.
Where is Bremont made?
While originally Bremont watches were assembled in Biel-Bienne, Switzerland, in 2013 they moved all operations to their workshop in Henley-on-Thames, Oxfordshire. Today, Bremont watches are made at the company's manufacturing facility in Northamptonshire in the UK while the company headquarters are in Henley-on-Thames in Oxfordshire.
Brand values
| | |
| --- | --- |
| Vegan options: | No |
| Carbon-neutral: | No |
| Gives back: | Yes |
Bremont watches
Bremont Altitude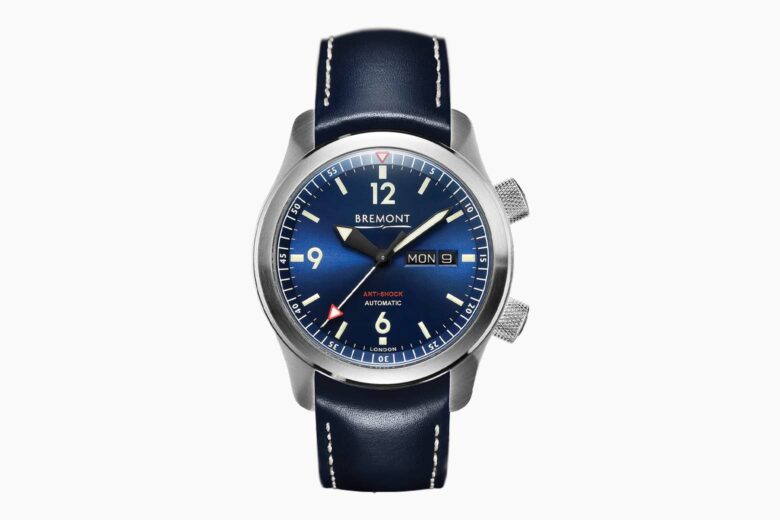 Built on the two founders' family history of flying, piloting is in Bremont's blood. No surprise, then, that the Altitude collection is one of the company's largest and most renowned. These aviation watches are a perfect marriage of form and function and fall into five categories.
The Bremont Solo is an entry-level pilot watch with a classic aesthetic and highly legible dial. Then there's the dressier Bremont Airco, followed by the brand's Pilot Chronographs, including the popular BREMONT ALTI1-P2. Then there are the Bremont Martin Baker watches, including the limited edition Bremont MBI, reserved for pilots who have ejected from an aircraft using a Martin Baker seat. Finally, the Bremont U-2 is a military watch re-envisioned for the everyman.
| | |
| --- | --- |
| Price: | $3,695 – $13,995 + |
| First release year: | 2007 |
| Current case size: | 34 mm – 43 mm |
| Movement: | Automatic |
| Water resistance: | 100 m |
| Crystal: | Sapphire |
Bremont Supermarine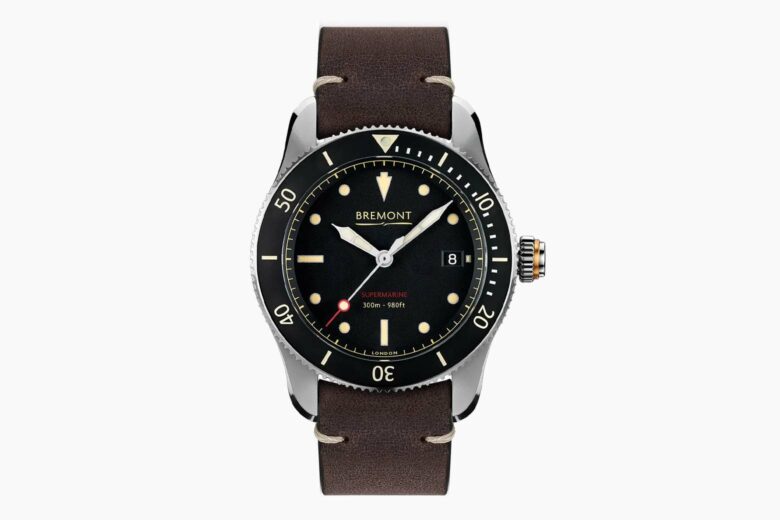 The Bremont Supermarine collection swoops from the skies to the seas with a series of dive watches. Noteworthy models include the Special Edition Bremont Project Possible, a GMT version of the brand's S500 dive watch, available in titanium and bronze, and a tribute to Nims Purja, a Bremont brand ambassador who climbed all 14 of the world's 8,000-meter peaks in less than 7 months. There's also the Bremont S2000, with an exceptionally impressive water resistance of 2000 meters.
| | |
| --- | --- |
| Price: | $3,695 – $7,395 + |
| First release year: | 2010 |
| Current case size: | 40 mm – 45 mm |
| Movement: | Automatic |
| Water resistance: | 200 m – 2000 m |
| Crystal: | Sapphire |
Bremont Motorsport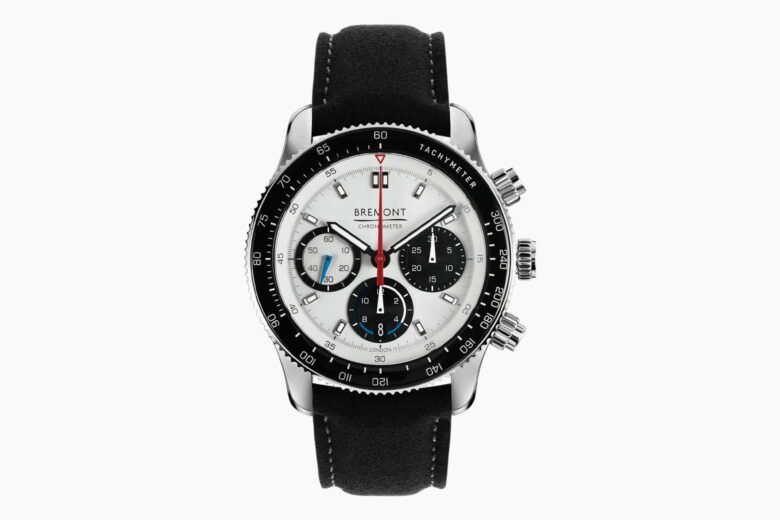 The Bremont Motorsport collection is created from collaborations with famous automobile companies including Williams F1, Jaguar, and Norton. These unique timepieces feature motorsport-inspired design codes as well as that same peerless Bremont durability. Look out for the Bremont Jaguar MKI, an homage to 1960s motorcar racing, and the Bremont Isle of Man TT watch, named for the world's most dangerous on-road racing event.
| | |
| --- | --- |
| Price: | $4,895 – $16,995 |
| First release year: | 2010 |
| Current case size: | 40 mm – 43 mm |
| Movement: | Automatic |
| Water resistance: | 100 m – 2000 m |
| Crystal: | Sapphire |
Bremont Armed Forces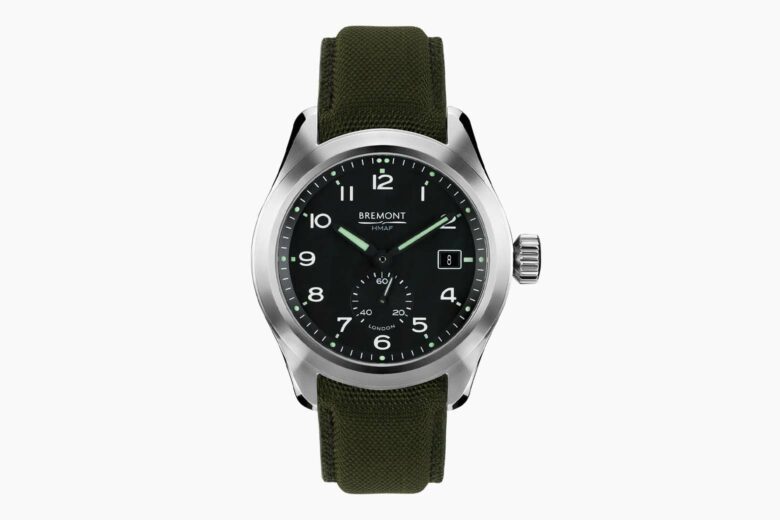 The Bremont Armed Forces Collection was born from a partnership with the British Ministry of Defence. This prestigious collaboration has resulted in three Ministry of Defence-inspired references, including the Bremont Broadsword, a contemporary field watch that feels like a replica of the WWII Dirty Dozen watches, full of 1940s fighting spirit and featuring Her Majesty's Armed Forces Heraldic Badges engraved on the back.
| | |
| --- | --- |
| Price: | $3,445 – $5,345 |
| First release year: | 2020 |
| Current case size: | 40 mm – 42 mm |
| Movement: | Automatic |
| Water resistance: | 100 m – 300 m |
| Crystal: | Sapphire |
Bremont Mayfair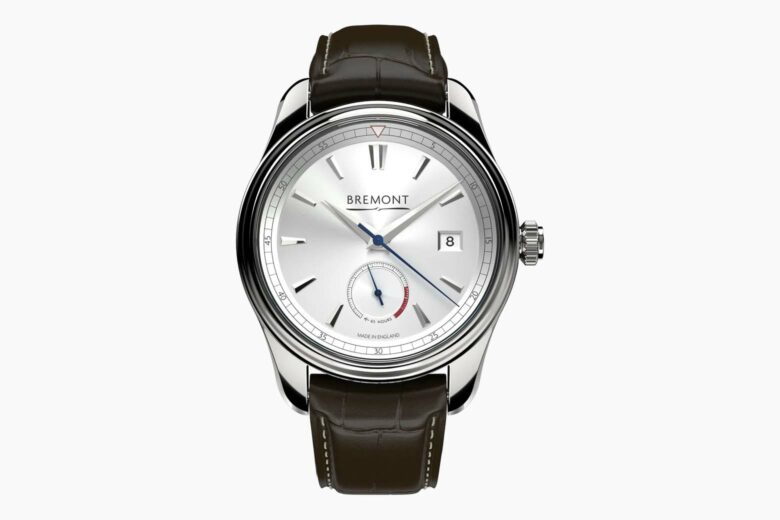 The Bremont Mayfair watch series constitutes the brand's dress watches, offering timeless sophistication and low-key elegance. From the Bremont Audley, named after Bremont's first flagship boutique in Mayfair, to the Bremont Lady K for women—playful, colorful, and with diamond bezels—the Mayfair collection proves that Bremont can do polished refinement as well as robust high-performance.
| | |
| --- | --- |
| Price: | $3,695 – $16,995 |
| First release year: | 2012 |
| Current case size: | 34 mm – 43 mm |
| Movement: | Automatic |
| Water resistance: | 100 m |
| Crystal: | Sapphire |
Bremont Time Capsule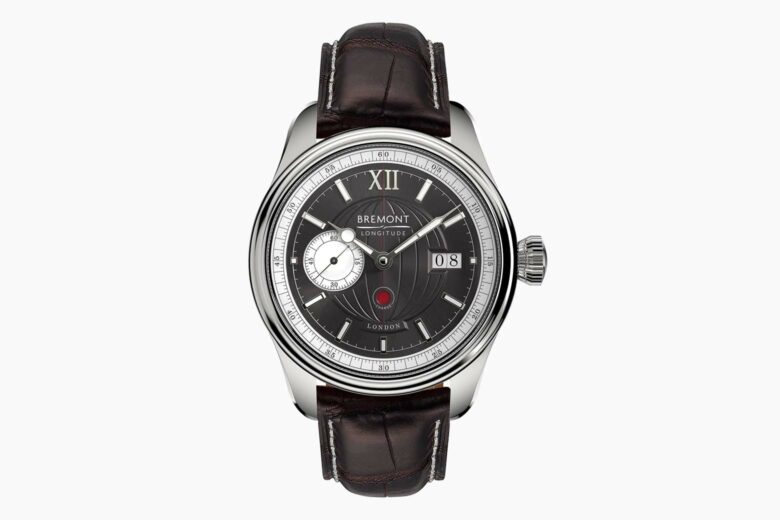 This collection of limited edition watches seeks to commemorate and celebrate pivotal historic moments. As such, the timepieces in the collection vary hugely, ranging from the Bremont Limited Edition Longitude, featuring the in-house ENG300 movement, to the Bremont Limited Edition Hawking, a homage to Stephen Hawking. Most noteworthy of all perhaps, is the Limited Edition Wright Flyer, featuring some of the original fabric used in the 1903 Wright Flyer aircraft, the first powered and manned airplane to demonstrate sustained flight.
| | |
| --- | --- |
| Price: | $4,995 – $24,995 + |
| First release year: | 2014 |
| Current case size: | 40 mm – 43 mm |
| Movement: | Automatic and manual |
| Water resistance: | 100 m – 500 m |
| Crystal: | Sapphire |
Where to buy Bremont watches
You can buy Bremont watches online from the company website or in-person from one of the brand's authorized retailers, as listed here. The company offers a click-and-collect service for its boutiques in London, Hong Kong, New York, and Melbourne. Each watch comes with a 3 or 5-year warranty.
You can also buy Bremont watches from third-party retailers like FARFETCH and Mr Porter where the authenticity is guaranteed.
For more about buying a luxury watch, see our watch guide.
Bremont shipping
Bremont can ship to the UK and Europe for £12.50 for standard shipping or £35 for FedEx International Priority. Bremont can also ship to the US for a set fee of around £15.00 ($17). You will receive your order within 5-7 working days. FedEx International Priority delivery costs £30.00 ($34). For delivery to anywhere else, shipping costs between £15 and £35. For some destinations, you will need to pay taxes, fees, levies, and other charges.
FARFETCH and Mr Porter charge different fees depending on the country.
Bremont return policy
Bremont watches can be returned to the company for a full refund within 14 days of receiving your returns reference number from the customer service department. Email concierge@bremont.com or ring +44 (0) 800 817 4281 to get your returns reference number. All watches must be returned in the original condition with all the original packaging.
FARFETCH accepts returns within 14 days for a full refund and Mr Porter allows returns within 28 days.
Bremont customer service number
If you need help with your Bremont watch order, or have any other queries or complaints simply contact the Bremont customer service department on 0800 817 4281.
Bremont social media profiles
Frequently asked questions about Bremont watches
Are Bremont watches luxury?
Bremont watches are luxury British watches that are known for their extreme durability and military and aviation pedigree. The company is based in the UK and creates high-end timepieces that can survive extreme conditions.
Is Bremont watch a good investment?
A Bremont watch is a good investment because these timepieces are built to last. Bremont timepieces undergo a rigorous testing procedure to ensure they can survive the most arduous conditions. For more about the brand and its timepieces, see our Bremont guide.
How durable are Bremont watches?
Bremont watches are very durable. In fact, the company's motto is 'Beyond Endurance' thanks to the extreme testing that their watches undergo before they reach the market. These include ejection from a fighter plane and extreme temperature testing.
Do Bremont make their own movements?
Bremont make their own movements as of 2021 when they released the ENG300, a 65-hour automatic movement with a silicon escapement, made at the company's manufacturing facility known as The Wing. For more about the brand, see our Bremont watch guide.