Nothing says cozy home like a flickering scented candle.
With our round-up of the best scented candles of the year, you're a swift strike of a match away from transforming the atmosphere in your home. Scented candles have the power to delicately but deftly create the perfect mood. You can't see the change, but you'll feel it.
Try sage and lavender fragrances to soothe you after a hectic day, or bright, citrus notes to energize your mornings. Craft a fertile environment to ignite creativity with fruity bergamot, or choose frankincense to uplift a diminishing mood.
Take a look at our scented candle buyers' guide after the list to see exactly what you should pay attention to before purchasing a premium home fragrance. Our editors also share five tips to make your home smell amazing all year long.
With your home thoughtfully furnished to the highest standard; your 5* hotel-style bedsheets nothing short of splendid, why ignore your olfactory glands when every other sense is satiated?
Aesop Ptolemy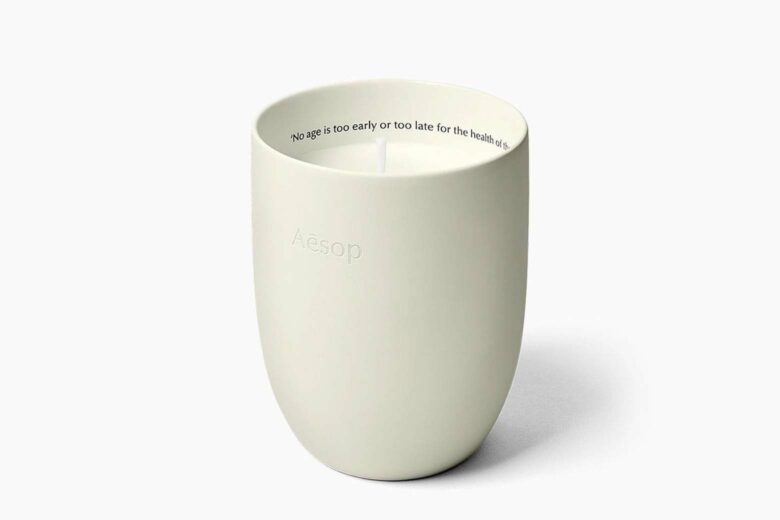 Imagine strolling through an ancient forest. Towering trees sway in a gentle breeze. Shafts of light twinkle through the canopy. Smell the soft scent of Cedar and Cypress and the earthy and smoky notes of Vetiver. It's instant tranquillity and calm.
With its woody aroma, almost resinous in scent, Aesop's Ptolemy Aromatique Candle has been formulated to transport you away to the heart of a dense old-growth Japanese forest, full of ancient trees whose outstretched arms speak of centuries of watching over humankind.
This candle is part of Aesop's luxurious home fragrance collection. Read our review of Aesop's entire candles set to discover the other scents.
| | |
| --- | --- |
| Burn time: | 55-65 hours |
| Wax: | Paraffin and vegetable waxes |
Lulu Candles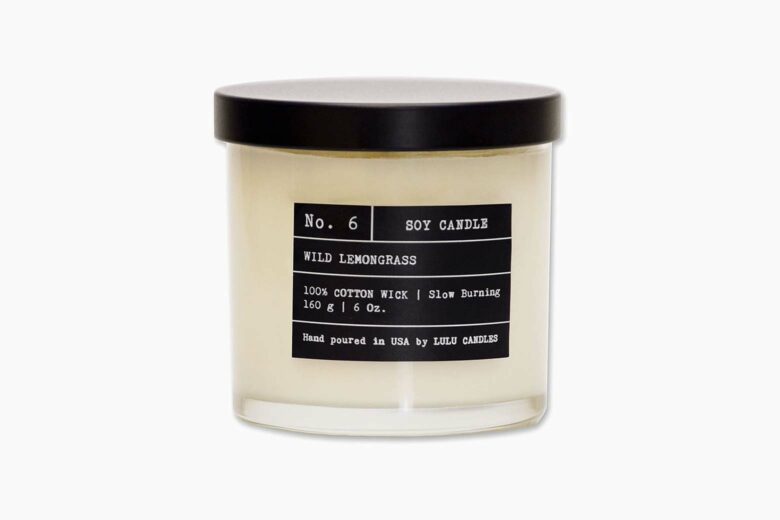 Vegan, paraben-free, and eco–friendly, Lulu's soy wax candles are made and hand-poured in the USA.
Refreshing, revitalizing, and invigorating, Wild Lemongrass is the candle equivalent of sipping an ice-cold lemonade on a scorching day. Fresh but striking in aroma, the soy wax is packed with essential oils to ensure this candle makes itself known.
For the best value scented candle with a crisp aroma and a long burn time that doesn't break the bank, Wild Lemongrass could be The One.
| | |
| --- | --- |
| Burn time: | 45 Hours |
| Wax: | Soy |
Brooklinen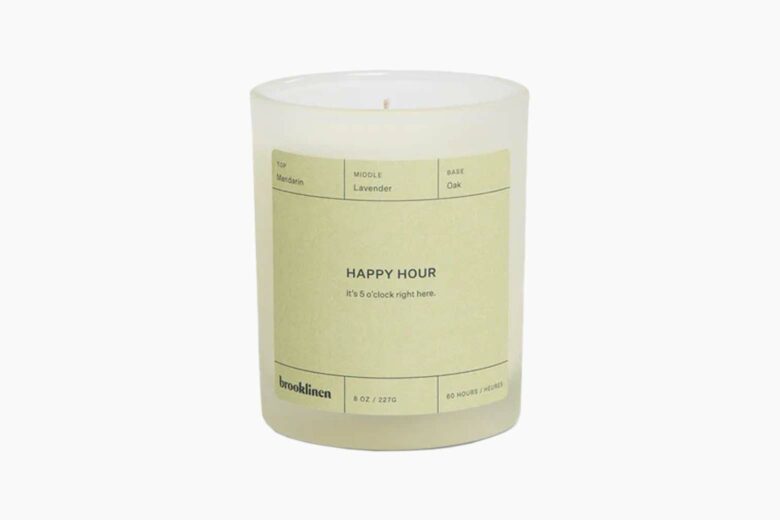 When we think of the best luxury candles, we think of channeling an inner chill—be it a moment of solitude in the bath or bringing in the weekend with friends. This candle says cheers to all of the above. And through a complex combination of calming notes, the enchanting elixir works its magic through a series of explorations.
Citrus and cedar notes take us on a journey through sun-scorched Mediterranean plantations. Whilst stress-reducing rosemary and eucalyptus scents still the mind and bring mental clarity and easy breathing. Replacing the need for half-price cocktails, Brooklinen's Happy Hour is our preferred way to let our hair down—and chances are, your therapist agrees.
Smells like: Strolling through lines of citrus and cedar trees.
| | |
| --- | --- |
| Burn time: | 60 hours |
| Wax: | Soy and coconut |
Byredo Bibliotheque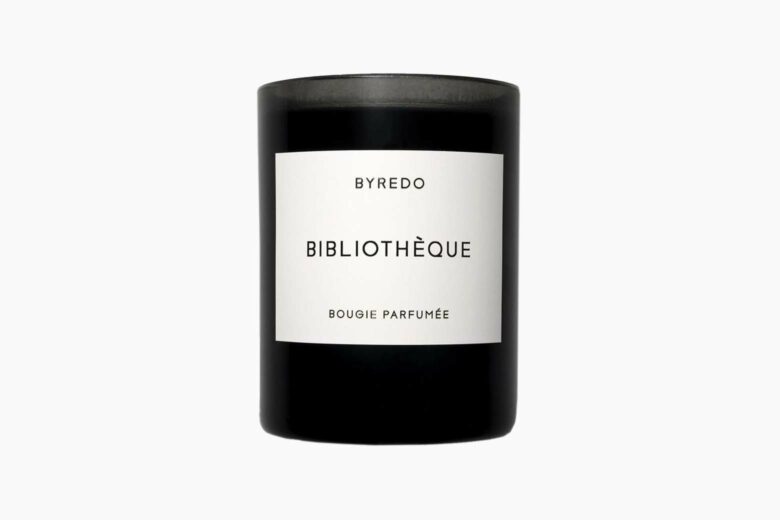 Translated from French to library, the name Bibliotheque captures a suspension in time, during which we are teleported to any place we choose. And in the same way that a library does, Byredo's candle scents hold the enchanting capability to defy reality and take us to a new realm.
The fragrant equivalent of velvety paper, the infusions of peach, plum, and vanilla tempt you to turn the page once more. Whilst an omnipresent patchouli scent runs like an earthy, musky spine through the entire composition of ethereal aromas. Pair Byredo's Bibliotheque with a steamy bath and romantic comedy to transport yourself to 19th-century Paris. Or couple it with fantasy and fire for a fictional escape from everyday mundanities.
Smells like: Eating plum clafoutis outside la boulangerie, book in hand.
| | |
| --- | --- |
| Burn time: | 60 hours |
| Wax: | Beeswax and vegetable wax |
Parachute Salt Water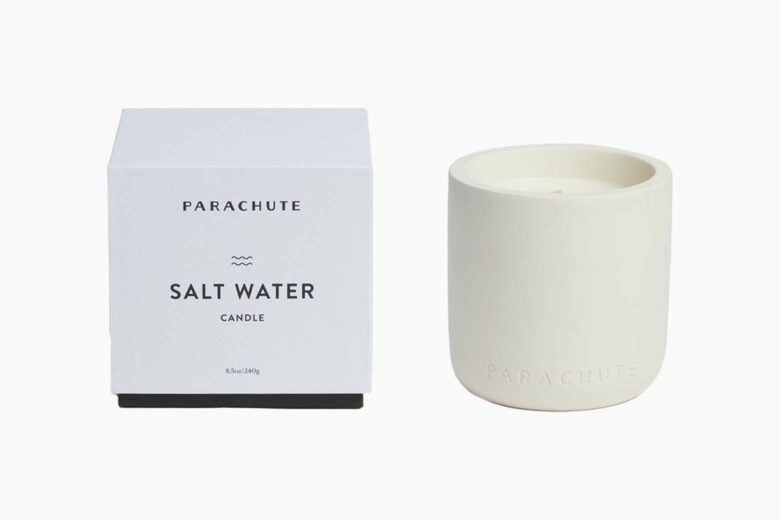 Harnessing the natural healing properties of salty hair and sandy toes, Parachute's fresh fragrance is the candle equivalent of a trip to the seaside. As one of the most popular candle scents amongst beach chillers and cosmopolitan interior decorators alike, the modern minimalist concrete vessel speaks to the simple and serene scent.
Zesty citrus notes take on a refreshing sea breeze. Whilst Cyprus scents and clean driftwood marry slight green undertones with lingering woody aromas. For the days when you miss Summer and need a reminder of what's to come, this Parachute candle is a surefire pick me up on every occasion.
Smells like: Sun-kissed skin and sand-smooched toes.
| | |
| --- | --- |
| Burn time: | 65 hours |
| Wax: | Soy |
Cuyana Signature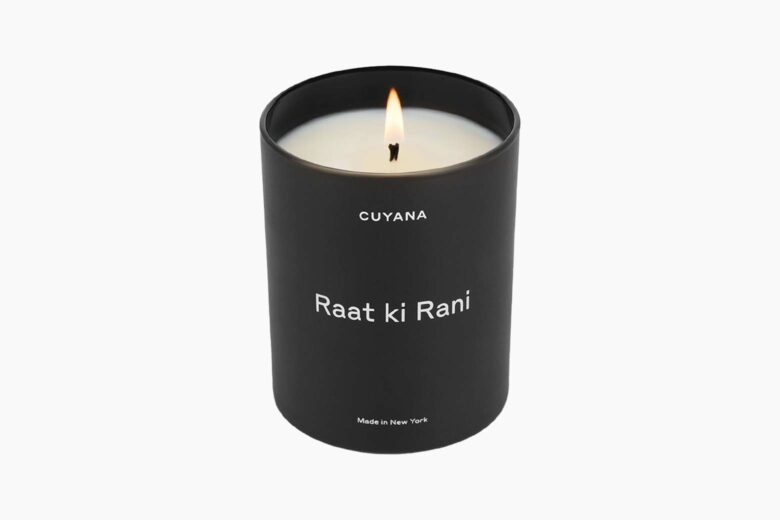 It's no secret that we adore Cuyana's fewer, better philosophy. And so when they released their signature candle, we were desperate to try it. As it burns in our living rooms, it reminds us of walking into the label's minimalist-but-mesmerizing boutique store in California.
As one of the best candles for steamy baths, the scent has effortlessly made its way into our evening routine. And in white writing contrasted against black recycled glass, the words Raat Ki Rani (meaning night blooming jasmine) are reminiscent of the floral aromas that fill the room. Whilst a hint of fresh basil perfectly balances the undertones of magnolia and cyclamen.
Smells like: Fewer, better things.
| | |
| --- | --- |
| Burn time: | 50 hours |
| Wax: | Soy, vegetable wax, and beeswax |
Piglet In Bed Fresh Linen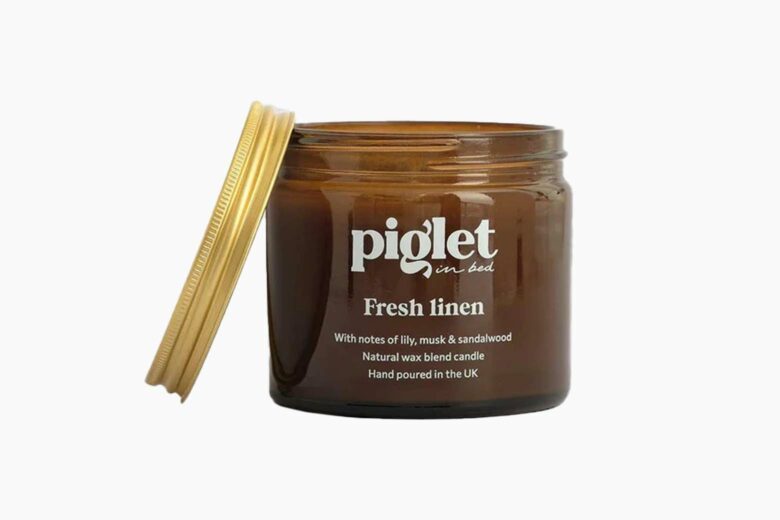 The only thing better than the scent of fresh linen is the scent of fresh linen without actually having to do laundry (we won't tell.) Reminiscent of laundered sheets billowing in the breeze, this fresh fragrance is one of our best scented candles for the bedroom. And as we close our eyes to the hypnotic flame flickering in the darkness, we feel wholly satisfied—even if it's been a while since we turned the washing machine on.
Made from a natural blend of soy, rapeseed, and beeswax, Piglet in Bed's clean-burning candle takes care of us and the environment. The apothecary-inspired glass speaks to the natural elixir's healing properties. Whilst rose petals, lily, musk and sandalwood work together to stir the soul and silence the mind.
Smells like: Fresh linen without the hassle of laundry.
| | |
| --- | --- |
| Burn time: | 45 hours |
| Wax: | Soy, rapeseed, and beeswax |
Anine Bing Pure Noir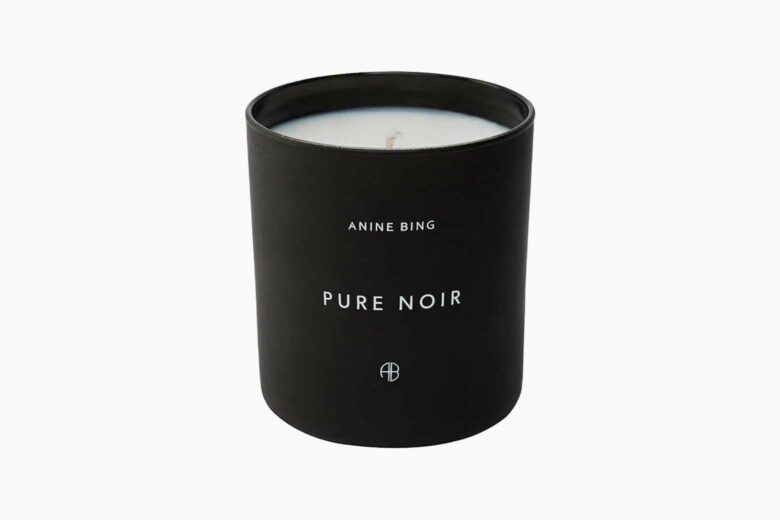 As one of our best perfumes for women, we dreamt of filling our homes with Anine Bing's Pure Noir scent. The brand's signature black glass vessel and contrasted white writing mimic that of the modern minimalist perfume bottle. Whilst the all-natural soy and coconut wax blend is as easy on the environment as it is on the nose.
Just like everything else Anine Bing, these aromatherapy candles are the perfect combination of sensual, elegant, and slightly daring. The scent of rich baccara rose is reminiscent of tea in an English garden. While accents of papyrus and spicy saffron add a sultry touch. And dark guaiac wood and mahogany allude to after-dark mystery.
Smells like: Skinny dipping after dark.
| | |
| --- | --- |
| Burn time: | 40-56 hours |
| Wax: | Soy and coconut |
Diptyque Santal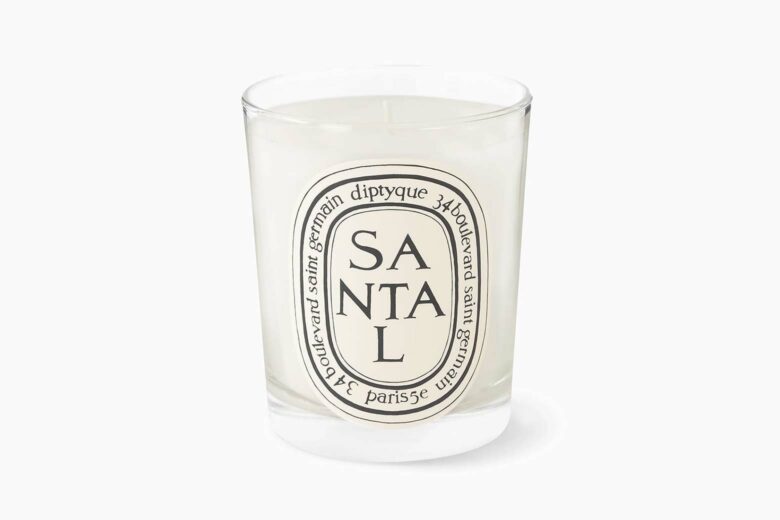 Ah, Sandalwood. The heady concoction of fresh sawdust and wood laced with subtle spices evokes the irresistible vision of an Oriental sunset. Possibly the ultimate scent for creating a warm atmosphere in one's home, Sandalwood just oozes comfort and soothing vibes.
Best for those wishing to bathe their home in a warm glow, Diptyque's Santal scented candle could be what's been missing from your life.
With its complex, toasty aroma and the stylish minimalism of the colorless wax, Diptyque's Santal is a truly luxurious scented candle.
| | |
| --- | --- |
| Burn time: | 60 hours |
| Wax: | Vegetable and paraffin waxes |
Tom Dixon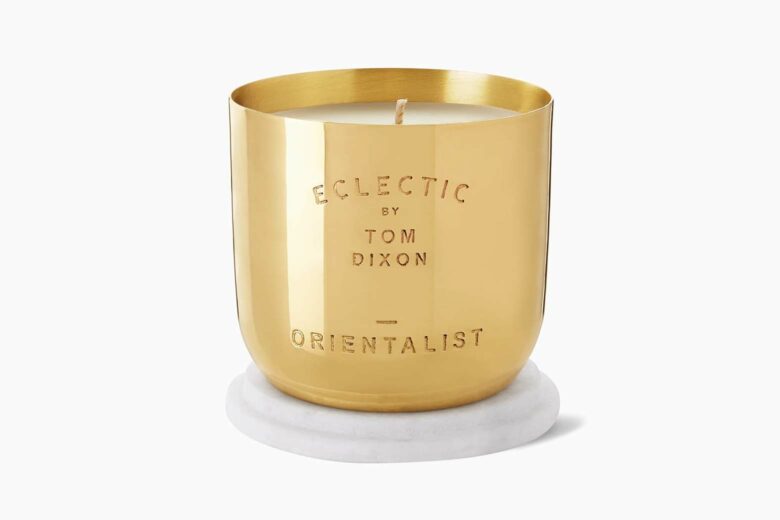 Made in the UK, but reminiscent of all things Indian, this gorgeously potent Tom Dixon's 'Orientalist' candle almost forces you to dream of a rose petal–covered garden of a subcontinental wedding celebration.
Almost masala chai in candle form, the violet leaves, cloves, patchouli, and amber effortlessly envelope every corner of the room in which it's housed. The sweet spice and intoxicating florals of the expertly blended essential oils will go way in freshening up anywhere it's lit.
The suffusing aroma and tangy edge, plus the totally opulent gold presentation box, easily won us over. So we've rated the Orientalist by Tom Dixon as the best scented candle to freshen up any room.
| | |
| --- | --- |
| Burn time: | 70 hours |
| Wax: | 50% soy, 50% paraffin wax |
Cire Trudon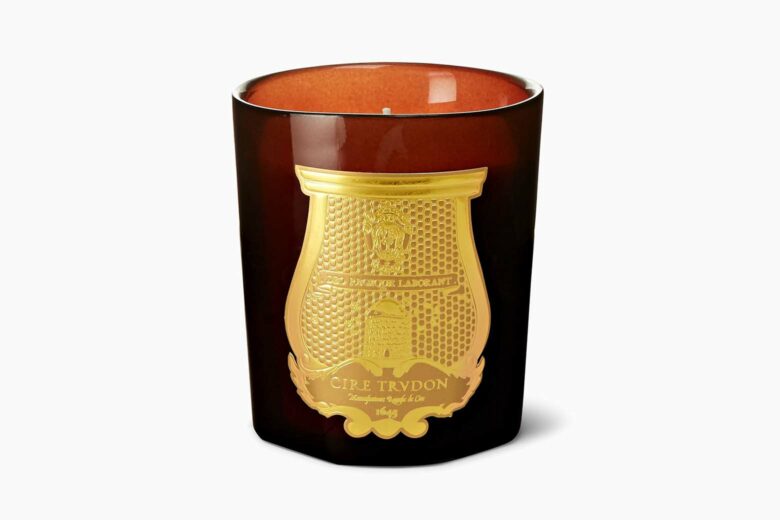 A nod to the company's 17th Century beginnings which included heavy use of beeswax, this lusciously scented candle by Cire Trudon seeps aromas of bergamot and, you guessed it: beeswax.
Another fantastically multifaceted candle, you're then treated to sweet cinnamon and smoky sandalwood before musky vanilla and Tonka Bean. Eclectic combination, for sure, but it smells great.
Moody enough for a cozy atmosphere but absolutely not overpowering, we've named Cire Trudon as the best scented candle for your bedroom.
| | |
| --- | --- |
| Burn time: | 55-60 hours |
| Wax: | Palm oil, rice, soy and coconut |
For a good value alternative, try Rituals' Happy Buddha scented candle. Happy Buddha creates a warm, welcoming atmosphere with its sweet orange and cedar tones.
With 50 hours of burn time, this beautiful candle will look and smell wonderfully serene in your bedroom. Sweet oranges for sweet dreams.
Gucci Herbarium Herbosum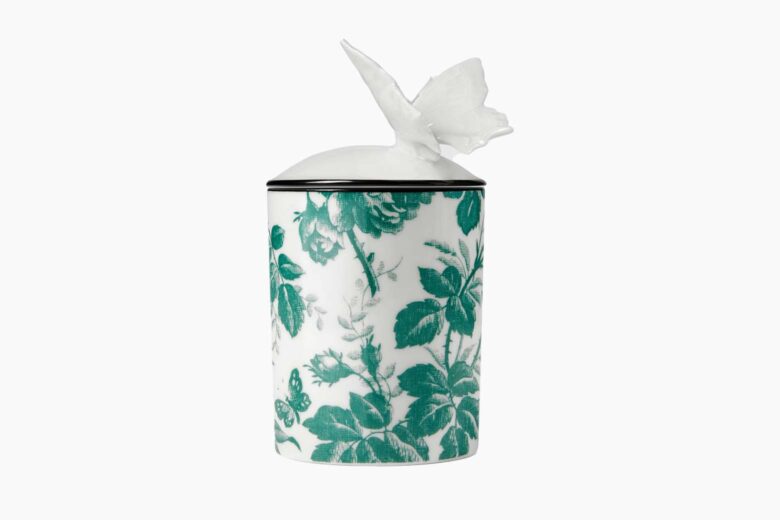 If luxury had a scent, Gucci's Herbarium Herbosum would almost certainly be it. Metamorphosizing any space it's planted, the porcelain butterfly lid unveils a whimsical infusion of garden aromas. Whilst the glass vessel features the affluent label's signature motif—a resplendent display of cherry branches, leaves, and flowers inspired by vintage materials.
This ethereal fragrance recalls a garden cloaked in the morning mist. Tangy tomato leaves and intense aromatic plants get caught up in the glory of it all. And peppered with sweet basil and fresh lemongrass, it's a culmination that awakens every sense. We think gifting Gucci is always a good idea. But as one of our best long-lasting scented candles, this is one you'll never forget.
Smells like: Wandering through ethereal fairy gardens.
| | |
| --- | --- |
| Burn time: | 68 hours |
| Wax: | Paraffin |
NEST Ocean Mist & Sea Salt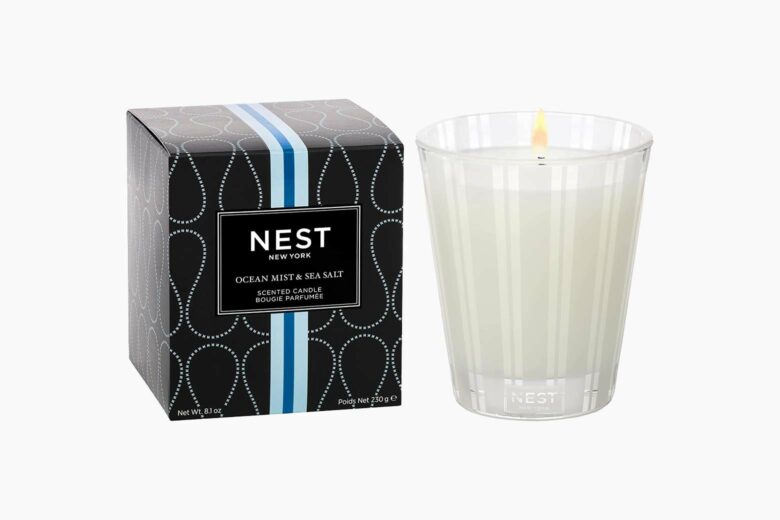 Affordably luxurious, NEST's sea-inspired rendition is one of the best scented candles on Amazon. Made from cruelty-free, vegan wax, it is created with long-lasting elegance in mind. Whilst the minimalist aesthetic allows the fragrance to do all the talking. And talk it does.
Taking us back to golden sunsets, salty mists, and balmy scents, this NEST candle uses the beach as a muse. Hints of sea salt are as naturally soothing as the sound of crashing waves. White tea infusions are a reminder of the gracefulness of white powdery sands. And coconut notes harness the indulgent feeling of applying calming aromatic creams to sun-kissed skin before climbing into bed.
Smells like: Sea breezes and an ice-cold pina colada.
| | |
| --- | --- |
| Burn time: | 50-60 hours |
| Wax: | Parrafin |
Anthropologie Capri Blue Volcano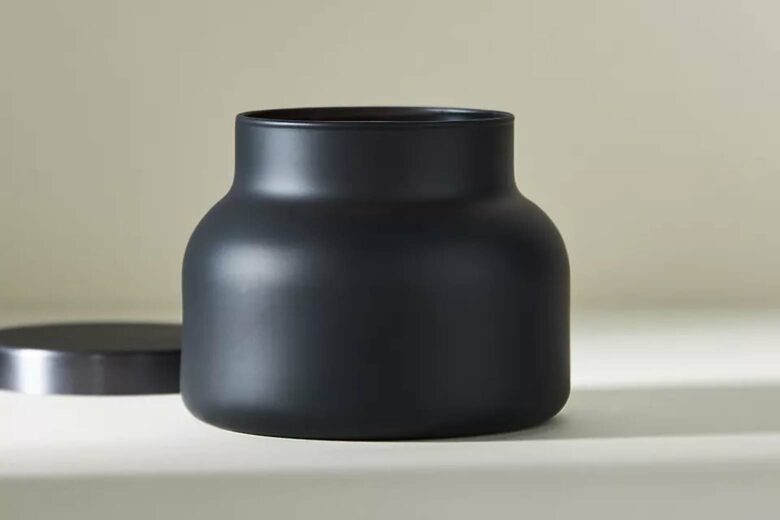 If you've walked into an Anthropologie store, you'll already know that they have some of the best-smelling candles. But the signature Volcano scent is the pinnacle of all that the brand stands for. An explosion of mesmerizing fragrances, the infusion of tropical fruits and mountain greens is both refreshing and intoxicating. Whilst the matte black vessel alludes to the unassuming power that a volcano holds.
Sugared oranges, lemons, and limes are the prevalent notes. But it's the hint of alpine air and exotic trees that really set the Anthropologie Capri Blue candle apart from every other citrus scent. Give it as a gift. Or consider it therapy for yourself. Either way, you'll be blown away (pun intended) by what this infusion holds.
Smells like: Escaping to the mountains.
| | |
| --- | --- |
| Burn time: | 70 hours |
| Wax: | Soy |
Boy Smells Hinoki Fantome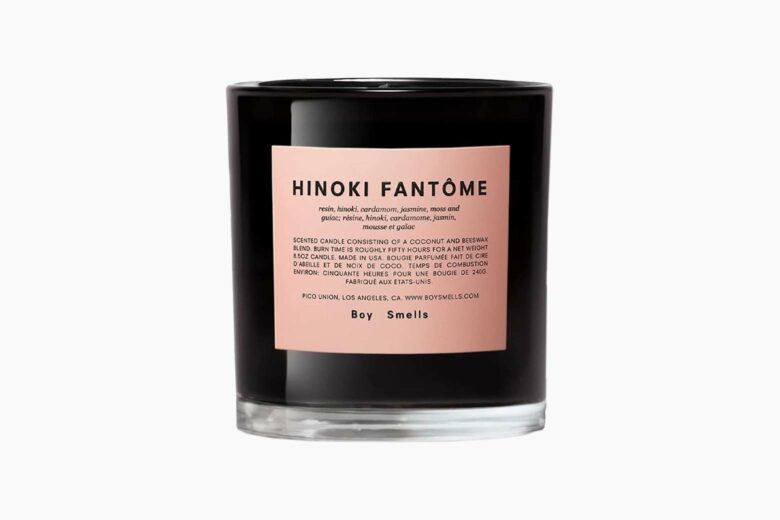 Renowned for pimping nature with innovative combinations, Boy Smells is one of our best candle brands. And judging by our Instagram feeds, the rest of the world agrees. Whilst picking a favorite from the cult-favorite label was no small feat, after sniffing our way through various distinctive fragrances, this is the one that we'd choose to wake up to every day.
Hinoki Fantome is the perfect contrast between uplifting good vibes and slow downtimes. Hints of Japanese cypress and jasmine petals are effortlessly meditative. And an element of earthy, spicy notes such as fresh moss and vibrant timber are the fragrance equivalent of dozing in lush meadows.
Smells like: Meditating in dense meadows.
| | |
| --- | --- |
| Burn time: | 50 hours |
| Wax: | Coconut and beeswax |
Baobab Black Pearls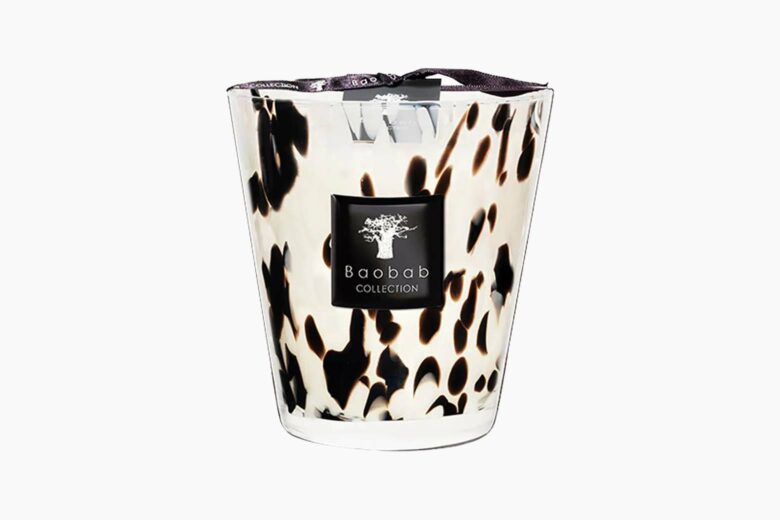 As one of our best long-lasting scented candles, Boabab's decadent candle is an investment into many, many hours of relaxation and rest—one hundred and fifty to be precise. Ginger notes are reminiscent of spoiling spa days and soul-stirring massages. While black rose infusions allude to sipping herbal teas, wrapped in a white gown on a private balcony with panoramic views.
The Boabab Black Pearls candle lives up to a more is more mantra with four illuminating wicks. The distinctive iridescent details pay homage to the elusive black pearls of the Pacific ocean. And whilst there may be many rumors swirling around the mysterious properties of the scarce gem, one thing we know for sure is that this natural candle is all you need for your rejuvenating home spa day.
Smells like: Checking into a wellness spa retreat.
| | |
| --- | --- |
| Burn time: | 150 hours |
| Wax: | Parrafin |
Le Labo Santal 26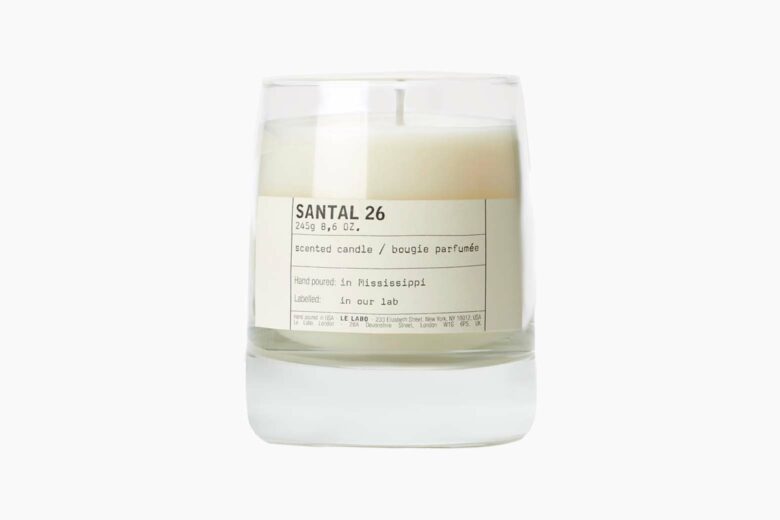 Handpoured in Mississippi, Le Labo candles smell like a Champs Elysees boutique. As a slightly sweeter version of the luxury brand's signature Santal 33 Eau de Parfum, Le Labo Santal 26 draws you in with smoky leather notes. And as it circulates the room, it has the uncanny ability to make any space feel like a design masterpiece—real estate agents, we see you.
We particularly enjoy lighting this elegant aroma when entertaining to set the mood with an unparalleled savoir-faire.
Smells like: Sipping champagne on the Champs Elysees.
| | |
| --- | --- |
| Burn time: | 50 hours |
| Wax: | Soy |
Aromatherapy Associates Deep Relax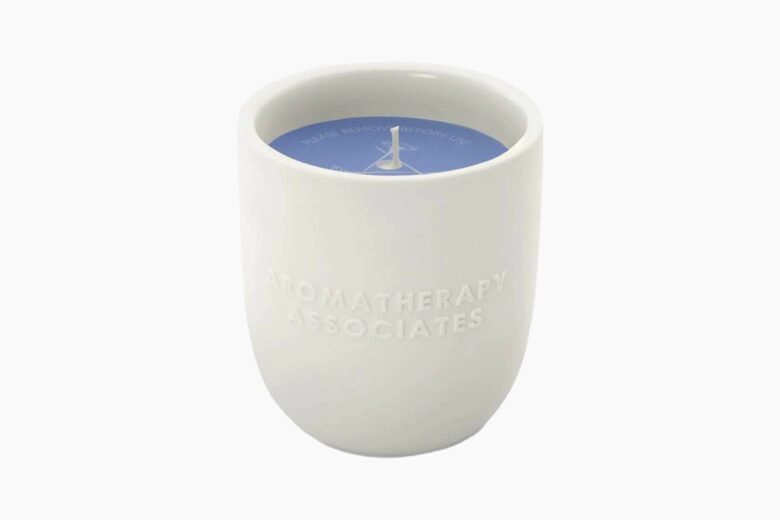 It's no secret that we're big advocates of Aromatherapy in general—both the brand and the treatment. Carefully curated to bring calm and clarity to your everyday mess, the Deep Relax is a firm favorite for days when a trip to the spa just isn't an option. And after a couple of minutes of soaking in the scent surrounded by bubbles and steamy bath waters, we wouldn't be surprised if this elusive elixir replaces the need for monthly massages altogether—that's what we call a good investment.
Starting the healing journey with hints of Vetiver and chamomile, the soulful experience rounds off with Sandalwood aromatics. The white embossed ceramic vessel and clean soy wax are your blank canvas to a world of meditative possibilities. So don't feel obligated to return to reality any time soon—we certainly won't.
Smells like: Soaking in steamy, soul-restoring scents.
| | |
| --- | --- |
| Burn time: | 40 hours |
| Wax: | Soy |
Malin + Goetz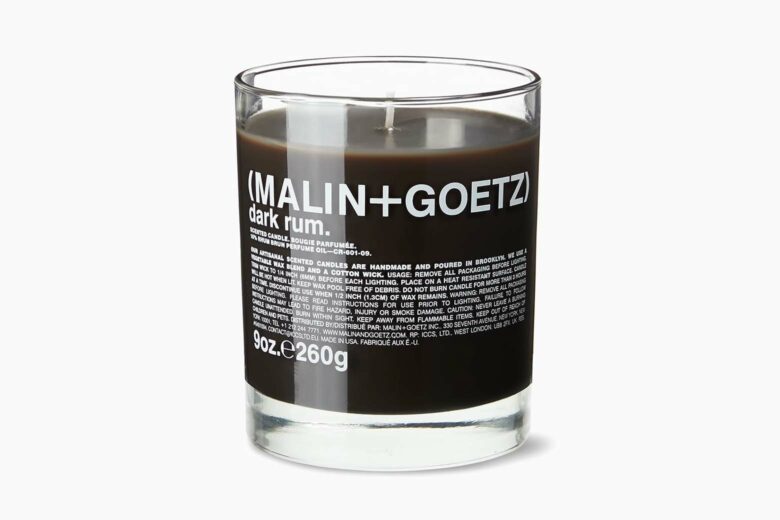 The Dark Rum scented candle by Malin + Goetz truly puts the 'candle' in 'candlelit dinner'. One of their bestselling candles, the slowly melting wax, undulates feminine hints of bergamot and plum.
But that's not all. Those soft, graceful notes are followed by the decidedly masculine scents of deep, smoky rum and leather. This candle has more layers than a tiramisu, and it's just as delectable! And, the grand finale is amber–patchouli with vanilla. Mmm.
Tip: accompany the candle with any rich, creamy dessert of your choice for ultimate romance points.
Due to its artfully lustful yin-yang of aromas, we've named the Dark Rum candle by Malin + Goetz as the most romantic scented candle.
| | |
| --- | --- |
| Burn time: | 60 Hours |
| Wax: | Vegetable wax blend |
Diptyque Feu de Bois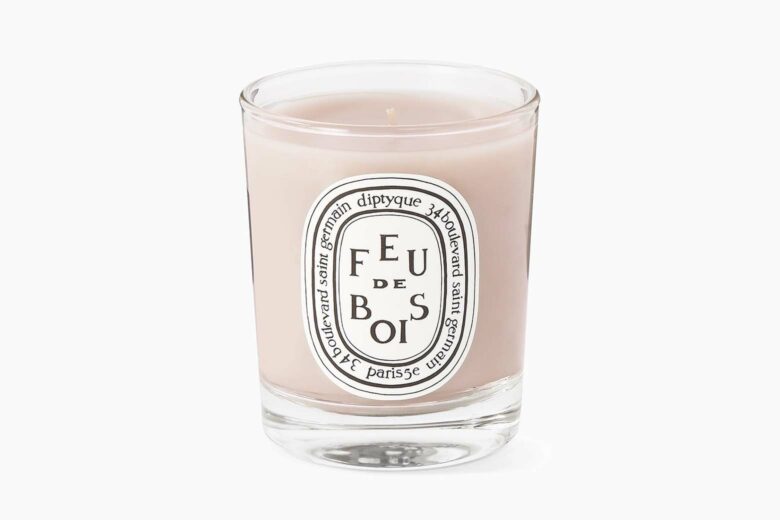 A true beauty from luxurious brand Diptyque, the Feu de Bois candle translates to 'woodfire'.
Once you burn it, you'll understand the name. Diptyque has made it its mission to replicate the aroma of scorching, crackling firewood. Close your eyes and you'll feel the intense heat of a wild campfire on your face while the flames lick the dusky air, and the smoky smell of charred wood engulfs your nostrils.
Rustic, at its very best.
| | |
| --- | --- |
| Burn time: | 60 hours |
| Wax: | Proprietary soy blend |
Chesapeake Bay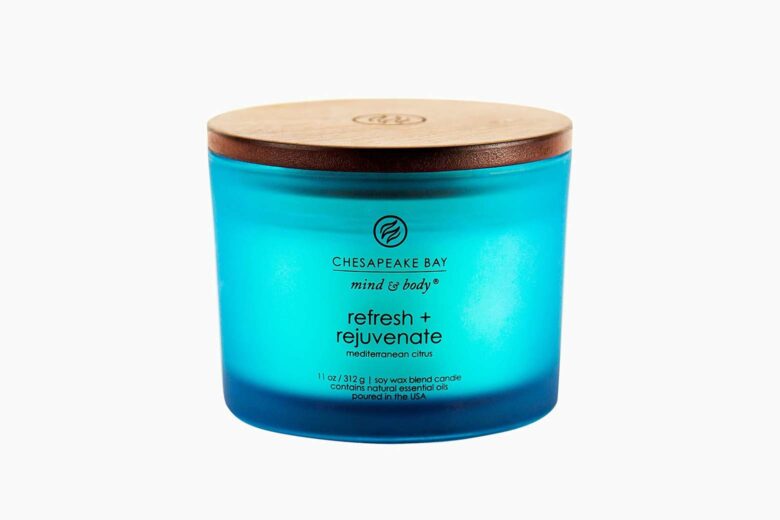 'Refresh and Rejuvenate'. Those are the vibes we desire from our bathrooms. And Chesapeake Bay gets it spot on.
Mandarin, pink grapefruit, and bergamot set on a backdrop of misted turquoise glass echo the coastal vibes, engulfing the senses in all things oceanic. White lily, cardamom, sea moss, and cedar suggest the sensuousness of waves lapping on your feet as you inhale the sea air.
The pure, symbiotic scents enveloped in striking turquoise reminiscent of the sea mist from which it's inspired means we've rated Refresh and Rejuvenate by Chesapeake Bay as the best scented candle for your bathroom.
| | |
| --- | --- |
| Burn time: | 24 Hours |
| Wax: | Soy |
Another Chesapeake Bay pièce de resistance is the Balance and Harmony: again, what more could you want to complement a steamy, relaxing bath?
Scented candles and home fragrances buyers guide
Scented candles, fragrance sticks, essential oils: all the choices can be confusing. Here, we'll explore which scent option is best for your home.
Scented candles: Candles are perfect for immediate mood-enhancing. They're the one–night–stand of home fragrances (although some last longer, so make sure you like it!). They're simple, instant and effective. No preparation is required; simply light one, sit back and enjoy it.

Many scented candles are long-burning, so you won't have to constantly replace them. Moreover, they're a fantastic centerpiece for a dining table, or to bookend a mantelpiece.
Fragrance with sticks: Fragrance sticks or reed diffusers are the long game. Slow but steady wins the race, right? While they don't offer the immediacy of a candle, they do gradually permeate the air in your home with pleasant aromas.

They're totally low–maintenance, the friends with benefits of the fragrance world. The oils work their way slowly through the porous reeds, expelling a gentle scent throughout your home with no interference required.
Fragrance spray: If candles are the one–night–stand, fragrance spray is a spontaneous kiss in a smoky bar. They're a lovely way of injecting a quick burst of fragrance to precede visitors or on your pillow to engulf your senses while you drift off. Versatile and discreet, spritz your home like you spritz yourself with perfume before date night, for an instant uplift.
Essential oils diffuser: An essential oils diffuser is a great way of benefitting from the potent medicinal properties of many essential oils (of course, depending on your choice).

Not all essential oils are created equal, but lavender, eucalyptus, and neroli are well respected in the calming and relaxation department! Plus, the diffusers usually look rather Feng Shui and pretty, making them lovely for your olfactory and your eyes.
Air fresheners: Plug-in air fresheners can be an excellent tool to have lying around the house. Gel-based air fresheners tend to be the most popular as they last considerably longer than candle-based varieties. Additionally, they can be covered up and resealed when not needed.

Aerosol-based air fresheners can be a quick fix, too. However, they often contain unwanted chemicals and additives, and sometimes the scent is a little on the 'manufactured' side.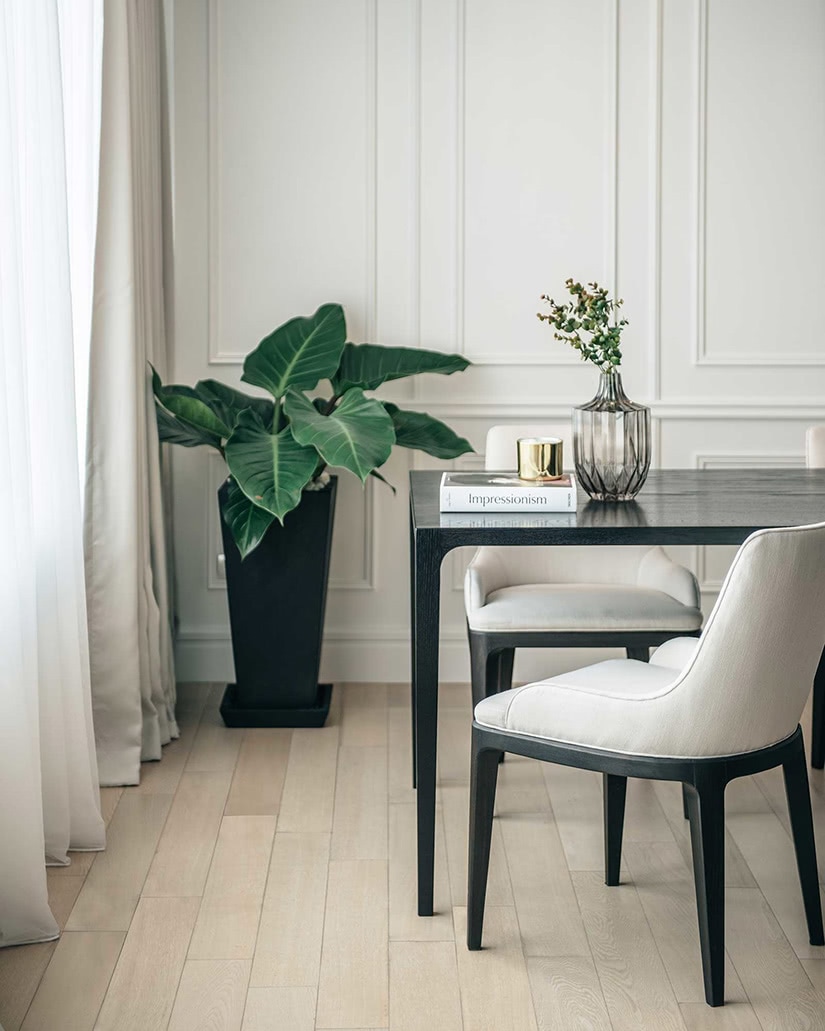 The best scents for your home, perfectly suited to your desired atmosphere
Some aromas have long been thought to possess certain qualities and invoke different moods. Read on to find the perfect scents for your home:
Lemon and citrus: Lemon is known to be a mood–lifter, in addition to bringing an air of clean, freshness.
Wood (sandalwood, cedar, teakwood): Woody scents are revered for their moody atmospheres. Deep, complex notes provoke reflective musings and thoughts of hidden woods.
Olive: It's thought that olive scents are effective in curbing cravings. The rich aroma of olive oil is said to make you feel satiated. Sounds good to us. Plus, you know, olive oil is the smell of our favorite Mediterranean mini-break. Tuscany, anyone?
Cinnamon and spices: The intoxicating scent of cinnamon is thought to lift our moods. Its equal parts sweet and spicy awaken our senses and take our minds to exotic climes.
Lavender: Lavender is perhaps the ultimate in relaxation aid. A lavender–scented candle could be the best choice for relieving tension and promoting a good night's sleep.
Peppermint: Enlivening and refreshing, peppermint aromas encourage focus while energizing our brains.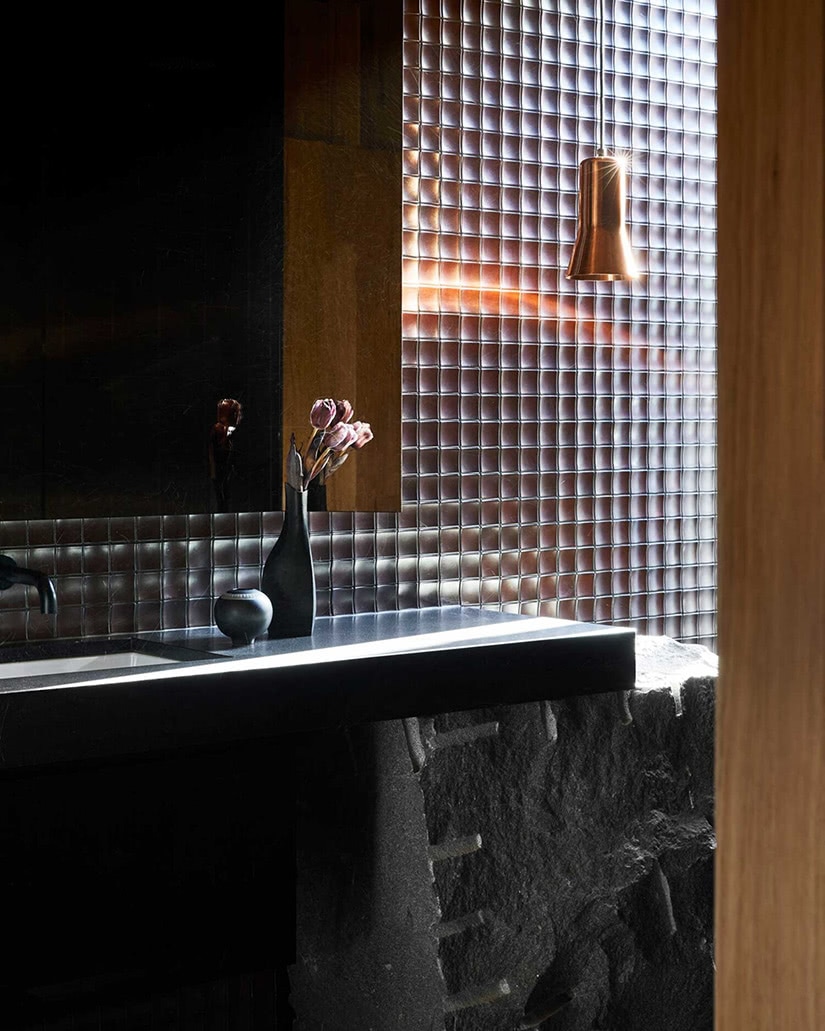 How to make your house smell good: 5 tips to keep you home clean and smelling amazing.
1. Add essential oils to your air filter
For a quick but effective fix of lush smells throughout your house, add a few drops of your favorite essential oils (or whatever you've got in the cabinet!) to your air filter system. Possibly a bit DIY, maybe a bit of cheating, but the effects rival any air freshener spray, plus the effects are longer–lasting, too!
2. Baking soda carpet cleaner; a home miracle
Start researching home remedies for just about anything, and you'll be hard–pressed not to stumble across baking soda. This fine, assuming powder is actually a home–cure powerhouse from everything to toothbrushing, to hair toning, to carpet freshening.
To freshen up stale carpets, simply sprinkle a light layer of baking soda on the offending areas, and allow it to sit for 15–20 minutes before vacuuming off. A little effort goes a long way toward an odor–free home!
3. Super–effective and fresh–smelling antibacterial surface cleaner with no harmful additives or chemicals
Sound good? Simply rustle one up yourself: Mix 1 cup of white wine vinegar with 1 cup of distilled water, juice half a lemon, and a few drops of orange blossom, lavender or peppermint oil. Add the mixture to a spray bottle and shake gently.
Voila, you're now a fabulous-smelling domestic goddess. And your surfaces will thank you!
4. Use eucalyptus
Artfully decorating your bathroom with eucalyptus will result in a subtle but noticeable change in the usual, less desirable aromas of your bathroom.
The natural, pastel green of the leaves will blend well in most bathrooms, too.
5. Votive candles
For a quick, stylish makeover for any rogue votive candles (we've all got some), simply place them in a jar filled with fresh coffee beans. The burn of the flame will lift the oily, rich aroma from the coffee beans and present you with a pleasant smell.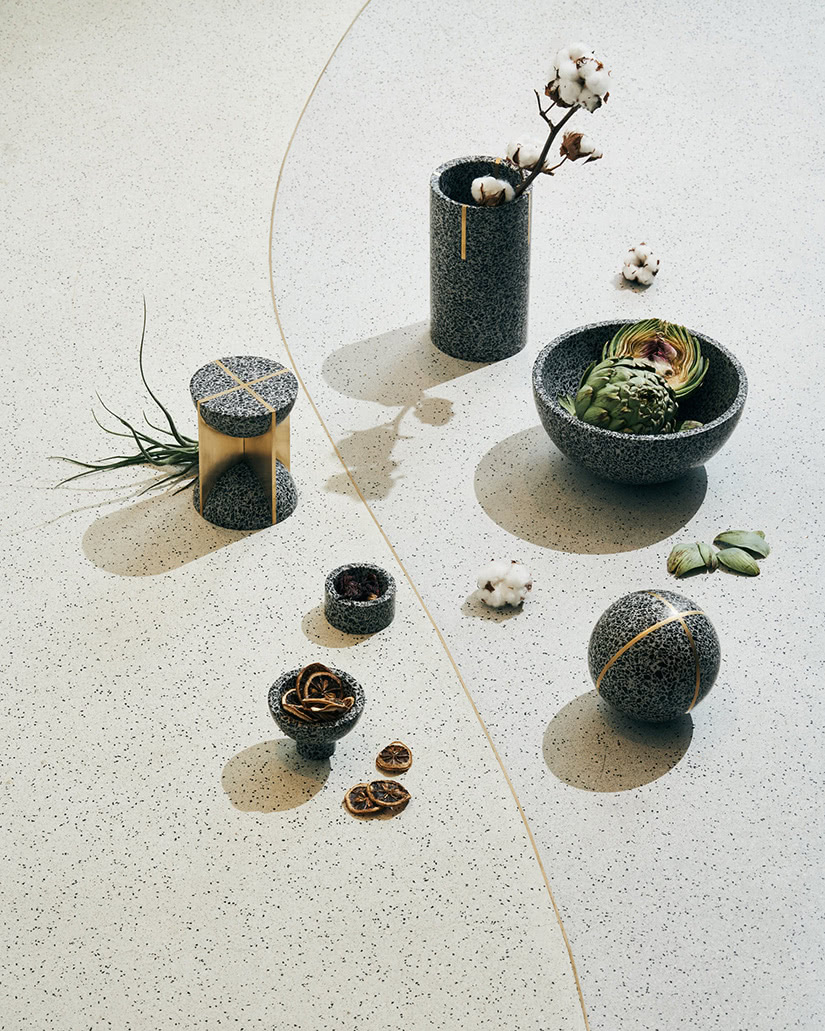 Finding the perfect scented candle: Frequently asked questions
What is the best brand of scented candles?
The best brand of scented candles is Aesop. While there are heaps of gorgeous scented candles out there, Aesop's collection is a cut above the rest. Aesop candles tick all our boxes with aesthetics, style, and unique scents.
What makes a good scented candle?
For a good scented candle, look out for 'pure' essential oils in the ingredients list, which are 100% unadulterated, undiluted oil. Organic oils are desirable, too. Many scented candles also have 'layered' scents, which take you on a journey.
What is the best home fragrance?
The best home fragrance for a warm, welcoming atmosphere, woody scents like cedarwood, teak, and sandalwood all work well. For a fresh, vibrant home, try zingy scents like lemongrass and grapefruit.