You know what they say: it's what's underneath that truly counts. No brand has embodied the age-old words of wisdom more than Soma, the intimates brand you need to get acquainted with. Founded in 2004, Soma is owned by Florida power company, Chico's FAS, Inc.—whom you may recognize from White House Black Market—the destination for unstoppably-chic womenswear.
Both inspiring—and inspired by—women of the world, Soma breaks the mold when it comes to inclusivity and diversity. Indeed, casting aside the fashion world's former predilection for impossibly thin models (unhealthy at best, toxic at worst), Soma creates intimate apparel for real women. And yes, that's all of us.
Tall, short, hourglass, apple, pear, or beanpole—or any other of nature's beautiful body types (and they're all beautiful)—Soma offers luxurious and supremely comfortable underwear to inspire peace within your own unique form. That means you can find gorgeous pieces that fit you—not that you must fit into.
Instead of cookie-cutter models trussed up in Soma's pieces, you'll instead find a variety of models flaunting what they've got. With women from all age groups, sizes, and ethnicities showing off Soma's underwear, realistic representation is of the utmost importance for the brand.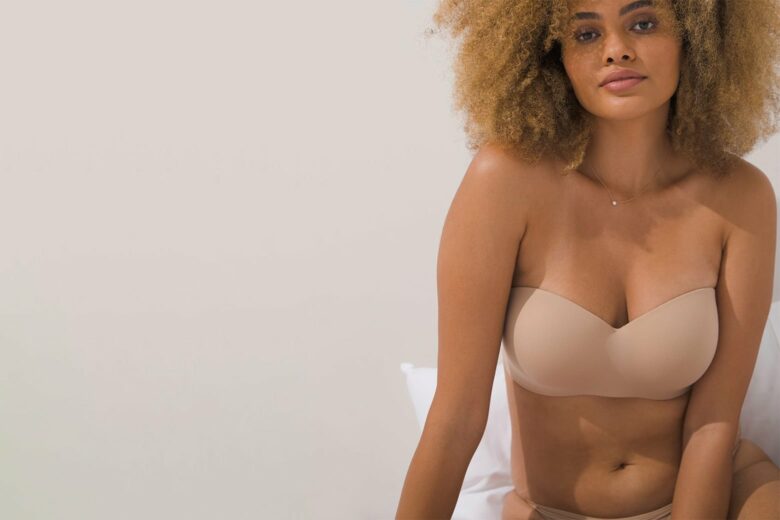 Inclusivity aside, the collections are simply stunning. Much like the glow you feel when you slip into that beautiful silk dress, instantly feeling a million dollars, Soma intimates gift you that same confidence—whether your outerwear is lavish luxe or laidback loungewear.
So, searching for that perfect strapless bra for your off-the-shoulder dress? Or perhaps a comfortable wire-free fit for your WFH days—or a pretty lace bralette for a sultry evening in with your partner? Head straight to Soma; they've got it all.
Shop online and enjoy international shipping—bras without borders FTW—or drop by one of the Soma boutiques, where a five-star personalized service and highly-trained bra fitters await you.
If you're overhauling your whole intimates wardrobe, do a good deed and donate your pre-loved pieces to Soma's #BRAITFORWARD initiative, where Soma donates new and gently-used bras to women in need across the globe. Because no matter her circumstances, every woman deserves to feel supported and confident.
Bountiful bras: All the support you need
Check out The Ultimate Bra Menu from Soma, where you'll discover your perfect fit, no matter what your preference. Live in T-shirt bras? There's variety galore. Believe a visible strap is nothing short of unsightly? The strapless collection will see you through in seamless subtlety. And, if you've waved goodbye to wires, browse the wire-free range where digging in is a thing of the past. If your wardrobe varies as much as your week, opt for one of the multi-way bras, easily changeable to fit your one-shoulder tops, bandeau dresses, and criss-cross numbers.
Bodify™ Flexible Fit Perfect Coverage Bra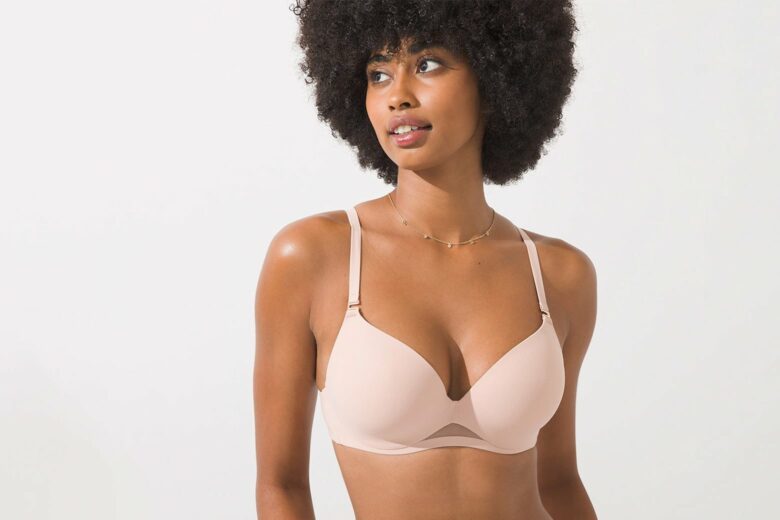 3 years. 1,500 women. The result? A revolutionary bra "that changes with you". Bursting with more features than your iPhone, the Bodify™ Flexible Fit Perfect Coverage Bra is the glue that'll seamlessly hold your wardrobe together.
Designed with the brand's Flexicup technology, this bra not only magically adapts to your natural contours, it changes with you—forming to your ever-evolving figure (yes, that means this bra will be by your side through weight fluctuations and pregnancy).
The Floataway wire provides all the support without the dig, while the Smart Bra™ construction offers the exact fit that's unique to you without corset-like discomfort.
Best for: A day-wear T-shirt bra that listens to your body.
Luxe Lace Back Wireless Bra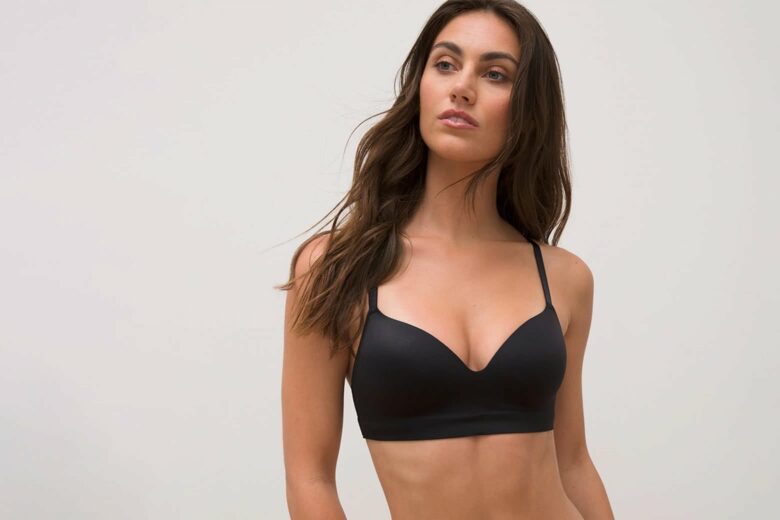 Doing everything a wired bra does, simply without that all-too-familiar discomfort, the Luxe Lace Back Wireless Bra offers structure and support akin to its wired counterparts.
We adore the silky-smooth, sensual-feel fabric, gliding over your skin in the most agreeable of manners. Simply use the J-hook to convert it into a racerback style and rock a seamless aesthetic with no visible straps in sight.
Best for: Queen of comfort—and convertibility.
Vanishing 360 Perfect Coverage Bra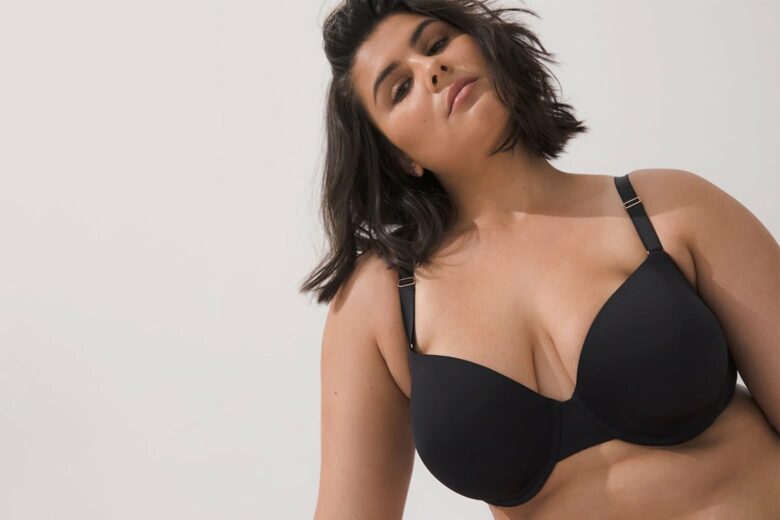 Nothing ruins a bodycon dress or fitted tee like those bumps from too-tight bras. Enter: the Vanishing 360 Perfect Coverage Bra, featuring invisible edges for a streamlined silhouette.
Lightly underwired and with ultra-thin padding (just enough for a sexy contour), you'll likely forget you're even wearing a bra with this one on.
Best for: A barely-there bra that's big on illusion.
Enbliss Bralette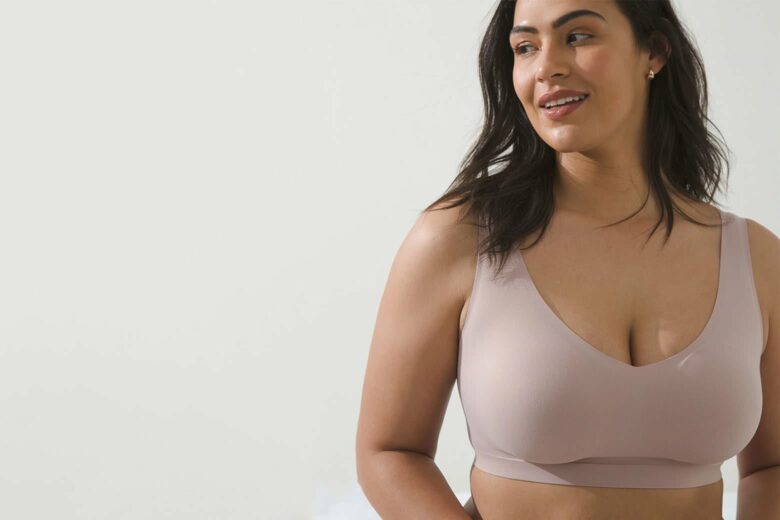 Soft-as-a-feather and with no hardware (by that, we mean hooks or wires) to be found, the Enbliss Bralette embodies the natural sensuality of femininity—with a less-is-more attitude.
Add or remove the cups to craft a contoured or natural shape, and wear this bralette under a myriad of tops and dresses (you can thank the versatile V neckline). With brushed fabric to rival your plushest pajamas, you can slumber in it, too.
Best for: Instilling sensuality via cloud-like softness.
Embraceable Push-Up Bra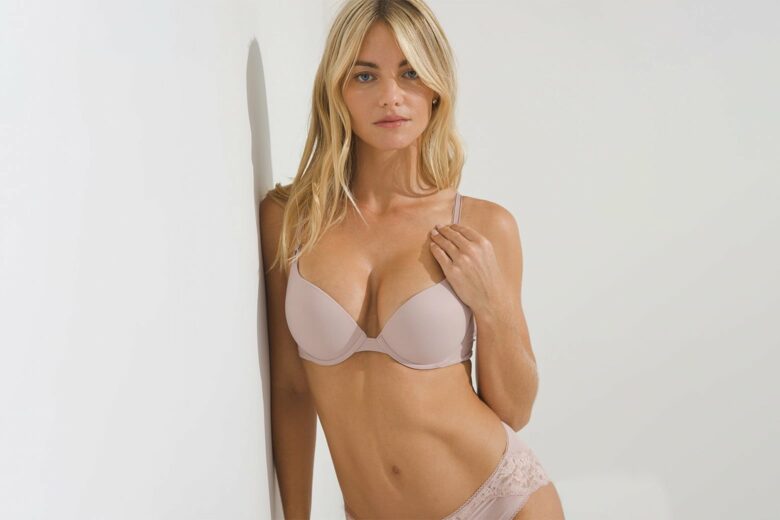 Soma appreciates we all need a boost now and then. The Embraceable Push-Up Bra is effortless in its approach, providing that push-up effect we desire come Friday evening.
Soft push-up pads synergize with underwire support for a captivating lift, perfect for those low-cut dresses and look-at-me tops. For a silhouette that defies gravity, the Embraceable Push-Up Bra is your perfect accomplice.
Best for: Uplifting more than your mood.
Panty perfection
We all want to feel sexy, come Wednesday afternoon or Saturday night. Even if only for ourselves—in fact, especially then. Walking the line between sweet, sensual, and comfortably-soft, the Soma panties range is a secret we want to tell the world.
From shapewear to smooth your silhouette to classic high legs to cheeky hipsters, Soma's collection is a fast track to panty-perfection. Expect hints of lace, flirty florals, and sultry prints designed for date night.
Embraceable Signature Lace Hipster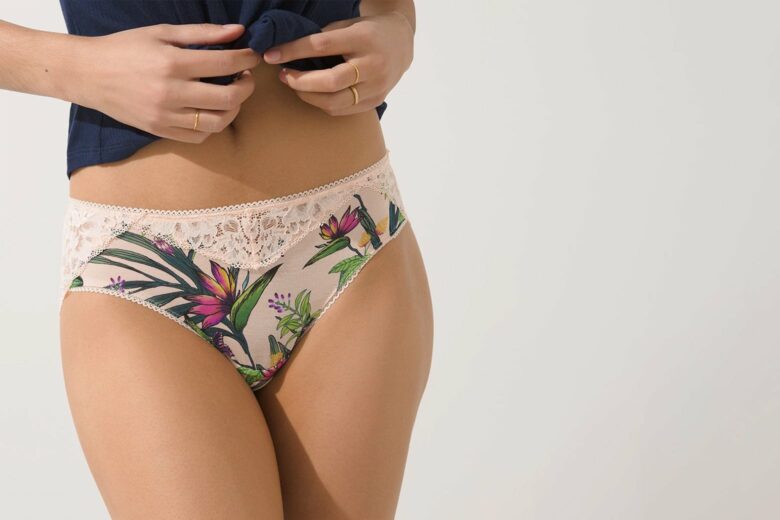 Take a moment to behold the Embraceable Signature Lace Hipster. Pick your print (we love the Bohemian Paisley) and slip these subtly lacy hipsters on for all-day comfort and secret sensuality.
And the fit? Mid-rise at the front and low-rise at the back—because you're not a 21-year-old Britney, so exposed panties are not OK.
Best for: Luxe ladies who love all things lace.
Vanishing Edge Microfiber With Lace High Leg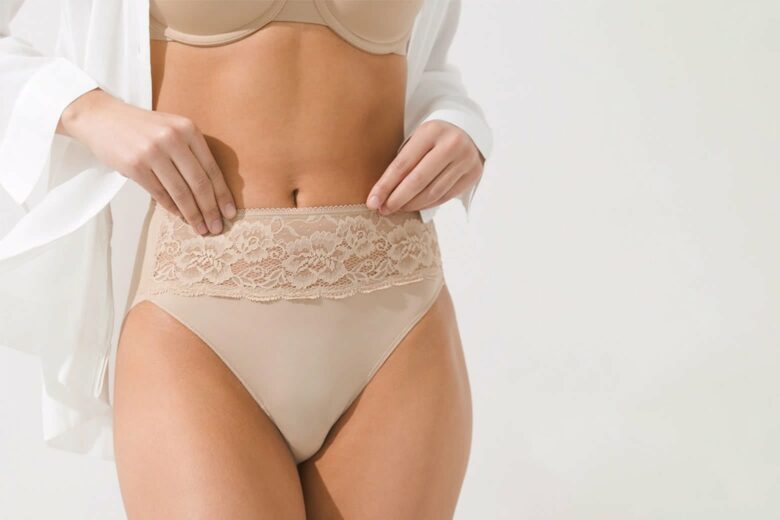 If panty lines are your arch nemesis, you'll rue the day in the Vanishing Edge Microfiber With Lace High Leg panties. Bid adieu to unsightly seam lines: these panties sweep away those small—but noticeable—imperfections that instantly detract from your look.
The high-cut fit works to lengthen your legs, and the breathable fabric is adept at moisture-wicking—splendid for workouts.
Best for: The ultimate in no-show intimates.
Enbliss Soft Stretch Thong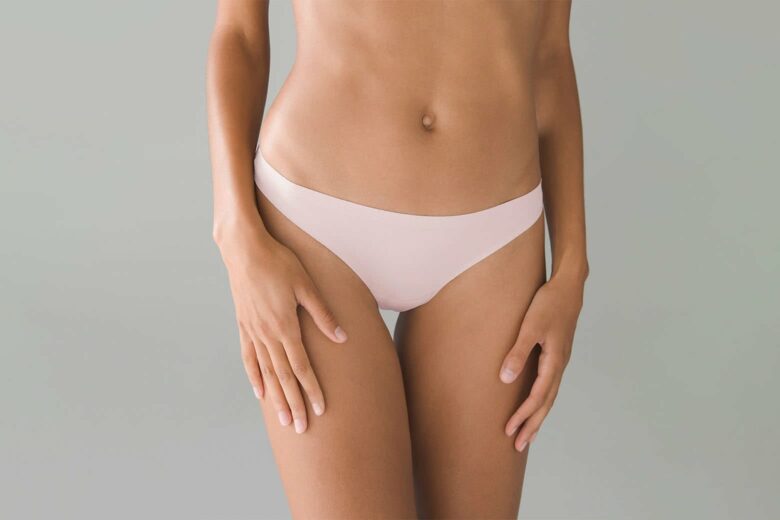 For a flawless silhouette under your figure-hugging pants, pencil skirt, or even your Zendaya-inspired sheer dress, the Enbliss Soft Stretch Thong is the epitome of second-skin.
Eliminate panty lines and discomfort in one sexy swoop with this cheeky-cut thong—gifting you confidence in place of coverage.
Best for: If flawless is what you aim for.
Sumptuous sleepwear: Sleeping beauties
We all want to wake up looking—and feeling—like a true Sleeping Beauty—are we right? Well, Soma is on hand to have you raring to answer the door for that early-morning delivery.
Making sleepwear sexy, Soma presents a gorgeous bedtime collection to make your slumber sumptuous. So, get rid of (or upcycle) your holey tees and mismatched shorts, and elevate your pajamas to luxe new levels. From smocked babydolls to cool-as-a-cucumber sleep sets, Soma inspires the sweetest of dreams.
Cool Nights® Kimono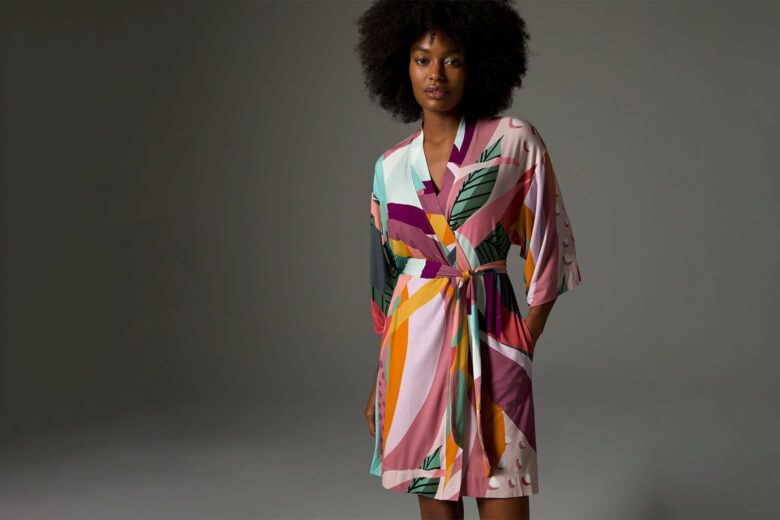 You'd be forgiven for believing the Cool Nights® Kimono was an out-out dress (and hey, nobody would suspect a thing). But no: this elegant fall of fabric is designed to throw on over your pajamas for an extra layer—of warmth and style.
Woven from a blend of rayon and spandex, the Cool Nights® Kimono proves sleepwear can be sophisticated.
Best for: Elevating your pre-bedtime and post-wakeup pottering.
Cool Nights® + Days Long Pajama Set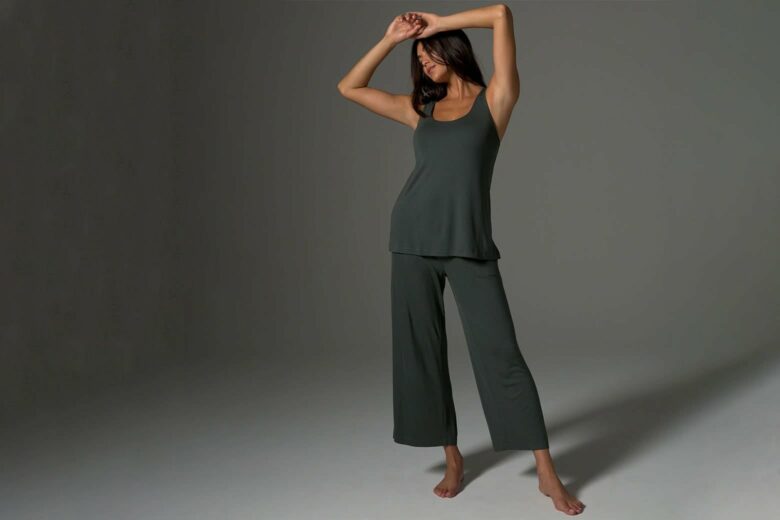 The Long Pajama Set is woven using the brand's extra-special Cool Nights® fabric to keep you feeling fresh and crisp—just like your sheets. Made up of the Cool Night™ + Days Sleep Cami with a built-in (soft) bra and matching Crop Pant, this set creates a modern silhouette and offers sleep time support.
Best for: Peaceful nights and daydream mornings.
Cool Nights® Short Sleeve Sleepshirt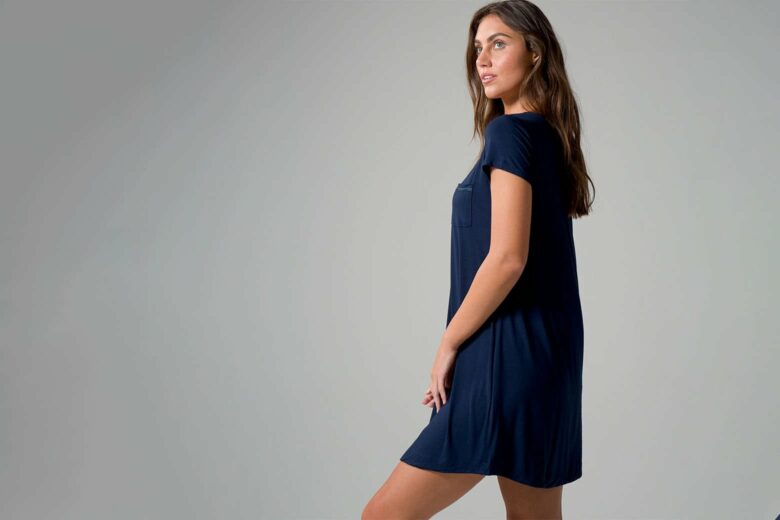 The ultimate all-night one-and-done, the Cool Nights® Sleepshirt is what summer nights are all about. Keeping you feeling—and looking—chill to the max, this throw-on piece takes the effort out of bedtime dressing. Falling a few inches above the knee, you'll be decent enough to grab the mail, but undressed enough to head straight back to bed after.
Best for: Your old nightshirt's cooler, more stylish sister.