There's lounging, and then there's lounging like a king. If you've always made do with an old pair of jogging pants, and you've never looked into luxury pajamas, then man, have you ever been missing out. The difference between your old joggers and some top tier designer sleepwear is night and day.
Men's sleepwear and loungewear have gotten so good that we can actually point you to the right duds for a specific situation. Are you a hot sleeper? We've got you covered. Are you looking for loungewear that looks good enough to take business calls? Well, that's an entirely different kettle of designer fish. On the hunt for the world's most comfortable pajamas to work with your premium mattress, bed-sheets, and sleep-mask? Boy, are you in for a tactile treat.
Just a quick caveat though: once you start slipping into luxury loungewear, you're going to start finding excuses so you never have to take it off again.
The 21 best men's pajamas
Eberjey Henry Modal PJ Set: Overall best men's pajamas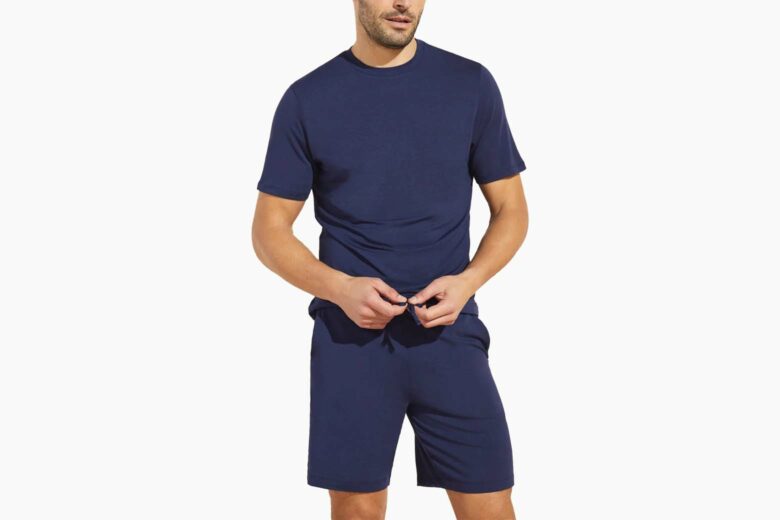 Eberjey's Henry PJ set truly is as comfortable as it looks. Made from super soft TENCEL modal fabric, these PJs keep you cool on hot nights. Match these pajamas with the right set of underwear and your most luxurious robe, and you'll have comfort all wrapped up.
| | |
| --- | --- |
| Best for: | Making the most of your "Me Time". |
| Colors: | True Navy, Charcoal Heather, Black + More |
Emma Willis Pyjama Set: Best designer pajamas for men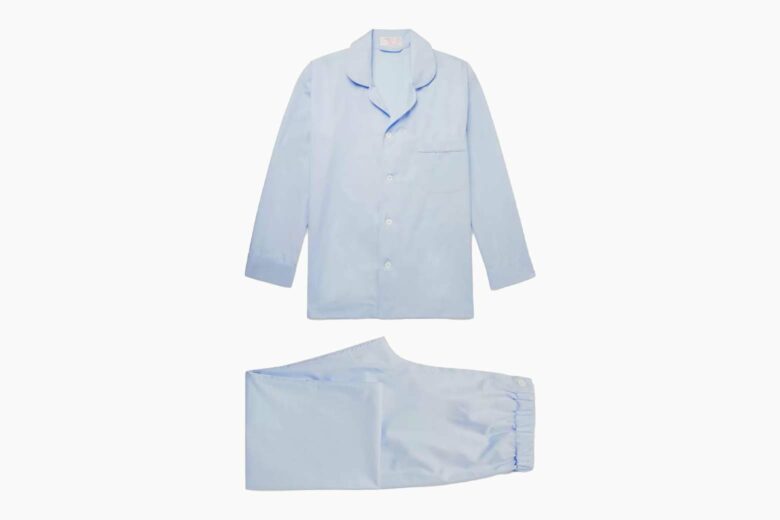 If you're looking for a classic swank look in your sleepwear, you should check out this Emma Willis' pyjama set. Pull these PJs on with a classy set of slippers, and you'll look like you belong on the silver screen alongside Rita Hayworth or Lauren Bacall.
| | |
| --- | --- |
| Best for: | Harkening back to old-school charm. |
| Colors: | Sky Blue |
Hanes Plain-weave Pajama Set: Best value men's pajamas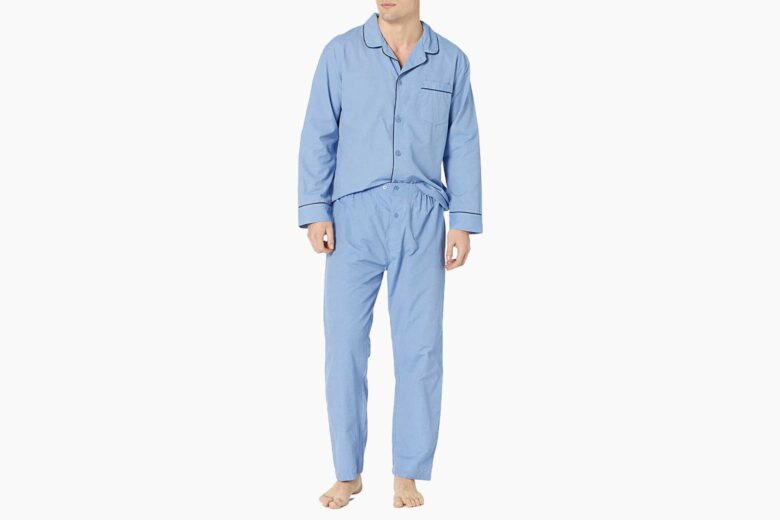 You don't want something fancy, you just want something that puts you in sleep-mode and stays comfortable while you're in bed. Hanes provides with their plain-weave pajama sets. They're comfortable, they're spiffy, and thanks to the very reasonable price, you won't lose any sleep over springing for a second set.
| | |
| --- | --- |
| Best for: | Letting your head hit the pillow without doing damage to your wallet. |
| Colors: | Medium Blue Solid, Red Plaid, Berry Blue + More |
Desmond & Dempsey Pajama Set: Best long-sleeve pajamas for men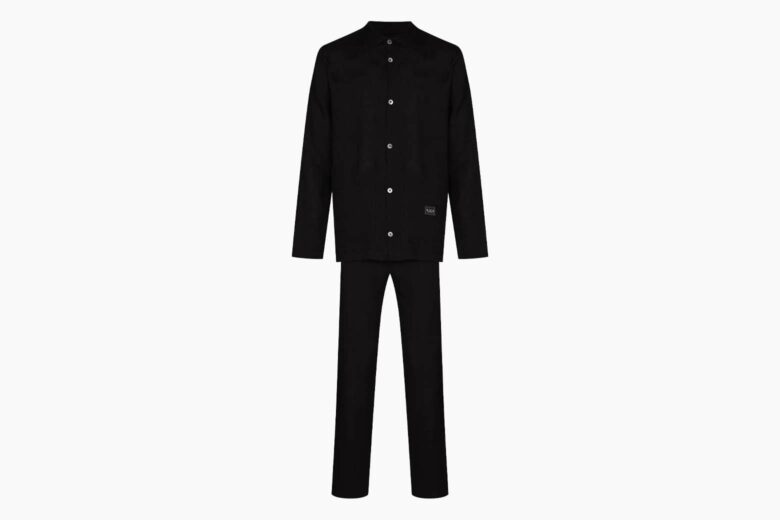 PJs that have almost suit-like qualities? Yes, please! This Desmond & Dempsey's pajama set is a stylistic treat, with a tailored look that is sharp enough to pass for a professional top during online meetings—We won't tell if you don't.
| | |
| --- | --- |
| Best for: | Taking your sleep-time seriously. |
| Colors: | Black |
Parachute Linen Shorts and Cotton Tee: Best men's pajamas for summer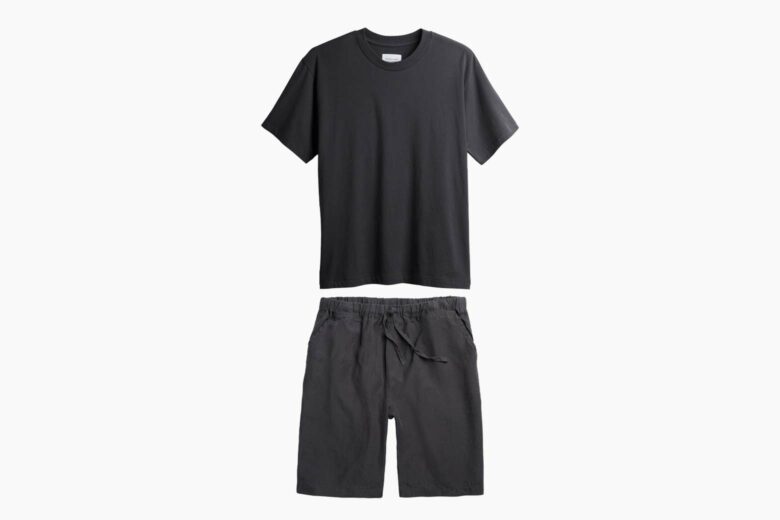 Summer heat can have a real negative impact on the quality of your sleep. Switching to a proper set of men's summer pajamas can give you a much better shot at waking up refreshed. Luckily, Parachute provides the perfect men's sleeping top and men's sleep shorts as a one-two sleeping punch.
| | |
| --- | --- |
| Best for: | Beating the summer heat for a superb slumber. |
| Colors: | Coal, Moss, Fawn |
Piglet In Bed Stripe Pajama Set: Best men's pajamas for hot sleepers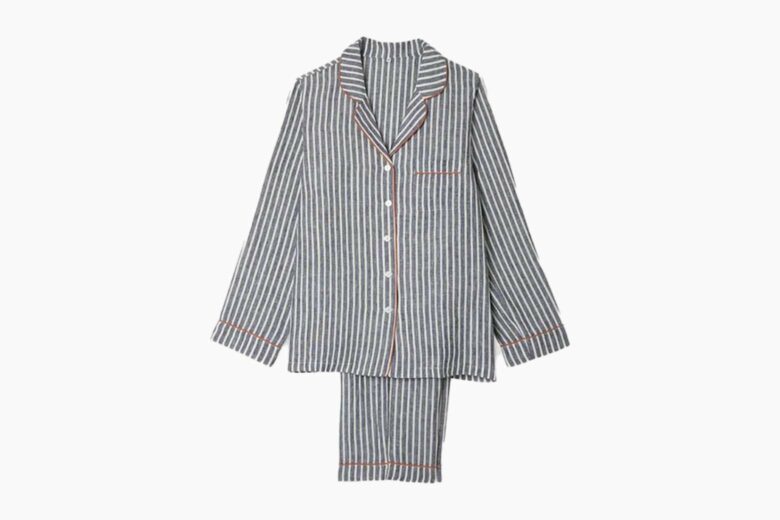 We all run different temperatures when we slip between the sheets. Some get feet like blocks of ice, while others become little furnaces. The best men's pajamas for hot sleepers are Piglet In Bed's stripe pajama set. The tailoring is 100% linen which lets your body get rid of some of that excess heat while you sleep.
| | |
| --- | --- |
| Best for: | Shed heat while counting sheep. |
| Colors: | Midnight Stripe, Blueberry, Gray + More |
Luca Faloni Pure Cashmere Joggers: Best men's lounge pants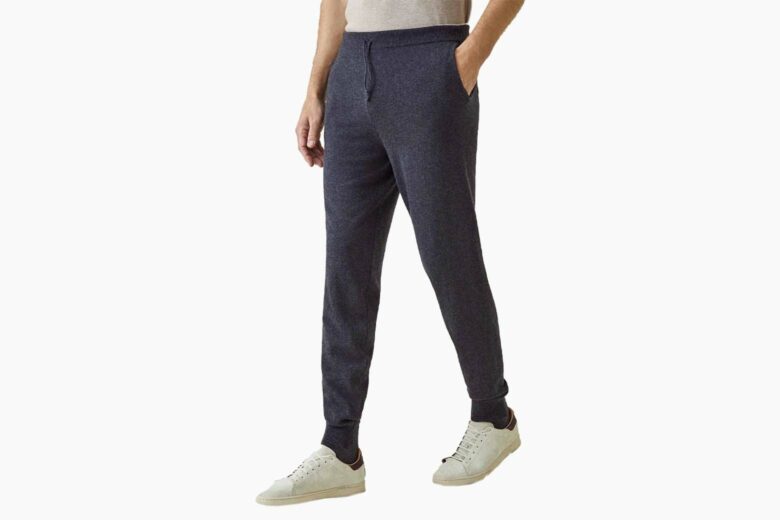 Men's lounge pants aren't just about bedtime, they're about all-day comfort. Luca Faloni's pure cashmere joggers are the epitome of stay-at-home bliss—two-ply cashmere that wraps you up in luxury and will make you have second thoughts about ever leaving home again.
| | |
| --- | --- |
| Best for: | Upping your lounging to a whole new level. |
| Colors: | Charcoal Grey, Camel Beige, Atlantic Blue + More |
Frette Elios Pyjamas: Best men's linen pajamas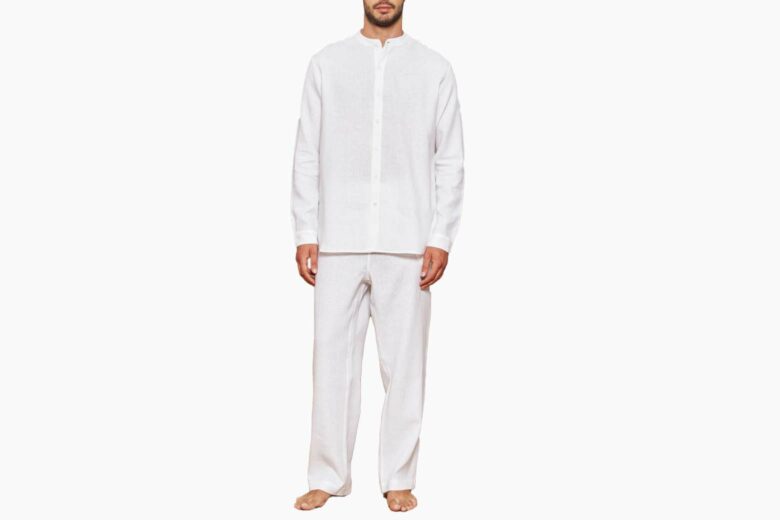 Linen is a go-to material for when you want clothing that keeps you cool and lets your body breathe. Frette Elios' linen pajama set is a game-changer that will allow your body to relax in hotter temperatures. The fact that it features a sharp-looking cut is just icing on the relaxation cake.
| | |
| --- | --- |
| Best for: | Putting serious effort into your total relaxation. |
| Colors: | White |
Gucci Silk Geometric G Print Pajamas: Best silk pajamas for men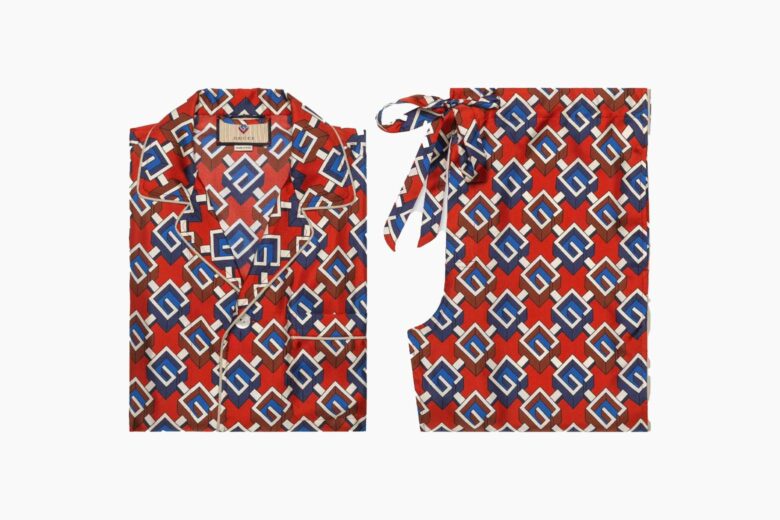 Quiet time doesn't necessarily mean you need quiet-looking luxury pajamas. And if you happen to be heading off to a pajama party and want to stand out, you're going to have a hard time beating Gucci's Geometric G print men's silk pajamas. That print is a real eyecatcher, and the silk is something you're going to want to swim in.
| | |
| --- | --- |
| Best for: | Keeping things colorful 24/7. |
| Colors: | Yellow |
Asos Design Lounge Pajama Set: Best men's satin pajamas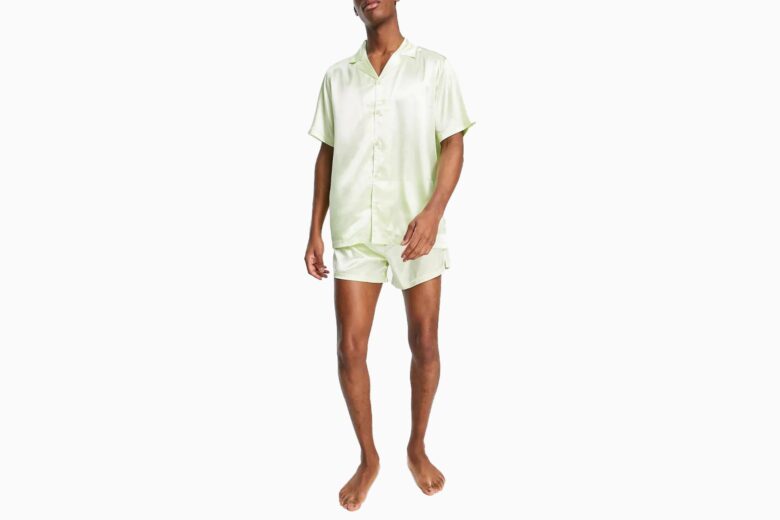 Asos' Design's lounge pajama set looks good enough to wear around a luxury resort as a shirt and shorts duo. That's some silky-soft loungewear that's 100% perfect for keeping cool on the hottest summer days. And if you happen to look like a million bucks while doing it, all the better.
| | |
| --- | --- |
| Best for: | Feeling like a model as you recline around your home. |
| Colors: | Green |
Noble Mount Flannel Pajama Set: Best flannel pajamas for men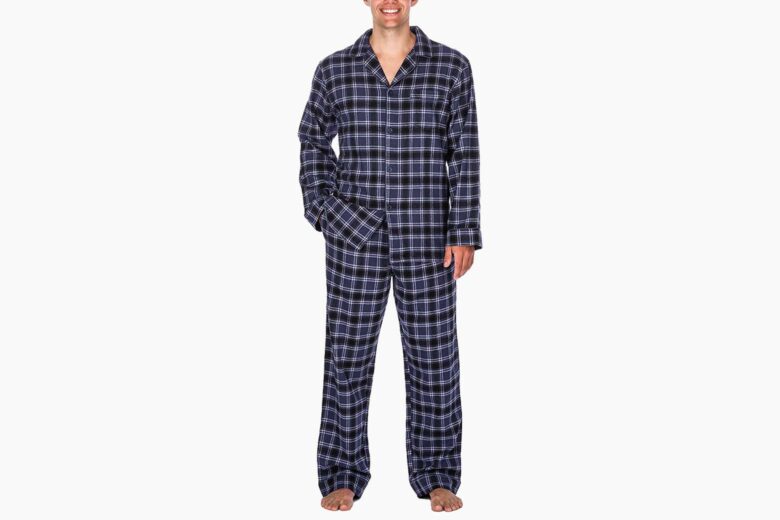 Sometimes, nothing is going to do it quite like a classic set of men's flannel pajamas, especially once the cooler weather rolls in. Noble Mount's flannel pajama set is about as classic as flannel PJs can get. Grab yourself a set of men's plaid pajama pants with plenty of pockets to set yourself up for cozy days and nights staying in as the leaves turn color outside.
| | |
| --- | --- |
| Best for: | Turning up the cozy dial to Maximum Flannel. |
| Colors: | Blue/Black, Heather Grey, Herringbone Blue + More |
Eberjey William Modal Long PJ Set: Best men's modal pajamas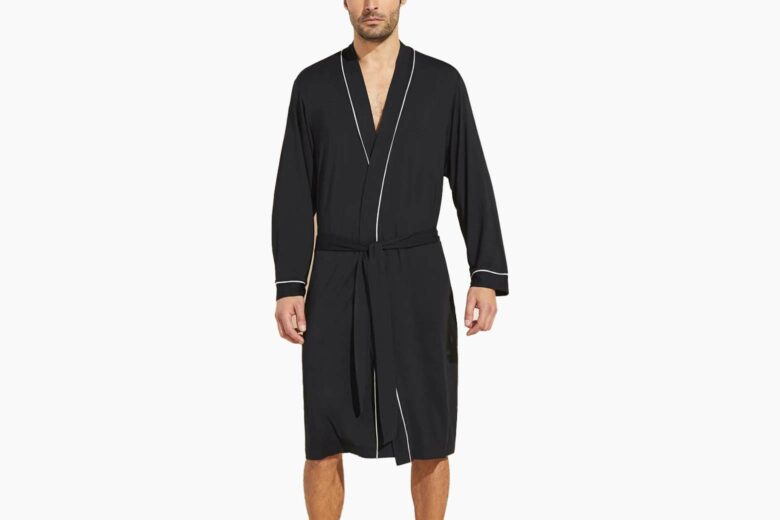 Who is that classy-looking dude in those upscale-looking PJs? It could be you after you pull on Eberjey's William modal PJ set. The white piping gives it that extra edge of sophistication, and if you are feeling extra fancy, you can even add a monogram. And with the modal construction, you'll have yourself a set of pajamas that will outlast your standard men's cotton pajama sets.
| | |
| --- | --- |
| Best for: | Positioning yourself as an elegant man about the house. |
| Colors: | Coastal Blue, Blue Fog, Charcoal Heather + More |
Zimmerli Long-sleeve Pajama Set: Best breathable long pajamas for men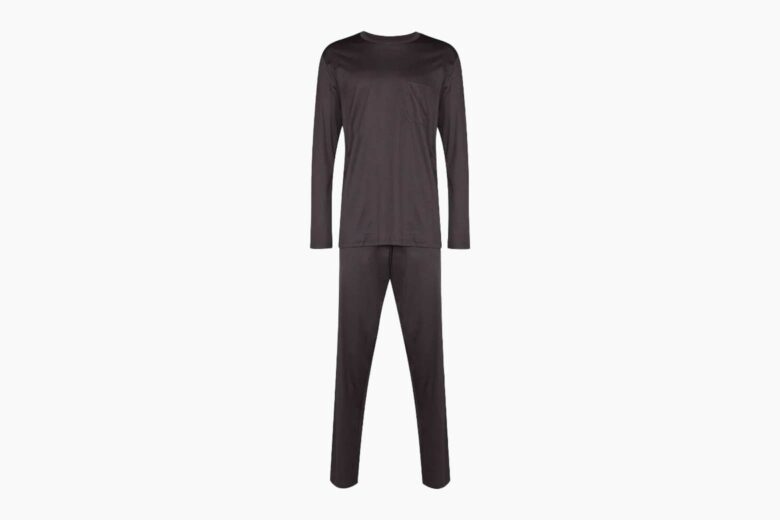 If you like sporting a modern look, even in your cotton pajamas, this Zimmerli's long-sleeve pajama set is for you. The elongated look of the shirt and sleeves and the relaxed overall fit are matched nicely with the metallic sheen to give your sleepwear an up-to-date feel.
| | |
| --- | --- |
| Best for: | Folding yourself into a futuristic feel-good pajama set. |
| Colors: | Dark Grey |
Hugo Boss Logo Pyjamas: Best men's short pajamas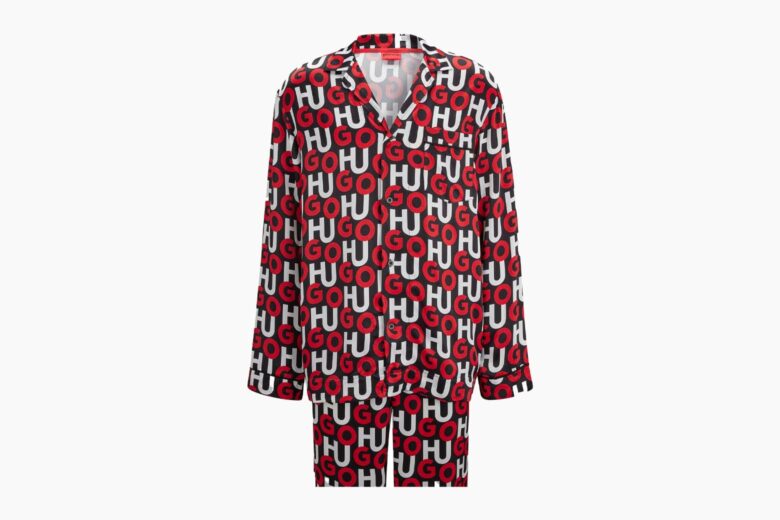 When people think of classy men's pajamas, they probably have an image in their mind that matches up pretty closely with Hugo Boss' logo pyjamas. The understated check pattern does a nice job of subtly breaking up the dark purple, and the tailoring has a sense of dignity.
| | |
| --- | --- |
| Best for: | Dressing like a boss even when it's bedtime. |
| Colors: | Blue |
Fear Of God Essentials Waffle-knit Pyjama Set: Best long pajamas for men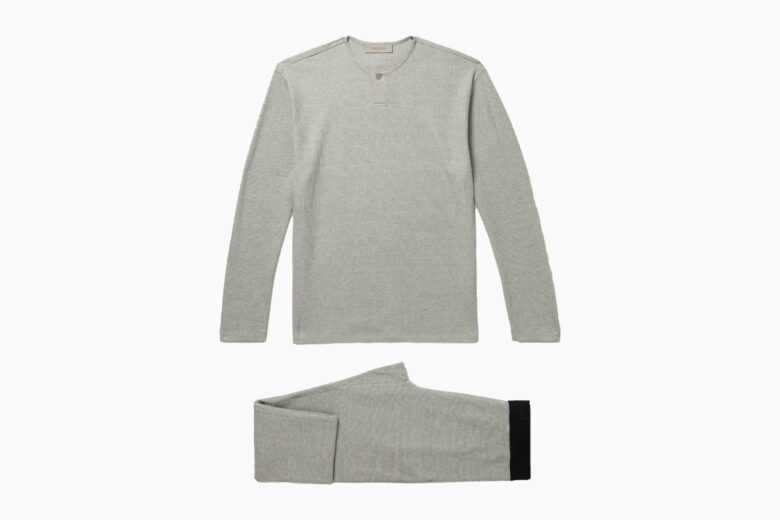 Fear Of God's Essentials pyjama set looks like the very definition of cozy comfort. Just look at that cotton-blend tailoring—it looks like it would be impossible to concentrate on your concerns while you're wearing something this agreeably satisfying. Try and worry about something while you have these PJs on, we dare you.
| | |
| --- | --- |
| Best for: | Dressing up to chill out. |
| Colors: | Gray, Charcoal |
Cleverly Laundry Washed-cotton Pyjama Set: Best men's classic pajamas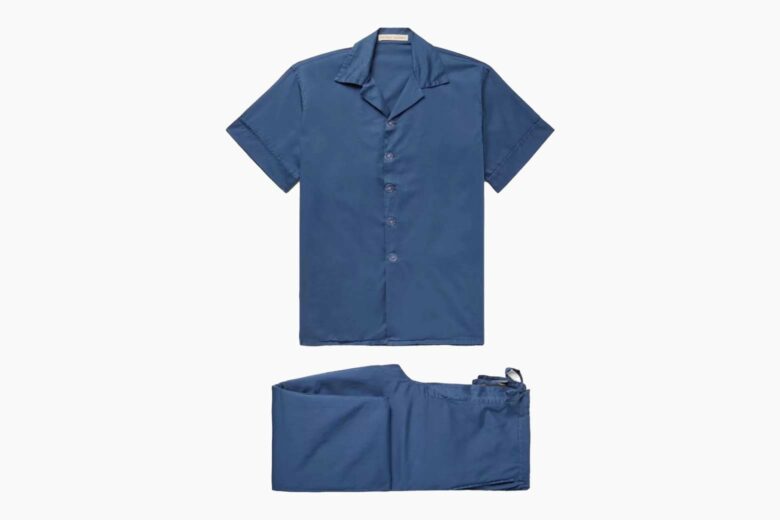 If you're looking for something along the lines of what old-school movie stars wore, take a look at Cleverly Laundry's washed-cotton pyjama set. Harkening back to the likes of the Sean Connerys and Cary Grants of a by-gone age, this short-sleeve long-pant cotton combo lends you an air of sophistication as you slide between your sheets.
| | |
| --- | --- |
| Best for: | Feeling like you belong to cinema's Golden Age. |
| Colors: | Storm Blue, Pink, Light Blue |
Parachute Organic Cotton Pants: Best sleep pants for men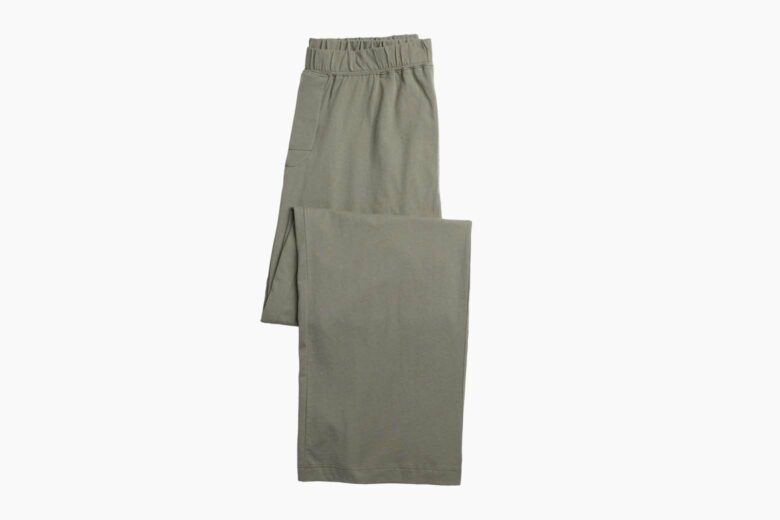 Parachute makes it a breeze to pick out an everyday set of men's sleep pants. These organic cotton pants are an invitation to take things easy. The 100% organic cotton is presented to you in a jersey knit, making for a soft sensation that allows you to curl and stretch as you see fit.
| | |
| --- | --- |
| Best for: | Snoozin' like it's your job. |
| Colors: | Moss, Coal, Fawn |
Brooklinen Bowery Short: Best men's lounge shorts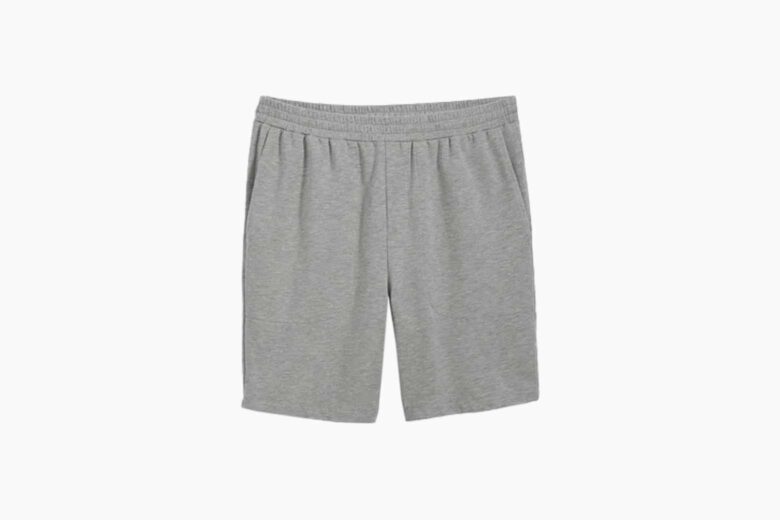 French Terry softness and three-pocket practicality meet in Brooklinen's Bowery shorts. Keeping your legs cool and tangle-free comes super easy with these shorts, and they're easily comfortable enough to be worn around the home and during Zoom meetings.
| | |
| --- | --- |
| Best for: | Taking a short-cut to comfort country. |
| Colors: | Black, Heather Gray, Sage + More |
Calvin Klein Print T-shirt: Best sleep t-shirt for men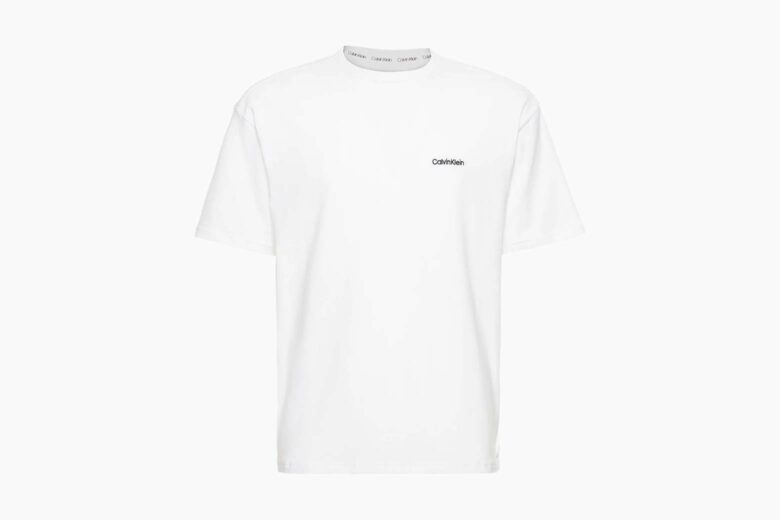 Calvin Klein has been making top-of-the-heap next-to-skin clothing for a long time now, and continues the trend with their print t-shirt. Thanks to the cotton, polyester, and elastane mix, you're going to be able to stretch in any direction you want to get a better sleep without being restricted by your shirt.
| | |
| --- | --- |
| Best for: | Teeing off a good night's sleep. |
| Colors: | White, Black |
Undercover Printed Pajama Set: Best men's printed pajamas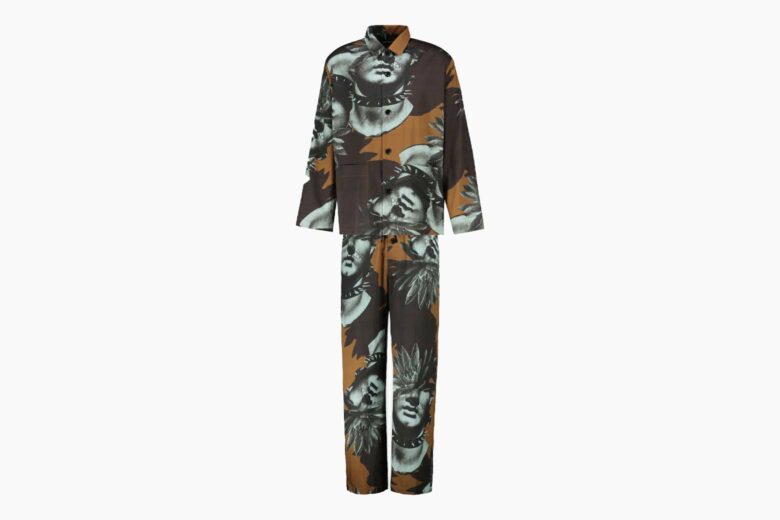 Why not add a little razzle-dazzle to your sleeping-time set? Undercover's printed pajama set, made in Japan and printed with a punkish design, definitely stands out from the regular monotone crowd you see in sleepwear. But beware! Show up in this outfit to a video conference, and you're going to earn a lot of wide eyes.
| | |
| --- | --- |
| Best for: | Pushing prints to profound new design pinnacles. |
| Colors: | Brown Base |
Tekla Organic Cotton Pyjamas Shirt: Best nightshirt for men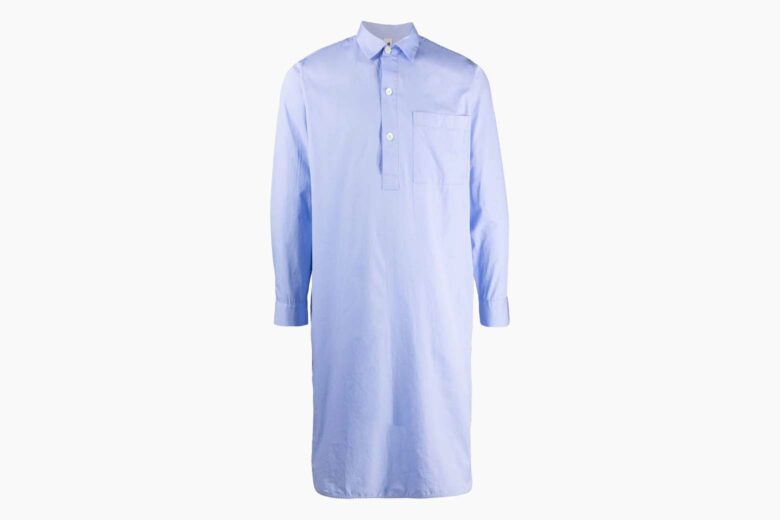 It's time to go really old-school, back to something you'd find in a novel by Charles Dickens. Tekla's organic cotton pyjamas shirt drapes right down to your knees, granting you plenty of modesty but letting you air out your lower half for comfortable sleeping temperatures.
| | |
| --- | --- |
| Best for: | Making lower-half comfort your top priority. |
| Colors: | Blue |
Frequently asked questions about men's pajamas