There's nothing more luxurious than snuggling between impossibly high thread count sheets. Be it at an exorbitant resort in the Maldives, at the St Regis…or at your home? Brooklinen bedding is our cheat sheet (pun intended) for transforming our bedrooms into five-star hotels.
As the unsung heroes of all great getaways, irresistibly soft linens and decadent duvets recognize the importance of beauty sleep on vacation. But why limit beauty sleep to once or twice annually when you can have it all year round?
At a glance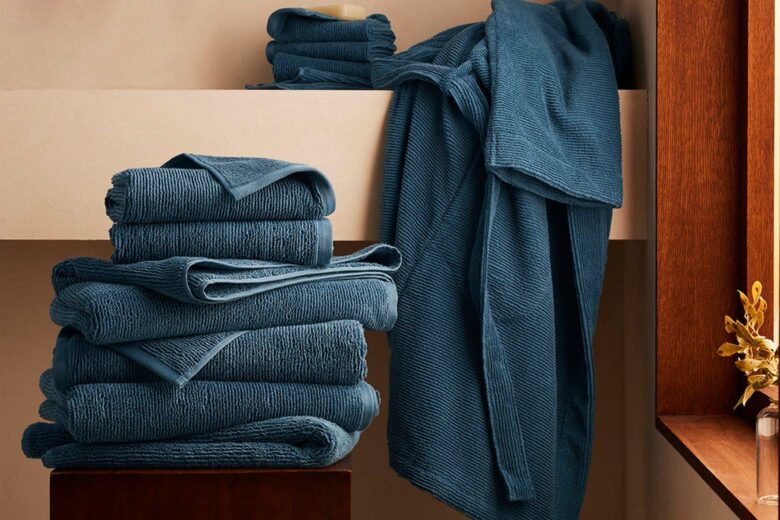 Behind the brand
History of Brooklinen
A good night's rest isn't a luxury, it's a necessity—a sentiment shared by Brooklinen co-founders, Vicky and Rich Fulop. After experiencing the difference that excellent linen makes on vacation, the couple was disappointed to find that the hotel linen was just too expensive to buy back home. Troubled by the fact that they couldn't find a linen brand that was affordable and lived up to their high standards for quality, they launched Brooklinen on Kickstarter in 2014.
Established in Brooklyn, New York (hence the name), Brooklinen was founded on the philosophy of making luxury-quality bedding accessible to everyone. The lack of affordable luxury linen hit a nerve with consumers around the world, and the burgeoning brand raised $50 million dollars overnight.
Since then, Vicky and Rich have expanded the brand's range to all our favorite modern comforts and decadences. From plush bathrobes to gorgeous aromatic candles and sumptuous loungewear, Brooklinen is all about making our staycations just as luxurious as a stay at one of the best hotels in the Maldives or Paris—minus the price tag.
It may not offer room service or simulate the sound of waves lapping against the shore, but by combining homely comforts with five-star luxuries, Brooklinen is transforming our homes into our favorite place to be.
Interesting facts about Brooklinen
Like many life-changing commitments (such as last-minute elopements), Brooklinen was conceptualized in a Las Vegas hotel. And while the "what happens in Vegas, stays in Vegas" mantra holds true for many late-night activities, this isn't the case for the Vegas linen experienced by Vicky and Rich Fulop. After climbing into bed, the founding duo had exactly the same thought: these sheets are fantastic. And after realizing how much they cost, the couple was determined to make that feeling accessible to the rest of the world.
But affordable luxury linen isn't the only difference that Brooklinen is making in the world. The philanthropic brand has partnered with various charitable organizations, including Good360 and Animal Haven. Good360 distributes all returned Brooklinen products to shelters around the world, equipping those who can't afford sheets, towels and other essentials with the best of the best. While in partnership with Animal Haven, the brand's sheet donations are used to make comfortable beds for the rescued animals.
As the gift that keeps on giving, Brooklinen rewards its many fans for their loyalty. Rewards can be redeemed in the form of a discount on your next purchase. Or you can redeem your reward points by donating to any of Brooklinen's many partnered charities. As one of the most sought-after brands in high-end hospitality, Brooklinen also offers discounts to designers and hotels. So there's really no excuse to stick with your low thread count linen.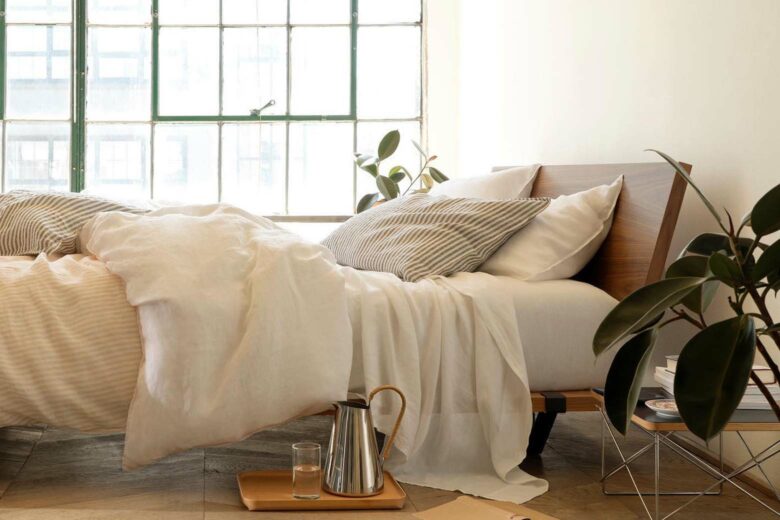 Brooklinen product range
Besides producing "the Internet's favorite sheets," Brooklinen has a variety of collections for the bedroom and bathroom. Brooklinen bedding includes comforters, pillows, mattress toppers, throw blankets and our favorite duvet cover. The brand's bathroom range includes Brooklinen towels, mats, robes, shower curtains, and the best scented candles.
A sumptuous collection of loungewear for men includes joggers, pajamas, matching sets and pocket tees. The womenswear range is similar but also includes cute dresses and jumpsuits. And when it comes to dressing your home, Brooklinen's collection of furniture, art, rugs, and lighting is all you need to add a touch of luxury to your interior.
Signature materials and craftsmanship
We all know that some sheets are far superior to others, but why is this? Contrary to popular belief, it's not just the thread count that makes all the difference. In fact, thread counts advertised in excess of 500 can be misrepresented by manufacturers as they multiply construction to make up for lower-grade cotton.
So why do we talk about high thread counts? Well, in the case of high-quality sheets, high thread counts indicate that the strongest, finest threads have been used, as in the case of Brooklinen. Oeko-Tex certified, Brooklinen only uses single-ply yarn. Single-ply yarn is spun from long-staple cotton, making it irresistibly light, soft, and long-lasting.
Cotton isn't the only Brooklinen material used. The brand has a wide range of sheets and bedding, including luxe sateen, washed linen, heathered cashmere and brushed flannel. Not only are these some of the most environmentally-friendly materials. But each fabric is designed with a specific sleeper in mind. Temperature-regulating cotton sheets are perfect for a cool sleeper, while soft sateen sheets are designed with warm sleepers in mind.
When it comes to filling your duvets and pillows, Brooklinen provides the choice between natural down and vegan-friendly down alternatives. The brand's natural down is Downmark-approved, hypoallergenic and sourced sustainably. While the vegan-friendly down alternative is made from 100% recycled PET microfibers and is completely allergy-friendly.
Where is Brooklinen made?
While every product is designed in-house in Brooklinen's Brooklyn headquarters, different products are manufactured in different parts of the world, depending on the materials and technologies required. Brooklinen's linen sheets come from Portugal. Brooklinen's down inners come from Canada. Brooklinen's towels are made in Turkey, and the brand's cotton is manufactured in Israel. Regardless of where in the world the product is produced, Brooklinen only partners with factories with good working conditions and fair pay.
Brand values
| | |
| --- | --- |
| Vegan options | Yes |
| Carbon-neutral | No |
| Gives back | Yes |
Our favorite finds from Brooklinen
Brooklinen Sheets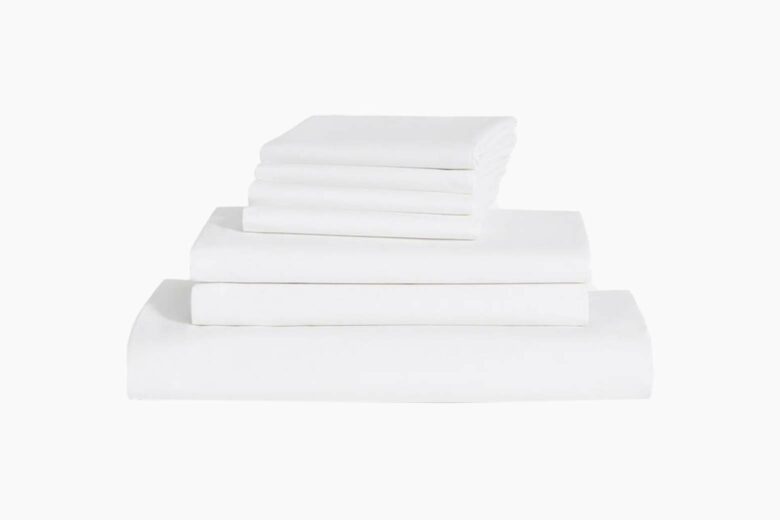 According to the millions of rave reviews, Brooklinen sheets are the best bed sheets. But according to us, so is everything else included in this bundle. The bundle includes a sheet set, a Brooklinen duvet cover, and two extra pillowcases. And made from 480 thread count luxe sateen, this entire bedding collection is buttery smooth and engineered to soothe you to sleep.
You can't put a price on uninterrupted sleep. And if you could, it certainly wouldn't be this affordable.
Brooklinen Towels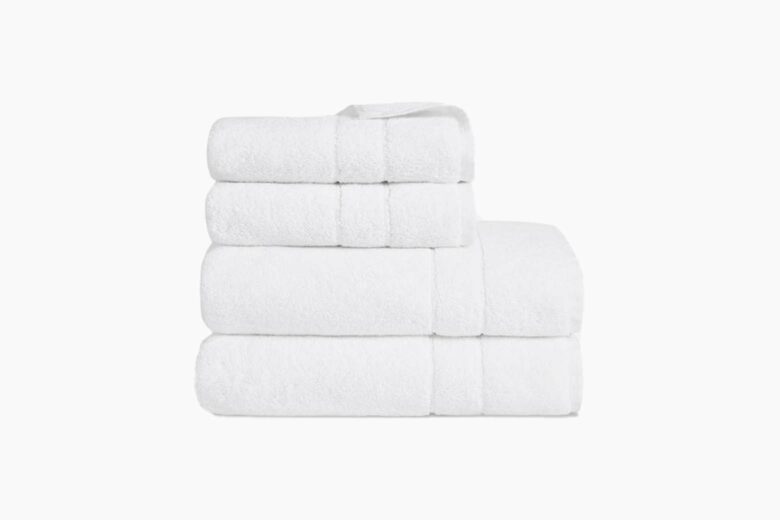 We've already acknowledged Brooklinen towels as our best beach towels. But we're yet to put into words just how much we adore the brand's super plush bath towels. Brooklinen's towel bundle features two bath towels and two hand towels, all of which are made in Turkey from the brand's best-selling towel weave. Ridiculously soft and sumptuous, these extra-thick towels make every day feel like a spa day. Even after a tough day at the office.
Brooklinen Robe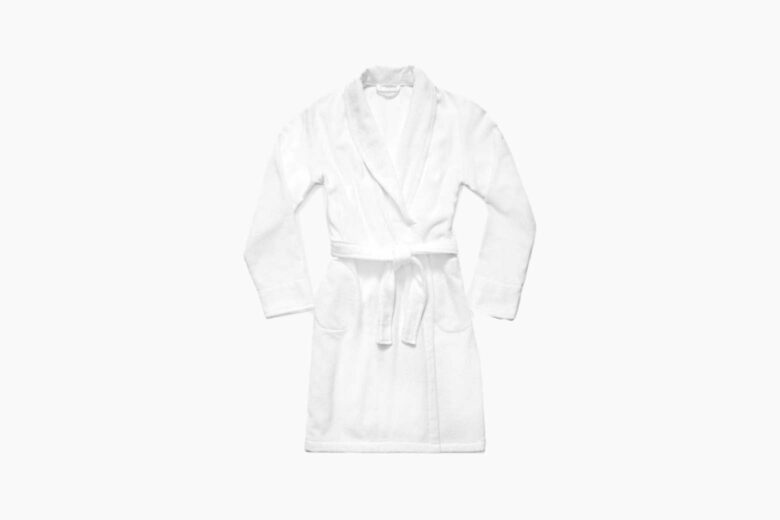 As our best robe for men and women, Brooklinen's robe makes getting out of bed a little easier each morning. Made from super-plush Turkish cotton, the elevated essential is the sartorial equivalent of a spa massage. And we love that the decadent silhouette comes in a myriad of distinctive hues—making this relaxing robe the perfect gift for every member of the family.
Brooklinen Blanket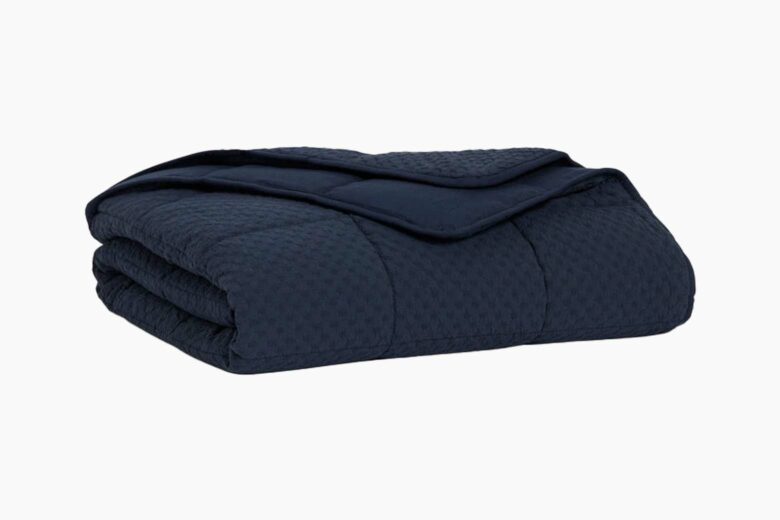 The only thing better than curling up next to the fire in Winter, is curling up next to the fire with a Brooklinen blanket. Our cocoon of choice? This quilted blanket by Brooklinen. As one of our top weighted blankets, the breathable, textured fabric is said to reduce anxiety. And the glass-bead interior is said to be better for the environment. Plus, the neutral hues and minimalist aesthetic look great thrown over any furniture.
Brooklinen Delancey Tee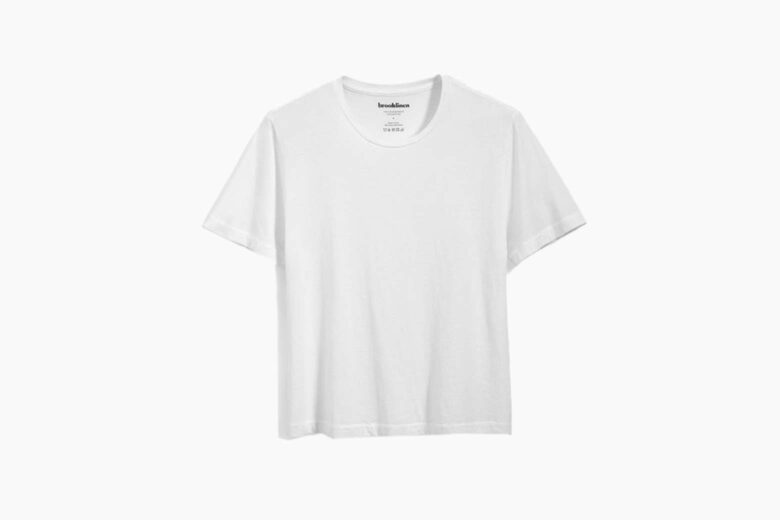 As much as we'd love to stay curled up in Brooklinen sheets, our diaries say otherwise. Enter: Brooklinen's Delancey Tee. Made from the brand's signature fabrics, the sumptuous silhouette is ultrasoft, breathable, and itch-free. The neutral color options are endlessly versatile. And epitomizing why Brooklinen is one of our best loungewear brands, we think that getting up in this loose-fitting tee is a close second best to breakfast in bed.
Where to buy Brooklinen
Brooklinen has retail stores around the US. However, for the brand's full selection of bedding, bathroom essentials, home decor, and apparel, we recommend shopping directly on Brooklinen's official website.
Brooklinen price
Brooklinen was built on the philosophy of making luxury home comforts more affordable. And by cutting out the middleman and selling directly to consumers, that is exactly what they've done. Brooklinen sheets range from $40 to $75. Brooklinen towels range from $12 to $30. And Brooklinen robes range from $99 to $150.
Brooklinen discount code
Brooklinen's official website offers a 15% discount when you sign up for the brand's newsletter. You also get a discount on future purchases every time you make a purchase on the Brooklinen website with the brand's rewards program. And the website's Last Call Sale section features a vast selection of Brooklinen products at a 40% discount. Plus, every order over $200 comes with a free Brooklinen tote.
Brooklinen shipping
Brooklinen offers free shipping on all orders to anywhere in the US. The brand also ships internationally, but shipping costs will vary according to where the product is shipped. Brooklinen takes 1-4 business days to process orders. And after the order has been processed, the time that it takes to deliver the order to your doorstep also depends on where it is being delivered to. Orders made within the US should take 2-8 business days from purchase, although the Brooklinen website does offer expedited shipping for a shorter delivery time.
Brooklinen return policy
The Brooklinen return policy is wildly generous. The brand offers a full money-back on all items returned within 365 days of purchase. According to Brooklinen customer service, they cover all shipping costs of returns made within the US. So basically, you have a full year to decide whether you want to keep your purchase. Clearly, the brand is confident that you'll love your Brooklinen products—and so are we.
Brooklinen vs Parachute
Parachute is a great alternative to Brooklinen. Both brands are organic. Both brands use the highest quality, irresistibly soft materials. And both brands come in an array of neutral hues and are machine washable.
So what is the difference? The most notable difference between the two luxury brands is pricing. A sheet that costs $269 at Parachute only costs $169 at Brooklinen, making Brooklinen a lot more affordable than Parachute. Another difference between the two concerns the brands' return policies. Parachute has a 60-day return policy. While Brooklinen has a 365-day return policy, and it covers all return shipping costs.
Frequently asked questions about Brooklinen
Is Brooklinen a luxury brand?
Despite the much lower price tag, Brooklinen is, in fact, a luxury brand. The brand only uses single-ply yarn that is made from A-grade long-staple cotton. Other luxury materials include luxe sateen, washed linen, heathered cashmere, and brushed flannel—all of which are impossibly soft and breathable.
Why are Brooklinen sheets so expensive?
Brooklinen is a luxury brand, albeit much more affordable than other luxury brands of equal quality. In fact, the brand was created with the philosophy of making luxury home comforts more affordable without compromising quality. By cutting out the middleman, that's exactly what they've done. And according to the many rave Brooklinen reviews, the luxury brand is excellent value for money. Check our in-depth Brooklinen review to learn more about the brand.
Is Brooklinen a Canadian company?
No, Brooklinen is an American company established in Brooklyn, New York (hence the name.) However, the brand does manufacture all of its sustainably sourced down for pillows and comforters from Canada.
Is Brooklinen made in China?
Although Brooklinen products are designed in Brooklyn, New York, they are manufactured around the world. The brand's silk pillowcases and sheets are made in China. Brooklinen's linen sheets come from Portugal. Its down inners come from Canada. Its towels are made in Turkey, and Brooklinen cotton products are manufactured in Israel.