When you're watching television, you want to be effortlessly transported into another world. That is, after all, what the best high-end TVs should deliver: the ability to explore lands and lives beyond our own with the simple click of our remote controls.
Today's best smart TVs offer new technologies and features that seamlessly merge top-tier audio and visual experiences. Each year, innovative new features are introduced to bring on-screen picture quality ever closer to reality. This year, with 8K televisions and OLED technology, we're seeing truly jaw-dropping images.
We've sifted through the best televisions currently available on the market to bring you a definitive ranking, as well as a helpful buyer's guide below.
Remember: Good TVs show you a picture on-screen. Truly great TVs make you forget that you're facing a tech device and instead invite you into another fully immersive world.
Pass the popcorn.
The 5 best high-end TVs
Check our special high-end TV buyers' guide after the list to see exactly what you should pay attention to before purchasing a new tv. Our tech editors also share their methodology for selecting and testing the best TVs on the market today.
1. LG OLED55B9PUA B9 Series: Best overall TV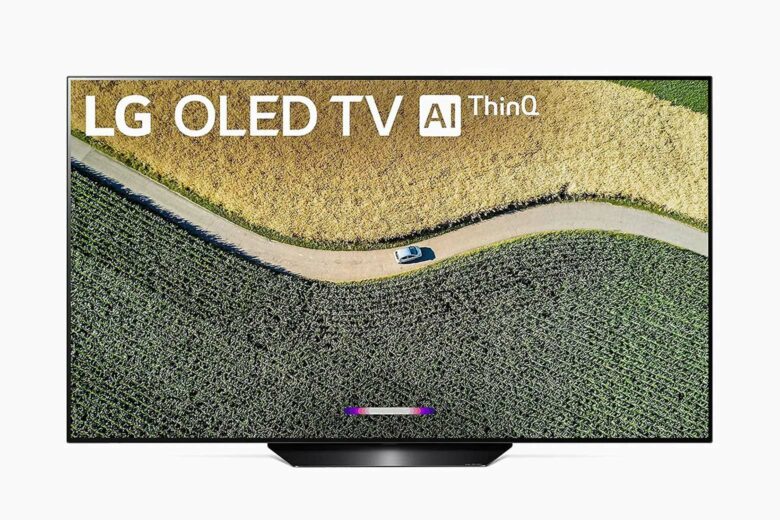 Color, so vivid it must be real; action sequences flashing across your screen so quickly your brain remains stunned. For a quality TV system with a wide breadth of color, Alexa and AirPlay integration, and an intelligent processor at its core, this LG Smart TV remains a workable enough size to be comfortable in a medium-sized room.
LG TVs are the first to bring together Google Assistant and Alexa connectivity. This means that your experience of this TV can be completely controllable by AI. No more will you have to spend seeming hours painstakingly "typing" out searches with your remote. Speak to your TV, swipe selections up from your iPhone to play them—more intuitive streaming is here to stay!
New with this TV is a smart processor which adapts the image you see on-screen and optimizes it based on your environment for the best visual effect. Got windows close to your TV? Are you tired of closing the drapes to cover the glare? You won't have to anymore; the smart processor will simply brighten the screen.
With 5.1 surround sound, this TV can be more than just a streaming device. Use it for high-quality sound to bring background music to your everyday life. It can also be used to bring PC gaming to the big screen—get ready to see your games like you've never seen them before!
The LG OLED55B9PUA B9 Series delivers 4K high-definition resolution and an included Magic remote complete your entertainment system's upgrade.
Best for: Those who use Amazon Alexa, Google Assistant, or have an Apple device and aren't fond of typing with a remote, and are looking for the best smart TV on the market.
2. Samsung QN65Q900RBFXZA: Best high-end TV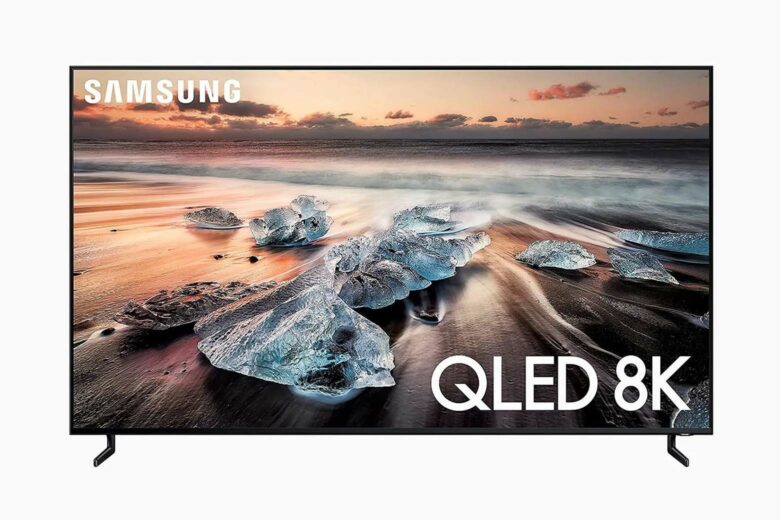 Have you found yourself yearning for ever-more-detailed immersion into your movies and favorite shows? With 8K resolution, this Samsung 65" TV fully draws you into a mesmerizing experience that can be felt as well as simply seen.
This spellbinding effect could also be due in part to the ability this TV has for incredible, heart-pounding audio effects. However, the real selling point of this TV is its high-def graphics.
Samsung's named "best TV yet" features 8K resolution. This means that it delivers images which have a depth and dimension to them which previous TVs were incapable of showing. It also features intelligent 8K upscaling—which simply means that this TV is smart enough to recognise the quality in which shows and movies were originally filmed. To bring you uniform high-quality video, this TV upscales older content so it's just as clear and sharp as entertainment filmed with the very latest cameras!
With a processor capable of catering the sound to each individual scene, this smart TV can give you an experience attuned to your specific genres of entertainment. Its 16X Direct-Angle LED screen is primed to be anti-glare, no matter where it is, for your optimal viewing pleasure.
In addition to 8K resolution and upscaling, the Samsung QN65Q900RBFXZA debuts the brand's Quantum Dot technology, which renders every frame of content in over one billion shades of color. With all of that tech packed into this TV's slim frame, it gives you visuals that seem more real than reality itself.
Best for: Breathtaking depictions of color and anti-glare technology for optimal visuals, no matter what.
3. Samsung QN75Q60RAFXZA: Best value TV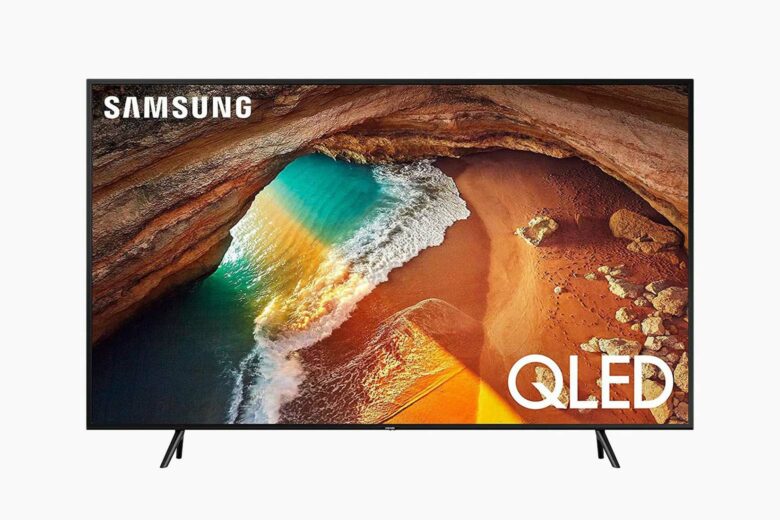 Have you ever felt like your TV—essentially, a large black rectangle—detracts from the rest of your carefully-curated decor? You might have spent years honing the aesthetics of your living space to be as beautiful and personal as possible. A large black hole in your living room might not be the design you desired, but you might have thought it is just the price you had to pay for an at-home entertainment system.
That compromise ends now.
The Samsung Flat 75" Smart TV features an Ambient mode which acts as a high-def computer screensaver might—but with a much more high-end artistic vibe. Load up gorgeous photographs or fashionable pieces of art to display on-screen when you're not actively using the TV. Suddenly, this television adds to your space as dynamic art, instead of empty space.
An intelligent 4K processor and Quantum Dot technology allow for vivid color and beckoning, immersive images. While it does come with Alexa connectivity, the TV itself does have a voice-control AI of its own; either way, you can easily control your viewing experience with your voice. Wondering where the remote is? You won't need it anymore with this gorgeous—and larger-than-life-Samsung smart TV.
With the aesthetic features the Samsung QN75Q60RAFXZA offers along with its AI-enhanced user experience, this TV is the best TV for the money—especially when juxtaposed with its more middle-of-the-road price.
Best for: Those who have been wondering how to camouflage their flat-screen TVs with gorgeous home decor.
4. Sony XBR85Z9G Smart Master Series: Most expensive high-end TV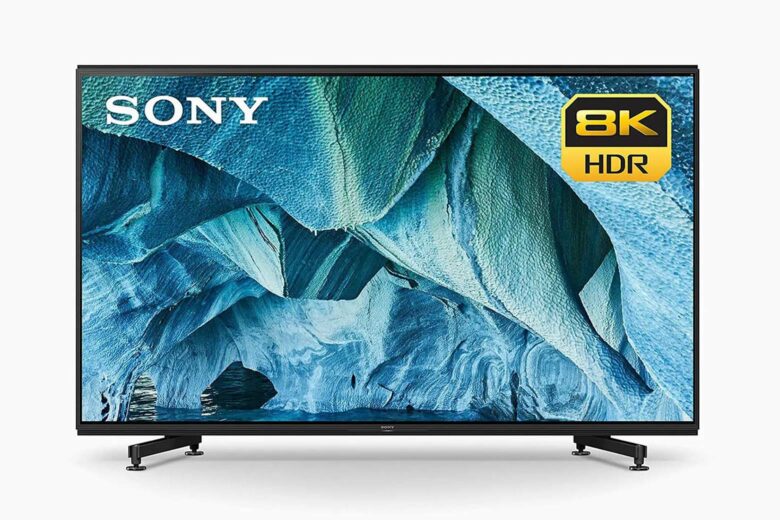 Are you a fan of going to the movies? Sitting back with popcorn and loved ones is a time-honored way to enjoy the best of entertainment, brought to the silver screen.
Have you ever considered investing in an at-home experience that rivals movie theatre quality?
The 85" screen of this Sony Master Series TV is packed with pixels to bring you beautiful 8K high-definition visuals. Sony's Master Series televisions are specifically engineered to bring you entertainment in the way the directors and creators would have wanted it to be seen. From intensely real, vibrant colors to an acoustic multi-audio sound system, you'll find that you are no longer merely watching movies. It'll feel like you're part of them.
This TV has Alexa, Google Home and Google Assistant compatibility, which gives you the ability to control your experience with your voice. You might be wondering how such a large TV will work in your home. Fortunately, the X-Wide Angle and X-Motion Clarity imbued into this model's tech work hard to make every seat in your home the best seat—regardless of glare or other distractions.
With a full-array LED screen, 8K resolution, Super Bit Mapping for incredible action sequences, and hands-free controls, the Sony XBR85Z9G Smart Master Series is high-end, but it's more than that. With its advanced features, it'll be considered top-of-the-line for years to come. It's also the best large television currently available.
Best for: Those who wish to recreate an exciting theatre experience from the comfort of their own living room.
5. TCL 50S425: Best budget TV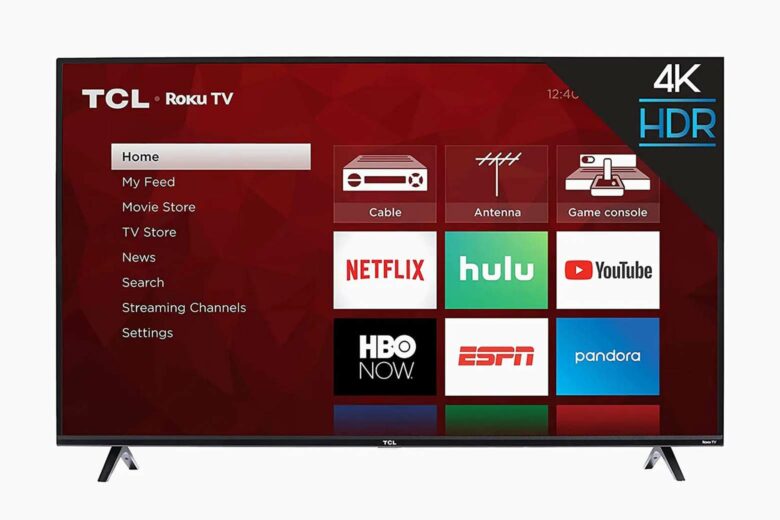 Perhaps you're not looking for state-of-the-art visuals or sound so powerful it'll make your bones vibrate. Perhaps you're in need of a good TV that brings quality entertainment home at a reasonable price. If so, we've found a set that balances high-quality features (and convenient controls) with a more budget-friendly sticker price.
The TCL 50 Inch Roku TV connects with Alexa and Google Assistant for easy voice controls, and the Roku OS offers connection to your favorite streaming services with the click of a button. 50 inches is a good size for most homes: large enough to see every detail of your favorite shows, but small enough that it doesn't overwhelm any room in which it stands.
To ensure that this TV fits into your life with ease, it comes with a sleek stand or all of the hardware necessary to mount it on your wall. From there, you can control your TV with the included remote, the Roku App for Android or iOS, or with your voice. With 4K resolution and the capability for surround sound, the TCL 50S425 offers similar features as more high-end pieces at a more accessible price point.
Best for: Those who live in smaller spaces or who simply require a TV that works well, without the higher-tech features that they may not use or need.
As an alternative, we'd like to present the Insignia 32-inch Smart HD TV. It's a little smaller, but even more cost-efficient, and the images and sound quality it offers are very good for the lower price.
Buyer's Guide: How to pick the right TV for you
When you're looking for a TV, what are you looking for? Ultra-realistic, pixel-free image quality? Do you wish to replicate a high-definition, surround-sound theatre experience—or are you more looking for a way to incorporate your TV into your home aesthetic when you're not watching it?
Ultimately, the best TV for you is probably as unique as you are. Let's talk about the different options you have to best upgrade your home entertainment system:
OLED vs. LED. vs. QLED: Modern television screens are formed of flat panels of Light Emitting Diodes (LED) which portray the intended image in pixel format. With an organic LED panel or OLED, these diodes are placed between semiconductors that separately power each one—allowing you to control images at the individual pixel level. Older LED or LCD screens aren't able to be quite so detailed. This leads to the true wow moment that almost confuses your eyes—on first watch!—when you first encounter an OLED screen.
QLED refers to quantum-dot LED screens. They use a different color technology and a slightly more old-fashioned backlighting technique. Ultimately, they offer brighter colors, but a slower response time—and some say that the contrast between true black and true white isn't as clear as OLED.
OLED screens are going to be the most universal high-end option for most. LCD or LED screens are a good budget alternative, and you should likely invest in QLED only if you're very interested in the brightest, most vibrant color imaginable.
The difference between 4K and 8K definition is simpler but equally impressive in person. An 8K screen has double the amount of pixels when compared to a 4K screen. This gives you a much more seamless, fluid visual experience: some have even called it 'hyper-real'—as in, more detailed than your eye is used to seeing in actual reality!
Other features you might want to look out for are digital assistant connectivity, anti-glare angles so the sun doesn't interfere with your image quality, and the ability to connect to high-quality speakers so you can have the best audio experience as well.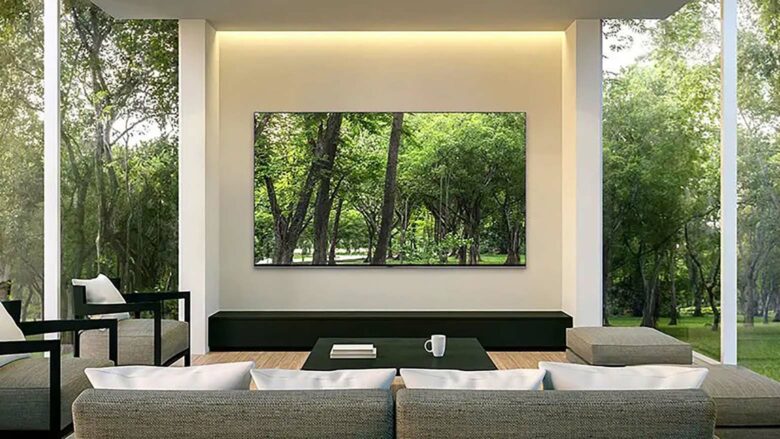 Methodology: How we select, test, and rank the best TV's on the market
We started to rank the best TV's on the market by selecting the brands which have made the top-rated TV's in the past and examining their most recent, most innovative offerings. Then, we made a list of the qualities we would appreciate in a great TV: definition, sound, voice control, and anti-glare capacity. We then combed through TV reviews for each of our candidates to ferret out any sets which didn't perform well in the field. We were left with the five excellent televisions in our above ranking.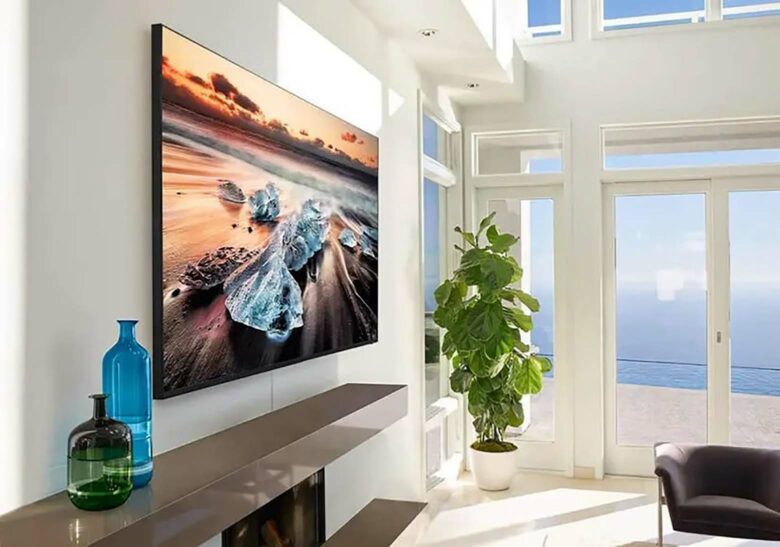 High-end TVs: Frequently asked questions