Reusable bottles are all the rage, but could they be doing us more harm than good?
Bacteria love a dark and wet environment, making reusable water bottles a breeding ground for bio-contaminants like bacteria, viruses, and mold. The LARQ water bottle is here to change that. Using UV-C light technology, it kills the bacteria and viruses lurking in your bottle. Plus, no need to clean your bottle on a daily basis (not that we were doing that anyway).
As we discovered in our LARQ Bottle review, this pioneering bottle not only makes tap water clean to drink, but there's none of that musty odor you typically get from ordinary water bottles. So you can trade those single-use plastic bottles for an eco-friendly, stink-free, and totally safe drinking experience.
Plus, the LARQ water bottle is so stylish it's basically a new wardrobe accessory. You'll want to show it off to all your friends.
In this LARQ Bottle review, we'll check out the brand's two models: the original LARQ Bottle and the lightweight and travel-friendly LARQ Bottle Movement. But first, we'll start by discussing the innovative sterilizing technology of both.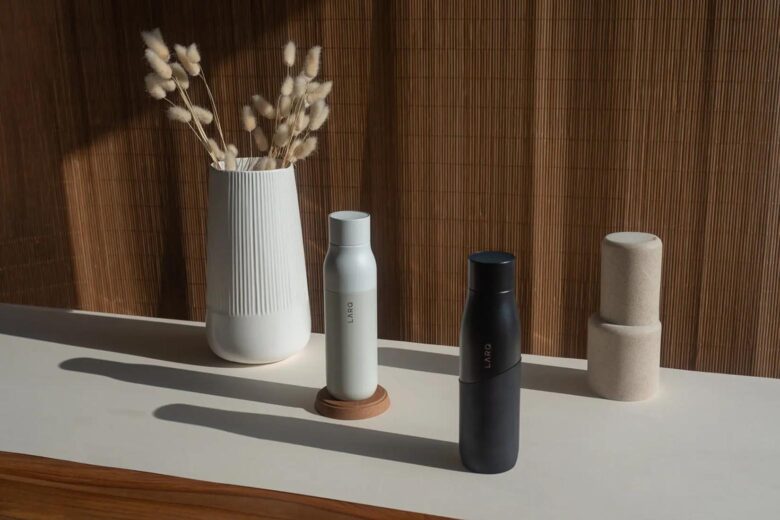 The self-purifying technology behind the Larq bottle: UV-C light
The LARQ Bottle makes use of UV-C light to sterilize water and the bottle itself. UV-C light technology is the same technology used in hospitals to sanitize room surfaces. It's also been used to sterilize municipal water supplies for many years.
UV-C light falls within the electromagnetic spectrum—just like the Sun's UVA and UVB rays. UV-C wavelengths are within the range that inhibits the growth of germs and viruses by disrupting the chemical bonds in their DNA, essentially killing them.
While most UV technology uses mercury, the LARQ water bottle uses an LED light, a safe and non-toxic method to emit UV-C rays. The light emits UV-C at wavelengths of 280nm, proven to be effective against E.coli, Salmonella, Staph, and MRSA. In fact, it can kill up to 99.9999% of bacteria and 99.99% of viruses when the bottle is used on its highest settings.
This UV light water bottle activates self-cleaning for 10 seconds every 2 hours, but you can also press the button for on-demand 1-minute water purification. When you're traveling or out in nature and require more intensive sterilization, activate Adventure Mode for a 3-minute cleaning cycle.
You can charge the self-cleaning water bottle in 1-2 hours via the provided micro USB, and the battery can last several weeks with daily usage.
Although the bottle is self-cleaning, it's still recommended to wash it from time to time. You can use either soap and lukewarm water or soak it in either boiling water, a baking soda solution, or white vinegar.
Compared to regular reusable water bottles, LARQ bottles have the major advantage of saving you the hassle of daily cleaning. The LARQ Bottle also keeps water cold and fresh.
With a LARQ bottle, there's no need to replace cleaning and purification parts. Plus, the LARQ water bottle kills bacteria and viruses, so you don't have to buy any tablets or extra equipment for purifying water from the outdoors or when traveling, which definitely sounds better to us.
LARQ Bottle review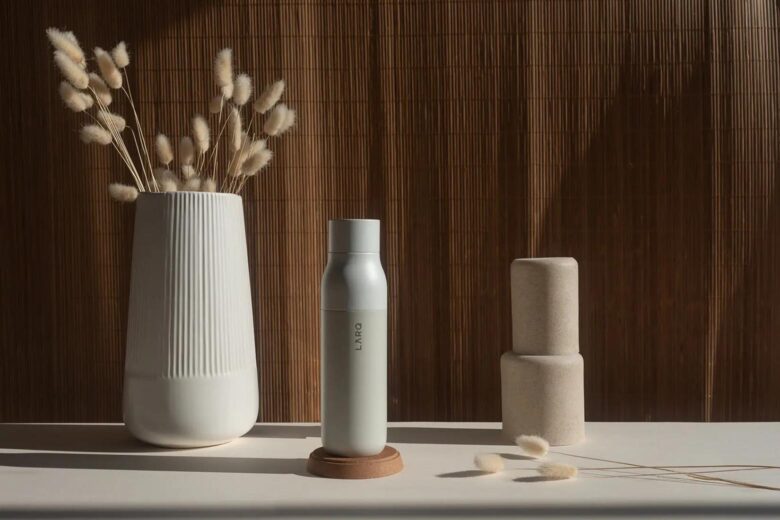 The world's first self-cleaning water bottle, the record-breaking LARQ Bottle has the potential to transform your drinking experience with its innovative technology, not to mention its award-winning design.
The pros:
Makes water safe to drink in a quick and simple way.
Temperature control is effective with both hot and cold water.
Pleasing color combinations.
The cons:
Expensive for a water bottle. Should be considered a long-term investment.
Some might find it a little heavy and prefer the lightweight LARQ Bottle Movement, especially on the go.
Doesn't filter water, so won't remove particles or sediment.
The alternatives:
CrazyCap is another self-cleaning water bottle and, like the LARQ water bottle, offers two purifying modes, plus a regular auto-clean function. It's also possible to buy the cap of the CrazyCap without buying the rest of the bottle, which will fit on many other reusable water bottles.
However, compared to the CrazyCap, the LARQ offers superior cleaning, as it can kill up to 99.9999% of contaminants compared to the CrazyCap's 99.9996%.
Hands-on experience and benefits
The LARQ Bottle is undeniably a beautiful object to behold. Cutting-edge technology aside, it's aesthetically gorgeous with its sleek matte finish and range of colors, from cheerful Seaside Mint to stealthy Obsidian Black. The light around the cap pulses gently and looks super sci-fi. Definitely a conversation starter.
But the most exciting part is, of course, the UV-C light technology. Touch the button, and it will eradicate germs in just 60 seconds. You should shake the bottle too, to make sure the light reaches all the water, although the stainless steel also reflects the UV light so it reaches all the nooks and crannies.
There's a Safety Mode to stop the LED from being activated with the cap's not secured so you never expose your eyes to the UV-C light. Plus, there's a Travel Mode for when you're on a plane or not using it. Opt for the smaller 500ml for a bottle that fits easily into your EDC backpack or the bigger 740 ml to hit all your hydration goals.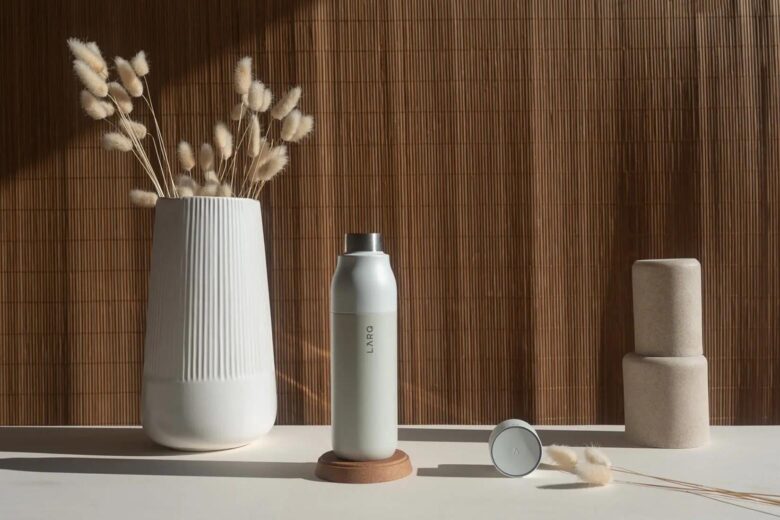 To drink, water tastes pleasingly neutral with no metallic flavors. Even better, it smells just as water should with none of the stink. We're sure that the benefits of using this UV-light water bottle will be seen in the long term as our bodies will enjoy not having to fight bacteria on a daily basis.
In addition to sterilizing your water, the LARQ water bottle has double-wall insulation and a vacuum seal and can keep water cold for 24 hours and hot for 12 hours.
And, of course, the best bit is not having to worry about cleaning the bottle every day. You should still give the mouthpiece a regular rinse or wipe down from food or lip product residue, which can vary from person to person since the UV-C light can't reach the mouthpiece. But we'll still save valuable hours not slaving away at the sink trying to clean our bottle with a sponge.
| | |
| --- | --- |
| Colors: | Blue, black, mint, white, pink, or electric blue |
| Material: | stainless steel |
| Capacity: | 500ml or 740 ml |
LARQ Bottle Movement review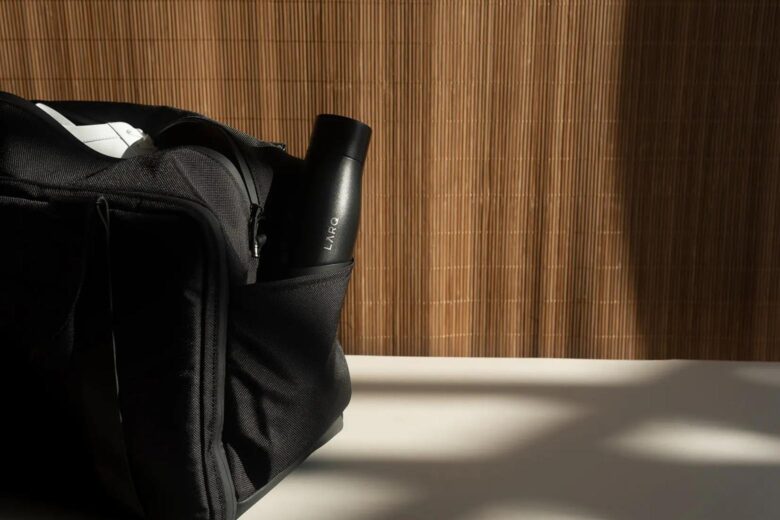 For hassle-free clean water on the move, opt for this lightweight, travel-friendly, and self-purifying water bottle, aptly named the LARQ Bottle Movement.
The pros:
Lightweight enough to carry with you all day, every day.
Bigger capacity is ideal for longer trips and adventures.
Cool two-color design is eye-catching and unique.
The cons:
Lacks double-wall insulation.
Removing a cap to drink might put some people off.
The alternatives:
CrazyCap is another self-purifying water bottle with similar cleaning functions to the LARQ water bottle, including a 'crazy mode' for more intensive sterilization when you need to drink water from lakes or rivers.
However, the LARQ water bottle charges faster than the CrazyCap, and those who want a bottle with greater capacity will prefer the LARQ Bottle Movement, which can hold 940 ml of water, compared to the CrazyCap's 500 or 740 ml.
There's also bkr glass water bottles, which are very aesthetically pleasing and make water taste great, but these aren't self-purifying like the LARQ water bottle.
Hands-on experience and benefits
The LARQ Bottle Movement is noticeably lightweight. It's made of ultra-light stainless steel, which is non-insulated. The choice of stainless steel also makes the water taste fresh and crisp and reflects the UV-C light for optimum sanitization, and is more odor-resistant than plastic or glass.
But despite being lighter, the LARQ Bottle Movement is no smaller than the LARQ Bottle so you don't have to compromise on hydration. In fact, it comes in either 710ml or 950ml, so offers greater capacity than its sibling UV light water bottle. The 950ml version is ideal for backpackers on longer adventures or to throw in a gym bag.
Just like the LARQ Bottle, the LARQ Bottle Movement has that premium vibe with its matte finish and tactile shape. The two-color design definitely gets style points from us. The silicone sleeve is interchangeable, too, so you can change up your look whenever you please.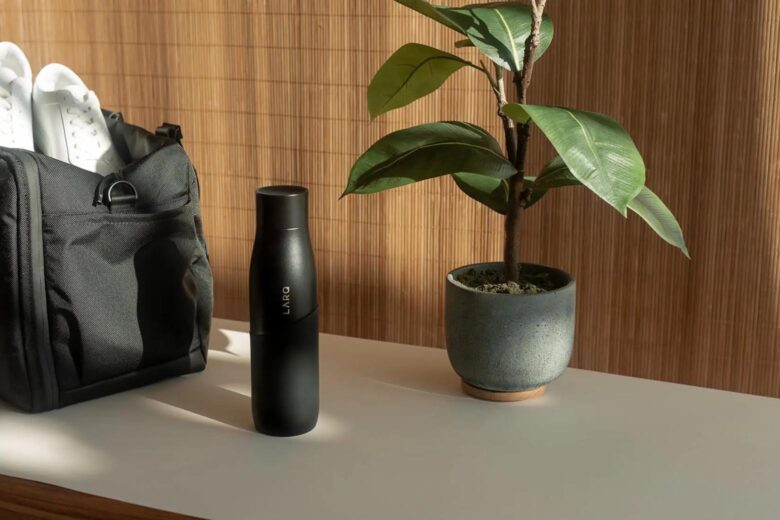 And, like the LARQ Bottle, all you need to do to eradicate bacteria, viruses, and bio-contaminants is to press the button, and the built-in UV-C LED will get to work sterilizing your water.
Charge up using the MicroUSB connector, and you'll be able to enjoy the bottle's self-purifying technology for up to a month on a single charge. The connector is waterproof to ensure no damage is done. And another bonus of this bottle is the silicone sleeve, designed to protect it from bumps and nicks and great for go-getters, rushing from place to place, who won't have to worry about dropping it.
This self-cleaning water bottle is ideal for those who live in a place where water sources are dodgy or for travelers as it will fit easily in a travel backpack or tote bag.
| | |
| --- | --- |
| Colors: | White and pink, white and dune, white and grey, black and red, black and dark green, black and black |
| Material: | stainless steel |
| Capacity: | 710 ml or 950 ml |
Are LARQ water bottles worth it?
If you want a reusable water bottle that will last years without getting stinky, save you the hassle of daily cleaning, and keep your water at the right temperature, then the LARQ Bottle is worth the price. For travelers and adventurers looking for a lighter option with the same self-purifying technology without the insulation, the LARQ Bottle Movement offers greater capacity without extra weight.
Both LARQ bottles are more expensive than your average reusable water bottle, but that's because they aren't average water bottles. They're high-tech equipment that delivers safe and sterilized water straight to your mouth while looking sleek and stylish at the same time.
If you want a bottle to accompany your daily errands, the LARQ water bottle is small enough to slip into a bag. Looking for something lighter? As we found in our LARQ Movement review, the LARQ Bottle Movement is super transportable and comes in a massive 950ml.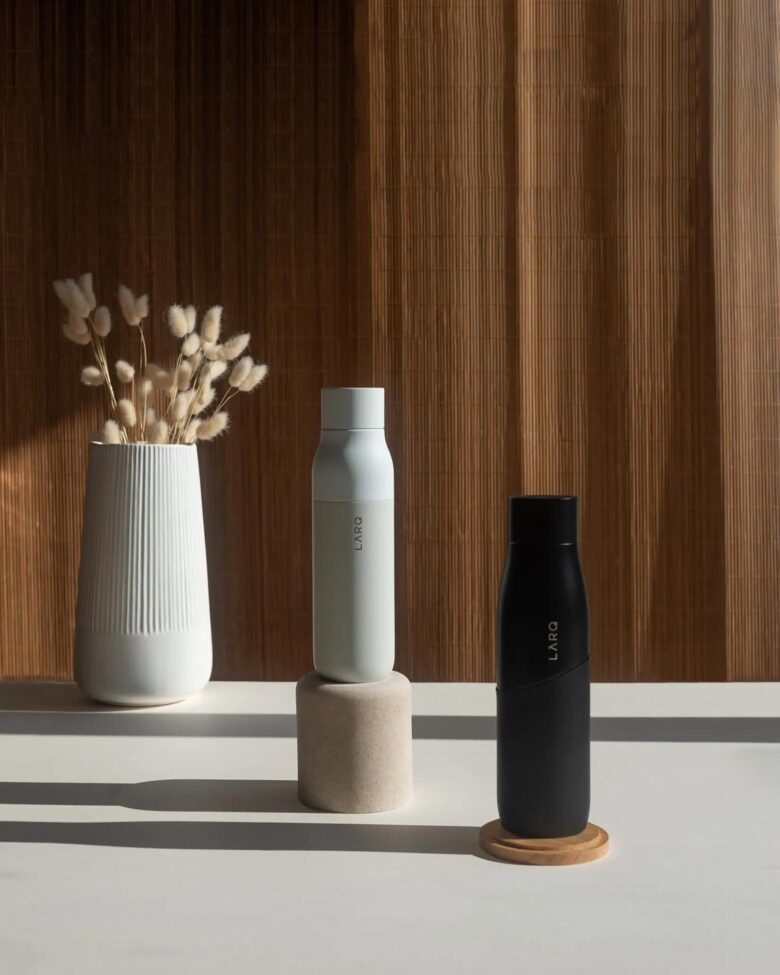 Frequently asked questions about LARQ bottles
Does LARQ water bottle really work?
The LARQ water bottle uses UV-C light to disrupt the DNA of viruses and bacteria, killing up to 99.9999% of bacteria and 99.99% of viruses when used on its highest settings, ensuring your water is odor and germ-free.
Does LARQ purify water?
The LARQ Water Bottle purifies water using UV-C light, as well as cleaning the bottle itself. While it doesn't filter out chemicals or sediments, it does effectively kill nearly all bacteria and viruses when used on the highest setting.
Does LARQ remove chlorine?
The LARQ Bottle doesn't filter out chlorine or other chemicals, nor does it filter out sediment or particulates. But it does kill up to 99.9999% of bacteria and 99.99% of viruses, effectively sterilizing both the water and bottle itself. Read our in-depth LARQ review to see exactly how it works.
Is the LARQ bottle safe?
The LARQ Bottle is a safe way to drink water as it uses UV-C light technology to sterilize the bottle and kill bacteria and viruses. The safety mechanism means the light only activates when the cap is fully on so you never expose your eyes to it.