Whether you're on a mission to finally get in shape or you're already an athlete at peak fitness, there's one part of your workout wardrobe that you really can't skimp on: sports bras. They provide essential physical and—let's face it—emotional support.
Workouts are supposed to be uncomfortable. Sports bras aren't. Think of the best sports bras like a really cool parent. Supportive and protective without being constricting or suffocating.
Different women need different sports bras. High-intensity sports necessitate a super-secure high-impact sports bra with compression and anti-chafing materials. A yoga flow requires a sports bra with lots of range of movement. Women with larger busts need more coverage and support while those in between sizes will appreciate an adjustable bra.
The 19 best sports bras
To help you find the sports bra that's best for you, check our buying guide to choosing the best sportswear after the list.
And if you're looking for something to wear when you're not training, check our editorial selection of the best lingerie brands of the year.
Here are our favorite sports bras ready to bolster you through even the toughest boot camp.
Alo Yoga Real Bra: Overall best sports bra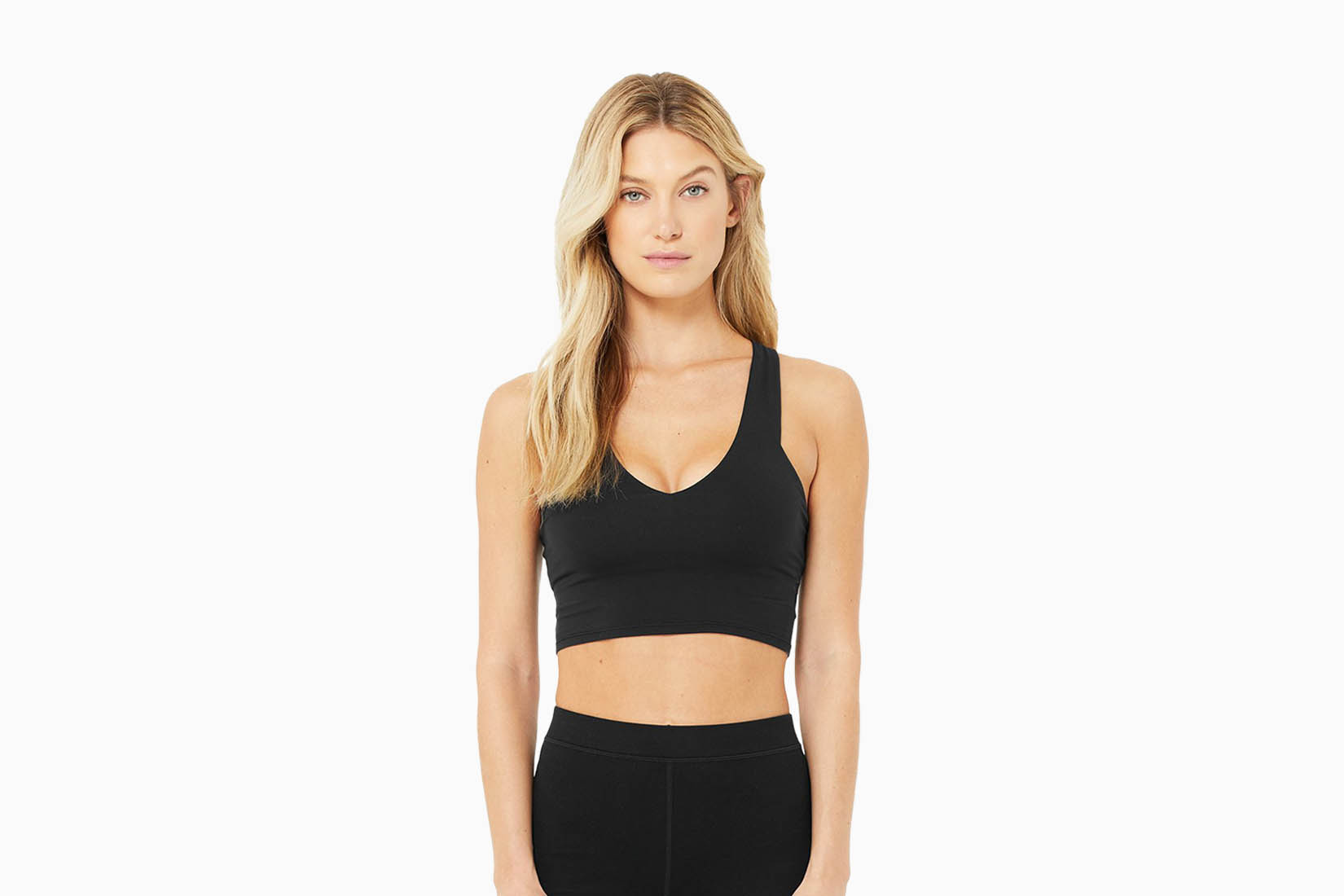 The gold standard for sports bras has to be this Alo Yoga Real Bra Tank. We've already picked up our favorite yoga leggings from Alo Yoga and now we want this sports bra to match.
It's a bra-tank hybrid, which means we can wear it to our Hatha class and then to hang out with our friends. It's made from a silky-soft performance jersey with a V-neck that shows just enough cleavage. And the racerback plus four-way stretch allows for plenty of movement.
The supportive built-in shelf bra keeps everything tucked in and controlled. And the lighter-colored versions also come with soft cups for additional coverage—so no more accidentally flashing your fitness instructor. Opt for the white sports bra if wearing under a white t-shirt.
For a day-to-day sweat session where looking good is just as important as staying supported, this Alo Yoga Real Bra is the one you want.
Learn more about the Alo Yoga brand.
| | |
| --- | --- |
| Best for: | Easy and elegant security for your two most precious body parts. |
| Sizes: | XS-L |
| Workout Intensity: | Low to medium impact |
| Colors: | A range including black, white, and pink. |
Burberry: Best designer sports bra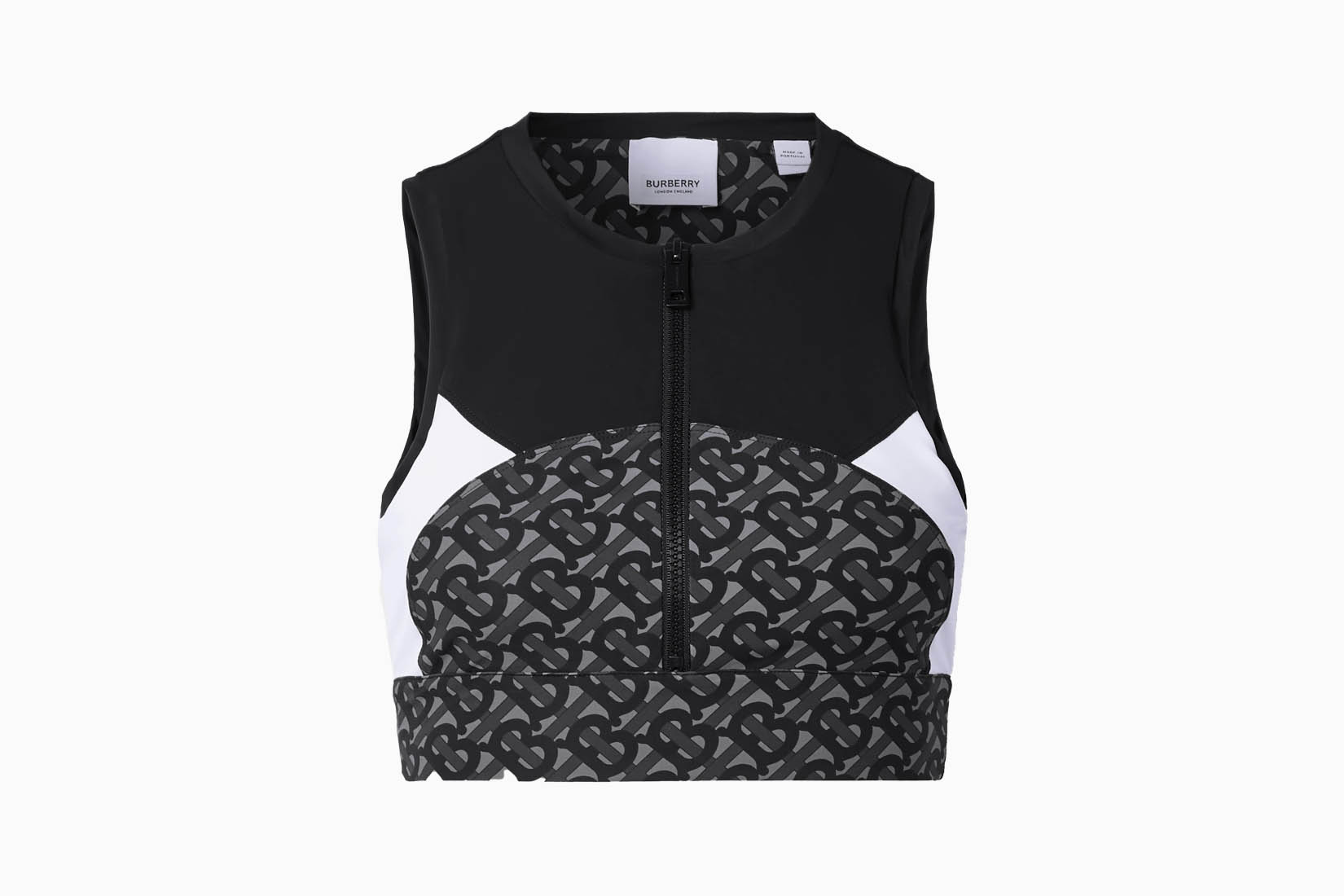 Getting sweaty doesn't mean skimping on glam factor—as proven by this Burberry sports bra. After all, who knows who you might bump into at the gym?
Check out the monogrammed panels on this extremely elegant sports bra. Black, white, and grey is the dream color combination for any heavy sweating and will look as cool at the start of your class as at the (highly perspiring) end.
It's made from solid stretch panels with a supportive underband. The zip fastening along the front adds ventilation and makes it easy to get on and off.
With its longline silhouette, this sports bra is perfect for low-impact workouts like yoga, pilates, or hiking, and it wouldn't look out of place at a chic cafe for a post-workout brunch.
Treat yourself to a sports bra that is the apex of designer style with this Burberry creation available on NET-A-PORTER.
| | |
| --- | --- |
| Best for: | Bringing some A-lister cool to your next adrenaline-pumping session. |
| Sizes: | XXS-XL |
| Workout Intensity: | Low impact |
| Colors: | Dark gray |
Nike Swoosh: Best value sports bra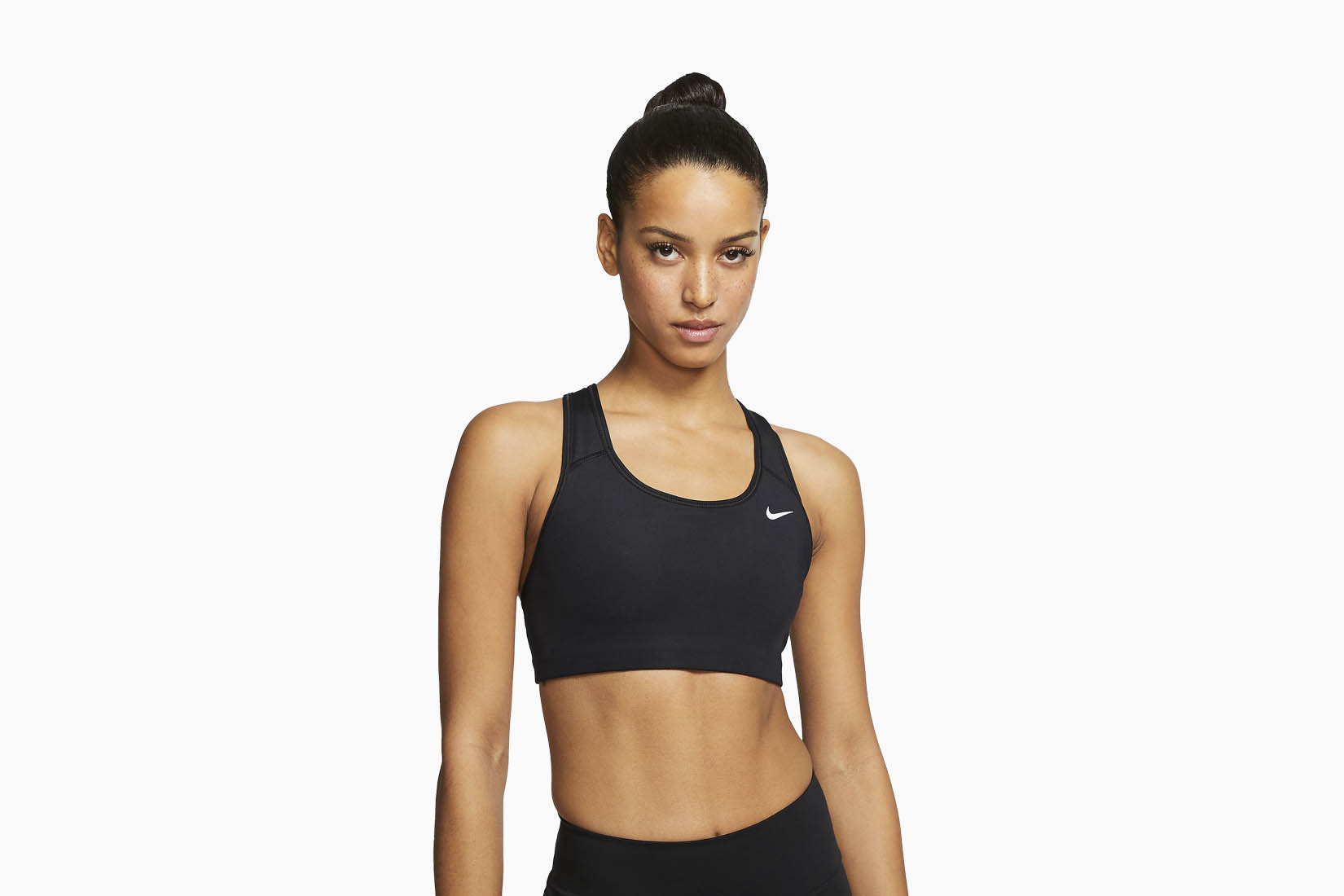 This great-value Nike Swoosh Sports Bra is our favorite when it comes to inexpensive yet exceptionally functional athletic wear.
We love all Nike sports bras but we love the wide straps on this bra in particular. Ideal for a no-dig exercise experience. The classic racerback design is flattering and allows for a full range of motion. The tight fit hugs the body and feels snug and secure while the smooth and lightweight fabric effortlessly wicks away sweat.
Watch yourself rack up the reps and hit all your fitness goals with the Nike Swoosh Sports Bra — expertly designed to get you moving while ensuring that your breasts don't.
| | |
| --- | --- |
| Best for: | A buddy to both your breasts and your bank balance. |
| Sizes: | XS-XL |
| Workout Intensity: | Medium impact |
| Colors: | Orange, black, or white |
Alala: Best black sports bra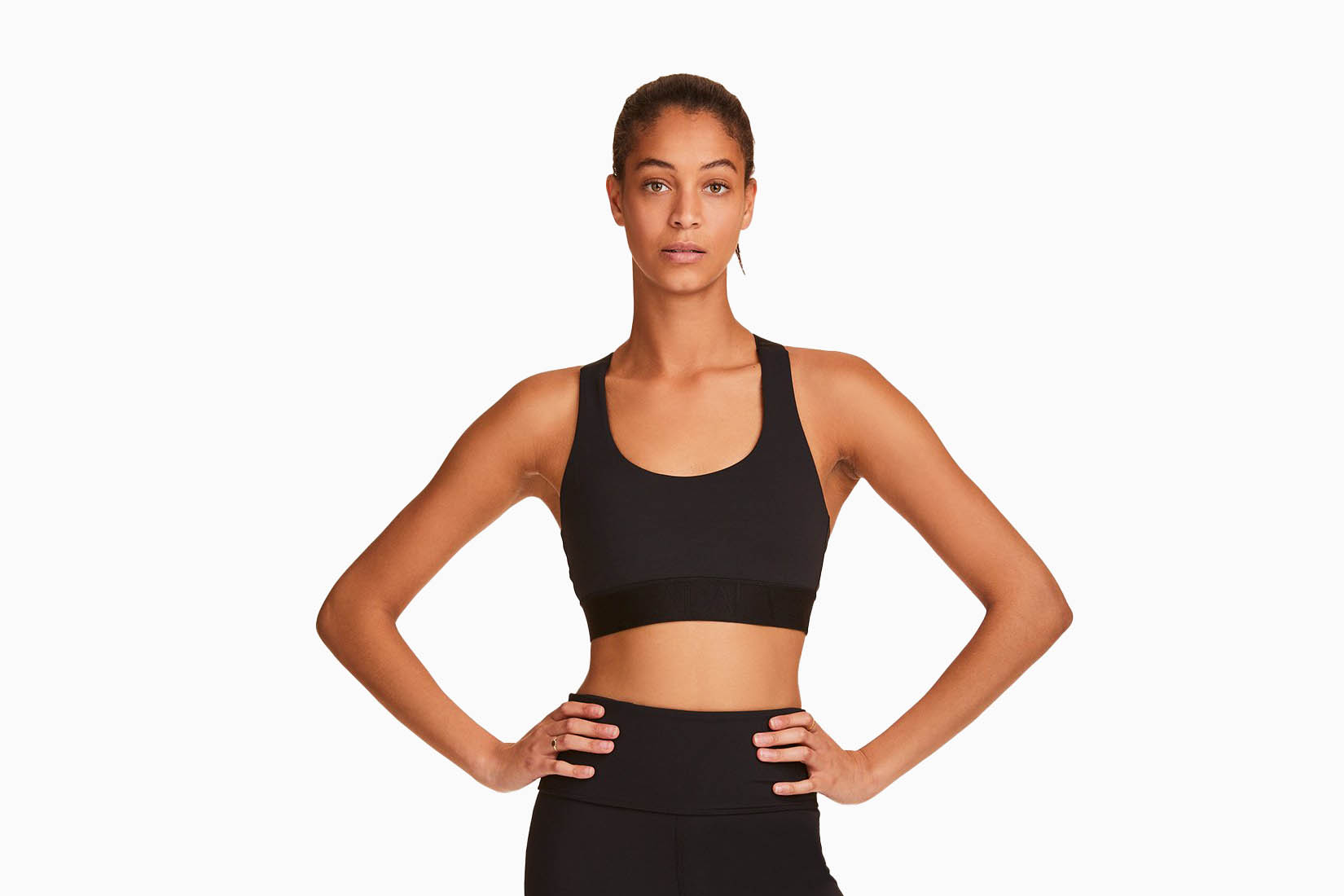 Black is one of the best colors for workout wear. It doesn't show sweat, it's versatile and it's timeless. Which is why we're loving this Alala Eclipse Bra.
This impeccably elegant black sports bra is designed for any activities thanks to a cross-back design that's definitely up to the challenge of keeping your bosom under control through even the most arduous high-impact exercise session.
The slim fit hugs the body and maintains a streamlined silhouette. Flatlock seaming minimizes irritation and chafing. And there's no danger of spilling over the top thanks to the secure scooped neckline.
The aesthetic is suitably sporty and no-nonsense. Plus, you can machine wash this bra, making it a low-maintenance addition to your workout wardrobe.
For enduring style and effortless support, this Alala Eclipse Bra outshines all the others.
| | |
| --- | --- |
| Best for: | A bra so effortlessly wearable that it casts a shadow on all your others. |
| Sizes: | XS-XL |
| Workout Intensity: | High impact |
| Colors: | Black |
Unbridled Apparel Beatrix: Best sports bra with front closure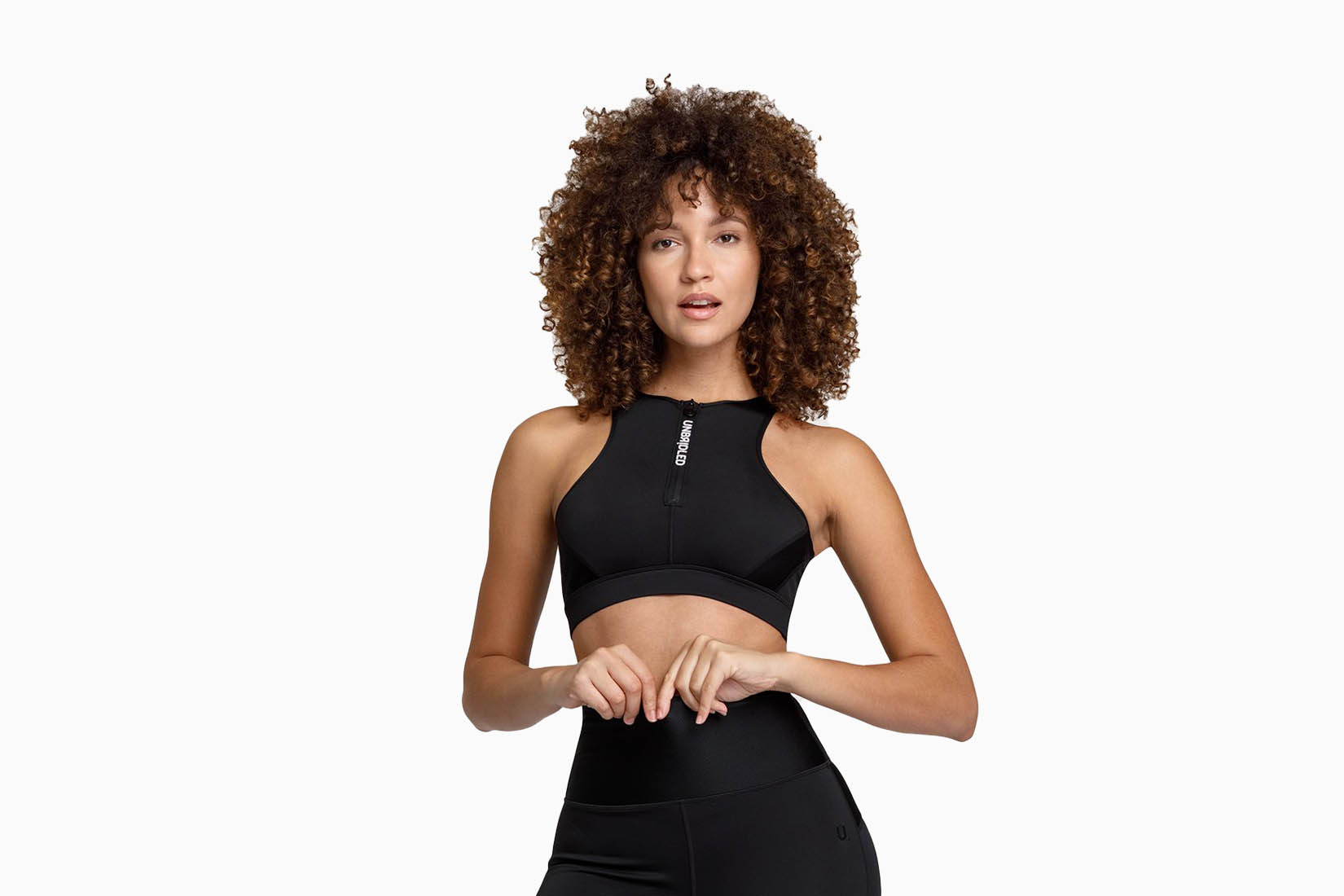 If you're looking for maximum support plus easy removal in the changing rooms, then you need a sports bra with a zip front closure like the Beatrix bra by Unbridled Apparel.
This is a great bra for anyone who doesn't feel like they've exercised unless their heart is really racing. It's a super-strong design, ideal for high-impact workouts like running and cycling.
The zipper front is easy to get in and out of (a blessing in a crowded changing room) and it looks pretty unique too. The tonal texture blocking adds some low-key aesthetic intrigue and the fact you can machine wash this bra makes it a great low-maintenance choice. The polyester-spandex blend is strong, lightweight, and quick-drying.
Look sleek and sophisticated even when dripping with sweat with the stylish Beatrix front closure sports bra.
| | |
| --- | --- |
| Best for: | Optimum security and support meet outstanding style. |
| Sizes: | XS-XXL |
| Workout Intensity: | High impact |
| Colors: | Black |
Sweaty Betty: Best sports bra for running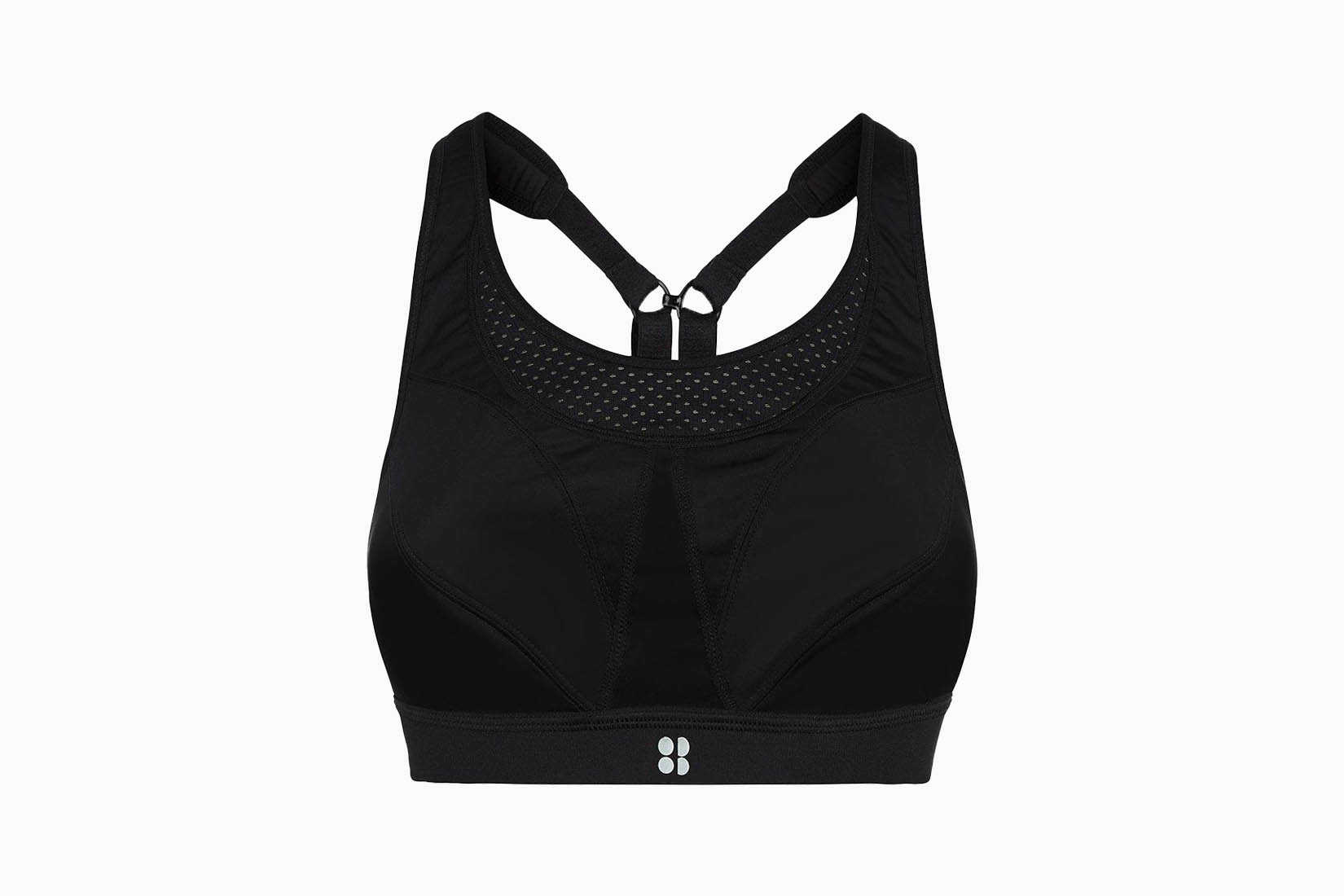 The high impact of running can put a strain on our breasts and cause chafing and irritation—unless you've got a really good sports bra. And the best high-impact sports bra for running has to be the Ultra Run Sports Bra by Sweaty Betty.
Sweat Betty knows what they're doing when it comes to fitness apparel and the Ultra Run Bra is no exception. It's optimized for high-impact workouts where your breasts need all the support they can get.
A combination of compression and encapsulation technology offers security and stability for breasts up to a size F cup. Padded straps give plenty of comfort with no digging and can be alternated between a U-back or racerback for added flexibility.
The seams have been carefully situated to avoid rubbing and the quick-drying fabric combined with the mesh panels provide ventilation to keep you cool, calm, and collected—even halfway through the most brutal HIIT class.
Make it over the finish line with your favorite physical assets intact thanks to the Sweaty Betty Ultra Run.
| | |
| --- | --- |
| Best for: | Pavement pounding without punishing your breasts. |
| Sizes: | XS-L |
| Workout Intensity: | High impact |
| Colors: | A range including black, white, and blue. |
Nike FE/NOM: Best high-support sports bra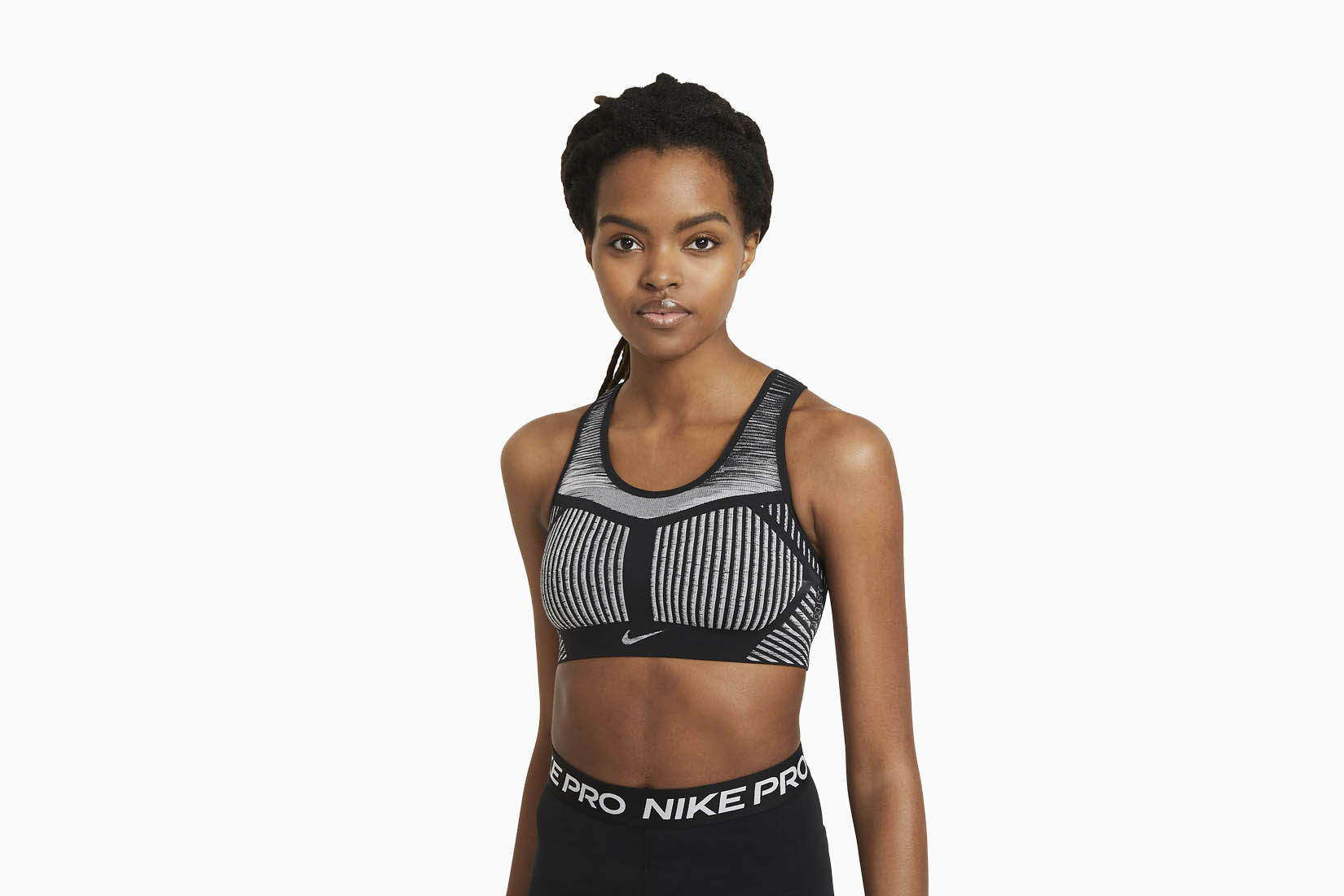 Ensure everything stays safe and secure no matter how high your heart rate with the Nike FE/NOM Flyknit.
This incredibly high-support sports bra has a compressive and secure fit to ensure minimal bounce as you move around. The molded cups neatly fit over your breasts while the design is almost totally seamless so no chafing or irritation.
Support, comfort, and stretch allow you to glide through your workout like it's the easiest thing in the world. Choose between four different colors. The lime green one is ideal for getting people's attention while the grey-white combination is sleek and understated.
If you want a high-impact sports bra that's as fashionable as it is functional, your search ends with the Nike FE/NOM Flyknit.
| | |
| --- | --- |
| Best for: | High support to reach new performance heights. |
| Sizes: | XS-XL |
| Workout Intensity: | High impact |
| Colors: | A range including green, grey, and pink. |
Alo Yoga Shine Wild Thing: Best sports bra for low-impact workouts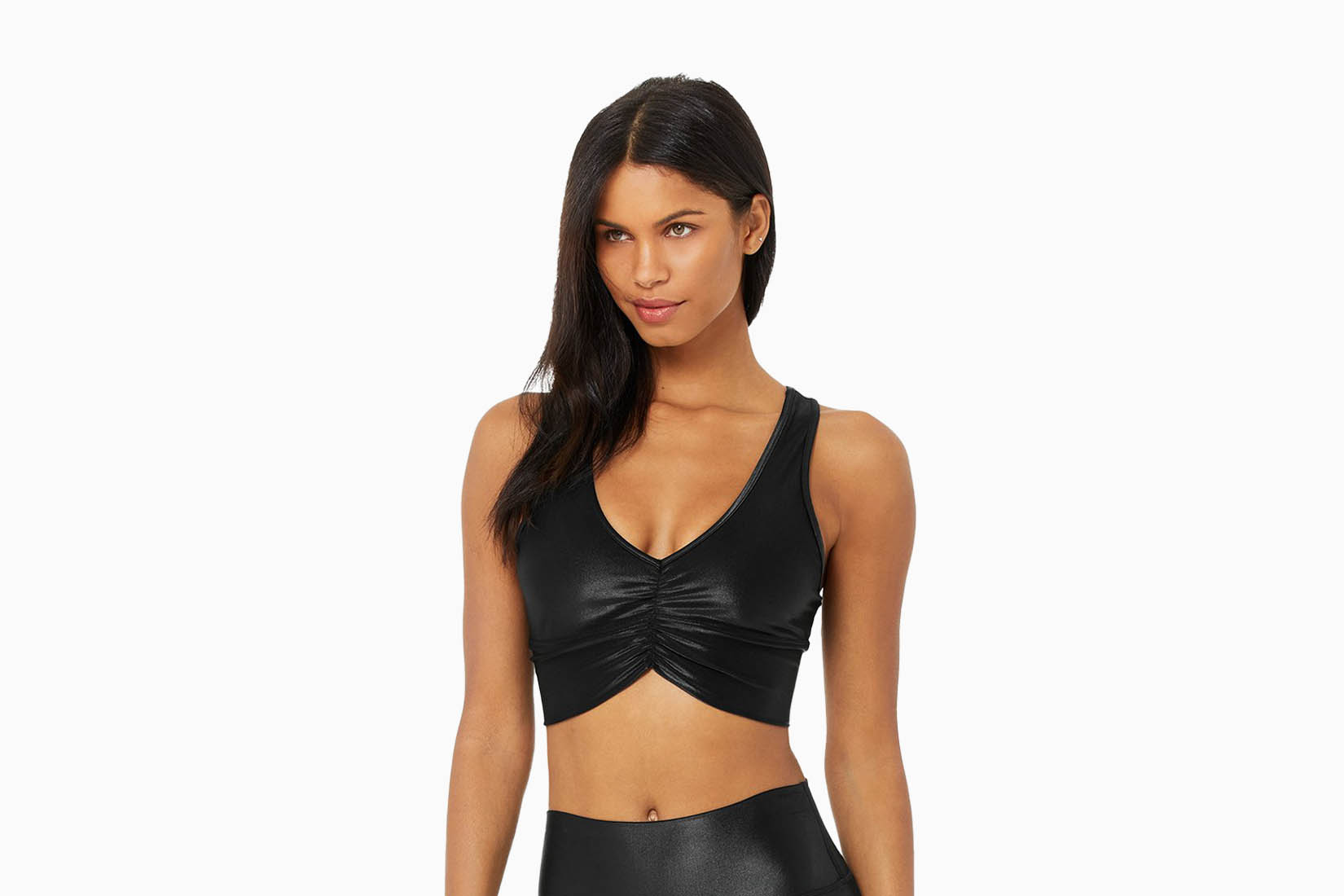 This Alo Yoga Shine Wild Thing sports bra may be suitable for low-impact exercise but it's anything but lowkey. This bra is here to make fitness fabulous.
The most standout feature is the plunging neckline. A little bit racey—but we love it. It means we can wear this to our yoga classes in the morning and to the cocktail bar in the evening. Dawn 'til dusk attire.
The luxe matte-sheen finish adds to the sophisticated flair of this fitness bra and the ruched detail at the front is a charming addition. Plus, it's also a practical bra for low-impact workouts, made from the brand's signature Airbrush material that sculpts, smooths, and lifts, supporting your bosom without suffocating it.
Make waves every time you work out with Alo Yoga's Shine Wild Thing sports bra. We never thought we could look this good exercising.
| | |
| --- | --- |
| Best for: | Minimum impact workouts and maximum impact style. |
| Sizes: | XS-L |
| Workout Intensity: | Low impact |
| Colors: | Black |
Heroine Sport: Best sports bra for small breasts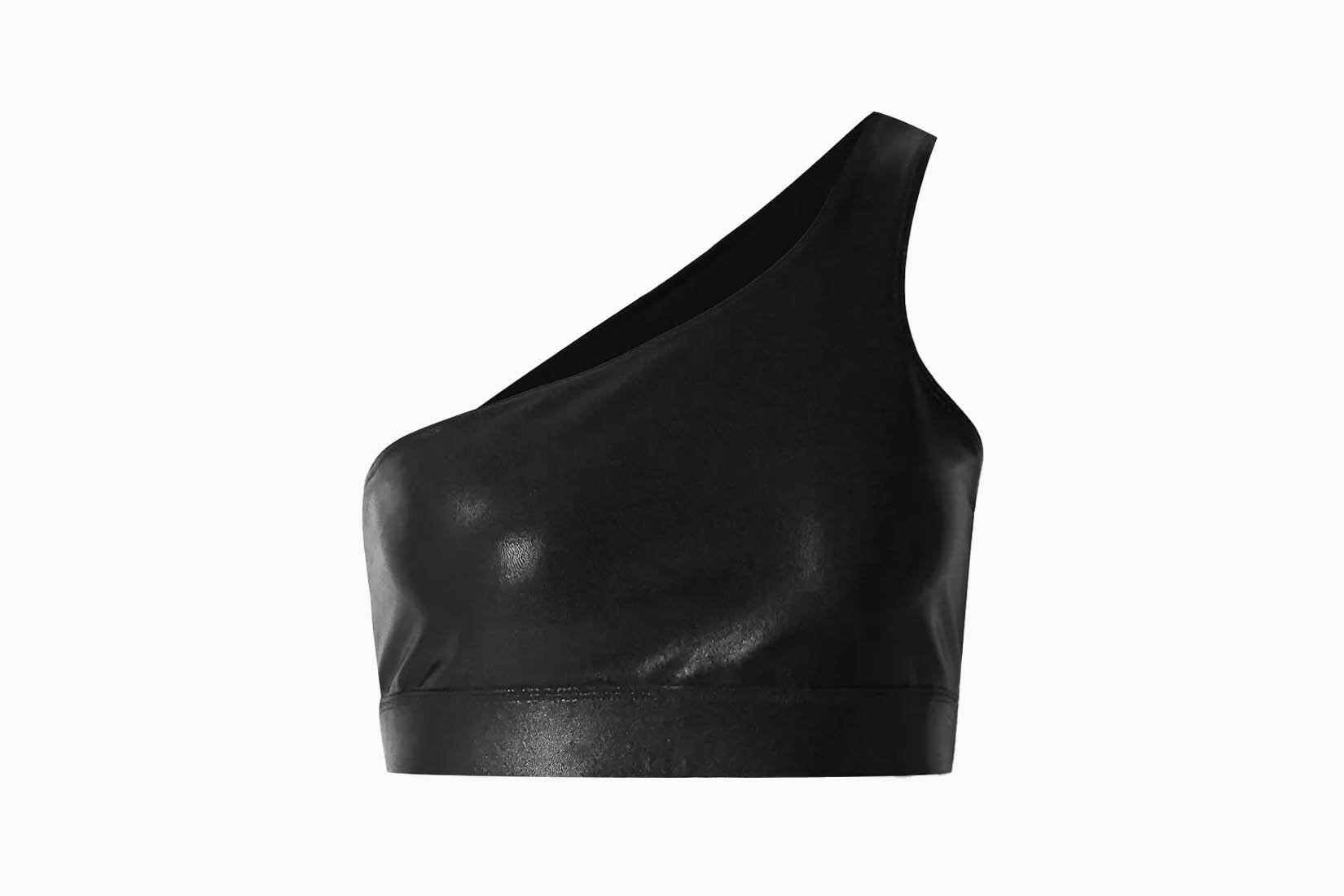 Who says sports bras need two straps? Here to push the boundaries in the athleisure world is this creation by Heroine Sport.
This has to be among the best cute sports bras out there, cut from a fabric that smooths and stretches with an eye-catching metallic finish. And that's to say nothing of the single-shoulder silhouette—bringing some much-needed high-fashion drama to our workouts.
The compression fit along with the elasticated underband will keep smaller breasts tightly tucked in during low to medium-impact workouts. And once you're done getting sweaty, you could totally wear this ultra-funky sports bra by Heroine Sport under a slouchy t-shirt to your coffee meet-up.
| | |
| --- | --- |
| Best for: | Upstaging everyone else with one seriously sexy sports bra. |
| Sizes: | XS-XL |
| Workout Intensity: | Medium impact |
| Colors: | Black |
Panache: Best sports bra for large breasts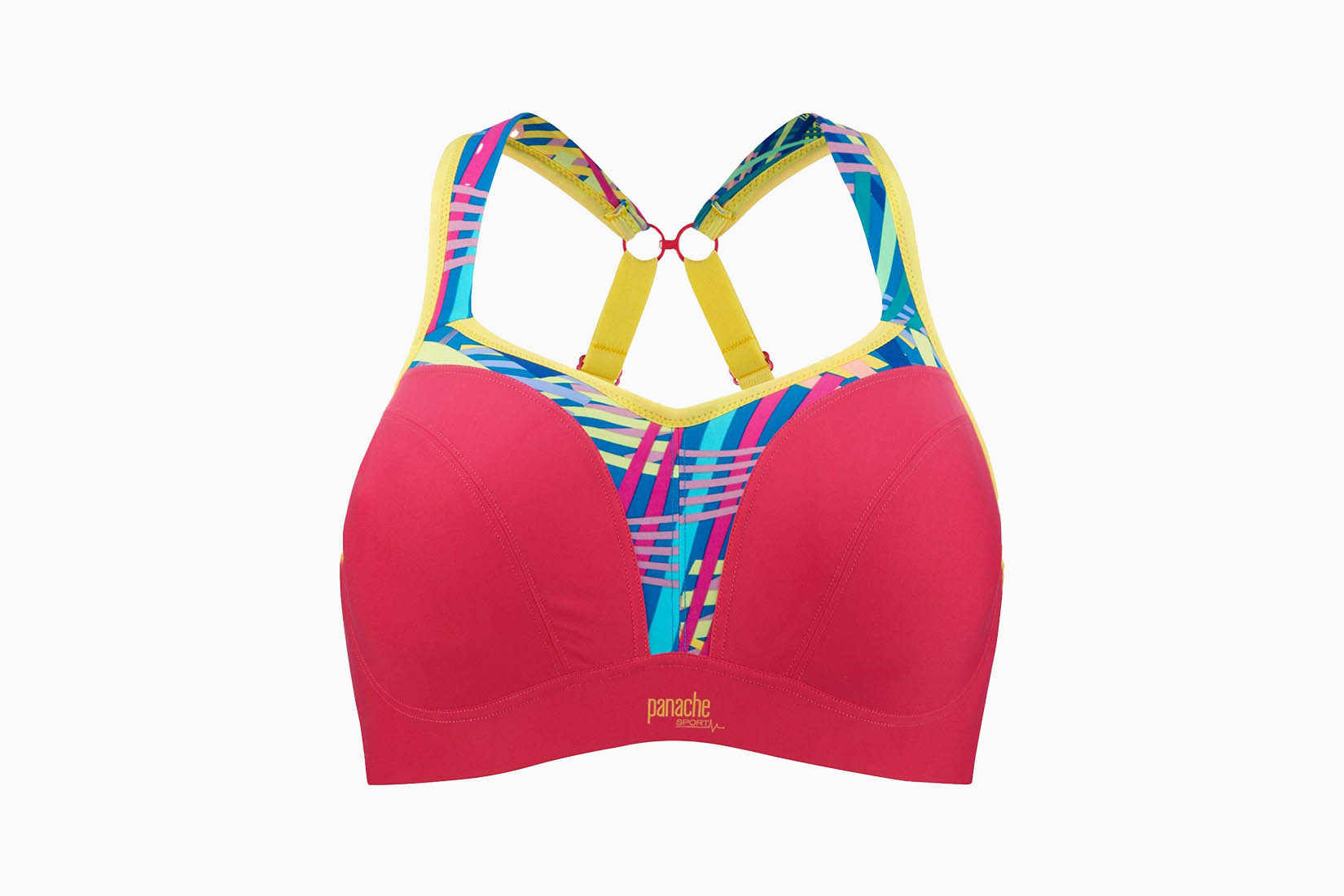 When it comes to workouts, large breasts can be a pain. Experience zero discomfort in your next Zumba class with this Panache bra that's designed to fit like a normal bra rather than a sports bra.
It doesn't just compress your breasts but individually encapsulates each one, lifting, shaping, and supporting them from all angles, rather than just strapping them down. This reduces bounce by 83%.
The best sports bra for large breasts, it also features cushioned shoulder straps and ventilating mesh panels, further elevating comfort levels and ensuring it can withstand even the most challenging Crossfit class. You can also convert it into a racerback for a greater range of movement.
Designed to give you back power over your bust, this Panache sports bra gets a thumbs up from us.
| | |
| --- | --- |
| Best for: | Ample support and security for ample-sized chests. |
| Sizes: | XXS-XXL |
| Workout Intensity: | High Impact |
| Colors: | A range including white, black, and grey. |
Alo Yoga Soft Serenity: Best sports bra for yoga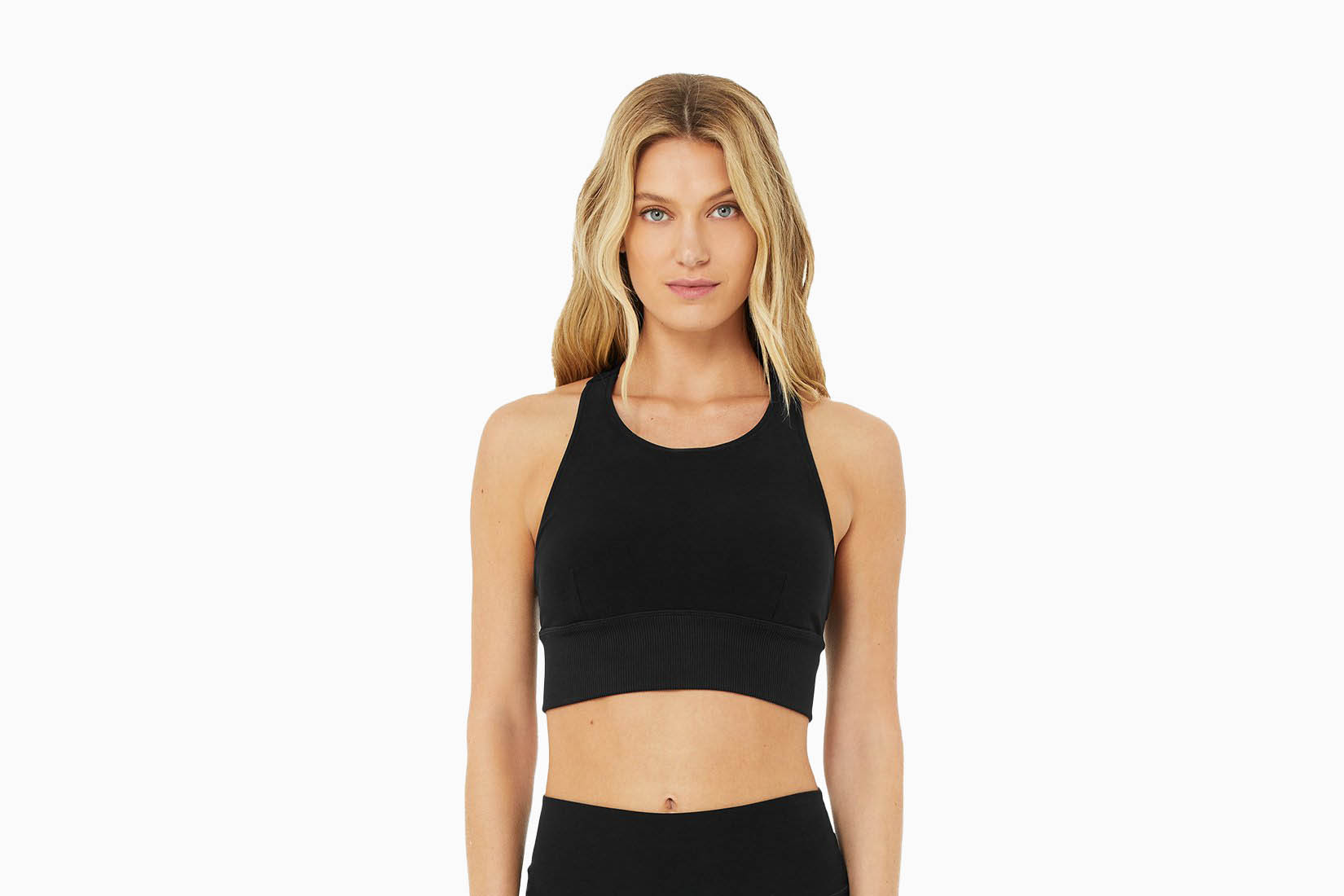 Yoga sports bras need to be comfortable, supportive, but not too compressive. They also need to feel gentle on our skin. In other words, they need to be just like the Soft Serenity yoga bra by Alo Yoga.
Maintain your zen with this ultra-soft sports bra that's made from the brand's signature Alosoft fabric—a brushed velvet that will send your breasts straight to seventh heaven.
The design also features a high neck for additional coverage in down dog while the racerback and four-way stretch allow for plenty of arm movement.
Wear it by itself or layered under t-shirts. It's ideal for low-impact yin yoga classes but can also stand up to the challenge of a more intense vinyasa flow. The moisture-wicking and anti-odor material will keep you fresh and sweat-free as you move through your asanas.
Enjoy the sleekest sun salutations of your life with the Soft Serenity bra by Alo Yoga—easily the most comfortable sports bra out there. Grab your new yoga mat and water bottle and you're good to go.
| | |
| --- | --- |
| Best for: | A silky-smooth and serene yoga flow. |
| Sizes: | XS-XL |
| Workout Intensity: | Medium impact |
| Colors: | A range including black, blue, and green. |
All Access: Best sports bra for pilates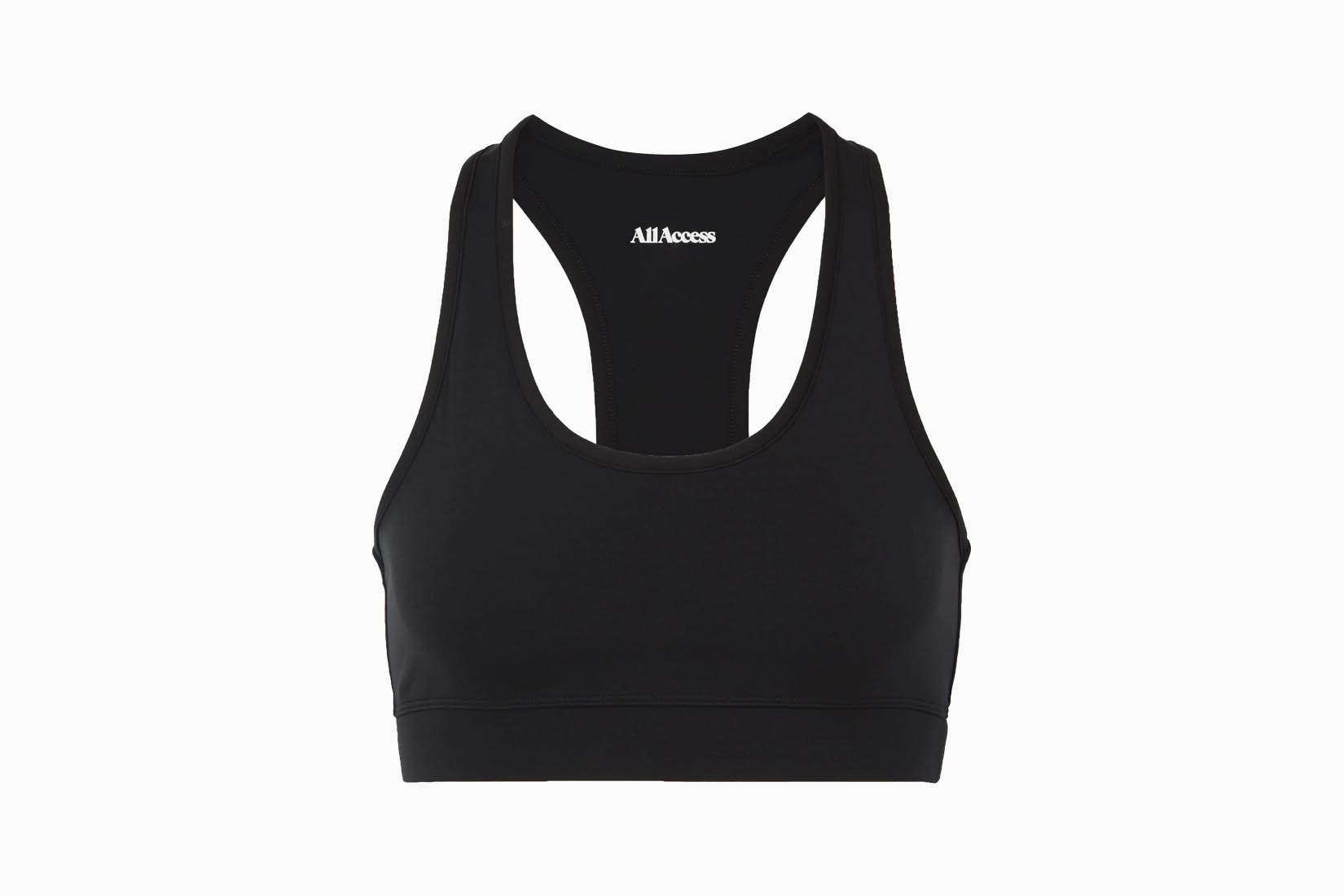 How can you focus on abdominal curls and leg lifts when your breasts feel like they're about to pop out? Get yourself a sports bra like this one by All Access. It's the perfect low-impact sports bra with the requisite stretch and support for a Pilates class.
The aptly named Front Row bra will give you all the confidence you need to stand at the front of the class and show everyone how it's done. It's created from the brand's signature eight-way stretch fabric so there's pretty much nothing you can't do in it.
The racerback design further enhances the range of motion, making this sports bra perfect for lower-impact exercise sessions like Pilates—but also barre or even spinning. And the minimal black design is understated and versatile.
Lift, stretch, and tone your way to your dream body with this All Access sports bra on NET-A-PORTER.
| | |
| --- | --- |
| Best for: | Stretch, security, and stability through even the most strenuous Pilates session. |
| Sizes: | XS-XL |
| Workout Intensity: | Low impact |
| Colors: | Black and blue. |
Adidas by Stella McCartney: Most versatile sports bra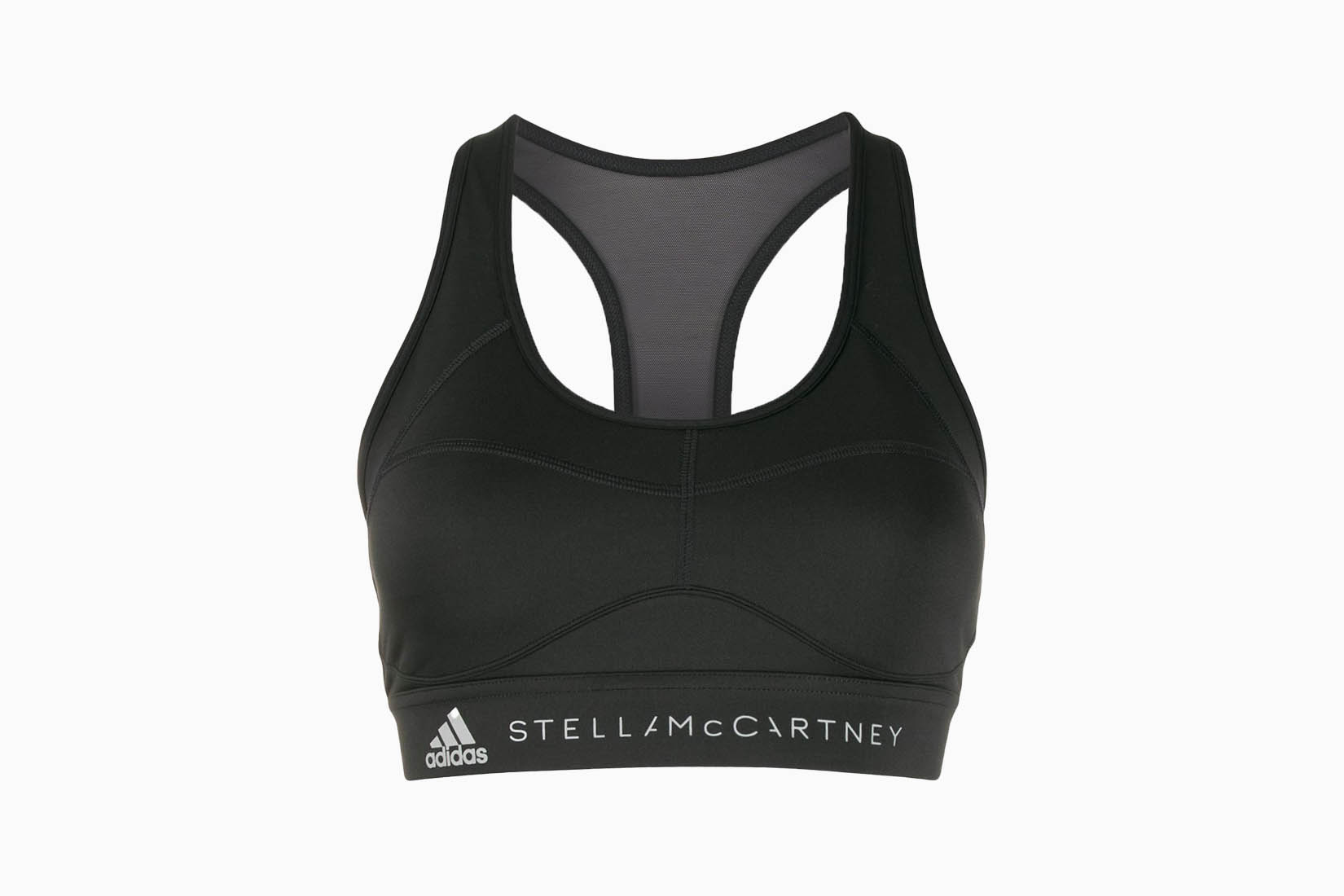 If you're the kind of person who likes to dabble in different kinds of workouts depending on your mood, then you need a versatile sports bra like this one by Adidas by Stella McCartney.
Give your athletic get-up a modern-day upgrade with this cutting-edge sports bra. It features sweat-wicking Climalite technology that's guaranteed to keep you dry while everyone around you is reaching for the towel.
An elasticated under-band provides optimum support while flatlock seam stitching minimizes chafing. A round neckline is flattering but provides the necessary coverage while removable padding means you can adjust the silhouette to your particular preferences.
Keep all your options open by sticking this versatile sports bra by Stella McCartney for Adidas in your gym bag.
| | |
| --- | --- |
| Best for: | A simple, straightforward, yet superbly functional sports bra. |
| Sizes: | XXS-XS |
| Workout Intensity: | Low to medium impact |
| Colors: | Black |
Girlfriend Collective: Best plus size sports bra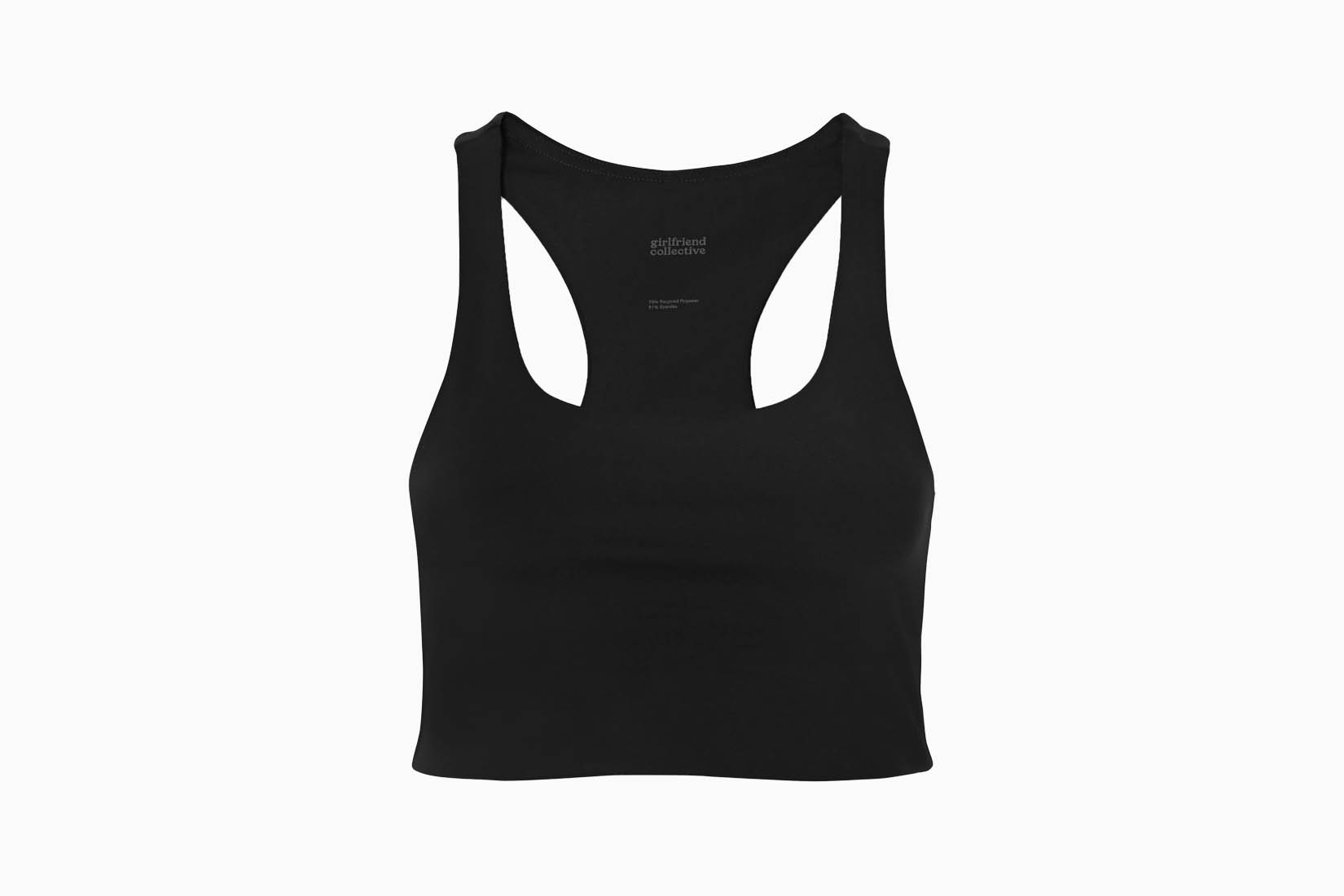 For bigger busted ladies, we've picked out the best plus-size sports bras and this one by Girlfriend Collective is our favorite. It runs in sizes from XXS to XXXL so everyone can enjoy its deluxe design, quality, and functionality.
The ultimate selling point of this stylish plus-size sports bra is its eco-credentials. It was made from eleven plastic bottles that otherwise would have ended up in the landfill.
The sports bra also features multi-way stretch for a full range of movement and a racerback to further minimize constriction. The scoop neckline and wide shoulders make it ideal for plus-size ladies, ensuring their busts receive the support they deserve. And it's comfy and versatile enough to wear around the house as well as to weekly workouts.
With its coverage, comfort, support, and security, the Paloma sports bra by Girlfriend Collective will serve perfectly as your new exercise buddy, along with your new fitness tracker.
Alo Yoga Delight Bralette: Best cotton sports bra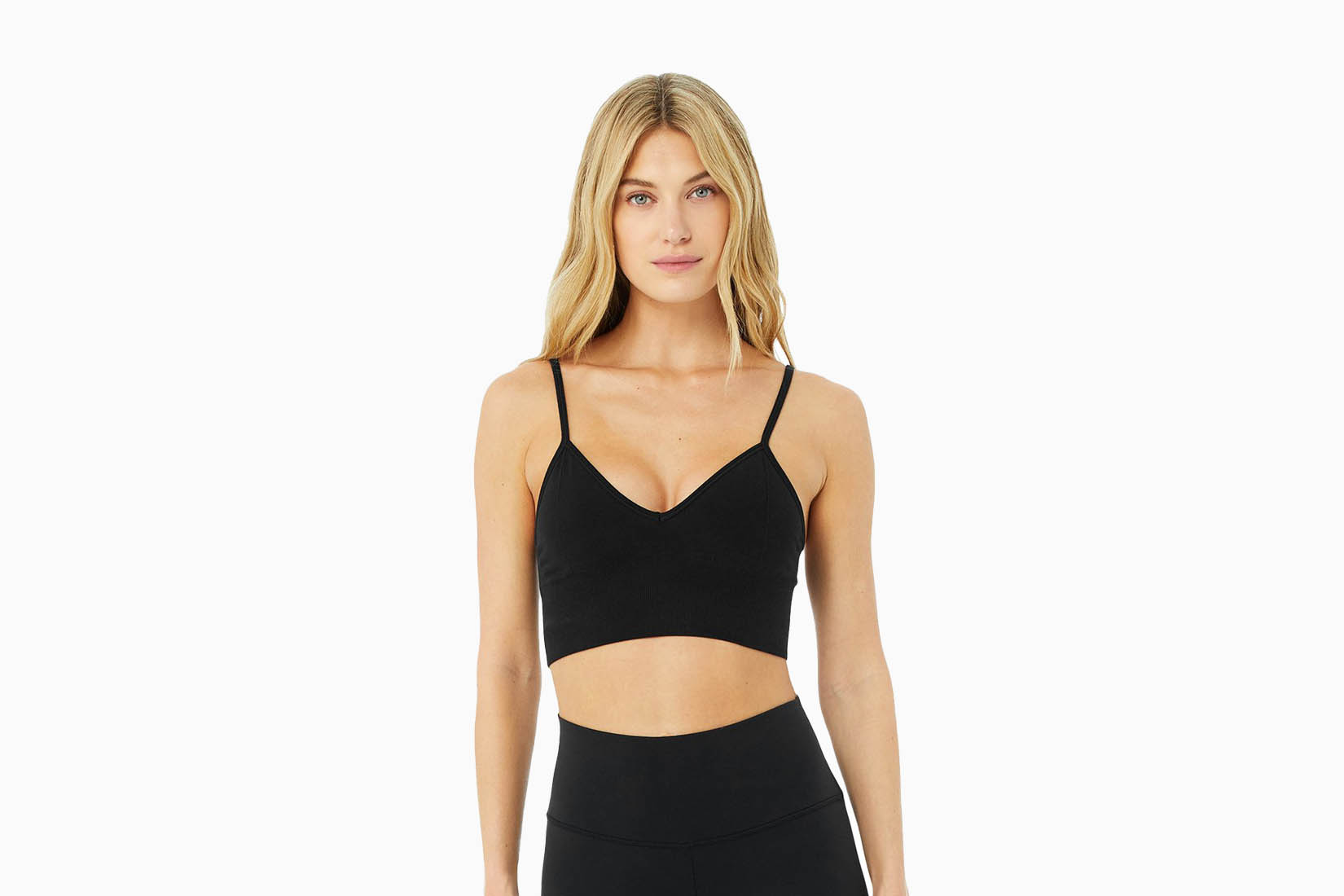 If you're after a cotton sports bra that's comfortable enough to wear for lounging at home as well as to the gym, check out the Delight Bralette by Alo Yoga. Made of soft and seamless cotton, it's the next best thing after your pajamas.
As the name suggests, this sports bra is a delight to wear, with its super soft breathable, moisture-wicking, and anti-odor cotton, and seamless design for zero chafing. The casual low V-neckline is flattering while adjustable straps give a customizable fit.
This cotton sports bra is also ideal for layering with a slouchy t-shirt, jeans, and ankle boots, so you can nail that off-duty dancer look. Definitely one of the cutest sports bras we've seen.
Giving your standard bras a run for their money, this super comfortable Delight Bralette by Alo Yoga is hard to say no to.
| | |
| --- | --- |
| Best for: | Wearing everywhere from the yoga studio to the supermarket. |
| Sizes: | S-L |
| Workout Intensity: | Low impact |
| Colors: | A range including black, white, and blue. |
Reebok x Victoria Beckham: Best high-neck sports bra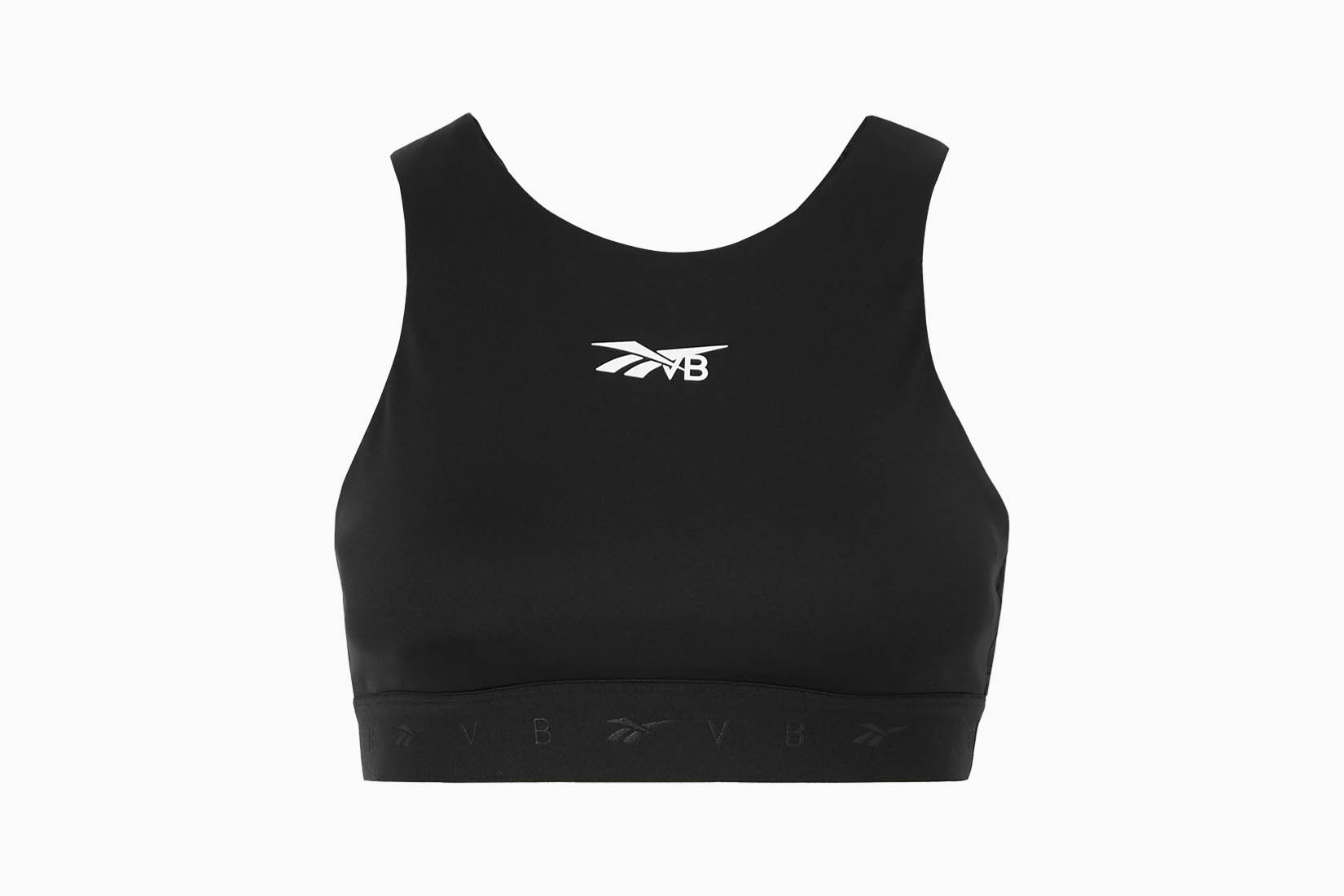 High-neck sports bras have the bonus of providing extra coverage, keeping everything tucked in, and stopping you from feeling too exposed.
Leave it Victoria Beckham to come up with such a sophisticated and elegant sports bra. The high neck not only creates a let's-get-down-to-business aesthetic but it also makes for plenty of coverage for anyone worried about their breasts spilling out.
Find your inner personal trainer with a sports bra that puts your needs first. It's made from sweat-wicking fabric to ensure you stay cool and dry while the elasticated underband offers plenty of support.
Worried about a wardrobe mishap at your next workout session? Here to banish any fears of an escapee boob is this high-neck sports bra by Reebok x Victoria Beckham.
| | |
| --- | --- |
| Best for: | Plenty of coverage, ample support, and an abundance of style. |
| Sizes: | XS-XL |
| Workout Intensity: | Low impact |
| Colors: | Black |
SYROKAN: Best adjustable sports bra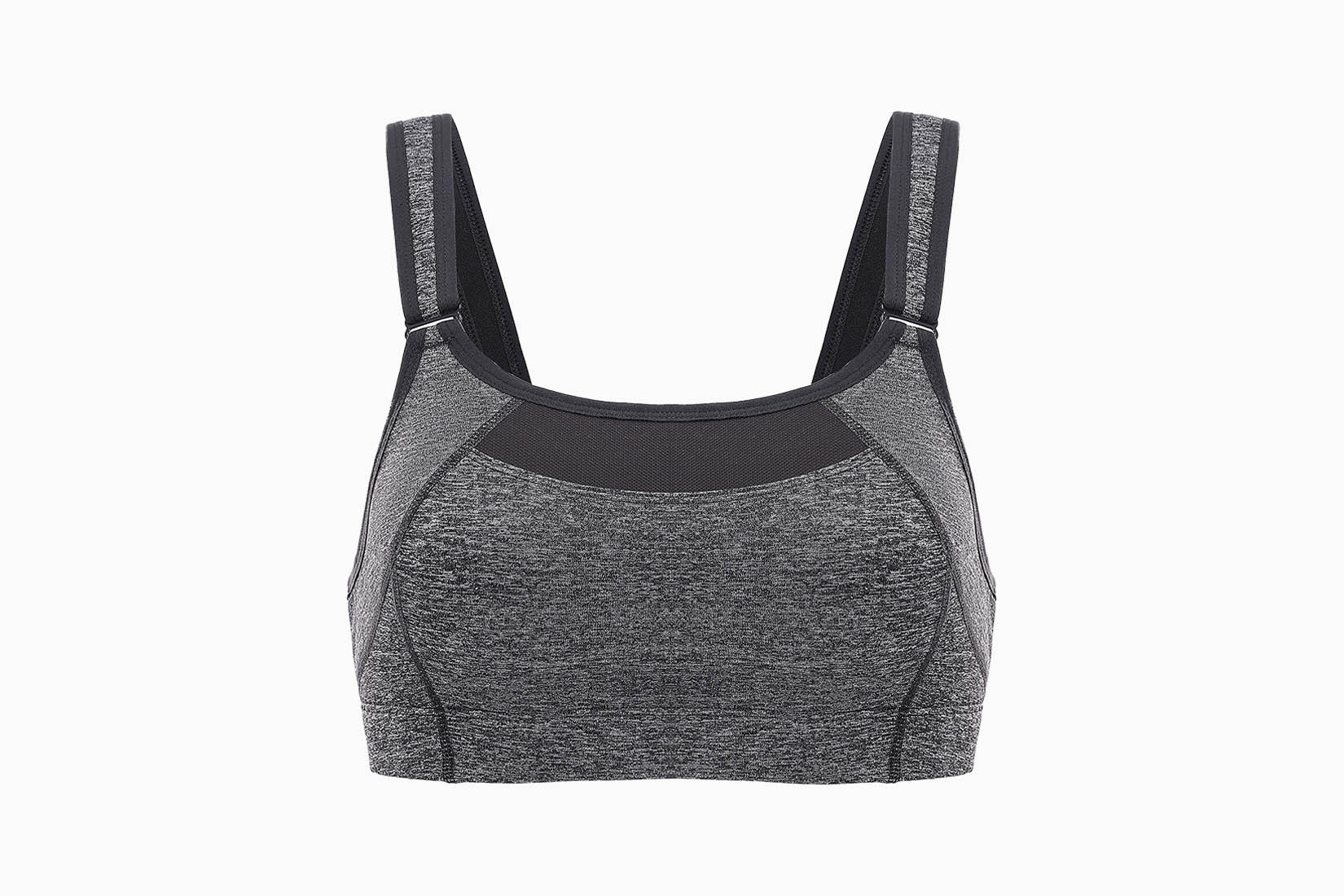 With its custom-fit straps and hook-eye back, this SYROKAN sports bra is the best adjustable sports bra we've come across. A good fit is imperative with a sports bra and thanks to this customizable bra, you can ensure it hugs your body perfectly.
Offering a bosom-friendly safety net for high-impact workouts, this sports bra is made from a combination of sweat-wicking polyamide and spandex and has two-layer stretch cups to support your bust and offer shock control. In other words, pain-free burpees and jumping jacks.
The power underband is cushioned for additional comfort and security while the wide straps are adjustable with elastic edges for a custom fit. They also don't stretch, reducing any pressure on your chest.
Never settle for anything less than a perfect fit again thanks to the SYROKAN sports bra.
| | |
| --- | --- |
| Best for: | A rave-worthy bra ready to adapt to each and every body. |
| Sizes: | XS-XXL |
| Workout Intensity: | High impact |
| Colors: | A range including black, green, and red. |
Sweaty Betty Stamina: Best compression sports bra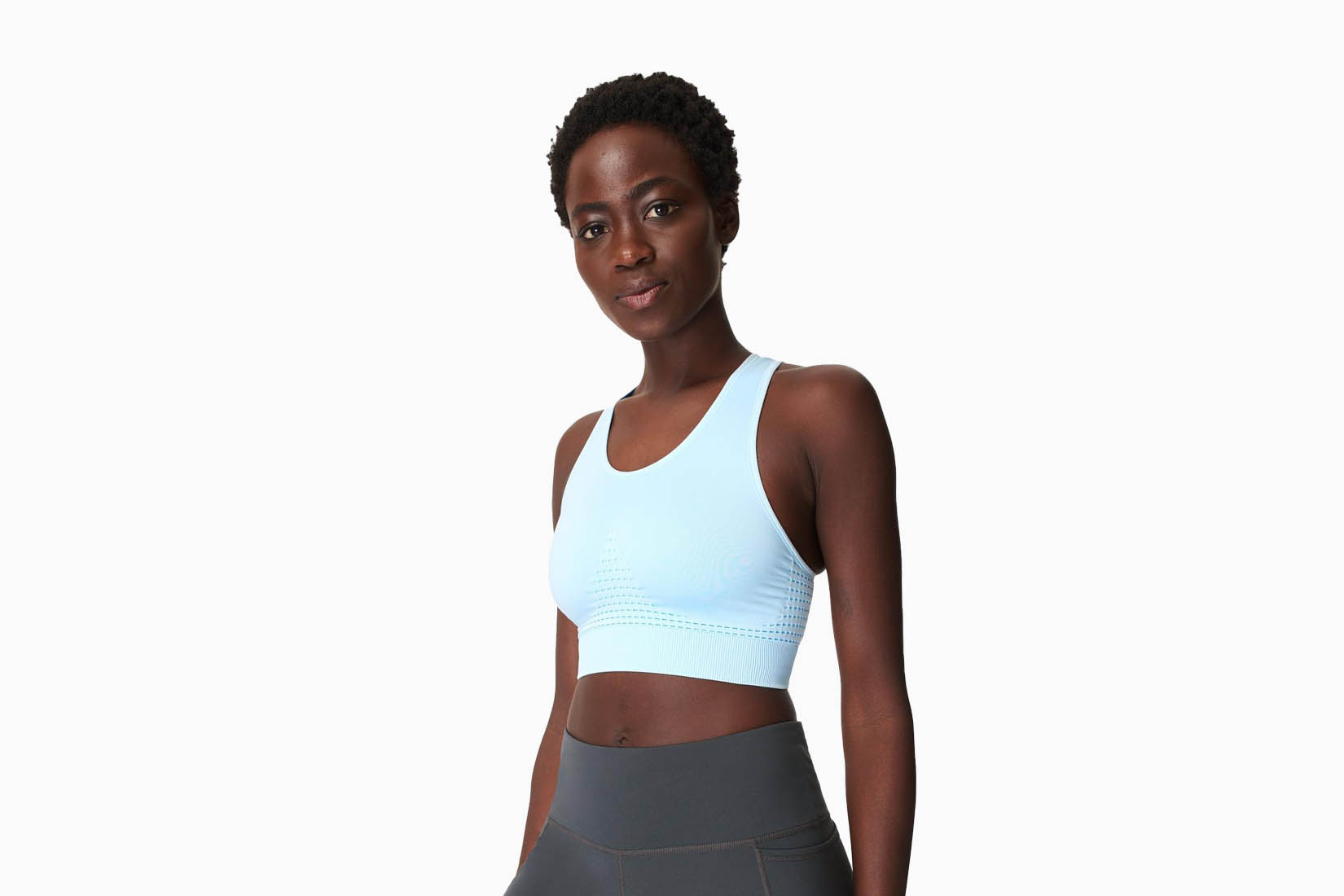 The best compression sports bra we've found is the Sweaty Betty Stamina Bra.
The secure and snug fit massively enhances our endurance and definitely justifies the Stamina bra's name. The design is seamless for enhanced comfort while compression technology makes sure nothing budges, no matter what you put your body through.
The deep underband creates additional support for busts up to a C cup while the crossover strappy back offers additional support and looks cool. Plus, Sweaty Betty's Stamina Bra is made of a combination of strong and moisture-wicking polyamide and elastane, whose sculpting capabilities balance support and stretch.
| | |
| --- | --- |
| Best for: | Limiting breast movement and maximizing your movement. |
| Sizes: | XXS-XXXL |
| Workout Intensity: | Medium impact |
| Colors: | A range including black, white, and grey. |
FITTIN: Best budget sports bra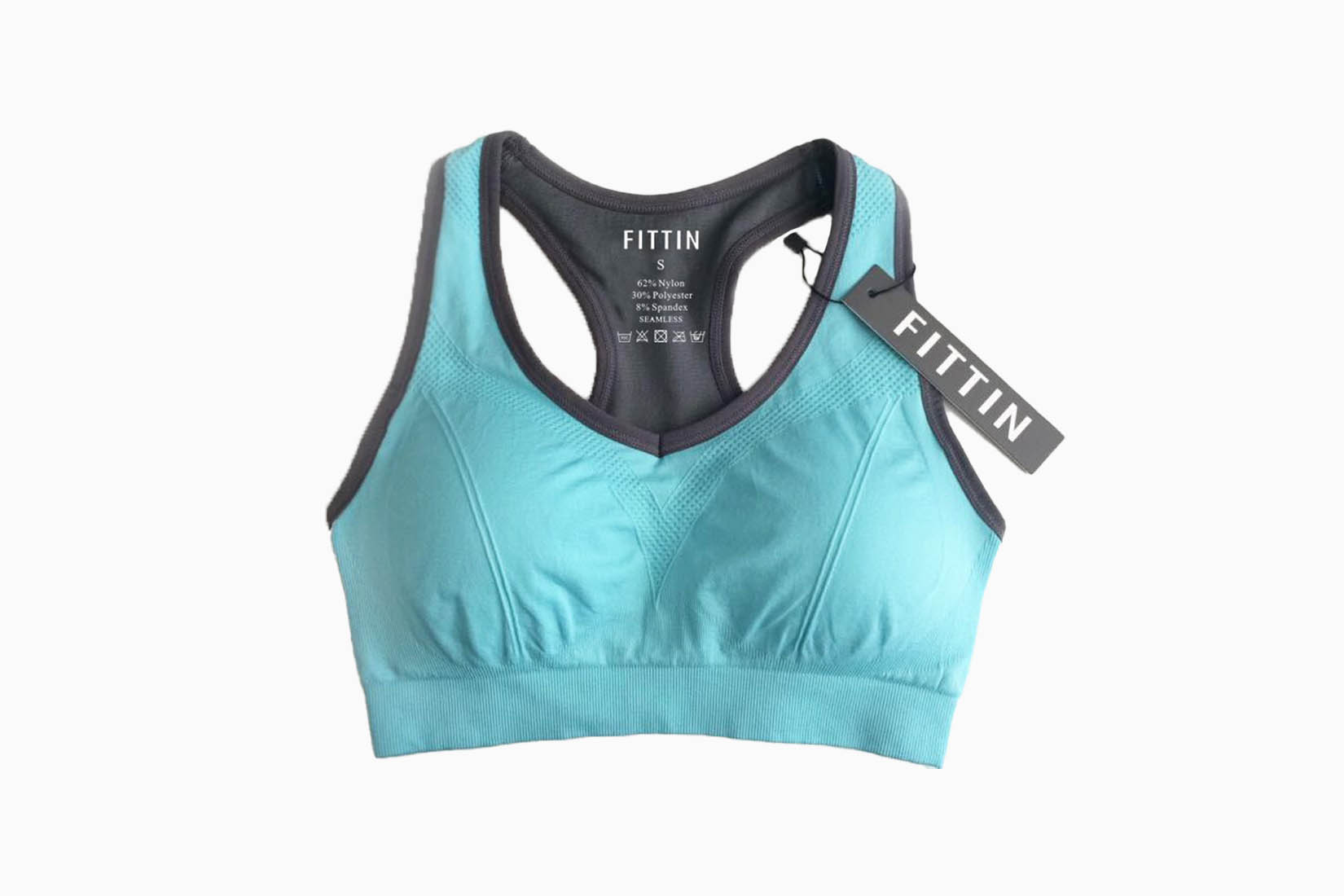 If you're looking for cheap sports bras that still deliver when it comes to support, comfort, and quality, check out Fittin's Racerback Sports Bra.
Made from a strong and sturdy combination of nylon, polyester, and spandex, this bra offers high support for all cups under a C. The racerback design is flexible and versatile with wide no-dig straps for added comfort, while the sleek, soft, and moisture-wicking material keep you sweat-free.
The brand's Climacool technology works to manage heat and moisture through ventilation. The lack of clasp or underwiring ensures no rubbing or irritation. And the bra also features removable pads that you can change according to preference.
Ensure your breasts enjoy working out as much as you do with this Fittin's sports bra.
| | |
| --- | --- |
| Best for: | Burpee-ready breast protection on a budget. |
| Sizes: | S-XL |
| Workout Intensity: | High impact |
| Colors: | A range including black, green, and red. |
Buyers guide: how to choose a sports bra
With so much choice available, picking the best sports bra for you can be tricky. Here are the most important things to consider when making a decision.
Size
Different brands do bra sizes differently so your regular bra size may not match that of your sports bra. Getting the wrong size sports bra can cause aches, pains, and even long-term damage so measure yourself and check the brand's size guidelines before buying.
When you try on a sports bra, it should feel tight but not constricting. Jump up and down to see if it's holding everything in place. Wrinkles indicate it's too big but if you find yourself spilling out of the bra, it's too small.
Activity level
Different sports bras are designed for different kinds of workouts. For a high-impact exercise like running, you need a bra with plenty of support and sweat-wicking capabilities. When you try a high-impact support bra on, they will fit tightly and your breasts will not move around at all when you jump or run.
For more gentle and low-impact activities like yoga or hiking, solid support isn't as important as stretch.
Look out for the words compression or encapsulation. Compression bras hug your body and are a good choice for those with smaller breasts or for low and medium-impact activities. Encapsulation bras have separate cups that lift each individual breast and are suitable for low-impact activities.
For high-impact activities, look for sports bras that offer both compression and encapsulation.
Materials
For intense workouts where you sweat a lot, you want a bra that can wick away moisture and that dries quickly or it may start to chafe. Breathable material will help you stay cool while materials that contain spandex will give you stretch and added comfort. You may also want to check the material can be machine-washed for more convenience.
Design
Here are a few other things to consider when checking a sports bra design:
Minimal stitching and seams, or flat-locked seams, will stop rubbing and chafing.
Consider the straps and how much range of movement you need. A racerback sports bra or Y-shaped back offer lots of motion. Crisscross straps are also a good choice as they won't slip down.
A pullover style is easy to get on and off in the changing rooms.
Underwire sports bras provide extra support but can sometimes feel restrictive.
A hook-eye back plus adjustable straps will help you modify the bra to fit properly.
Removable pads are useful for shaping.
Higher necklines and thicker straps are better for women with bigger busts as they offer more coverage and support. The waistband should be substantial and adjustable.
Longline designs offer more coverage if you prefer not to have too much skin on show.
Consider thick or cushioned straps to prevent digging.
A push-up sports bra will lift your breasts while also supporting them and is a good option if you want to wear your sports bra outside the gym.
Frequently asked questions about sports bras
What sports bra has the best support?
The Ultra Run Bra by Sweaty Betty is the sports bra with the best support. It's specifically designed to keep your breasts supported when running, with compression and encapsulation technology and adjustable straps for a superior fit.
Who makes the most comfortable sports bra?
Some of the most comfortable sports bras are made by Alo Yoga, such as the Real Bra Tank or the Soft Serenity. They are both designed for low-impact exercise like yoga and are snug and soft to wear. Sweaty Betty also makes really comfortable sports bras.
Which sports bra is best for the gym?
The best sports bra for the gym is the Essential Sports Bra by Adidas x Stella McCartney which can be worn for a range of exercises of different intensities. The Nike FE/NOM Flyknit is good for high-impact exercise while the All Access sports bra is great for low-impact workouts.
Is it acceptable to run in just a sports bra?
Whether or not it's acceptable to run in just a sports bra is a matter of personal choice. If your sports bra provides enough coverage and support that you don't feel exposed, then a sports bra is fine for running in—especially in hot weather.