It's what's underneath that counts. Of course, having a great personality is a brilliant attribute, too, but we're talking about luxury lingerie brands.
The best women's lingerie brands act as a hidden secret that only you know about: a subtle confidence boost in the form of silk underwear, comfortable sexy bras, and lace-edged best bralettes or a vibrant, embroidered lingerie set hidden under your sleekest pajamas.
It doesn't matter whether the only person who sees them is you. Throw on your favorite lingerie set and feel the power that comes from wearing your own secret weapon.
Because luxury lingerie does what nothing else can do: it's a second skin that transports you away from the day-to-day drudgery and into a world that's seductive, stylish, and vivacious.
There are endless types of lingerie, and half of the fun comes from choosing the best selection for you. Everyday classics for cozy comfort with your favorite loungewear, playful picks for a weekend away, and those back-of-the-drawer specials that only make an entrance when you're truly looking to impress: read on for all of the best lingerie brands.
The 51 best lingerie brands
Here's the entire list of women's lingerie brands that we've handpicked. Each brand excels in at least one crucial area. You can directly jump to the brand you're most interested in to learn more:
Check our special lingerie's buying guide after the list to see exactly what you should pay attention to shopping for women's underwear online.
Eberjey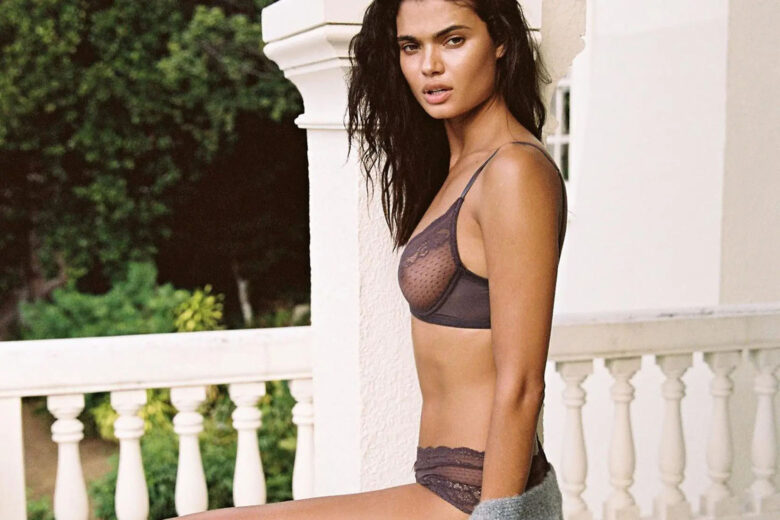 Eberjey does a little of everything, and it does it all well. Cheeky lace lingerie? Check. Soft, longline, wire-free bralettes? Check. Everyday thongs, bikini briefs, and high-waisted pants? It's got them all. Classic, muted colors, and fashionable yet everyday-friendly options make Eberjey your new best friend when it comes to stocking up on everything you could need in one place.
| | |
| --- | --- |
| Price: | $$ |
| Style: | Playful and fashionable |
| Sizes available: | XS – XL, 30A – 42DDD |
ThirdLove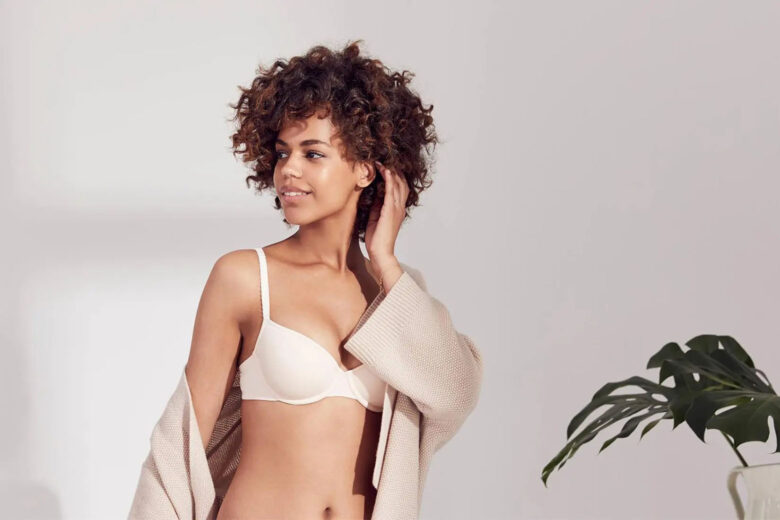 In contrast to its name, ThirdLove might just become your First Love, thanks to its seriously comfy, form-fitting, and equally as flattering underwear. Seamless and with no limits to stretching in sight, ThirdLove was made for movement and is the secret weapon for successful workouts. No stitches, no wires, and nothing poking out makes ThirdLove ideal for slipping on and totally forgetting about.
| | |
| --- | --- |
| Price: | $$ |
| Style: | Comfortable and sexy |
| Sizes available: | XS – 3XL |
Adore Me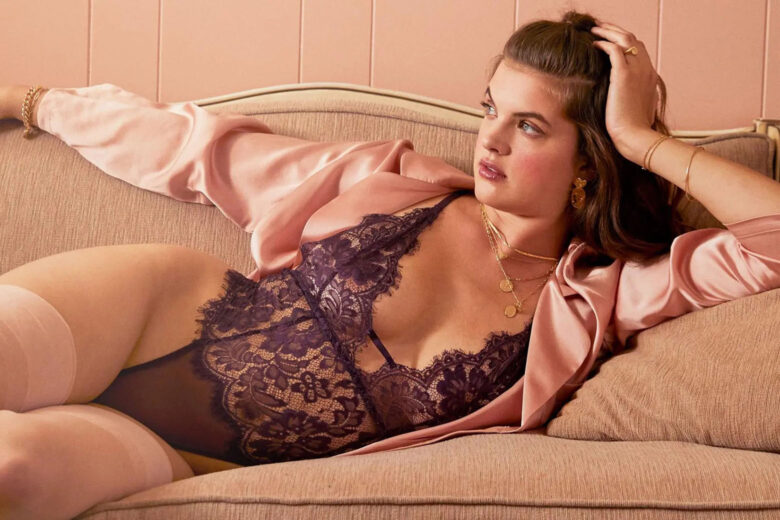 Adore Me is a lingerie one-stop shop: sustainable bras and panties for day-to-day wear, delicate lingerie for special occasions, and sustainable picks to ensure you're dressing ethically almost inside out. Fresh and affordable, it's home to extended sizes and bold colors. It's also one of our favorite affordable lingerie brands, which means it's easy to go a little wild and buy your top choices in a few different colors.
| | |
| --- | --- |
| Price: | $$ |
| Style: | Fun and sexy |
| Sizes available: | XS – 4XL, 30A – 44DDD |
Allbirds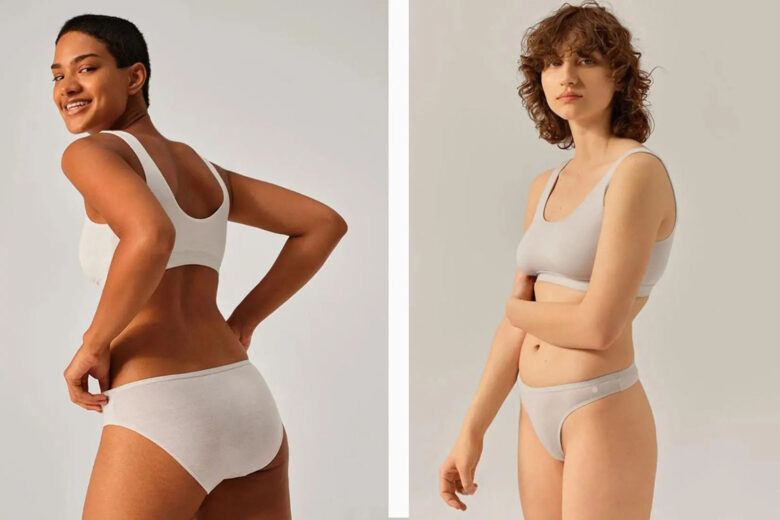 Looking for comfortable underwear that keeps sustainability at its core? Look no further than Allbirds. Originally known for the brand's revolutionary footwear, it's now branched out into everyday underwear that's made from natural sources. Much like their sneakers for women, Allbirds' underwear keeps simplicity as the main focus, with a range of stylish yet understated pieces made in muted hues that you'll stock up on for comfort days.
Learn more about the story behind Allbirds.
| | |
| --- | --- |
| Price: | $$ |
| Style: | Everyday comfort |
| Sizes available: | XS – XL |
Organic Basics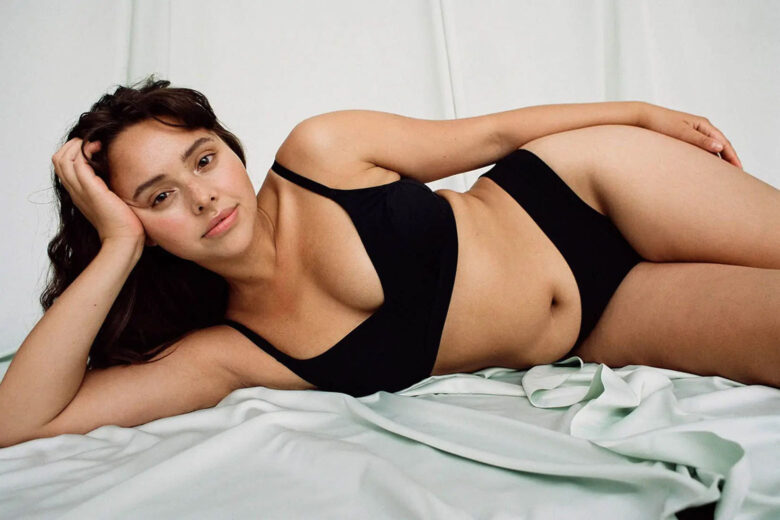 The clue's in the name when it comes to Organic Basics. Eco-friendly and ethically made, it's a brilliant option for anyone looking for accessible, down-to-earth, and all-around-good-quality basics. It's a brand that you'll never feel bad about buying, thanks to its never-ending commitment to better practices and changing up the fashion industry. Soft, cotton triangle bras and a large range of briefs are simultaneously caring and comfortable.
| | |
| --- | --- |
| Price: | $$$ |
| Style: | Caring and classic |
| Sizes available: | XS – XL |
Cosabella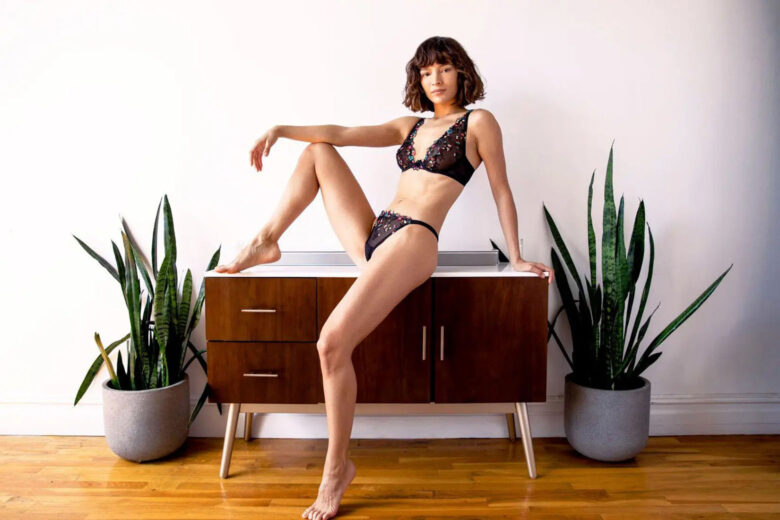 The Italians do luxury lingerie like no other, and Cosabella is an example of just that. Launched in 1983, this Miami-based luxury lingerie brand is home to a carefully curated selection of sleek, stylish designs as well as the all-important staples. Stretch lace briefs are where Cosabella really shines, incorporating dainty lace that's both flattering and gentle, with pretty scalloped edges that add a dose of confidence to your day.
| | |
| --- | --- |
| Price: | $$$ |
| Style: | Everyday delicate |
| Sizes available: | S – XL |
La Perla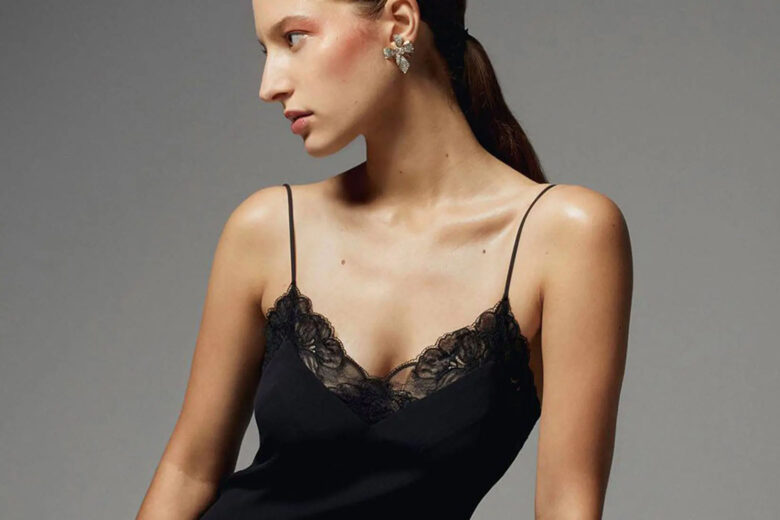 La Perla is a luxury lingerie staple: proof that you're serious when it comes to underwear and accept no imitations. Impossibly soft, La Perla's silk-satin fabrics are the type to simultaneously soothe your skin when you need a little self-care and act as an extra confidence boost when you're looking to show off. Buy La Perla lingerie and accept the fact that you'll be expertly sizing up every other brand in comparison afterward.
| | |
| --- | --- |
| Price: | $$$$ |
| Style: | Special occasion classics |
| Sizes available: | XS – XL, 32B – 36E |
Araks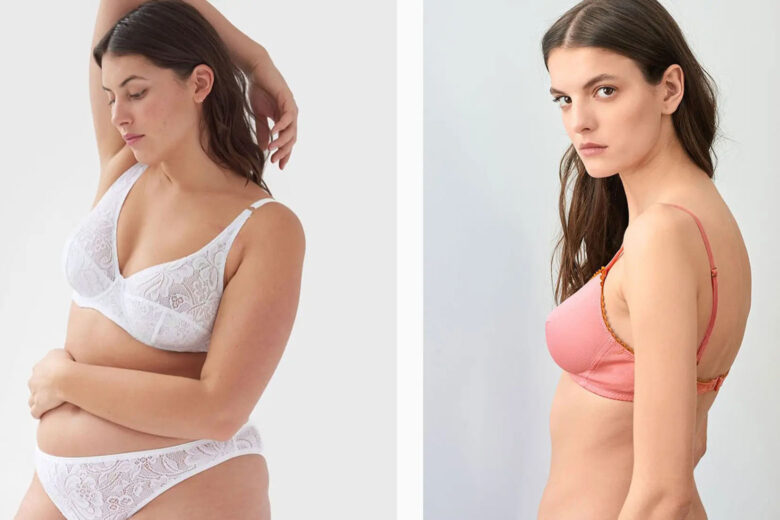 A celebrity favorite across the globe, Araks was launched by Central Saint Martins alumnus Araks Yeramyan back in 2000. Bringing together unique designs and special touches, it's lingerie with a subtle difference to the rest. Expect traditional base shapes and styles with international additions; picot-trimmed straps, peony-patterned lace, and gold hardware. A lingerie brand that you'll curate your own personal collection from, over time.
| | |
| --- | --- |
| Price: | $$$ |
| Style: | Friday feeling casuals |
| Sizes available: | XS – L |
Bluebella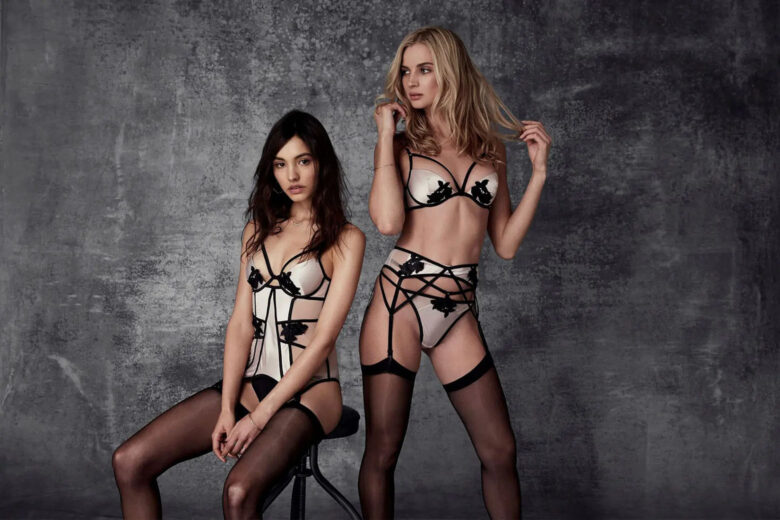 Bluebella underwear is underwear that deserves to be seen. Most likely tucked away at the back of your underwear drawer until a special occasion comes by, it's a sheathe of second skin that gives you an immediate internal boost as soon as you've worked your way into it. Expect intricate cutouts, detailed lace, and more skin than material on show.
| | |
| --- | --- |
| Price: | $$ |
| Style: | The opposite of everyday-wear |
| Sizes available: | UK 8 – UK 14, 32C – 36D |
True & Co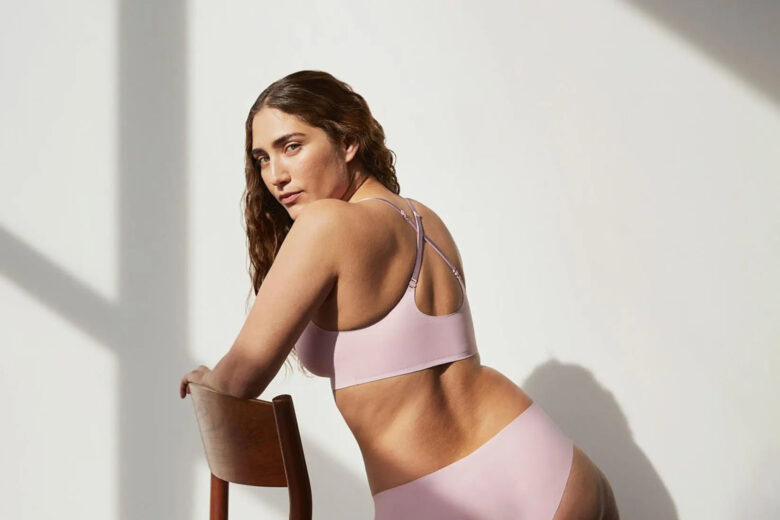 As the brand's tagline suggests, get ready to meet your new favorite bra. True & Co brings together all of the bras that you'll stock up on to keep you going, Monday to Friday, without the fear of having to wear something different. If you're someone who hates the feel of underwired bras, listen up, because part of True's appeal comes from the fact that, once on, you'll all but forget you're wearing underwear.
| | |
| --- | --- |
| Price: | $$ |
| Style: | "Feel naked, but better" |
| Sizes available: | XS – XL, 30C – 40B |
Chantelle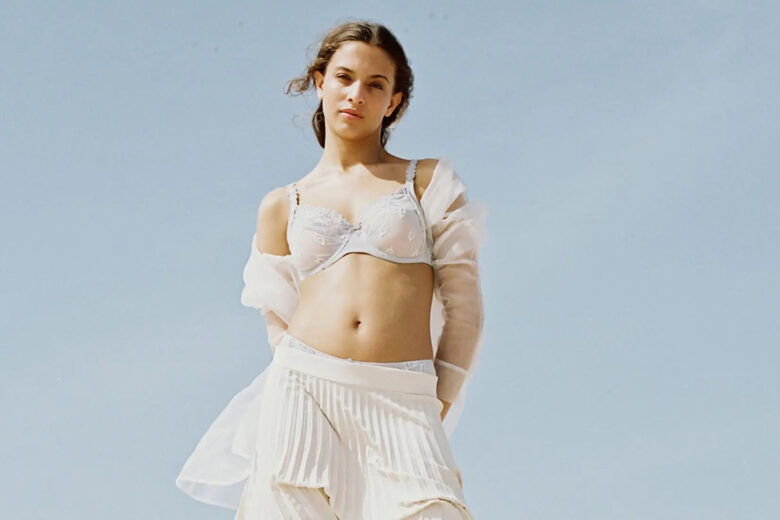 You'll run to your Chantelle underwear whenever you need extra helping of self-care to get you through the day. Comforting and easygoing, these mostly multi-pack jersey briefs are soothing to the touch and virtually undetectable beneath clothing. High-waisted or low-waisted, they're designed to be stretchy and suitable for wearing underneath all sorts of outfits without any visibility.
| | |
| --- | --- |
| Price: | $$ |
| Style: | Neutral everyday |
| Sizes available: | XS – XXL, One size |
Dora Larsen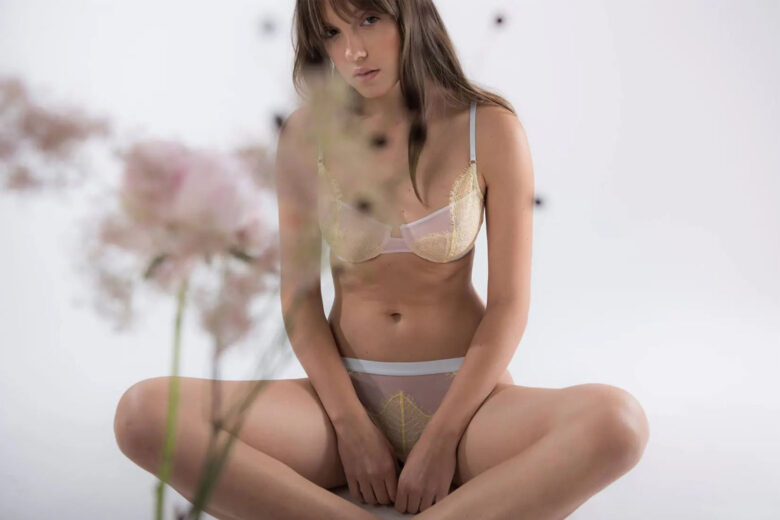 Dora Larsen underwear is fashion-forward and fun. Perfect for brightening up your day, adding a seriously chic (yet subtle) touch to boring workwear, or simply jazzing up your underwear, it's a brand designed for personal enjoyment. Styles here range from the everyday essentials through to the more glamorous, vibrant, and attention-grabbing bodysuits. It's a lingerie brand that'll make you take the "underwear as outerwear" trend seriously.
| | |
| --- | --- |
| Price: | $$ |
| Style: | Stretch-tulle rainbows |
| Sizes available: | UK 6 – UK 16 |
Agent Provocateur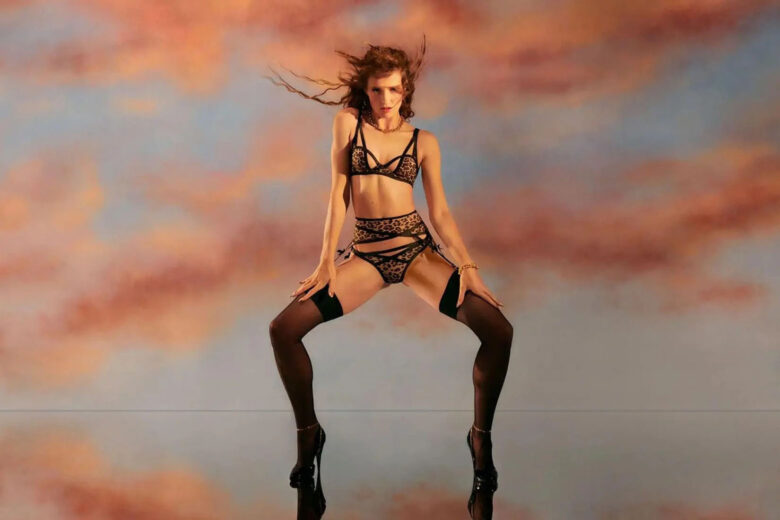 Buy a garment from iconic British brand Agent Provocateur and know that you're not just buying underwear, you're buying a piece of art. Meticulously crafted, intricately detailed, and designed to be appreciated ever so slowly, Agent Provocateur underwear is a household name if the household in question is a sumptuous, luxurious, extravagant weekend away. While the brand does everyday wear too, you'll want to shop here for your one-of-a-kind pieces.
| | |
| --- | --- |
| Price: | $$$ |
| Style: | Striking boudoir |
| Sizes available: | XS – 3XL, 32B – 36E |
Fleur du Mal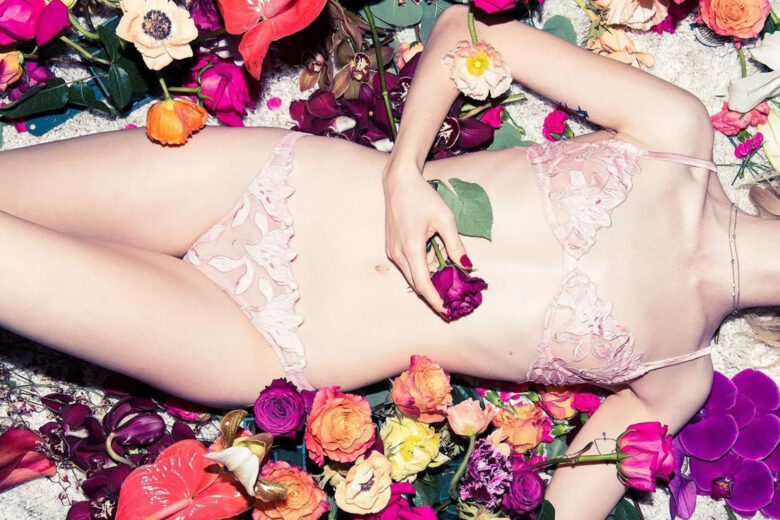 Taking French poetry and making it something wearable, Fleur du Mal combines the finest French lace and silks to produce luxurious pieces that are feminine and creative. Nothing here is without embellishments: either in the form of satin trims and embroidered details or appliquéd florals and vibrant shades. Despite the artistic designs, these pieces are all designed to be comfortable, too.
| | |
| --- | --- |
| Price: | $$ |
| Style: | French finery that's easy to wear |
| Sizes available: | XS – L |
Fleur of England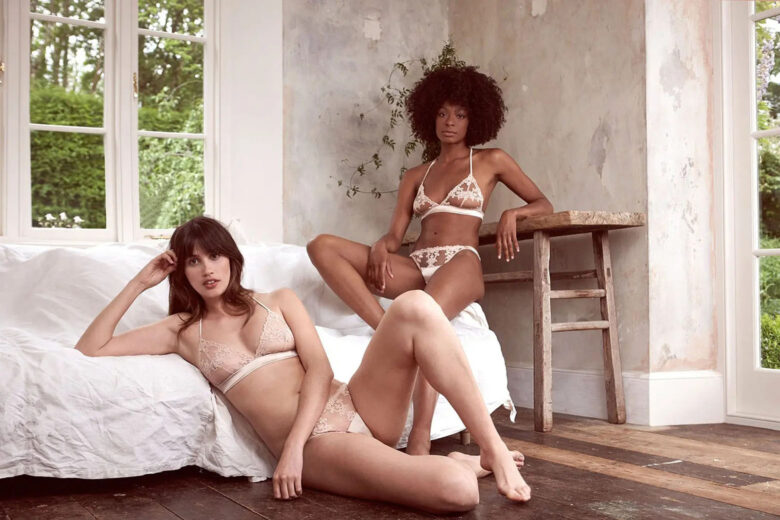 Neutral shades never go out of fashion, as proven by Fleur of England's almost exclusively black, white, and peachy pink line. Fusing the midpoint between day-to-day underwear and those pieces, you'd rather wear at night, Fleur of England's bras and lace briefs could easily be worn for either. It's underwear that's ready for any possibility, with light touches that'll make you feel special.
| | |
| --- | --- |
| Price: | $$$ |
| Style: | Versatile yet romantic |
| Sizes available: | S – L, 32B – 36D |
Anine Bing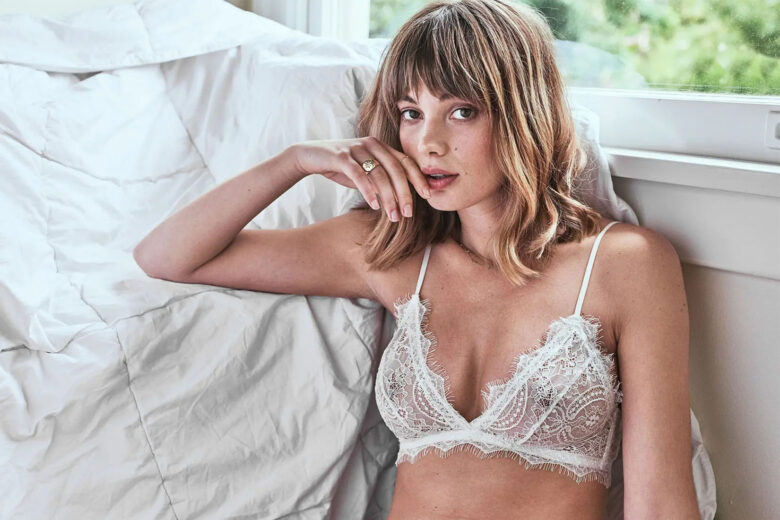 Choose your fighter: black or white. Or a touch of ivory, if you fancy branching out. A brand that prefers to diversify when it comes to style rather than color, Anine Bing opts for simplicity with a modern touch. Black lingerie here is understated yet powerful: the sort belonging to a woman with innate confidence who doesn't need to impress. Wear Anine Bing's beautiful bralettes with a shirt thrown on top and feel the self-assurance that follows.
| | |
| --- | --- |
| Price: | $$ |
| Style: | On-trend and modern |
| Sizes available: | XS – L |
Love Stories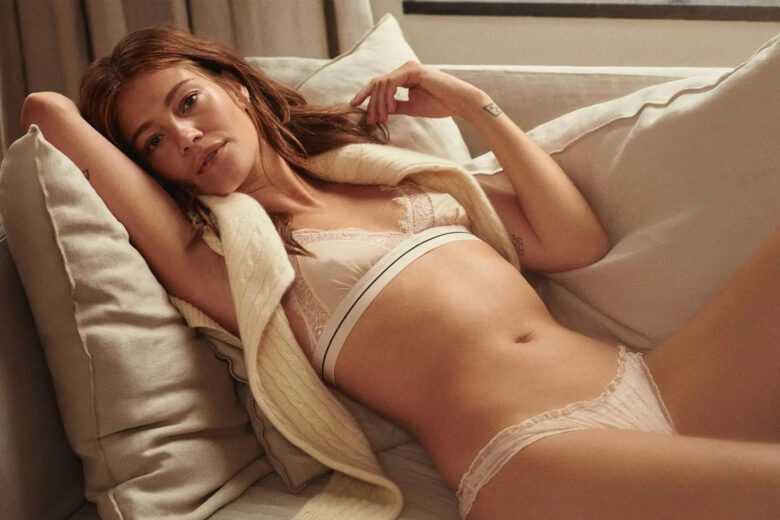 Love Stories underwear is beautiful. Delicate, simplistic, and romantic, it's a brand that makes you feel pretty as soon as you've slipped its pieces on. It's also a lingerie brand designed to be comfortable, thanks to its soft, triangle cup bras and ruched lace briefs. Pastel colors and lace-trimmed edges give Love Stories a welcoming personality with a modern, down-to-earth character.
| | |
| --- | --- |
| Price: | $$ |
| Style: | Elegant intimates |
| Sizes available: | XS – L, 32A – 36D |
Nubian Skin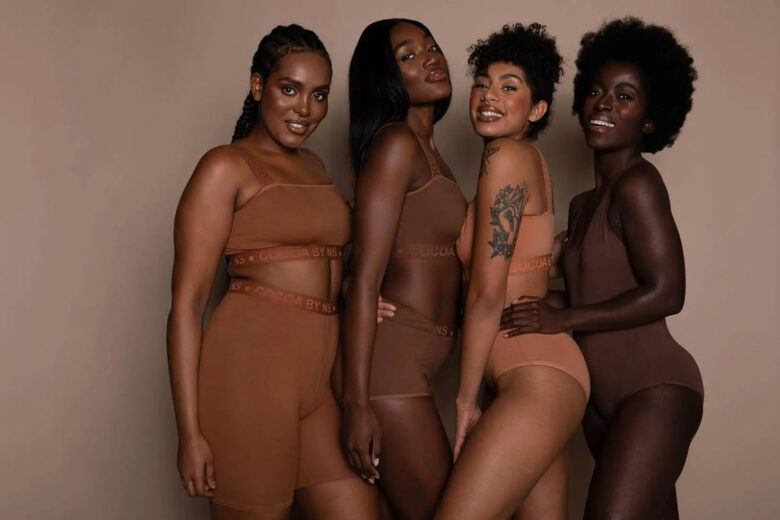 Ade Hassan was on a mission to redefine the idea of "nude" underwear when she launched Nubian Skin. Her nude underwear comes in four different shades designed for darker skin, made from super soft stretch-tulle material. Wireless bras come in a large range of sizes with adjustable straps for comfort. Matching briefs come in a variety of styles and rises. Together, they help to make the underwear industry more accessible and welcoming for all.
| | |
| --- | --- |
| Price: | $$ |
| Style: | Casual comfort |
| Sizes available: | XS – XXL, 30D – 38DD |
Coco de Mer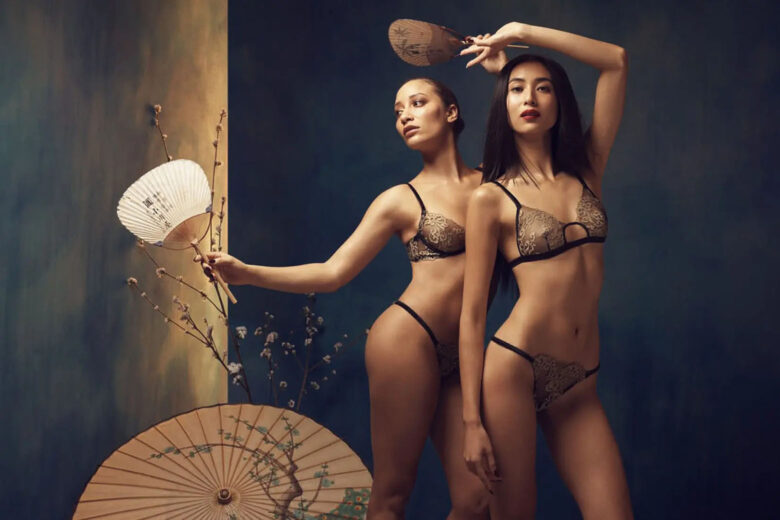 Sleek and über cool, Coco De Mer was named after a species of palm tree found in the Seychelles and comes practically oozing with confidence. Underwear that doesn't mess around, it's designed to be appreciated: although its wearer will know that automatically just by buying it. Think black, think cut out, think the finest materials.
| | |
| --- | --- |
| Price: | $$$ |
| Style: | Best paired with your favorite lipstick |
| Sizes available: | S – L, 32B – 36D |
Skims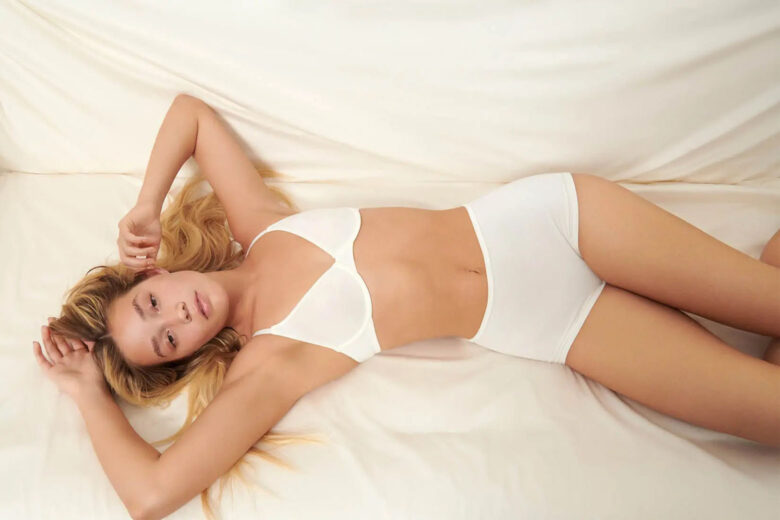 Take a look at basically any of Kim Kardashian West's daring outfits and you'll realize she needs some pretty specific underwear underneath. SKIMS is exactly that: underwear that does its job while being virtually invisible. Seamless and stretchy, it's comfortable yet flattering, understated yet stylish, exactly like everything Kim would expect. Pastel shades, innovative fabrics, and construction techniques take a leaf out of Yeezy's looks when it comes to quality.
| | |
| --- | --- |
| Price: | $ |
| Style: | Supportive and stylish |
| Sizes available: | XXS – 4XL, 30A – 42DDD |
Spanx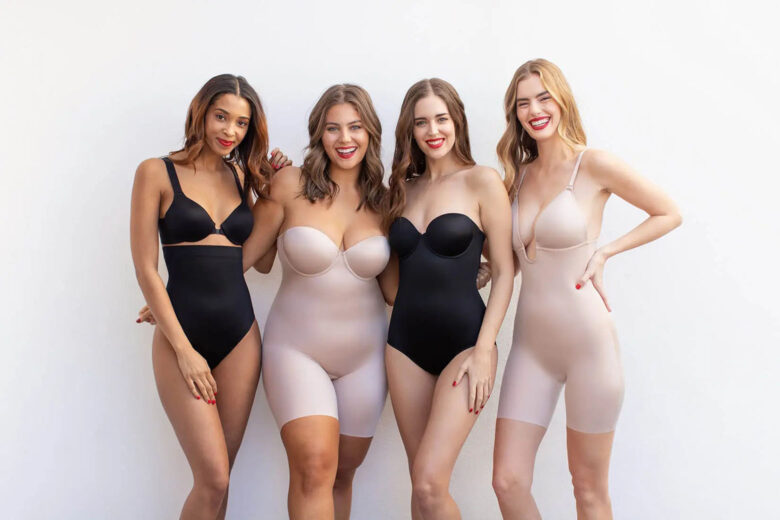 Spanx has had a redesign since the olden days when your aunties used to hide it away under more revealing dresses. Now, it's taking the underwear industry by storm with a range of fashionable styles built to guarantee a streamlined silhouette. As well as the basics, Spanx is also home to its Haute Contour range: subtle paneling, high-rise designs, and lace trims that could almost be worn alone.
| | |
| --- | --- |
| Price: | $$ |
| Style: | Rebranded confidence |
| Sizes available: | XS – XL |
I.D. Sarrieri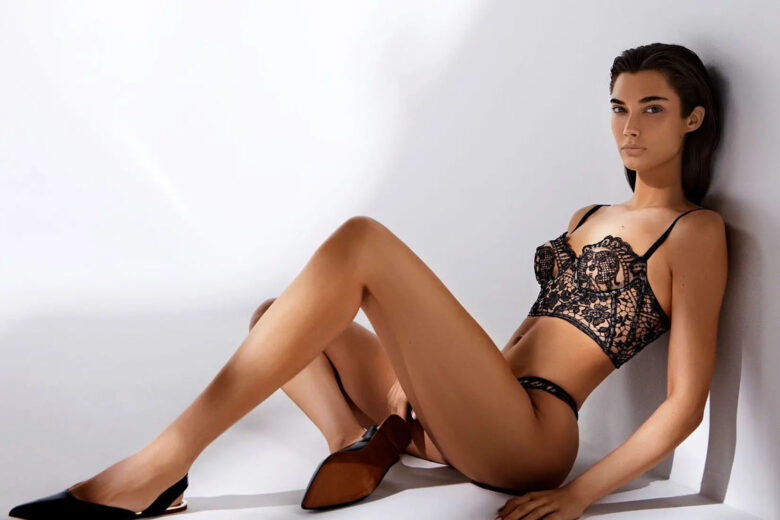 I.D. Sarrieri is the total opposite of boring. Underwear almost every color of the rainbow doesn't hold back with Swarovski crystal embellishments, Chantilly lace, and mousseline. Far too pretty to go unnoticed, I.D. Sarrieri underwear comes infused with personality and charm. It's also designed to accentuate curves; something you'll want to maximize when wearing a matching I.D. Sarrieri lingerie set.
| | |
| --- | --- |
| Price: | $$$$ |
| Style: | Refined craftsmanship |
| Sizes available: | XS – L, 32B – 36DD |
Carine Gilson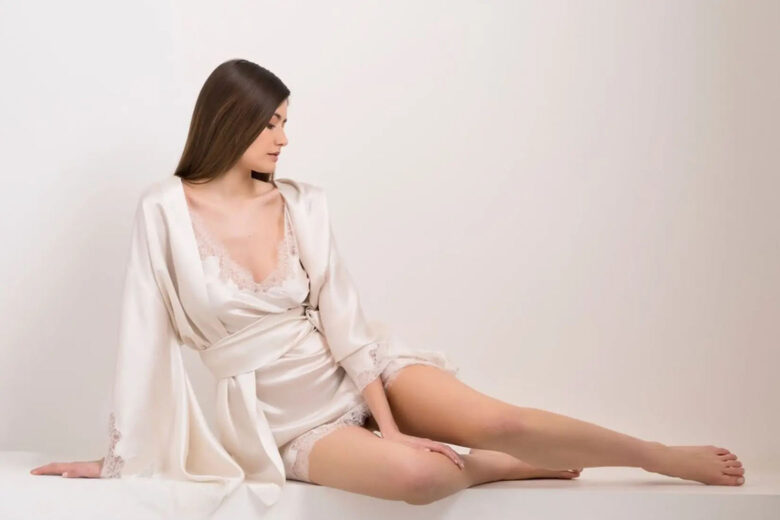 Carine Gilson lingerie is the type you'll bring along for holidays or photoshoots: it's luxury lingerie that deserves to be appreciated without any rushing. Beautiful and elegant, it infuses Oriental patterns with contrasting colors in a range of pieces you'll fold extra carefully. Each piece is hand-stitched from Lyon silk and Chantilly lace with all of the due care and attention that it deserves.
| | |
| --- | --- |
| Price: | $$$$ |
| Style: | Parisian chic |
| Sizes available: | XS – L |
Eres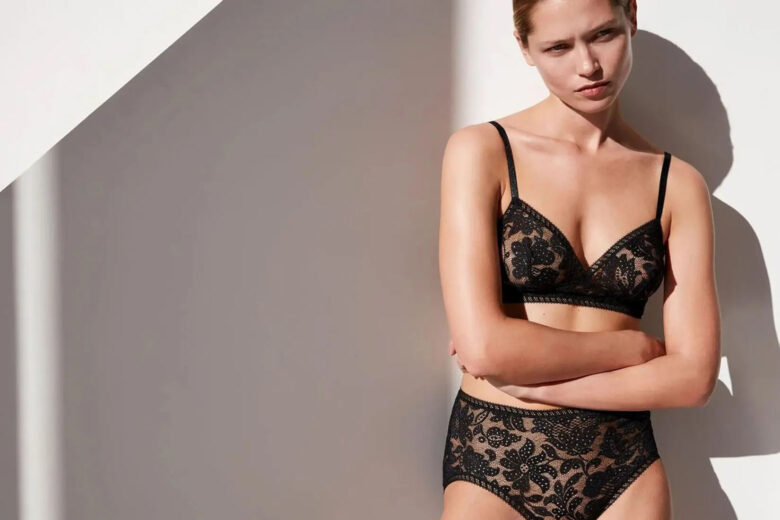 Everything about French label Eres is eye-catching. Vibrant and colorful with fashionable prints and stylish cuts, Eres' sheer, tulle pieces look particularly flattering against darker skin tones. Pretty adornments make these pieces even more prestigious, with supportive straps that somehow remain lightweight enough to feel like they're floating on your skin.
| | |
| --- | --- |
| Price: | $$$$ |
| Style: | Regal and stately |
| Sizes available: | 36 FR – 44 FR, 32B – 36D |
Wolford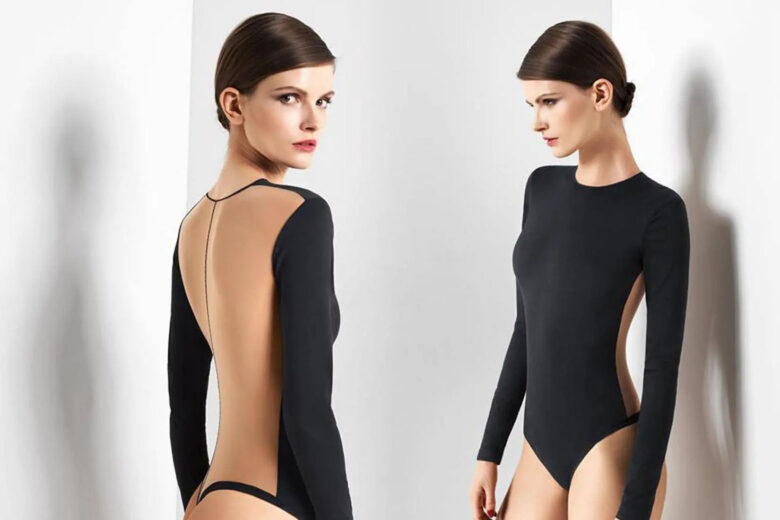 Wolford lingerie is the wardrobe staple that you'll breathe a sigh of relief over when you find your favorite pieces hiding away in your underwear drawer. While the brand is known best for its premium quality, refusing-to-snag tights, it's also home to a variety of pretty matching underwear sets and neutral-colored basics. Come for the tights, stay for the extras.
| | |
| --- | --- |
| Price: | $$ |
| Style: | New favorite staples |
| Sizes available: | 34 EU – 40 EU |
Kiki de Montparnasse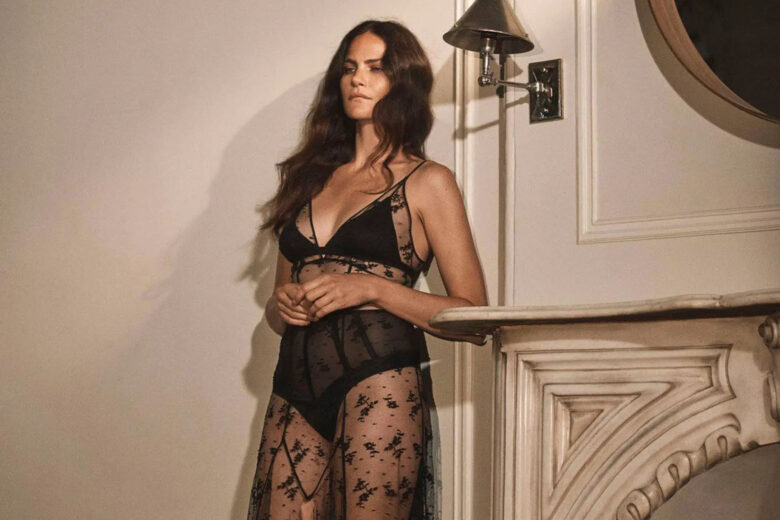 Wear your Kiki de Montparnasse matching sets when you're looking to impress. With a huge focus on quality rather than quantity, this intricately crafted sexy lingerie is designed with one purpose in mind: to look incredible. You'll struggle to find anything Kiki de Montparnasse that doesn't come in its sleek, jet-black shade, other than the occasional dark grey piece. It's carefully curated and ready to be admired.
| | |
| --- | --- |
| Price: | $$$$ |
| Style: | Confident and sexy |
| Sizes available: | XS – L |
Baserange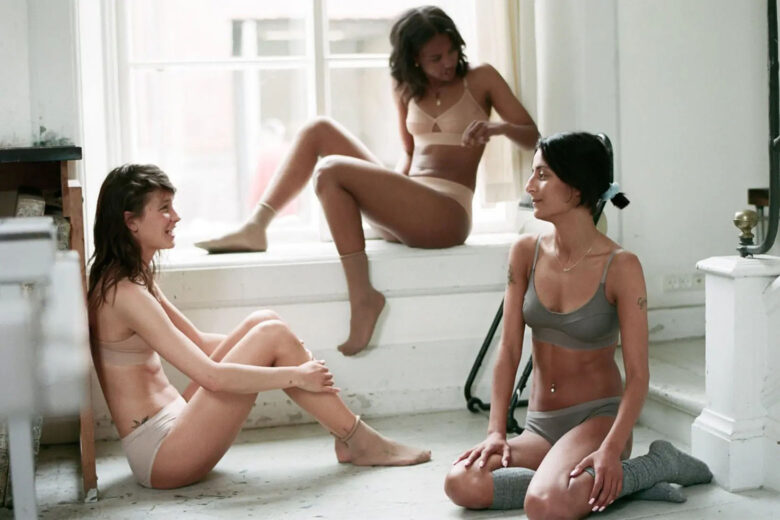 Baserange underwear is designed to last. This brand uses only organic and natural fibers like bamboo and organic cotton to produce go-to pieces that promise to stay comfortable no matter how many times you wear them. But don't fret: not only are they planet-pleasing, they're also quietly stylish. Muted colors, subtle prints, and ribbed designs make these firm favorites, year-round.
| | |
| --- | --- |
| Price: | $$$ |
| Style: | Organic and planet-pleasing |
| Sizes available: | XS – L |
Calvin Klein Underwear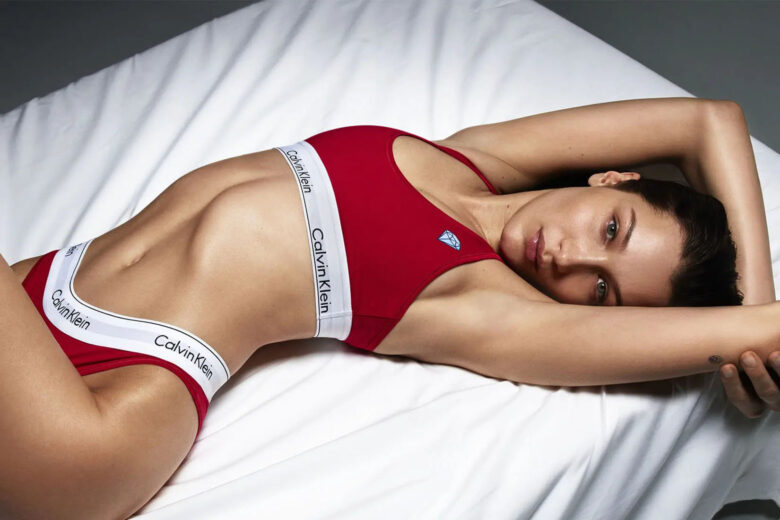 Calvin Klein's lingerie label does it all: if you're looking for something that's simultaneously sexy, good quality, and comfortable, Calvin Klein Underwear is the answer. It's also, more recently, increased its size range to be more inclusive. Instagram-favorite stretch-cotton bralettes and everyday label-lined multipacks are ready to replenish your lingerie drawer quickly and easily, without waving goodbye to style.
| | |
| --- | --- |
| Price: | $$$$ |
| Style: | Timeless comfort |
| Sizes available: | XS – XL |
Skin
Soft and natural, Skin promises to sit cozily against your body as a second skin, with its natural fabrics and flattering shades. This is a brand trying to make life easier for almost anyone: some of its swimwear pieces are reversible, bras come with removable cups, and colors are chosen to be universally flattering for all skin types. It's a failsafe option for everyday wear.
| | |
| --- | --- |
| Price: | $$$ |
| Style: | Sustainable and soothing |
| Sizes available: | XS – L |
Hanky Panky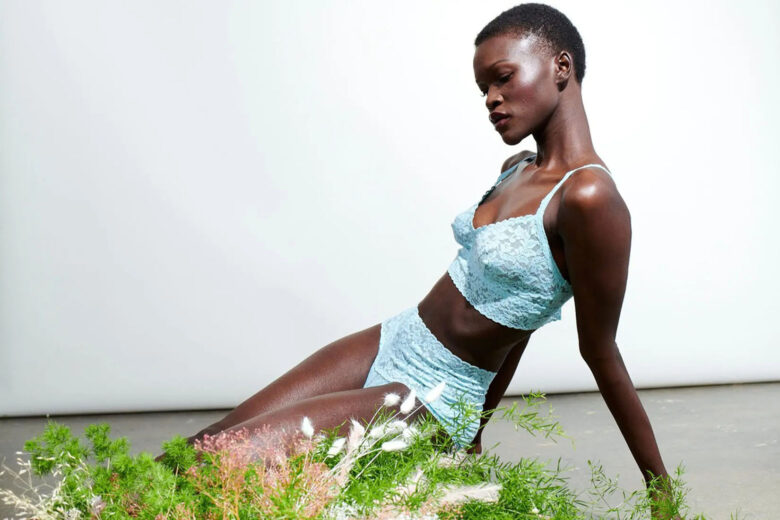 Hanky Panky comes almost exclusively in multi-packs, which is great for stocking up your underwear drawer once you've established your new favorite shape and style. Laidback and easygoing, Hanky Panky briefs are made from sustainable fabrics and lacy details. Bras here fuse comfort and style, with soft stretch-lace, padded triangle cups, and a wide underband to keep you comfortable all day.
| | |
| --- | --- |
| Price: | $$ |
| Style: | Flattering and flexible |
| Sizes available: | XXS – L |
Savage x Fenty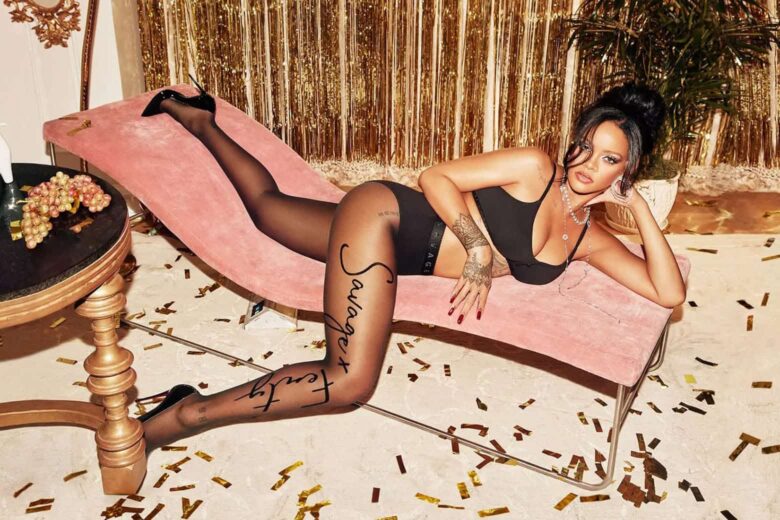 Cult favorite Savage x Fenty is one of the best lingerie brands out there for empowering, confidence-boosting pieces buzzing with personality. Vibrant designs, daring cutouts, and nude essentials in a huge spectrum of shades makes Savage x Fenty a winner for just about everything. It's also available in regular or curvy size, with a hugely accessible size range.
| | |
| --- | --- |
| Price: | $$ |
| Style: | Colorful and empowering |
| Sizes available: | XS – 3XL, 32A – 42DD |
Anya Lust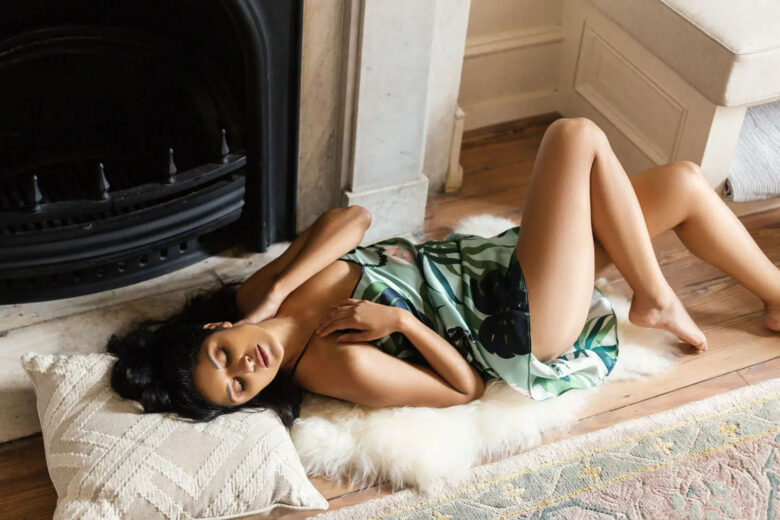 Step into your Anya Lust set and feel like a whole new woman. This designer boutique is a haven for delicate, luxury lingerie with all sorts ranging from everyday pieces to honeymoon and bridal lingerie and more. Anya Lust promises to help you rediscover the world of seduction confidently and at your own pace. It doesn't matter how daring or shy you feel; you'll find something suitable here.
| | |
| --- | --- |
| Price: | $$$ |
| Style: | Classically seductive |
| Sizes available: | S – L, 32C – 36DD |
Else Lingerie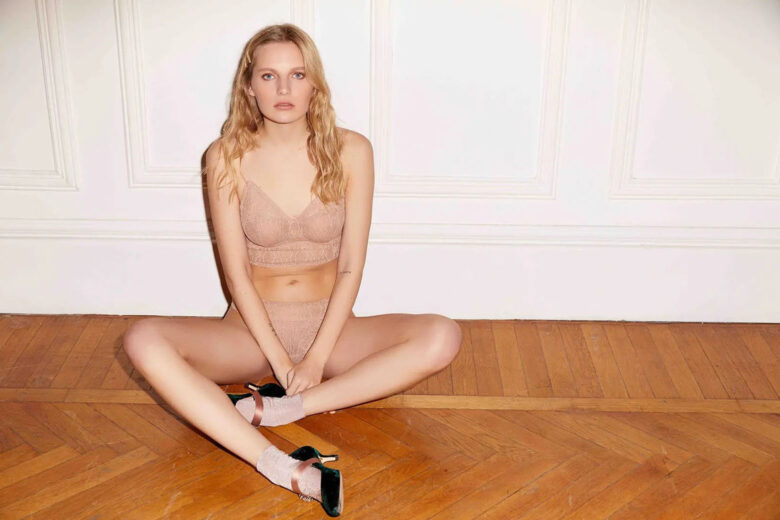 Else Lingerie pairs best with silk bed sheets and your favorite romantic playlist. These soft, satin pieces seem to float effortlessly with their tonal shades and mesh details. Longline silhouettes and high-cut briefs ensure these designs are flattering for all; underwear that you'll enjoy putting on. Pretty scalloped trims and soft corded lace add delicate touches. Better yet, it's all entirely handmade by female artisans.
| | |
| --- | --- |
| Price: | $$ |
| Style: | Romantic and sensuous |
| Sizes available: | XS – L, 32B – 36DD |
Natori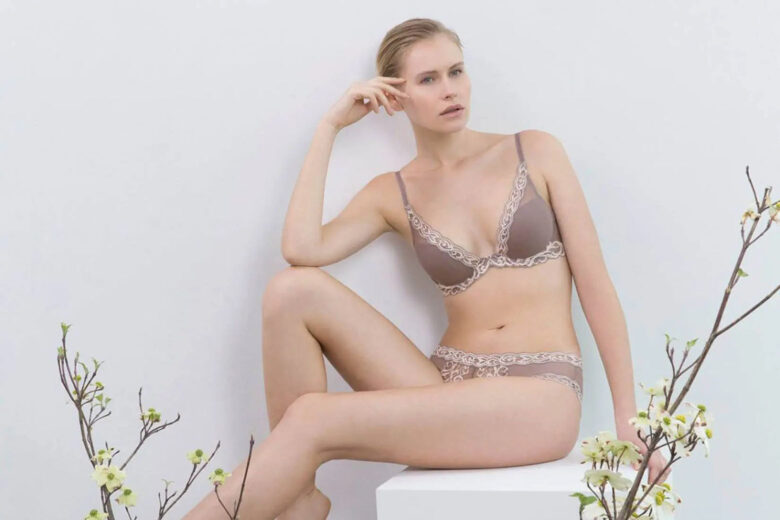 Your Natori bra makes getting ready in the morning a breeze. Understated and relaxed, it's a firm favorite to throw on mindlessly, no matter what you're wearing on top. These are bras designed to be long-lasting and durable: pieces that you'll find yourself wearing on a day-to-day basis so you can focus on what to wear on top.
| | |
| --- | --- |
| Price: | $ |
| Style: | Everyday comfort |
| Sizes available: | XS – XXL, 30B – 36DD |
Commando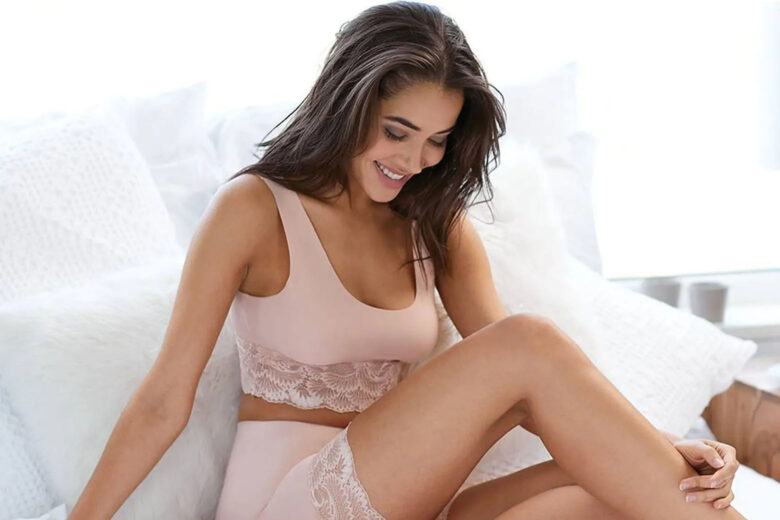 Commando underwear will have you feeling like you've gone commando – in the best way possible. Taking understated underwear to the next level, these small, stretchy, seamless pieces will sit snugly against your skin without any hassle whatsoever. Great for those with sensitive skin and anyone who's looking to elevate their nude underwear collection, Commando's pieces are the perfect foundation for wearing underneath close-fitting or semi-sheer outfits.
| | |
| --- | --- |
| Price: | $ |
| Style: | The closest thing to going Commando |
| Sizes available: | S – XL |
Cuup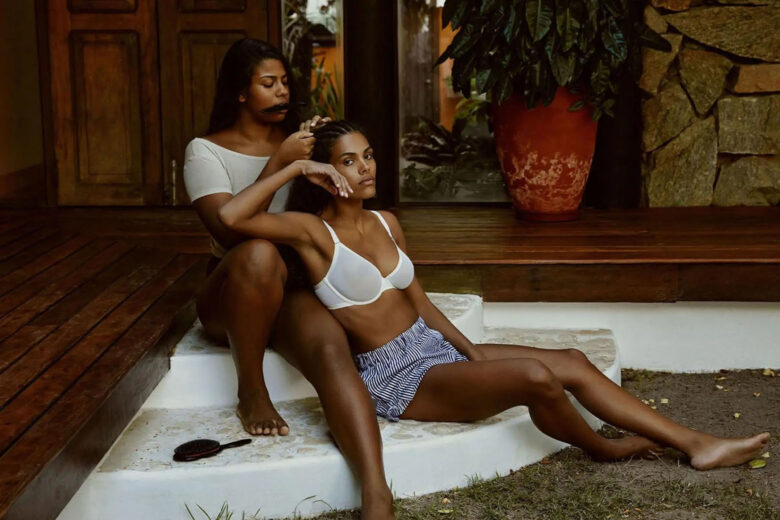 It can be tough to find flattering, stylish, and supportive bras in bigger sizes: CUUP definitely changes that. A multitude of colors, prints, cup shapes, and designs means anyone with a larger bust size is happy when shopping at CUUP. The brand aims to do its job without any unnecessary fuss: think unlined pieces, minimal adornments, and maximum comfort.
| | |
| --- | --- |
| Price: | $$ |
| Style: | Unfussy but effective |
| Sizes available: | XS – 6XL, 30A – 38H |
Asos Design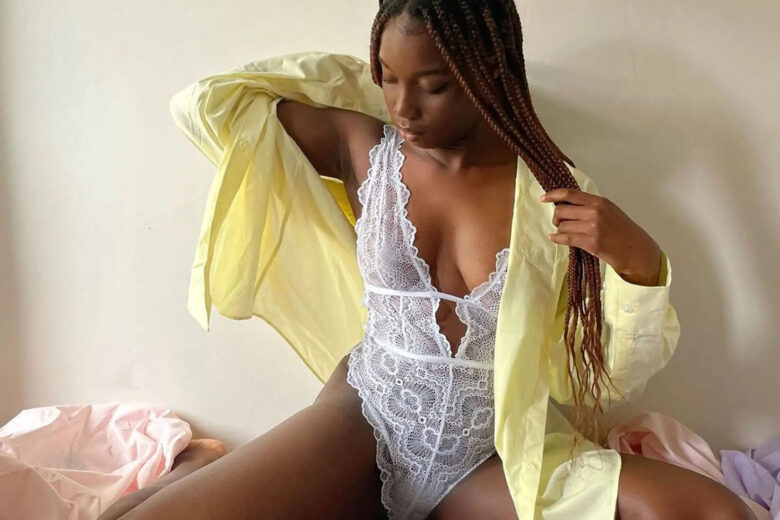 You'll find literally any type of underwear under the sun at ASOS Design. Everyday staples, weekend specials, sports-friendly, date night options, and anything in between. The few things they have in common? They're all reasonably priced, fashionable, and modern. If you could only shop one place for underwear moving forward, opt for ASOS Design.
| | |
| --- | --- |
| Price: | $$ |
| Style: | One-shop wonder |
| Sizes available: | UK 4 – UK 16, 30A – 42I |
Le Petit Trou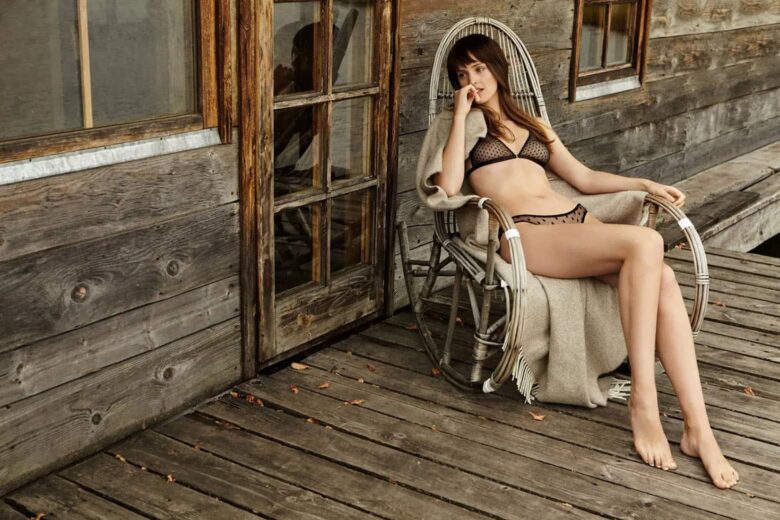 Contrary to its French name, Le Petit Trou originates from Poland and infuses delicate lace lingerie pieces into comfortable, modern, everyday styles. This monochrome color palette comes in a variety of shapes from high-waisted briefs to soft, mesh, and lace-edged floaty pieces. It's all beautifully crafted and subtly embroidered: pieces that, at first look, may seem plain. A closer look reveals previously hidden details.
| | |
| --- | --- |
| Price: | $$ |
| Style: | Subtly beautiful |
| Sizes available: | S – L, 30A |
Myla London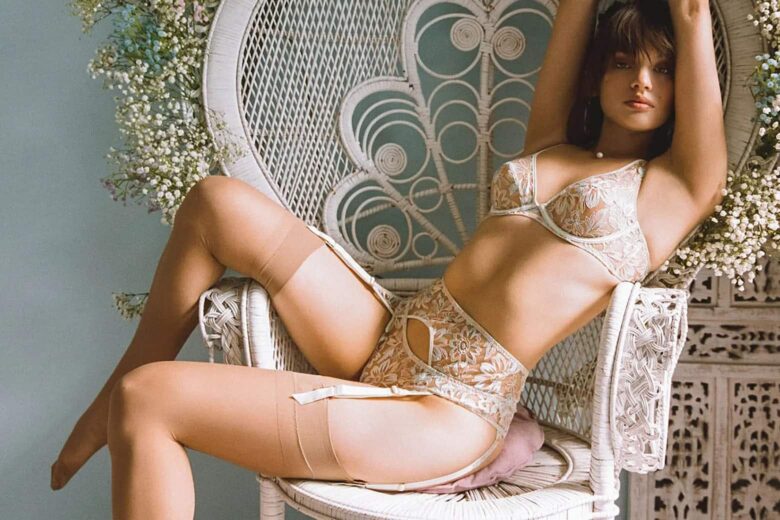 Myla brings together London charm with classic designs in a lingerie range named entirely after streets in the city center. Romantic, feminine, and elegant, these pieces – almost always in black and white – are flattering and frilled, with floral-mesh adornments and traditional silhouettes. Their gentle structure ensures they're just as enjoyable to wear as they are to look at.
| | |
| --- | --- |
| Price: | $$ |
| Style: | Traditional with a feminine twist |
| Sizes available: | S – L, 32B – 36C |
Les Girls Les Boys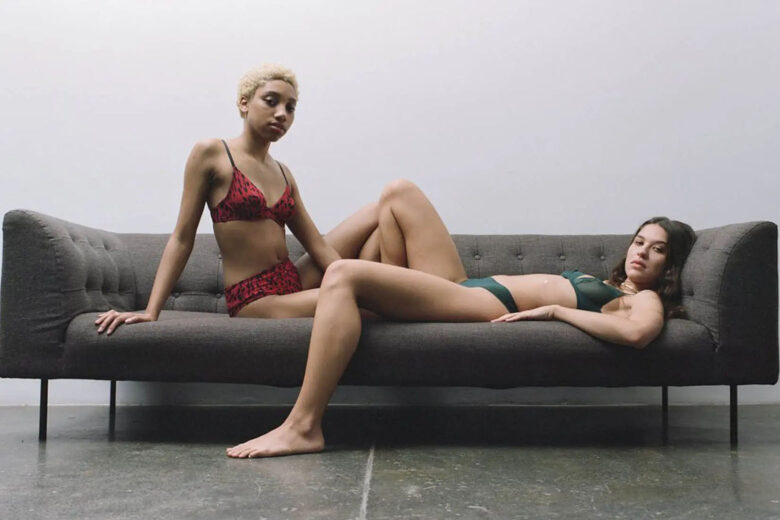 "Sporty and sleek" best sums up Les Girls Les Boys. Designed with comfort and activity in mind, these are your Sunday morning "chilling on the sofa with a movie on" essentials for feeling cozy while looking great. Seamless sets in vibrant colors that are purpose-built and definitely on-trend. Athleisure, streetwear, and comfort all come together in all of Les Girls Les Boys' designs.
| | |
| --- | --- |
| Price: | $$ |
| Style: | Fashionable athleisure |
| Sizes available: | XS – L |
& Other Stories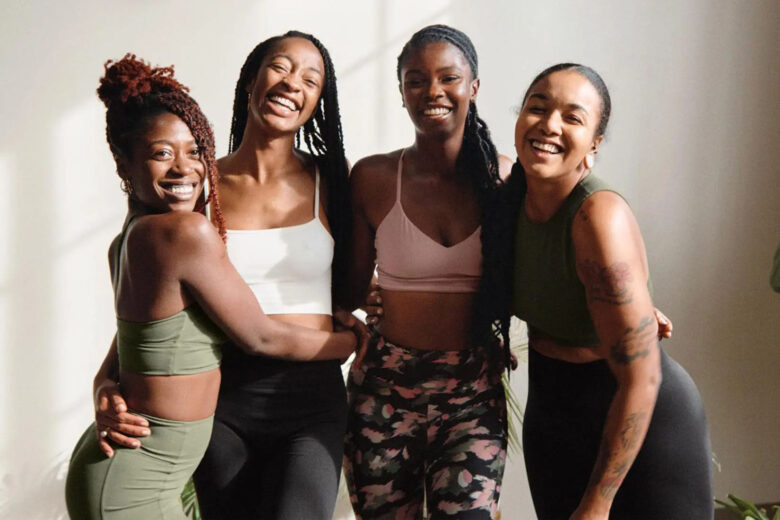 Paris, Stockholm, and Los Angeles: & Other Stories fuses style from across the globe to create effortlessly cool designs that take you on a journey from one continent to another. Dainty and delicate, sets here are made from the softest cotton and finished with floral embroidery or gingham edges. They're soft and supportive – brilliant staples that are high quality and promise never to lose their shape.
| | |
| --- | --- |
| Price: | $$ |
| Style: | Supportive, delicate and all-round cool |
| Sizes available: | 8 UK – 16 UK |
Knickey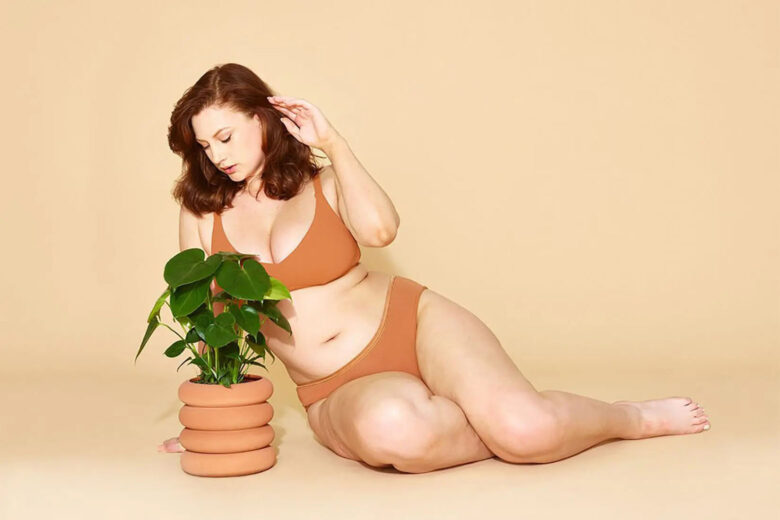 Knickey doesn't compromise. Not on comfort, not on style, not on sustainability, and not on quality, either. Organic cotton, shown on models of different sizes, comes designed to fit impeccably, in low, mid or high-rise designs and a large range of colors. It's impossible to wear Knickey underwear and feel uncomfortable: natural fabrics keep you feeling cool – both physically and metaphorically – all day.
| | |
| --- | --- |
| Price: | $$$$ |
| Style: | Barely-there comfort |
| Sizes available: | XXS – XXXL |
Boody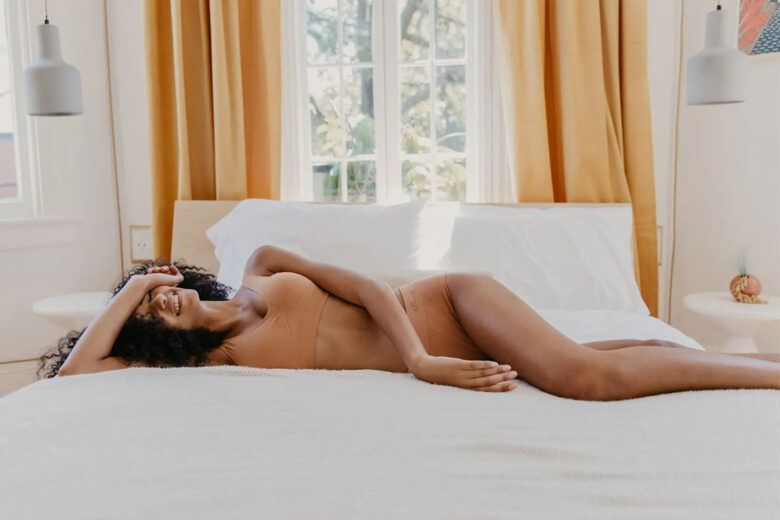 Boody underwear was designed to be comfortable. Made from naturally grown bamboo, its pieces are simplistic and straightforward: no messing around with straps in sight. Budget-friendly affordable lingerie designed in neutral shades comes in seamless, timeless styles offering an upgrade to your everyday favorites. Soft bras offer medium support and shaping without the need for underwires.
| | |
| --- | --- |
| Price: | $ |
| Style: | Simple and sustainable |
| Sizes available: | XS – XL |
Negative Underwear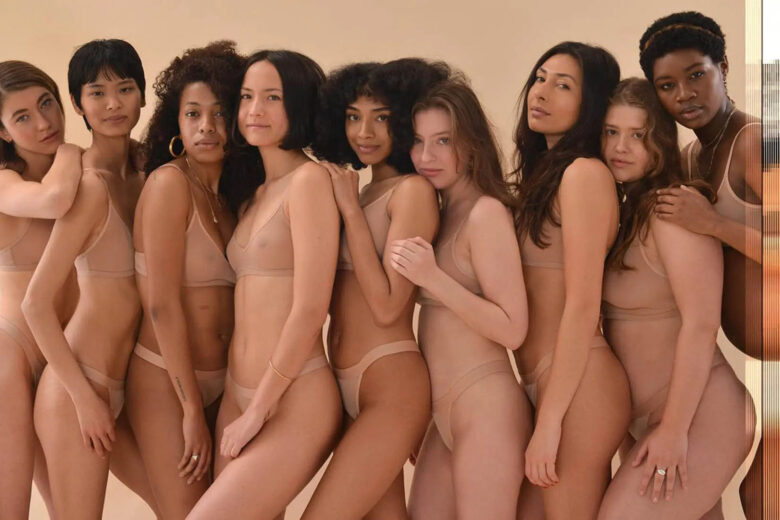 Real experts in the world of lingerie opt for Negative Underwear. It's a no-frills brand – literally and metaphorically – that disregards lace and tulle in favor of straightforward designs that emphasize a silhouette instead. But, while it's simplistic, it doesn't say goodbye to quality or style. It's underwear that's soft enough to feel like a second skin, in a variety of laidback shades.
| | |
| --- | --- |
| Price: | $$ |
| Style: | Neutral and classic |
| Sizes available: | XS – XL, 32B – 38C |
Hanro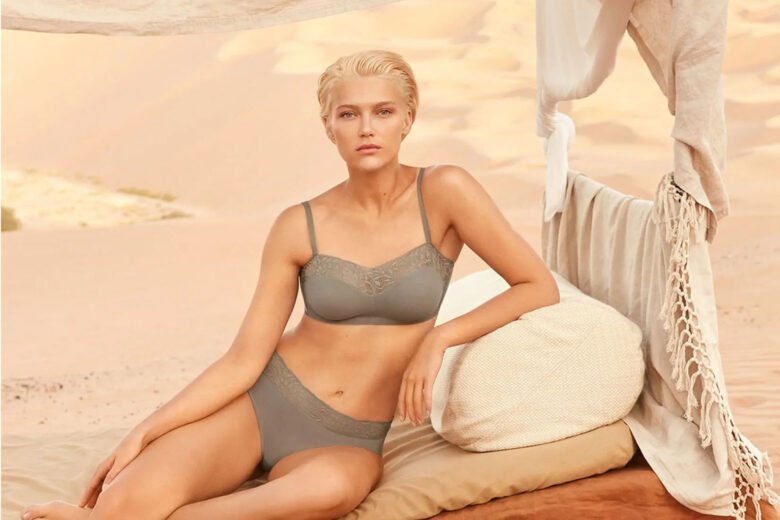 Hanro is a Swiss brand, which means it's a top option for quality and style. It's a brand you'll run to if you favor impossibly soft underwear, made from luxury cotton. It's not an overly fussy brand, but everything it produces is a work of art in a "pure luxury on the skin" kind of way. It's akin to a kiss on the forehead or a long hug from a parent.
| | |
| --- | --- |
| Price: | $$ |
| Style: | Impossibly soft basics |
| Sizes available: | XS – XL, 32A – 38D |
Maison Lejaby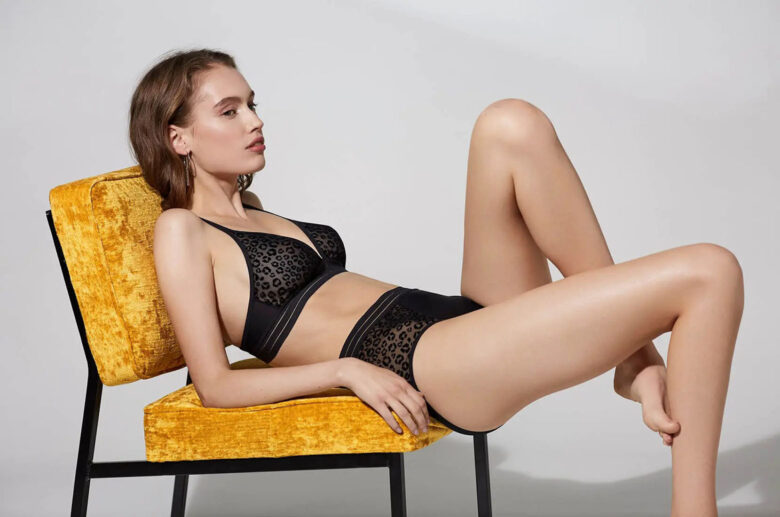 Once you've treated yourself to your first Maison Lejaby set, you'll find yourself clamoring to collect its entire rainbow of bras. Fresh and flattering, this European brand makes subtle and tasteful lingerie sets that are the perfect dose of sunshine for a morning pick-me-up. Gentle embroidery and incorporated tulle make Maison Lejaby bras feminine, delicate, and beautiful.
| | |
| --- | --- |
| Price: | $$ |
| Style: | Beautifully gentle support |
| Sizes available: | XS – XL, 32A – 36D |
Bordelle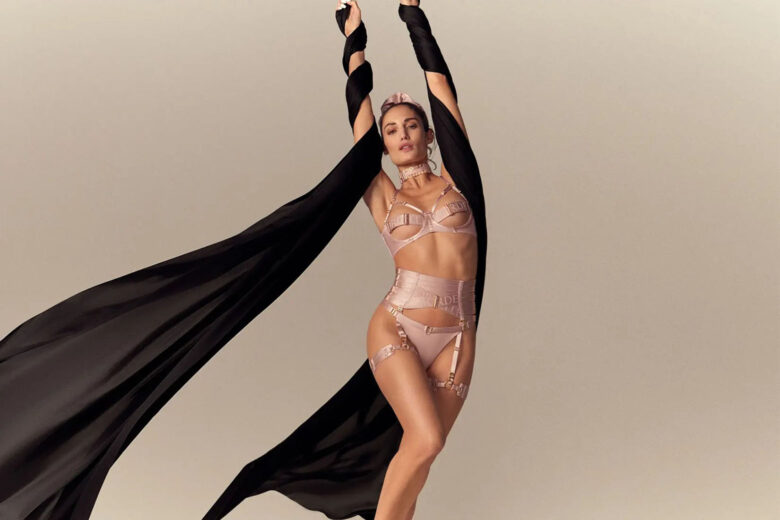 You'll feel runway ready as soon as you're wearing Bordelle underwear. Inspired by high fashion, these designer pieces combine true craftsmanship with innovative design to produce classy lingerie that you'll feel disappointed to have to wear underneath your clothes, rather than on top. Cut-out designs, unique straps, mesh embroidery, and baroque patterns keep Bordelle one step ahead the rest when it comes to impressive lingerie.
| | |
| --- | --- |
| Price: | $$$$ |
| Style: | Impossibly stylish, outerwear-ready |
| Sizes available: | S – L |
Gucci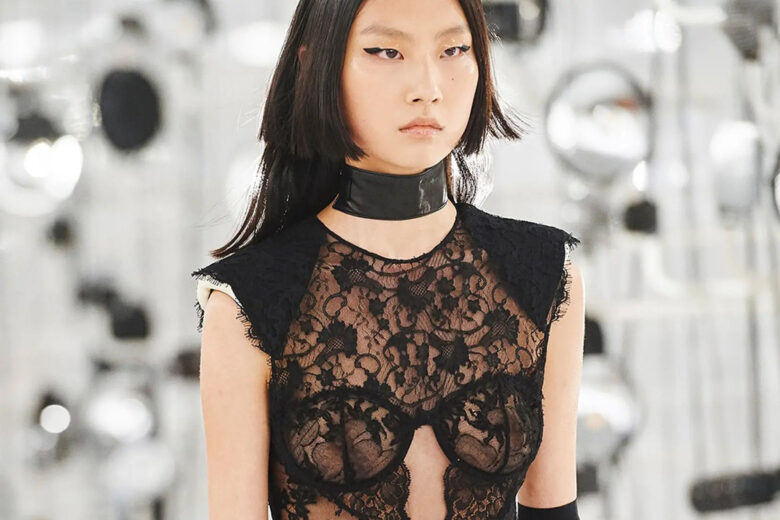 Wearing Gucci underwear feels like a real treat. Beautifully embroidered sets define high-end lingerie and promise to raise the game when it comes to comfortable yet incredibly fashionable pieces. Gucci personality shines through in almost every piece it creates: incorporating vintage-inspired silhouettes, premium Italian leathers, and the iconic interlocking GG logo throughout. Treat yourself to Gucci underwear, and you'll feel a little more confident the entire day.
| | |
| --- | --- |
| Price: | $$$$ |
| Style: | A timeless vintage fusion |
| Sizes available: | S – L |
Stella McCartney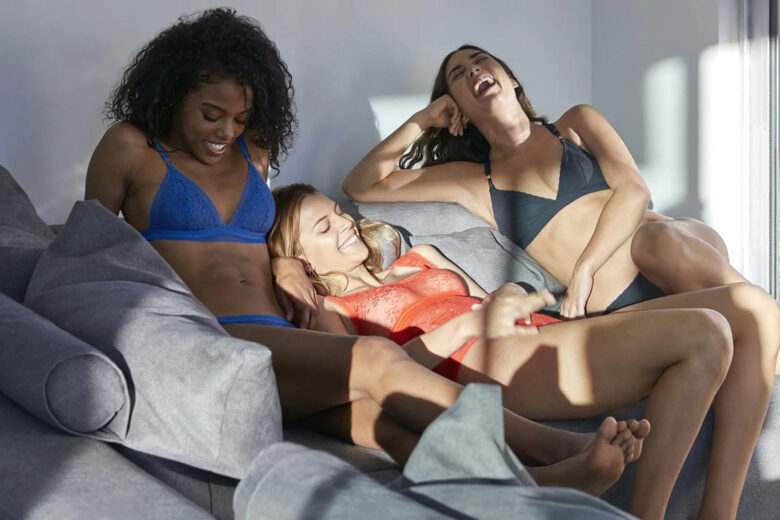 Designer Stella McCartney is a firm favorite for sustainable luxury. Sharp ethical design practices combine with equally as sharp – yet feminine – lingerie that's playful and pretty. Its utilitarian nature comes toned down with the designer's underwear line: replacing structure with delicate lace, scalloped edges, and Italian cotton. Spy the subtle gold-tone hardware on each piece and know that you're wearing the definition of luxury.
| | |
| --- | --- |
| Price: | $$$$ |
| Style: | Luxurious, sharp tailoring |
| Sizes available: | S – L |
Versace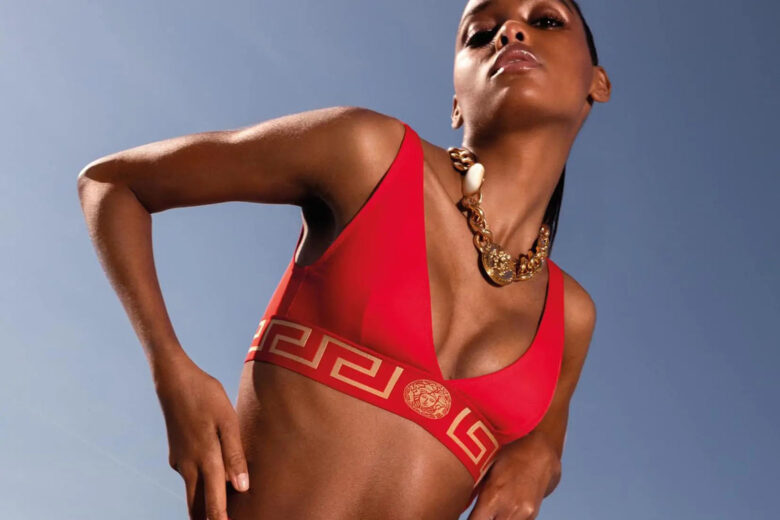 Think designer lingerie and think "Versace". Everything about Versace is bold and bright, and that's never seen more clearly than throughout the brand's underwear line. Certainly not something to wear under white clothes, almost every piece in the collection is artfully decorated with opulent patterns, Greek key motifs, and Versace's signature Medusa logo. It's loud, fun, and very much in your face: underwear you're proud to wear.
| | |
| --- | --- |
| Price: | $$$$ |
| Style: | Larger than life colors and designs |
| Sizes available: | US/UK 30 – US/UK 38 |
Playful Promises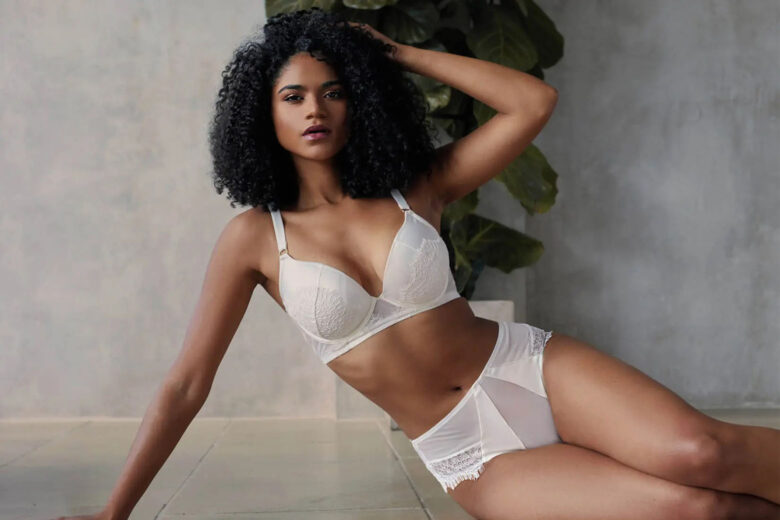 Playful Promises is a crowd-pleaser. Bridging the gap between millennial and Y2K fashion, its underwear comes in bright, funky patterns, pool-party-ready styles, cute lingerie designs, and is altogether loud and proud. Its budget-friendly prices are great for stocking up on all of your favorite pieces, both for everyday underwear and summer-friendly bikinis. It's a brand that makes lingerie shopping so much more fun.
| | |
| --- | --- |
| Price: | $ |
| Style: | Fun, flirty and accessible |
| Sizes available: | US 2 – US 12 |
Buyers guide to lingerie for women
The best lingerie should sit comfortably against your skin; tight enough to be supportive and do its job, but not so tight that it leaves marks against your skin. The best underwear should not only do that but should also fit correctly and look great while you're wearing it. Confused? We've covered where to buy lingerie: now, read on for everything you need to know before next buying lingerie.
The shape of the bra
Full Cup, Plunge, Balconette, or Demi? A Full Cup has the most coverage, while a Demi offers slightly less and may be better for a low-cut top. A Plunge bra is the best option for showing more cleavage, while a Balconette bra is great for super-low or wide necklines.
Level of support
If you have a larger chest, you'll probably mostly opt for an underwired bra, which gives the most support and structure. Those with smaller chests and a smaller cup size may opt for a bralette, which doesn't have the same level of support but offers more than a wire-free bra. A soft bra, usually made from cotton or sustainable materials, isn't restricted with wire and is generally more comfortable but less supportive.
Make sure you get your size measured first before buying new underwear, as this can make a huge difference to your comfort levels. Many stores offer free size consultations or it's also possible to measure your size yourself. There are plenty of handy online guides if you're shopping online.
Materials
Fabrics like cotton and mesh are the most breathable, although some find mesh irritating against their skin. Look for cotton mixes if you're on the hunt for affordable and comfortable underwear. More and more brands are also opting to use sustainable materials like bamboo, which tend to be just as comfortable as cotton for your everyday options. If you're looking for more playful, flirty underwear, fabrics like lace, silk, satin and polyester (for more budget-friendly styles) are common choices.
Rise
Low, mid, or high-waisted? Most briefs tend to be mid-rise, thanks to their versatility for whatever you're wearing on top. High-waisted briefs are often favored by women with an hourglass figure or anyone who wears their underwear on their hips.
Sizing
Lingerie tends to come in three options: numbered sizing the same as you'd pick outerwear, an S, M, L range, or specific bra size. Where possible, opt for brands that choose the latter for the best results. This is more important if you're looking for a full cup or plunge bra, and less important if you're searching for a soft bra or one with a sporty, racerback.
Color
It's always useful to have a few nude sets to wear under lighter-colored clothes. But nowadays, it's a lot easier to find vibrant, colorful, and all-around more interesting lingerie for larger sizes, especially from some of our favorite lingerie brands listed above. You might also opt for more colorful sets like red underwear, which can often work better than white pieces under light clothes thanks to their ability to blend with the undertones of your skin.
Frequently asked questions about women's lingerie brands