With its off-center label and the mysterious disappearance of its founder, it's fair to say that Bulleit has welcomed many a talking point over its long and interesting history. Originally created in 1830 by 19th-century distiller Augustus Bulleit, it took more than a century-long hiatus before relaunching under great-great-grandson Thomas Bulleit.
But let's go back to the start: Augustus Bulleit created a bourbon with an original mash bill of 66% rye and 33% corn. Proud of his creation, he took off for New Orleans with his whiskey in hand – and promptly vanished. Augustus was never found and so his Bulleit bourbon withdrew until 1987 when Thomas decided to give it another go.
Nowadays, Bulleit's recipe is vastly different from Augustus' creation – but possibly even more delicious. At least, the masses think so: Bulleit is one of the most popular whiskeys in the world and its relatively new distillery is designed to eventually produce 1.8 million proof gallons of the stuff annually.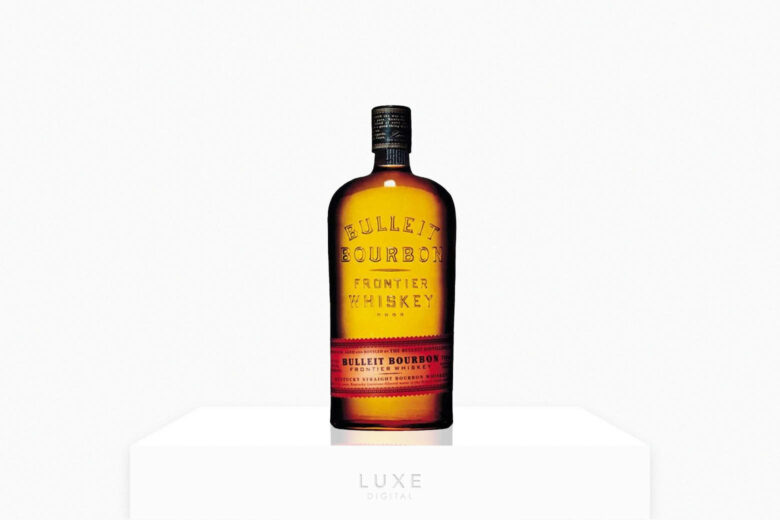 Bulleit prices and bottle sizes
| Bottle | Size | Price (USD) |
| --- | --- | --- |
| Bulleit Rye | 750ml | $33 |
| Bulleit Bourbon | 750ml | $33 |
| Bulleit '95' Rye Whiskey | 750ml | $33 |
| Bulleit Bourbon 10 Year | 750ml | $50 |
| Bulleit Rye Aged 12 Years Whiskey | 750ml | $54 |
| Bulleit Barrel Strength Bourbon | 750ml | $60 |
| Bulleit Bourbon Blenders' Select No. 001 | 750ml | $64 |
The story behind Bulleit's bourbon
If Bulleit's recipe had stayed the same since 1830…
…it would now be classed as a rye whiskey rather than a bourbon. Still, Thomas' adaptations to the recipe make Bulleit bourbon a high rye content whiskey with a 28% rye mash bill and a hairs-on-your-chest 45% ABV.
Along with its high rye content, Bulleit got other factors that give it such a distinctive taste. This bourbon is created with a unique yeast strain that gives it extra flavor as well as Kentucky limestone-filtered water. As is customary (and legally required) for bourbon, it's all produced in Shelby County, Kentucky.
Perfectionists might wonder why Bulleit's label is consistently uneven but there's a story behind that, too. Back in Augustus' days, labels were supposed to be slightly off-center and it's a tradition that Thomas decided to keep. It's the same with the brand's rye whiskey with its distinctive green logo, which also took hundreds of shades of green before Thomas and daughter Hollis chose their favorite.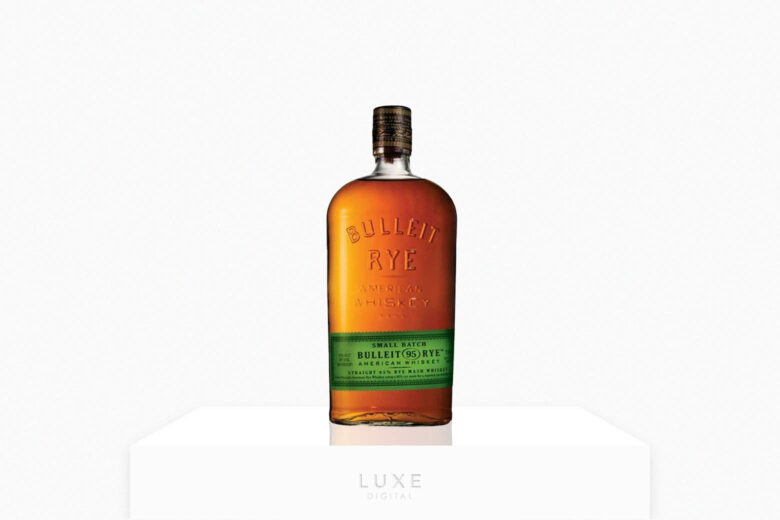 Bulleit's rye whiskey is another with a fun history
It was only launched in 2011 and came about as a direct request from consumers. Bartenders were frustrated that Bulleit rye whiskey wasn't a thing when they were asked to make rye cocktails. Conversation grew louder and louder until the brand eventually decided to go the whole way and created their rye whiskey. Unsurprisingly, it's another top hit around the world.
And those bottles you see the whiskey being poured from? They're a protected work of art. Bulleit's vintage-style packaging is one-of-a-kind and it plans to keep it that way – even going so far as to sue another brand for trademark infringement when they attempted a similar style.
The Bulleit bottles are designed to look like the medicinal bottles that transported whiskey throughout North America in the 1800's, which makes sense when you consider Thomas' consistent throwbacks to the history of his family's creation.
Some brands may have their strengths and weaknesses but Bulleit is one of the few that's managed to casually sidestep any less successful bottles with a constant stream of delicious whiskeys. Expect strong-tasting notes, lots of spice, a satin finish, and plenty of backbone. It's a conversation starter of a brand.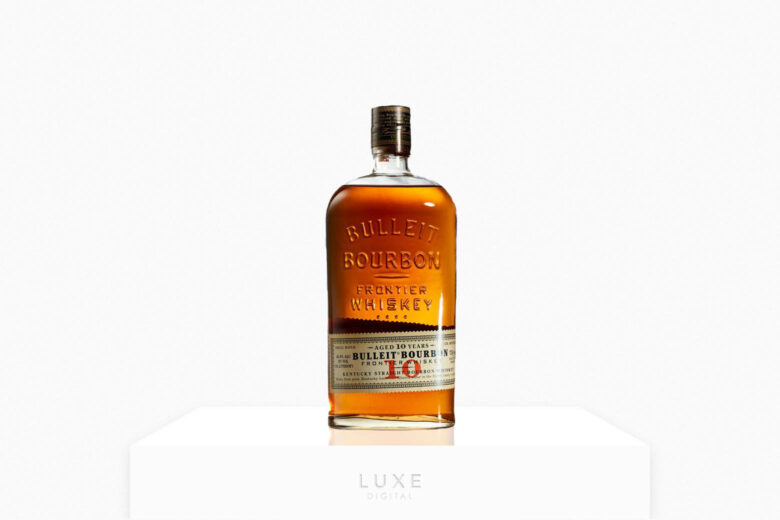 How to drink Bulleit Bourbon
There's no doubt about it: sipping bourbon neat is the best way to enjoy this spirit. Of course, no one will tell you off or turn their nose up if you serve Bulleit mixed into a cocktail but to really understand the spirit you'll want to try it by itself first.
Start with a Glencairn glass and pour a measure in before breathing in the aroma of the spirit. While you could just use a shot glass, the shape of a Glencairn glass means you'll experience more of the aromas as they funnel upwards. If you don't have a Glencairn glass, try an Old Fashioned or a rocks glass with a tapered shape.
If you find Bulleit too strong to enjoy by itself, try adding a few drops of water. This will release more of the flavors of the bourbon and will take the heat off. And if the taste is still too strong, serving whiskey on the rocks is another great option.
Chilling the spirit will let the sweetness shine through without altering the drinking experience. Bourbon is supposed to be savored rather than chugged back, so sipping only a tiny bit at once is your best bet for ultimate enjoyment.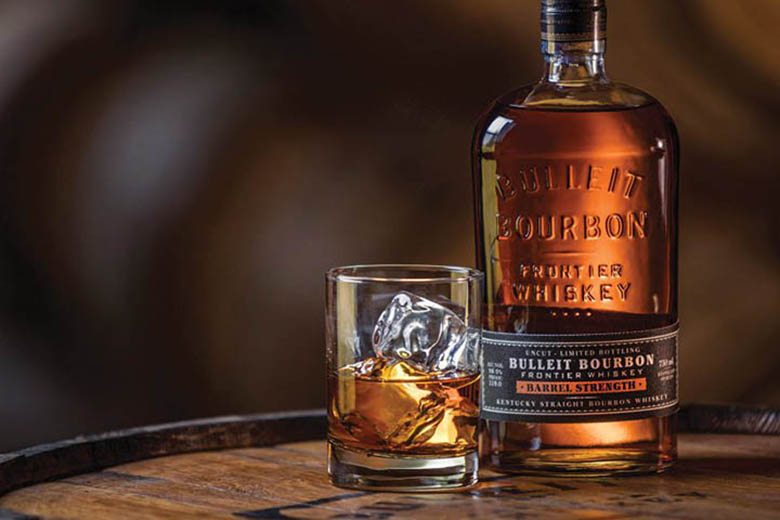 The best cocktails to make with Bulleit
Whiskey Sour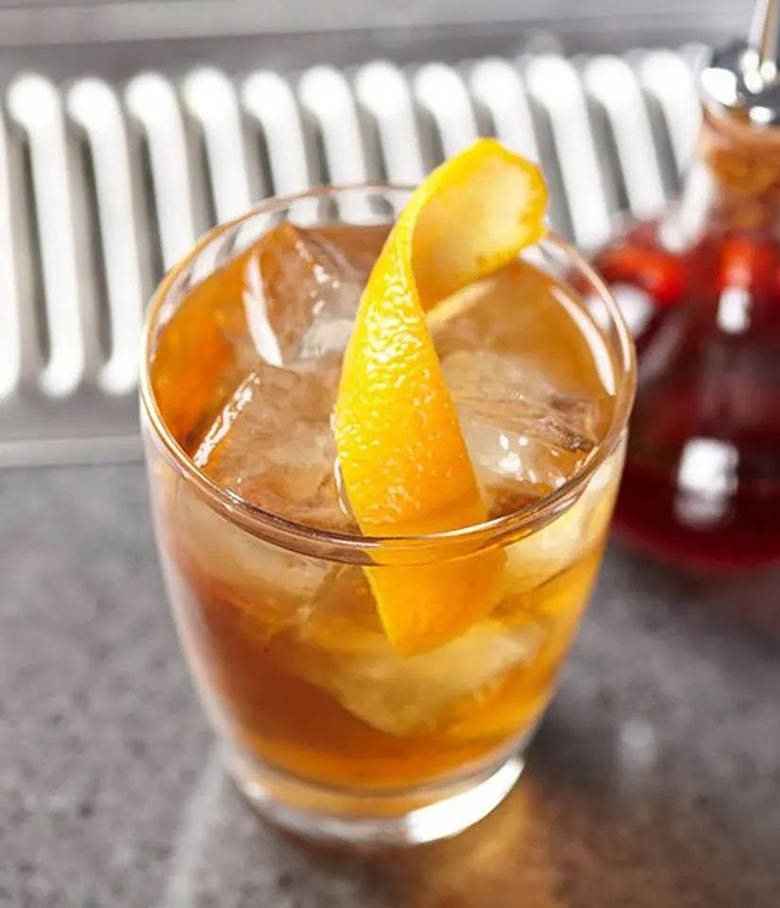 Ingredients:
45ml Bulleit Bourbon
10ml lemon juice
0.5 teaspoon sugar
One orange slice
One maraschino cherry
Cocktail recipes: The ever-popular Whiskey Sour is a great choice no matter the occasion and it couldn't really be much easier to make. Combine Bulleit Bourbon, lemon juice and sugar before shaking with ice and straining into a chilled rocks glass. Then, garnish with an orange slice and a maraschino cherry before serving.
Ryes Up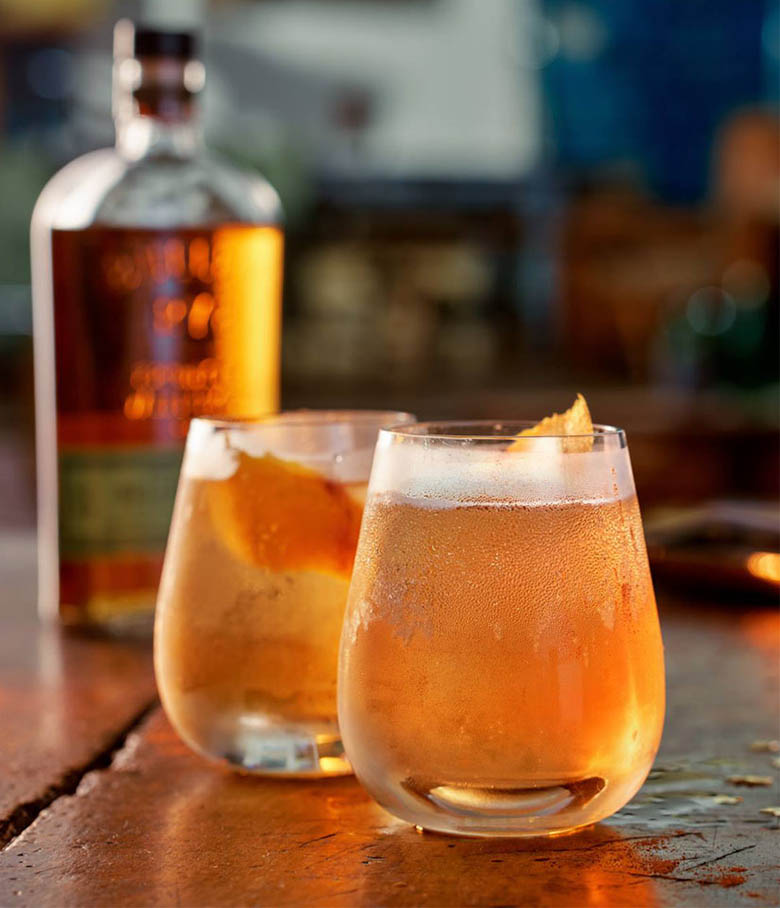 Ingredients:
20ml Bulleit Rye
10ml sweet vermouth
6ml elderflower liqueur
One dash aromatic bitters
One dash Peychaud's bitters
10ml Cognac
Cocktail recipes: Reminiscent of a Manhattan cocktail, a Ryes Up is a top choice for Bourbon lovers with its smooth and dramatic flavors. Stir all of the ingredients together before straining into a rocks glass. Garnish with a lemon twist and wait for the spicy hit to kick in as you sip.
Bourbon Lemonade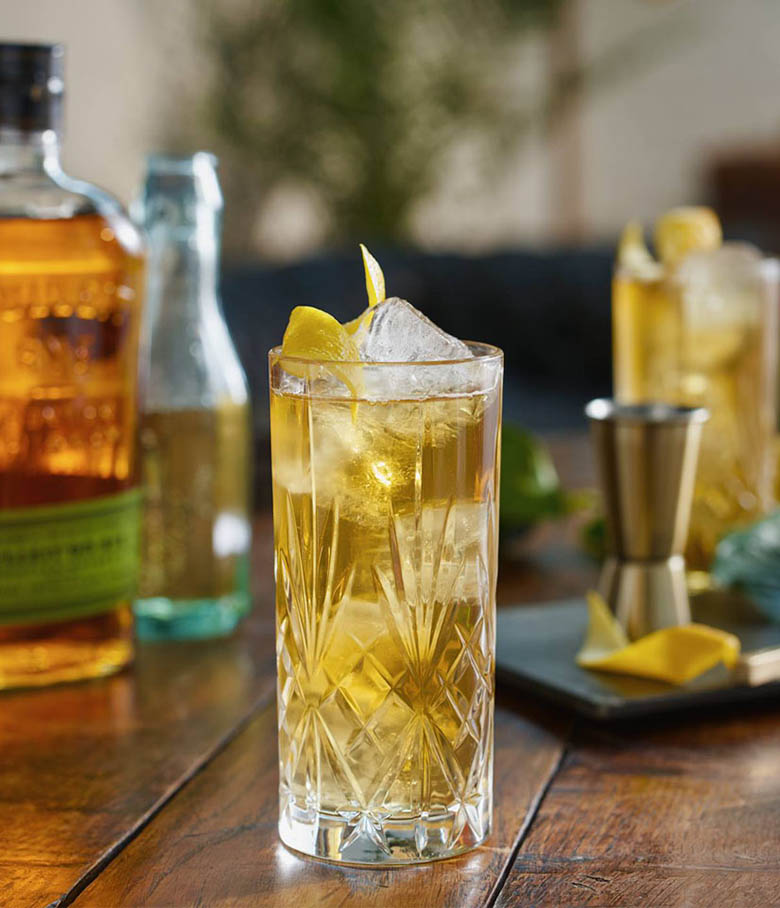 Ingredients:
40ml Bulleit Bourbon
120ml lemonade
One slice lemon
Cocktail recipes: The grown-up version of your favorite childhood ice cold refreshing drink, a Bourbon Lemonade is the tonic to a hot summer's day. Make it by pouring both ingredients into a tall glass and garnish with a lemon slice. To make this tangy cocktail even more refreshing, blend with ice before pouring into the glass.
Frequently asked questions about Bulleit Bourbon
Is Bulleit a good bourbon?
Bulleit is a great and versatile bourbon that goes down well whatever you pair it with. Its huge distillery means the brand is able to produce a high-quality bourbon at a low price point, making it one of the strongest offerings on the market. It's made of a unique blend of rye, corn, and barley malt with special strains of yeast and pure Kentucky limestone-filtered water.
How is Bulleit pronounced?
Ignore the "i" in this popular bourbon brand's name because Bulleit is just pronounced as "bullet". Tom Bulleit himself clarified this common question once and for all by saying his brand is pronounced "Just like the ammunition."
Which Bulleit Bourbon is better?
Bulleit's original bourbon was designed to have a wide enough flavor profile to combine with plenty of foods and a huge range of mixers. Bulleit's rye whiskey was created after a large number of people questioned the lack of it. So, it's fair to say that all Bulleit bourbons are enjoyable.
Is Bulleit Rye good?
Bulleit Rye is a great whiskey that offers plenty of complexity without a premium price tag. A popular choice with its russet color and oaky aroma, this spirit has a 45% ABV and intense tasting notes. It's a tasty and smooth whiskey that never disappoints.
Can you drink Bulleit bourbon straight?
Purists will tell you to drink Bulleit bourbon straight and the premium nature of the spirit means it's definitely possible to do just that. Find it slightly too strong by itself? Add a few drops of water or combine with a simple mixer to enjoy all of this spirit's flavors without diluting it too much.